Conspiracy No More, Treason At Highest Levels, It's A Marathon Not A Sprint – Ep. 2778
Watch The X22 Report On Video
The people see the corrupt politicians for who they are, 40 billion Ukraine aid bill has been revealed. This bill is 8 times larger that the budget for the border. The Fed is saying one thing and will do another. People need to become their own [CB]. The [DS] is panicking, Durham is squeezing them and pushing the [DS] players down a path of no return. The conspiracy has disappeared and the treasonous acts are going to be revealed. This process is a marathon it is not a spring and it has to be done correctly by the rule of law. Justice is blind and the facts and truth will speak for themselves. The [DS] will attack, be ready, they will push hard because they know if they don't fight until the end it is game over for them.
---
Economy
This is what I found in the $40B Ukraine aid bill poised to pass this week: pic.twitter.com/J5YMlZWDCB

— Kristina Wong 🇺🇸 (@kristina_wong) May 18, 2022
If this Ukraine funding bill passes, we will be spending 8 times the annual budget of the U.S. Border Patrol on a foreign country.

— Congressman Troy Nehls (@RepTroyNehls) May 17, 2022
The average price of gasoline nationwide could reach $6 per gallon this summer, far above historic levels and near California's current prices, an analyst at JPMorgan said Tuesday.
"U.S. gasoline prices to break above $6," Natasha Kaneva, JPMorgan's head of global oil and commodities research, wrote in a note to investors titled "Cruel Summer," according to Bloomberg. "Typically, refiners produce more gasoline ahead of the summer road-trip season, building up inventories. But this year, since mid-April, U.S. gasoline inventories have fallen counter seasonally."
 
Source: dailycaller.com
  you need to look at what the Fed is actually doing. And it's not doing much
 What the markets still don't get is Fed is not really going to fight inflation. It's pretending it's going to fight inflation. And that is the problem. Because all the people who were surprised by inflation they didn't expect now expect the Fed to get rid of it. And the reason they are dumping gold and silver, and in particular gold and silver mining stocks — it's not because they fear the inflation. They think the inflation is in the past. What they fear is this future inflation fight."
The fact of the matter is you've got to look at what the Fed is doing, not what the Fed is saying. They have to talk tough. … It's the opposite of the Teddy Roosevelt strategy. They don't have a stick. They can't really fight inflation. So, they have to talk tough as if they're going to fight it, because they're hoping their tough talk will do the fighting for them, and they won't have to reveal the fact that they don't really have a stick."
Source: zerohedge.com
BITCOIN GIVES USERS TOTAL CONTROL OF THEIR MONEY
Bitcoin provides the ability for individuals to receive, save and send money in a self sovereign fashion. Stomaching volatility is worth the level of control that no other money on the planet can provide.

— Marty Bent (@MartyBent) May 15, 2022
I know I own x/21m.

I control my keys, so no one can prevent me from sending or receiving.

I can verify that my bitcoin real on my computer.

I believe more individuals will recognize this utility as time goes on.

— Marty Bent (@MartyBent) May 15, 2022
Source: bitcoinmagazine.com
---
Political/Rights
Hillary Loses: Hulu Passes on 'Rodham' After Being In Development for Two Years
Two-time losing presidential contender Hillary Clinton has lost out again after Hulu made the decision to pass on a program about her that spent the past two years in development by the streaming giant.
"Rodham" is prefaced on a novel of the same name.
Source: conservativebrief.com
Set up by former Peter Navarro aide Garrett Ziegler, who worked in the Trump administration Office of Trade and Manufacturing Policy, the emails contain infamous hits such as the "10 for the big guy," in which Hunter Biden's business partner James Gillar suggested he should hold 10% of a multi-million-dollar deal with the Chinese. Ziegler posted the emails through his organization, Marco Polo.
Source: zerohedge.com
#DurhamWatch Tuesday night West Coast Wrap Edition by #FWK– prosecution nukes Sussman defense by shredding the fake Trump Tower/Alfa Bank narrative. Evidence shows FBI never believed the validity of what Clinton World concocted and peddles. On deck tomorrow:
Witnesses: Clinton campaign attorney, Fusion GPS, Clinton General Counsel, DNC and FBI general counsel James Baker.
This is the set up to take down Clinton Crime Cartel. Thanks John Haughey and @epochtimes
1424
Q
!CbboFOtcZs
05/20/2018 13:46:10
 ID:
8chan/patriotsfight: 93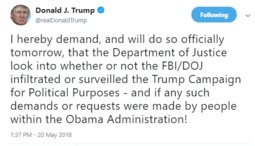 Filename:
882121bae46b49957ec870640dcbf5d35a0fa55e3af144ddd9689d859cfd5c34.jpg
---
Geopolitical/Police State
In the past I voted Democrat, because they were (mostly) the kindness party.

But they have become the party of division & hate, so I can no longer support them and will vote Republican.

Now, watch their dirty tricks campaign against me unfold … 🍿

— Elon Musk (@elonmusk) May 18, 2022
Twitter's board said Tuesday that it plans to "close the transaction and enforce the merger agreement" between Elon Musk and Twitter, The New York Times reports.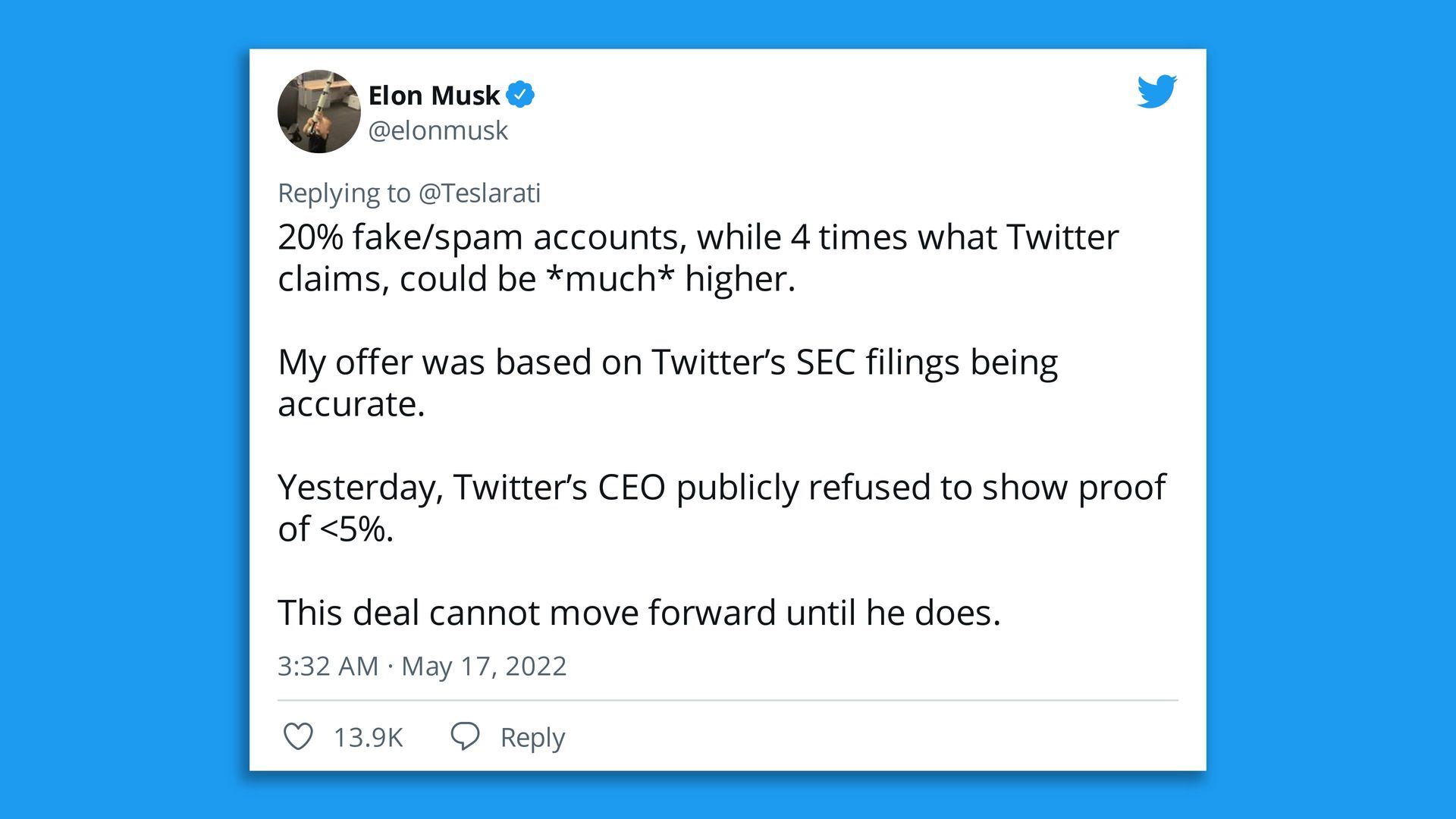 Source: axios.com
How do you introduce evidence legally?
Twitter is in a terrible position. 
It is facing potentially devastating lawsuits for claiming less than 5% of its users were fake or bots in its filings with the SEC.  To report lies to the SEC is enough to take down any company and cause it to go bankrupt.  If investors make decisions based on a company's financials, which they do, if found to be false, a company could be taken out.
Musk said his offer was based on Twitter filing honest SEC records.
Source: thegatewaypundit.com
Twitter exec trashing free speech & mocking people with Asperger's …

— Elon Musk (@elonmusk) May 18, 2022
Someone should tell @elonmusk that the organization and its CEO—Project Veritas & James O' Keefe—the ones exposing the corruption at Twitter, are still banned from the platform he's thinking about buying.

Reinstating them would only increase transparency, right?

— Charlie Kirk (@charliekirk11) May 18, 2022
Biden admin 'pauses' controversial Disinformation Governance Board: report
The Biden administration has reportedly paused its controversial plans for a Disinformation Governance Board after facing criticism from free speech advocates and conservatives.
The Homeland Security board was set to be led by director Nina Jankowicz and had a mandate to fight the spread of "disinformation" that "can affect border security, Americans' safety during disasters, and public trust in our democratic institutions."
But following a backlash from Republicans and some liberals, who likened the board to an Orwellian "ministry of truth," t  the initiative has been put on hold.
The DHS decided to shut down the board on Monday and Jankowicz had written a resignation letter by Tuesday,
Source: nypost.com
Nina Jankowicz has RESIGNED, 
Supermarket Shooting Suspect's Alleged Manifesto Says He Chose Buffalo Because of Strict Gun Control Laws  
The suspect who allegedly shot and killed 10 people and injured three more at a Buffalo, New York, supermarket on May 14 may have planned the attack for months, officials said on May 15, while a manifesto that was apparently written by the man stated that he chose Buffalo because of the state's stringent gun laws and that he used an illegally modified rifle to carry out the attack.
Source: theepochtimes.com
The Buffalo shooter inspired by New Zealand shooter who was inspired by the Neo-Nazi Azov Battalion in Ukraine. Please STOP funding Nazis in Ukraine @JoeBiden. pic.twitter.com/B7YUVIPU3b

— Ryan Knight ☭ (@ProudSocialist) May 15, 2022