Misdirection Sometimes Creates One Person To Turn On Another (Publicly), [C]oming Soon – Ep. 2779
Watch The X22 Report On Video
The Senate voted to send the peoples money to Ukraine, this is not want the people wanted. The Biden admin is having a tough time explaining why this is all happening. The [CB] economic narrative has them, they opposite is happening, they are not in control. Another bank takes on Bitcoin. The [DS] is now trying to derail the Durham trial, they will try every trick in the book, the patriots already knew this. The [DS] is now using everything they have to push fear, communication blackout, gun control you name it, it is all failing. The [DS] has no control the patriots have the leverage and they are playing the game. Misdirection sometimes creates one person to turn on another (publicly). Buckle up its going to get bumpy.
---
Economy
Psaki 2.0 SNAPS on Peter Doocy when he asks how Americans are supposed to pay for RECORD-HIGH gas prices under Biden:

"It is Putin's tax hike"

— Benny Johnson (@bennyjohnson) May 19, 2022
Gas stations in Washington state are resetting their price boards to accommodate double digits in preparation for fuel prices potentially reaching $10 a gallon, according to a report.
The move comes as several gas stations in the Evergreen State ran out of fuel, the Post Millennial reported.
At the 76 gas station in Auburn, about 30 miles south of Seattle, gas pumps were reprogrammed so the display could indicate a price of at least $10 a gallon.
The displays were limited to single digits as recently as March, but the surging price of gas has led to the change.
The price to produce, manufacture and transport goods has skyrocketed, that's the Producer Price Index (PPI).  Arriving goods at retail are significantly higher in price.  Simultaneously, consumer spending is being squeezed by unavoidable inflation in housing, energy, food and gasoline; so consumer spending is tight, that's the Consumer Price Index (CPI).
Higher costs to retail that cannot be passed on as higher prices to customers, means lower profit margins for the sellers.  That's it.  That's the majority of it.  Major retail companies like Target and Wal Mart are reporting the impacts from the squeeze in higher costs that cannot be passed to consumers in higher retail prices.   
.
Businesses are seeing higher costs in the unavoidable goods they need to sell, the fixed price of goods.  What comes next?  Businesses, knowing they cannot raise prices too much, look at lowering the costs of operations in an effort to remain competitive, stay profitable, and stay in business.
How do businesses lower operational costs?  Increase expectations of employee productivity and/or lower employment costs.  That leads to layoffs.
Source: theconservativetreehouse.com
It appears the 'strongest labor market ever' is showing signs of stress as the number of Americans seeking first time jobless benefits surged to 218k last week – its highest since mid-January…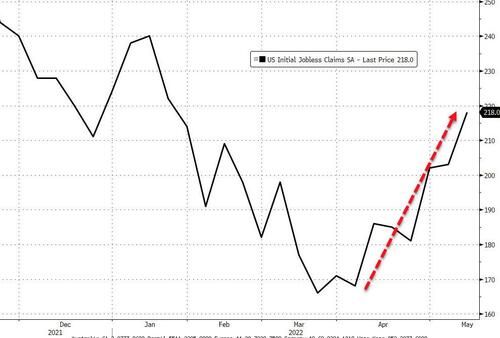 This is the biggest 8-week rise in jobless claims since the growth scare in Dec 2020/Jan 2021… and no this is not seasonal…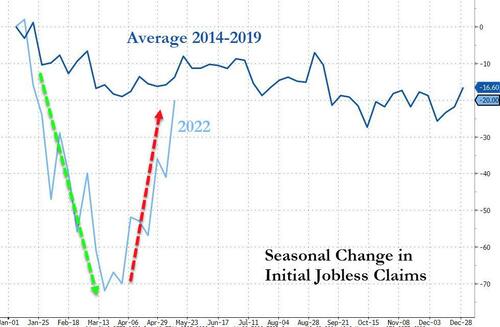 Kentucky, California, and Pennsylvania dominated the rise in jobless claims…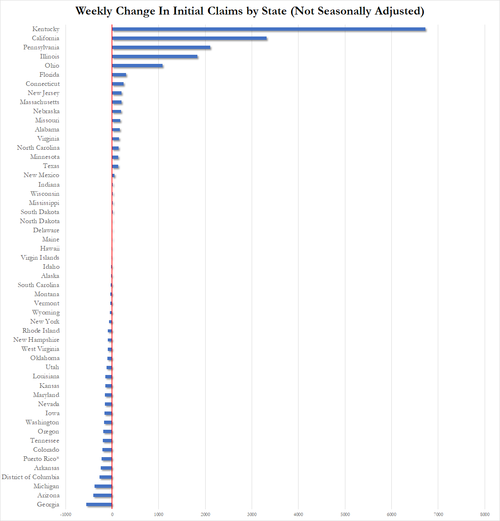 Source: zerohedge.com
Do you know what it's technically called when "government takes control of the means of production?"  
This afternoon Joe Biden invoked the Defense Production Act (DPA) giving Health and Human Services (HHS) the legal authority to control the supplies needed for the creation of baby formula (how it is made), and the authority to determine distribution equity (who gets it).   e:
Source: theconservativetreehouse.com
Julius Baer Group, a Swiss private bank, will begin offering bitcoin and other cryptocurrency products to high-net-worth individuals.
Julius Baer explained we are likely witnessing a bubble similar to the dot-com burst which birthed a new industry.
The private bank noted its goal to position itself at the intersection where bitcoin and other cryptocurrencies meet the fiat world while acknowledging the volatility of the space. Julius Baer plans to keep a watchful eye on the growing asset class, monitoring its evolution and any opportunities that may present themselves.
Source: bitcoinmagazine.com
---
Political/Rights
 Judge Cooper denied a request by prosecutors to remove a juror from the panel because her daughter and Sussmann's daughter are on the same crew team.
Judge Christopher Cooper is totally conflicted as well.
Via the Conservative Treehouse:
It is worth remembering that Judge Christopher Cooper is married to Amy Jeffries, Lisa Page's lawyer.

Additionally, Judge Cooper and Michael Sussmann both worked in the DOJ together. When he was selected as judge in the Sussmann trial, Cooper revealed the potential conflict of interest in the event the Durham prosecution wanted him to recuse himself from the case. Special Prosecutor John Durham did not ask Judge Cooper to recuse himself.
Source: thegatewaypundit.com
How bad were the FBI's confidential human sources for Spygate?

-Rodney Joffe disseminated phony computer records
-Chris Steele disseminated the phony dossier
-Stefan Halper concocted a fake story about Michael Flynn

— Chuck Ross (@ChuckRossDC) May 18, 2022
Marc Elias, a key Democratic Party election attorney partly responsible for arranging the fraudulent "Russia dossier" in 2016, took the stand   in the trial of former Hillary Clinton campaign lawyer Michael Sussmann.
Sussmann faces charges of lying to the FBI when he allegedly hid the fact that he was working for the campaign when he told the FBI's Peter Baker about a conspiracy theory tying then-candidate Donald Trump to Russia via Alfa Bank.
Elias remains one of the most important election lawyers for the party, pushing to overturn ballot integrity laws, challenging results in close races, and suing to protect Democrat redistricting maps (and fight against Republican maps) in various states.

Elias, who left Perkins Coie to start the Elias Law Group before his former colleague, Michael Sussmann, was indicted for allegedly lying to the FBI, hired the Fusion GPS opposition research firm on behalf of the Hillary Clinton campaign and the Democratic National Committee to dig up supposed dirt on Trump in Russia. The result, the Steele "dossier," led to the "Russia collusion" conspiracy theory that led the FBI to spy on the Trump campaign and damaged the Trump presidency.

Elias, who went on to lead Democrats' efforts to force vote-by-mail in the 2020 presidential election, apparently went on to testify at grand jury proceedings. He has tried to keep some communications from Durham by citing attorney-client privilege, claiming that Fusion GPS was hired for legal work and not for opposition research, a claim Durham contests.

 Elias admitted on the stand that he had "discretion" to "direct" Fusion GPS:
Source: breitbart.com
The biggest "BOOM" to come out of today's testimony, was probably Clinton Campaign Deputy Counsel Deborah Fine contradicting Marc Elias's testimony.
Elias has testified they provided legal advise re: Alfa Bank – Trump connection/project, but Fine testified today that she was never informed of anything related to Alfa Bank.
Uh-oh spaghetti-ohs…
@Realcobycohen Replying to
I would argue the biggest boom beyond that.. Is sussmam filed a motion to have elias' testimony stricken from the record… And an even sweeter cherry on top. Sussmans team has prepared a written transcript of what Elias SHOULD have said.. Interesting news.. Seems they're turning on eachother in the courtroom.. Meaning, someone isn't following the Pre established plan
To clarify on Sussmann- the portions of Elias testimony in question will be stricken from the record, and then when the jury asks for, or receives a transcript, those comments won't be included. This isn't some outside of the box thing that never happens.
TAKE A LISTEN
Q

 

!!mG7VJxZNCI

 

ID: 0f664c

 No.6572954

Q,
what about the Comey report?
>>6572883
Moves & countermoves.
Misdirection sometimes creates one person to turn on another (publicly).
[C]oming soon.
Q
Q

 

!!mG7VJxZNCI

 

ID: 0f664c

 No.6573291

e8dcd7321c938992aef619959fc456ded17ac05250455ae651821894dd363b4b.png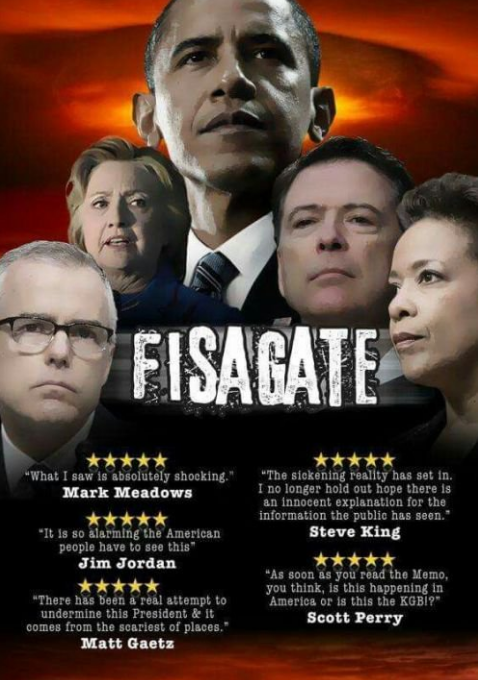 Peter Doocy asked White House press secretary Karine Jean-Pierre whether pro-abortion activists or anti-abortion activists posed a greater threat to the Supreme Court 
Doocy pointed to concerns raised by the Department of Homeland Security (DHS) regarding potential violence toward the Supreme Court and individual justices if Roe v. Wade is overturned, asking which side the threats are coming from. Jean-Pierre seemed to suggest that such concerns were "one-sided," and that in fact "both sides" should be called out for "violence, threats and intimidation."
"The DHS is worried if Roe v. Wade is overturned there could be violence against the Supreme Court building or Supreme Court justices," Doocy began. "Are these threats from pro-abortion activists or anti-abortion activists?"
Source: dailycaller.com
Department of Homeland Security has released a memo stating they are anticipating violence regarding the SCOTUS Roe vs. Wade decision.
Let this be a reminder of WHO is out there protesting and threatening "murder and the storming" of the Supreme Court. Patriots are at home or work. Biden's base is threatening Supreme Court justices and their clerks.
Let's see what happens.
At least 135 teachers, aides charged with child sex crimes this year alonehttps://t.co/LwIWRMhfge

— Fox News (@FoxNews) May 19, 2022
---
Geopolitical/Police State
The platform has a new 'crisis misinformation policy'
---
War
  Bush made the Freudian slip while trying to drag Putin for being a murderous dictator who was overstepping his boundaries.
 Whoops.
From Bush:
"In contrast (to Ukraine) Russian elections are rigged. Political opponents are imprisoned or otherwise eliminated for participating in the Electoral process. The result is an absence of checks and balances in Russia, and the decision of one man to launch a wholly unjustified and brutal invasion of Iraq."

"I mean, of Ukraine," Bush added, quickly corrected himself.
TAKE A LISTEN
Source: thegatewaypundit.com
---
Cyber Attacks
---
False Flags
A Federal Constitutional Court in Germany  rejected a complaint that the mandatory vaccination of health care workers for Covid-19 was a violation of their rights.
The German court further claimed that it was legally valid for health care institutions to require proof that workers are vaccinated for the coronavirus.
"The obligation to provide proof is also necessary in the constitutional sense to protect vulnerable people," the court claimed.  -19
Source: beckernews.com
JUST IN – G7 health ministers to take part in a pandemic exercise in Germany, simulating a fast-spreading and dangerous outbreak of a "smallpox virus" originating from leopards, BILD reports.

— Disclose.tv (@disclosetv) May 18, 2022
The relatively rare virus has been detected in Portugal, the U.K. and Spain, with health officials in the U.S. announcing a case in Massachusetts involving a man who had traveled to Canada. European investigators have said most of the cases have occurred between gay men, indicating transmission via close contact possibly through sex.
Monkeypox has largely been seen in Africa, triggered by infections from rodent and small-animal bites. It doesn't spread as easily among human individuals. Of the 20 cases confirmed across Europe, most reportedly seem to have been acquired locally.
The illness typically starts off with flulike symptoms and swelling lymph nodes, followed by a rash on the face and body, and usually takes two to four weeks to resolve. The virus has two distinct genetic codes, the Congo Basin and the West African clades, with the former more transmissible and virulent, according to a 2019 fact sheet from the World Health Organization.
Source: marketwatch.com
Breaking News: A third of Americans live in areas with such high Covid levels now that they should consider wearing masks indoors whether local leaders require it or not, U.S. health officials warned. https://t.co/emLWdlZ7eN

— The New York Times (@nytimes) May 18, 2022
The COVID-19 pandemic is one of the most manipulated infectious disease events in history, characterized by official lies in an unending stream lead by government bureaucracies, medical associations, medical boards, the media, and international agencies.[3,6,57] We have witnessed a long list of unprecedented intrusions into medical practice, including attacks on medical experts, destruction of medical careers among doctors refusing to participate in killing their patients and a massive regimentation of health care, led by non-qualified individuals with enormous wealth, power and influence.
For the first time in American history a president, governors, mayors, hospital administrators and federal bureaucrats are determining medical treatments based not on accurate scientifically based or even experience based information, but rather to force the acceptance of special forms of care and "prevention"—including remdesivir, use of respirators and ultimately a series of essentially untested messenger RNA vaccines. For the first time in history medical treatment, protocols are not being formulated based on the experience of the physicians treating the largest number of patients successfully, but rather individuals and bureaucracies that have never treated a single patient—including Anthony Fauci, Bill Gates, EcoHealth Alliance, the CDC, WHO, state public health officers and hospital administrators.[23,38]
The media (TV, newspapers, magazines, etc), medical societies, state medical boards and the owners of social media have appointed themselves to be the sole source of information concerning this so-called "pandemic". Websites have been removed, highly credentialed and experienced clinical doctors and scientific experts in the field of infectious diseases have been demonized, careers have been destroyed and all dissenting information has been labeled "misinformation" and "dangerous lies", even when sourced from top experts in the fields of virology, infectious diseases, pulmonary critical care, and epidemiology. These blackouts of truth occur even when this information is backed by extensive scientific citations from some of the most qualified medical specialists in the world.[23]  
Source:  ncbi.nlm.nih.gov/
---
Q
A Swiss billionaire is investing millions and millions of dollars to influence US elections.  There's no evidence he's even a US citizen. 
Hansjörg Wyss, the richest man in Switzerland, donated $135 million in STF dark money donations to the Democrat Party.
Via Daniel Greenfield and FrontPage Magazine.
 How is Wyss's allowed by law to give to political efforts in the US?  How can this be legal?  Why not let China's Xi do the same?
  foreign nationals without permanent residency are forbidden from donating directly to federal political candidates or political action committees. They have not, however, been barred from giving to groups that seek to influence public policy. A watchdog group, meanwhile, has filed suit over that distinction.
Source: thegatewaypundit.com
The Montana Supreme Court brought sanity back to the western state by mandating voter ID and banning same-day voter registration
The Montana Supreme Court made the ruling for the upcoming primary elections in the state.
Montana KTVH reported:
The Montana Supreme Court has temporarily restored new state voting laws for the June primary that prevent same-day voter registration and require voters that use student IDs for identification to bring additional documents.

Last month, Montana Secretary of State Christi Jacobsen's office asked Supreme Court justices to stay a district court order that blocked the two new regulations.

The Supreme Court's ruling, which comes weeks before the state primary election, temporarily restores the laws while the legal challenges play out.

"Since we have determined that the status quo is best maintained by staying the preliminary injunction and since we are further convinced that staying the preliminary injunction would cause less voter confusion and disruption of election administration," the order stated.
Source: thegatewaypundit.com