Deep Dark World Is Being Exposed, Freedom Of Information [truth] = Game Over – Ep. 2900
Podcast: Download (Duration: 1:23:49 — 37.7MB)
Watch The X22 Report On Video
The people around the world are rising up, the more the [CB]/[WEF] push the worse it will be for them. The Biden administration have lost the economic narrative. The [CB] is in focus, another [CB] is removed for illegal activity. Trump mentions taxes and that they have consequences. The [DS] is struggling, J6 is not working the people are not buying what they are selling. The [DS] is struggling and they want Trump indicted before the midterms. They have deployed everything they have but it is not working. Truth social is the bull horn, its getting strong and stronger as the truth comes out the people will learn that world they live in is deep and dark and those in control are criminals. Once the people learn the truth the game is over.
---
Economy
---
Political/Rights
Discovery Executive: "He does not have a place in the new CNN. He reminds us of the Zucker period we are looking to move far from. The only reason he is still on air was not to look like we were 'cleaning house' for political reasons right after the closing"

— Jon Nicosia (@NewsPolitics) October 11, 2022
The person this Discovery exec was talking about is Jim Acosta. CNN (like they did when I reported about Stelter being let go) will be to defend the person. That's what network PR people do. Keep in mind many of the recent people let go had big support within the network /more

— Jon Nicosia (@NewsPolitics) October 14, 2022
Testimony:

"We had been instructed at the [Mueller] SCO not to take further action on the matter involving Mr. Dolan and Mr. Danchenko's relationship." pic.twitter.com/658G4nXqRi

— Techno Fog (@Techno_Fog) October 16, 2022
Perhaps Robert Mueller was lying when he said the Steele Dossier wasn't in his "purview."

Maybe his team withheld evidence.

But there's no doubt – what he told Congress was 100% false. His team conducted an extensive Steele Dossier investigation. pic.twitter.com/kOhDgN5liX

— Techno Fog (@Techno_Fog) October 16, 2022
Durham forced the FBI to say that they knew the steele dossier was not real 
The FBI did not verify the dossier

So the question is, what is on the recordings?
Will these recording be released? 
So what do we know so far
Dossier is fake and the FBI knew this
Knowing this Danchenko became a CHS
The FBI paid steel and danchenko
The FBI  knew the dosseier was fake andwent with it any way and used it to get the FISA Warrants.
Don't think the repercussions of Danchenko's 3.5 year stint as the FBI's go to guy for Russia have sunk in yet:

-24 new case files that may be based on fabrications
-potential involvement in Ukraine issues?
-Trump impeachment?
-Hunter stuff?
-"Russian disinformation" hoaxes?
etc https://t.co/kXhjCf3vLk

— Hans Mahncke (@HansMahncke) October 16, 2022
The revelations of FBI malfeasance, egregious conduct and flagrant lies revealed over the last few days during the Durham trial expose the agency's willingness to interfere and impede the will of the American people and the administration of the 45th president of the United States, Donald J. Trump.
The FBI is not alone in this coup perpetrated against our nation.
For years, Americans were force-fed lie after lie by the propaganda press doing the dirty work of the Obama-Biden gang and their half-wit minions at the Department of Justice, FBI and others that caused havoc across our country and sought to destroy lives and families. Mine included.

Advertisement – story continues below

I will not stand still for this, and neither will the hard-working citizens of this nation.
My family and I are owed an apology and we, the American people, are due accountability for the assault on our Constitution they swore to uphold, yet deserted.
Now, Americans learned the FBI offered to pay $1 million of taxpayer money to a foreign spymaster conspiring with the Clinton campaign and others, plotting against America and striking at the heart of democracy and the republic. The extent to which they would go to destroy America had no boundaries.
What is left is a divided nation at grave risk of being lost to socialism and turned into a dictatorship by an anti-America cabal of elitists who have wrecked the rule of law and have been caught attempting to steal the future of our children and grandchildren.
It matters less to me if these thugs spend the rest of their lives in jail, for this is the most consequential time in our nation's history, and if we don't correct the path this country is headed down, we may be seeing the last vestiges of the America our Founders envisioned — a free nation of self-governed citizens emboldened with their God-given rights of life, liberty and the pursuit of happiness.
Thank God the truth has broken through since the Durham trial began. Truth has no fear and will always surface to the top. And there are no more disguises of righteousness for those who seek to dismantle the American way of life. No hiding places, no rocks to climb under — America is informed.
The relentless and brutal attacks on me and my love for God and country will continue, but these are whistles in the wind. They will not deter me from honoring my oath and duty to protect this country from harm or my love for my family — my children and grandchildren — for whom I will give my last breath so that they will live free
Source: thepostmillenial.com
Under federal investigation: Trump, DeSantis, Musk, January 6 defendants, parents, pro-lifers

Not under federal investigation: Obama, Biden, Hillary, Comey, McCabe, Brennan, Clapper, Strzok, Page, Fauci, Birx, Walensky, Pfizer, BLM, Antifa, etc

American tyranny, in a nutshell

— Monica Crowley (@MonicaCrowley) October 15, 2022
EeMwFWLXkAIleVK.jpg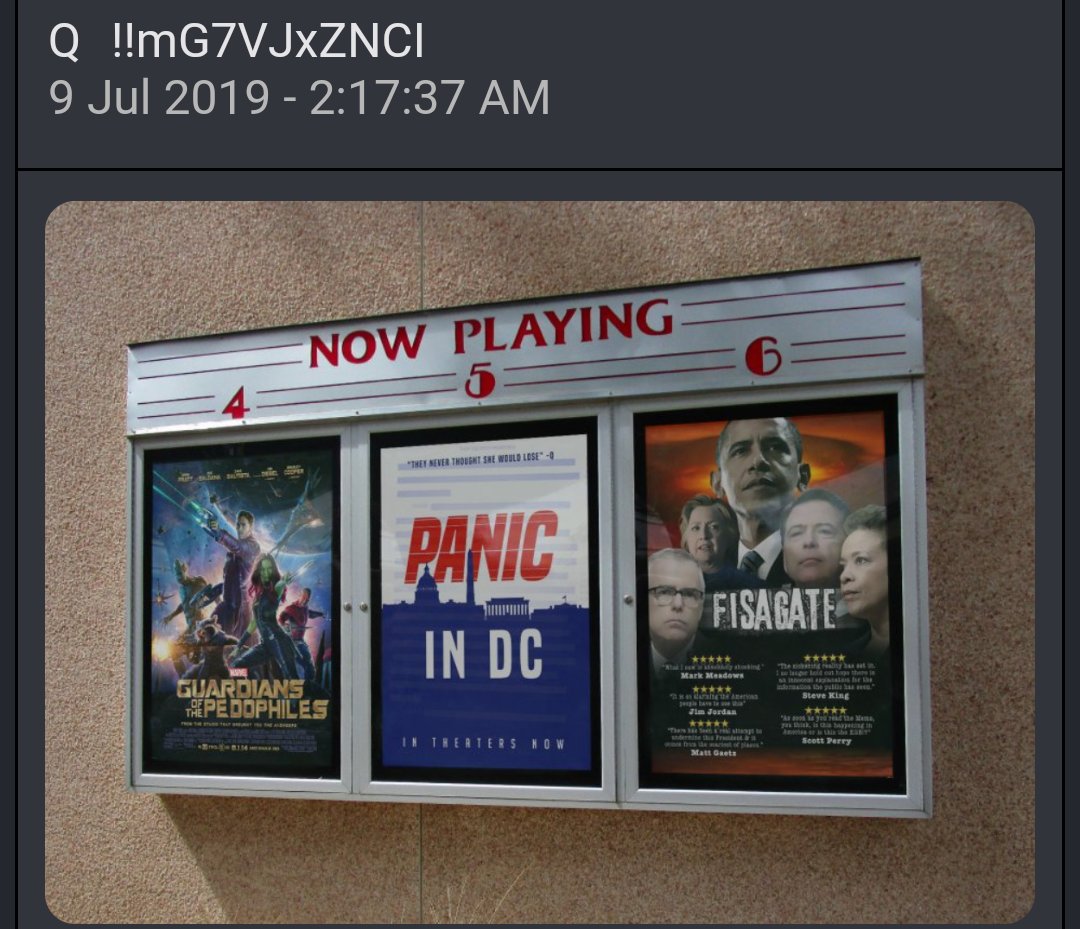 All [3] movies playing simultaneously?
Do you find it interesting that everything discussed in the past is somehow making news as of late?
Q
At least 269 K-12 educators arrested on child sex crimes in first 9 months of this year
74% of the arrests involved alleged crimes against students
Nearly 270 public educators were arrested on child sex-related crimes in the U.S. in the first nine months of this year, ranging from grooming to raping underage students.
Only 43 of the alleged crimes, or 16%, did not involve students. It is not known whether another 10% of the alleged crimes involved students.
Men also made up the vast majority, with over 80% of the arrests.
Source: foxnews.com
The_Great_Awakening_Crowd_Meme_570x350.jpg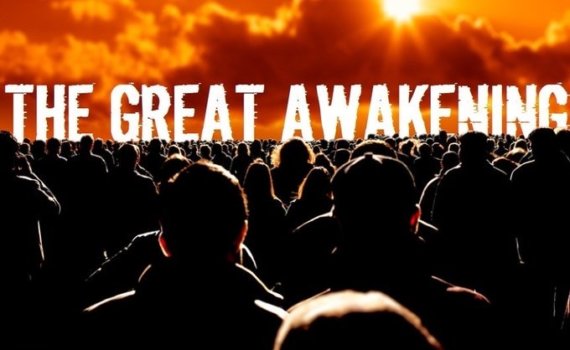 Sometimes you can't TELL the public the truth.
YOU MUST SHOW THEM.
ONLY THEN WILL PEOPLE FIND THE WILL TO CHANGE.
Crimes against children unite all humanity [cross party lines]?
Difficult truths.
Q
Those who provided Hunter w/ underage girls [trafficked?] _same people who also took the pictures?
If large sums of money are being paid by foreign [state] actors [to protected [in powerful positions] US pols] would they want assurances the deal will be kept?
Bribes & blackmail.
Dark secrets.
Q
---
Geopolitical/Police State
TikTok Bans Users From Searching the Term "White Lives Matter
TikTok recently prohibited users from searching the term "white lives matter". The video hosting service did so on the grounds that the term is connected to "hateful behavior."
 No results found. This phrase may be associated with hateful behavior. TikTok is committed to keeping our community safe and working to prevent the spread of hate. For more information, we invite you to review our Community Guidelines.
Source: bigleaguepolitics.com
---
War
---
False Flags
---
Q
President Trump: "Peacefully and patriotically make your voices heard."

Nancy Pelosi: "I'm gonna punch him out. This is my moment. I've been waiting for this." pic.twitter.com/jIfxRphifi

— Trump War Room (@TrumpWarRoom) October 14, 2022
"There are large numbers of text messages between the police and Pelosi staff…those may be the Holy Grail of where Republicans finally find out what really happened…" @jsolomonReports pic.twitter.com/ZCrpzBecbk

— Trump War Room (@TrumpWarRoom) October 13, 2022
So Nancy Pelosi refuses Trump's request for a national guard presence on Jan 6 & simultaneously has a documentary film crew in her office where are you can hear her poorly delivered tough guy act… I'm sure I'll be called conspiracy theorist for thinking this isn't a coincidence!

— Donald Trump Jr. (@DonaldJTrumpJr) October 15, 2022
TRUMP RESPONDS TO JAN. 6 COMMITTEE: 'WE DEMAND ANSWERS ON THE CRIME OF THE CENTURY'
President Donald Trump responded to Thursday's news that the Jan. 6 Committee had voted to subpoena him in the ongoing "investigation" surrounding the alleged "insurrection" that took place at the U.S. Capitol in 2021.
Trump posted a link to a 14-page letter on his social media site, Truth Social, addressed to Rep. Bennie Thompson, D-Miss., who chairs the Jan 6. Committee. In the letter, Trump responded to the "Unselect Committee of political Hacks & Thugs," and he didn't disappoint.
The letter, titled "PEACEFULLY AND PATRIOTICALLY," opened with a single exclamatory sentence written in all capital letters:
"THE PRESIDENTIAL ELECTION OF 2020 WAS RIGGED AND STOLEN!"
President Trump drew attention to the committee's unwillingness to investigate "massive Election Fraud that took place during the 2020 Presidential Election" and accused them of turning a blind eye to the "Crime of the Century."
He wrote:
"This memo is being written to express our anger, disappointment, and complaint that with all of the hundreds of millions of dollars spent on what many consider to be a Charade and Witch Hunt, and despite strong and powerful requests, you have not spent even a short moment on examining the massive Election Fraud that took place during the 2020 Presidential Election, and have targeted only those who were, as concerned American Citizens, protesting the Fraud itself.

Those who committed the Fraud, thereby having created the Crime of the Century, go unblemished and untouched, but those who fought the Crime have suffered a fate that was unthinkable just a short time ago. We have a two-tier system of Justice in the United States that cannot be allowed to continue.

A Majority of people in our Country say that the Presidential Election of 2020 was determinatively dishonest, including the fact that many Legislatures were overridden by local and State politicians and judges on vital regulations and requirements, which is totally illegal and UNCONSTITUTIONAL."
President Trump also pointed out that since 1888, "no incumbent President has gained votes and lost reelection." He drew attention to his sweeping victory of four bellwether states, including Iowa, Florida, Ohio, and North Carolina, as well as 18 of 19 bellwether counties in 2020.
"No work was done by the Committee on Election Fraud," Trump continued. "We, and a huge portion of the American people, simply asked that it be a part of your Committee's work. It wasn't."
The letter listed numerous examples of evidence of election fraud and ballot problems recorded in the 2020 election in states like Arizona, Georgia, Michigan, Pennsylvania, and Wisconsin.
"You have not gone after the people that created the Fraud, but rather great American Patriots who questioned it, as is their Constitutional right," Trump stated, scorching the committee's inaction.
He concluded, "The people of this Country will not stand for unequal justice under the law, or Liberty and Justice for some. Election Day is coming. We demand answers on the Crime of the Century."
Source: rsbnetwork.com