DeSantis Paves The Way For Future Patriots, Do You See What's Happening? Panic In DC – Ep. 2842
Podcast: Download (Duration: 1:03:01 — 27.5MB)
Watch The X22 Report On Video
The world is in a chaotic state, the [WEF]/[CB] are pushing their agenda but in the end it will fail. Their agenda is transparent to the people. Another economic piece has been put into place, structure change is coming and the move away from the [CB] fiat system. The patriot plan is moving forward, the template is being created for future patriots. Once the new patriots are in position the draining of the rest will begin, do you see how this works. DeSantis is showing the others how it is done, once one individual does it the other will have the courage to follow.Panic in DC, they cannot stop this.
---
Economy
The UK hiked its interest rates by 50 basis points on Thursday. Officials predict the longest recession since the global financial crisis.
And British officials expect an inflation rate of 13% iin the fourth quarter of this year.
Source: thegatewaypundit.com
78% to 90% of the money raised from super-sizing the IRS would come from those making less than $200,000 a year. Only 4% to 9% would come from those making more than $500,000.
THIS IS A HUGE MIDDLE-CLASS TAX INCREASE. pic.twitter.com/VwXmdtJhXg

— David Asman (@DavidAsmanfox) August 3, 2022
Florida and Texas ranked highest among all states with a net migration of (+220,890/FL and +170,307/TX)
California and New York ranked lowest with a net loss of (-367,299/CA and -352,185/NY)
Source: US Census.
Liberals: whatever you're doing, keep at it! People are FLEEING your failing states! 
BlackRock will begin offering bitcoin trading and custody services.
The asset manager is partnering with Coinbase to facilitate trading desk and custodial operations for its institutional clients.
Coinbase Prime will act as the custodian and it does not seem to have external wallet transfer functionality.
BlackRock, the world's largest asset manager with over $10 trillion in assets under management (AUM), is launching bitcoin trading services for institutional clients in a new partnership with Coinbase, per a blog post from the exchange.
Source: bitcoinmagazine.com
---
Political/Rights
BREAKING: FBI Director Wray just testified "a number of people" who worked on the Crossfire Hurricane case are under internal investigation but suggested none has been fired b/c probes have been "slowed down" due to "cooperation & assisistance" w/ Durham's criminal investigation

— Paul Sperry (@PaulSperry30) August 4, 2022
Florida Governor Ron DeSantis has suspended State Attorney Andrew Warren for 'picking and choosing which laws to enforce based on his personal agenda,' and has appointed Susan Lopez as his replacement during the suspension.
Warren, who had served the Thirteenth Judicial Circuit, has most recently refused to follow state policy criminalizing abortion in the wake of the Supreme Court's decision to overturn Roe v. Wade – and repeatedly refused to enforce laws cracking down on child sex-change surgeries, according to DeSantis.
The liberal state attorney also declined to prosecute 67 protesters arrested in George Floyd demonstrations, and said in 2017 that he would only pursue the death penalty "in the very worst cases," and not where "mental illness played a role."
Source: zerohedge.com
Progressive prosecutors backed by Soros have refused to enforce laws across the country. They treat criminals with deference & victims with contempt. This dereliction of duty is why crime is surging. But @GovRonDeSantis won't stand for this. He just suspended the one in Florida.

— Christina Pushaw 🐊 🇺🇸 (@ChristinaPushaw) August 4, 2022
 President Joe Biden signed an executive order Wednesday to authorize taxpayer-financed transportation for women seeking an abortion.
Biden's order directs the Department of Health and Human Services to consider using Medicaid dollars to pay expenses for pregnant women who live in states with pro-life laws when they travel to other states for an abortion.
However, the Hyde Amendment, first enacted in 1976, prohibits federal Medicaid funding for abortion. As a senator for three decades and later as vice president, Biden expressed support for the Hyde Amendment.
Before Biden signed his executive order, White House press secretary Karine Jean-Pierre was unable to respond clearly to reporters' questions about the Hyde Amendment during a press briefing.
"How will you be able to pay, to help women pay, to cross a state line to get somewhere else where they need to go, given the restrictions of the Hyde Amendment?" a reporter asked.
The press secretary responded: "That is something HHS will come up with the details on."
"
Source: dailysignal.com
---
Geopolitical/Police State
---
War
Taliban comments US claim of killing Al Qaeda chief
The Taliban government in Afghanistan stated  that it still has no information on the fate of Al Qaeda leader Ayman al-Zawahiri, who was allegedly killed in a US drone strike in Kabul over the weekend.
"We still are not aware of these details. All that we know is that an aerial attack has taken place here and our Islamic Emirate strongly condemns it," Hanafi told reporters in the Afghan capital in what is the Taliban's first official comment on the alleged killing of al-Zawahiri.
Source: rt.com
 
Ukrainian forces have put civilians in harm's way by establishing bases and operating weapons systems in populated residential areas, including in schools and hospitals, as they repelled the Russian invasion that began in February, Amnesty International said today.
Such tactics violate international humanitarian law and endanger civilians, as they turn civilian objects into military targets. The ensuing Russian strikes in populated areas have killed civilians and destroyed civilian infrastructure.
"We have documented a pattern of Ukrainian forces putting civilians at risk and violating the laws of war when they operate in populated areas," said Agnès Callamard, Amnesty International's Secretary General.
"Being in a defensive position does not exempt the Ukrainian military from respecting international humanitarian law."
 the organization did not find evidence of Ukrainian forces located in the civilian areas unlawfully targeted by the Russian military.
Source: amnesty.org
Pelosi Leaves Taiwan as China Prepares Effective Military Blockade
China's unprecedented military drills are expected to become routine as a result of Pelosi's visit
House Speaker Nancy Pelosi (D-CA) departed Taiwan for South Korea and left in her wake soaring tensions between Taipei and Beijing as the Chinese military continued preparing unprecedented military exercises that will effectively blockade the island.
China's People's Liberation Army (PLA) is closing off six areas around Taiwan from Thursday to Sunday and is expected to hold drills, including live-fire exercises, in some areas within 12 miles of the island.
The drills are expected to be bigger than the missile tests China launched during the Third Taiwan Strait Crisis that was sparked in 1995 by the US granting a visa to former Taiwanese President Lee Teng-hui.
Source: antiwar.com
---
Cyber Attacks
---
False Flags
Why hasn't Dr. O'Connor taken any questions from the press regarding Joe Biden's ongoing Covid infection?
Quadruple vaxxed Joe Biden tested positive for the China Coronavirus again on Thursday according to the White House doctor.
 
Source: thegatewaypundit.com
Here is the CDC ordering a certain platform the name of which begins with T to ban Naomi Wolf for daring to mention certain things before the NYT confirmed them as true. pic.twitter.com/tperboWJH5

— Jeffrey A Tucker (@jeffreyatucker) August 2, 2022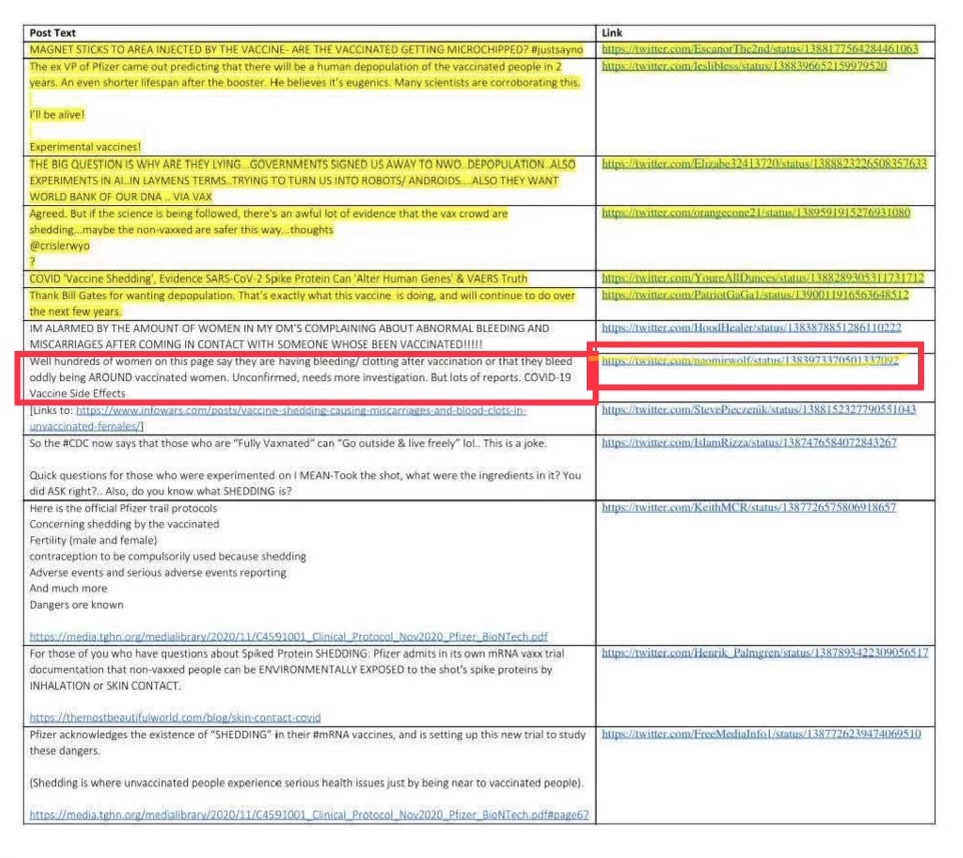 ---
Q
.@SenTedCruz Confronts FBI Director Wray About The Governor Whitmer Kidnapping Plot & FBI Entrapment

Senator @tedcruz Also Asks About The Promotion Of FBI Special Agent In Charge Of The Detroit FBI Field Office To The DC FBI Field Office Now Overseeing The 1/6 Investigation pic.twitter.com/aza2QXLhcp

— The Columbia Bugle 🇺🇸 (@ColumbiaBugle) August 4, 2022
 
During questioning Chris Wray was asked why he had not arrested more Trump supporters on January 6.
Wray told the committee,
"There were a certain number of people who concealed themselves more effectively. So part of it is a little more challenging to get those people identified. That's part of it… I have to be little bit careful what I say here. But we are continuing to develop some of the more complicated parts of the investigation in terms of conspiracy charges and that sort of thing."
Chris Wray has known for over a year there was no conspiracy to overrun the US Capitol. The only person promoting that idea the week of January 6 was government opertative Ray Epps who still walks free today.
 
Source: thegatewaypundit.com
Republican Texas Sen. Ted Cruz confronted FBI Director Christopher Wray about a leak of alleged FBI material by the conservative activist group, Project Veritas, at the Senate Judiciary Committee hearing Thursday.
Cruz tried to make the case that the FBI has a repeated pattern of targeting conservatives and "patriotic Americans." He pointed to a copy of FBI training material obtained by Project Veritas that allegedly listed the Betsy Ross, Gadsden and Gonzales Battle flags as themes "indicative of militia violent extremism."
"Director Wray, what are you all doing?" Cruz asked. "This makes no sense. Do you agree with this FBI guidance that the Betsy Ross flag and the Gadsden flag and the Gonzales Battle flag are signs of militia violent extremism?"
"Senator, I am not familiar with the document behind you and I'm not in the practice of trying to comment on a document that I haven't recognized. But, I will tell you that when we put out intelligence products, including ones that reference symbols which we do across a wide variety of context, we usually make great pains to put caveats and warnings in the document that make clear that a symbol alone is not considered evidence of violent extremism."
The senator said the document does not include symbols connected to Antifa and Black Lives Matter.
"Instead, you identify patriotic Americans as suspects," Cruz said.
Source: dailycaller.com
20,000 Monday votes signature verified on Tuesday and counted Wednesday.
150,000 Tuesday votes signature verified on Wednesday and counted Thursday.
Given Lake voters were a heavy majority on Election Day Tuesday, we believe @KariLake will be declared the winner today by a wide margin.
The Swamp's Karrin has 13,000 followers on social media.
How is this even a race without election fraud
Well done, everyone. You completely overwhelmed the system on Election Day!
The more votes they count, the higher our lead grows. Is this why they are dragging their feet?
Get it done. And remember: we have eyes everywhere.
In regards to the midterm being cancelled, the [DS] is panicking, they know if they lose the midterms it is game over for them. This doesn't mean we don't vote, we vote like we have never voted before, united as one and in mass we bring on the red wave. They know this is coming.  
Lets take a look a the [DS] and what they done in the past
911 was used to get us into the middle east (Afghanistan), violated our rights with the patriot act
[FF] Mass shooting is used to confiscate weapons from the people 
The Pandemic was used to control the people, push the vaccine, cheat in election to remove trump
Riots were used in 2020 to defund the police, create chaos
Jan 6 fake insurrection was used to stall the vote count and coverup the real insurrection on Nov 3
New covid variant, monkeypox, blue states declaring medical emergency, push for masks, same playbook as before, push vaccines, setup for riots, and cheat in the elections
The question is what is the [DS] going to do during the midterms, the [DS] is desperate.  Will they create riots, terrorism, national emergency to cancel the elections so there is no red wave?