Desperation Sets In, See Something, Say Something, Brace For It, Incoming – Episode 1959
Podcast: Download (Duration: 42:44 — 44.1MB)
The [CB] and the elite in the UK are trying everything to stop the BREXIT, BJ is pushing back letting the people know that the government is not going along with the people. Trump and BJ have made an interim trade deal once the BREXIT is done. The MSM/[CB] they are doing everything they can to push a recession. Trump and the patriots have the upper hand and are in full control. The [DS] is desperate, they are struggling to stop what is coming. Trump points out that the MSM is the enemy of the people. The IG report confirms that Trump was always the target, Comey and others are now caught in a lie, they are exposed. Sidney Powell, Flynn's attorney is pushing back and holding the DOJ prosecutors in contempt. Pirro says the plan of the [DS] was to blend the US. Peace deal coming to Afghanistan, troops withdrawn and bases are closing. The [DS] is now pushing everything, warning signs are all over the place, see something say something.
Check Out The X22 Report Spotlight YouTube Channel X22Report Spotlight
Please check Newzsentinel.com for the latest news on the economic collapse. The Sentinel Alerts are updated throughout the day. If you haven't already, go to "The People" and join the community of people who are helping each through the economic collapse.
---
Current News – 09.02.2019
Watch The X22 Report On Video
---
Economy
Proponents of the bill are expected to begin the process of passing it on Wednesday. Their strategy involves taking over Parliamentary business.
If the legislation passes, Johnson would either need to secure a new withdrawal agreement with the EU by mid-October, or press the EU27 to grant the UK another extension, 
Source: zerohedge.com
So lets get this straight, Theresa May tried to push a deal and the people said no, this is not a good deal, actually its the same written in a different way. Then Theresa may resigned, the people elected Boris Johnson to push the BREXIT deal through with no deal, the UK government is trying to stop him, so basically they are going against the will of the people. 
Here in the US Trump tweets out letting the people know that the economy is doing well, he is controlling the narrative, that there is no recession headed our way, until trump and the partiots are ready to transition the economy.
The MSM has been pushing their own narrative to force a recession
Economists don't know when the decade-long expansion, now the longest in American history, will end. But here are the indicators they will be watching to figure it out.
Here's a list of recession signals that are flashing red – CNBC
Growing pessimism: 34% of economists in survey expect a US recession in 2021
Trump tweeted out the following.
"The last three years of Trump policy have finally brought real hope and real change. Unemployment this year hit a 50 year low. With President Trump we've seen the lowest EVER African American and Hispanic unemployment. The booming Trump Economy has pushed up workers wages….

— Donald J. Trump (@realDonaldTrump) September 2, 2019
….Average hourly wages growth has far outpaced what we saw with President Obama. Across all industries, from mining and construction, to leisure & hospitality, With President Trump we see income growth in states like Iowa, Ohio, Pennsylvania, Wisconsin, Nevada, Florida,……

— Donald J. Trump (@realDonaldTrump) September 2, 2019
….swing states that went to Trump in 2016 because he promised not to forget about them like the establishment had done for decades, and their trust in President Trump, paid off as they saw their incomes rise…And it's the lowest paid workers who have gained the most with….

— Donald J. Trump (@realDonaldTrump) September 2, 2019
….Trump Economics. With President Trump, Tariffs are bringing companies back to the USA like he said they would! @SteveHiltonx

— Donald J. Trump (@realDonaldTrump) September 2, 2019
gold is moving up
---
Political/Rights
At every turn the DS is failing, the event in Texas does not fit their narrative, the individual has a criminal record, the Mueller investigation failed, obstruction failed,impeachment failed, they attack on Trumps character failed, The DS is going to try to push as many events as they possibly can to distract, to clog the news cycle, we will be talking about this a little later in this report but first, Trump is letting the people know who the enemy is , he tweeted out the following
The LameStream Media has gone totally CRAZY! They write whatever they want, seldom have sources (even though they say they do), never do "fact checking" anymore, and are only looking for the "kill." They take good news and make it bad. They are now beyond Fake, they are Corrupt..

— Donald J. Trump (@realDonaldTrump) September 2, 2019
….The good news is that we are winning. Our real opponent is not the Democrats, or the dwindling number of Republicans that lost their way and got left behind, our primary opponent is the Fake News Media. In the history of our Country, they have never been so bad!

— Donald J. Trump (@realDonaldTrump) September 2, 2019
The Amazon Washington Post did a story that I brought racist attacks against the "Squad." No, they brought racist attacks against our Nation. All I do is call them out for the horrible things they have said. The Democrats have become the Party of the Squad!

— Donald J. Trump (@realDonaldTrump) September 2, 2019
Everything we have learned from the IG report shows comeys true intention, it was a counterintelligence investigation.
FBI Director James Comey's first meeting with then-President-elect Donald Trump appears to have been part of the agency's counterintelligence investigation into the Trump campaign.
Comey has described the Jan. 6, 2017, briefing at Trump tower as a defensive briefing intended to inform the President-elect of salacious allegations contained in the so-called "Steele dossier."
Comey had testified to Congress that he "was briefing [Trump] on it because, because we had been told by the media it was about to launch. We didn't want to be keeping that from him. He needed to know this was being said. I was very keen not to leave him with an impression that the bureau was trying to do something to him."
Comey's testimony to Department of Justice (DOJ) Inspector Michael Horowitz, as part of the agency's investigation into Comey, however, paints a different picture.
Comey told Horowitz that the information he obtained from his conversation with Trump "ought to be treated…[like] FISA derived information or information in a [counterintelligence] investigation." In other words, his meeting with Trump had very direct surveillance overtones and intentions—and directly counters what he had testified to Congress.
According to his Congressional testimony, Comey had told Trump at the Jan. 6, 2017, meeting that he was not under investigation by the FBI, noting, "sir, we're not personally investigating you."
  the IG noted that during his investigation, he had determined that there were actually two versions of Memo 1:
"The first version was dated January 6, 2017, and was drafted by Comey as a document on an FBI classified laptop in the car departing Trump Tower. A member of Comey's protective detail emailed this document to Comey, Rybicki, and McCabe on the evening of January 6, 2017, using the FBI's classified email system. This version was not marked with a classification banner/header, portion markings, or a classification authority block."

"The second version of Memo 1, dated January 7, 2017, at 1:42 p.m., is an email that Comey sent to Rybicki, McCabe, and Baker through the FBI's classified computer system. Comey used the electronic classification marking tool in the FBI's computer system to mark this version of Memo 1 "SECRET//NOFORN/ORCON" before sending it."
Although the IG noted that the two memos were substantially similar, one wonders why Comey felt compelled to have the initial draft emailed to Deputy FBI Director Andrew McCabe and Comey's Chief of Staff James Rybicki immediately following his meeting with Trump—and without any classification markings.
Comey's meeting with Trump followed a formal briefing that Comey, CIA Director John Brennan, and National Security Director James Clapper had provided to Obama just hours earlier regarding the Intelligence Community Assessment (ICA) on Russia hacking and election interference.
  Clapper had personally briefed Tapper about the Comey-Trump meeting almost immediately after it occurred. We know this from findings contained within the House's Final Report on Russian Active Measures:
Clapper at first denied leaking the information of the dossier and the Comey-Trump meeting, but ultimately acknowledged having done so:
Source: theepochtimes.com
So the report confirms that Trump was the target, Trump knew this, the patriots knew this, this is why they continued to ask the question am I the target, to get them on record, to catch them in a lie. 
Trump Was Always the Target of the Russia Investigation
The IG report confirms it.
Source: nationalreview.com
Lets move on to the Flynn case, because things are starting to heat up. 
General Flynn's Attorney Sidney Powell Petitions Court to Hold Mueller Gang in Contempt and Kicked Off Case!
 Sidney Powell  is  demanding the Mueller gang be held in contempt.   
 
Powell argues that the Deep State Mueller gang led by the most corrupt DOJ attorney in US history, Andrew Weissmann, withheld information pertinent to their case:
Will Chamberlain tweeted out the following
Powell makes a SHOCKING accusation: that prosecutors Brandon Van Grack and Zainab Ahmad, under the direction of Andrew Weissmann,

"affirmatively suppressed evidence that destroyed the credibility of their primary witness [and] impugned their entire case against @GenFlynn." pic.twitter.com/FI2o3Hz3bJ

— Will Chamberlain (@willchamberlain) September 1, 2019
It looks like @SidneyPowell1's allegations are based on a "voluntary" production of documents by the prosecutors on August 16th.

Van Grack denied that there was any Brady material in the production.

Powell disagreed – and argued that the prosecutors should be HELD IN CONTEMPT! pic.twitter.com/Yh4I9m0h9m

— Will Chamberlain (@willchamberlain) September 1, 2019
Continuing on: @SidneyPowell1 notes what the consequences of a contempt finding by Judge Sullivan would be.

The existing prosecutors would be thrown off the case, and DOJ would have to appoint new prosecutors.

Just as happened in the Ted Stevens case.

Under Judge Sullivan. pic.twitter.com/O3xpwtNo5f

— Will Chamberlain (@willchamberlain) September 1, 2019
Van Grack, Ahmad, and Andrew Weissmann probably aren't very happy right now.

This motion threatens not only their prosecution of @GenFlynn, but their careers and their professional reputations.

They haven't filed their response yet.

But the NYT has.https://t.co/WO9rHQcD1n

— Will Chamberlain (@willchamberlain) September 1, 2019
Source: thegatewaypundit.com
Jeanine Pirro explains what the plans of the DS in regards to bringing in the illegals into the country. now of course the MSM is calling this a conspiracy theory, but we have discussed this before and we know from everything we looked at that this was part of their agenda.
FOX NEWS' JEANINE PIRRO CLAIMS DEMOCRATS PLOTTING TO 'REPLACE AMERICAN CITIZENS WITH ILLEGALS'
  Pirro said the DS was planning a "great replacement,"  
"Their plan and their plot to remake America is to bring in the illegals, change the way the voting occurs in this country, give them licenses, they get to vote maybe once, maybe twice, maybe three times," Pirro continued. "You've got motor voter registration on the day of the election, we've got voter rolls that haven't been purged of dead people in years, where the Democrats have resisted that."
She added: "Think about that, it is a plot to remake America. To replace American citizens with illegals who will vote for the Democrats."
Source: newsweek.com
Now something very interesting happened in the JE case, the modeling agency boss that recruited woman has disappeared.
Jeffrey Epstein's model-scouting pal has 'disappeared without a trace'
 Jean-Luc Brunel   has disappeared like a "ghost," as investigators scour the globe searching for him,  
Investigators have made inquiries throughout the US and Europe, as well as Brazil, where the Frenchman was seen looking for girls just three months before Epstein, 66, was arrested, the paper says.
"There is no address for him, all his internet accounts, including social media, have been wiped out. He is uncontactable,"
Source: nypost.com
Trump is now changing the landscape of the circuit courts, remember they placed judges in these positions then blackmailed them to do the DS dirty work, trump tweeted out the following
"We hold that legislative prayer is government speech not open to attack via those channels." Third Circuit, Court of Appeals. "Lou, that's why this next Election is so important, the soul of America. They want to take religion out of American lives. Thank God for judges like….

— Donald J. Trump (@realDonaldTrump) September 2, 2019
…..this (Judge Thomas Ambro, Majotity Opinion), and thank God for a President like Donald J. Trump, who will appoint judges like this. He will soon have appointed 180 new Federal Judges, not even including two great new Supreme Court Justices." @robertjeffress @LouDobbs

— Donald J. Trump (@realDonaldTrump) September 2, 2019
Lets talk about OBama, because FISAGATE, SPYGATE, Uranium and HRC emails scandals are going to lead back to him one way or another, but I want to go back to Qs post.
Did both of HUSSEIN's parents learn 'RUSSIAN'?
Is 'RUSSIAN' a common language to learn?
Think then.
Think now.
[Think Nellie Ohr]
WHY WOULD YOU NEED TO KNOW HOW TO SPEAK 'RUSSIAN' IN THEIR FIELDS OF PRACTICE ('PUBLIC' FIELDS)?
The Cold War.
[AB[C]]DEFGHIJKLM…….
Q
Sara Carter tweeted that Obama gave Kenya 7.5 billion dollars. 
.@BarackObama and @JoeBiden gave #Kenya $7.5Billion during their yrs in power.

If you believe that Congress should review all #USAID – *Retweet with Comment*#Transparency #Accountability #WhereIsOurMoney https://t.co/zajJ4LP56G

— Sara A. Carter (@SaraCarterDC) September 1, 2019
Why would a President of the United States

[HUSSEIN]

assign '

RENEGADE

' as his USSS codename?

Define '

Renegade

'.

noun

1. a person who deserts and betrays an organization, country, or set of principles.

synonyms: traitor, defector, deserter, turncoat, betrayer;

adjective:

renegade

1. having treacherously changed allegiance.

Q
---
Geopolitical/Police State
New Saudi anti-corruption chief to target public servants
 The new head of Saudi Arabia's anti-corruption commission said he plans to go after graft by ordinary government employees, following a high-profile campaign two years ago that netted princes, ministers and top businessmen.
Saudi Arabia's royal court said in January it was winding down a 15-month anti-corruption campaign after summoning nearly 400 people and recovering more than $106 billion through settlements with dozens of them.
Source: reuters.com
Saudi Arabia was the Epicenter for Human Trafficking, The prince is now draining the swamp, this is no longer the playground for the DS
Now out in China the protestors are still pushing the government, they want freedom, if people do not have the right to have a weapon then those in power can control them, the people of China are realizing this, Ryan Saavedra tweeted out the following
Saw this photo floating around and wanted to verify that it was real and not photoshopped before posting it

It's real

The photo of the defiant pro-democracy protesters in Hong Kong was taken on July 28, 2019

Credit: ANTHONY WALLACE/AFP/Getty Images pic.twitter.com/9bSOgjLK1z

— Ryan Saavedra (@RealSaavedra) September 2, 2019
---
War
U.S. to withdraw 5,000 troops from Afghanistan, close bases: U.S. negotiator
The United States would withdraw  troops from Afghanistan and close five bases within 135 days under a draft peace accord agreed with the Taliban,
Source: reuters.com
Iran says it will take a 'strong step' away from nuclear deal without new terms
Iran will "take a strong step" away from its 2015 nuclear deal with world powers if Europe cannot offer the country new terms by a deadline at the end of this week,
Source: globalnews.ca
---
False Flags
The DS is trying to push as many events as they possibly can, it seems the patriots are listening, hearing the chatter and making every effort to stop each and everyone, can they stop them all, we will see, but the patriots are keeping a close eye on the DS and their movements.
Explosives found near Labor Day parade New Jersey governor was participating in
A man is in custody after several pipe bomb-like devices were discovered along a Labor Day parade route in New Jersey that Gov. Phil Murphy (D) and first lady Tammy Murphy were scheduled to attend, 
A suspect was reportedly detained on Monday after police found "over half a dozen" devices on his property that was near the town of South Plainfield's parade route, leading officials to abruptly cancel the festivities.
The suspect was described to the outlet as a "rogue individual" in his 50s who liked explosives. He has not yet been identified.
The official told 

NJ.com

that the explosives would not have been able to kill anyone. thats very interesting because we have seen this before where they use flashbangs to make it look like a terrible explosion went off and then they crisis actors standing by, Veronica Wolski tweeted out the following
Source: thehill.com
Hmmmm…#EyesOnNy#ThePeoplesBridge pic.twitter.com/DcA6Co8Y09
— Veronica P Wolski (@whaleswarrior) September 2, 2019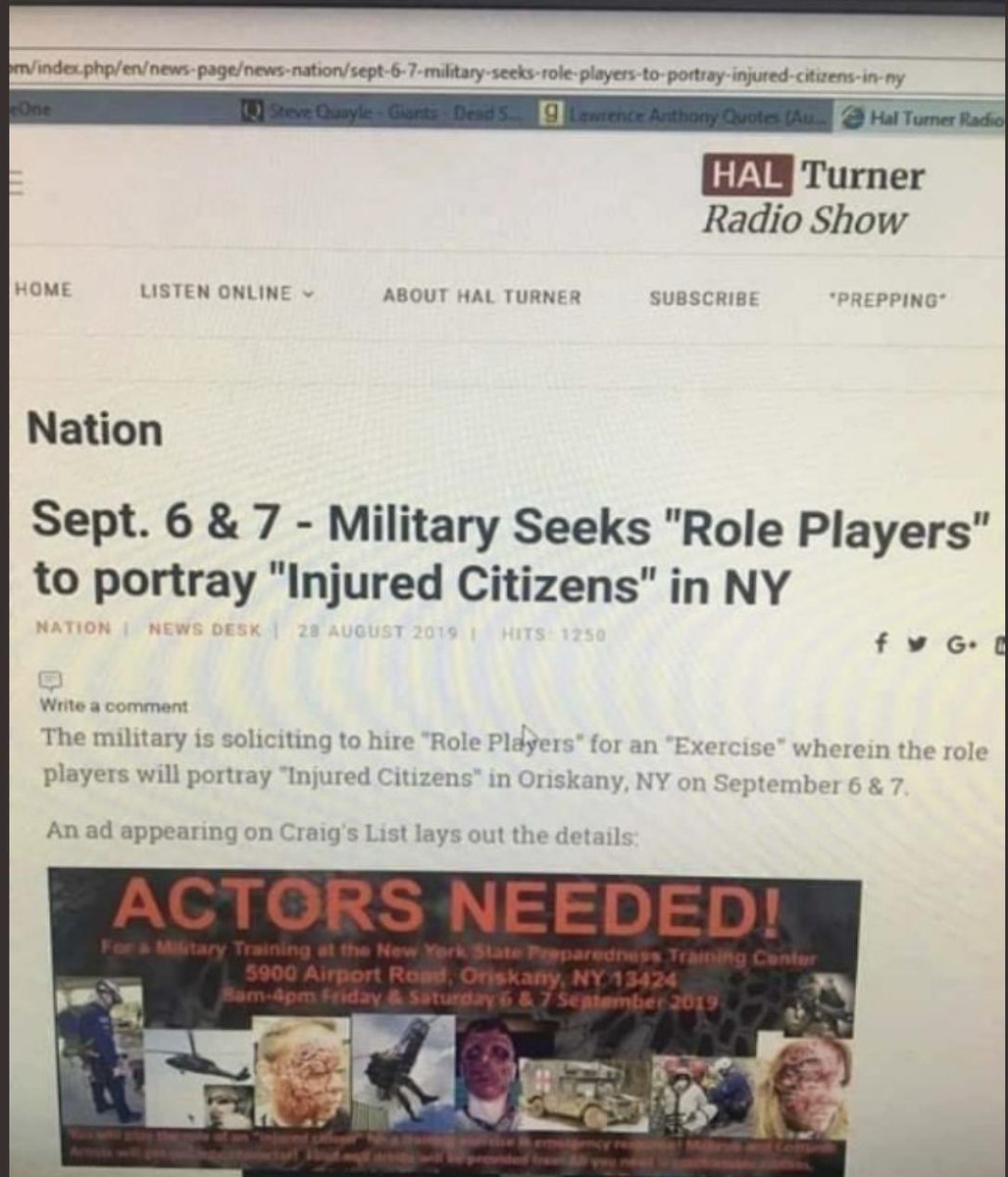 Then we have Tesla's Muse tweet out the following
Head's up in NV pic.twitter.com/p07MHFlObC
— Tesla's Muse (@OrigTeslasMuse) September 1, 2019
Q

 

!!mG7VJxZNCI

 

ID: a8ec29

 No.7271105
Be vigilant.
See something.
Say something.
Know your surroundings at all times.
Q