Did The Patriots Take Control Of [DS] Agenda?Election Interference,Nov 3rd, All System Go – Ep. 3084
Podcast: Download (Duration: 1:27:14 — 39.1MB)
Watch The X22 Report On Video
The more the [WEF] pushes the worse it gets, their fake meat is now being reported that it will do more harm to the environment than natural meat. The economy is falling apart and now the fake numbers that are used to convince us the economy is growing has now been exposed and it shows the Biden admin lied. The patriots used the debt ceiling against the [CB]. The [DS] fell right into the election rigging trap, Trump has caught them over and over. The patriots are taking control over the ability to fund and defund certain programs in government by using the appropriations committee. Trump sends a message regarding election interference, the 1st marker was hit on Nov 3rd. All systems are now a go.
---
Economy
A new study from the University of California, Davis, has found that lab-grown, or "cultivated" meat's environmental impact is likely to be "orders of magnitude" higher than retail beef based on current and near-term production methods.
The preprint study, which has yet to undergo peer review, concludes that the energy needed and greenhouse gasses emitted during all stages of production of lab-grown meat is far greater than traditionally raised beef.
 
"If companies are having to purify growth media to pharmaceutical levels, it uses more resources, which then increases global warming potential," according to lead author and doctoral graduate Derrick Risner, of the US Davis Department of Food Science and Technology. "If this product continues to be produced using the "pharma" approach, it's going to be worse for the environment and more expensive than conventional beef production."
Source: zerohedge.com
Macy's Tumbles After Slashing Profit Forecast Amid Weaker Retail Spending Trends
Macy's  (M) – Get Free Report shares slumped lower Thursday after the struggling retailer slashed its full-year profit forecast amid what it called 'weakened demand trends' heading into the summer months.
Source: rockdalenewtoncitizen.com 
The 7% mortgages are back. The average interest rate on 30-year fixed-rate mortgages with conforming balances jumped to 6.91%, the highest since November, according to the weekly measure by the Mortgage Bankers Association today.
"Inflation is still running too high, and recent economic data is beginning to convince investors that the Federal Reserve will not be cutting rates anytime soon," is how the Mortgage Bankers Association explained today what has been obvious to us here for months.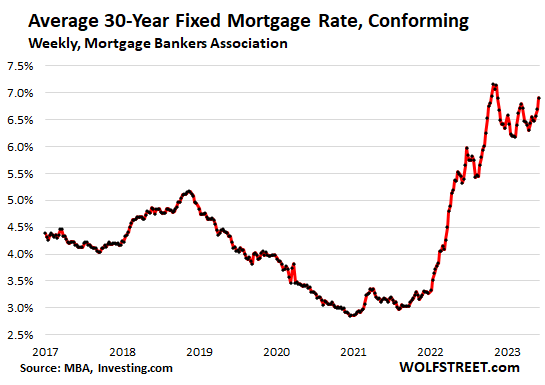 And so, with these kinds of mortgage rates, spring selling season – the time of the year when sales and prices nearly always rise from the dreary days of the winter – has turned into an amazing dud.
Applications for mortgages to purchase a home dropped for the third week in a row, from already low levels, to the third-lowest volume since 1995, the two lowest volume-weeks having been in late February this year, according to the MBA today.
Purchase mortgage applications plunged, compared to the same week in:
2022: -31%
2021: -41%
2019: -40%.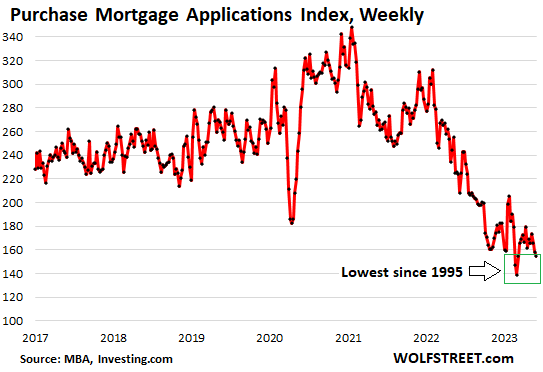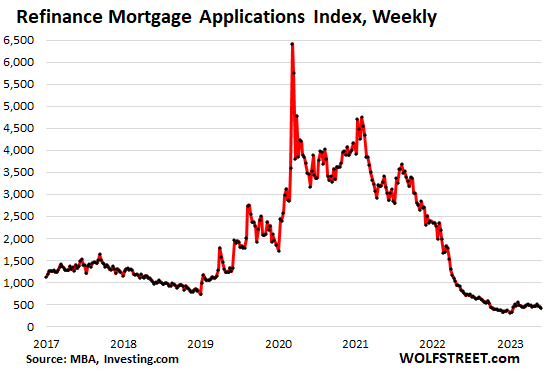 Source: wolfstreet.com
About 1.5 billion square feet of offices – or almost a quarter of US space – are at risk of becoming "zombie buildings" with low occupancy and diminishing financial viability, resulting in as much as $450 billion in lost value by 2030, per Bloomberg.

— unusual_whales (@unusual_whales) June 1, 2023
If jobs and wages haven't been causing inflation … then what is?

Maybe it was the trillions of $$$ created since 2020? https://t.co/m6MvByxTb3

— Wall Street Silver (@WallStreetSilv) June 1, 2023
The term for a bill that gets more Democrat votes than Republican votes is a Democrat bill.

GOP leadership just whipped for and passed a Democrat budget that completely eliminates the debt limit for the entirety of Joe Biden's presidency. https://t.co/eIvbgPPdAn

— Sean Davis (@seanmdav) June 1, 2023
We Traded a Debt Crisis for an Inflation Crisis, and Now We Have Both
Instead of dealing with the real issue—runaway government spending and power—we quietly traded the specter of a debt crisis for the slow burn of an inflation crisis. Today, however, we have both. Instead of casting the money printers into the fire, the Federal Reserve revved them up and paved the way to the present economic crisis.
The Left has now successfully used every method to fund its priorities and reshape our society. Once federal taxes reached a large share of the economy, depressing real wages and job opportunities, the government shifted to a less transparent funding mechanism: borrowing.
In short, the Fed is holding the wolf by the ears. Any attempt to tame inflation will starve the economy as the government has its fill at the buffet. Any attempt to ease the government's crowding-out of borrowing means inflation continues to grow and imposes an indirect but very harsh "tax" on American families. The Fed has lost control because of the magnitude of money—your money—the government is spending.
 source: dailysignal.com 
---
Political/Rights
Durham: Comey is a Threat to the Rule of Lawhttps://t.co/Ge5GdTnp3n

— Paul Sperry (@paulsperry_) June 1, 2023
Every fake news platform giving Russia Gate author Comey air time to continue his lies, cover up, and self glorification tour, are the same ones he conspired with to unleash the largest unlawful investigation in US history- there are no coincidences. From Comey to Wray, FBI has a history of corruption that destroyed l justice and built 2 tiers of it.
Nearly 10K photos from Hunter Biden's laptop hit the web: 'Truth and transparency'
Nudity and private information – like Social Security and credit card numbers – redacted from photos
A trove of photos from Hunter Biden's laptop has been made available to the public through a new website that launched Thursday.
The website – BidenLaptopMedia.com – will house almost 10,000 photos spanning from 2008 to 2019 and took months to complete, Garrett Ziegler, the founder of nonprofit Marco Polo, told Fox News Digital.
"The number one thing we're about… is truth and transparency," he said. "If the American people want to know what their first family is like, they're going to get it. And we're not going to be taking out photos that paint the Bidens in a good light."
Source: foxnews.com
America First Legal  released a batch of heavily-redacted emails it received from NARA that showed Hunter Biden advised his father's office during his vice presidency.
The National Archives and Records Administration is refusing to release myriad communications between first son Hunter Biden and his father's staff, asserting they are protected under an exemption to the Freedom of Information Act that covers communications between the president and his advisors, or between advisors.
America First Legal    obtained the emails from NARA through a FOIA request and has gradually released batches of the materials it obtained. While NARA redacted many of the emails, it further withheld entirely several more, merely confirming their existence.
Of particular interest is a communication from Hunter Biden business partner Eric Schwerin to the Office of the Vice President (OVP) about a "China Lunch" that preceded an official visit from then-Chinese President Hu Jintao to the U.S. in 2011. NARA acknowledged the communication's existence but refused to release it because doing so "would disclose confidential advice between the President and his advisors, or between such advisors."
source: justthenews.com
 
"While the FBI has apparently leaked classified information to the news media in recent weeks, jeopardizing its own human sources, it continues to treat Congress like second class citizens by refusing to provide a specific unclassified record. Director Wray confirmed what my whistleblowers have told me pursuant to legally protected disclosures: the FBI-generated document is real, but the bureau has yet to provide it to Congress in defiance of a legitimate congressional subpoena. This failure comes with consequences," Grassley said.
Source: grassley.senate.gov
UPDATE: Chris Wray Did Not Admit FBI Had Damning Biden China Bribery Document – Until James Comer Notified Him He Already Had Seen the Filing (VIDEO)
I remember from my time as a federal public defender and national security prosecutor days how felony contempt charges work. If you are served a subpoena and defy it, you get charged and go to prison.
"Every person"
How is it Chris Wray is exempted from prosecution when no one else would be??? Two tier system of justice
Did anyone really think that Biden's weaponization of the DOJ to target his political opponents was going to stop with Trump? https://t.co/poWEprpRNF

— Donald Trump Jr. (@DonaldJTrumpJr) May 31, 2023
More: The document at center of this dispute has origins in a tranche of docs that Rudy Giuliani provided to DOJ in 2020, sources tell @evanperez.

The allegations, many originating from sources Ukraine, included 1 claiming evidence of corruption involving Biden when he was VP. https://t.co/GXcpCYEIVR

— Zachary Cohen (@ZcohenCNN) May 31, 2023
Former Pittsburgh US Attorney Scott Brady oversaw the FBI investigation of the Giuliani claims. The document being demanded by Comer is among the products of that probe. 

While the document outlines claims from the informant, it doesn't provide proof they are true, per sources.

— Zachary Cohen (@ZcohenCNN) May 31, 2023
Overclassification—or unreasonable resistance to declassification—is sometimes a result of the desire to conceal embarrassing or inappropriate actions, but it's more often done out of convenience, laziness or good old-fashioned CYA. After all, I'm not aware of any government employee getting in trouble for classifying something that didn't really need to be classified, but there are serious ramifications for not classifying something that should be.
In part because the executive branch has been so slow to address this issue, a bipartisan group of lawmakers in Congress has filed bills to address over-classification and declassification issues. Perhaps they are hoping to force the White House to take action, but any President should be wary of the legislative branch encroaching on their Constitutional authority to classify and control access to national security information.
In a 2020 memo to the President's National Security Advisor, I laid out how the current system came into effect: 
For decades, agencies often employed ad hoc, agency-specific policies, procedures, and markings to handle unclassified information that requires safeguarding or dissemination controls. This patchwork approach apparently resulted in agencies' marking and handling information inconsistently, implementing allegedly unclear or unnecessarily restrictive dissemination policies, and creating potential obstacles to information sharing."
This dynamic led to the Obama Administration in 2010 to issue an Executive order (EO 13556) retiring many of the various, inconsistent unclassified dissemination control markings used for this "gray area" information and replacing them all with a single marking: CUI.
This simplified approach sounded like a good idea at the time. But like many other well-intentioned government policies, it broke down in its implementation. 
In spite of the mandate to simplify the unclassified markings system, the National Archives and Records Administration's Information Security Oversight Office (ISOO) expanded the potential new marking system to include, as I wrote in my memo to the National Security Advisor, "over 124 categories in 20 groupings, with 60 Specified and 60+ Basic categories."
As a result, the new system is so complex and cumbersome that it has still not been fully implemented 13 years later. And it's not only because it would be a complicated mess; it would also cost a fortune, requiring an estimated $1 billion or more to implement just in the Intelligence Community alone. What critical mission areas, I wonder, will be cut to build this new bureaucratic regime? Perhaps we'll stop collecting intelligence on some of our hard targets or adversarial nations and divert that money to fund this latest iteration of government gone wild.
 
Source: zerohedge.com
The Republican lawmakers explained that the debt ceiling legislation contains a crucial Republican provision, crafted by Rules Committee member Thomas Massie (R-KY), that would automatically pass a continuing resolution with a one percent across-the-board federal government cut if Congress fails to pass the 12 separate appropriations bills, which the Constitution stipulates.
Stefanik explained that the Appropriations Committee has already been working to identify "waste, fraud, and abuse" in the federal government, and the appropriations process would allow Republicans to go after the "deep state."
She explained just a few ways that Republicans can work to defund Biden's woke agenda and rein in runaway government.
"We can also use the appropriations process to stop the politicized DOJ and FBI from illegally targeting law-abiding Americans. I sit on the Intel Committee and the Select Committee on the Weaponization of the Federal Government," Stefanik said. "And the approps [appropriations] process is one of our most effective tools to ensure that we're standing up for the constitutional rights of Americans. We can also prevent ATF [Alcohol, Tobacco, and Firearms (ATF) agency] from criminalizing law-abiding gun owners, which is so important, I know, to all of us on this call as staunch supporters for the Second Amendment, and we also have the ability to stop agencies from forcing ESG [Environment, Social, and Governance] programs that put our seniors' retirements at risk."
Jordan charged that the appropriations incentive would allow Republicans to prevent Senate Democrats and the White House from passing another omnibus spending bill. As Breitbart News reported, the $1.7 trillion omnibus bill was stuffed with $45 billion in Ukraine aid, seemingly endless amounts of earmarks, and other pork-barrel projects.
 Source: breitbart.com
SHOCKING:

NYC Mayor Eric Adams has been quietly bussing illegal migrants to small conservative communities in upstate New York. No women or children will be sent, only adult males. They've been put in hotels and are already causing problems in the community. According to one… pic.twitter.com/QnzZmmfQBV

— 🇺🇸Travis🇺🇸 (@Travis_in_Flint) May 31, 2023
By passing the TEXIT initiative, Texas would gain complete control over the state's southern border, and handle the crisis as they see fit.

— Paul Sperry (@paulsperry_) June 1, 2023
---
Geopolitical/Police State
---
War
For over a year now Joe Biden and the Uniparty have been sending tens of billions of dollars in US cash and weapons to Ukraine. There have been no audits performed on this endless stream cash and weapons.
Now there is footage from Mexican TV of a Cartel Del Golfo (CDG) member in Matamoros, Mexico walking the streets with a US-made javelin anti-tank missile.
According to the report the Javelin can cost up to $60,000. And they are now in the hands of the Mexican cartels.
Barack Obama ran guns in Mexico.
It appears, Joe Biden is running Javelin missiles.
Newsmax reported on the missing weapons back in April 2022 — Since that time over $100 billion in US assistance in cash and weapons has made its way to Ukraine.
Source: thegatewaypundit.com
🚩 Col. Douglas Macgregor Says What's Coming Next in Ukraine is 'Very Serious'

"Russian intelligence has always known where everything is you cannot hide from this overhead surveillance. They've got the equivalent to the National Security Agency and the equivalent of the CIA.… pic.twitter.com/s9T2iRKPsL

— Chief Nerd (@TheChiefNerd) May 31, 2023
They can see everything and hear everything. So now they can systematically go after all of these headquarters filled with the so-called decision makers. I think that's just the beginning."
---
False Flags
Let me fix that, @espn.

*Alabama Governor Kay Ivey signed legislation on Tuesday that will ban biological MEN from playing on FEMALE sports teams in college. #alpolitics https://t.co/aFda69PyyB

— Kay Ivey (@kayiveyforgov) May 31, 2023
---
Q
Would you look at that? The nut job with a brand new Nazi flag just happened to have a manifesto with all the talking points Democrats use to describe Republicans.

FBI isn't even putting effort into these false flags anymore. https://t.co/L4kQeMl7qM

— Jesse Kelly (@JesseKellyDC) May 30, 2023
This individual wanted to overthrow the US Government, 
I'm excited to share the good news that just as I promised the J6 tapes are being released!
Speaker McCarthy has given John Solomon, Julie Kelly, and a third outlet unfettered access to the J6 tapes, and their reporting on it starts tomorrow.
This is the transparency the American people deserve and I look forward to their reporting!
Three years ago tonight, this is what our nation's capital looked like during the George Floyd riots. pic.twitter.com/Bq5Ek0UlZv

— Greg Price (@greg_price11) June 1, 2023
How did these criminals not know there were cameras recording everything?
Were they caught via hidden "government cameras" that President @realDonaldTrump keeps mentioning when praising @truethevote&; @greggphillips for the work they've done reviewing 1000s of hours of "tapes from government cameras"?
TheStormHasArrived@TheStormHasArrived17
Kari Lake discusses the bombshell video of Maricopa County rigging the machines.
"They didn't count on the fact that our side, the good guys, were actually recording this 24 hour footage to be used later, as in right now. We have more video coming out."
Thank you @KariLake
Maricopa County is doing another semantic exercise here.

Yes. They live streamed this.

But they didn't record it. The good guys DID.

They didn't think our allies would watch all of the footage & catch them.

They were wrong.

— Kari Lake War Room (@KariLakeWarRoom) May 30, 2023
🚨🚨@KariLake has filed to appeal the recent ruling in her case at trial on signature matching, the judges refusal to hear – after new evidence was found – the claim that Maricopa county knew that 2/3 of the tabulators would reject ballots – and all other orders and rulings. pic.twitter.com/dnPoeNTXHx

— Tracy Beanz (@tracybeanz) June 1, 2023
Nov 18, 2022 7:21:01 PM EST
Runbeck.
Dominion.
SOS Offices.
Investigators.
Researchers.
Whistleblowers.
Patriots in trusted positions.
Trust yourself.
You have seen the truth.
Time to show the world.
Focus.
FOCUS.
Ascension.
Q
Peter Doocy asks Biden: "How's your re-election campaign going? Because we haven't seen you on the campaign trail yet."

— The Post Millennial (@TPostMillennial) May 31, 2023
And now you know why they're all having melt downs on social media… https://t.co/gBGipAh9oU

— Raheem. (@RaheemKassam) June 1, 2023
Mike Pence to Announce 2024 Presidential Campaign Next Week in Iowa
Federal prosecutors are in possession of an audio recording of Donald Trump in which the former president admits he kept a classified document describing a potential attack on Iran, CNN reports.
Trump is heard on the recording suggesting that, although he wishes to share the information, he's aware that as a former president he can't declassify them, multiple sources told the cable news channel, indicating he understood he was in possession of classified material.
CNN has not heard the audio.
The part of the recording in which Trump discusses the Iran document is about two minutes long and part of a larger conversation, according to the report.
Source: rawstory.com
🚨

The FBI is now admitting it has a document evidencing then-Vice President Joe Biden took a foreign bribe.

So brace for an indictment soon.

Of President Trump

From Garland Special Counsel Jack Smith.

For "obstruction."

To deflect and protect Biden.https://t.co/s14MFi1ZEo

— 🇺🇸 Mike Davis 🇺🇸 (@mrddmia) May 31, 2023
🧵
More evidence SC Smith is in fact investigating the 2020 election. NYT tries to spin it that Smith is investigating Trump. Maggie knows better however. https://t.co/7VMchbf3TM

— meangeneone (@meangeneone1) May 31, 2023
Jun 02, 2020 9:44:44 PM EDT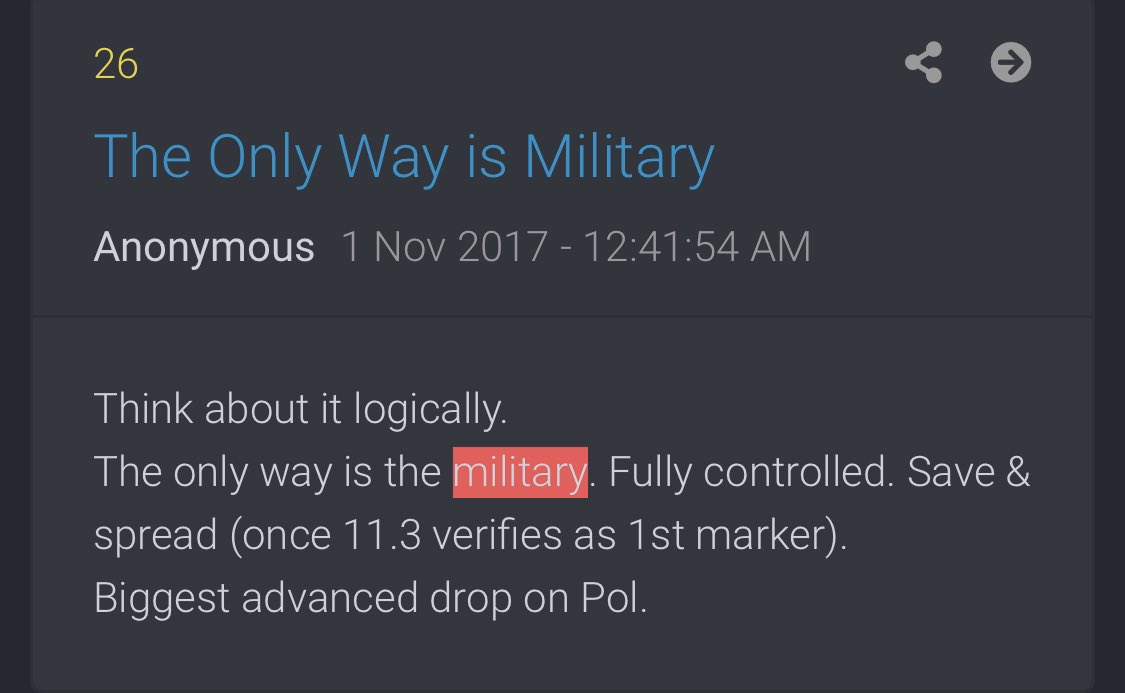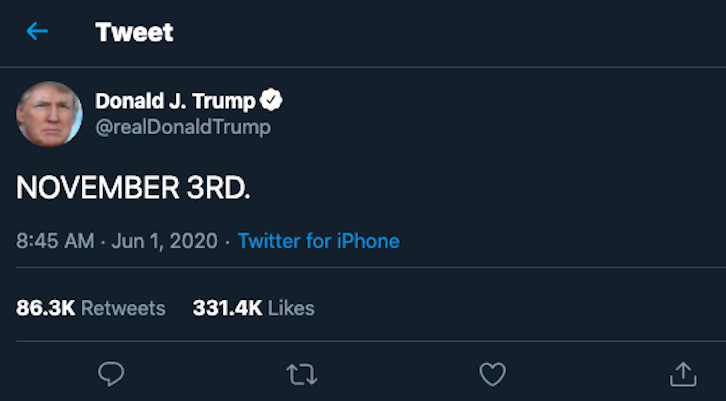 All systems go.
Q