The Evidence Is Building, Panic In DC, Pain, Justice, Backchannels Are Important, Boom – Ep. 3085
Podcast: Download (Duration: 1:35:01 — 42.4MB)
Watch The X22 Report On Video
The green new deal continually falls apart, the earth is getting cooler not warmer. The entire agenda of the [WEF] is failing. The jobs numbers are manipulated we are in a recession heading towards a recession. Biden is losing his SC cases. The [DS] is now panicking, the evidence is coming out and the [DS] must lie and cover up their crimes. This will destroy them in the end. Backchannels are important, COG is in full force and the military is monitoring all the crimes of the [DS] and they are digging their hole deeper and deeper. The narrative of the [DS] no longer works on the people and the people see the [DS] system. Justice is coming.
---
Economy
Just in… NASA satellite data for May.

May 2023 much cooler than May 1998, despite 66% more industrial era CO2.

Emissions-driven warming is a hoax. pic.twitter.com/xOiimubyfu

— Steve Milloy (@JunkScience) June 3, 2023
Senate Passes Biden-McCarthy Debt Ceiling Bill 63-36 – UPDATE: Full Vote Breakdown Including 17 GOP Sellouts
The Senate on Thursday night approved the debt ceiling bill "negotiated" by Speaker Kevin McCarthy and Joe Biden.
The vote tally was 63-36.
Source: thegatewaypundit.com
The Senate on  voted to overturn Joe Biden's student loan forgiveness program 52-46.
Democrat Senators Joe Manchin (WV) and Jon Tester (MT) voted with the Republicans.
Democrat-turned-Independent Kyrsten Sinema (AZ) also voted with Republicans.
Biden vowed to veto the measure, however, the student loan forgiveness program is currently at the Supreme Court.
The Supreme Court is expected to issue a ruling on Biden's loan forgiveness program later this month.
Earlier this year the Supreme Court signaled it will likely put the final dagger in Joe Biden's unconstitutional student loan bailout program.
CNBC reported:
The Senate voted largely along party lines Thursday on legislation to block President Joe Biden's student debt relief program after the measure cleared a key procedural hurdle in the chamber.
Joe Biden unilaterally announced a massive forgiveness of student loans last August to buy the Gen Z-Millennial vote in the 2022 midterms.
Biden canceled up to $10,000 in student debt for borrowers who earn $125,000 a year or less and up to $20,000 for recipients of Pell Grants.
The 8th US Circuit Court of Appeals in November extended a block on Joe Biden's student loan bailout plan.
The DOJ then asked the Supreme Court to lift the 8th Circuit Court's block.
The Supreme Court left the block in place while they hear oral arguments and deliberate.
Source: thegatewaypundit.com
Supreme Court rules 8-1 against unions' claimed right to destroy employer property during strikes, with just one justice not getting the memo 
That brings us to Supreme Court Justice Ketanji Brown Jackson, who served as the lonely dissenter on a cut-and-dried case regarding sneaky union tactics that destroyed company property during a strike.
Even the other liberals on the court went along with the majority, 8-1, in the ruling. But not her.
According to NBC News:
Source: americanthinker.com
The unemployment rate rose 3.7% in May – much higher than the 3.5% estimate – according to a report released by the Labor Department on Friday.
May's unemployment rate was the highest since last October, 
"The increase in the unemployment rate is much worse than expected … usually when we rise by a half a point from the lowest unemployment rate, it means the economy is going into recession. We just rose three-tenths in a month."
WATCH:
 
Source: thegatewaypundit.com
Such as this: readers are probably aware that according to the BLS, there are now roughly 3.3 million more jobs (155.7 million) than there were at the peak just before the covid crash (152.4 million).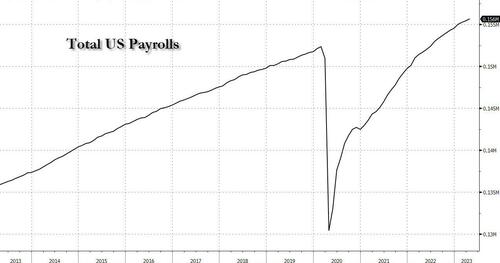 On the surface, this is an impressive accomplishment, as a deficit of some 22 million jobs has been erased in under three years.
But then, if one starts digging, some peculiarities emerge, like for example that much of jobs created in recent years have gone to "multiple jobholders", meaning that not every "payroll" has been assigned to a unique individual, but instead there are now people who hold two, three or more jobs to make ends meet.
Or that much of the recent job creation has gone to low-paying part-time workers while full time jobs have stagnated.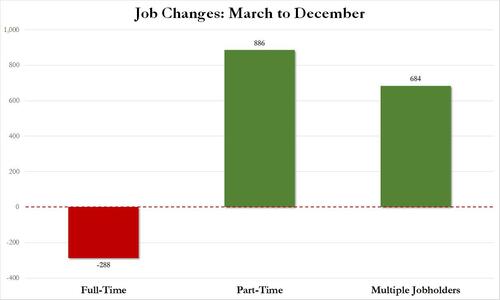 Or that according to the household survey there was virtually no new jobs created for much of 2022 even as the establishment survey indicated that over 2 million new jobs had been added over the same period.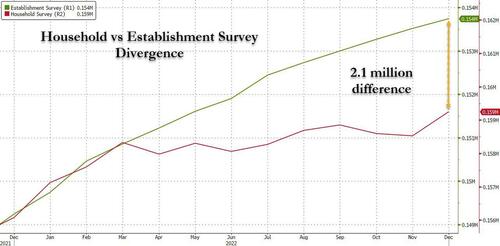 As noted above, if one believes the BLS, US payrolls are now a record high 155.7 million, or 161 million employed workers according to the Household survey. But if one digs a little deeper, one finds something rather peculiar: all of the jobs created since the covid crash have gone to foreign-born workers!
That's right: as shown in the chart below, there are currently 131.1 million native-born US workers, which is down more than half a million from the pre-covid peak of 131.7 million reached in October 2019 (data source: Federal Reserve). Meanwhile, if only looks at the number of foreign-born workers, here the data paints a very different picture: having peaked at 27.8 million in Feb 2019, the number of foreign-born workers has not only recovered its covid crash losses, but has increased by an additional 2.2 million to a record 30.0 million as of April 2023!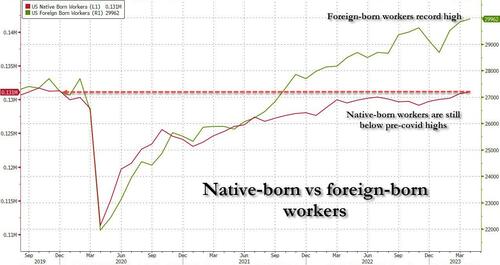 This means that all the new job creation since the covid crash has gone to foreign workers,
Source: zerohedge.com
Companies announced a staggering 417,500 planned layoffs for the first five months of 2023. This is a massive acceleration and more than four times the job cuts compared to last year, according to Bloomberg, citing a report from outplacement firm Challenger, Gray & Christmas.
Disregarding early 2020, when Covid impacted the labor market, the total number of planned job cuts through May is the highest since 2009.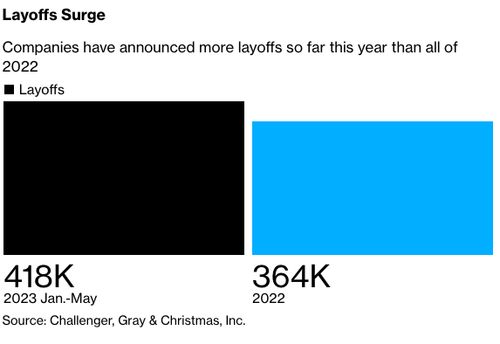 Challenger found most layoffs occurred in the tech industry, announcing 136,800 cuts for the first five months. That came close to eclipsing the full year of 2001 when the tech industry hemorrhaged 168,400.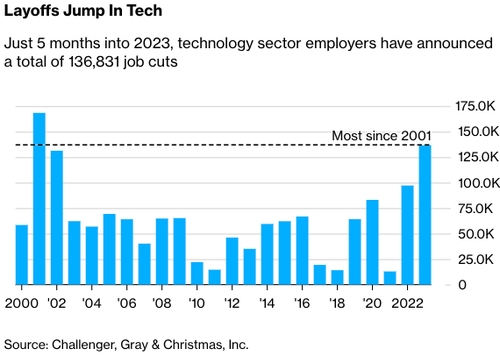 Job cuts are beginning to spread like cancer from tech to other industries, including banking, retail, and media sectors. Challenger said the media industry announced 17,400 job cuts so far this year. Banking has seen a surge in layoffs. Financial firms announced 37,000 job cuts through May, more than four times the number compared to last year.
The Federal Reserve's 14 months of aggressive interest rate hikes have led companies to reign in costs. Challenger said many firms have embarked on a hiring freeze due to mounting macroeconomic headwinds and increasing risk of a slowdown later this year.
Large-scale job cuts will likely continue as Challenger data shows layoffs rising at 287% YoY…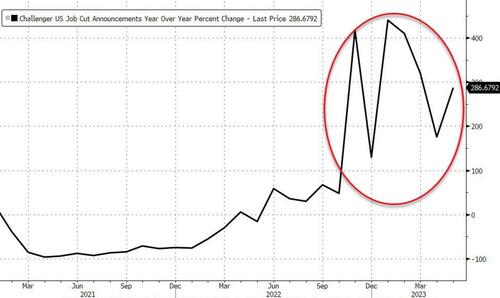 Source: zerohedge.com
---
Political/Rights
Wow. The MLB just quietly removed their LGBTQ+ Pride logo. pic.twitter.com/LaOkN70pXo

— End Wokeness (@EndWokeness) June 2, 2023
It Begins: US Embassies Around The World Fly Pride Flag 
US embassies around the world have decided to fly the pride flag for the month of June to commemorate "LGBTQI+ Pride Month."
Videos on Twitter show the US Embassies  in London, Suava, Dublin, Jerusalem and many more have all decided to host Pride flag raising ceremonies.
WATCH:
There's more:
Under the Trump administration flying pride flags outside of US embassies was prohibited.
Source: thegatewaypundit.com
Kohl's Stock Sinks 12% After Promoting Trans Theme Clothes for 3 Month Old BabiesClothing retail store Kohl's has joined Target and Bud Light as the latest company to be boycotted by Conservatives.
As a result of Kohl's pushing LGBTQ themed clothing to children the company's stock has plummeted over 10%
Take a look at Kohl's 5 day stock chart:
Per Market Watch:
Source: thegatewaypundit.com
Can't Make This Up: Former Chicago Mayor Lori Lightfoot Hired by Harvard to Teach Public Health and Leadership
Well that was fast.
Former Chicago Mayor Lori Lightfoot already has a new job. The far left Democrat has been hired by Harvard University to teach public health and leadership.
It has often been said that the liberal elite takes care of its own, and this is a perfect example.
Breitbart News reported:
Source: thegatewaypundit.com
The FBI used our money to pay a suspected Kremlin agent $200,000 to lie about the opposition presidential candidate so they could illegally spy on him — while falsely accusing him of what they were doing, working with Russia

How is this not treasonous?https://t.co/zXkJYaLTux pic.twitter.com/dkyn7O5Irz

— Liz Harrington (@realLizUSA) June 2, 2023
FBI Director Chris Wray caved to Oversight Chairman James Comer on Friday.
Dirty Chris Wray agreed to hand over the bribery document to congress.
The document details a $5 million CRIMINAL PLOT
Lawmakers are expected to view the document ON MONDAY. 
Via America's Newsroom on FOX News.
Here is more on this story from Thursday–
Rep. Comer told Maria Bartiromo that dirty FBI Director Chris Wray told Comer he did not have the damning Joe Biden bribery document until James Comer told him he had already seen it.
Chairman James Comer: He offered us the opportunity to come look at it in a private SKIF but he was going to redact it. My experience with getting documents from the FBI, when they're redacted it's all black lines. They don't show you anything. But I'm going to say on this show. What we told Director Ray, what Senator Grassley told Director Ray, is he and I have already seen the 1023 form. We knew what was in the 1023 form. Until we told Director Ray that he never even admitted that the form existed.

So the level of confidence that we have with Director Wray only went down, it only declined throughout the conversation. So we will go there and look at the Redacted document but we know what's in the document and the reason we find this allegation credible not only because of the credibility of the whistleblower but because we've seen a pattern of Joe Biden when he was vice president, leaving a country after he talks about foreign aid and foreign policy and his family members start receiving payments from that company through shell companies that are then laundered down to Biden family members. So there is a pattern of behavior and we saw that in Romania, we've seen that in China, we've seen that in other countries that would suggest that this allegation has merit. Look, the Durham report proved that the FBI has lots of issues. We brought that up.

Senator Grassley and I reminded Director Ray that the Durham report was devastating to the credibility of the FBI and his response was that that all happened before he became FBI director. Director Ray, to be clear, will now face contempt of Congress unless he produces this document like we asked this unclassified document by Tuesday or Wednesday whenever we have the markup. 
Source: thegatewaypundit.com
I'm sorry, but the FBI's leadership and its' henchmen, such as Agent Auten, are so deeply corrupted as well as filled with incompetent personnel (I mean, this is the only way to read and comprehend the Durham report). God help us. This can only be fixed by putting…

— General Mike Flynn (@GenFlynn) June 1, 2023
. This can only be fixed by putting
back in office. He and those of us willing, can fix these problems.
---
Geopolitical/Police State
Twitter's head of trust and safety resigns from Elon Musk's platform
Ella Irwin joined Twitter after her predecessor Yoel Roth resigned in November
Ella Irwin was in charge of content moderation at the company that has faced allegations of an increase in harmful content since the Tesla chief executive bought the company last October.
Ms Irwin only took over the job last November from Yoel Roth after he resigned from the San Francisco-based company as well. She confirmed her resignation to Reuters on Thursday.
Source: independent.uk
twitter "brand safety" expert departs, has previously tweeted grievences against whites pic.twitter.com/3PePwvdTLN

— Gregg Re (@gregg_re) June 2, 2023
Elon Musk Calls for All Social Media Companies to Open Source Their Algorithms

"There's a massive amount of secret suppression going on at Facebook, Google, Instagram…It's just nonstop secret suppression."@elonmusk @TheBabylonBee pic.twitter.com/InA1D6BOhS

— Chief Nerd (@TheChiefNerd) June 4, 2023
Jordan Threatens Subpoena Enforcement Against Stanford In Censorship Probe
Source: dailywire.com
---
War
Pentagon Makes Air Force Base Cancel Drag Show Following Republican Pressure
The show, which, per Gaetz, was billed as "family-friendly" and had no minimum age requirement, was scheduled to take place June 1 at Nellis Air Force Base. The Pentagon had previously denied that any taxpayer funds were used to organize such events, but in a May letter to Secretary of Defense Lloyd Austin and chairman of the Joint Chiefs of Staff Mark Milley, Gaetz identified six drag shows, including the June 1 event, held or scheduled to be held at military installations. Six days after Gaetz sent the letter, the Pentagon canceled the drag show at the Nevada Air Force base.
Source: freebeacon.com
Berlin Orders Moscow To Close 4 Of 5 Consulates In Germany
As relations between Russia and Germany continue to spiral downward amid the war in Ukraine, the two nations are engaged in tit for tat moves including ordering the closure of consulates and placing limitations on the number of diplomatic personnel in each country, the Associated Press reported

 on Wednesday.
Berlin announced that Russia was told to close down four out of five consulates general the Kremlin maintains within Germany. This move comes after Moscow limited the number of staff at the German Embassy and related facilities in Russia. Christofer Burger, a spokesman for the German Foreign Ministry, told reporters the decision was made to ensure "parity of personnel and structures" between the two countries.
Source: zerohedge.com
— Donald Trump Jr. (@DonaldJTrumpJr) June 2, 2023
Chinese warship nearly rammed the USS Liberty #China https://t.co/e9jQ6JCFG3

— BasedDepo101 (@BasedDepo101) June 4, 2023
---
False Flags
World Health Organization Grants North Korea Spot on Executive Board
The World Health Organization (W.H.O.) concluded its annual meeting   with the astonishing spectacle of electing North Korea – among the world's deadliest regimes, a psychopathic nuclear-armed dictatorship that routinely murders dissidents and has deliberately starved a sizable portion of its population – to a seat on the ten-member W.H.O. executive board.
"What this means is that one of the world's most horrific regimes is now a part of a group that sets and enforces the standards and norms for the global governance of health care. It is an absurd episode for a key U.N. agency that is in much need of self-reflection and reform," said Hillel Neuer, executive director of the watchdog group U.N. Watch.
Source: breitbart.com
Absolutely maddening. He lectured us on lockdowns and claimed he spoke for SCIENCE with absolute, dictatorial certitude. And now, NOW, he says he had essentially no idea if any of it would work because "no studies had been done." He ruined countless lives including children based… https://t.co/g8bClACNji

— Roger Severino (@RogerSeverino_) June 2, 2023
Hollywood actor and singer Jamie Foxx has been at the center of recent speculation regarding his health after reports emerged claiming he suffered from paralysis and blindness due to blood clots allegedly caused by the experimental COVID vaccine.
  Jamie Foxx was hospitalized for a serious condition back in April during a shooting with Cameron Diaz.
Since his hospitalization, his family members have not released any details on what caused his medical emergency.
Many have speculated Foxx suffered a stroke due to the fact after he was released from the hospital the famed actor was receiving rehab at a facility in Chicago that specializes in stroke recovery.
Mike Tyson recently confirmed these speculations and in a podcast interview with Patrick Bet-David, Tyson stated Foxx "isn't feeling well."
Source: thegatewaypundit.com
According to a recent study published by the U.S. Centers for Disease Control and Prevention (CDC), nearly everyone in the United States has some form of protection against COVID-19.
The new CDC study analyzed blood donations from 142,748 individuals aged 16 and older between July and September 2022. The researchers found that 96.4 percent of the donors had evidence of antibodies against COVID-19, indicating prior infection,  
"The CDC study and ours confirm what more than 100 other studies on natural immunity have found: The immune system works," he concluded. "The largest of these studies, from Israel, found that natural immunity was 27 times as effective as vaccinated immunity in preventing symptomatic illness."Source: beckernews.com
I never praised Former Governor Andrew Cuomo, as the dying New York Post is suggesting. I thought he was a horrible Governor, and have made that point for years. He was the enemy, and I would rip his Fake (Sanctimonious?) News Conference's apart. I did a lot to help New York, but he didn't even use the Convention Center or Medical Ship. Crazy! But as bad as he was, all I said was that New York (4th worst) had fewer actual Covid deaths than DeSanctus run Florida (3rd worst). Those are the facts!
I wonder who is going to drill down thru the numbers, maybe they will find out that these numbers are manipulated.
The family of a 24-year-old college student who died after a dose of Pfizer's COVID vaccine is suing the Biden administration's Department of Defense in a groundbreaking action, which could have serious repercussions in the future.
According to a February 2022 WETM-TV report, George Watts Jr., a student a Corning Community College, succumbed to what the coroner called a rare complication of the shot.
"Because he wanted to take his classes in person, George Jr. needed to be fully vaccinated. He scheduled his vaccine appointment and received his first shot in August [2021] and his second in September," WETM reported. "His parents said he chose the Pfizer vaccine because it was recently fully approved by the Food & Drug Administration."
However, the Lockwood native apparently experienced flu-like symptoms, which didn't resolve after his second dose.
"I noticed he was starting to get puffy in the face like a sinus issue. … He had a cough, and I decided to take him to the emergency room to see what was going on," said George Watts Sr., who said that his son was diagnosed with a sinus infection. After several visits, his parents said, the 24-year-old "began coughing up blood and experienced pain in his feet, hands, and teeth. He also became extremely sensitive to sunlight." 
On Oct. 27, 2021, George Jr. collapsed in his room and died; the autopsy said his death was due to "COVID-19 vaccine-related myocarditis."
"I told him that I was going to take him to the emergency room the next day after I got out of work," George Sr. told WETM. "We never made that trip to the emergency room."

Should this lawsuit be allowed to proceed? Now, he's taking a trip to court.

In a suit filed Wednesday, the family accused U.S. Department of Defense officials of "willful misconduct" by promoting the vaccines as "safe and effective."
 Source: thegatewaypundit.com
Will be fixed tomorrow

— Elon Musk (@elonmusk) June 2, 2023
Every parent should watch this https://t.co/pIp6UP6vq8

— Elon Musk (@elonmusk) June 2, 2023
Works now. Only limit is that it will not be placed next to advertising.

— Elon Musk (@elonmusk) June 2, 2023
Demonic as Hell, and can't share a country with this. https://t.co/lN9v86MdOk

— Steve Deace (@SteveDeaceShow) June 3, 2023
Texas governor signs ban on gender-affirming care for minors
Texas Republican Gov. Greg Abbott on Friday signed into law a ban on gender-affirming care for most minors in the state, making Texas the largest state in the US to place restrictions on transgender youth's access to critical care.
Source: cnn.com
---
Q
(2/2) Count 11 (Disorderly Conduct on Capitol Grounds) — Mistrial; Count 12 (Physical Violence on Capitol Grounds) — NOT GUILTY!!! We will knock the rest out on appeal. Great job Team JPL and @NCLU_ORG!!! 🇺🇸👊✅https://t.co/xjaZG1Egxn

— John Pierce (@CaliKidJMP) June 1, 2023
NEW: @jsolomonReports just released first exclusive clip from J6 surveillance video unseen by the public.

Watch Nancy Pelosi make her "insurrection" exit as her filmmaker daughter–who just happened to be with her mom and record every moment of that day:https://t.co/JV2O6ByIu6

— Julie Kelly 🇺🇸 (@julie_kelly2) June 1, 2023
 Pelosi has described having to evacuate a riotous Capitol on Jan. 6, 2021 as traumatic. But Capitol Police security footage   shows the long-time Democrat leader exited Hollywood-style from the home of Congress that fateful day with her daughter filming her as security officers tried to guide her through a secret safe passage corridor.
Alexandra Pelosi has acknowledged filming her mother that day and using some of the footage to produce a documentary about her mother that was released on HBO last December called, "Pelosi in the House." That footage showed Pelosi at various points during the riot but it did not show the impact of the video operation on the security detail, as the security footage did.
Source: justthenews.com
https://twitter.com/JoeDanMedia/status/1664853631852593153?ref_src=twsrc%5Etfw%7Ctwcamp%5Etweetembed%7Ctwterm%5E1664853631852593153%7Ctwgr%5E0affcd75e3338c1c49ff75c19375bc0dc27e62d3%7Ctwcon%5Es1_c10&ref_url=https%3A%2F%2Fwww.thegatewaypundit.com%2F2023%2F06%2Fj6ers-can-go-rot-hell-mtg-echoes-regime%2F
Outrageous! Children's Choir Stopped Mid-Performance While Singing National Anthem at US Capitol, Capitol Police Claims it is a Prohibited Form of Protest (VIDEO)
In a shocking turn of events, the Rushingbrook Children's Choir was interrupted and stopped while singing the National Anthem in Statuary Hall at the United States Capitol.
The children, part of the esteemed Rushingbrook Children's Choir, had traveled to Washington, D.C., for a scheduled Capitol tour and had received prior approval to sing a short set of patriotic songs inside the historic Statuary Hall.
However, as their angelic voices filled the grand hall while singing The Star-Spangled Banner with pride, Capitol Police rudely intervened, insisting that the children stop singing immediately. The abrupt interruption stunned the young performers, the choir director, and the assembled audience.
The Capitol Police did not allow the young children to finish the song and sought to explain to the choir director that singing the national anthem at the nation's Capitol is considered a form of protest.
WATCH:
Source: thegatewaypundit.com
Just learned kids were interrupted while singing our National Anthem at the Capitol. Unacceptable.

These children were welcomed by my office because your Capitol is back open, particularly for school groups. @RepTimmons, @RepJoeWilson, & @RepRussellFry, and I look forward to…

— Kevin McCarthy (@SpeakerMcCarthy) June 2, 2023
My statement regarding running in the 2024 election: pic.twitter.com/77IWq4z8X2

— Bill Gates (@billgatesaz) June 1, 2023
Tea Leaves: The @KariLake legal team now has all the data log files for all the machines and promises even further revelations.

It might be a safe bet that the machines demonstrating the most pronounced failures were wheeled out into the most Lake friendly precincts. https://t.co/GHZ2sU8mE7

— Rasmussen Reports (@Rasmussen_Poll) June 4, 2023
This guy is not going to be the Democrat's nominee in 2024. He is in severe decline physically and mentally.

The only question is how much longer the other Democrats delay in jumping into the race.

Or are they going to just let RFK Jr be the guy who gets it by default? https://t.co/PithMxP4jj

— Wall Street Silver (@WallStreetSilv) June 1, 2023
It's that he couldn't get himself up.
Dear @drsanjaygupta please let us know what @CNN show you'll be on (after you talk with many neurologists of course) to carefully breakdown @JoeBiden's fall. We are all so anxious to hear your totally fair coverage🤡 pic.twitter.com/ftfKLvgUn2

— Rosie Memos (@almostjingo) June 2, 2023
MSNBC's Jonathan Lemire said that President Joe Biden's age is an issue for voters after the president took a tumble on stage during a graduation ceremony on Thursday.
Biden tripped over a sandbag while at the U.S. Air Force Academy graduation. Video footage showed Biden walking happily across the stage before he suddenly tripped. Secret Service members immediately rushed over to check on the president, who then walked away unassisted.
The "Morning Joe" panel was discussing Biden's fall, with Lemire saying that Biden appeared to be in pain after the fall and later bumped his head on Marine One as he stepped off the helicopter on the White House lawn.
Source: dailycaller.com
JUST-IN: Mike Pence Ducks Out Georgia GOP Convention Last Minute – Kari Lake to Replace Him as Keynote Speaker With President Trump
Kari Lake will replace Mike Pence as the keynote speaker alongside President Trump and other MAGA conservatives at the Georgia GOP convention on June 9.
According to a source, ticket sales have more than doubled, with over 900 sales, compared to the last state GOP convention, which sold just 400 tickets.
The Atlanta Journal-Constitution reports,
Source: thegatewaypundit.com
Bragg detective Jeremy Rosenberg involved in Trump case suspended for Michael Cohen ties: officials
Bragg detective Jeremy Rosenberg involved in Trump case suspended for Michael Cohen ties: officials
A supervising detective involved in Manhattan District Attorney Alvin Bragg's Donald Trump prosecution has been suspended for his contact with the former president's ex-lawyer and bitter adversary Michael Cohen, law enforcement sources told The Post.
Jeremy Rosenberg, who investigates financial crimes for Bragg, had his gun removed recently for his interactions with Cohen, the sources claimed.
"The office is conducting a review of an investigator's compliance with internal office protocols," a Bragg spokeswoman said.
Defense lawyer and former Manhattan prosecutor Mark Bederow said the suspension might not affect the case against Trump, but the defense probably would want to know what led to the review.
"It might not affect the case, but certainly from a defense standpoint they would want to know what's the nature of their relationship," Bederow said. "What did they talk about and did this detective investigator have anything that fits the form of a disclosure to the defense." 
Source: nypost.com
WOW! LEGAL EXPERTS ARE SAYING THAT D.A. ALVIN BRAGG WILL BE IMMEDIATELY FORCED TO DROP HIS WEAK & DISPARAGED CASE AGAINST "TRUMP" BECAUSE HIS TOP INVESTIGATOR, JEREMY ROSENBERG, CORRUPTLY COLLUDED WITH A DISGRACED, DISBARRED, AND CONVICTED FELON & PERJURER IN ATTEMPTING TO FRAME ME WITH A "CRIME" THAT DOESN'T EVEN EXIST. THEY APPARENTLY BECAME CLOSE FRIENDS WITH LIFESTYLE MONEY SPENT, A CRIME. THIS ON TOP OF CLINTON LAWYER TURNED PROSECUTOR, MARK POMERANTZ, ILLEGALLY WRITING A BOOK ON THE CASE!
YouTube has reversed course on "election misinformation" on their platform.  Since December 2020, the Google subsidiary has thoroughly censored what they deemed "misinformation."
YouTube posted to the blog:
  In the current environment, we find that while removing this content does curb some misinformation, it could also have the unintended effect of curtailing political speech without meaningfully reducing the risk of violence or other real-world harm. With that in mind, and with 2024 campaigns well underway, we will stop removing content that advances false claims that widespread fraud, errors, or glitches occurred in the 2020 and other past US Presidential elections. This goes into effect today, Friday, June 2. As with any update to our policies, we carefully deliberated this change.
The blog announcement elaborates that certain policies will remain in place:
Source: thegatewaypundit.com
(b) The Special Counsel is authorized to conduct the ongoing investigation into whether any person or entity violated the law in connection with efforts to interfere with the lawful transfer ofpower following the 2020 presidential election or the certification of the Electoral College vote held on or about January 6, 2021, as well as any matters that arose or might arise directly from this investigation or that are within the scope of 28 C.F.R. § 600.4(a).
This would explain why Smith is investigating election fraud. 
A

 top Republican is pressing Attorney General Merrick Garland on the FBI's role in special counsel Jack Smith's investigation into former President Donald Trump in the wake of special counsel John Durham's report.
Rep. Jim Jordan (R-OH), chairman of the House Judiciary Committee, pressed Garland in a letter on Friday about Durham's findings related to the faulty origin of the Trump-Russia investigation and the "failings" of the FBI. The GOP chairman placed Smith's investigation related to the Mar-a-Lago classified documents incident and the Capitol riot in the context of Durham's report, arguing that "due to the FBI's documented political bias, the Justice Department must ensure any ongoing investigations are not poisoned by this same politicization." 
"The Special Counsel's report serves as a stark reminder of the need for more accountability and reforms within the FBI," Jordan said of Durham. "Accordingly, as Congress conducts oversight to inform these legislative reforms, we write to ensure the Justice Department acts to preserve the integrity and impartiality of ongoing investigations from the FBI's politicized bureaucracy."
Durham is slated to testify before the House Judiciary Committee on June 21. The special counsel will also speak behind closed doors with the House Intelligence Committee, led by Rep. Mike Turner (R-OH), the day prior.
Source: washingtonexaminer.com
ELECTION INTERFERENCE — THE WITCH HUNT CONTINUES!

washingtontimes.com/news/2023/

Did Trump declassify documents? Criminal indictment of former president has no legitimate basis

It seems likely that former President Donald Trump will allege that he declassified the documents that he took to Mar-a-Lago before he left office.

 
Debunking another false claim that Trump violated national security law 
CNN is very excited: Trump was allegedly captured on a recording talking about how he's knowingly retained "classified" documents. It seems that "journalists" are incapable of (and definitely unwilling to) understand that the classification system is different for U.S. Presidents. Meanwhile, Joe Biden and Mike Pence, both of whom illegally possessed classified documents, are going to walk away untouched.
CNN is bursting with the news that Trump practically confessed to the crime of illegally possessing "classified" documents:
 The recording indicates Trump understood he retained classified material after leaving the White House, according to multiple sources familiar with the investigation. On the recording, Trump's comments suggest he would like to share the information but he's aware of limitations on his ability post-presidency to declassify records, two of the sources said.
 Trump cannot be found guilty of illegally possessing classified material. In Navy v. Egan, 484 U.S. 518 (1988), the Supreme Court stated that the President has plenary power over document classification and other national security issues:
The President, after all, is the "Commander in Chief of the Army and Navy of the United States." U.S.Const., Art. II, § 2. His authority to classify and control access to information bearing on national security and to determine whether an individual is sufficiently trustworthy to occupy a position in the Executive Branch that will give that person access to such information flows primarily from this constitutional investment of power in the President, and exists quite apart from any explicit congressional grant. See Cafeteria Workers v. McElroy, 367 U. S. 886, 367 U. S. 890 (1961).
Neither Congress nor the rule-makers in the various administrative agencies that report to the President may limit this power. The President does not need to follow any procedure to declassify documents. If he treats them as declassified, they are declassified. That's how plenary power works.
So, regarding those documents to which CNN referred, if Trump gained control of them during his presidency, he could at that time do anything he liked with them. Heck, he could have read them aloud in the Rose Garden. However, showing that Trump properly understood their national security implications, while he possessed them quite legally, he was sensitive to the need to keep them safe from dangerous prying eyes.
  In America, all people, other than a sitting president (whose power exceeds congressional laws and regulatory rules), are forbidden to possess classified documents. Nevertheless, a one-time sitting president, who is the only person who did not violate any national security laws regarding documents, is being relentlessly persecuted, while two men who admittedly, and grievously, violated national security laws, are getting a pass.
Source: americanthinker.com
ELIZFpfU0AAfYCg.png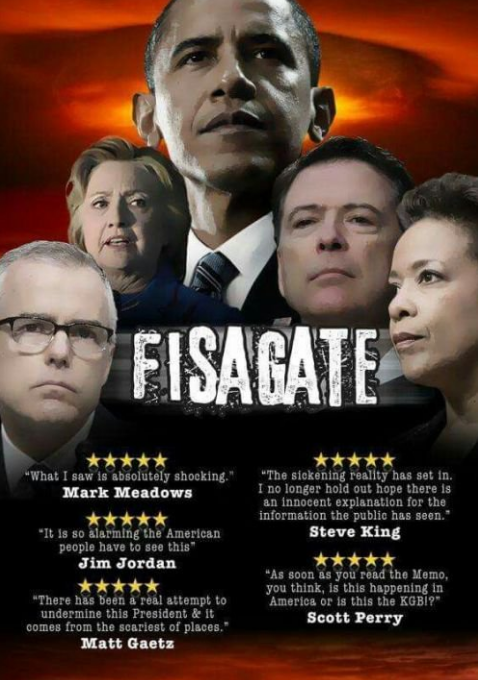 People actually believe those responsible for the attempted coup [coup attempt] of a duly elected sitting US President will go unpunished?
End to our Constitutional Republic?
No equal justice under the law?
No accountability?
Escape unscathed?
Enjoy the show!
Q
ELIT8fvWoAIL2GZ.jpg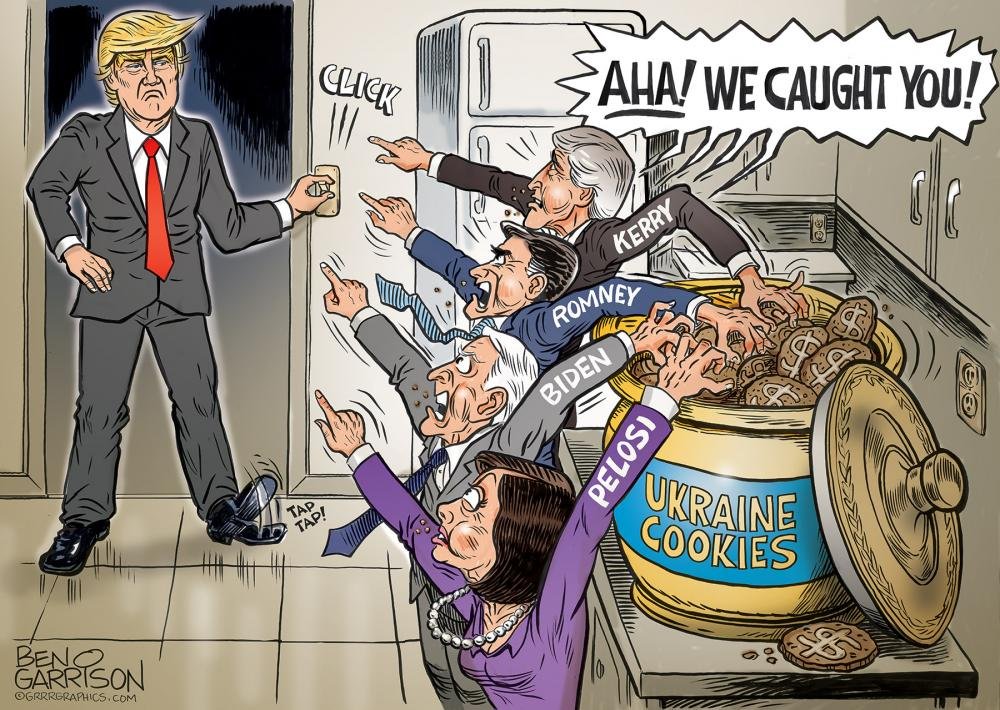 People actually believe those responsible for stealing billions of US taxpayer dollars will actually go unpunished?
"This is not simply another four-year election." – POTUS
Q
Q

 

!!Hs1Jq13jV6

 

ID: df6b0a

 No.8035891

EPoG-RIUEAASye8.jpg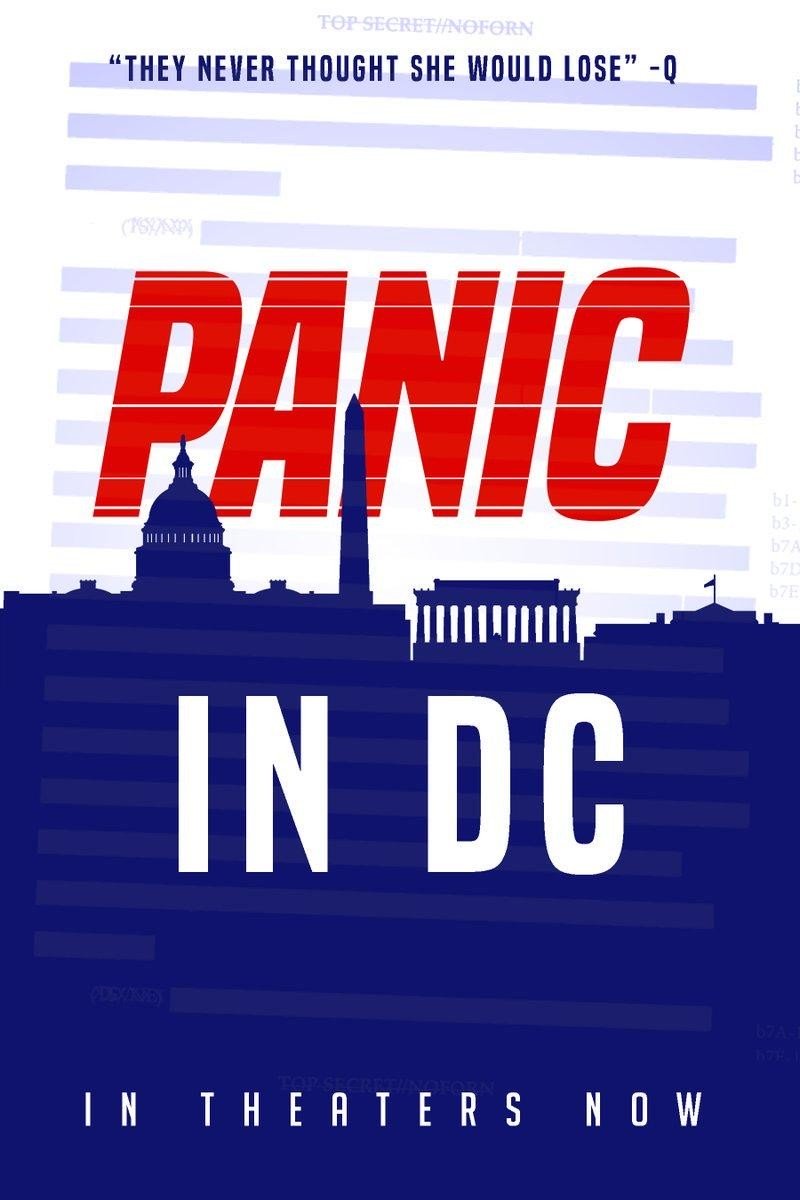 People actually believe those responsible for the attempted coup [coup attempt] of a duly elected sitting US President will go unpunished?
End to our Constitutional Republic?
No equal justice under the law?
No accountability?
Escape unscathed?
Buckle up!
Q
Q

 

!!Hs1Jq13jV6

 

ID: 110248

 No.8736051

Hearing Of An #Explosion In #Washington DC….Anyone Else Hear About It? pic.twitter.com/K6qVcGt0Rd

— seyma cetin (@seymacetin777) June 4, 2023
Multiple local law enforcement agencies now believe the source of the explosion heard around Washington was a "sonic boom." We're awaiting a response from the DC Air National Guard @nbcwashington

— Tom Lynch (@TomLynch_) June 4, 2023
The loud boom that was heard across the DMV area was caused by an authorized DOD flight. This flight caused a sonic boom. That is all the information available at this time.