[DS] Comms Sent, MSM Boxed In, Time To Stand Up For Our Rights – Episode 2233
The economy is now shifting. The MSM/[DS] are fighting to keep the economy shutdown, meanwhile Trump knows that the economy will take off once open, the plan to put everything in place for the transition. By cutting regulations, drug prices removing taxes, renegotiating trade deals this prepares the country. Watch gold, silver, everything is about to change. The [DS]/MSM are being boxed in, this is about exposing the [DS] to the people and it's working. More and more people are waking up, they are logically thinking. The [DS]/MSM know they are in trouble and they are losing the narrative, they are becoming desperate and now they are sending comms. The people silent majority is now speaking out, if you listen you can hear it.
Check Out The X22 Report Spotlight YouTube Channel X22Report Spotlight
Please check Newzsentinel.com for the latest news on the economic collapse. The Sentinel Alerts are updated throughout the day.
---
Current News – 07.26.2020
Watch The X22 Report On Video
---
Economy
---
Political/Rights
If Congress needed this 302 for oversight, DOJ/FBI could have made it available without handing it over to be leaked. If true, this cld get people killed, and they don't care. No source will trust the FBI, and they don't care. They are doing generational harm, and they don't care https://t.co/CSHs8V5X7U

— Lisa Page (@NatSecLisa) July 25, 2020
This is exactly what same people said before Nunes memo on FISA abuse was released. The constant and repeated claim from those who promulgated the Russia collusion hoax is that if you expose FBI abuses, people will die. Convenient. https://t.co/SJQDKHYbIi

— Mollie (@MZHemingway) July 25, 2020
More willful blindness by the media on spying by Obama administration
 the media has refused to see what should be one of the biggest stories in decades. The Obama administration targeted the campaign of the opposing party based on false evidence. The media endlessly covered former Obama administration officials ridiculing suggestions of spying on the Trump campaign or of  improper conduct in the Russia investigation. When Attorney General William Barr told the Senate last year that he believed spying did occur, he was lambasted in the media, including by James Comey and others involved in that investigation. The mocking "wow" response of the fired FBI director received extensive coverage.
The new document shows that, in the summer of 2016, FBI agent Joe Pientka briefed Trump campaign advisers Michael Flynn and Chris Christie on national security issues, a standard practice ahead of the election. It included a discussion of Russia interfering in the election. But this was different. The document detailing the questions asked by Trump and his aides and their reactions was filed a few days after the meeting under Crossfire Hurricane and Crossfire Razor, the FBI investigation of Flynn. The two FBI officials listed who approved the report are Kevin Clinesmith and Peter Strzok.
Clinesmith is the former FBI lawyer responsible for the FISA surveillance conducted on members of the Trump campaign. Clinesmith opposed Trump and sent an email after the election declaring "viva the resistance." He is reportedly under review for possible criminal charges for altering a FISA court filing. The FBI had used Trump adviser Carter Page as a basis for the original FISA application, due to his contacts with Russians. Soon after that surveillance was approved, however, federal officials discredited the collusion allegations and noted that Page was a CIA asset. Clinesmith had allegedly changed the information to state that Page was not working for the CIA.
Strzok is the FBI agent whose violation of FBI rules led Justice Department officials to refer him for possible criminal charges. Strzok did not hide his intense loathing of Trump and famously referenced an "insurance policy" if Trump were to win the election. After FBI officials concluded there was no evidence of any crime by Flynn at the end of 2016, Strzok prevented the closing of the investigation as FBI officials searched for any crime that might be used to charge the incoming national security adviser.
Documents also show Comey briefed President Obama and Vice President Joe Biden on the investigation shortly before the inauguration of Trump. When Comey admitted the communications between Flynn and Russian officials appeared legitimate, Biden reportedly suggested using the Logan Act, widely viewed as unconstitutional and never used to successfully convict a single person, as an alternative charge against Flynn. The memo of that meeting contradicts claims that Biden he did not know about the Flynn investigation. Let us detail some proven but mostly unseen facts.
First, the Russia collusion allegations were based in significant part on the dossier funded by the Clinton campaign and the Democratic National Committee. The Clinton campaign repeatedly denied paying for the dossier until long after the election, when it was confronted with irrefutable evidence that the money had been buried among legal expenditures. New York Times reporter Maggie Haberman wrote, "Folks involved in funding this lied about it and with sanctimony for a year."
Second, FBI agents warned that dossier author Christopher Steele may have been used by Russian intelligence to plant false information to disrupt the election. His source for the most serious allegations claims that Steele misrepresented what he had said and that it was little more than rumors recast by Steele as reliable intelligence.
Third, the Obama administration was told that the basis for the FISA application was highly dubious and likely false. Yet it continued the investigation as someone leaked its existence to the media. Another declassified document shows that, after the New York Times ran a leaked story on the investigation, even Strzok balked at the account as misleading and inaccurate. His early 2017 memo affirmed that there was no evidence of any individuals in contact with Russians. This information came as the collusion stories were turning into a frenzy that would last years.
Fourth, the investigation by special counsel Robert Mueller and inspectors general found no evidence of collusion or knowing contact between the Trump campaign and Russian officials. What inspectors general did find were false statements or possible criminal conduct by Comey and others. While unable to say that it was the reason for their decisions, they also found extensive statements of animus against Trump and his campaign by the very FBI officials directing the investigation. Former Deputy Attorney General Rod Rosenstein has recently testified he never would have approved renewal of the FISA surveillance and encouraged further investigation into such bias.
Finally, Obama and Biden were aware of the investigation, as were the administration officials who publicly ridiculed Trump when he said there was spying on his campaign. Others, like House Intelligence Committee Chairman Adam Schiff, declared they had evidence of collusion but never produced it. Countless reporters, columnists, and analysts have continued to deride, as writer Max Boot said it, the spinning of "absurd conspiracy theories" about how the FBI "supposedly spied on the Trump campaign."
Source: thehill.com
Late last year, I planned to "semi-retire" to write & focus on @N1ckSandmann cases.

Things have changed in past few months.@Yahoo, @HuffPost & @Isikoff falsely accused @carterwpage of being a traitor & tried to ruin him.

I have agreed to represent Dr. Carter Page.#FightBack

— Lin Wood (@LLinWood) July 26, 2020
President Signs Executive Orders Reducing Drug Prices on Insulin, EpiPens and More
Yesterday I signed four measures that will massively reduce the prices of prescription drugs, in many cases by more than 50%. Nothing like this has ever been done before because Big Pharma, with its vast power, would not let it happen. Expensive Insulin went from big dollars…..

— Donald J. Trump (@realDonaldTrump) July 25, 2020
…to virtual pennies. Epi-pens went from their incredibly high, jacked up prices, to lower than their original give away bargains. Biggest price reductions in history, by far! Nothing like this has ever for our citizens, especially our Seniors. REMEMBER YOUR FAVORITE PRESIDENT!

— Donald J. Trump (@realDonaldTrump) July 25, 2020
Here is the breakdown  
Executive Order on Increasing Drug Importation to Lower Prices for American Patients. "One way to minimize international disparities in price is to increase the trade of prescription drugs between nations with lower prices and those with persistently higher ones. Over time, reducing trade barriers and increasing the exchange of drugs will likely result in lower prices for the country that is paying more for drugs.  
Executive Order on Lowering Prices for Patients by Eliminating Kickbacks to Middlemen: This EO eliminates the middleman who would normally get a kickback from the drug manufacturers to health plan sponsors, pharmacies, or pharmacy benefit managers (PBM') and thus passing the savings onto patients. "It is the policy of the United States that discounts offered on prescription drugs should be passed on to patients".
Executive Order on Access to Affordable Life-saving Medications: More Affordable Insulin and EpiPens: "Insulin is a critical and life-saving medication that approximately 8 million Americans rely on to manage diabetes. Likewise, injectable epinephrine is a life‑saving medication used to stop severe allergic reactions. The price of insulin in the United States has risen dramatically over the past decade. The list price for a single vial of insulin today is often more than $250 and most patients use at least two vials per month.  
Source: undercoverdc.com
---
False Flags
Walmart, Home Depot and other retailers walk back face mask mandates, will serve maskless customers
Some of the biggest U.S. retailers have instituted mandatory mask policies over the past two weeks to combat the spread of COVID-19, including Walmart. The Business Roundtable, an association of CEOs from some of America's biggest corporations, called for companies to require face mask mandates for customers of retail locations and restaurants. However, a week later, many companies are walking back their mask mandates following several highly publicized incidents centered around wearing face coverings.
Walmart, CVS, Walgreens, Home Depot, Lowe's, and other nationwide retailers said they would serve customers even if they violate mask mandates,   The change in policy is to prevent confrontations between customers and employees.
The companies want to avoid negative publicity and potential violence stemming from customers refusing to wear face masks in stores.   Source: theblaze.com
In Portland, huge crowds of rioters have operated in close proximity for 55 days straight.; WE have protesters dancing with no masks on, CNN is puts the headline out saying the following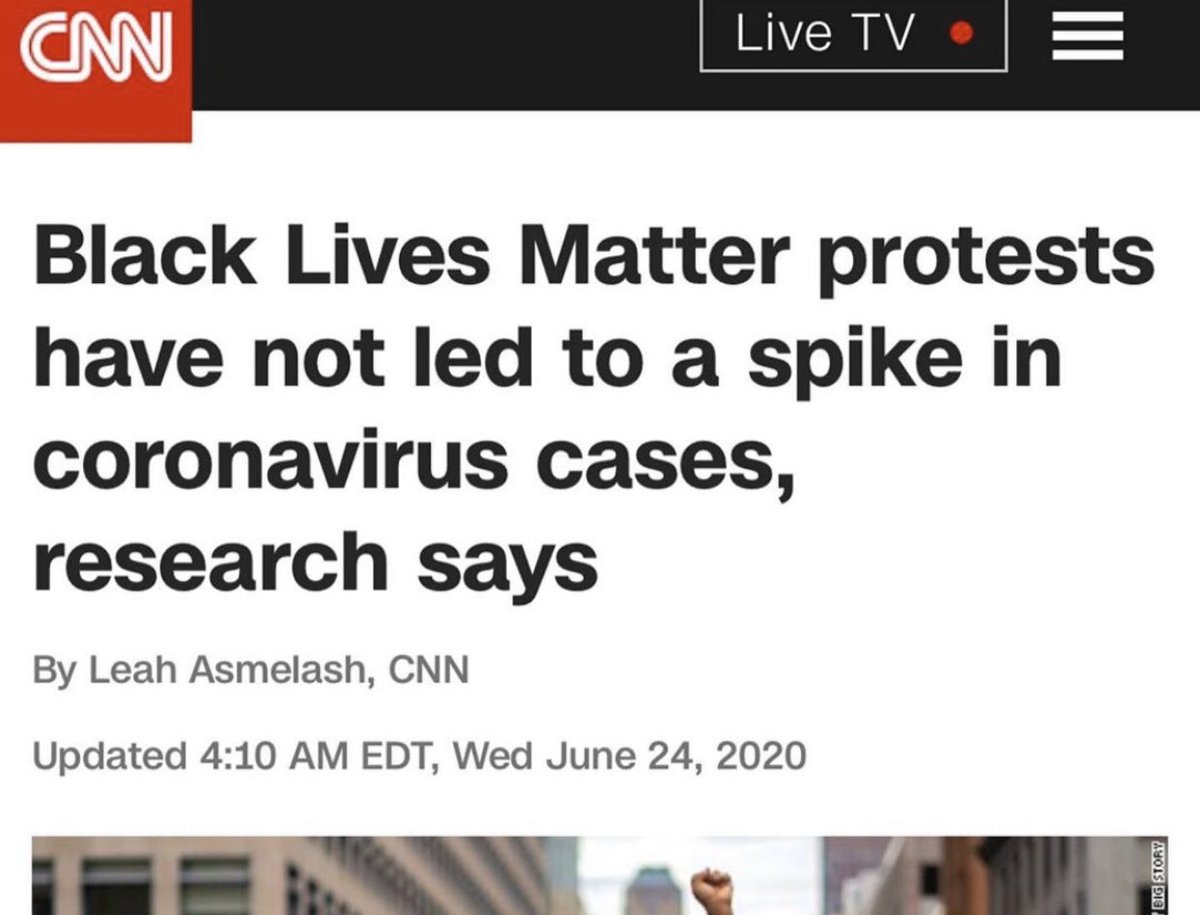 , Now this virus must be really smart, it knows not to go to protests, and it decides what areas it will make hot spots, if there is a GOP convention scheduled to be in Florida it is so smart it starts infecting people. Nobody is buying this, what does this mean:  There's no real danger, and we can vote in person.
Lets logically think
Think about a viralogist who is dealing with with a deadly virus, what gear do you use
The Key to Defeating COVID-19 Already Exists. We Need to Start Using It | Opinion
A professor of epidemiology at Yale School of Public Health, I have authored over 300 peer-reviewed publications and currently hold senior positions on the editorial boards of several leading journals. I am usually accustomed to advocating for positions within the mainstream of medicine, so have been flummoxed to find that, in the midst of a crisis, I am fighting for a treatment that the data fully support but which, for reasons having nothing to do with a correct understanding of the science, has been pushed to the sidelines. As a result, tens of thousands of patients with COVID-19 are dying unnecessarily. Fortunately, the situation can be reversed easily and quickly.
I am referring, of course, to the medication hydroxychloroquine. When this inexpensive oral medication is given very early in the course of illness, before the virus has had time to multiply beyond control, it has shown to be highly effective, especially when given in combination with the antibiotics azithromycin or doxycycline and the nutritional supplement zinc.
Source:newsweek.com
Mark Meadows: White House hopeful new coronavirus therapies will be announced in 'coming days'
White House chief of staff Mark Meadows said the Trump administration may soon announce new therapies for the coronavirus.
"We've been working around the clock. The president has been very clear, whatever amount of money, whatever amount of time needs to be invested, we're doing that," Meadows said. "We're hopeful with some of the breakthrough technology on therapeutics that we'll be able to announce some new therapies in the coming days."
Source: washingtonexaminer.com
This is what rioters do to the Portland federal courthouse every single night. #antifa Photos: DOJ pic.twitter.com/7F8q4hz6Hh

— Andy Ngô (@MrAndyNgo) July 24, 2020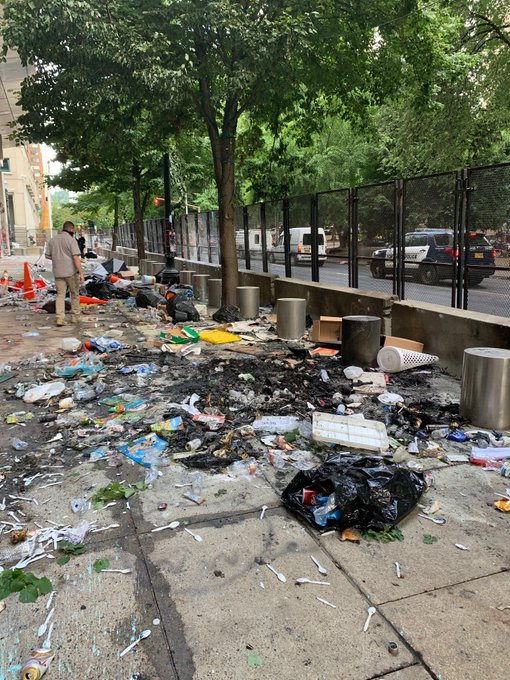 Mayor Ted Wheeler and Portland, Oregon officials have made it clear whose side they're on and it's not the side of law and order.
When the leftist mob took aim at the Hatfield United States Courthouse that President Trump sent in federal agents.
Now Portland officials are ORDERING the federal government to remove it's protective fencing around the Hatfield Courthouse.
Source: thegatewaypundit.com
Antifa played dress-up for the liberal media again last night.
Earlier this week Antifa protesters dressed up as "concerned mothers" who came out at 2 AM in the morning, leaving their children at home, dressed as mothers to form a line to protect the violent antifa mob from federal agents protecting the federal courthouse in Portland.
It played well with their partners in the pro-Antifa media until reporter Andy Ngo noticed that the participants were violent antifa rioters playing dress-up.
Then last night these same street thugs dressed up and pretended to be US veterans.
Because WE ALL KNOW veterans support looting, burning, destroying public property.
Source: thegatewaypundit.com
Democrat Washington governor Jay Inslee is drastically curtailing the freedom of his constituents, prompting national outcry against his authoritarian tactics. Now, records reveal that Inslee's daughter-in-law Emily Inslee works for the Bill and Melinda Gates Foundation, the globalist spending operation of vaccine oligarch and societal lockdown proponent Bill Gates. Inslee was forced by public outrage to retract his command that restaurants compel all diners to hand over their names and information for contact tracing purposes. Now, restaurants will compile logs of diners who volunteer their information. Citizens have filed the class-action lawsuit The People vs. Inslee to challenge Inslee's closure of "nonessential" businesses, and the case has been assigned to federal judge Benjamin Settle. Citizens celebrated the lawsuit with a rally accusing Inslee of "tyranny" in violation of the Declaration of Independence. Inslee has spoken alongside Gates, recently signed a bill governing facial recognition software that was praised by Microsoft, and is widely seen as being a Gates surrogate on issues.
Source: nationalfile.com
Get rid of @JayInslee as fast as you can.

He's blaming law enforcement officials for these riots. https://t.co/mgRFHJ3eIM

— Richard Grenell (@RichardGrenell) July 26, 2020

Now we have seen people protesting/rioting, with and without masks, standing very close to each other and the states say we cannot attend church, temple a mosque etc… This is completed against the 1st amendment. ,Now out in Nevada the casinos are open and people can gamble but people cannot practice their religious freedom,  Jim Jordan tweeted the following
Justice Gorsuch destroys the liberal majority with his dissent:"There is no world in which the Constitution permits Nevada to favor Caesars Palace over Calvary Chapel."It shouldn't be this hard to defend the First Amendment. https://t.co/asIsRUdVv0—

Rep. Jim Jordan (@Jim_Jordan) July 25, 2020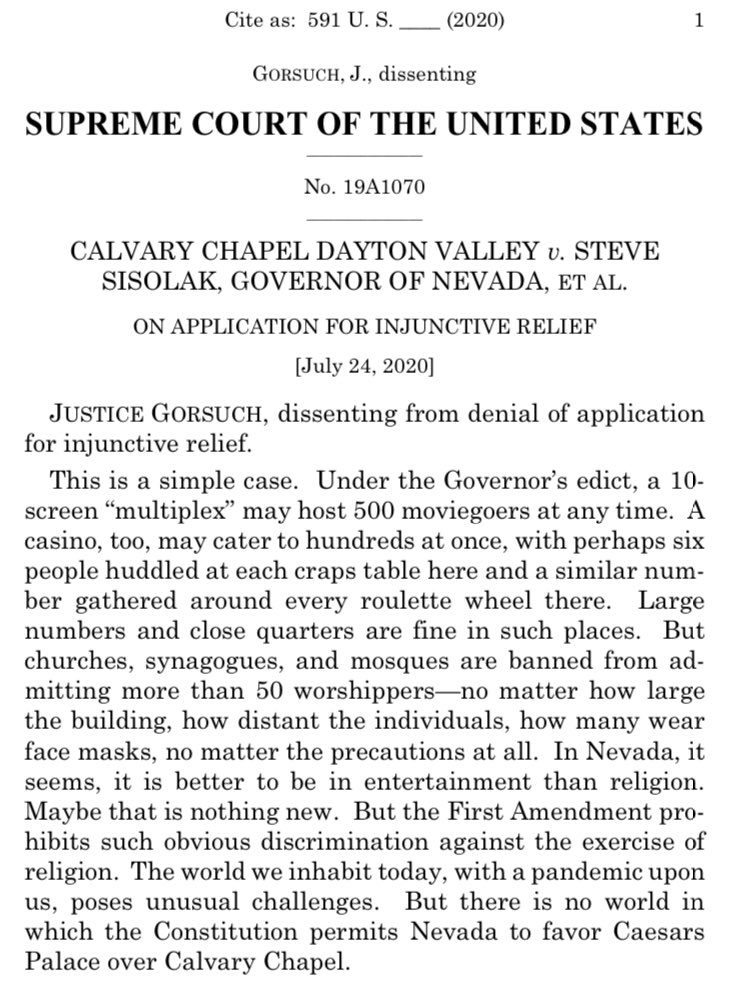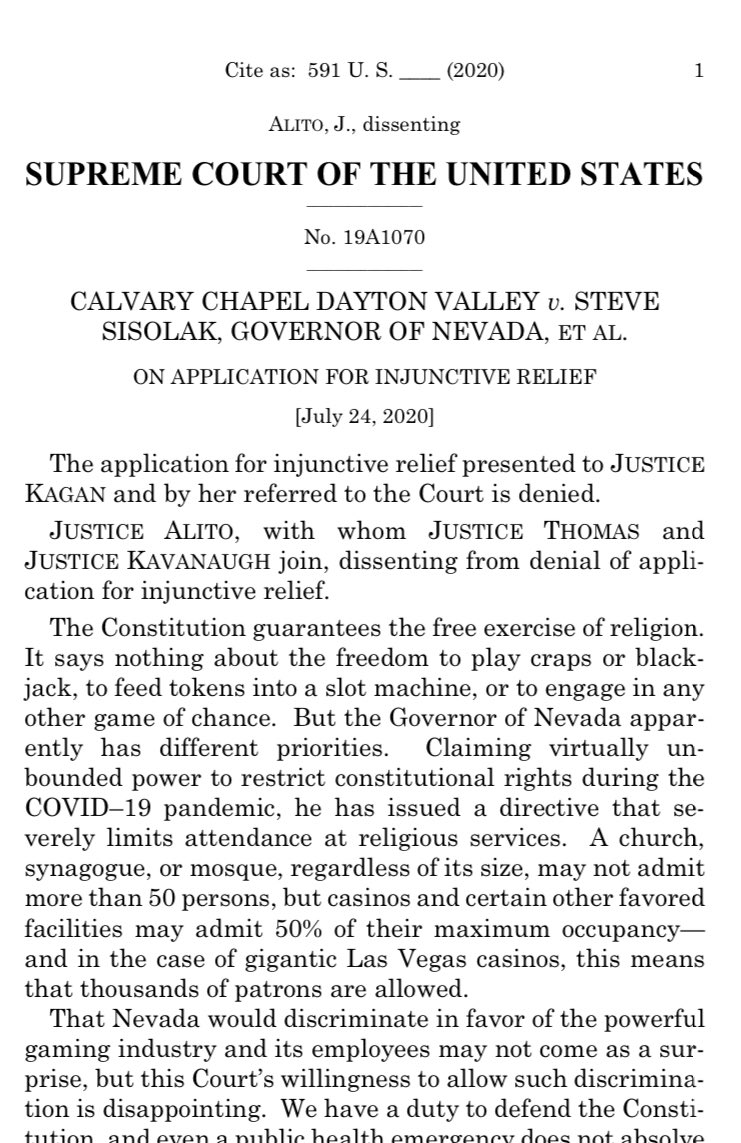 EXHmLMRXsAAk0MS.jpg
The supreme court does not have a say of the rights of the people, they cannot say that people can or cannot, that was the purpose of the constitution and the bill of rights, the government cannot take these rights away from the people, what did the SC just do, this goes against the constitution and any ruling that goes against the constitution is null and void.
All laws which are repugnant to the Constitution are null and void." (Marbury vs. Madison, 1803.)  
Think about they are saying once again that the virus is that smart, it knows to infect people in religious settings but not at riots, casinos, home depot etc….
WE THE PEOPLE are the constitution, it's time to take back control, the GOVERNMENT is now infringing on our rights…
BREAKING: Judge Robart has granted temporary restraining order request by @TheJusticeDept that should block #Seattle crowd control weapon ban from taking effect and maintain status quo which maintains previous TRO blocking @SeattlePD use of CCW. Awaiting written order @KIRORadio— Hanna Scott (@HannaKIROFM) July 25, 2020
 A federal judge  denied a request from the Oregon attorney general seeking a temporary restraining order against federal officers in Portland.
In court documents   U.S. District Judge Michael W. Mosman found the state of Oregon "lacks standing" in its attempt to limit federal agents' efforts in the state's most populous city.
 The [DS] is now becoming desperate they are now bringing out the weapons to push Trump to react with weapons, we now see people 
---
Q
Person, woman, man, camera, TV was a phrase spoken by United States President Donald Trump several times during a July 22, 2020 Fox News interview with Doctor Marc Siegel, a professor of medicine at New York University.[1][2] The phrase was used by Trump to describe the Montreal Cognitive Assessment (MoCA), a cognitive test used for detecting cognitive impairment, that he had taken at Walter Reed National Military Medical Center in 2018.[3]
Person. Woman. Man. Camera. TV. https://t.co/2GCciU77zb

— Hillary Clinton (@HillaryClinton) July 24, 2020
Epstein. Flight logs. 26 trips. No Secret Service. https://t.co/fAxXTWInJB

— Rep. Matt Gaetz (@RepMattGaetz) July 24, 2020
Swallowswell says "picture" instead of person 🧐 pic.twitter.com/YI1j47hjgP

— Deplorable 🇺🇸Rach ⭐️⭐️⭐️ Free Flynn (@rmck51337) July 24, 2020
Q

 

!!Hs1Jq13jV6

 

ID: 492c49

 No.901486

EXHnCwPXgAI1p6f.jpg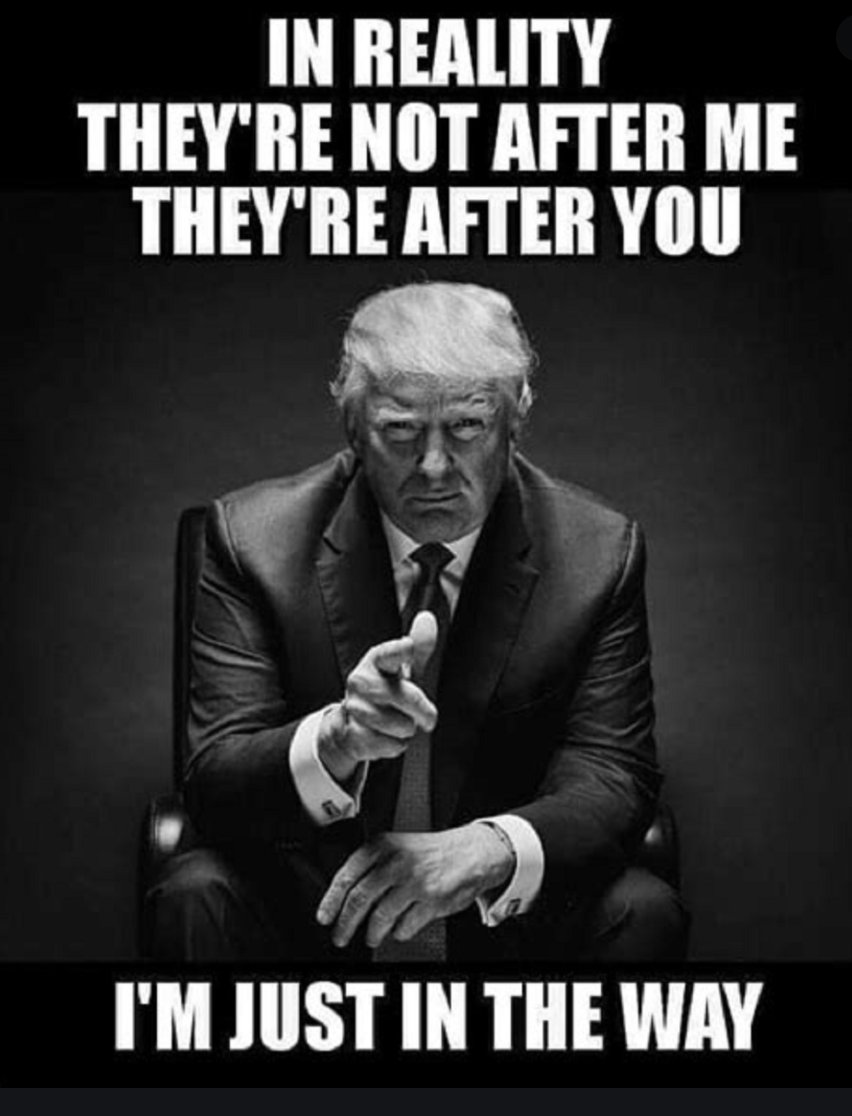 People [an informed free-thinking pubic] awake is their greatest fear.
United we stand.
Q