[DS] Getting Ahead Of Deep Fakes, Durham Appoints A New Criminal Chief – Episode 2083
Podcast: Download (Duration: 45:13 — 44.2MB)
It's happening, the BREXIT is moving forward. Trade deal coming soon, other countries watching closely to see what happens next. The [CB][DS] are using the same playbook, fear to push the global economy towards destruction. They have tried this before but on a smaller scale in the US. Fed holds rates steady and Trump signs the USMCA, wait for it. The [DS] is now struggling to make their case in the fake impeachment, meanwhile the patriots move their pieces into position. Trump calls out Bolton, sounds similar to Session and Powell, watch what happens next. The IG FISA report has discrepancies. Durham appoints a new criminal chief. The [DS] try to get ahead of the deep fakes, this will all fail, the patriots have it all, the best is yet to come.
Check Out The X22 Report Spotlight YouTube Channel X22Report Spotlight
Please check Newzsentinel.com for the latest news on the economic collapse. The Sentinel Alerts are updated throughout the day.
---
Current News – 01.29.2020
Watch The X22 Report On Video
---
Economy
BREAKING | And that's that! The European Parliament completes the formality of signing off on the Withdrawal Agreement – we're out on Friday! 👋

— Leave.EU (@LeaveEUOfficial) January 29, 2020
---
Political/Rights
THIS Should Scare the Hell Out of Every American: Democrats Promise to Persecute Trump Supporters if They Take White House… AND THEY MEAN IT!
Far left Senator Elizabeth Warren (D-MA) unveiled a new campaign plan 

Warren's plan calls for the creation of a Justice Department task force to investigate and prosecute corruption and immigration "violations" committed by the Trump administration.
She is promising to persecute Trump officials.
I'm sending a clear message to anyone associated with the Warren campaign: I will not tolerate the use of false information or false accounts to attack my opponents, promote my campaign, or undermine our elections. And I urge my fellow candidates to do the same.

— Elizabeth Warren (@ewarren) January 29, 2020
I'm also calling on tech companies like Facebook, Twitter, and Google to take real steps right now to fight disinformation spread on their platforms. The safety of our democracy is more important than shareholder dividends and CEO salaries.

— Elizabeth Warren (@ewarren) January 29, 2020
Remember Republicans, the Democrats already had 17 witnesses, we were given NONE! Witnesses are up to the House, not up to the Senate. Don't let the Dems play you!

— Donald J. Trump (@realDonaldTrump) January 29, 2020
For a guy who couldn't get approved for the Ambassador to the U.N. years ago, couldn't get approved for anything since, "begged" me for a non Senate approved job, which I gave him despite many saying "Don't do it, sir," takes the job, mistakenly says "Libyan Model" on T.V., and..

— Donald J. Trump (@realDonaldTrump) January 29, 2020
….many more mistakes of judgement, gets fired because frankly, if I listened to him, we would be in World War Six by now, and goes out and IMMEDIATELY writes a nasty & untrue book. All Classified National Security. Who would do this?

— Donald J. Trump (@realDonaldTrump) January 29, 2020
A letter dated January 23, 2020 from the White House to the attorney for former Trump national security advisor Ambassador John Bolton informed him that Bolton's book should not be published because it contains "significant amounts of classified information", including top secret information. The letter was sent several days before the New York Times anonymously sourced, second hand report on Bolton's manuscript published Sunday night.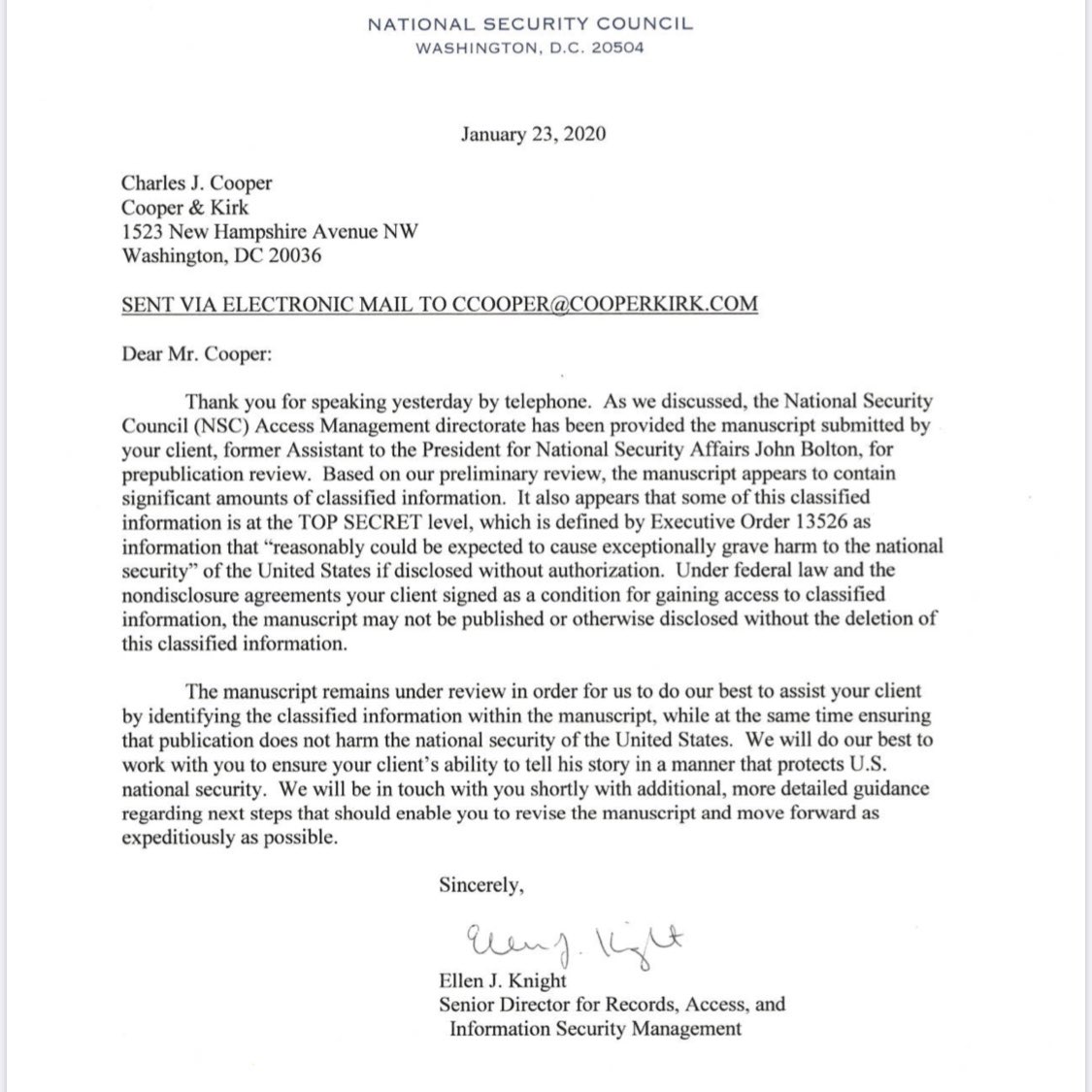 What do we have here….

John Bolton in an interview describing the conversation between President Trump and Ukraine President Zelinsky as warm and cordial in August 2019. pic.twitter.com/c0C1r1oInm

— Go Trump 🇺🇸 (@GKeile) January 29, 2020
Take a listen
 Joe Manchin of West Virginia is,   out of step with his party on Trump.  Drip, Drip, Pain, Then The Flood, FISA Court Declares Warrants Invalid – Episode 2078
John Durham, Head of Probe Into Russia Investigation, Appoints New Criminal Chief
Federal prosecutor John Durham, who is leading the Department of Justice probe into the origins of the investigation into Russian interference in the 2016 election, appointed a new criminal division chief on Jan. 27.
  Sarah Karwan will take the position.
---
Geopolitical/Police State
Wow.

Firefighters on the frontline of the Yellow Vest protests in France.

Literally pushing back Police.

The state is imploding on itself.pic.twitter.com/ADcRnJf6FF

— Avi Yemini 🇦🇺🇮🇱 (@OzraeliAvi) January 28, 2020
---
Q
Q

 

!!Hs1Jq13jV6

 

ID: 2cfc1a

 No.7944852

NEW