[DS] Lost Control Of The People, Trump Pivots And Fires A Shot, Optics Are Important – Ep. 3079
Podcast: Download (Duration: 1:09:23 — 30.9MB)
Watch The X22 Report On Video
The D's are losing the debt ceiling battle, the are playing a game of chicken and they will flinch first because the people are not with them on this, they are are out of touch. Banks begin to ask why you want your cash, you might need to show proof of why you need your own money. Trump reveals solutions to bring the economy back. The [DS] has now lost control of the people, they don't have the narrative and they desperately want it back, but this will not happen, once the people are awake you can't put them back to sleep. Trump pivots and is now going to use DeSantis's people to prove the [DS] crimes. Optics are important. Biden is on his way out, CBS already begins to against him, which means they got permission to do so. Change of batter coming.
---
Economy
As the federal government approaches the inability to pay its bills, House Democrats appear ready to play a game of chicken with Republicans over the debt ceiling. Unfortunately for Democrats (but fortunately for the fiscally sane), this game puts them in a dangerous position—in opposition to the American people.
Recently, the Center for Excellence in Polling conducted extensive polling on federal spending and the debt ceiling. We have found consistently that voters are fed up with the way Congress and, increasingly, the bureaucracy, squander the tax dollars hardworking Americans (involuntarily) send to Washington.
Here's how "extreme" it is to demand spending cuts as part of a debt ceiling increase: A full two-thirds of voters told us that Congress should raise the debt ceiling only alongside a reduction in federal spending. This view is shared by 81 percent of Republicans and 72 percent of Independents. Only Democratic voters support raising the debt ceiling without a reduction in spending, but only by the slimmest of margins. Nearly half of Democratic voters are not as removed from reality as their party's leadership.
Moving on to work requirements. Is it "extreme" to require able-bodied adults to work part time as a condition of receiving taxpayer-funded welfare benefits?
Our polling shows that between 70 and 76 percent of voters, depending on the specific welfare program we ask about, support work requirements for individuals on welfare. This large majority includes most voters irrespective of their party affiliation.
And because the ballot box is the ultimate test of public opinion, we can look to Wisconsin's recent vote on welfare work requirements, which passed with nearly 80 percent support.
Voters do not want a "clean" debt ceiling bill. As Americans are still reeling from the high inflation that has become a hallmark of the Biden administration's economy, they want meaningful reform out of Washington—some kind of fiscal sanity to offset the insanity of another debt ceiling hike.
And here's the takeaway for Democrats. Our polling shows that they will bear more solitary blame than Republicans for failed debt ceiling negotiations.
Democrats are playing a dangerous game of chicken with the debt ceiling, and they are on a crash course with American voters.
Source: dailycaller.com
Source: breitbart.com
As Biden bugs out of town during debt ceiling negotiations, Karine Jean-Pierre struggles to justify it and snaps at reporters
Something doesn't smell right about the Biden administration hyping end-of-the-world catastrophe if the federal debt ceiling isn't raised by June first, and then taking off from DC as those negotiations are in their last few days.
Even Democrats are appalled, as Ben Wilson of the Free Beacon reports:
"Please tell me that's not true," a Democrat lawmaker anonymously told Politico after hearing of Biden's plans to leave town. "You're going to see a caucus that's so pissed if he's stupid enough to do that."

Democrats have also expressed anger about Biden's lack of leadership in negotiations with House Speaker Kevin McCarthy (R., Calif.). "It's time to bring the president off the bench, or bring somebody off the bench. No one's responding to anything. Kevin's consistently on message," a House Democrat told Politico. "We have the Oval Office. I've never seen anything like it."
Poor Karine Jean-Pierre had to defend it, and did so poorly, as usual, snapping at reporters.
What few commented on or maybe even noticed was that the holiday weekend getaway had two different destinations: first to Camp David and then on to Delaware, where he has two homes: a mansion that formerly belonged to a member of the DuPont family and a beach house in Rehoboth.
Source: americanthinker.com
Eighty-three percent of voters believe President Joe Biden's economy is in negative shape, while only 18 percent say it is in a positive condition, a Fox News poll found Thursday.
Voters see a worsening economy under Biden's leadership. Last month, 78 percent viewed Biden's economy negatively, five points less than in May. Compared to 100 days after Biden assumed office in April 2021, 69 percent viewed Biden's economy negatively, 14 points less at 69 percent.
Moreover, the poll found that 66 percent gave their personal financial situation negative reviews. That's up from 58 percent in December.
Among independents, 77 percent held negative views on their personal financial position, while 90 percent viewed Biden's economy as negative overall.
Overall, Biden's systemic inflation concerned about 90 percent of voters, including 85 percent of Democrats.
Source: breitbart.com
NatWest bank wants to know why – and see proof.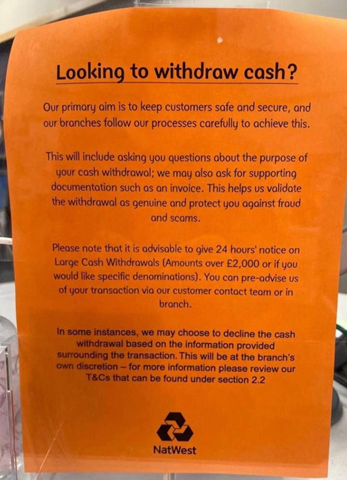 if you go to NatWest bank's website, right here – you see this cash withdrawal policy spelled out for all to see: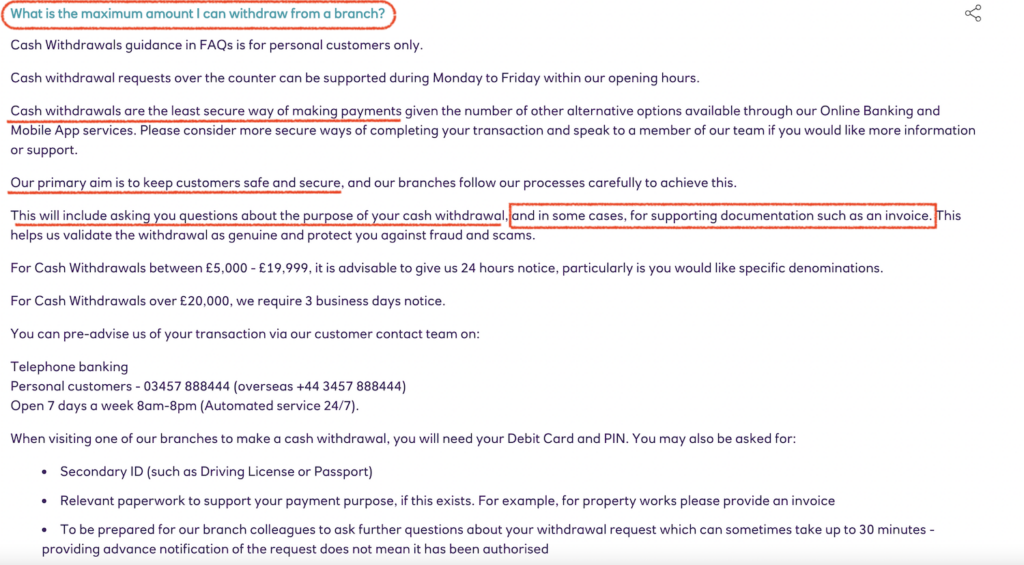 By Memorial Day 2025, our Country will be roaring back. We'll be well on our way to GREATNESS like our Country has never seen before! MAGA!!!
---
Political/Rights
Retail giant Target has partnered with GLSEN (Gay, Lesbian, and Straight Education Network), a group that advocates policies that keep parents unaware of their child's in-school gender transition, providing sexually explicit books to schools, and pushing gender ideology throughout public school curricula.
According to the report, GLSEN is a radical education group leading efforts to create 'inclusive and anti-racist environments' for LGBTQIA+ students.
"GLSEN believes that every student has the right to a safe, supportive, and LGBTQ-inclusive K-12 education. We are a national network of educators, students, and local GLSEN Chapters working to make this right a reality," the website reads.
Target Corporation has confirmed its collaboration with GLSEN and expressed pride in their decade-long partnership. The company has been making annual donations to GLSEN, emphasizing its support for the organization's mission. 
At least $2.1 million has been donated by Target to GLSEN, which helps schools and kids conceal gender transitions from parents.
Source: thegatewaypundit.com
Representative Alexandria Ocasio-Cortez held a town hall meeting on Friday night in the Corona neighborhood of Queens.
The town hall meeting turned into a chaotic scene as fed-up New Yorkers expressed their frustration with Democrat policies such as the border crisis, debt ceiling, billions in military aid to Ukraine, and other issues.
New Yorkers disrupted the event, heckling and booing the congresswoman, and while some supported the far-left congressman.
source: thegatewaypundit.com
New York City schools are being overpopulated with illegal immigrants
Illegal immigrants are flooding New York City schools. So far, at least 608 schools have taken a hit. The most shocking aspect is that in some cases, the illegal population is half of the legal population, and might soon rival the American students. This has been hidden from the public and exposed by Danyela Souza Egorov, co-founder of Families for NYC. Once exposed, the Adams administration shamelessly admitted it was true. Nathaniel Styer, Press Secretary for NYC Public Schools, took aim at Egorov and tweeted, "Yup! And we're projecting those pandemic-era declines to flatten out."
Families continue to leave @NYCSchools Enrollment for K-12 at D1-32 schools is now projected 767,477 students. This year had the biggest % drop in students in 9 years: -3.9% change. Maybe offer what families say they want and more people will stay in your schools? #Merit #Rigor pic.twitter.com/WC4zkSTV8U

— Danyela Souza Egorov (@dany_egorov) May 18, 2023
Donald J. Trump@realDonaldTrump
The RINO Speaker of the House of Texas, Dade Phelan, who is barely a Republican at all and failed the test on voter integrity, wants to impeach one of the most hard working and effective Attorney Generals in the United States, Ken Paxton, who just won re-election with a large number of American Patriots strongly voting for him. You would think that any issue would have been fully adjudicated by the voters of Texas, especially when that vote was so conclusive….
Donald J. Trump@realDonaldTrump
….I love Texas, won it twice in landslides, and watched as many other friends, including Ken Paxton, came along with me. Hopefully Republicans in the Texas House will agree that this is a very unfair process that should not be allowed to happen or proceed—I will fight you if it does. It is the Radical Left Democrats, RINOS, and Criminals that never stop. ELECTION INTERFERENCE! Free Ken Paxton, let them wait for the next election!
---
Geopolitical/Police State
Democrat President Joe Biden's administration has warned Big Tech companies that they will be held "accountable" unless they enforce "zero-tolerance" policies regarding so-called "hate speech" on their platforms.
WATCH:
source: slate.com
Twenty-seven Attorneys Generals sent a letter to House Speaker Kevin McCarthy on May 25, 2023, urging Congress to act against the ATF's AR-pistol stabilizer brace rule before it goes into effect June 1, 2023.
The AGs wrote:
The pistol brace rule is an egregious overreach. For over a decade, ATF has recognized that pistols equipped with stabilizing braces are not short-barreled rifles subject to the registration and tax requirements of the Gun Control Act of 1968 and the National Firearms Act. ATF has now reversed course, without statutory authority, and is requiring registration of nearly all pistols with stabilizing braces by the end of May. If an individual fails to register or otherwise dispose of a pistol equipped with a brace, then that person will be guilty of a serious federal felony.
They noted that although they have filed a lawsuit, the court system is not ultimate fix: "We urge you to schedule a vote on that resolution early enough to complete the CRA process before the rule's May 31, 2023, registration deadline. Although we have filed a lawsuit challenging the pistol brace rule—and have sought preliminary injunctive relief—we need Congress's help, too."
source: breitbart.com
---
War
Rep. Nadler 'Wouldn't Care' If Ukraine Used F-16s to Strike Russian Territory
Nadler said it was unlikely Ukraine would use F-16s to hit Russian territory despite US armored vehicles being used in Belgorod 
Rep. Jerry Nadler (D-NY) said Wednesday that he "wouldn't care" if Ukraine used American-made F-16s to strike Russian territory despite the risk of such an attack escalating into a direct clash between the US and Russia.
When asked by Epoch Times reporter Liam Cosgrove if he was concerned about the potential of Ukraine using F-16s to hit targets inside Russia, Nadler said, "No, I'm not concerned. I wouldn't care if they did."
Nadler said it was unlikely Ukraine would use F-16s to attack Russian territory, but Cosgrove pointed out that US-made armored vehicles were used in a cross-border raid in Russia's Belgorod region that was launched on Monday.
Source: antiwar.com
Russia Claims it Shot Down Two UK-Supplied Storm Shadow Missiles, Condemns London for Escalation
---
False Flags
In a recent address to the European Parliament, a US businessman specializing in patent auditing David Martin claimed that COVID-19 was not a natural occurrence but a calculated act of "biological warfare and a financial heist. Nature was hijacked, science was hijacked."
However, the medical community and pharmaceutical companies quickly learned that the vaccines were ineffective.
"Because the coronavirus is a malleable model, it mutates," Martin said. "Every medical publication concluded that coronaviruses escape vaccines because it modifies and mutates too rapidly for a vaccine to be developed."
More from the Standard:
Martin claimed that the United States "intentionally released" the Covid-19 coronavirus in Wuhan, China, with the goal of causing a global pandemic in order to increase public support for vaccines.
"This whole story started in 1965 when we decided to hijack a natural model and decide to start manipulating it. Science was hijacked when the only questions that could be asked were questions authorized under the patent protection of the CDC, the FDA, the NIH, and their equivalent organizations around the world," he said.
WATCH:
Source: thegatewaypundit.com
  Trump's latest claim about DeSantis is that he handled COVID worse than radical pro-abortion Governor Andrew Cuomo.
In a video his campaign released today, Trump said DeSantis is "better than most Democrat governors, but very average at best compared to Republican governors…Even Cuomo did better [on COVID]."
But that doesn't even pass the straight face test.
Three years after Cuomo issued a disastrous order requiring nursing homes to admit COVID-19 patients, placing them with those most likely to die from the virus, the Democrat leader still has not been held accountable.
source: lifenews.com

All those people who switched sides are now going to defend desantis over cuomo, they are going to prove that cuomo killed those in the nursing home. Fell right into the trap. Optics are everything,
Q

 

!!Hs1Jq13jV6

 

ID: 578e55

 No.9331660

Q

 

!!Hs1Jq13jV6

 

ID: 6b4788

 No.9346230

EZHltAAXkAA3LBG.png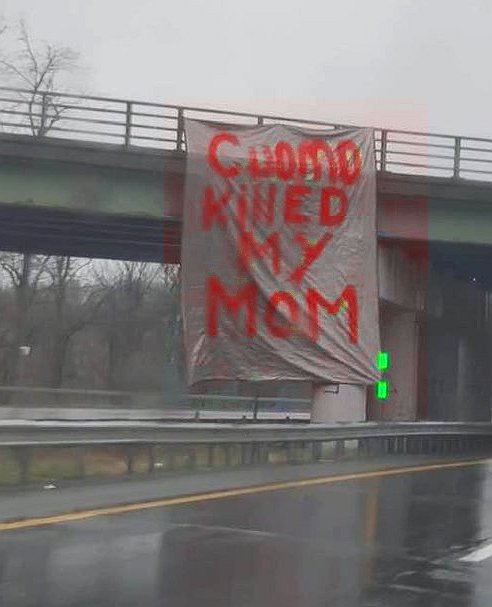 Source: beckernews.com
Public filings unearthed by the New York Post reveal that Black Lives Matter's national organization distributed approximately $30 million, which accounts for 33% of the nearly $90 million it received in public donations between 2020 and 2022, to charitable foundations.
According to federal filings covering the fiscal years 2020 and 2021 (July 1, 2020, to June 30, 2022), the Black Lives Matter Global Network Foundation (BLMGNF), a non-profit based in Oakland, California, allocated $30,498,722 in grants to black, trans, and anti-police non-profits.
BLMGNF provided grants to individuals associated with its former co-founder, Patrisse Cullors, who resigned from the organization in 2021. Cullors' brother, Paul Cullors, and Kailee Scales, the group's former managing director, received salaries from BLMGNF.
Paul Cullors' security company, Black Ties Security, LLC, received significant payments as a contractor for BLMGNF. Additionally, BLMGNF contributed funds to LGBTQ causes, including the Trans Justice Housing Project and the Reuniting of African Descendants initiative, despite the latter's revoked non-profit status.
Source: beckernews.com
Folsom Street Fair is long notorious for allowing public sex acts, urination, and more extreme displays of bondage and fetishes.

The event welcomed and invited children to attend, despite the adult content allowed by organizers:

"we don't have any age restrictions" pic.twitter.com/jyOPuFUD5p

— Techno Fog (@Techno_Fog) May 26, 2023
It was the Sisters of Perpetual Indulgence who allowed entry to thousands of children.

In 2005, for example, they opened the gates for toddlers.

Those 2 year-olds found themselves "surrounded by strangers in fishnets and leather crotch pouches, semi and fully nude men." pic.twitter.com/tO1KzTdmnS

— Techno Fog (@Techno_Fog) May 26, 2023
Even the public masturbators objected to the presence of children – though that didn't stop them from performing their act: pic.twitter.com/3Hq1XEkm0x

— Techno Fog (@Techno_Fog) May 26, 2023
One vendor had bondage gear for toddlers.

There were "little-kid-sized mannequins in baby blue and girly pink leather hoods, gas masks, and, of course, pacifier ball gags."

And the Sisters of Perpetual Indulgence were there, as always. pic.twitter.com/M6Itwb4l3E

— Techno Fog (@Techno_Fog) May 26, 2023
Remember when they said kids weren't being groomed in school? https://t.co/Petb25913A

— Rising serpent 🇺🇸 (@rising_serpent) May 27, 2023
REVEALED: Disgraced former Biden official Sam Brinton was member of 'drag nun' group promoted by LA Dodgers
It turns out that Biden's disgraced nuclear waste official Sam Brinton, made famous after he was arrested for stealing ladies' luggage, was a member of the "drag nun" group tapped to celebrate Pride month with the LA Dodgers.Brinton wasn't just a member, but held a leadership position with the DC chapter of Sisters of Perpetual Indulgence, a drag group that dons religious garb and poses salaciously with crosses in order to get their message of inclusion (or something) across.
Brinton was the principal officer of the DC chapter, Fox News discovered after reviewing tax filing, from its founding in 2016 to 2018. His drag name was Sister Ray Dee O'Active.During a San Francisco event, Brinton said "We're celebrating 40 years of history. For some of us, this is the first time we've ever seen so many sisters in one place, and I think it's the best kind of family reunion."
Source: thepostmillenial.com
Jill Biden, Ed.D., lauds "how far women's sports have come."

What about biological males competing against women in sports? pic.twitter.com/zRAbnRrlp9

— RNC Research (@RNCResearch) May 26, 2023
British Cycling to ban transgender women from competing in female category
British Cycling is to ban transgender women from the female category of its competitions following a nine-month review and consultation.

Female races will be "for those whose sex was assigned female at birth".
The changes will prevent riders such as Emily Bridges potentially being part of the British women's team.
Last year Bridges – the country's highest-profile transgender cyclist – was stopped from competing in her first elite women's race by the UCI, cycling's world federation, despite meeting the rules at the time.
Bridges reacted to the announcement with a statement on social media, calling the change a "violent act" by a "failed organisation" that was "controlling" the conversation on transgender inclusion.
Source: bbc.com
---
Q
Lot of noise about @RonDeSantis announcing & discussing his Presidential bid on this platform.

But you what isn't noise? Setting an all-time record for fundraising!

Worth considering for announcements in general. https://t.co/8cGlxiHhHS

— Elon Musk (@elonmusk) May 26, 2023
Neither Marco Rubio nor Jeb Bush trailed Donald Trump by the margin Ron DeSantis trails him now in their own home state of Florida.

And he is a sitting Governor. Not a former governor or sitting Senator.

— Rich Baris "The People's Pundit" (@Peoples_Pundit) May 27, 2023
stop asking valid questions

— Helena Handbasket 🐊 (@hobbes16) May 27, 2023
Also, that's a dumb, not valid, question for several reasons, the most important being, each have universal name ID in that state.

But you don't know what I am talking about or the significance of it, so I'm likely wasting my time.

— Rich Baris "The People's Pundit" (@Peoples_Pundit) May 27, 2023
The Patriot Voice@ThePatriotVoice
Hey Target, we aren't going to cause any destruction to your stores, or harm anyone physically in anyway. That's NOT how we Patriots roll, as much as your delusions about us being "extremists" may say otherwise…
But, one thing I can tell you FOR SURE, is that you won't even have to worry about those issues…
Your business as it was, is going into the burning trash heap of WOKE BS companies that is SELF IMPLODING.
I'd venture to say MOST Americans are officially DONE WITH YOU.
Enjoy the ride!
An internal Target memo attempts to paint those boycotting Target as "extremists." News flash Target, we're not the extremists here, your flagrant profiteering off of selling groomer merchandise to kids is extreme. But go ahead, double and triple down. See how that works out.
 a bomb threat to multiple locations prompted the evacuation of a Target store in Utah.
The incident unfolded at a Target store located at 810 West 2000 North in Layton, Utah. Law enforcement, including a bomb squad and K9 unit, immediately responded to the scene around 1 pm, according to local news outlet KUTV 2.
All customers and staff were directed to the parking lot as a precautionary measure.
The threats extended beyond the Layton location, with stores in Salt Lake, Taylorsville, and Provo also targeted. 
 .
According to reports, authorities were alerted to the threats after local news stations received emails from trans terrorists threatening to bomb Target for removing Satanic groomer merchandise.
"Target is full of [redacted] cowards who turned their back on the LGBT community and decided to cater to homophobic right wing, redneck, bigots, who protested and vandalized their store,' according to the email sent to Cleveland 9 per Daily Mail. "We won't stand idly by as the far right continues to hunt us down."
"We are sending you a message, we placed a bomb in the following Targets,' the email continued. 'We will continue to bomb your Targets until you stop cowering and bring back your LBGT merchandise. We will not be erased, we won't go quietly.'"

Source: thegatewaypundit.com
CBS News suddenly turns against Biden – a sign that he is being pressured to drop his re-election plans
 CBS News aired an interview with the IRS whistleblower who revealed what looks like preferential treatment of Hunter Biden in his tax investigation: "multiple steps that were slow-walked… . It was way outside the norm of what I've experienced in the past." (source)

This more or less broke what has been a legacy media blockade of coverage of the Biden family's scandalous receipt of millions of dollars from foreign sources and associated tax scandals.

I strongly suspect that a message is being sent to Biden with this breach in the former media cofferdam protecting him from a flood of negative press about his and his family's financial ties to foreign powers, many hostile to the United States. Not to put too fine a point on it, but it sure looks like he's been on the take from our enemies. The FBI may be stonewalling release of a document that James Comer implies shows him receiving $5 million form a foreign source in return for a policy move – bribery – but if the media chooses to focus on the indirect evidence, it would be curtains for re-election. And would likely lead to unstoppable pressure to appoint a special counsel that could lead to criminal prosecution.
Source: americanthinker.com
A majority of Americans believe President Joe Biden's reelection would represent a "setback" or a disaster" for the nation, a CNN poll found Thursday.
The poll, focused on Biden's 2024 reelection hopes among Democrat primary contenders, found that 66 percent of Americans believe Biden's potential 2024 "victory would either be a setback or a disaster for the country."
Only 33 percent believe a Biden second term "would be a step forward or a triumph for the country."
"Convincing the overall public that he deserves a second term could prove a challenge," the CNN poll said.
Despite the data, Biden only has two Democrat primary challengers, who are polling among Democrats well below Biden at 60 percent: Robert F. Kennedy Jr. (20 percent) and Marianne Williamson (8 percent). Another 8 percent said they would support an unnamed person.