[DS] Showed The People The Blueprint To Beat Them, Puzzle Coming Together – Ep. 3080
Podcast: Download (Duration: 1:11:36 — 31.7MB)
Watch The X22 Report On Video
John Kerry is now pushing the idea that farmers need to stop growing food. They are coming after the farmers to make us eat bugs. The [CB] is now in the process of destroying themselves. The debt ceiling was never the issue, it is the [CB] that is the problem. The [DS] has now shown the people the blueprint, they can fight back using their wallet and the [DS] cannot not do anything about it, they cannot arrest people for not shopping or buying a product. The [DS] has now lost the flow of information and they know at this point they will not be able to control again. This is why they are going to take this to a physical war. Trump the patriots know this playbook and this will wake up the rest of the people.
---
Economy
John Kerry: Farmers Must Stop Growing Food to Meet 'Net Zero' Goals for 'Emissions'
Democrat President Joe Biden's "climate czar" John Kerry is calling for farmers to stop growing food in order to meet the administration's radical "net zero" goals for lowering "emissions."
Kerry, Biden's Special Presidential Envoy for Climate, issued the warning during a green agenda conference in Washington D.C.
During the Department of Agriculture's (USDA) AIM for Climate Summit, Kerry told the audience that "we can't get to net zero, we won't get this job done, unless agriculture is front and center as part of the solution."
Kerry warned attendees that his and other world leaders' "lives depend" on farmers ceasing their operations.
source:  slaynews.com
State Farm will no longer accept new applications in California for property insurance due to wildfires, inflation and historic construction costs.
Wildfires = Poor forest management thanks to Democrat policies.
Inflation = Thanks to trillions in spending by Joe Biden and the Democrats in Congress.
The new policy will not impact vehicles.
Existing California customers will still be serviced.
The insurance giant said it had stop insuring California properties for financial reasons.
"We take seriously our responsibility to manage risk. We recognize the Governor's administration, legislators, and the California Department of Insurance (CDI) for their wildfire loss mitigation efforts. We pledge to work constructively with the CDI and policymakers to help build market capacity in California. However, it's necessary to take these actions now to improve the company's financial strength. We will continue to evaluate our approach based on changing market conditions. State Farm® independent contractor agents licensed and authorized in California will continue to serve existing customers for these products and new customers for products not impacted by this decision." State Farm said.
200 acres burned and 20 homes were destroyed.
SoCal Edison said there was "circuit activity" around the time of the fire.
In 2021, California's 'Dixie Fire' became the second largest in the state's history.
The fire began on July 14, 2021 just northeast of Chico, California and grew to more than 460,000 acres.
Democrat Governor Gavin Newsom blamed climate change and poor forest management (thanks to Democrat policies) for the Dixie Fire.
Source: thegatewaypundit.com
EK9URc8XsAArFex.jpg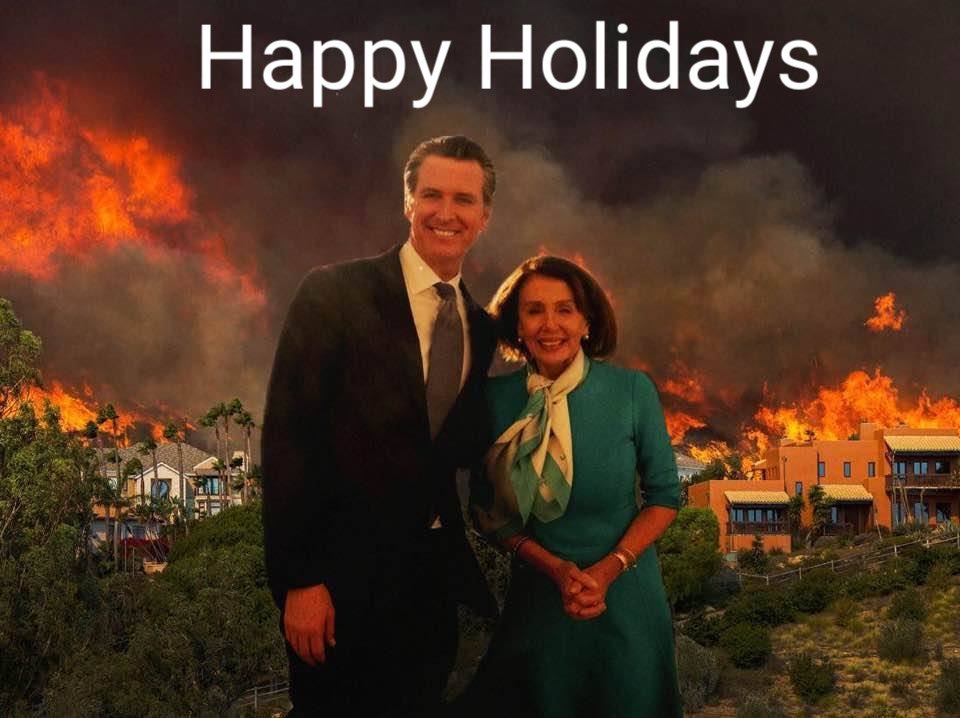 What happens when CA is in serious debt and lost priority aid from the FED gov due to sanctuary status (illegal)?
What happens when CA is in serious debt and all attempts to obtain a bailout from
[Pelosi inserted and pushed]
C19 aid package(s) have failed?
What happens when CA is in serious debt and decides to implement resident overreach by extending statewide shutdowns [incurring massive economic
[further] pitfall]
?
Average number of fires in CA per year
[last 20][June – Dec]
?
Average number of fires 2018, 2019, 2020
[June – Dec]
?
Outside of standard deviation?
Stated cause(s) of fires?
Heat?
Average temperature(s) of CA per year
[last 20][June – Dec]
?
Outside of standard deviation?
Power line(s)
[source]
?
What changed?
What CA programs re: fire prevention
[forest – brush]
have been severely cut?
What other cuts have impacted fire prevention & safety?
http://www.cpf.org/go/cpf/news-and-events/news/budget-cuts-sacrifice-firefighter-and-public-safety/
How do you obtain FED money?
Declare a State of Emergency and request billions in assistance?
Welcome to CA.
Q
=
Billions of dollars are sent to the State of California for Forest fires that, with proper Forest Management, would never happen. Unless they get their act together, which is unlikely, I have ordered FEMA to send no more money. It is a disgraceful situation in lives & money!

— Donald J. Trump (@realDonaldTrump) January 9, 2019
….putting these massive, and many, fires out. Great firefighters! Also, open up the ridiculously closed water lanes coming down from the North. Don't pour it out into the Pacific Ocean. Should be done immediately. California desperately needs water, and you can have it now!

— Donald J. Trump (@realDonaldTrump) November 3, 2019
BREAKING — Kevin McCarthy Says an Agreement Has Been Reached 'In Principle' w/ Biden on Debt Ceiling Talks @SpeakerMcCarthy pic.twitter.com/CbIeZcwEVV

— Chief Nerd (@TheChiefNerd) May 28, 2023
While the bill is still being written, here are some of the reported details of the  Biden-McCarthy agreement.
The DC swamp proposed the largest debt ceiling increase in our nation's history, $4 trillion.
The agreement reportedly did not raise the debt ceiling but it extended the debt ceiling deadline until January 1, 2025.
They didn't raise the debt ceiling by an amount.

They set a new date of January 1, 2025.

So technically the debt ceiling is now unlimited for the next 19 months.

They did this because actually having to agree to $36 trillion in the headlines would be impossible to pass.

— Wall Street Silver (@WallStreetSilv) May 28, 2023
If Kevin McCarthy were serious about reform, he would have given them a hard $$$ limit increase and forced another debt ceiling debate in 6 month.

Highlight how ridiculously fast the debt is growing. Force these painful debates every 6 months.

— Wall Street Silver (@WallStreetSilv) May 28, 2023
According to Rep. Matt Rosendale (R-MT), the new agreement has NO full elimination of 87,000 IRS agents, NO elimination of the IRA green energy subsidies, NO elimination of the student loan redistribution program, NO spending freeze at FY2022 levels.
But hey, we won't have to talk about it again until after the 2024 elections so they think that's good!

I think it's a disaster!

— Matt Rosendale (@RepRosendale) May 28, 2023
…2) Debt Ceiling "Deal" totally scraps the $131BB in cuts to return bureaucracy to pre-COVID levels in favor of what appears to be effectively flat spending (down or up a little) – at the bloated 2023 Omnibus spending level, jammed through in a rush in December… (2/10)

— Chip Roy (@chiproytx) May 28, 2023
4) Deal abandons our repeal of the so-called Inflation Reduction Act tax-credit crony giveaways – which Goldman Sachs says costs $1.2 Trillion. (4/10)

— Chip Roy (@chiproytx) May 28, 2023
…The deal abandons full repeal of Biden's unlawful student loan bailouts – forcing only a re-start to a small number while leaving in place $400 billion+ in loan forgiveness and punting our constitutional duty to the Court… (6/10)

— Chip Roy (@chiproytx) May 28, 2023
…The deal does claw back $29BB remaining of the COVID unobligated funding which is used as part of the budget games… (8/10)

— Chip Roy (@chiproytx) May 28, 2023
…Finally, again… this deal raises our debt ceiling an unlimited amount that is likely close to or over $4 Trillion. #DebtCeiling (10/10)

— Chip Roy (@chiproytx) May 28, 2023
Fake conservatives agree to fake spending cuts. Deal will increase mandatory spending ~5%, increase military spending ~3%, and maintain current non-military discretionary spending at post-COVID levels. No real cuts to see here.

Conservatives have been sold out once again!

— Rand Paul (@RandPaul) May 28, 2023
Source: thegatewaypundit.com
As long as the CB and corruption is in government this will continue. The people wanted the gov to right thing, but this just proves again that the criminal syndicate, the CB needs to be removed. The people wanted cuts because spending is out of hand, what are the people seeing, corruption at the highest level. 
 Sometimes you must show the people. 
---
Political/Rights
Target shows the blueprint to beat the left 
Something is happening right now that is scaring the Obama out of the fascist far left.  Their power has always been an illusion, perpetuated by pop culture and the national socialist media, but now that is being shown to be nothing more than smoke and mirrors.  Normal people in the pro-freedom majority are figuring that out.  A
But the folks who Follow Biden's Instructions can't exactly arrest people for not drinking Bud Light or shopping at Target.  They tried that with the school board protests, showing that we now have a two-tiered justice system, but government-induced terror can carry them only so far.  The FBI can't force moms to shop at Target and have their children groomed and indoctrinated.  The DOJ can't investigate people for not buying Bud Light.
When they don't have secret police forces like the KGB, Gestapo, Stasi, AVO, CDR, and SABIN to maintain a sense of fear in the population and keep them from speaking out, they have nothing but their illusory cancel culture power.  Now that is draining away like spoiled beer.
Source: americanthinker.com
#Breaking: The Texas House has voted overwhelmingly to impeach AG Ken Paxton by a vote or 121-23.

This story will be updated soon: https://t.co/yerRxTa632 #txlege pic.twitter.com/Lhwh8tZkI4

— Lauren McGaughy 🌟 (@lmcgaughy) May 27, 2023
So this is the RINO who is responsible for the Impeachment of a just re-Elected Attorney General of Texas who has done an outstanding job? What is our Country coming to?
Citizen Free Press@CitizenFreePress
Texas House of Representatives Speaker Dade Phelan was either very drunk last night or suffering from a medical condition.
 TAKE A LISTEN
I am beyond grateful to have the support of millions of Texans who recognize that what we just witnessed is illegal, unethical, and profoundly unjust. I look forward to a quick resolution in the Texas Senate, where I have full confidence the process will be fair and just. pic.twitter.com/fEiAroA2DW

— Attorney General Ken Paxton (@KenPaxtonTX) May 27, 2023
I oppose the impeachment of AG #Paxton; not because I am convinced of his innocence, but because #txlege House leadership made no attempt to adequately document his guilt nor to demonstrate that this is anything other than a sham railroading of a political enemy. Full Statement👇 pic.twitter.com/grNWMdY164

— Brian Harrison (@brianeharrison) May 27, 2023
The impeachment of AG Paxton:
• No direct evidence
• No cross-examination of witnesses
• No witnesses placed under oath
• Reps not allowed to talk to investigators
• No witnesses with direct knowledge
• AG Paxton not allowed to present evidence or argue in his defense https://t.co/EHaAPWakhX

— Cari Kelemen (@KelemenCari) May 28, 2023
MISSING IN ACTION! Where is the Governor of Texas on his Attorney General's Impeachment?
Migrants Allowed to Enroll in Chicago Schools Without Health Records After Years of Draconian COVID Rules- Parents Furious
Parents in Chicago are outraged over the lax rules surrounding health records and vaccine status for illegal students flooding area schools.
"Right now in the school district in which we live we have to provide residency, citizenship, health records and vaccination records on an almost annual basis. I have a child right now, and I must have five emails in my inbox stating that my child cannot return to school next year without a specific vaccine. So it's certainly inconsistent with what they're allowing for the migrant children coming into the Chicago public schools."

Source: thegatewaypundit.com
'This place deserves to be shut down': Migrant hotel employee reveals the 'free for all' of drugs, sex and violence inside New York City's The Row since it was closed to tourists to make room for border crossers
An ex-employee of the Row Hotel in New York has exposed the appalling state of the hotel rooms occupied by newly arrived migrants in the city all at city expense
Carlos Arellano described the establishment as chaotic, with rampant drug use, sexual activity, and violence, and he believes it should be closed down
Hotel's 1,300 rooms spanning 28 floors have been allocated almost entirely to accommodate migrants, with the city paying a nightly rate of $500 for their stay
A former worker at New York's Row Hotel has come forward to reveal the disgusting conditions migrants newly arrived in Manhattan are keeping their hotel rooms, which the city is footing the bill for.
Carlos Arellano, who no longer works for the once luxury hotel, has described the premises as a 'free for all' of drugs, sex and violence and should be shut down.
Almost all of the 1,300 rooms set across 28 floors of the hotel have been turned over to host migrants, with the city paying $500-a-night for the migrants to be housed.
Video and photographs shot by Arellano show rooms occupied by 5,000 migrants have become completely trashed, full of garbage, with clothes strewn everywhere together with drink bottles and food boxes lining the floors.
The opening of the Judicial motion sets the tone:
"Plaintiff Government of the United States Virgin Islands ("USVI") is complicit in the crimes of Jeffrey Epstein. Epstein could have lived anywhere in the world. He chose USVI. Discovery obtained in this case reveals why. For two decades, Epstein maintained a quid pro quo relationship with USVI's highest ranking officials. He gave them money, advice, influence, and favors. In exchange, they shielded and even rewarded him, granting him more than $[redacted] million in tax incentives."
The banks motion further states that "the entity that most directly failed to protect public safety and most actively facilitated and benefited from Epstein's continued criminal activity was the plaintiff in this case—the USVI government itself.'
After getting out of jail in 2009, Epstein had the supervision of his parole transferred from Florida to the USVI territory, where he registered as a sex offender and maintained his 'primary residence' – putting him under USVI law enforcement's direct jurisdiction and supervision.
Epstein's 'Pedophile Island' served as his 'primary residence' for legal purposes.
 The shady billionaire courted USVI officials with money and favors, and even funded and advised on the finances of the USVI government.
"Epstein gave money to USVI politicians. For example, Epstein supported [Democrat] Congresswoman Stacey Plaskett, who successfully ran to be USVI's delegate to Congress—after working for the USVI Economic Development Authority, the USVI agency responsible for awarding Epstein his massive tax benefits."
But according to the motion, 'Epstein's primary conduit for spreading money and influence throughout the USVI government was First Lady [Cecile] de Jongh'.
"Despite her public role and official duties, First Lady de Jongh managed Epstein's USVI-based companies from January 2007 to January 2015 — receiving from Epstein a salary, bonuses, and other benefits, including $200,000 in 2007 alone.
 
Source: thegatewaypundit.com
Jul 02, 2020 1:53:00 PM EDT
Possible
EPSTEIN
was a puppet
[not the main person(s) of interest]
? Financed by who or what
[F]
entities?
1. [Primary] gather blackmail on elected pols, dignitaries, royalty, hollywood influencers, wall street and other financial top level players, other high profile industry specific people, etc.
2. Feed an addiction [controllable] Maxwell family background?
Robert Maxwell history [intel, agency, wealth, [CLAS 1-99]]?
Sometimes it's the people in the background that are of greater significance.
Q
---
Geopolitical/Police State
Elon Musk withdraws Twitter from European Union's 'voluntary Code of Practice on online disinformation'
With no pesky First Amendment to deal with, the bureaucrats of the European Union have a relatively easy time dictating what the truth is, and what is not allowed to be part of the public conversation. But "free speech absolutist" Elon Musk wants nothing to do with it and has withdrawn Twitter from the EU's "voluntary Code of Practice against disinformation," as if the "voluntary" part of that name is not itself disinformation.
But that may not be the case, as EU Commissioner Thierry Breton is already issuing not-so-veiled threats.
Natasha Lomas reports for Tech Crunch:
 — Breton issued the social media platform with a blunt warning: Telling Twitter it cannot hide from incoming legal liability in this area.
The media, and the bureaucrats, who believe they have the sole right to spread disinformation, are taking this about about [sic] as well as can be expected, with Thierry Breton, head of the European Union's Josef Goebbels Memorial Happy Fun Time Administration, issuing unveiled threats.

What they're really upset about is that Twitter isn't playing the game
Source: americanthinker.com
Yikes pic.twitter.com/qvuqX123Gt

— Elon Musk (@elonmusk) May 28, 2023
TAKE A LISTEN

Turkey year-end inflation seen at 46% despite likely post-election rate hikes: Reuters poll
---
False Flags
 
A groundbreaking federal lawsuit could ban fluoride from drinking water, overturning a decades-long program aimed at preventing cavities that has been challenged by mounting evidence of harm.
The Fluoride Action Network (FAN) sued the Environmental Protection Agency (EPA) under the Toxic Substances Control Act in 2017, and it appears to be nearing its conclusion.
The lawsuit has included pointed testimony from leading experts on environmental toxins and admissions from both EPA and Centers for Disease Control and Prevention (CDC) officials that fluoride could be linked to specific harms. The lawsuit has also revealed government interference in crucial scientific findings.
In From the Fringes
The lawsuit has brought attention to new research that links fluoride exposure to damaging neurodevelopment effects, concerns that have sometimes been deemed conspiracy theories.
"The rapidly emerging science on developmental neurotoxicity, especially loss of IQ from early life exposure to fluoride, is a game-changer."
Many of the most important science on fluoride has come via research funded with millions of dollars by the National Institutes of Health.
Source: zerohedge.com
Zero Young Healthy Individuals Died of COVID-19, Israeli Data Show
Zero healthy individuals under the age of 50 have died of COVID-19 in Israel, according to newly released data.
"Zero deceased of 18–49 years of age with no underlying morbidities," the Israel Ministry of Health (MOH) said in response to a formal request from an attorney.
Officials noted that the statement only applies to COVID-19 deaths where the MOH conducted an epidemiological investigation and had received information about the underlying diseases.
Source: theepochtimes.com
Over 300 COVID-19 Papers Withdrawn for Not Meeting Standards of Scientific Soundness
Research journals have withdrawn well over 300 articles on COVID-19 due to compromised ethical standards and concerns about the publications' scientific validity.
Retraction Watch has provided a running list of withdrawn papers on COVID-19 ranging from "Acute kidney injury associated with COVID-19" to "Can Your AI Differentiate Cats from COVID-19?"
A total of 330 research papers have currently been retracted.
During the pandemic, researchers have compromised on ethical standards and tried to either get more publications approved or to take shortcuts around ethics, senior researcher Gunnveig Grødeland at the Institute of Immunology at the University of Oslo says, after going through the list of articles that have been withdrawn, and the reasons for some of them.
Hundreds of papers on COVID-19 that did not meet standards of editorial and scientific soundness have been removed. (Kena Betancur/Getty Images)
While it is quite natural for some articles to be updated or changed to be published in a different form, some have been retracted because the researchers did not obtain informed consent during the research.
Even prestigious journals such as the Lancet were publishing those articles.
One of Lancet's studies even caused both the World Health Organization (WHO) and the national government to stop the comprehensive testing of hydroxychloroquine's effectiveness against COVID-19.

The extensive Lancet study, allegedly based on research fraud, said that the drug increased the risk of heart arrhythmia and mortality for COVID-19 patients.
Source: theepochtimes.com
George Washington University (GWU) and Portland State University (PSU) revised their policing policies to allow officers to carry firearms while on patrol, sources told the Daily Caller News Foundation.
The policy changes come as multiple universities across the country revise their policing standards after activists demanded reforms to restrict departments after George Floyd's death in 2020.
"When criminals and other ne'er-do-wells see armed officers on campus or near campus they're going to think twice, and they do think twice, about committing crimes on campuses," Cully Stimson, Edwin Meese III Center deputy director at the Heritage Foundation, told the DCNF.
Two inner-city colleges are arming their on-campus police officers in an effort to crack down on increased crime three years after activists called for departments across the country to be defunded.
George Washington University (GWU), located in Washington D.C., announced it will allow some officers to carry firearms while on duty after typically relying on other armed police departments, while Portland State University (PSU), located in Oregon, reversed a 2021 policy that restricted officer's ability to arm themselves. The decisions come three years after activists across the country took to the streets in 2020 demanding policing reform, including calls to defund departments, which sources tell the Daily Caller News Foundation will better prepare officers to deal with emergency situations when they occur. 
Source: dailycaller.com
Iowa Governor Kim Reynolds has signed bills that prohibit elementary school teachers from giving lessons on gender identity and sexual orientation.
The newly signed bills also prohibit non-religious books depicting sexual acts from school libraries and requires schools to notify parents if a student requests people use pronouns or names that do not match what is on their birth certificates.
The new law on instruction is similar to Florida's original Parental Rights in Education Act and only applies to kindergarten through sixth grade.
The bill was opposed by every Democrat in the state legislature, according to a report from The Hill. Their efforts to block the bills were fruitless as Republicans hold strong majorities in both the state House and Senate.

 .
Source: thegatewaypundit.com
---
Q