[DS] Pushes Violence Agenda, Panic In DC, Declas Brings Down The House – Ep. 2848
Podcast: Download (Duration: 55:34 — 23.5MB)
Watch The X22 Report On Video
The [DS]/[CB] are now being caught in their agenda. The Inflation Reduction Act is the complete opposite and people are now seeing the truth. The IRS agenda is going to backfire on the [CB]. The push back has already begun. The [DS] is panicking, the people are not with them, the FBI/DOJ are in trouble, they are the minority and the people are seeing what dictatorship looks like. There was no reason to raid Trump's home, he was cooperating and they already knew what he had. The warrant needs to be unsealed. But was this part of a bigger plan to push riots across the country. Will Trump play his hand and declas it all so the people can make up their own mind. Declas will bring down the entire house.
---
Economy
The Canadian government lobbied to expand the EV tax credit in Senate Democrats' massive climate bill, benefiting Canadian industry while raising taxes on U.S. consumers and stifling global competition.
Automakers are still dependent on China for refining critical minerals used in EV batteries, an energy-intensive process.
"The very people who are pushing green transition policies oppose mining, oppose the industrial facilities that process these," prolonging U.S. dependence on China, Dan Kish, a senior fellow at the Institute for Energy Research, told the Daily Caller News Foundation. They've created a problem and now that the problem exists they don't want to do anything to fix it."
Senate Democrats' massive climate bill could benefit Canadian makers of electric vehicles, the latest country to make gains from a bill that hurts U.S. consumers and increases U.S. dependence on China to produce materials required for green energy-fueled products, according to experts.
 Source: dailycaller.com
Daily reminder 👇 pic.twitter.com/JSH1ibPkne

— VeBee🇺🇸✝️ (@VeBo1991) August 10, 2022
Missouri Attorney General and Republican Senate candidate Eric Schmitt sent a letter to the commissioner of the Internal Revenue Service (IRS) Wednesday demanding the agency back off plans to hire an army of potentially militarized agents.
"The people of Missouri love our country," Schmitt wrote, "but, with every passing day, we find more reasons to fear our government."
On Sunday, Senate Democrats passed their latest colossal spending bill which authorizes and funds the hire of nearly 87,000 new IRS agents.
"To put this in perspective," Schmitt wrote, "the IRS will be larger than the FBI, the Pentagon, the State Department, and the Border Patrol combined."
These 87,000 agents are expected to conduct more than one million new audits, which will affect Missourians of all income levels. The thought of 87,000 new IRS agents terrorizing Missourians is disturbing to say the least. The main role of the federal government is to protect our borders and provide security to our citizens against foreign governments … not to find new ways to extract more hard earned money from the people of this great nation.
Source: thefederalist.com
---
Political/Rights
The Biden admin flies migrants all over the country in the dead of night and it's totally fine, but when a Republican buses them to cities it's decried as "anti-American?" pic.twitter.com/eMmAHBhkpC

— Tom Bevan (@TomBevanRCP) August 11, 2022
---
Geopolitical/Police State
A few months ago the raw copy/pasting of twitter links went from this (picture 1) to this (picture 2).

Under the OLD system, the "s=21&t" was, so far as I could tell, a reflection of what OPERATING SYSTEM you were using.

… what then were the new letters and numbers??

— joshua steinman (🇺🇸,🇺🇸) (@JoshuaSteinman) July 9, 2022
How did I figure out that twitter upgraded its tracking tools, and is now tracking, down to the INDIVIDUAL DEVICE, who is sharing what, and who is reading it?

SINPLE

I tried sharing tweets from two accounts, first on my phone, then on my laptop.

And here's what happened:

4/

— joshua steinman (🇺🇸,🇺🇸) (@JoshuaSteinman) July 9, 2022
Note that there's a ton of extra gunk after the "?," including our old friend, "?s=21&t" – the OS indicator (iOS/OSX).

But NOW there is a new string after the "&t…" >>

Switching (on-iPhone) to @Penance_Hall (RIP), the sharing link was the SAME ("…FrjfQ").

— joshua steinman (🇺🇸,🇺🇸) (@JoshuaSteinman) July 9, 2022
Just to double-check my work, I decided to see how the link shows up when I copy-paste THE SAME TWEET from my laptop.

Voila:

Note the string after "…&t"

Of note: the s=21 is still present. Maybe indicates I'm running the latest version of OSX? Was =18 on last phone.

— joshua steinman (🇺🇸,🇺🇸) (@JoshuaSteinman) July 9, 2022
This type of granular tracking of information is probably VERY valuable to twitter, as it enables them to better built out a "Social Graph" that is, at the core, the most valuable part of any social media company.

But it's also kinda creepy.

10/

— joshua steinman (🇺🇸,🇺🇸) (@JoshuaSteinman) July 9, 2022
Clipping off Twitter's TRACKERS is a small thing, but it gives me PIECE OF MIND that twitter isn't seeing my off-platform activity.

I recommend you do the same.

If you enjoyed this thread:

1. Follow me @JoshuaSteinman for more observations
2. RETWEET: https://t.co/8G5uTxKTRh

— joshua steinman (🇺🇸,🇺🇸) (@JoshuaSteinman) July 9, 2022
---
False Flags
Trudeau government to introduce national "Digital Identity Program"
A report published last week on revamping the Government of Canada's digital infrastructure states that the next step to making services more convenient is to introduce a federal "Digital Identity Program."
Details of the program were scarce in the publication titled Canada's Digital Ambition 2022 which was signed off by President of the Treasury Board Mona Fortier and the Chief Information Officer of Canada, Catherine Luelo.
Citing the pandemic, the report outlines how a federal framework would also be integrated with provincial digital identities.
"The COVID-19 pandemic highlighted the need for government services to be accessible and flexible in the digital age. The next step in making services more convenient to access is a federal Digital Identity Program, integrated with pre-existing provincial platforms," the report explained.
"Digital identity is the electronic equivalent of a recognized proof-of-identity document (for example, a driver's license or passport) and confirms that 'you are who you say you are' in a digital context."
Source:  tnc.news
---
Q
Twitter announced   that it will be meddling in the 2022 midterm elections.
"Today, we're announcing steps we're taking ahead of the US midterms to protect civic conversation on Twitter." the social media company said.
Twitter said it will censor people (conservatives) who post "false information about the outcome of the election."
How is Twitter the moral authority on who wins an election?
A dummy sitting at Twitter headquarters decides who wins an election and censors anyone who challenges the outcome?
Source: thegatewaypundit.com
Information warfare
The last time this company decided to be the arbiter of "misleading claims" it was to block people from seeing The Post's Hunter Biden coverage and punish those who shared it https://t.co/txJzPZP2nr

— Jon Levine (@LevineJonathan) August 11, 2022
🚨#BREAKING: Whistleblower Reveals That Former Top FBI Official Jill Sanborn Led Pressure Campaign to Pad Domestic Terrorism Data pic.twitter.com/I4ow11npW0

— House Judiciary GOP (@JudiciaryGOP) August 10, 2022
"What would the US Government say, if OUR police raided the house of one of the main possible contenders of OUR 2024 presidential election?" Bukele tweeted on Wednesday while sharing a TMZ article about the unprecedented FBI raid on Trump's resort and residence, Mar-a-Lago.
Source:  valiantnews.com
The stunning FBI search of former President Trump's Florida residence this week has inspired a fierce backlash on the right, fueling concern among experts about the escalating risk of political violence.
The response among Trump supporters has ranged from sharp criticism over the Justice Department's tactics to outright incendiary rhetoric, with Trump himself comparing the search of his home to the Nixon-era burglary of the Watergate complex.
Some of Trump's most fervent backers described this week's legal development as reflecting a country in the midst of civil war, and in isolated cases some far-right extremists called for mobilization in response to what was depicted as an act of tyranny by lawless federal agents.
Source: thehill.com
Understand what this is really about.

Chris Wray is sending a chilling warning to Americans.

If you use your 1A rights to criticize him and/or the Bureau, they'll come for you as well. https://t.co/h4LMb4L9WE

— John Cardillo (@johncardillo) August 11, 2022
The man was allegedly carrying an AR-15 and shooting into the building with a nail gun.
"At approximately 9:15 EST, the FBI Cincinnati Field Office had an armed subject attempt to breach the Visitor Screening Facility (VSF)," FBI Cincinnati said in a statement. "Upon the activation of an alarm and a response by armed FBI special agents, the subject fled northbound onto Interstate 71."
At about 12:30 p.m. local time, the agency said the suspect was "contained" but not in custody, according to a report from NBC News.
 
Source: thegatewaypundit.com
More recent historical context for current events.

According to @Newsweek, the "road to the raid" on a former President's home began with NARA and National Archivist David Ferriero.

I have some experience dealing with him.🧵

1. https://t.co/gZJKowF0Nu pic.twitter.com/diT7KGZOsE

— Jason Foster (@JsnFostr) August 10, 2022
3. Here is Mr. Ferriero's letter to @ChuckGrassley from September 2015 responding to Qs about what he did (or didn't do) about Hillary Clinton's secret, offsite email server.https://t.co/xx6yfP3nH0 pic.twitter.com/OnXmAkGadf

— Jason Foster (@JsnFostr) August 10, 2022
5. And under Mr. Ferriero, NARA had never conducted an inspection of the State Department's records system because it did not "warrant an inspection." pic.twitter.com/iI5GExLUMG

— Jason Foster (@JsnFostr) August 10, 2022
7. The Archivist of the U.S. serves indefinitely (no fixed term). It has not been considered a partisan position before. But, based on Mr. Ferriero's statements upon resigning earlier this year, it seems he saw his role in partisan political terms. https://t.co/qLDYbKBoHJ pic.twitter.com/jAZFz1cgGs

— Jason Foster (@JsnFostr) August 11, 2022
According to a new poll from Convention of States and Trafalgar Group, the majority of Independents, 53.9%, believe Trump's political enemies are behind the FBI Raid. They join 76.7% of Republicans who hold the same view. The two groups are also aligned on enthusiasm to vote based on the FBI raid. The spectacle increased the motivation to vote for 83.3% of Republicans and 71.7% of Independents.
The former Jeffrey Epstein attorney and current judge who signed off on the FBI warrant to raid President Trump's personal residence is now ordering the FBI to release the warrant by August 15.  
The judge overseeing the case, U.S. Magistrate Judge Bruce E. Reinhart, quickly directed the U.S. Department of Justice to respond to Judicial Watch's motion to unseal by the end of next Monday, Aug. 15, 2022.
Source: thegatewaypundit.com
Two months before his Florida home was raided by the FBI, President Donald Trump secretly received a grand jury subpoena for classified documents belonging to the National Archives, and voluntarily cooperated by turning over responsive evidence, surrendering security surveillance footage and allowing federal agents and a senior Justice Department lawyer to tour his private storage locker, according to a half dozen people familiar with the incident.
While the cooperation was mostly arranged by his lawyers, Trump personally surprised the DOJ national security division prosecutor and three FBI agents who came to his Mar O Lago compound on June 3, greeting them as they came to pick up a small number of documents compliant with the subpoena, the sources told Just the News, speaking only on condition of anonymity because the visit was covered by grand jury secrecy.
The subpoena requested any remaining documents Trump possessed with any classification markings, even if they involved photos of foreign leaders, correspondence or momentos from his presidency.
Secret Service agents were also present and facilitated the visit, officials said.
Given Trump's instruction, the president's lawyers complied and allowed the search by the FBI before the entourage left cordially. Five days later, DOJ officials sent a letter to Trump's lawyers asking them to secure the storage locker with more than the lock they had seen. The Secret Service installed a more robust security lock to comply.
:
Source: justthenews.com
Garland: I have made clear the DOJ will speak through its court filings and it's work. Just now the DOJ has filed a motion to unseal a search warrant and a property receipt…
"Obama White House lawyers repeatedly invoked the Presidential Records Act to 'delay the release of thousands of pages of records from President Bill Clinton's White House.'"
Donald J. Trump@realDonaldTrump
"At the end of his presidency, Barack Obama trucked 30 million pages of his administration's records to Chicago, promising to digitize them and eventually put them online — a move that outraged historians. More than five years after Obama's presidency ended, the National Archives webpage reveals that zero pages have been digitized and disclosed."
Remember President Trump promised before the election and just last week he was going to drain the swamp by firing upwards of 50,000 federal employees. That's your FBI, IRS, CIA employees and swamp rats.
I think it's safe to assume that after the many abuses from a certain federal agency that number just went up much higher than Trump previously promised.
Patel: "The American people have only seen 60% of what President Trump has declassified."

The other 40% is what is worrying someone. And it's all been declassified prior to Trump leaving the Office of The President. https://t.co/rJPdGac58W

— Rasmussen Reports (@Rasmussen_Poll) August 10, 2022
Q

 

!!mG7VJxZNCI

 

ID: afc7a5

 No.3224486

Justice K confirmation
Goodbye, Mr. Rosenstein
DECLAS
POTUS Alert-Test
RED OCTOBER?
Q
e05b5ab766f308088eaf1e3ceb701e2f7e999ed667fc2437ddedd899c46405b0.jpg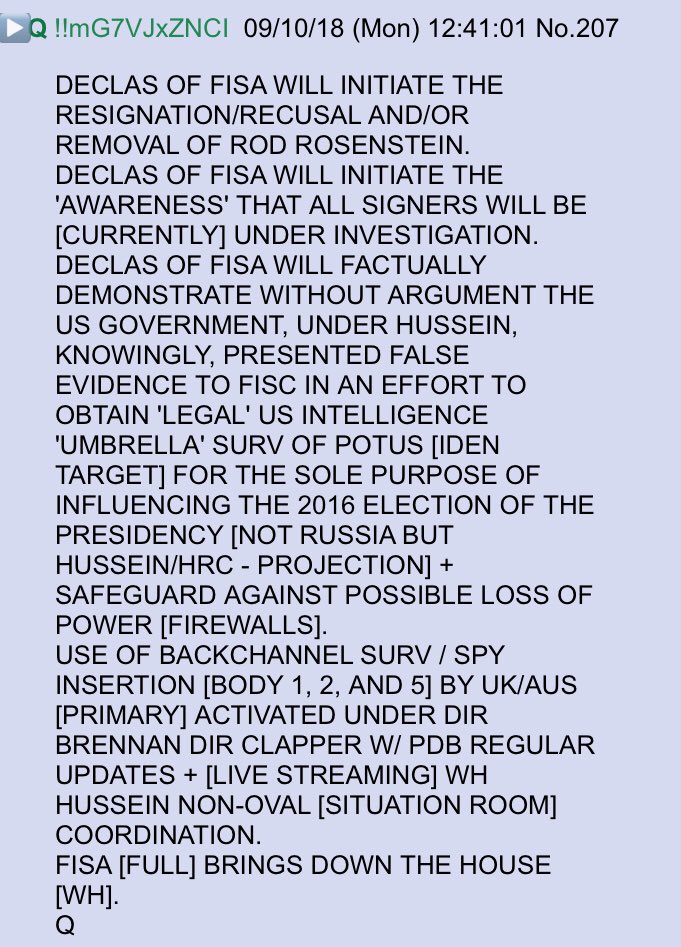 Step 1: Read the 1st sentence re: [RR]
Step 2: Read the NYT article re: [RR] wear wire
Attempts to BAIT POTUS to FIRE to cross RED LINE will FAIL.
FISA DECLAS WILL BRING THE HOUSE DOWN.
Q
STOP COMMUNISM IN OUR COUNTRY!