[DS] Using Election Delay Tactics, [FF], Fraud Exposed, Red Tsunami Hitting – Ep. 2920
Podcast: Download (Duration: 1:00:51 — 27.2MB)
Watch The X22 Report On Video
The Biden administration is now trapped in the agenda of the [WEF]/[CB], there is no way out. The people are seeing the economy break down and the they know who is responsible. People are having a difficult time with auto payments and making ends meet and the [Fed] actions are having the opposite effect. The [DS] is now panicking over the red tsunami, the followed the agenda of the [WEF]/[CB] and they have pushed the people to the precipice. The people are now pushing back by not voting for the them. The [DS] is now pushing a [FF] by delaying the votes, they know they won't have the ability to cheat so they are trying to make the Trump supporters angry, they want a civil war, this will not work, Trump the patriots are ready with countermeasures.
---
Economy
Delinquency rates on U.S. auto loans hit their highest level in over a decade as low-income borrowers struggle with the end of pandemic era benefits programs and rising interest rates, CNBC reported Tuesday.
Roughly 200,000 auto loans reached 60-day delinquency after pandemic-era loan accomodation programs — intended to prevent those who were laid off during the pandemic from having their cars repossessed — lapsed this year, CNBC reported, citing data from credit agency TransUnion. An additional 100,000 remained in accommodations, contributing to the overall rate of 60-day delinquencies hitting 1.65%, according to TransUnion's tracking of more than 81 million U.S. auto loans.  
Inflationary pressures pushed the average cost of a new vehicle to $47,138 in September, up $2,600 compared to last year, while the average cost of a used vehicle jumped $2,500 to $30,566, CNBC reported. Average interest rates for both new and used car loans rose one percentage point to 5.2% and 9.7% compared to last year in the third quarter.
source: dailycaller.com
The number one issue in today's midterms may be the economy.  This is not because it is good, it's because the Biden economy is terrible. 
The Daily Mail reports:
More Americans are turning to second jobs as the holidays approach and inflation rates continue to soar, making many pinch pennies.

A new jobs report for October from the Labor Department showed that the percent of Americans working a part-time job on top of their full time job rose six percent from one year ago.

That number equals out to 4.5 million individuals overall.
Americans are watching their 401k's decrease and their dollars on gas, groceries, and goods shrink.  Inflation this year under Biden reached 40-year highs.
Source: thegatewaypundit.com
Source: bitcoinmagazine.com
---
Political/Rights
Hard to swallow.
Important to progress.
Who are the puppet masters?
House of Saud (6+++) – $4 Trillion+
Rothschild (6++) – $2 Trillion+
Soros (6+) – $1 Trillion+
Focus on above (3).Q
Previous was deleted. Curious.
+++
++
+
Q
---
Geopolitical/Police State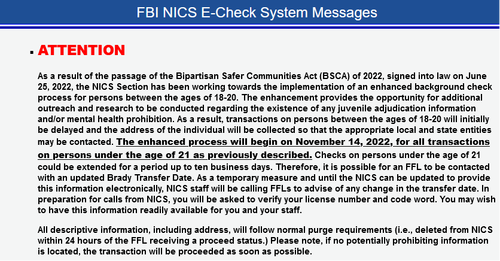 Gun Owners of America reported on this issue in October 2022, when the FBI launched their Enhanced Background Checks for 18–20-year-olds in the state of Maine.
Those under the age of 21 will receive an initial delay that could last about two weeks. This delay is supposedly to allow the FBI to contact local law enforcement and check with state databases to enhance the background check system's effectiveness. This is nothing but a way to make it more difficult for young adults to own firearms. It's a mandatory wait period that anti-gunners have now added to a background check system that is broken well beyond repair.
The "enhanced background check" is in fact a mandatory delay or wait period on the purchasing of a firearm for those under 21 years old. Mandatory waiting periods put Americans' constitutional rights on hold when they may be in the middle of a dangerous situation, whether that be a threat from someone they know, a dangerous period of rioting and looting, or any number of scenarios. Further, allowing local law enforcement tips and hearsay to result in the denial of a constitutional right would truly constitute an arbitrary and unconstitutional gun ban.
Source: zerohedge.com
---
War
The General Staff of the Korean People's Army (KPA), the military of the communist regime in North Korea, said on Monday that last week's provocative and illegal missile launches were a dry run for "mercilessly" attacking American and South Korean targets, unless Washington and Seoul halt joint military exercises.
"The recent corresponding military operations by the Korean People's Army are a clear answer [by North Korea] that the more persistently the enemies' provocative military moves continue, the more thoroughly and mercilessly the KPA will counter them," the North Korean General Staff said through state media.
" 
The joint drills concluded on Saturday with a flight of U.S. B-1B stealth bombers launched from Guam, escorted by four American F-16s and four South Korean F-35A fighters. The B-1B looms large in North Korean propaganda as a menacing "nuclear strategic bomber," even though B-1Bs have not carried nuclear weapons for 30 years.
Source: breitbart.com
---
False Flags
---
Q
JUST IN: Guam Finally Flips! Elects Republican as its Delegate to US For the First Time in 30 Years
The "red mirage" is what they tried to tell us pre 2020 election too, to explain why Republican leads will slip away as they "find" new votes out of nowhere.

— Seeking Truth (@RedestPill) November 8, 2022
 
In a piece that was unsuspiciously released this morning, TIME magazine says that the 2022 election will take a week and this is normal and good – "That's Democracy at Work".
  What this really tells us is that the media and the monsters running the elections and working to overthrow free and fair elections in America want Americans to sit down and take it. 
Author Philip Elliott writes (emphasis added):
Source: thegatewaypundit.com
A judge has ordered a Georgia county to extend its deadline of absentee ballot receipts after county officials last week sent out hundreds of ballots that the election office had earlier failed to mail.
Officials in Cobb County, Ga., said late last week that they would mail out hundreds of absentee ballots after a county elections worker "did not employ any process" to ensure huge numbers of ballots were going out as ordered.
The county determined through an investigation that "1,046 requested absentee ballots were never mailed" prior to the election. The county said it mailed out around 275 ballots, including dozens to out-of-state addresses, and then urged several hundred more residents from that group "to vote in person on election day."
On Monday, Cobb County Superior Court Judge Kellie Hill subsequently ordered the county to extend its receipt deadline for absentee ballots to next week, directing officials to allow ballots to still be counted so long as they arrived by Nov. 15.
Source: justthenews.com
This started with a single location. Then a few. Now, it's sounding as if this is widespread and very serious. https://t.co/4b5CmdUjnu

— Rich Baris "The People's Pundit" (@Peoples_Pundit) November 8, 2022
Up to 15 locations reported in Maricopa County with "tabulator malfunctions." Is this incompetence or malfeasance from @stephen_richer & @MaricopaVote? Or both?

— Dr. Kelli Ward 🇺🇸 (@kelliwardaz) November 8, 2022
The Champaign County Clerk's Office is reporting that computer server performance is being impacted by cyber-attacks on the network and servers, causing some delays at polling locations.https://t.co/zMd0Q67o4o

— WCIA.com (@WCIA3) November 8, 2022
And it absolutely is impacting the vote. "Draw 3" ballots will be adjudicated later, not today. It's a shit show. https://t.co/ibOVrCKbRM

— Rich Baris "The People's Pundit" (@Peoples_Pundit) November 8, 2022
Hand marked paper ballots and voter ID. It's not up for discussion after today.
The Biden DOJ is going to be interfering in this election. Looks like it's starting. https://t.co/bOKKcXUNGe

— Mark R. Levin (@marklevinshow) November 8, 2022
Here's a portion of the statement by the DOJ announcing that their Civil Rights Division will be monitoring 64 jurisdictions in 24 key states:
Justice Department to Monitor Polls in 24 States for Compliance with Federal Voting Rights Laws
The Justice Department announced today its plans to monitor compliance with federal voting rights laws in 64 jurisdictions in 24 states for the Nov. 8, 2022, general election.
For the general election, the Civil Rights Division will monitor for compliance with the federal voting rights laws on Election Day and/or in early voting in 64 jurisdictions:
City of Bethel, Alaska;
Dillingham Census Area, Alaska;
Kusilvak Census Area, Alaska;
Sitka City-Borough, Alaska;
Maricopa County, Arizona;
Navajo County, Arizona;
Pima County, Arizona;
Pinal County, Arizona;
Yavapai County, Arizona;
Newton County, Arkansas;
Los Angeles County, California;
Sonoma County, California;
Broward County, Florida;
Miami-Dade County, Florida;
Palm Beach County, Florida;
Cobb County, Georgia;
Fulton County, Georgia;
Gwinnett County, Georgia;
Town of Clinton, Massachusetts;
City of Everett, Massachusetts;
City of Fitchburg, Massachusetts;
City of Leominster, Massachusetts;
City of Malden, Massachusetts;
City of Methuen, Massachusetts;
City of Randolph, Massachusetts;
City of Salem, Massachusetts;
Prince George's County, Maryland;
City of Detroit, Michigan;
City of Flint, Michigan;
City of Grand Rapids, Michigan;
City of Pontiac, Michigan;
City of Southfield, Michigan;
City of Minneapolis, Minnesota;
Hennepin County, Minnesota;
Ramsey County, Minnesota;
Cole County, Missouri;
Alamance County, North Carolina;
Columbus County, North Carolina;
Harnett County, North Carolina;
Mecklenburg County, North Carolina;
Wayne County, North Carolina;
Middlesex County, New Jersey;
Bernalillo County, New Mexico;
San Juan County, New Mexico;
Clark County, Nevada;
Washoe County, Nevada;
Queens County, New York;
Cuyahoga County, Ohio;
Berks County, Pennsylvania;
Centre County, Pennsylvania;
Lehigh County, Pennsylvania;
Luzerne County, Pennsylvania;
Philadelphia County, Pennsylvania;
City of Pawtucket, Rhode Island;
Horry County, South Carolina;
Dallas County, Texas;
Harris County, Texas;
Waller County, Texas;
San Juan County, Utah;
City of Manassas, Virginia;
City of Manassas Park, Virginia;
Prince William County, Virginia;
City of Milwaukee, Wisconsin; and,
City of Racine, Wisconsin.
Monitors will include personnel from the Civil Rights Division and from U.S. Attorneys' Offices. In addition, the division also deploys monitors from the Office of Personnel Management, where authorized by federal court order. Division personnel will also maintain contact with state and local election officials.
There is no word on how the DOJ plans to protect the vote from being stolen in any of these 64 precincts—only about how they plan to watch poll challengers do their lawfully prescribed jobs.
Source: thegatewaypundit.com
Biden's corrupt Department of Justice just released the list of cities and counties in which it is going to try and rig elections for Democrats. https://t.co/TVH0qtqyFT pic.twitter.com/at8Z5oW8Rp

— Sean Davis (@seanmdav) November 7, 2022
Florida Governor Ron DeSantis (R) blocked Attorney General Merrick Garland's election monitors from entering polling locations.
DeSantis pushed back and told the feds they are not welcome in Miami-Dade, Broward and Palm Beach Counties.
"
"We also understand you sent a similar letter to Palm Beach County. But Department of Justice monitors are not permitted under Florida law. Section 102.031(3)(a) of the Florida Statutes lists the people who "may enter any polling room or polling place." Department of Justice personnel are not included on the list. Even if they could qualify as "law enforcement" under section 102.031(3)(a)6. of the Florida Statutes, absent some evidence concerning the need for federal intrusion, or some federal statute that preempts Florida law, the presence of federal law enforcement inside polling places would be counterproductive and could potentially undermine confidence," the letter read, according to the Floridian Press.
The Floridian Press reported:
Now, imagine the media apoplexy if President Trump's DOJ was activated to Philadelphia (PA), Baltimore (MD), Atlanta (GA), Clark County (NV), Wayne County (MI), Broward County (FL), Harris County (TX) and Racine (WI)?
Source: thegatewaypundit.com
🚨 Miami-Dade is going to be an absolute bloodbath for Democrats.

In 2018, Dems outvoted Republicans by at least 70k votes.

In the 22 point shift in 2020, Dems still outvoted Republicans by 90k.

Republicans have a 10k vote lead in ballots cast as of right now. pic.twitter.com/7S45VTqxt8

— Patrick Ruffini (@PatrickRuffini) November 8, 2022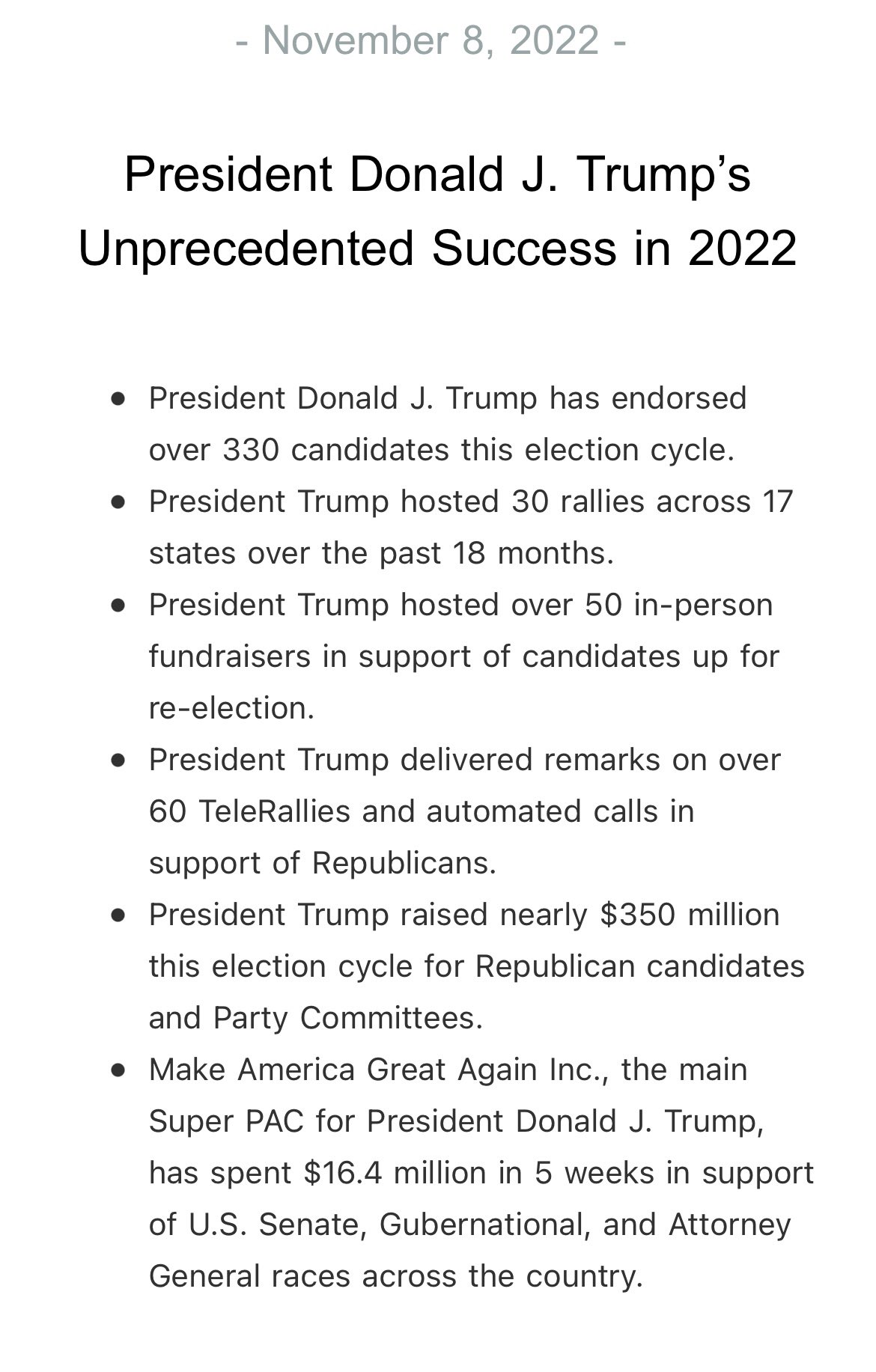 Pennsylvania just announced that it could take days to determine the winner. This is outrageous!
Reports are coming in from Arizona that the Voting Machines are not properly working in predominantly Republican/Conservative areas. Can this possibly be true when a vast majority of Republicans waited for today to Vote? Here we go again? The people will not stand for it!!!
Another big voter tabulation problem in Arizona. Sound familiar???
They are now saying that about 20% of the so-called Voting Machines in Maricopa County are not counting the Votes that have been placed in the Machine. Only Republican areas? WOW! Kari Lake, Blake Masters, and all others are being greatly harmed by this disaster. Can't let this happen, AGAIN!!! I believe Attorney General Mark Brnovich is on the case, big time. He has a chance to be the biggest hero of them all, and at the same time save our Country from this Cancer from within!!!
Same thing is happening with Voter Fraud as happened in 2020???
The Ministry of Defense announced this Monday (Nov. 7) that it would send on Wednesday (Nov. 9) to the TSE (Superior Electoral Court) the inspection report produced by military technicians about the electoral process in the 1st and 2nd rounds.
Observers found out that, in the document, the inspectors will point out inconsistencies in the electoral process and suggestions for future elections.
The report is awaited with great interest by the large pro-Bolsonaro protest movement.
Whether the document will make definitive or compelling statements about the validity of this year's election is the question everyone is asking now . . .
Q

 

!!Hs1Jq13jV6

 

ID: 000000

 No.17728969
 

NEW
Why do some elections take more than a day to count?
Can cheating be done after the polls are closed?
Who controls the pollbooks?
Who controls the databases?
Who controls the elections?
Why are extra ballots printed?
If someone doesn't vote, can bad actors hijack their vote?
How?
Why did the National Guard activate cybersecurity teams?
Fourteen states have ongoing cyber and election security support: Arizona, Colorado, Connecticut, Delaware, Hawaii, Iowa, Illinois, Louisiana, North Carolina, New Mexico, New York, Pennsylvania, Washington, and West Virginia. 
Who gave the order to 'activate' the cybersecurity teams?
Why?
To protect the elections?
To claim the midterms are 'safe'?
Safe from what?
Setting the stage?
Watch carefully.
White hats have secured many systems, but problems still remain.
You have all the tools you need.
Vote.
Q
This is the year we're going to take back the House, we're going to take back the Senate, and take back America—and in 2024, most importantly, we are going to take back our magnificent White House!