There Are Always Casualties In War, [DS] System Is Coming To An End, Taking Control – Ep. 2921
Podcast: Download (Duration: 1:10:13 — 31.5MB)
Watch The X22 Report On Video
The energy crisis is hitting Europe and the criminal syndicate leaders are causing the problem. The people are feeling the pain, the economy is imploding and the [WEF] is ready to continue since the midterms are over, now the real pain comes and the economic awakening. The [DS] is cheating in the midterms as expected, remember we are war (@), there are always casualties in war. Those that lost were expected. The main mission was to take back the house and the senate, this is the battle. Trump also baited the Elite Republicans into coming out the shadows. This is not about election, popularity, this is about exposing and bringing down the [DS] system, taking back control, this is what this war is about, and the [DS] is not going to surrender, they will fight to the end using every dirty trick in their system. But the patriots are winning.
---
Economy
EU Commission says gas price cap 'impossible'
After much wrangling at an all-night summit, EU leaders agreed last month to task the executive European Commission with proposing a temporary EU framework to cap gas prices in electricity generation and create a temporary natural gas transaction price corridor to bring down costs for consumers.But a compromise between those like France, Spain and Belgium that want a cap, and the German-led camp opposing it meant additional conditions were attached, namely that any cap could not affect long-term contracts, lead to an increase in gas consumption or provoke producers to reroute supplies elsewhere."Now, the Commission has said it's impossible to have a cap that meets these criteria," said one of the diplomats, adding national envoys of the 27 EU member countries to the bloc's hub Brussels would discuss that next on Friday.
Source: france24.com
 John Kerry announced Wednesday that the Biden administration and environmental nonprofits are creating a financial framework that will allow corporations to offset their emissions by buying "carbon credits" from developing nations.
The State Department will partner with the Bezos Earth Fund and the Rockefeller Foundation to reward developing countries with "marketable carbon credits" if they reduce CO2 emissions from their power sector or make investments in green energy, according to a department press release. In turn, corporations that are looking to offset their carbon emissions will be able to purchase such credits and the resulting money raised will be used to fund "clean" energy projects all over the world.
A State Department spokeswoman did not immediately respond to the Daily Caller News Foundation's request for comment.
Source: dailycaller.com
A Net 17 Percent Say They Will Spend Less This Holiday Season
17 percent believe they will spend less this year. Many are stressed over gifts and even the Christmas or Thanksgiving dinner…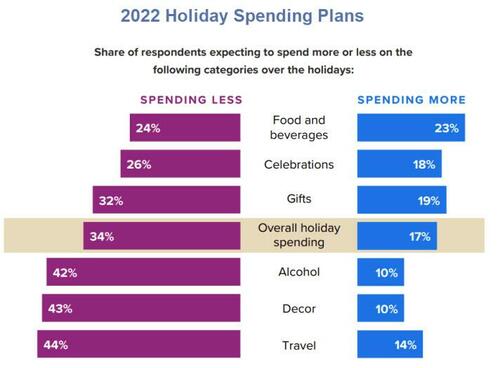 Graphic courtesy of Morning Consult
  To avoid going into debt this holiday season, consumers are being smarter about budgeting in advance and are more likely to favor a BNPL approach to cover holiday expenses over opening a new credit card. Though shoppers are feeling inflation's pinch, spending levels will look similar to last year.
Stressed Over Groceries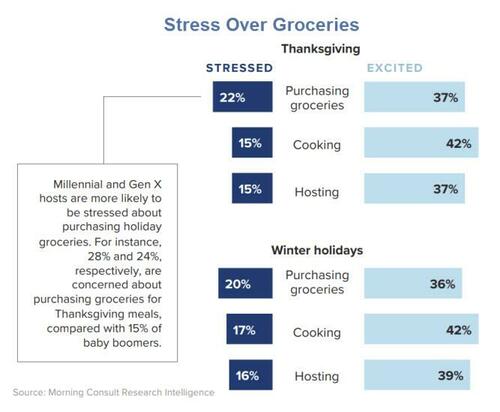 Looking for Deals 
As a result of inflation, 82% of shoppers say they intend to look for more deals and discounts, while 72% plan to look for less expensive alternatives.
Millennials, the generation most worried about their finances this holiday season, are most likely to seek these lower-cost tradeoffs.
56 Percent Plan to Give Gift Cards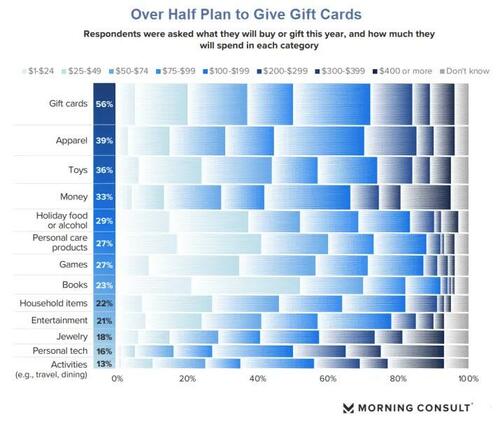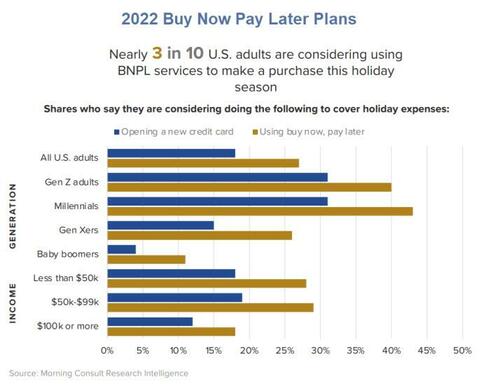 Source: zerohedge.com
---
Political/Rights
California Passes Amendment By Massive Margins To Enshrine A 'Right To Abortion' In The State's Constitution
Proposition 1 has passed in California, as voters moved to enshrine a "right to abortion" in the California constitution following the Supreme Court's decision to reverse Roe v. Wade in June.
"Proposition 1 changes the California Constitution to say that the state cannot deny or interfere with a person's reproductive freedom and that people have the fundamental right to choose," California's Legislative Analyst's office said.
 Source: dailycaller.com
Michigan has voted to add an amendment to its state constitution by a margin of more than 10 points that will allow abortion up to 24 weeks, according to multiple outlets.
With 84% of votes counted, Fox 2 Detroit has Prop 3 passing with a 55.5% to 44.5% margin. The New York Times, with 85% of votes reported, has Prop 3 passing by the same margin.
Prop 3 would amend the Michigan state constitution to ensure that abortion is a constitutionally protected procedure. The measure only allows the state to regulate abortion after the unborn child reaches viability, at about 24 weeks gestation. Under Prop 3, the state is also not allowed to penalize doctors who perform abortions.  
Source: dailycaller.com
NEW: A federal judge on Tuesday dismissed Lieutenant Colonel Alexander Vindman's lawsuit accusing Donald Trump Jr., Rudy Giuliani and Daniel Scavino of conspiring to retaliate against him for testifying against Donald Trump at his impeachment hearing over the Ukraine phone call

— Erik Larson (@eelarson) November 8, 2022
Harvard Law Professor Alan Dershowitz said he reached a settlement with Jeffrey Epstein victim Virginia Giuffre, who he said admitted she may have misidentified him https://t.co/WWWYImwyy9

— Bloomberg (@business) November 8, 2022
---
Geopolitical/Police State
Iowa voters overwhelmingly passed Public Measure 1 on Tuesday, enshrining the right to keep and bear arms in the state's constitution and making the passage of new gun control restrictions extremely difficult.
The amendment passed by a margin of 66 percent to 34 percent.
Article I of the Constitution of the State of Iowa is amended by adding the following new section: Right to keep and bear arms. Sec. 1A. The right of the people to keep and bear arms shall not be infringed. The sovereign state of Iowa affirms and recognizes this right to be a fundamental individual right. Any and all restrictions of this right shall be subject to strict scrutiny.
Source: breitbart.com
---
War
Speaking Monday, Zelensky said his nation's required certain assurances from Russia, including "restoration of [Ukraine's] territorial integrity … compensation for all war damage, punishment for every war criminal and guarantees that it will not happen again."
Source: nypost.com
---
Q
If CNN's out-of-touch poll analysis is a joke, then the punchline came from CNN's Chief Political Correspondent Dana Bash: "And you know what's missing from this — one, two, three, four, five — top-five issues? Democracy. It's not even in here."
Source: thefederalist.com
Another Jan. 6 Show Trial Member Ousted: Democrat Elaine Luria Defeated in Virginia, Will Leave Congress with Liz Cheney
Many Americans apparently do not want President Joe Biden (D) to run for president again, a preliminary national exit poll found Tuesday.
When asked if they would like to see Biden run for president again in 2024, 66 percent said, "No," while 30 percent said, "Yes," according to CBS News Radio's Steve Portnoy.
Source: breitbart.com
Since the 2020 election, the Democrat Party's platform was to destroy the United States as a global power in 4 years or less.
It's working pretty well.
** 5 million illegal aliens across the US southern border
** 800 deaths of illegal aliens crossing into the US – that we know about
** Record inflation – something we haven't seen in 40 years
** Massive Failure on the international stage – Afghanistan debacle
** Arming our enemies like the Taliban with $80 billion in US weapons
** Jailing the opposition and raiding the former president's home
** Record corruption – Pelosi and Biden families
** Destroy the US energy infrastructure
Exit polling on Tuesday showed Americans have had enough.
73% of voters were dissatisfied or angry about the destruction of the country.
So they voted Democrats back into power.
They really want us to believe this too.
source: thegatewaypundit.com
So none of these Democrat incumbents lose a governor's seat or senate seat?

How does that happen with the most unpopular president in modern times going into a midterm election?

This just doesn't happen. At least, until 2020, it didn't.

— Kyle Becker (@kylenabecker) November 9, 2022
> major corporations, Wall Street, non-profits, mainline Protestant denominations, the military – I could go on – been so profoundly and explicitly aligned the way they have been behind the Left in the last five years.

There's nothing "typical" about this midterm election. >

— Ron Coleman (@RonColeman) November 9, 2022
Not that the GOP isn't stuck with some old and stale figures – but the Democrats have no bench, no future. No one.

And their party message is and will remain rooted in resentment, nihilism, division and contempt for most Americans, their values and and their intelligence. >

— Ron Coleman (@RonColeman) November 9, 2022
I mean if you don't understand or want to accept what Florida means – the Latino vote, the economic growth, the low taxes, the nature of the leadership that transformed its political landscape – I can't help you. Not at this hour.

But if your response is Pennsylvania… >

— Ron Coleman (@RonColeman) November 9, 2022
NY escaped the fate of the rest of the rust belt by retooling as a financial center and safe tourist attraction. The quarter century of that success was mulcted to zero by Democrats in less than a decade. It's hopeless.

NY is too, and so is PA. Just slower.>

— Ron Coleman (@RonColeman) November 9, 2022
"Good night for Dems nationwide but we had better learn this lesson and quick in NY."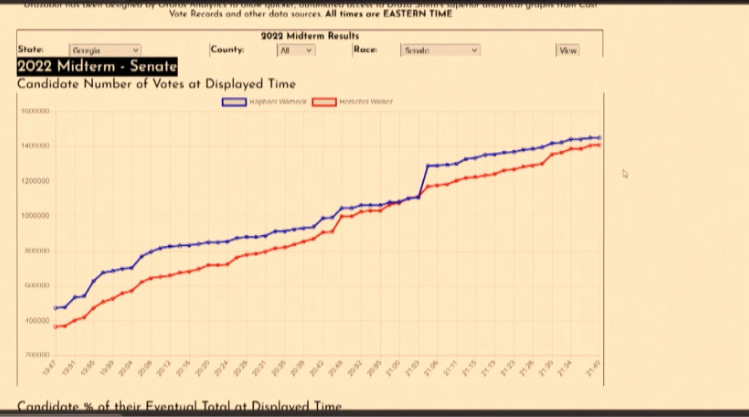 Florida banned mass mail-in ballots, banned ballot harvesting, requires voter ID, and Gov. DeSantis created an election police force
Florida also just had historic win margins across the state for Republicans, while Democrats somehow won close races elsewhere across America during a horrific economy
Do the math
Ron DeSantis is the new Republican Party leader
Republicans are ready to move on without Donald Trump
Trump is battling the Republican elite, who want to keep control, they are trying to force Trump out.  How do you see the board clearly, sometimes you must allow these people to show their true colors. If you notice Trump continued bait them in about running in 2024. The Republic swamp creature decided to make their move, if he did not bait them in, it would be to late if he announced, step back and take the 4000ft view, now he knows who is fake maga, timing is everything
 TAKE A LISTEN TO TRUMP ABOUT LOSING IT ALL AND SEEING WHO IS LOYAL AND NOT LOYAL
The 50 meter targets here are Arizona and Nevada. Oregon and Alaska are 75 meter targets.
Winning in Arizona and Nevada are critical to unwinding the mismanagement of elections. All eyes on them as they fumble their way to counting a third and a sixth of the votes of Florida over a week's time.
Results in Alaska's congressional elections will not be decided until November 23 — two weeks after Election Day — thanks to the state's new ranked-choice voting system, which delays the tabulation of second- and third-choice selections.
A
Source: breitbart.com
·

Trump must have known what was about to happen and he saw what traitors like Shapiro were planning to do with the narrative.
This is most likely why he threw that DeSantis comment out because he saw the writing on the wall.
To be clear: Trump is a champion for God who's been battling some of the most evil forces this world has seen.
I'm with Trump and will be loyal as long as I have a platform.
·

When folks like Ben Shapiro claim the Red wave didn't happen because 'Trump bad' and 'only DeSantis can save the party' I can't help but notice they omit any mention of election fraud.
In other words, they want us to except their "mainstream" narrative based on a completely false premise: the 2022 election results were totes legitimate
It's so disgusting in its subversion that I want to take a bath.
While in certain ways yesterday's election was somewhat disappointing, from my personal standpoint it was a very big victory – 219 WINS and 16 Losses in the General – Who has ever done better than that?
We flipped seats and are going to win the House, and it's looking like as of now we will win the Senate with either 51 or possibly 52 seats. Or CEILING was 53/54.
Meaning we will still have control of both chambers be able to conduct all the investigations we have been demanding and we can stonewall the Globalist agenda.
The only race we could call a big "loss" would be the PA Senate race. Otherwise, we are performing pretty damn well.
It's obvious what Q was pointing at.
Drop #4494, June 22, 2020
Drop #4968, November 8, 2022
Now add the missing piece: what @greggphillips told you **tonight** on Truth Social:

Allegheny County is going to need to compare the serial numbers of those ballots against the ones found on that Chinese server

.

CRITICAL:

The people in Allegheny County, PA should know that your leaders sold you and America out to China.

More than that, we have irrefutable evidence that the entire PA voter registration file is living on a server in China.

And, machine serial numbers, ballot bundle numbers, and …

They didn't steal it. They gave it to the CCP and PLA.

This is why we were put in prison. The had to silence us.

We will not sit down. We will not shut up.

for freedom,

Ballot images, ballot serial numbers, ballot bundle numbers.
ENDLESS 'printing'