EAS, Countermeasures In Place, A State Of Temporary Military Control Will Be Actioned – Ep. 2551
Inflation is now soaring and the Biden administration, economic are struggling to explain all of this, they thought inflation would be declining but the opposite has happened. The [CB] is doing everything they can to control the situation and to cover it up, this when the people will see it all. A decentralized currency is the only way forward. The [DS], fake news, big tech are panicking, they are preparing to stop all information from being presented to the public. Mike Lindell has his 3rd day of the Cyber Symposium and we come to find out that ML was attacked and they found out that certain individuals are clowns.The EAS was just tested and big tech most likely tried to stop the testing and the patriots have prepared countermeasures. The military is the only way forward and a state of temporary military control will be actioned.
Watch The X22 Report On Video
---
Economy
U.S. producer price inflation soars 7.8% annually in July, the highest increase on record.
The "experts" said it was going to come down from 7.2% this month. Boy were they wrong.
  After soaring to a record high 7.3% YoY in June, PPI was expected (like Core CPI) to moderate modestly in July to 'just' +7.2% YoY. They were wildly wrong as July's PPI soared to a new record +7.8% YoY (up 1.0% MoM).
 Gas prices are up 41% in the last year!
Via FBN.

Source: thegatewaypundit.com
Let me get this straight — we cancelled American pipelines, cut thousands of blue-collar American jobs, and destroyed American energy independence — so we could beg the petro-dictators of the Middle East for lower gas prices?
---
Political/Rights
Rep. Ted Lieu (D-CA) made a pair of $25,000 contributions to Stanford University in 2017 and 2018. Lieu had two teenage sons at the time.
RedState reported on this in May 2019.
Via Redstate — Here is the FEC Form 3, Schedule B, showing a $25,000 "donation" on June 29, 2018.
More…
earlier today RealBFolks on Twitter reported that after the lavish campaign cash donations Ted Lieu's second son was admitted into Harvard.
RealBFolks was suspended from Twitter after posting the tweet.
It is likely Rep. Lieu or his staff notified the special portal offered to Leftist government officials to have the account taken down.
It's all part of the "Twitter Partner Status."
Source: thegatewaypundit.com
These screenshots were taken down by @TwitterSupport – clearly helping @tedlieu keep his secrets.

It would be a shame if this went viral. https://t.co/mysQGuYMjC

— Richard Grenell (@RichardGrenell) August 11, 2021
'The Russians have videos of me doing crazy f***ing sex!' Hunter Biden is seen in unearthed footage telling prostitute that Russian drug dealers stole ANOTHER of his laptops
WARNING: EXPLICIT CONTENT  
Hunter Biden claims Russian drug dealers stole another one of his laptops for blackmail while he was drugged out in a Vegas hotel room in 2018
Video obtained by DailyMail.com shows Hunter with a naked hooker in 2019 after filming a sex tape and explaining how he believed his laptop was stolen 
Hunter left the camera rolling as he recounted a Las Vegas bender in which he spent '18 days going round from penthouse suite to penthouse suite'
The incident would mean Hunter lost a total of three computers, each likely to hold sensitive information on President Joe Biden 
The laptops contain embarrassing pictures, videos and communications of the president's son  
'They have videos of me doing this,' he said, referring to the filmed sex he just finished. 'They have videos of me doing crazy f***ing sex f***ing, you know'
Hunter's claims also raise the possibility that he was targeted as a vulnerable conduit to Joe Biden as part of a foreign intelligence operation   
Source: .dailymail.co.uk
There's much more coming. It's almost as if the video drops are being timed and escalate in damning revelations to….nah… That couldn't b
---
Geopolitical/Police State
Dr. Shiva Ayyadurai was able to uncover Twitter's "partner support portal."
Dr. Shiva discovered that Twitter built a special portal offered to certain governmental entities so that government officials can flag and delete content they dislike for any reason, as part of what they call their "Twitter Partner Status."
We noticed back in early July that Dr. Shiva's lawsuit also included the National Association of State Election Directors (NASED):
We've reported on the NASED previously.  This group of election directors in the US, as well as the group of Secretaries of State, worked with the UN before the 2020 election:
These non-profits received donations from voting machine companies, ballot printing companies, Zuckerberg's non-profit as well as a Hillary-related non-profit in 2020. 
And we also know that NASED was working with Twitter to prevent free speech in the US.
In late July Dr. Shiva released another explosive report.
Dr. Shiva revealed how election officials and government actors work together to coordinate with social media platforms to silence speech in America.
Via Vashiva.com – click here for high resolution image.
Dr. Shiva previously uncovered for the first time the existence of a "Trusted Twitter Partnership" between the Government and Twitter. 
In his latest report, Dr. Shiva exposed the existence of  The Long Fuse Report which is as momentous in US History as the discovery of the Pentagon Papers.
 
Source: thegatewaypundit.com
---
War
Taliban could take Afghan capital within 90 days after rapid gains -U.S. intelligence
 Taliban fighters could isolate Afghanistan's capital in 30 days and possibly take it over within 90, a U.S. defence official cited U.S. intelligence as saying, as the resurgent militants made more advances across the country.
Source: reuters.com
Right on Schedule…. [FF]…30 days they say, put it all together, Why did they pick 9/11.   Trump will most likely be putting out a statement on how easy it was for Biden to remove the troops by May 1, but he blew it, and now the war is continuing .  Wait for it…..
TRUMP STATEMENT
Had our 2020 Presidential Election not been rigged, and if I were now President, the world would find that our withdrawal from Afghanistan would be a conditions-based withdrawal. I personally had discussions with top Taliban leaders whereby they understood what they are doing now would not have been acceptable. It would have been a much different and much more successful withdrawal, and the Taliban understood that better than anyone. What is going on now is not acceptable. It should have been done much better.
---
Cyber Attacks
---
False Flags
They're just saying the quiet part out loud now.
Former California Governor Arnold Schwarzenegger has a message for Americans against tyrannical Covid restrictions: "Screw your freedom!"
Source: thegatewaypundit.com
National Police Union Backs Unvaccinated Officers Amid Mandates
The Fraternal Order of Police, a national police union that represents 356,000 officers, has said COVID-19 vaccines are safe and recommends its members get vaccinated.
Still, the union will not support mandates requiring members get the vaccine.
"
Source:newsmax.com
Pentagon releases religious exemption guidelines for bypassing mandatory vaccine
Service members who want a vaccine exemption will be required to seek counseling regarding their decision
"There is a religious exemption possibility for any mandatory vaccine, and there's a process that we go through to counsel the individual both from a medical and from a command perspective about using a religious exemption," Pentagon press secretary John Kirby said Tuesday.
Source: foxnews.com
The law is clear: Mandatory vaccination is illegal for military personnel prior to complete approval.

The vaccine is safe & effective, but while under Emergency Use Authorization, the @DeptofDefense can't mandate it. I joined @RepMarkGreen to urge @SecDef to follow the law.👇 pic.twitter.com/cQMQNaBFbV

— Congresswoman Tenney (@RepTenney) August 10, 2021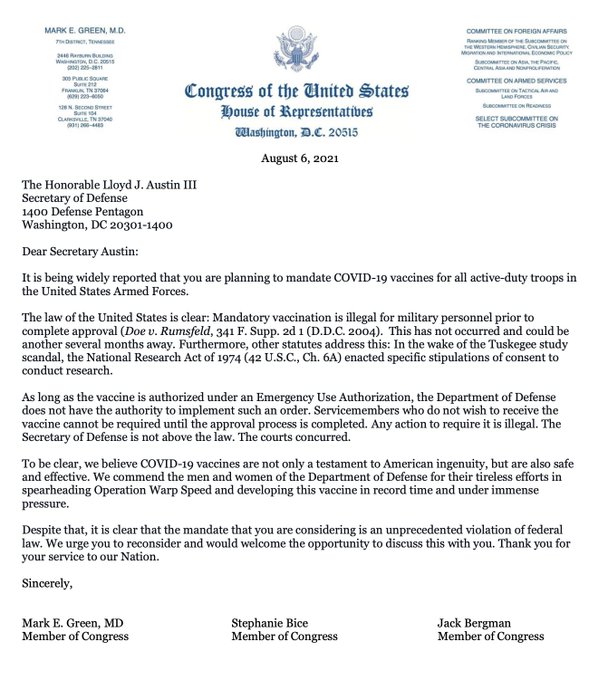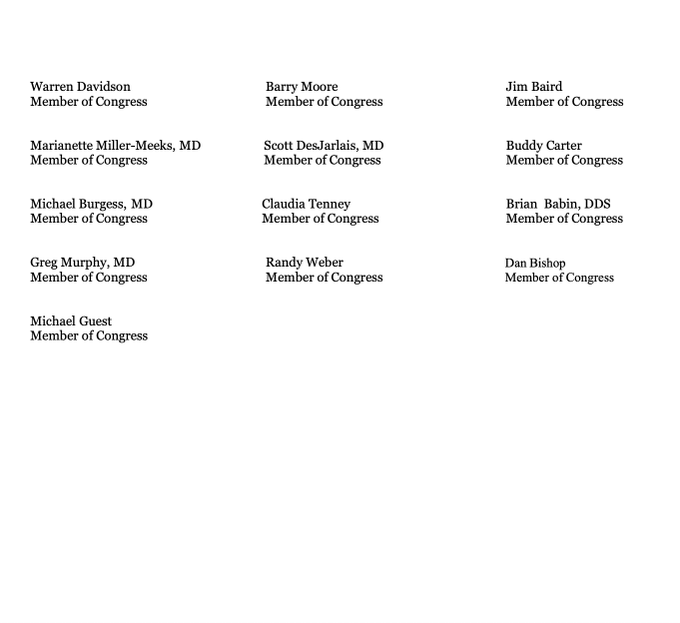 The CDC quietly adjusted Florida's Covid-19 numbers after the state's health department blasted them for combining multiple days of data into one.
The CDC *knowingly* combined several days worth of reporting and condensed it into one day.
 The gap was significant, with the CDC initially claiming there were 28,317 new cases on Sunday, while the Florida DOH puts that number at 15,319.
On Tuesday the CDC adjusted its number down to 19,584.
Source: thegatewaypundit.com
Fascinating that CDC would mistakenly inflate Florida's COVID numbers at the same time as President Biden is trying to discredit Governor DeSantis's handling of the pandemic.
---
Q
the [DS] is panicking they are already projectign how the election officials are fearing for their lives. Didn't we see the samething when Trump was being impeached during impeachment hoax 1, the whistleblower fears for his/her life
'We are in harm's way': Election officials fear for their personal safety amid torrent of false claims about voting
In the southeastern part of the state, Michael Siegrist, clerk of Canton Township, followed similar steps, even organizing public seminars to explain how ballots are counted.
Despite their efforts, they said they could not fend off an ongoing torrent of false claims and suspicions about voting procedures that have ballooned since President Donald Trump began his relentless attacks on the integrity of the 2020 election last year.
Appellate Court Delays Order For Release Of Arizona Audit Records
A panel of appellate court judges temporarily delayed a trial court order for the Arizona Senate to immediately produce records related to its controversial review of the 2020 election.
The ruling by the Arizona Court of Appeals means the Senate is no longer under an expedited timeline to produce not just its own records, but those held by Cyber Ninjas — a cybersecurity firm with no previous election-related experience that Senate President Karen Fann hired to lead the review — as well its contractors.
American Oversight, a nonpartisan watchdog group, sued to obtain the records.
Source:  fronterasdesk.org
They found a batch file that de-hardens the system. "Removing Security Restrictions" 10/19/2020.SQL Server De-hardening within the batch file.
Experts at Mike Lindell's Cyber Symposium have now shown:

The Mesa County voting machine WAS CONNECTED to the Internet.

Public election data logs were NOT PRESERVED for 22 months according to federal law. They were changed.

That's enough. That's all you need to know.

— Emerald Robinson ✝️ (@EmeraldRobinson) August 11, 2021
Mike Lindell Opened Thursday's Cyber Symposium with Several SHOCKING Developments–
Mike Lindell told the crowd an associate of Mesa County Clerk Tina Peters had his home raided last night by state officials. The man has four children. They took all of his computer equipment.
Colonel Phil Waldren then came on stage and told the audience that the conference had been infiltrated.
Colonel Waldren: In addition the Red Team started receiving credible threats about two weeks ago… We detected disruptors inside trying to be people ejected. really radical folks outside trying to penetrate. We got folks exchanging badges in the parking lot, press badges. We've identified those agitators and provocateurs by photo imagery, validated by their social media platforms… The big end game is to discredit all of the legislators who are hear to listen… They are obviously trying to ruin the message that Mike is trying to get out. So this is typical insurrection activities. This is part of the Color Revolution.
Waldren then told the crowd someone tried to insert faulty data into their conference. And federal authorities were notified.
Source: thegatewaypundit.com
Aug 11, there was an EBS tests,
34
Anonymous
11/01/2017 22:56:16
 ID: pGukiFmX
4chan Thread/Post: 147547939 / 147567888
Direct Link: 147567888
---
2793
Q
!!mG7VJxZNCI
02/18/2019 15:50:20
 ID: f40549
Archive Bread/Post Links: 5247736 / 5247821
Direct Link: 5247821
Chatter uptick re: how to effectively prevent cross-talk re: anti-narrative across all social media/online platforms.