Election Fraud Stage Set,Must Be Done Right,According To The Rule Of Law,Provable In Court – Ep. 2861
Podcast: Download (Duration: 1:19:04 — 34.2MB)
Watch The X22 Report On Video
The Green New Deal will hit the wall when winter hits. The people are going to be brought to the precipice and it has started already with warnings from the criminals that you must sacrifice during the winter. The economic pain is about it hit which will turn the people on the [CB]. Trump set the stage to prove that the [DS] interfered in the 2020 election. Each part of the election fraud case is coming together. It must be done right, it must be done according to the rule of law and it must be proven in the court of law. We only have one chance to do this and it is happening and the [DS] is panicking. The Mar-a-Lago raid trapped the FBI and the puppet master, think espionage, treason and sedition. Nothing can stop this avalanche, nothing.
---
Economy
A troubling survey commissioned by trade publication the Morning Advisor revealed the entire British pub industry could be on the brink of a tsunami of closures this winter if the government fails to intervene in power markets to ease cost pressures.
According to the survey, 70% of respondents say if electricity prices continue to soar, they will be unable to operate and forced to close up shop — this would dramatically alter the landscape of pubs by next spring.
More than 65% of the pubs surveyed said power costs rose more than 100%, 30% said utility costs jumped 200%, and 8% experienced 500% increases. Most pubs warned they couldn't afford the exponential rise in energy costs.
One pub told The Guardian the utility company had quoted them a 600% increase in power costs versus their current contract.
Source: zerohedge.com
The United States has emerged as a top natural gas supplier to Europe.
High domestic prices could force the United States to curb exports.
If imports from the United States slowed, Europe's energy crisis could worsen.
Natural gas prices in the United States hit the highest in 14 years this week, with the Henry Hub benchmark temporarily topping $10 per million British thermal units. And demand is not going down anytime soon.
T
Source: zerohedge.com
The Biden economy is no laughing matter.  Millions of Americans are now finding it hard to eat, get work and pay their electric bills. 
A review of the Consumer Price Index data shows that the price of energy is rocketing upwards and many Americans are having a hard time paying their electric bills 
 
Steve Cortes shared a Bloomberg report that 20 million American households are now behind on their electric bills.
Utility Delinquencies – as reported by Bloomberg News, in a rare moment of honesty for a legacy media platform, an astounding 20 million American households are currently behind in paying their Utility bills. 1 in 6 households, in this land of abundance, cannot afford the simplest, most basic necessity of paying for power in their homes.
The Biden recession is very close to a depression.
Source: thegatewaypundit.com
Elon Musk, the world's richest man, shared in Norway earlier today that gas and oil are currently needed to prevent civilizations from crumbling. 
 Elon Musk said the world still needs oil and gas in order to avoid civilization from crumbling, Reuters reported.
  Musk tweeted last week how countries should be considering nuclear energy as well.
Source: thegatewaypundit.com
Texas does it AGAIN!

Another California company, @Cellipont, is moving its headquarters to the Lone Star State.

Cellipont's relocation to The Woodlands is a huge win for Texans as we continue developing our state's life sciences corridor.https://t.co/LyYy6JHHw1

— Gov. Greg Abbott (@GovAbbott) August 28, 2022
Leadership at the Federal Reserve has become its most diverse ever. There are more female, Black and gay officials contributing to the central bank's interest-rate decisions than at any time in its 109-year history. . https://t.co/rJBRXMpJVY

— The Associated Press (@AP) August 27, 2022
The financial pundits are slowly starting to drop the pretending and discuss the bigger economic picture. However, as they tread very carefully, they are being very cautious about admitting too much. 
JACKSON HOLE, Wyo., Aug 29 (Reuters) – The message from the world's top finance chiefs is loud and clear: rampant inflation is here to stay and taming it will take an extraordinary effort, most likely a recession with job losses and shockwaves through emerging markets.
That price is still worth paying, however. Central banks spent decades building their credibility on inflation fighting skills and losing this battle could shake the foundations of modern monetary policy.
In other words, the U.S. economy is based on core U.S. energy systems and moving that construct to alternative energy, windmills, electric vehicles and solar panels; along with getting Americans to accept a lowered standard of living; is an "extraordinary effort."
Yes, they are 'all-in' and if they lose "this battle," the core foundations of modern monetary policy will "shake" along with the economic collapse that follows. The economic energy "transition" is the Biden policy, the federal reserve is trying to support that policy by lowering economic demand.
Yes, they also now admit that people will lose their jobs, their livelihoods and the foundation of their economic stability in the process.
"The global economy seems to be on the cusp of a historic change as many of the aggregate supply tailwinds that have kept a lid on inflation look set to turn into headwinds," Agustín Carstens, the head of the Bank of International Settlements, said.
"If so, the recent pickup in inflationary pressures may prove to be more persistent," said Carstens, who heads a group often called the central bank of the world's central banks.
All this points to rapid interest rates hikes, led by the Fed with the ECB now trying to catch up, and elevated rates for years to come. (read more)
Source: theconservativetreehouse.com
---
Political/Rights
Joe Biden to Trump supporters as "semi-Fascists."
Florida Democrat gubernatorial candidate Charlie Crist  said Joe Biden was being "honest" when he labeled Trump supporters "semi-Fascists."
"What we're seeing now is the beginning or the death knell of an extreme MAGA philosophy. It's not just Trump, it's the entire philosophy that underpins the – I'm going to say something, it's like Semi-Fascism," Biden said on Friday at a DNC fundraiser.
 
"What do you think of the president calling millions of Americans [MAGA Supporters] semi-fascist?" CNN asked Charlie Crist on Sunday.
"He's gotta express and be honest about what he feels," Crist said.
VIDEO:
Last week Crist labeled DeSantis supporters "haters" in his first press conference since winning the primary.
Source: thegatewaypundit.com
Don't forget insurrectionists and domestic terrorists https://t.co/Dzu7VC27By

— Julie Kelly 🇺🇸 (@julie_kelly2) August 29, 2022
President Joe Biden's open-borders agenda, which has so far settled over 250,000 illegal migrant minors in cities around the nation, has turned the country into the "world's epicenter" of child trafficking, according to former President Donald Trump's border policy architect.
"These astronomical numbers defy any historical comparison. So overwhelmingly are the prior records exceeded that there is no reference point. Biden, with the unflinching aid of 50 Senate Democrats, is running the largest child smuggling operation our world has ever seen," Miller tweeted.
These astronomical numbers defy any historical comparison. So overwhelmingly are the prior records exceeded that there is no reference point. Biden, with the unflinching aid of 50 Senate Democrats, is running the largest child smuggling operation our world has ever seen. https://t.co/ifFM9sGI6Q

— Stephen Miller (@StephenM) August 21, 2022
Source:  washingtonexaminer.com
---
Geopolitical/Police State
Two new studies advance the dangerous narrative that white people own guns because they are racist and fear black people.
Source: thefederalist.com
---
War
On Monday morning, video reports surfaced that appeared to show embassy staff poised to flee the Green Zone by helicopter.
The U.S. embassy in Iraq has not confirmed such an evacuation as of time of publication. However, the U.N. has issued a statement that the protesters had occupied 'governmental buildings.'
Source: beckernews.com
#BREAKING
Protesters have breached the Presidential Palace in Baghdad, #Iraq

Earlier today influential Iraqi cleric Muqtada Sadr said he is withdrawing from politics

The PM has imposed a curfew

Many protesters despite #Iran's meddling in Iraq.pic.twitter.com/sV3ZbYyDMC

— Heshmat Alavi (@HeshmatAlavi) August 29, 2022
---
False Flags
The Food and Drug Administration is expected to approve new COVID-19 booster shots this week — before the vaccines are tested on humans, according to a new report by the Wall Street Journal.
The new boosters are similar to the COVID vaccines currently available in the US with minor modifications that protect recipients from the latest version of the Omicron variant.
Instead of waiting for data from testing in humans, the agency will use data from trials in mice — as well as the real-world evidence of the safety of currently available COVID vaccines and test results from earlier iterations of boosters targeting older strains — to evaluate the newest boosters, FDA Commissioner Dr. Robert Califf said.
Source: nypost.com
And "WHO" at the NIH approves vaccines re: BioEthics???
* Christine Grady (Fauci), PhD., Department Chief of the NIH's Clinical Center on Bioethics
---
Q
Obama put USA in position, Hillary was meant to be the executioner. She would have thrown us into WW3. They would have rewritten the constitution (2nd A, etc.) Disarmed the people. Taken away basic freedoms. Lethal Global pandemics. Mass depopulation. Mass scare events/ false flags. Christians and Patriots would be the number one target.
The NWO end goal was they would become God's of a world they created.
They never thought she would lose. Q intervened
1. Trump lawfully declassified these records. So there goes an Espionage charge.
2. He lawfully kept his personal copy. So there goes charges related to government property.
3. He couldn't obstruct investigations into these non-crimes.
Possibility of Obstruction Looms Over Trump After Thwarted Efforts to Recover Documents

Unredacted portions of the affidavit point to a crime that has been overshadowed amid disputes over classified information.
In a court filing on Monday, federal prosecuters said that the invasive FBI search had turned up a "limited" number of such documents. It is unclear what an "unlimited" number of client-attorney privileged documents would look like.
The startling development is likely to provide further evidence to a district court judge that a "special master" is needed to supervise the division of Trump's documents the FBI grabbed at Mar-a-Lago. There are alleged "classified" documents that are purportedly pertinent to national security, and those that fall under executive privilege and attorney-client privilege. Trump's legal team has rebutted the DOJ by pointing out that the former president's documents were "declassified" under a standing order he issued prior to leaving the White House.
Source: beckernews.com
The Department of Justice (DOJ)'s "filter team" has already reviewed documents taken in the Mar-a-Lago raid and identified some that may fall under attorney-client privilege, according to a Monday court filing.
The DOJ noted on Monday that its team had already reviewed documents – and found a "limited set" that "potentially" includes documents covered by attorney-client privilege. The "filter team" is separate from the criminal investigation team. 
The news comes after former President Donald Trump's team asked for a special master to independently oversee the review of documents seized when the FBI executed a search warrant at the former president's home on Aug. 8. 
Source: dailycaller.com
  the New York Times, the Deep State's one-stop shop for dropping garbage on the Democrat Party's political enemies, have decided that they are the purveyors of justice in the US.
These corrupt actors pushed Russia collusion garbage for years and they believe they can lecture us on what is truth and what is a lie.  This is the definition of insanity.
The New York Times editorial board called on Attorney General Merrick Garland to seek an indictment of former President Trump if "sufficient evidence" exists to establish his guilt "on a serious charge."

 

The board argued in a piece published Friday

Source: thegatewaypundit.com
I don't think Mark Zuckerberg 'slipped up' by mentioning that the FBI regularly pressures Facebook to censor content critical of the DC ruling regime on the biggest podcast in America
I believe he's trying to create distance between his company and the flood of lawsuits and forthcoming GOP investigations attacking Big Tech collusion with the DC regime
It almost felt like he was saying, "hey it's the regime forcing us to do this, not us"
It's only a matter of time until justice arrives
Q

 

!CbboFOtcZs

 

ID: ebc480

 No.2288325

ohshit.jpg
>>2287764
Something BIG is about to drop.
Q
1718  
Q
!CbboFOtcZs
07/26/2018 16:17:45
 ID: f4774f
8chan/qresearch: 2300028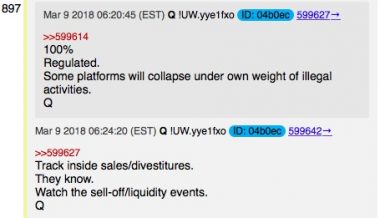 Filename:
d1758f3cd594eb47a6b301788ad48cec7bb1f287d35516ab8cfcbfabf8818a28.jpg
862  
Q
!UW.yye1fxo
03/06/2018 11:17:11
 ID: 3c553f
8chan/qresearch: 567637
Anonymous
03/06/2018 11:14:45
ID:4e2752
8chan/qresearch: 567610
Donald J. Trump@realDonaldTrump
The Fake News Media is devastated by how well TRUTH is doing so, quite on cue, they are working overtime to criticize and demean it. Actually, many of the big guns in Washington, D.C., are fighting to stop the TRUTH but, they won't be successful. They are going after the outside financial company, and virtually anybody that walks and breaths, but that won't do it. They said it is doing worse since the Raid, but actually it is doing MUCH better, up more than 550%. We all love TRUTH!!!
Donald J. Trump@realDonaldTrump
·

When are the great Agents, and others, in the FBI going to say "we aren't going to take it anymore," much as they did when James Comey read off a list of all of Crooked Hillary Clinton's crimes, only to say that no reasonable prosecutor would prosecute. The wonderful people of the FBI went absolutely "nuts," so Comey had to backtrack and do a FAKE INVESTIGATION in order to keep them at bay. The end result, we won in 2016 (and did MUCH better in 2020!). But now the "Left" has lost their minds!!!
So Trump truthed to the FBI to do the right thing, take back control of the FBI. He then re-truthed the same truth warning the FBI if you don't act now its going to be to late, declas coming, storm is coming, do the right thing. Trump will always allow the people to do the right things. 
As we get closer to November, we are likely going to see an influx of "bad actors" posing as Patriots who will be pushing a narrative along the lines of, "why vote in a rigged election?"
If you see anyone hinting that you shouldn't vote if 2020 is not fixed, block them and move on. We HAVE to win the majority and put the right people in place to really fix 2020 and prosecute the criminals who stole it.
As a reminder, listen to @realDonaldTrump
It worked in VA.
So now it comes out, conclusively, that the FBI BURIED THE HUNTER BIDEN LAPTOP STORY BEFORE THE ELECTION knowing that, if they didn't, "Trump would have easily won the 2020 Presidential Election." This is massive FRAUD & ELECTION INTERFERENCE at a level never seen before in our Country. REMEDY: Declare the rightful winner or, and this would be the minimal solution, declare the 2020 Election irreparably compromised and have a new Election, immediately!
3724  
Q
!!Hs1Jq13jV6
12/18/2019 22:52:52
 ID: 6d572c
8kun/qresearch: 7555466
Q

 

!xowAT4Z3VQ

 

ID: 832f44

 No.1009048

>>1008955
you have it all
>>1008970
We certainly do.
Q
2039  
Q
!!mG7VJxZNCI
08/31/2018 15:55:13
 ID: 27fd5f
8chan/qresearch: 2820535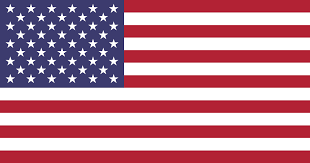 Image Name:
UNITED_WE_STAND.png
Filename:
a7ffb193423f0a5573ceeefe7c2a7863d1fc6d1559e28d93af78f63e36cdceed.png