Elon:"This Is A Battle For The Future Of Civilization",There Is No Other Way,Info Warfare – Ep. 2936
Podcast: Download (Duration: 1:24:47 — 37.2MB)
Watch The X22 Report On Video
The people of Europe are feeling the pain. Germany has declared a financial emergency due to the energy crisis. The UK is getting prepared for blackouts, and the Mayor of London is pushing a policy that the people do not agree with. India is pushing the CBDC and crypto millionaires are mysteriously dying. The [DS] is now panicking over Twitter. They have lost one of their main weapons and now the people control it. The [DS] are now pushing everything they have at Trump to stop him from running, but they have nothing that is going to work, they are desperate. Kari Lake is ready to pounce as soon as they certify the elections, then she can take action. There is only way forward, Trump has the plan, the military is behind him, the people are about to learn the truth and the truth will bring down the [DS].
---
Economy
The low-emission zone in central London, within which motorists are charged £12.50 (€14.56) per day for driving the most polluting vehicles, is set to be extended to cover the whole of London, the city's left-wing mayor, Sadiq Khan, announced on Friday.
Khan described the decision to extend the zone as "one of the toughest decisions" he's taken as mayor, but claimed the move will see 5 million more people benefit from cleaner air.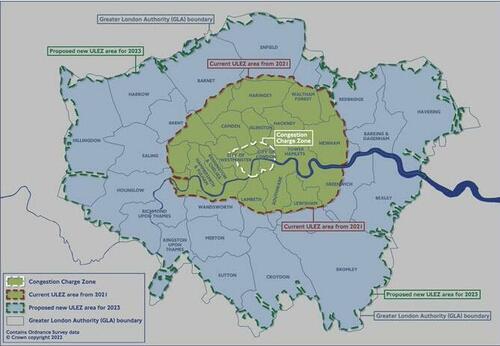 The extension has been agreed despite overwhelming opposition from Londoners. The BBC reported that a public consultation on the extension plans, which Khan insisted was a genuine consultation and would factor into his decision, showed 80 percent of people in the affected area opposed the plan.
L
The move will mean that an estimated 200,000 motorists of non-compliant vehicles producing higher carbon emissions will be slapped with a daily £12.50 levy for driving their vehicle within the Greater London Authority boundary.
The charge applies all day, every day, with the exception of Christmas Day, and those with non-compliant cars residing in the affected area are not exempt.
"His whole basis for extending the ULEZ zone on the basis of public health doesn't stand up to scientific scrutiny," said Brian Gregory, the alliance's policy director."TfL has an enormous hole in its budget, and Mayor Khan is looking to fill that hole by any means that he can," he added.
Source: zerohedge.com
Good thing the UK recently "war gamed" emergency plans to deal with energy shortfalls because a collapse in wind power has skyrocketed electricity prices, and network operator National Grid Plc might ask homes and businesses to reduce power use on Tuesday.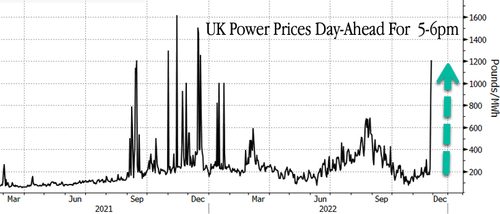 Britain has one of the largest offshore wind farms in the world but is prone to energy shortfalls when the wind doesn't blow — making this type of renewable energy not so reliable.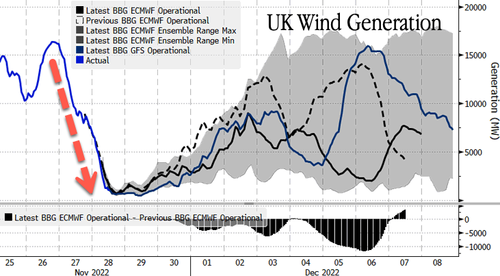 For the first time, tight power supplies could force National Grid to deploy a new measure that pays households to reduce power consumption during peak demand hours.
Thousands of households with smart meters have signed up for the demand reduction program that has been pilot-tested. It could be used for the first time, according to a warning issued by National Grid.
Source: zerohedge.com
The Dutch government plans to buy and close down up to 3,000 farms near environmentally sensitive areas to comply with EU nature preservation rules….
Source: telegraph.co.uk
Fox News White House correspondent Peter Doocy sparred with White House Coordinator for Strategic Communications at the National Security Council John Kirby on Monday over the lack of encouragement for U.S. oil companies to drill domestically.
President Joe Biden turned to Venezuela to produce oil amid the rising gas prices in the U.S. and the ban on Russian imports imposed in March. Months after releasing sanctions on the nation, the Treasury Department has begun issuing licenses to allow U.S. oil companies, currently Chevron, to allow the company to drill in Venezuela.
"On the sanctions relief for Venezuela, why is it that President Biden would rather let U.S. companies drill for oil in Venezuela than here in the U.S.?" Doocy asked.
"That's not an accurate take on the president's view," Kirby answered.
"Earlier this month, he said 'No more drilling, there is no more drilling,'" Doocy said.
"The president has issued 9,000 permits for drilling on U.S. federal lands, Peter, 9,000 of them are being unused," he said. "There are plenty of opportunities for oil and gas companies to drill here in the United States. And I'll let Chevron speak for this particular issue of sanctions relief, but our expectation is it won't be a lot of oil coming out of there. It will have to be shipped to the United States."
Industry groups said that not every lease was usable and that many were in the process of being litigated. Despite this, the White House has continued to place blame on oil companies for not taking enough action to bring down gas prices.
The administration also halted oil and gas drilling on over 58,000 acres of federal land and 113 oil leases in September while allowing Chevron to drill in Venezuela.
Source: dailycaller.com
California's participation in the federal Supplemental Nutrition Assistance Program in 2022 peaked at 4.9 million people as of July (and then dropped to 4.6 million in August). That was higher than California's previous highest food stamp participation of 4.8 million people in June 2020.
What is more confusing is that the last time food stamp participation was this high, the Golden State's unemployment rate was over 16%. Currently, it is at 3.8% – the lowest level since at least 1976.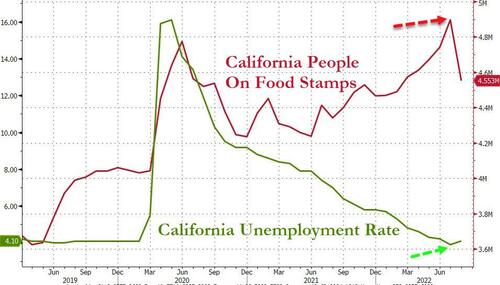 As JustTheNews.com reports, California has approved funding in the 2022-23 budget to allow undocumented immigrants ages 55 and over to get food assistance under the state-funded California Food Assistance Program, which is separate from the federally-funded SNAP program.
California has given extra SNAP money to recipients due to COVID-19.
The per-person cost of the SNAP program has increased from $123.22 per month in March 2020 before the state of emergency declaration to $277.12 as of August 2022.
Perhaps what is even more interesting about the latest slew of state-based data is that the number of individuals receiving food stamps in Tennessee has dropped to the lowest levels since November 2003.
Gov. Bill Lee did not renew a COVID-19 state of emergency in November 2021,
Lee also signed a law that took effect in May that added a work requirement to receive food assistance.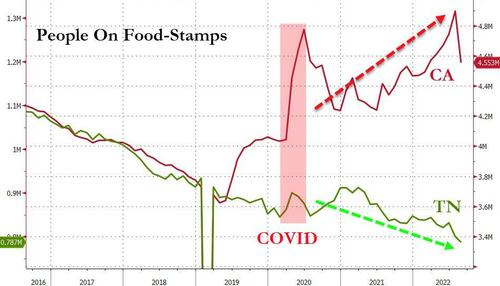 Can you spot the difference?
Source: zerohedge.com
On Tuesday, India's central bank—The Reserve Bank of India (RBI)—announced the launch date for the first pilot of the country's retail Central Bank Digital Currency [CBDC]. The Digital Rupee, as such, will be in the form of a digital token that represents legal tender, the RBI said.
Chalking out the date, the latest press release noted,
"The Reserve Bank announces the launch of the first pilot for retail digital Rupee (ex-R) on December 01, 2022."
"The pilot will test the robustness of the entire process of digital rupee creation, distribution, and retail usage in real-time. Different features and applications of the ex-R token and architecture will be tested in future pilots, based on the learnings from this pilot."
Source: watcher.guru
Crypto millionaire Nikolai Mushegian, died mysteriously in a drowning after tweeting that he feared the CIA and Mossad were going to murder him.
Now, two more crypto billionaires have died in mysterious circumstances.

What the hell is going on? https://t.co/4haxE8GvJj

— Candace Owens (@RealCandaceO) November 29, 2022
This man is now dead.
He was a crypto millionaire named Nikolai Mushegian.
He died in a mysterious drowning in Puerto Rico—4 hours after sending this tweet.

He was fully clothed and had his wallet on him.

These are the facts. https://t.co/jW90J9UcbU

— Candace Owens (@RealCandaceO) November 29, 2022
---
Political/Rights
Non-binary Biden nuclear official charged with stealing woman's luggage at airport
After the suitcase's owner alerted police, officers reviewed video surveillance of the carousel and identified Brinton taking the luggage before removing its tag identifying the owner, the court filings stated. Law enforcement observed Brinton using the luggage during at least two other trips to Washington, D.C., on Sept. 18 and Oct. 9.
Then, on Oct. 9, Brinton denied stealing anything when a police officer called to discuss the incident. Brinton confirmed still possessing the suitcase.
"If I had taken the wrong bag, I am happy to return it, but I don't have any clothes for another individual," Brinton told the officer. "That was my clothes when I opened the bag."
Two hours after the phone call, Brinton called the officer back and apologized for not being "completely honest." But Brinton said it was a mistake and blamed being tired for taking the wrong bag at the carousel.
Brinton faces up to five years in prison and $10,000 fine for allegedly taking another person's luggage
Sam Brinton, a senior Energy Department (DOE) official, was charged with stealing a traveler's luggage in the Minneapolis airport in September, shortly before quietly taking a leave of absence.
Biden Energy Dept. Won't Say If It Will Fire Cross-Dresser Charged With Felony For Allegedly Stealing Lady's Luggage
Department of Energy confirms Sam Brinton's automatic email response which indicates he is on leave over felony theft charges:

"Sam Brinton is on leave from DOE, and Dr. Kim Petry is performing the duties of Deputy Assistant Secretary of Spent Fuel and Waste Disposition."

— Jordan Boyd (@jordanboydtx) November 29, 2022
Most voters approve of House GOP plans to investigate Hunter Biden: poll
A majority of likely voters agree with House Republicans launching investigations into first son Hunter Biden's overseas business dealings once the party takes control of the lower chamber of Congress in January, according to a poll released Monday.
The Rasmussen Reports survey found that 62% of likely voters approve of the GOP's plans to scrutinize the 52-year-old Hunter's foreign interests, with 42% saying they "strongly" approve of the move.
Just two years ago we had the strongest, most secure, and safest Southern Border in American History. Now we have the weakest and most dangerous Border anywhere in the World. We are being INVADED & overrun by millions and millions of people from parts unknown. Some of the worlds worst criminals, and DRUGS, are pouring into our Country. We are a laughing stock all over the World. At least 10,000,000 people, many of them REALLY BAD, have entered since I left office. Our Country has gone MAD!
The USA will be paying a very big price, perhaps the biggest price of all, because of what is being allowed to happen at our Southern Border, which just two years ago was the most secure, by far, in history! I built hundreds of miles of desperately needed WALL, was able to get 28,000 Mexican Soldiers (free!) to guard the Border, and created, and got approved, the incredible STAY IN MEXICO POLICY. Now it has all gone to "dust," our Country is rapidly being destroyed. MAKE AMERICA GREAT AGAIN!!!
---
Geopolitical/Police State
And who do we have to thank in part for discovering the dangerous link between the two of them? The Washington Post, which actually wrote an entire article on the fact that Diet Coke had so much "power" that it had reeled in the likes of Musk, Trump, disgraced Hollywood mogul and serial predator Harvey Weinstein, and numerous Hollywood actors:
Source: redstate.com
In the picture is a non-firing replica of George Washington's flintlock pistol, which can be seen lying in a wooden box. It also shows a picture of Emanuel Leutze's painting of the first US president crossing the Delaware River.\
In front of the flintlock pistol, there seems to also be a toy gun replica of a Diamond Back .357 revolver from the Deus Ex: Human Revolution video game.
Source:  hitc.com/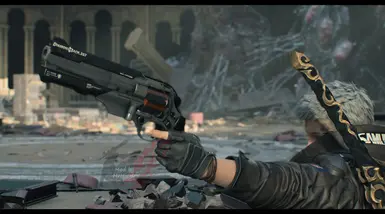 97.5% of Apple's donations are to the Democratic Party. Twitter allowing free speech is against party interests so Apple must play the role of enforcer. pic.twitter.com/khv7VPNawt

— The Rabbit Hole (@TheRabbitHole84) November 28, 2022
Here is a list of all the advertisers that have seemingly stopped all advertising on Twitter following @elonmusk's acquisition of the platform.

Stop giving your money to companies that hate you—and reject free speech. pic.twitter.com/mxiLBiiw4h

— Julia 🇺🇸 (@Jules31415) November 26, 2022
A lesson for all. This is also what Tucker does with such skill. Mock the sh*t out of these monsters and embrace their contempt as a badge of honor. This is the way.

— Julie Kelly 🇺🇸 (@julie_kelly2) November 29, 2022
Apple should publish all censorship actions it has taken that affect its customers

— Elon Musk (@elonmusk) November 28, 2022
This is a battle for the future of civilization. If free speech is lost even in America, tyranny is all that lies ahead.

— Elon Musk (@elonmusk) November 29, 2022
3610  
Q
!!mG7VJxZNCI
11/20/2019 14:54:49
 ID: 0a9027
8kun/qresearch: 7358376
Numbers released Monday show that the FBI ran 192,749 National Instant Criminal Background Check System (NICS) background checks on Black Friday 2022.
The National Shooting Sports Foundation (NSSF) noted that the 192,749 NICS checks on Black Friday 2022 "[rank] it third in the Top 10 Highest Days for NICS checks and…[represent] a 2.8 percent increase from Black Friday 2021."
The FBI conducted 187,585 NICS checks on Black Friday 2021 and 186,645 checks on Black Friday 2020,
Source: breitbart.com
Indeed, semi-autos meet every criterion of legality laid out in D.C. v. Heller, the decision that finally codified the clear historical and legal intention of the Second Amendment. Not only are semi-automatic weapons "in common use" by "law-abiding citizens," they are not "unusual." The first semi-automatic pistols hit the civilian marketplace in the 1890s.
It is, as it always has been in the gun debate, incrementalism. From "no one wants to take your guns" to "we only want to take some of them" and so on. Of course, even if the president really intended to talk about a semi-automatic rifle ban, his goals would still be unconstitutional. Again, the gun meets every standard set by Heller for legality. And if the Senate somehow musters the 60 votes to push through the ban on certain semi-automatic guns recently passed by the House, states should challenge the federal government, and, if need be, ignore it.
Source: thefederalist.com
---
False Flags
28% worried about catching COVID-19; last lower in June 2021 (17%)
A
A new high of 78% advise healthy people to live life normally
WASHINGTON, D.C. — Twenty-eight percent of Americans say they are "very" or "somewhat worried" they will get COVID-19 — the lowest percentage Gallup has recorded since the summer of 2021.
— 🎄 𝐁𝐥𝐨𝐨𝐝𝐛𝐨𝐫𝐧𝐞 𝟐 🦑🤺 (@SisyphusGoals) November 28, 2022
Twitter will stop enforcing its bogus regime-endorsed "COVID-19 misleading information policy" starting on November 23rd.
Via ALX:
It's clear from their report that Twitter used the policy to crack down on any accounts   that posed a threat to Democrats and the Fauci cabal prior to the 2020 election.
Twitter used the policy to crack down on conservatives and anyone who doubted the ever-changing COVID "science."
This was a dark time in US history.
Source: thegatewaypundit.com
"Our schools are for education, not indoctrination. We will put a stop to this nonsense in the upcoming legislative session. Schools must get back to fundamentals & stop pushing woke agendas. We will pass laws to get it done," Abbott vowed, linking to a report detailing a Texas teacher bragging about indoctrinating children:
---
Q
Looks like Cheney is bullying J6 committee into only focusing on Trump and omitting critical analysis of law enforcement failures in final report—release now delayed a 4th time.

Staffers are venting to reporters, some have quit in protest. https://t.co/PmlbusxfKx

— Julie Kelly 🇺🇸 (@julie_kelly2) November 29, 2022
at a Univ of Chicago event after conservative students with @ThinkerChicago confronted her as to why he hadn't been charged.

Her reply: Epps did nothing wrong and she's not in charge of prosecutions. And anyone who thinks Epps is a govt asset is pushing "conspiracy theories" https://t.co/tRbUw9RhVq

— Julie Kelly 🇺🇸 (@julie_kelly2) November 29, 2022
This is a MUST WATCH. Our Elections are Rigged. Mail-In Ballots are a total SCAM. How about all of those "BROKEN" Republican Voting Machine? GET SMART REPUBLICANS, OR YOU WON'T HAVE A PARTY (OR COUNTRY) LEFT!
These officials have NO IDEA how fed up the American people are… but this woman let them know