Epstein's Network, Red Cross Being Exposed,Trump: WWIII Is Looming In The Dark Background – Ep. 3019
Podcast: Download (Duration: 1:20:04 — 35.3MB)
Watch The X22 Report On Video
Forbes rated SVB America's best bank, that didn't age well. The [DS]/[CB] banking system is being destroyed. The Fed has now taken control of all deposits for all banks. The setup is complete. Trump said we are entering a 1929 type of crash, the Fed will print and print which will push inflation sky high. In the end gold will destroy the Fed. The [DS] is being exposed, Epstein's network is now in the spotlight. The Red Cross is being exposed down at the border. The pandemic origins is being exposed and China is panicking. Will they invade Taiwan to distract from the information coming out. Trump warns of WWIII, he says it is lurking in the background. The [DS] will move from an information war into a physical war in the end. The patriots already have countermeasures in place.
---
Economy
Proud to be on@Forbes
' annual ranking of America's Best Banks for the 5th straight year and to have also been named to the publication's inaugural Financial All-Stars list.
President Joe Biden blamed former President Donald Trump for the collapse of Silicon Valley Bank (SVB) and Signature Bank, attributing their demise to Trump's rollback of some Obama-era policies.
"During the Obama-Biden administration, we put in place tough requirements on banks like Silicon Valley Bank and Signature Bank, including the Dodd-Frank law to make sure that the crisis we saw in 2008 would not happen again," Biden said during his Monday remarks.
"Unfortunately, the last administration rolled back some of these requirements," he added.
The bill exempting many banks from the Dodd-Frank Wall Street reform law — called the 

Economic Growth, Regulatory Relief and Consumer Protection Act — passed the Senate in a bipartisan 

way in 2018. Lawmakers had cited concerns about small banks and credit unions, The Hill reported.
Trump then signed the bill into law after it passed the House.
Source: dailycaller.com
Joe Biden, Democrats, and the Fake News response to the SVB collapse, in unison: iT's TrUmP's fAuLt
Biden* forgot that up until this January, Democrats held full control of the WH and both Houses of Congress. Why didn't they fix the issue if they were in charge for that long?
SVB collapsed because of the unrealistically low interest rates imposed by the Fed and gross fiscal mismanagement at the bank. For example, management sold off the bank's interest rate hedges in December 2021 – assets which would have offset the bank's losses today," Antoni added.
Trump has gotten the last laugh in his battle against a 'Woke' bank that closed his account in the aftermath of the 2020 election. Signature Bank is now finding itself closed.
After the January 6 Fedsurrection, Signature Bank issued a self-righteous statement that was a signature example of Woke stupidity.
"We have never before commented on any political matter and hope to never do so again," said the New York-based bank led by Joseph J. DePaolo. "However, as Americans we are deeply, deeply saddened by the rioting and insurrection which took place in the most sacred of American institutions, our United States Capitol."
Signature closed Trump's personal accounts at the bank and warned "will not do business in the future with any members of Congress who voted to disregard the Electoral College."
Source: beckernews.com
In looking at the SVB board and executive team bios, there is an interesting tie to California's First Partner Jennifer Siebel Newsom – one of the SVB Executives sits on the board of Jennifer Siebel Newsom's California Partners Project.
California Governor Gavin Newsom issued a statement Saturday morning in response to the appointment of the Federal Deposit Insurance Corporation (FDIC) as receiver of Silicon Valley Bank:
"Over the last 48 hours, I have been in touch with the highest levels of leadership at the White House and Treasury. Everyone is working with FDIC to stabilize the situation as quickly as possible, to protect jobs, people's livelihoods, and the entire innovation ecosystem that has served as a tent pole for our economy."
Shortly thereafter, Gov. Newsom was excoriated on Twitter.
However, the most intriguing comment pushing back at the governor was Ric Grenell's poignant response to an explosive reveal:
The Executive Officer referred to in the Tweet is John China, President of SVB Capital: "He sits on the board of the California Partners Project led by Jennifer Siebel Newson."
This morning Joe Biden tried to reassure the nation about the banking segment of the economy as his Administration announced over the weekend that it was bailing out two banks – Signature Bank and Silicon Valley Bank.
According to CBS:
What Biden left out is that the US is covering for his CCP buddies and their venture capital business seeking USDs.
Source: thegatewaypundit.com
President Joe Biden sought to reassure the country Monday that the "banking system is safe" and that taxpayers would not bear any losses following the failures of Silicon Valley Bank and Signature Bank last week.
"The bottom line is this: Americans can rest assured that our banking system is safe. Your deposits are safe," the president added. "Let me also assure you, we will not stop at this. We'll do whatever is needed."
Source: washingtonexaminer.com
Oh boy.
Trading at over 30 banks has been halted.
Trading was halted at Charles Schwab.
Market Watch reported:
To gauge the panic-like activity of bank investors in the wake of the recent failures of SVB Financial Group's SIVB, Silicon Valley Bank and Signature Bank SBNY, -22.87%, investors can check out the Nasdaq's "Current Trading Halts" page. Multiple banks have had their stock halted for volatility, some more than once, since the opening bell. Among some of those that have already been halted at least twice, shares of Western Alliance Bancorp WAL, -82.55% plummeted 78.2%, Regions Financial Corp. RF, -7.54% sank 15.6%, First Republic Bank FRC, -77.82% plunged 65.5%, Comerica Inc. CMA, -38.51% tumbled 39.4% and PacWest Bancorp. PACW, -53.44% took a 47.7% dive. The selloffs come as the S&P 500 SPX, -0.11% inched up 0.1%, erasing an earlier drop of as much as 1.4%.
Source: thegatewaypundit.com
Signature "knew of and permitted the commingling of FTX customer funds within its proprietary, blockchain-based payments network, Signet," according to a court filing.

Crypto-friendly bank Signature Bank (SBNY) faces a putative class-action lawsuit for its involvement in the operations of the now-failed cryptocurrency exchange FTX.

Statistica Capital, an algorithmic trading firm, and Statistica Ltd. claim the bank "had actual knowledge of and substantially facilitated the now-infamous
Signature Bank, the firm that went under over the weekend, has an expert on its Board of Directors – Barney Frank.
Barney Frank was the US Rep behind the Dodd-Frank bill put in place after the 2008 bank crash.  The government arguably caused the failure and then turned around and put in a massive amount of regulations in response to the failure.
The monstrosity was the Dodd-Frank bill, named in part for Barney Frank.
 
Signature Bank was bailed out by the Biden Administration over the weekend.  It must have been serious or it wouldn't have been done over the weekend.
The great Barney Frank sits on the Board of Signature Bank and no doubt had a part in removing President Trump's accounts.  The bank board that was nasty in politics was apparently horrible in running the bank.
Bob Bishop shared on Twitter the relationship between Barney Frank and Signature Bank:
Does bailing out a bank even comply with Dodd- Frank?
Source: thegatewaypundit.com
 
"After receiving a recommendation from the boards of the FDIC and the Federal Reserve, and consulting with the President, Secretary Yellen approved actions enabling the FDIC to complete its resolution of Silicon Valley Bank, Santa Clara, California, in a manner that fully protects all depositors. Depositors will have access to all of their money starting Monday, March 13," the statement said.
The Fed will pay for it at first. The Fed will print the needed funds to cover the deposits and give it to the FDIC (and the proceeds from asset sales will chip in to cover the losses). "No losses associated with the resolution of Silicon Valley Bank will be borne by the taxpayer."
Later, the FDIC will charge other banks for those losses it incurred from bailing out uninsured depositors. And maybe the Fed will eventually get is money back from the FDIC? The statement said: "Any losses to the Deposit Insurance Fund to support uninsured depositors will be recovered by a special assessment on banks, as required by law."
The way it seems to work, with lots of tough love in the statement:
1. The Fed gives the money to the FDIC as needed.
2. The FDIC makes all deposits available on Monday.
3. The FDIC then sells the assets of the banks, which takes some time.
4. The difference between the cost of bailouts of the depositors and the proceeds from the asset sales is the actual amount the FDIC lost.
5. The FDIC charges other banks a "special assessment" to cover those losses, "as required by law."
6. And it may then pay the Fed back with those funds it collected from other banks?
 
Depositors of Signature bank are included in the bailout,
Shareholders and some unsecured bondholders of both banks get bailed in.
 Source: wolfstreet.com
SVB in bed with China 
SVB involved with Newsoms
SVB along withe citibank, jpmorgan and other subpoened in epstein
then we a Signature bank which barney frank was on the board, being sued for FTX cominglings 
The Federal Reserve Just Made An Emergency Decision Which Will Fundamentally Change Banking In America Forever
All deposits at Silicon Valley Bank and Signature Bank will be fully guaranteed and will be available on Monday.  Of course the Federal Reserve can't just make an exception for these two banks.  If they are going to do this for them, that means that they are going to have to do it for everyone else too.  So what this means is that from this point forward the Federal Reserve is essentially promising to guarantee every bank account in America.  Considering the fact that more than 19 trillion dollars is deposited with U.S. banks, that is quite a promise to make.
To support American businesses and households, the Federal Reserve Board on Sunday announced it will make available additional funding to eligible depository institutions to help assure banks have the ability to meet the needs of all their depositors. This action will bolster the capacity of the banking system to safeguard deposits and ensure the ongoing provision of money and credit to the economy.

The Federal Reserve is prepared to address any liquidity pressures that may arise.
If the technical language confuses you, here is Zero Hedge's translation…
Translation: the Fed's hiking cycle is dead and buried, and here comes the next round of massive liquidity injections. It also means that the Fed, Treasury and FDIC have just experienced the most devastating humiliation in recent history – just 4 days ago Powell was telling Congress he could hike 50bps and here we are now using taxpayer funds to bail out banks that have collapsed because they couldn't even handle 4.75% and somehow the Fed has no idea!
Source: theeconomiccollapseblog.com
Understand what's happening at FDIC:

They're taking the insurance premiums that were paid in to protect depositors under $250,000 (little guys) and using it to cover deposits of the very rich.

They argue it benefits everyone to go "all in" on the first few banks.

— Thomas Massie (@RepThomasMassie) March 13, 2023
Just got off of a zoom meeting with Fed, Treasury, FDIC, House, and Senate.

A Democrat Senator essentially asked whether there was a program in place to censor information on social media that could lead to a run on the banks.

— Thomas Massie (@RepThomasMassie) March 13, 2023
EXCLUSIVE: Senator Mark Kelly Called For Social Media Censorship To Prevent Bank Runs, by @ShellenbergerMD https://t.co/H98vStcYY6

— Benjamin Weingarten (@bhweingarten) March 13, 2023
Source:  .investors.com
Bank stocks are tumbling & the Fed will likely stop increasing rates
It may even reduce them
Meanwhile a Big Mac meal still costs $10+ at McDonalds, nobody can afford to buy a house, and historic inflation will only worsen w/these bailouts
This disaster is only getting worse
The Fed needed away to back out of raising rates, they couldn't use the execuse that inflation was under control, because people can see it is not. They already pushed the economy over the edge, this event will be used to stop the rate hikes or limited them.
TAKE  A LISTEN
At the end of the crash, the market lost $30 billion in value; approximately $487 billion in today's money.9

The stock market crash led the way to the Great Depression, where 15 million Americans would lose their jobs and half of the country's banks failed at the lowest point in 1933. Production had fallen by half after the stock market crash, leading to soup kitchens, bread lines, and homelessness across the nation. Farmers were forced to let crops rot as they couldn't afford the harvests and many in the nation starved. Many farmers migrated to the cities looking for jobs as droughts caused high winds and dust in the south, known as the Dust Bowl.

10

The Great Depression ushered in an era of isolationism, protectionism, and nationalism. 
Source:  investopedia.com
40000 ft view
Petro dollar system
– Setup oil system in the Middle East
– Become dependent on foreign oil
– Create an event to remove the peg to gold
– Petrodollar, full fiat
– Destroy manufacturing, move it out of the country
– New system enslaves the people
Green New Deal
– Setup mineral mining and production in Africa and China
– Destroy energy independence in US
– Increase Fuel Prices
– Become dependent on China for solar panels, wind turbines and batteries
– Create events to move us from fossil fuel to electric, eg. Gas ovens, emissions, to expensive to keep gas powered car
– Companies push agenda, Blue states push agenda
– New system enslaves people
Great Reset
– Setup a CBDC
– Control gold, silver, demonize Bitcoin
– Inflation used to destroy old fiat system
– Fed raises rates to destroy old system
– Event needed to move people from fiat to CBDC
– Destroy banks, part of old system, consolidate, centralize, remove the smaller banks
– Treasury / FDIC takes over
– Old system fragile convince the people the CBDC would protect their wealth
– News system enslaves, controls and punishes the people
Trump
– US Federal Reserve is a privately-owned company, sitting on its very own patch of land, immune to the US laws.
– 1929 Crash coming
– Gold will destroy the Fed
– Fed restructuring
– Andrew Jackson destroyed the [CB], the people were behind him
– Trump, the people are behind him
– Put an end to the endless
– Never interfere with an enemy while they are in the process of destroying themselves
– Third [CB] destroyed
Q

 

!!mG7VJxZNCI

 

ID: a22a92

 No.4243710

The plan to have the FED raise rates [steep incline beginning Mar 2019] in an effort to 'kill' the economy prior to 2020 P_elec is known and planned for.
Structure change coming?
Q
Dec 12, 2018 7:01:15 PM EST
Dec 12, 2018 6:57:57 PM EST
Anonymous ID: 376ff2 No. 4280876 
>>4280189 Q: Do we have the
GOLD
?
>>4280876 Yes.
GOLD
shall destroy FED. Q
Nov 11, 2022 8:45:15 AM EST
Who are the Silent Thieves?
Why are they manipulating you?
How are they stealing your wealth?
Bubble. Crash.
Steal.
Lie.
Repeat.
Monetary manipulation.
Taxation without representation.
PUT AN END TO THE ENDLESS.
1913.
Q
---
Political/Rights
MSNBC can barely float, it is a ratings disaster. Morning Joe and his sidekick, "Mike," are getting pummeled. All of these Fake News Cable shows are. My CPAC speech was just announced as #1 on all of Cable. That's because it was not Fake News!
·

CNN suffers devastating 83% loss in viewership as Trump's ratings skyrocket." D.C. Enquirer MSDNC (MSNBC) is doing really badly also. Too bad, Fake News just doesn't sell any longer!
A majority of likely voters want Transportation Secretary Pete Buttigieg to resign for how he handled the toxic train derailment affecting East Palestine, Ohio, a Rasmussen Reports survey released Monday found.
Buttigieg was slow to respond to train derailment in the Buckeye State, only opting to visit the area after former President Trump made an effort, the latter of whom made sure that the people of the area knew they were not forgotten.
Buttigieg, however, only opted to visit the state after Trump, who delivered truckloads of water and bought first responders and others lunch, already had. Prior to Trump's visit, Buttigieg said he would visit the area when the "time is right." That time conveniently occurred after Trump's visit. However, at the time of the visit, neither Buttigieg nor his spokeswoman explained why it took roughly three weeks to visit the area. In fact, Buttigieg's press secretary even refused to answer questions on camera:
Most, 51 percent, said he should resign, followed by 36 percent who said he should not and 13 percent who remain unsure.
Source: breitbart.com
And of course CNN doesn't mention any of this is their ridiculous story about Raskin's letter.

House Oversight Chair Comer quietly subpoenas bank records for Hunter Biden business associateshttps://t.co/lHjKSPu5uC

— Arthur Schwartz (@ArthurSchwartz) March 13, 2023
They are demanding the #receipts from Epstein's network of shell companies & bank accounts! pic.twitter.com/QrIw5EuDc9

— DawsonSField (@DawsonSField) July 28, 2020
Authorities are trying to figure out where his cash came from (blackmail & shakedowns of the innocent & the guilty) pic.twitter.com/aaCnZ3nXwi

— DawsonSField (@DawsonSField) July 28, 2020
They name 6 more banks at the end of the article, leaving 1 of the 10 unnamed: Those are Fidelity Investments, Charles Schwab, Bank Leumi, Wells Fargo, Northern Trust, and Silicon Valley Bank.
Is Silicon Valley Bank connected to any of the #SiliconValleyOligarchs who help Dems? pic.twitter.com/j7eBQV35LJ

— DawsonSField (@DawsonSField) July 28, 2020
A massive group of at least 1,000 illegal aliens stormed the port of entry in El Paso, Texas in an effort to get into the United States.
This is an invasion.
The migrants rushing the port-of-entry were mostly military-age males. 
Source: thegatewaypundit.com
BREAKING: Our contact in Juarez, MX tells us a massive group of at least 1,000 migrants just attempted to rush a port of entry in El Paso in an effort to get into the United States. Video shows them pushing past the Mexican side of Paso Del Norte bridge. Awaiting CBP comment. pic.twitter.com/lxriIB3TSm

— Bill Melugin (@BillFOXLA) March 12, 2023
BREAKING: Another video from our contact showing this massive migrant group trying to rush Paso Del Norte bridge in El Paso in an attempt to get into the United States. pic.twitter.com/q9v2myX333

— Bill Melugin (@BillFOXLA) March 12, 2023
Where is our military? Why on Earth would we rely on the Mexican military to protect our border? https://t.co/TJOGDDg94v

— Tom Fitton (@TomFitton) March 13, 2023
 The Red Cross is sharing guides for U.S. bound illegals that includes a map to the border and helpful tips and free resources available to them.
According to Daily Caller reporter Jennie Taer, the map is "part of a packet stamped with the International Committee of the Red Cross and American Red Cross logos, shows a list of resources, including hotels, clinics and shelters where migrants can get support in Mexico and Central America."
The map shows defined paths which take illegals directly to cities along the U.S.-Mexican border including direct routes to El Paso, Texas, Nogales, Arizona, and McAllen, Texas.
The packet also provides a helpful "self care" tips for surviving the desert, addressing diseases most likely to occur, how to safely jump on trains and how to obtain free contraceptives.
I'm sure the child and human trafficking cartels and drug smugglers are deeply appreciative. 
 Arizona Sheriff Mark Lamb said on Fox & Friends First, "They didn't tell asthmatics to bring their inhalers. They didn't tell diabetics to bring their diabetes medicine, but they did tell the women to bring contraceptives because they know that women are being raped."
Source: thegatwaypundit.com
---
War
North Korea test fires missiles from submarine amid US, South Korean military drills
North Korea fired at least one missile from a submarine in the Sea of Japan on Sunday, ramping up missile tests ahead of one of the largest joint military exercises between the U.S. and South Korea.
North Korea claimed to have fired two missiles from a submarine in the sea, but South Korean military officials said they only tracked one missile fired from the submarine near the North Korean port city of Sinpo.
The launch comes on the eve of what is expected to be 11 days of joint military exercises between the U.S. and South Korea, dubbed Freedom Shield. North Korean leader Kim Jong Un and those close to him have voiced rising concerns about the close military relationship between the U.S. and South Korea.
Source: thehill.com
With the news coming out about the origins of Covid, this would be a perfect time for China to invade Taiwan to cover up the entire story
---
Cyber Attacks
---
False Flags
Dr. Sucharit Bhakdi receives a standing ovation and a hero's welcome in his hometown in Germany.

The legacy media has relentlessly smeared the retired University of Mainz microbiology professor for his public stance against COVID-19 mRNA vaccines. pic.twitter.com/j2svaseTXe

— kanekoa.substack.com (@KanekoaTheGreat) March 13, 2023
Records reviewed by CBS News indicate the U.S. government may have paid twice for projects at China's Wuhan labs through the National Institutes of Health and USAID. A probe into the funding is raising questions about the use of the money. pic.twitter.com/yvyomEFV0K

— Catherine Herridge (@CBS_Herridge) March 13, 2023
Members of the New York Police Department are retiring at a record pace, just as crime in the city is going up with no end in sight.
The reason that the police are fleeing the departmnt is obvious. Demorats and plenty of people in the liberal media have been demonizing and disrespecting them for over three years.
 s.
The New York Post reported: NYPD cops resigning in new year at record-breaking pace — with a 117% jump from 2021 numbersIt's '23 skidoo.New York City cops are resigning at a record-breaking pace this year as the NYPD's alarming exodus continues, according to new data obtained by The Post."The NYPD staffing emergency is approaching the point of no return," said Police Benevolent Association President Patrick Lynch.The shocking stats show 239 officers tapped out in January and February, a 36% spike from the 176 who fled in the same period last year and a disturbing 117% jump from the 110 in 2021, NYPD pension data show.
Source: thegatewaypundit.com
---
Q
The J6 pipe bombs were the insurance policy, in the event they couldn't get the crowd to comply with the FBI provocations. If no one stormed the Capitol, the finding of the pipe bombs would have been the emergency needed to stop the process. https://t.co/JqVcGROAPN

— TheLastRefuge (@TheLastRefuge2) March 12, 2023
DOJ deleted 80 rows of FBI comms it quickly determined were "classified."

We will probably never know what was deleted. pic.twitter.com/6VjIeHmrmQ

— Julie Kelly 🇺🇸 (@julie_kelly2) March 12, 2023
LOL wut pic.twitter.com/WxfUFjdsEB

— Julie Kelly 🇺🇸 (@julie_kelly2) March 12, 2023
Agents who think it is acceptable to waive attorney/client privilege with this agreement form should resign. Every time we think: how could this happen and why kind of person would do this… the @FBI shows us who. FBI Agents.

Julie is right: banana republic. Post-Constitutional https://t.co/rdtfi2Vefe

— Kyle Seraphin (@KyleSeraphin) March 13, 2023
Q

 

!!mG7VJxZNCI

 

ID: 5293d4

 No.5645633

181128145528-01-trump-rt-112818-super-tease.jpg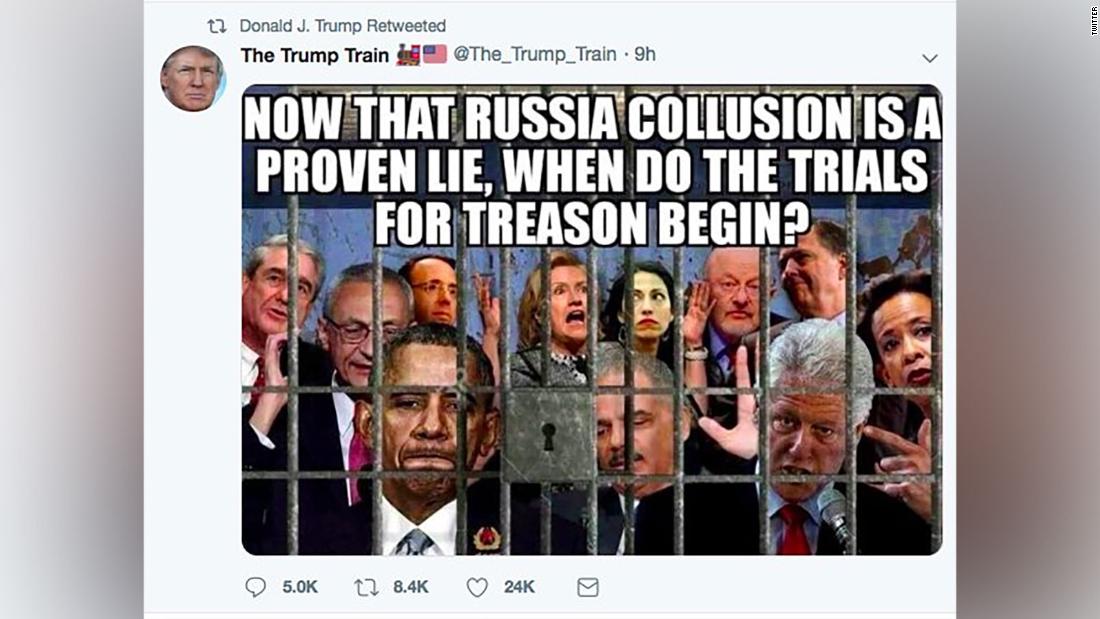 Promises made?
Promises (soon-to-be) kept?
Has POTUS made a statement/assertion that didn't end up being proven correct?
Change We Can Believe In.
When They Go Low, We Go High.
Let Freedom Ring!
Q