Everything Is In Place To Break The [DS], Ratcliffe Locked On, Everything Is A Go – Episode 2183
The US economy is opening up, states are now opening up and confidence is now building. The people see hope, the people want to get back to their everyday lives, this will push the economy forward. We are already seeing indicators that the economy is recovering, look at real estate, look at retail, and the traffic at restaurants. We are now in a great transition, behold the power of the magic wand. The [DS]/MSM have lost the narrative, Trump has won the lockdown battle, the [DS]/MSM are trying to use masks as a symbol of fear, but this is failing, people are awake now. Grenell declassifies more docs including Flynn and Kislyak. Ratcliffe was sworn in as the DNI director. The patriots are now in position to break the [DS], truth and transparency the only way forward.
Check Out The X22 Report Spotlight YouTube Channel X22Report Spotlight
Please check Newzsentinel.com for the latest news on the economic collapse. The Sentinel Alerts are updated throughout the day.
---
Current News – 05.26.2020
Watch The X22 Report On Video
---
Economy
The Economy is Starting to Turn Upwards


The Wall Street Journal reports:

The number of travelers passing through Transportation Security Administration security screening checkpoints fell to 87,534 on April 14, 96% below the same day a year earlier. But by May 22, the figure had more than tripled to 348,673, although that is still down 88% from the same day a year earlier. Meanwhile, data from online restaurant-booking company OpenTable shows diners are beginning to return in several states.

The turn upward is starting but you have a serious number of governors and mayors in lefty states keeping a hard lockdown, as long as this continues the progress is going to be slow.

The most significant hard lockdown state is California with it accounting for roughly 15% of U.S. GDP and the economy pretty much shut down in the key metropolitan areas of Los Angeles and San Francisco.
Source: economicpolicyjournal.com
Stock Market up BIG, DOW crosses 25,000. S&P 500 over 3000. States should open up ASAP. The Transition to Greatness has started, ahead of schedule. There will be ups and downs, but next year will be one of the best ever!

— Donald J. Trump (@realDonaldTrump) May 26, 2020
---
Political/Rights
The opening of a Cold Case against Psycho Joe Scarborough was not a Donald Trump original thought, this has been going on for years, long before I joined the chorus. In 2016 when Joe & his wacky future ex-wife, Mika, would endlessly interview me, I would always be thinking….

— Donald J. Trump (@realDonaldTrump) May 26, 2020
….about whether or not Joe could have done such a horrible thing? Maybe or maybe not, but I find Joe to be a total Nut Job, and I knew him well, far better than most. So many unanswered & obvious questions, but I won't bring them up now! Law enforcement eventually will?

— Donald J. Trump (@realDonaldTrump) May 26, 2020
🚨Breaking!🚨

FOIA into Morning Joes cold case has arrived!

Here it is. 👇🏻👇🏻👇🏻👇🏻 pic.twitter.com/HtqlBkBfLp

— Mike Bravo (@mikebravodude) May 26, 2020
🚨NEW: In a previously undisclosed text on July 27 2016 (when Trump joked about Russians finding Hillary's 30K emails) Page & Strzok had the following exchange:

PAGE: Have we opened on him yet?

STRZOK: Opened on Trump? If Hillary did, you know 5 field offices would…

THREAD

— Undercover Huber (@JohnWHuber) November 21, 2019
IMPORTANT:

—Only 4 days later, Crossfire Hurricane (CH) opened

—"Him" by Page refers to Trump personally, shown by Strzok's response

—Comey denied under oath CH was an investigation into *Trump*, saying it was "enterprise" investigation into Russia & any "links" with campaign

— Undercover Huber (@JohnWHuber) November 21, 2019
The Special Counsel legal advisor to the Deputy Director of the FBI really shouldn't be asking if investigations have been opened into presidential candidates they don't like, and investigations should be into potential *crimes* not specific *people*

— Undercover Huber (@JohnWHuber) November 21, 2019
Given Strzok opened Crossfire Hurricane himself, it's legitimate to question whether he was motivated by a desire to investigate Trump *personally*, rather than any genuine investigative leads into Russian interference and potential links to the campaign (I.e. the PapaD "tip")

— Undercover Huber (@JohnWHuber) November 21, 2019
N.B. The Strzok response has previously been reported, but I couldn't find any prior reporting of Lisa Page's question ("Have we opened on him yet?") that prompted Strzok's response. If you have seen it before, please let me know

/ENDS

— Undercover Huber (@JohnWHuber) November 21, 2019
Source is DOJ's motion to dismiss Strzok's wrongful dismissal lawsuit, Exhibit 4.

The text message exchange does not seem to appear in the texts disclosed to Congress, even redacted. pic.twitter.com/GovFpB2ghl

— Undercover Huber (@JohnWHuber) November 21, 2019
The @JusticeOIG report (https://t.co/7n1A6PMZDB; see p399) does not include this text message even though this section is headed "Text Messages Commenting on Trump or Clinton" which "highlight[s] examples of text messages of a political nature commenting on Trump & Clinton" pic.twitter.com/2UmDCqsXqA

— Undercover Huber (@JohnWHuber) November 21, 2019
#FLYNN READ: @MarkWarner May 20 letter requested underlying intel reports and "rationale for declassifying these unmasking requests" @RichardGrenell responds "I find it puzzling that your letter initially complains about the declassification of the identities of unmaskers,

— Catherine Herridge (@CBS_Herridge) May 26, 2020
…a declassification that posed no conceivable risks to sources or methods, only to then request the declassification of actual intelligence reports" #MyHighlighter @CBSNews pic.twitter.com/vWQ89qBW9w

— Catherine Herridge (@CBS_Herridge) May 26, 2020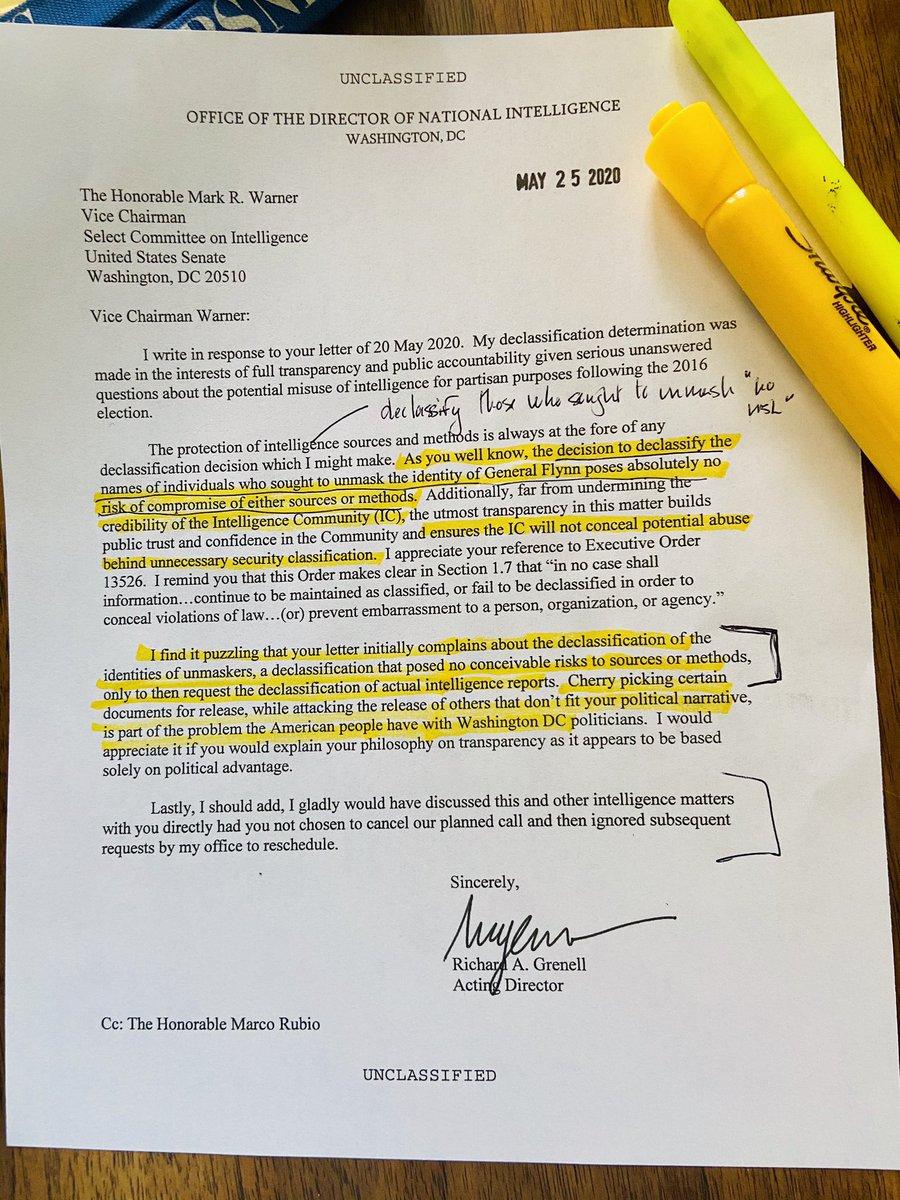 Former acting Director of National Intelligence Richard Grenell will swear in Texas Republican Rep. John Ratcliffe to serve as President Donald Trump's permanent DNI Today
 
From his first day in office, Grenell prioritized "cleaning house" at ODNI to both eliminate leaks from within the IC and reduce interagency overlap in order to refocus ODNI resources on Trump's priorities. He saved an estimated $19 million through the elimination and consolidation of government and contractor resources
— Instituted an ODNI hiring freeze in March
— Eliminated 200 contractor positions representing 15 percent of the total core contractor pool
— Eliminated 100 positions by terminating vacancy announcements posted for more than 18 months
— Eliminated 10 government and contractor positions within the National Security Partnerships (NSP) directorate
— Implemented a 15 percent reduction in the National Counter Terrorism Center (NCTC) by eliminating overlapping efforts within the center; appointed the first woman, Lora Shiao, to lead NCTC
— Established the Economic and Financial Security Executive, a position responsible for coordinating and leading economic security and financial intelligence-related efforts
— Consolidated more than 4 cyber-related offices into a single, unified U.S. Cyber Executive
— Created a Compartmentation Task Force, responsible for protecting the country's sensitive intelligence
— Appointed Neil Wiley, a career intelligence professional with over 35 years of experience, to serve as ODNI's Principal Executive
Russia Investigation And Mike Flynn
As noted by Trump, Grenell made more information public regarding the Russia investigations in three months than ODNI did in the two and a half years before the president tapped him to head the office. He also rewrote certain IC procedures to protect citizens from future abuses of power by the government.
— Directed the IC to change the way they protect the identities of U.S. citizens contained within intelligence reporting
— Completed the IC review of 53 transcripts from the House Intelligence Committee's investigation into alleged Russian collusion in the 2016 election and made the transcripts publicly available
— Declassified previously redacted footnotes from the Justice Department Inspector General's report into the origins of the Russian collusion investigation
— Declassified a list of government officials who requested the unmasking of National Security Advisor Michael Flynn
— Replaced FBI with ODNI as the primary group responsible for briefing presidential campaigns on information derived from national intelligence
— Declassified former national security adviser Susan Rice's email to herself regarding a January 2016 Oval Office where progress on the Russia investigation was discussed
— Declassified additional transcripts in ODNI's possession for potential public release by incoming DNI John Ratcliffe
Pushed International Intelligence Community To Support LGBT Issues
Grenell is recognized as the first-ever openly gay cabinet member in U.S. history, and he took it upon himself to push the IC to prioritize inclusion and sensitivity.
— Formed an IC-wide working group to support the U.S. government policy for the decriminalization of homosexuality in the 69 countries where homosexuality is a punishable offense
— Directed national security and counterintelligence experts to examine the process by which LGBT applicants obtain a security clearance without jeopardizing the often delicate relationships with family, friends, and co-workers
Source: dailycaller.com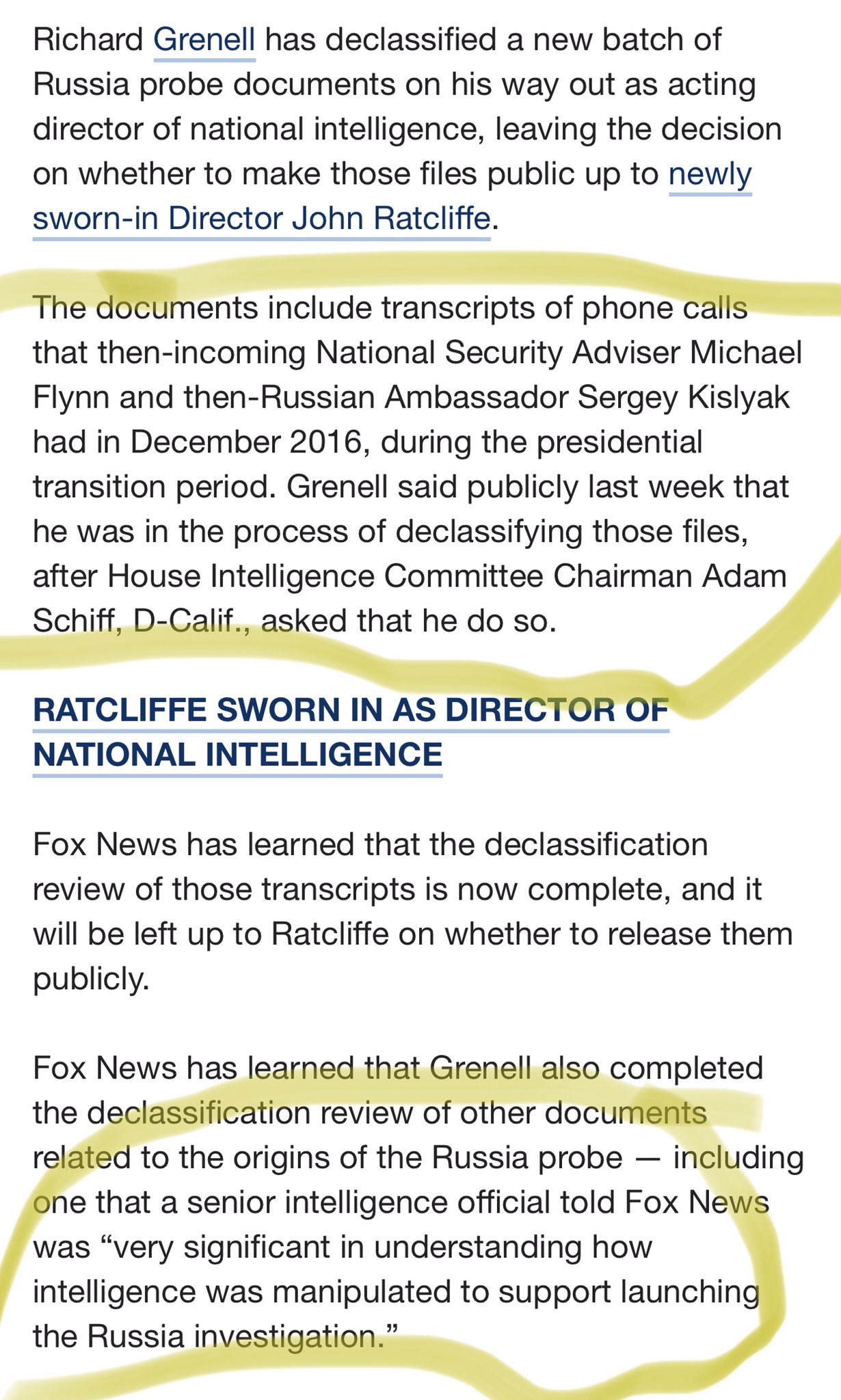 Trump   hailed recent disclosures of information regarding government surveillance of the Trump campaign, saying that it has afforded him a chance to "break" the so-called "deep state."
In an interview with journalist Sharyl Attkisson, Trump suggested that additional information is going to come out about the surveillance efforts.
"Other things are going to come out, too. And a lot of other things are going to come out, but you don't even need other things," he said.
"I would like to see it move much faster," Trump added.
Trump went on to accuse the "deep state" of trying to derail his presidency through the investigation into possible collusion between the Trump campaign and Russian government. (RELATED: After Denying Its Existence, Liberals Celebrate The Deep State)
"If it keeps going the way it's going, I have a chance to break the deep state," Trump said.
Source: dailycaller.com
The MSM continues to report that Trump would like to move the Rep National Convention to Doral in Miami, Trump sets the fake news straight
I have zero interest in moving the Republican National Convention to Doral in Miami, as falsely reported by the Fake News @nytimes in order to stir up trouble. Ballroom is not nearly big enough & would like to stay in N.C., whose gov. doesn't even know if he can let people in? https://t.co/nqBBPv4VXS

— Donald J. Trump (@realDonaldTrump) May 25, 2020
There is NO WAY (ZERO!) that Mail-In Ballots will be anything less than substantially fraudulent. Mail boxes will be robbed, ballots will be forged & even illegally printed out & fraudulently signed. The Governor of California is sending Ballots to millions of people, anyone…..

— Donald J. Trump (@realDonaldTrump) May 26, 2020
….living in the state, no matter who they are or how they got there, will get one. That will be followed up with professionals telling all of these people, many of whom have never even thought of voting before, how, and for whom, to vote. This will be a Rigged Election. No way!

— Donald J. Trump (@realDonaldTrump) May 26, 2020
---
Geopolitical/Police State
YouTube's enforcement algorithm is automatically removing any comments that contain one of two Chinese-language phrases that are critical of the ruling Chinese Communist Party.
Any comment posted to YouTube, which is owned by Google, that contains the phrase "共匪," which stands for "communist bandit," or "五毛," which translates to "wumao" and stands for "50-cent party," is deleted within seconds without notification to the user,
The Chinese phrase that translates to "50-cent party" is in reference to CCP-funded online astroturfers that are allegedly paid 50 Chinese cents for every online post supportive of the communist government, 
"This appears to be an error in our enforcement systems and we are currently investigating," a YouTube spokesperson \
Source: dailycaller.com
The NY Times is calling for Twitter to censor the Pesident of the United States. If they can push for that who won't they try to censor next?

Given silicon valley's leftist tendencies you all better watch out, they are coming for all of you. pic.twitter.com/pSochvaYRN

— Donald Trump Jr. (@DonaldJTrumpJr) May 26, 2020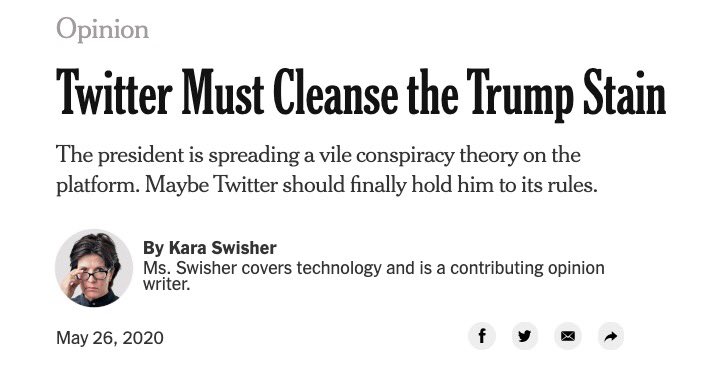 The Trump administration is considering setting up a panel to review cases of anti-conservative bias from major tech companies, according to a report in the Wall Street Journal. 
  All of these companies have made similar assurances in the past, despite numerous high-profile cases of political bias, such as Facebook putting mainstream conservatives like Candace Owens and Brigitte Gabriel on a "hate agents review" list, Twitter taking days to remove violent threats against Trump-supporting high school students and refusing to take action against hate speech from New York Times editorial board member Sarah Jeong, and leaked footage of Google executives declaring their intention to make Trump's populist movement a "blip" in history.
Source: breitbart.com
---
False Flags
America is starting to reopen for business across the country—except for a handful of states where lockdown orders are expected to remain in place for weeks to come. With very few exceptions, the cities and states that have ordered their businesses to remain comatose and their millions of workers to go without paychecks are blue, blue, blue. This list includes New York, New Jersey, Michigan, Pennsylvania, Illinois, California and Oregon. They all have Democratic governors.
Meanwhile,  states like Arizona, Florida, Georgia, Tennessee and Texas will be doing much better in jobs and business conditions.
Fairfax County Health Department responded to my request for nursing home/longterm care facility deaths from COVID-19. As of May 22, there have been 249 coronavirus deaths in these facilities. That's ***75 percent*** of all Fairfax County deaths from coronavirus as of today (330)

— Susan Ferrechio (@susanferrechio) May 22, 2020
Who's name is that at the upper-left corner of this order pic.twitter.com/oqR4MBM0EM

— Rasmussen Reports (@Rasmussen_Poll) May 19, 2020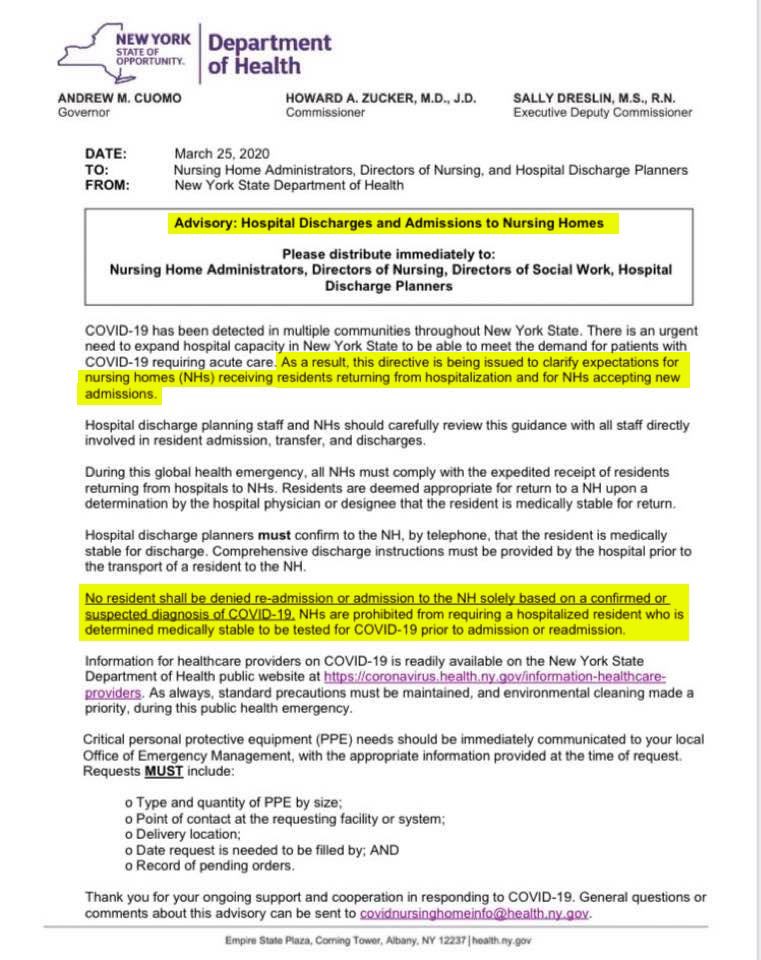 @NYGovCuomo has deleted his march 25 th order requiring nursing homes to take #coronavirus positive patients. Wait. He says he did nothing wrong. So why try to cover up his mistakes? It's hard to delete a disaster that big from history governor

— George E. Pataki (@GovernorPataki) May 22, 2020

The WHO paused hydroxychloroquine testing, most likely because the results were looking good and they must have received marching orders to shut it down, now we know why Trump decided to hold back the funding and investigate the WHO
Turkey will continue to use a controversial anti-malarial drug, hydroxychloroquine, to treat coronavirus patients despite a study warning about its side effects and the WHO's decision to drop it from a global study, 
"
"It is very effective when combined with other drugs in the early stages of the disease. However we don't see the same results in the later stages when the patient needs to be put on intensive care."
Source: middeleasteye.net