New FBI Docs Show Obama Administration Spied On Trump And The Senate – Episode 2184
The economy is springing back into motion, Obama's top economist says the best economic data in history is about to happen, Kudlow is now saying the same thing. Trump is now de-regulating, this is not about just bringing companies back to the US, its about removing the hidden tax. The US has now imported a record amount of gold. Gold destroys the fed. The [DS]/MSM are fighting for their lives, they know once the truth comes out it is game over. They are prepared to use all assets to get what they want, even if it means destroying the US. The event narrative is rapidly falling apart. The healthy people want to know why they are still on lockdown, does this really have to do with the virus or the election.
Check Out The X22 Report Spotlight YouTube Channel X22Report Spotlight
Please check Newzsentinel.com for the latest news on the economic collapse. The Sentinel Alerts are updated throughout the day.
---
Current News – 05.27.2020
Watch The X22 Report On Video
---
Economy
That's what former president Jason Furman, a top economist in the Obama administration a
The former cabinet secretaries and Federal Reserve chairs in the Zoom boxes were confused, though some of the Republicans may have been newly relieved and some of the Democrats suddenly concerned.

"Everyone looked puzzled and thought I had misspoken," Furman said in an interview. Instead of forecasting a prolonged depression-level economic catastrophe, Furman laid out a detailed case for why the months preceding the November election could offer Trump the chance to brag — truthfully — about the most explosive monthly employment numbers and GDP growth ever.
Consumption and hiring started to tick up "in gross terms, not in net terms," Furman said, describing the phenomenon as a "partial rebound." The bounce back "can be very very fast, because people go back to their original job, they get called back from furlough, you put the lights back on in your business. Given how many people were furloughed and how many businesses were closed you can get a big jump out of that. It will look like a V."
Source: thegatewaypundit.com
A new report from the libertarian Competitive Enterprise Institute (CEI) offers new insight into just how much unelected bureaucrats have adopted and embraced Article 1 powers of legislating in the administrative state.
According to CEI's annual "Ten Thousand Commandments: An Annual Snapshot of the Federal Regulatory State," federal regulations have cost an estimated $1.9 trillion each year. That's $14,455 per American household on average in "hidden taxes," greater than corporate and personal income taxes combined. In 2019, government agencies passed 2,964 new regulations, the first year that federal bureaucrats passed fewer than 3,000 since records began to take measure in 1976. That's still thousands of new rules passed in the absence of Congress, however, which passed just 105 bills in comparison.
Even as new regulations dropped below 3,000 largely as a result of President Donald Trump's two-for-one rule, wherein agencies were required to cut two regulations for each new one passed, 
Source: thefederalist.com
 .
As of last week, the Federal Reserve's total assets stood at a record $7.04 trillion. That's a third of the entire U.S. economy.
PELLEY: Where does it come from? Do you just print it?
POWELL: We print it digitally. So as a central bank, we have the ability to create money digitally. And we do that by buying Treasury bills or bonds for other government guaranteed securities. And that actually increases the money supply. We also print actual currency and we distribute that through the Federal Reserve banks.
Again, we can't just print more gold, digitally or otherwise.
Growth in M2 money supply—which includes not just cash but also savings deposits, money market funds and other "near" money—has historically been like Miracle-Gro for gold prices. As of May 11, the percent change in money supply from a year earlier was greater than 23 percent. That's the highest rate since at least 1981, the furthest I could go back on the Federal Reserve Bank of St. Louis' website.

 

Big-Name Money Managers Back Gold
Other financial experts and money managers are similarly making the case for gold and other hard assets as helicopter money floods the economy.
"This is a perfect environment for gold to take center stage," wrote Paul Singer, billionaire hedge fund manager, in a memo to Elliott Management clients. "Gold today, despite its modest run up in recent months, is the answer to the question: Is there an asset or asset class which is undervalued, underowned, would preserve its value in severe inflation, and is not adversely affected by COVID-19 or the destruction of business value that is being caused by the virus?"
Source: forbes.com
US Imports Record Amount of Gold From Switzerland as Virus Upends Trade
 Swiss exports of gold to the United States leapt to 111.7 tons in April — by far the biggest monthly total on record — while shipments to other destinations dwindled, 
The United States, which typically imports less than a ton of gold a month from Switzerland, accounted for 85% of that total.
S Source: voanews.com
---
Political/Rights
I hope all Republican House Members vote NO on FISA until such time as our Country is able to determine how and why the greatest political, criminal, and subversive scandal in USA history took place!

— Donald J. Trump (@realDonaldTrump) May 26, 2020
Trump is arguing to limit his own surveillance powers. That's called an authentic President.
New FBI document confirms the Trump campaign was investigated without justification
Late last week the FBI document that started the Trump-Russia collusion fiasco was publicly released 
The prosecutor, U.S. Attorney John Durham, will rightly point out that the document that spawned three years of political misery fails to articulate a single justifiable reason for starting the "Crossfire Hurricane" investigation.
Keep in mind the FBI cannot begin to investigate anyone, especially a U.S. citizen or entity, without first creating a document that lists the reasonably suspicious factors that would legally justify the investigation. That's FBI 101, taught Day 1 at the FBI Academy at Quantico, Va.
 the document violative of all FBI protocols and, therefore, invalid on its face. An agent cannot approve his or her own case; that would make a mockery of the oversight designed to protect Americans. Yet, for this document, Peter Strzok was pitcher, catcher, batter and umpire.
Source: thehill.com
New papers make CLEAR that the Obama Administration SPIED, in an unprecedented manner, on the Trump Campaign and beyond, and even on the United States Senate. Nobody would ever have believed that this level of illegality and corruption would be taking place in our beautiful USA!

— Donald J. Trump (@realDonaldTrump) May 27, 2020
"Mr. Rosenstein will testify   concerning the FISA warrant applications and other matters."  
Chairman Graham Statement Regarding Rosenstein Testimony before Committee Hearing on Crossfire Hurricane
 Senate Judiciary Committee Chairman Lindsey Graham (R-South Carolina) made the following statement after announcing that former U.S. Deputy Attorney General Rod Rosenstein would testify before the committee at a hearing entitled "Oversight of the Crossfire Hurricane Investigation: Day 1".
 
"This will be the first in a series of oversight hearings regarding all things Crossfire Hurricane and the Mueller investigation."
Source:  .judiciary.senate.gov
Lets talk about what Nancy Pelosi is trying to do, she is trying to use a proxy voting power grab
🚨 BREAKING NEWS 🚨

House Republicans are suing Nancy Pelosi to block her proxy voting power grab that lets her unilaterally pass legislation with just 20 Members present.

It's simple: one representative should equal one vote.

We can't let her get away with this.

— Steve Scalise (@SteveScalise) May 26, 2020
The MSM/DS/Ds are pushing their agenda  with the event, they are now in line with the social media platforms  to push mail in ballots. Twitter is now fact checking the president on twitter.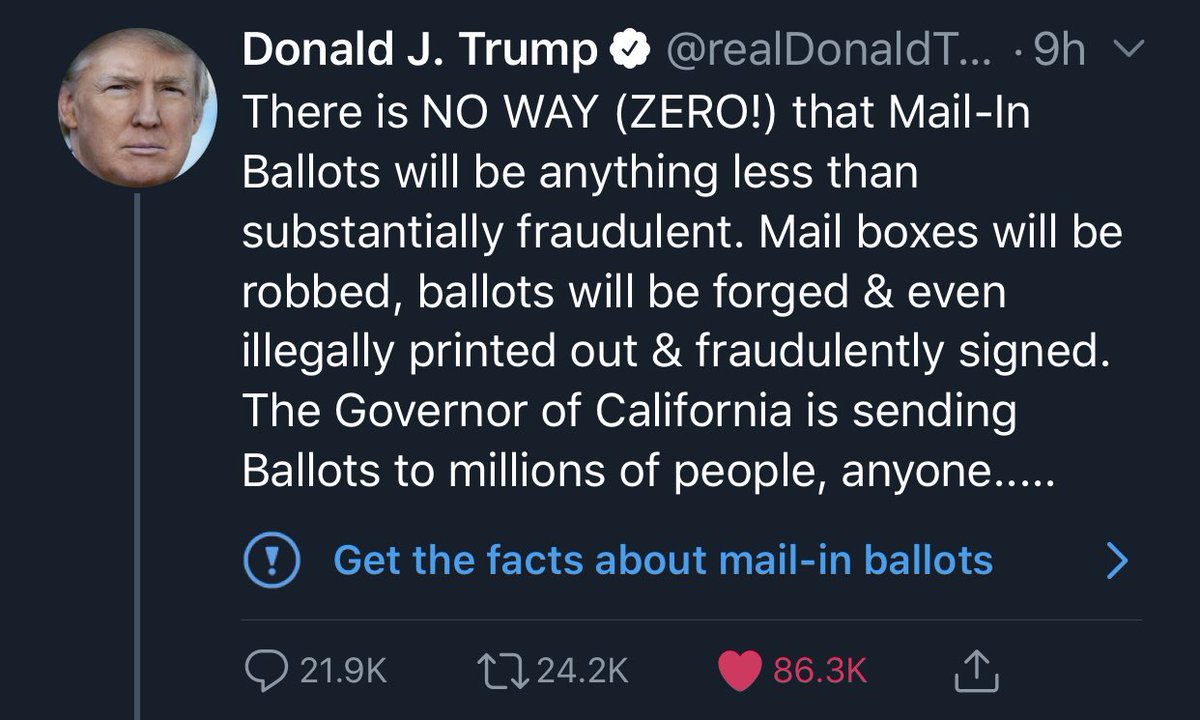 #BREAKING: USPS Mail Carrier Arrested & Charged With Attempted Election Fraud – https://t.co/zfwDYhWkDT pic.twitter.com/Nd3voRXHXf

— Breaking911 (@Breaking911) May 26, 2020
Thomas Cooper, a mail carrier in Pendleton County, was charged today in a criminal complaint with attempted election fraud, U.S. Attorney Bill Powell announced.
Cooper, age 47, of Dry Fork, West Virginia, is charged with "Attempt to Defraud the Residents of West Virginia of a Fair Election." According to the affidavit filed with the complaint, Cooper held a U.S. Postal Service contract to deliver mail in Pendleton County. In April 2020, the Clerk of Pendleton County received "2020 Primary Election COVID-19 Mail-In Absentee Request" forms from eight voters on which the voter's party-ballot request appeared to have been altered. 
This Twitter "fact check" system is such a joke.

They cite liberals from outlets like HuffPost, Vox, even the ACLU.

Who don't they cite?

An actual SoS who said TODAY that in the last 5 years, 83% of the fraud in his state has been with mail-in ballots. pic.twitter.com/9TAqMjQshC

— Ronna McDaniel (@GOPChairwoman) May 26, 2020
Jerry Nadler in 2004: "Paper ballots are extremely susceptible to fraud…I can show you experience which would make your head spin." pic.twitter.com/L7zJhoB3O8

— Danny De Urbina (@dannydeurbina) May 25, 2020
Twitter did not disclose it is an active "Premier Partner" of Vote Early Day 2020, an election advocacy group seeking to educate voters that they can cast their ballots prior to Election Day, including via the vote-by-mail option.
  Twitter serves as a "Premier Partner" of Vote Early Day 2020 along with ViacomCBS and other media firms.
Other listed media companies that are "Premier Partners" of Vote Early Day are BuzzFeed, MTV, Univision and USA Today.
More "Premier Partners" include leftist groups such as the League of Women Voters, the Democracy Fund, Alliance for Youth Organizing and Rise.
MTV recently partnered with Michelle Obama to host a virtual prom with the subtheme of increasing voter turnout.
Source: breitbart.com
Its funny on how Biden, Schiff and many others are not fact checked, only Trump about voting, Schiff was wrong on many of his tweeted
Republicans feel that Social Media Platforms totally silence conservatives voices. We will strongly regulate, or close them down, before we can ever allow this to happen. We saw what they attempted to do, and failed, in 2016. We can't let a more sophisticated version of that….

— Donald J. Trump (@realDonaldTrump) May 27, 2020
….happen again. Just like we can't let large scale Mail-In Ballots take root in our Country. It would be a free for all on cheating, forgery and the theft of Ballots. Whoever cheated the most would win. Likewise, Social Media. Clean up your act, NOW!!!!

— Donald J. Trump (@realDonaldTrump) May 27, 2020
NEW: @HawleyMO is demanding that @Google's Sundar Pichai provide information about censorship of YouTube comments critical of China's Communist Party.

"Selling out American principles to curry favor with communist officials is no way to run an American business."

FULL: pic.twitter.com/N5pfwRGTs3

— j.d. durkin (@jiveDurkey) May 27, 2020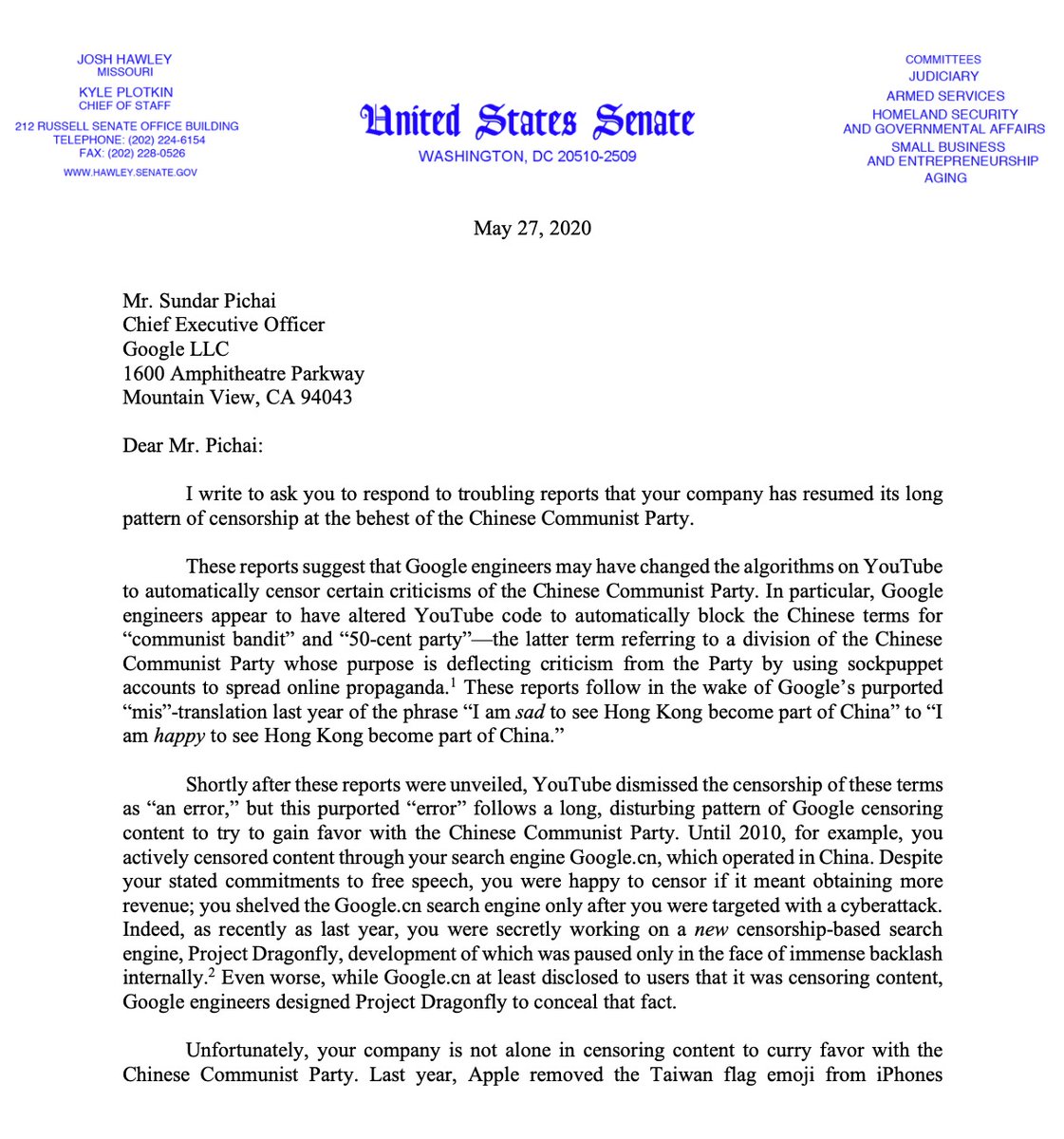 Q

 

!UW.yye1fxo

 

ID: 04b0ec

 No.599627

Anonymous

 

ID: 3c9270

 No.59961


>>599607
Qare we going to have more freedom of speech on "private" public speech services or not?please answer this question
>>599614
100%
Regulated.
Some platforms will collapse under own weight of illegal activities.
Q
Q

 

!xowAT4Z3VQ

 

ID: 28003e

 No.967390

CLASS ACTION LAWSUITS ARE VERY EFFECTIVE.
2 BILLION PEOPLE.
GLOBAL.
SCALE.
REGULATION OR KILL?
PEOPLE HAVE THE POWER TO DECIDE.
Q
---
Geopolitical/Police State
---
War
U.S. troop pullout from Afghanistan ahead of schedule
The U.S. military withdrawal from Afghanistan is considerably ahead of schedule 
Under a deal the U.S. signed with the Taliban in February, the Pentagon was to bring troop levels down from about 12,000 to 8,600 by mid-July, before withdrawing all forces by May 2021.
But a senior U.S. defense official said the troop number was already at about 7,500, as commanders look to accelerate the withdrawal because of fears over the coronavirus pandemic.
Source: dailystar.com.lb
We are acting as a police force, not the fighting force that we are, in Afghanistan. After 19 years, it is time for them to police their own Country. Bring our soldiers back home but closely watch what is going on and strike with a thunder like never before, if necessary!

— Donald J. Trump (@realDonaldTrump) May 27, 2020
---
False Flags
Hey @TwitterSupport since you're in the business of fact checking why don't you have your verified accounts remove a photo that IS NOT Derek Chauvin? pic.twitter.com/VHzXIq0HfU

— Rosie memos (@almostjingo) May 27, 2020
Man in photo is someone else, a giant troll on Facebook. pic.twitter.com/OXcWiapmsZ

— Rosie memos (@almostjingo) May 27, 2020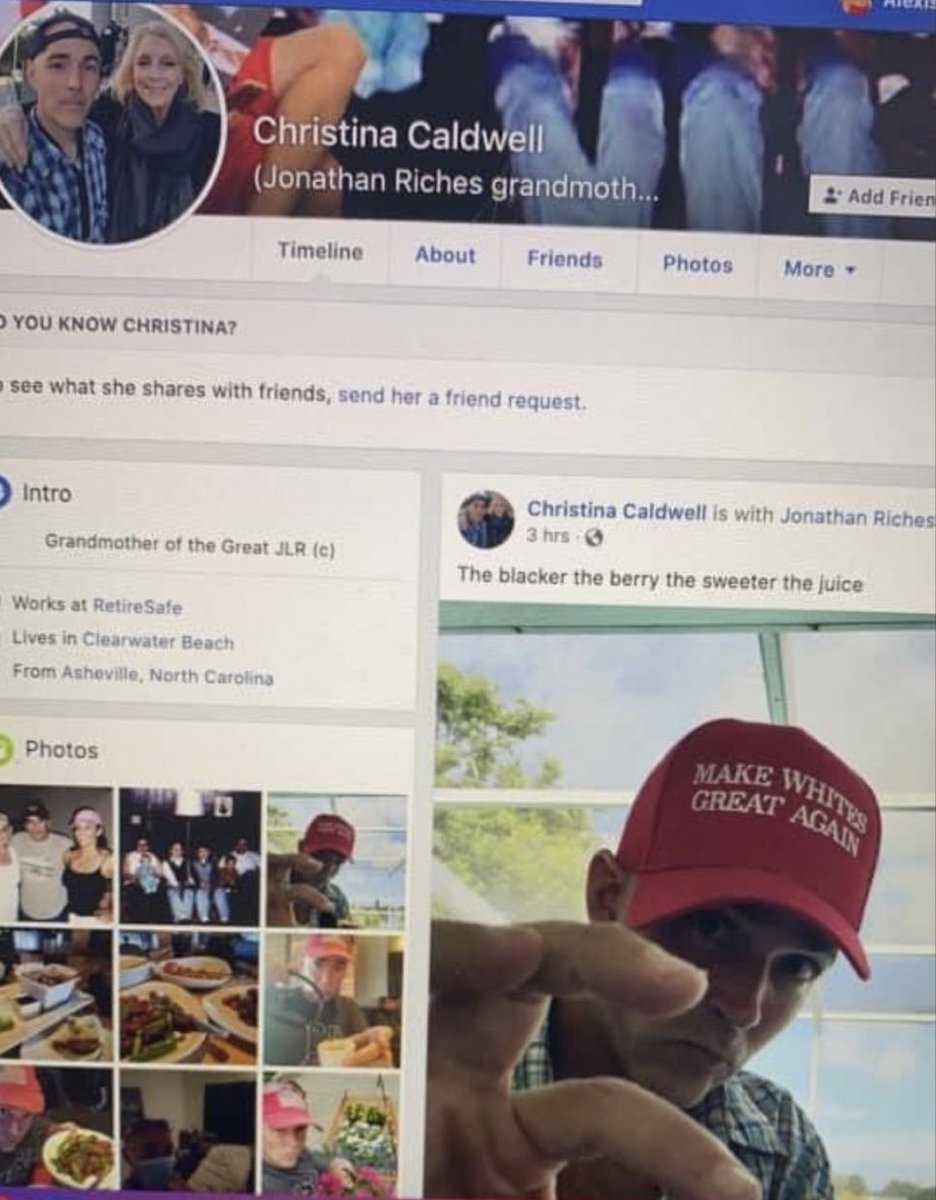 We pass 15,000,000 Tests Today, by far the most in the World. Open Safely!

— Donald J. Trump (@realDonaldTrump) May 27, 2020
---
Q
READ: Full Executive Order 13526 Section 1.7 cited @RichardGrenell letter to @MarkWarner "in no case shall info..continue to be maintained as classified, or fail to be declassified… to conceal violations of law…(or) prevent embarrassment to a person, org, or agency."@CBSNews

These people are stupid.
Q
BREAKING: Multiple Planned Parenthood officials have admitted under oath to trafficking the body parts & organs of babies they slaughtered. These are criminal acts.
BOMBSHELL: Planned Parenthood officials admit under oath to selling aborted body parts
These people are sick!
Q
f768deaef22da979abcfb73c9175b54d71fcf891666c5449c1969c07c3cc8920.png
[D]s in coordination w/ [D]&[F] assets have launched [as known] a full-scale insurgency attack against the people of the United States in an effort to regain power by any means necessary.
All assets deployed.
[Current landscape] coordinated and deliberate events to impact [rig] P_election.
WAR.
The future of our Republic is at stake.
Survival as a Nation.
We Rise or We Die.
We, the People.
Q
The [DS] players are fighting for their lives, they don't care what they destroy, who they ruin as long they stay in power, everything is going to be deployed, I believe this is just the beginning, when do you play the trump card. 
>>9326604
we're in for one hell of a show
Australian researchers see virus design manipulation
A forthcoming Australian scientific study concludes that the coronavirus causing the global pandemic contains unique properties suggesting it was manipulated in a Chinese laboratory and was not the result of a natural occurrence.
Five scientists who conducted the study discovered an unusual ability of the SARS-CoV-2 virus, as the pathogen behind COVID-19 is called, to easily infect humans.
The scientists said there is no sign so far that the virus can be found in other animals, including bats or the exotic wildlife sold for fresh meat at a market in the Chinese city of Wuhan, where the virus was first identified and where China maintains a major laboratory studying such viruses.
The preliminary report of the study, which is now being peer-reviewed, is based on computer modeling of the virus' ability to infect various animals, including humans. It was published May 13 on the Cornell University website arXiv.org, which is used for discussion of pre-publication papers.
Nikolai Petrovsky, the lead researcher, said his team suspects human manipulation in Wuhan because of the unmatched ability of the virus' protruding spike to infect human cells.The virus' binding strength for human cells "far exceeds" similar properties for infecting other animals, he said in a statement on the forthcoming report.
"This, plus the fact that no corresponding virus has been found to exist in nature, leads to the possibility that COVID-19 is a human-created virus," said Mr. Petrovsky, a professor at the College of Medicine and Public Health at Flinders University in Adelaide, Australia.
"It is therefore entirely plausible that the virus was created in the biosecurity facility in Wuhan by selection on cells expressing human ACE2, a laboratory that was known to be cultivating exotic bat coronaviruses at the time."
Q
Voting at home shouldn't be a question of politics. It's a health issue. No American should have to choose between their protecting their health and exercising their right to vote. #inners
Was this ever about the health and well-being of people?
Was this ever about the virus?
Or, was this ALWAYS ABOUT THE ELECTION?
Q
Judicial Watch Sues to Stop Newsom's 'Vote by Mail' Mandate
Judicial Watch just sued in federal court to stop the special, statewide vote-by-mail mandate issued by California Gov. Gavin Newsom.
Our complaint argues that Newsom's Executive Order N-64-20, requiring all California counties to conduct all-mail ballot elections, violates the U.S. Constitution and California state law. According to the U.S. Constitution, only state legislatures may determine the "Times, Places and Manner of holding Elections for Senators and Representatives," and only state legislatures may establish the manner in which electors to the Electoral College are appointed. The lawsuit points out that "[n]either defendant in this case is a 'Legislature,'" as required under the Constitution, and "[t]he California Legislature never delegated to [Newsom] its authority under the Elections Clause or Electors Clause to regulate the manner of conducting elections for senators, representatives, or presidential electors."
Source: judicialwatch.com
Q

 

!!Hs1Jq13jV6

 

ID: 578e55

 No.9331660 

NEW
Cuomo granted immunity to nursing home executives, after big-money campaign donation: report
New York Gov. Andrew Cuomo, who signed legislation granting hospital and nursing home executives immunity from lawsuits related to the novel coronavirus last month, previously received a big-money boost from a powerful health care industry group, according to a new report.
The Guardian reports that the New York State Democratic Committee, then backing Cuomo's primary run in 2018, received more than $1 million from the Greater New York Hospital Association (GNYHA) — a lobbying group for hospital systems, some of which own nursing homes. The donation made the group one of the state party's largest contributors in that cycle. Three of the hospital association's top officials separately gave more than $150,000 to Cuomo's campaign between 2015 and 2018, the outlet reported.
That donation is now drawing scrutiny after Cuomo signed legislation last month that protects executives from lawsuits — just as he is under continued criticism for his March 25 order (since deleted) requiring nursing homes to take in COVID-19 patients.
https://www.foxnews.com/politics/new-york-health-website-deletes-cuomos-order-on-nursing-homes
New York health website deletes Cuomo's order linked to nursing home fatalities
New York officials have scrubbed Gov. Andrew Cuomo's March 25 order requiring nursing homes to take in COVID-19 patients from the state health department website — even as Cuomo's office insists that the order, which has been linked to thousands of nursing home deaths, remains in effect.
The web page that once contained the order now directs to a page indicating that the file is "not found." The archive indicates that the deletion occurred sometime after May 5, around the time that criticism over New York's nursing home fatalities intensified.
A copy of the page saved by the Internet archive Wayback Machine, however, shows that Cuomo's order stated: "No resident shall be denied readmission or admission to the NH [nursing home] solely based on a confirmed or suspected diagnosis of COVID-19. NHs [Nursing homes] are prohibited from requiring a hospitalized resident who is determined medically stable to be tested for COVID-19 prior to admission or readmission." 
http://web.archive.org/web/20200407103413/https://coronavirus.health.ny.gov/system/files/documents/2020/03/doh_covid19-_nhadmissionsreadmissions_-032520.pdf
If elderly most at risk [known][knowingly] why order COVID-19 positive patients back into nursing homes?
Hospital capacity? plenty of room
USNS Comfort capacity? 1000 patient capicity, it had 182 
Ignorant [A] or deliberate [B]?
[Accountability] options outside [other than] ballot box?
Q
So there was room in Central Park, there was room on the ship why the decision to have them admitted to nursing homes. Was this being used to increase the death toll. 

(Source: G. Girvan / FREOPP; Graphic: A. Roy / FREOPP)
An updated study revealed 42% of all US coronavirus deaths occurred in nursing homes.
That comes out to over 40,000 Deaths in Nursing Homes!
Another 60,000 deaths were outside of nursing homes.
Which is what you might expect from a typical flu season.
At least 4,900 seniors have died in New York State nursing homes from the coronavirus so far this year.
Around 20 percent of all New York state deaths were in nursing homes.
Source: thegatewaypundit.com
YOUR VOICE AND YOUR VOTE ARE WHAT MATTERS MOST.
[WITNESSING] ATTEMPTS TO REMOVE BOTH.
1. CENSORSHIP [FASCISM][AUTHORITARIAN]
2. DEPLATFORM/REMOVAL [SILENCE]
3. MAIL-IN-VOTE FRAUD [DILUTE]
[WATER DOWN] CONSTITUTIONAL RIGHTS?
FREEDOM OF SPEECH?
WILLFULLY BLIND OR WILLFULLY ACCEPTING?
Q
EZCW5XRXkAEv3F5.jpg
Trump's "Keyboard Warriors" Get The Story While The Legacy Media Ignores #Obamagate 
CrowdStrike – the forensic investigation firm hired by the Democratic National Committee (DNC) to inspect its computer servers in 2016 – admitted to Congressional investigators as early as 2017 that it had no direct evidence of Russian hacking, recently declassified documents show.
CrowdStrike's president Shawn Henry testified, "There's not evidence that [documents and emails] were actually exfiltrated [from the DNC servers]. There's circumstantial evidence but no evidence that they were actually exfiltrated."
This was a crucial revelation because the thousand ships of Russiagate launched upon the positive assertion that CrowdStrike had definitely proven a Russian hack.
This sworn admission has been hidden from the public for over two years, and subsequent commentary has focused on that singular outrage.
The next deductive step, though, leads to an equally crucial point: Circumstantial evidence of Russian hacking is itself flimsy and collapses when not propped up by a claim of conclusive forensic testing. 
Intelligence was manipulated by [Brennan].
Watch the news.
Q
>>9332398
We hold these truths to be self-evident, that all men (& women) are created equal, that they are endowed by their Creator with certain unalienable Rights, that among these are Life, Liberty and the pursuit of Happiness. — That to secure these rights, Governments are instituted among Men (& Women), deriving their just powers from the consent of the governed, — That whenever any Form of Government becomes destructive of these ends, it is the Right of the People to alter or to abolish it, and to institute new Government, laying its foundation on such principles and organizing its powers in such form, as to them shall seem most likely to effect their Safety and Happiness. Prudence, indeed, will dictate that Governments long established should not be changed for light and transient causes; and accordingly all experience hath shewn that mankind are more disposed to suffer, while evils are sufferable than to right themselves by abolishing the forms to which they are accustomed. But when a long train of abuses and usurpations, pursuing invariably the same Object evinces a design to reduce them under absolute Despotism, it is their right, it is their duty, to throw off such Government, and to provide new Guards for their future security. —
Member this Q?
When do you expend ammunition?
HRC direct attack re: Q?
Why?
2,200+ [attack] MSDNC articles written/pushed in past 2 years?
Control of narrative [threat]?
Logical thinking.
Information Warfare.
Q
Q

 

!!Hs1Jq13jV6

 

ID: 128aa1

 No.9334356 

NEW
Italy: 96% of Coronavirus Fatalities Had Other Chronic Illnesses
The overwhelming majority of deaths with coronavirus in Italy have occurred in the presence of two or more serious chronic illnesses, according to a report from the country's national health authority (ISS).
Italian health authorities announced in a recent report that only 4.1 percent of fatalities testing positive for Wuhan coronavirus happened in the absence of serious comorbidities, while the average age of the deceased was over 80 years.
The average number of comorbidities among all Italian deaths with the coronavirus was 3.1, ISS revealed. Just 15 percent of fatalities occurred with the presence of just one other serious pathology, while 21.4 percent died with two other pathologies, and 59.6 percent with three or more pathologies.
The most common comorbidities were arterial hypertension (in 68.3 percent of cases), type-2 diabetes (30.1 percent of cases), ischemic heart disease (in 28.2 percent), atrial fibrillation (22.5 percent), chronic renal failure (20.4 percent).
The report also revealed an average age of 81 among those who have died with coronavirus in Italy. One of the most astonishing findings of the report was that only 1.1 percent of all coronavirus deaths in the country happened to people below the age of 50, while more than 57 percent were over 80.
"The latest numbers show that new cases and fatalities have a common profile: mostly elderly people with previous illnesses,"  
The more you know…
Q
Q

 

!!Hs1Jq13jV6

 

ID: 128aa1

 No.9334514 

NEW
'Quarantine' is when you restrict the movement of sick people.
'Tyranny' is when you restrict the movement of healthy people.
Q