FBI & Now Twitter Involved In Manipulating The Elections, [DS] Election Rigging Exposed – Ep. 2937
Podcast: Download (Duration: 1:17:28 — 34.7MB)
Watch The X22 Report On Video
The green new deal is falling apart. The people are not going along with it. The people in Europe are hitting a point of no return. The US economy is imploding, US pending home sales are plunging and it almost down to the level of covid. Companies are laying off, Biden just went against the Union. The [CB] is now pushing the [CBDC] and they are trying to remove alternative currency at the same time. The [DS] is panicking, they have lost their weapon of narrative control. The [DS] will continue to hit EM and Trump. They don't have a choice. The election fraud is being produced. Each time more evidence is produced the case is getting stronger and stronger. Bait and traps are being used by EM and Trump and the [DS] is doing exactly what they want.
---
Economy
Volkswagen's CEO wrote that electric vehicle battery plants in the European Union are "practically unviable" at this moment due to soaring energy costs.
Further investment in key industrial projects such as battery cell plants in Germany and the EU are becoming more unfeasible due to policymakers inability to control skyrocketing long-term energy prices, according to the Chief Executive Officer for Volkswagen AG's name brand, Thomas Schaefer.
Source: zerohedge.com
 US pending home sales   dropped to 4.6% MoM (September was revised slightly higher from -10.2% MoM to -8.7% MoM)…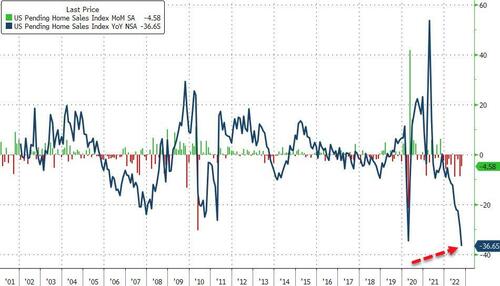 Source: Bloomberg
This the 5th straight month of sales declines (and 11th of the last 12 months) leaving the YoY drop down over 36% – the biggest annual drop ever.
Source: Bloomberg
Pending home sales are often looked to as a leading indicator of existing-home purchases given properties typically go under contract a month or two before they're sold
Source: zerohedge.com
Scoop @PuckNews: The long-anticipated CNN layoffs, expected to target hundreds of employees, are underway as of today…

— Dylan Byers (@DylanByers) November 30, 2022
DoorDash to lay off 1,250 employees as CEO says costs grew too fast
One month after the August Jolts report showed an unexplained surge in job openings (following the dire plunge in July when nearly 1 million job openings were gone), things are reverting back to normal because after the "freak" spike in job openings in the last month of the summer which was downward revised to 407K (after the 890K drop in July), in September the trendline resumed its grind lower as another 353K job openings were gone, bringing the total to just 10.334 million, down from the record 11.855 million hit in March of 2022.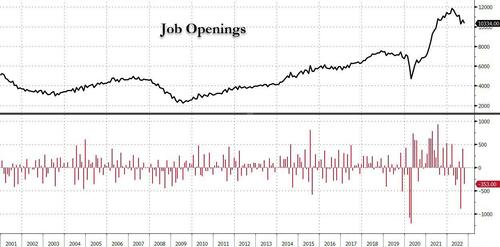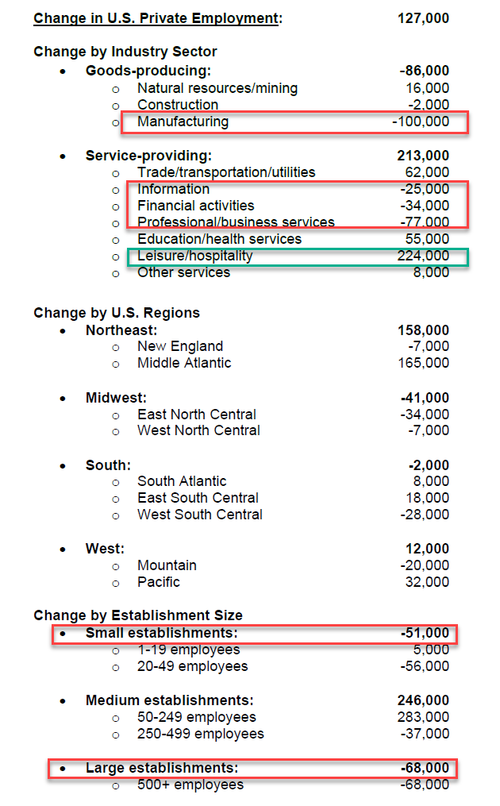 …
The trend here is clear: lower and to the right. According to the BLS.
Source: zerohedge.com
Biden, who often calls himself the most pro-union president in history, is now working to prevent a rail strike by using century-old legislation to end negotiations on terms multiple rail unions have rejected.
 
"As a proud pro-labor president, I am reluctant to override the ratification procedures and the views of those who voted against the agreement," Biden said in a statement. "But in this case, where the economic impact of a shutdown would hurt millions of other working people and families, I believe Congress must use its powers to adopt this deal."
 Now the president is warning that should a railroad strike go forth, it would "devastate our economy."
The president's economic advisers reported that up to 765,000 people, including union workers, could be out of work within the first two weeks of the strike, which would lead to supplies, such as chemicals needed for clean drinking water for communities or food for farms, not getting delivered.
Congress has the power to avert the strike in this situation because rail strikes are governed by the Railway Labor Act of 1926 instead of the National Labor Relations Act. Congress has the authority to intervene and force the unions to accept the agreement's terms.
A handful of rail unions, on the other hand, are calling out what they see as a betrayal from the White House.
"Joe Biden blew it," Railroad Workers United said in a press release. "He had the opportunity to prove his labor-friendly pedigree to millions of workers by simply asking Congress for legislation to end the threat of a national strike on terms more favorable to workers. Sadly, he could not bring himself to advocate for a lousy handful of sick days. The Democrats and Republicans are both pawns of big business and the corporations."
Source: washingtonexaminer.com
The U.S. House of Representatives overwhelmingly passed a bill  requiring railroad unions and companies adopt the provisions of an administration-brokered contract.
Matthew A. Weaver, a carpenter working for a rail union and former union official, criticized the president's call to Congress, which he said seemed "to cater to the oligarchs," according to The New York Times Monday.
"There is a sentiment among some railroad workers that they thought the president was going to absolutely battle all the way to the end to get them exactly what they wanted," a former Department of Labor official told Politico Monday. "He's going to have some unhappy people."
Source: dailycaller.com
"We are headed into, I think, quite a serious recession," he told Twitter employees in a meeting. "Frankly, the economic picture ahead is dire, especially for a company like ours that is so dependent on advertising in a challenging economic climate," he told them.
In September, he tweeted: "A major Fed rate hike risks deflation". The Tesla CEO also said that the Fed is "looking in the rearview mirror" with its interest rate hikes.
Source: latestly.com
29-Year-Old Crypto pioneer Nicolai Mushegian was found dead a few weeks ago from an apparent drowning just days after warning that the "CIA and Mossad pedo elite" were going to kill him. Mushegian posted the warning on Twitter on October 28th.
And now Vyacheslav Taran, 53, the co-founder of trading and investing platform Libertex, has died in a helicopter crash near Monaco after taking off from Switzerland.
Questions have arisen on how the crash occurred on a day with blue skies and clear weather.
Vyacheslav Taran
A 35-year-old French pilot was also killed.

The deputy public prosecutor of Nice, who visited the scene, said the fault of a third party could not be ruled out.

Source: thegatewaypundit.com
---
Political/Rights
It was barely a month ago that The New York Times was worried that Ye's "white lives matter" stunt would corrupt the Balenciaga brand.

Now they claim concerns over Balenciaga's penchant for child exploitation in advertising is just a QAnon conspiracy. 🧵

— Libby Emmons (@libbyemmons) November 30, 2022
The groomers over at the New York Times are downplaying the Balenciaga child sexualization scandal by blaming QAnon and Fox News 
These people are an embarrassment to humanity.
I'm constantly observing the various online echo chambers, so I can gather a better pulse for where the normies are at in their progression to awakening. I can comfortably say, the Balenciaga situation is making waves in the mainstream unlike any singular event I've seen before.
Reddit is a left-wing cesspool that doesn't allow conservatives, and yet the most popular subs (this one has 7.4 million members) are discussing Balenciaga with horror.
Red pills are spilling into new demographics.
Miami Antifa is reportedly planning to counter-protest during an event focused on protecting children from sexualization featuring Moms for Liberty, Florida Fathers for Freedom, and Gays Against Groomers.
The "Protect the Children Rally" will take place in Fort Lauderdale on December 3. The event is described as a rally against "radicalized sexual curriculum, gender ideology, child grooming, parental alienation, and 'gender affirming care.'"
"Nearly every single one of us in our organization would have been led to believe we were born in the wrong body if we grew up today, and if our parents bought into the cult, would have been medically transed too," Gays for Groomers wrote on Twitter.

 
Antifa Miami is outraged and is planning to counter-protest the individuals standing up against child grooming and sexualization. 

 

"Counter protest planned as well! South Florida don't like fascists," the group wrote, using the hashtags #FuckOffFascists, #WeAreEverywhere, and #Transtifa.
"WE KEEP US SAFE," the flier reads. "Assert your right to exist! Counter protest against far right bigotry and stand with the LGBTQ+ community."
The flier urges Antifa protesters to "bring masks, signs and RAGE" and to "stand against those who aim to erase your existence":
It remains unclear why, exactly, Antifa Miami is openly protesting the protection of children,
Source: breitbart.com
Five Secret Service rental vehicles that were used by President Biden and his retinue over the Thanksgiving weekend are now burned. The Secret Service vehicles burst into flames in a parking lot on Monday, just one day after the president left from his Nantucket vacation. (Video above.)
Firefighters sprayed down the smoking remains of one the vehicles. The five vehicles included: A Chevy Suburban, Ford Explorer, Infiniti QX80, Ford Expedition, and Jeep Gladiator
It is unknown why five different vehicles would burst into flames on an airport tarmac, but there is virtually no chance that this is a case of spontaneous self-immolation. These are five different kinds of vehicles. Burning cars is often done when criminals or government agents wish to dispose of evidence.
Source:  beckernews.com
Who thinks the Secret Service was **renting vehicles** from local car rental agencies when they were protecting President Trump and his family?
Why is the Secret Service now **renting** vehicles for the protection detail traveling around Delaware with the Biden family?
Is the SS having to rent vehicles for Biden's detail because the SS-owned vehicles are elsewhere?
Who currently has top priority for SS-owned vehicles for their protection details if it's **not** "President" Joe R. Biden?
Real America's Voice@realamericasvoice
Rental cars Secret Service used burst into flames one day after Biden vacation
The cause of the fires is under investigation but remains unknown as of press time.
americasvoice.news/justthenews
Watch Us Live on: Pluto bit.ly/plutolive or Rok bit.ly/ravroku
Rental cars Secret Service used burst into flames one day after Biden vacation – Real America's Voice News
Real America's Voice News is your one stop news and entertainment network.
---
Geopolitical/Police State
Several other major Democrat politicians attacked me too, all around the same time. It was coordinated.

Outside of party leadership and independents like Manchin, they are essentially actors on the political stage, not directors or script writers.

— Elon Musk (@elonmusk) November 29, 2022
I hope Elon is ready for the massive moves being organized against him. He has more enemies than any person alive right now, and Twitter is an active threat to every corrupt power source on the planet.

— Charlie Kirk (@charliekirk11) November 30, 2022
ALERT: Anti-free speech EU autocrats threaten to ban @ElonMusk's @Twitter over refusal to abusively censor Americans and other users. Biden administration, which also supports censorship, is unlikely to act to defend American company and Americans against this foreign assault.

— Tom Fitton (@TomFitton) November 30, 2022
Elon is baiting the [DS] in
Republican Gov. Kristi Noem of South Dakota issued an executive order banning the use of TikTok on Tuesday, according to a state press release.
The order prohibits any South Dakota state agency or government employee from downloading or using the TikTok application on a state-issued device, as well as from visiting the TikTok website. Additionally, it extends these prohibitions to any contractor and their personnel doing business with the state
"South Dakota will have no part in the intelligence gathering operations of nations who hate us," said Noem in the release. "The Chinese Communist Party uses information that it gathers on TikTok to manipulate the American people, and they gather data off the devices that access the platform."
The order cites TikTok's Chinese parent company, ByteDance, being subject to the National Security Law of the People's Republic of China, legislation passed in 2015 that mandates private companies to cede user data to the Chinese government upon request, as the reason for the prohibition.  
---
War
US Space Force to track North Korean missiles
The United States Space Force is working to create an early warning system for North Korean missile launches, a top commander has revealed, hoping to step up surveillance following a record number of weapons tests by Pyongyang this year.
A
"We are looking at how we integrate a sensor architecture that gives us as much warning as possible in terms of any type of missile activity out of North Korea," he said, noting that Washington would share information with regional partners and allies and seek ways to "incorporate commercial sensors" into the new warning system.
source: rt.com
---
False Flags
·
CHINA  A truck fleet in Beijing transported 8,000 isolation pods to build a new quarantine camp.
@realtimenews
Australia RESCINDS over half of Covid-related fines administered during harsh lockdownshttps://t.co/j5ZV7cTSOa

— RSBN 🇺🇸 (@RSBNetwork) November 30, 2022
Anyone shocked by the report that the Centers for Disease Control (CDC) withheld data about a potentially fatal complication from COVID-19 vaccinations until it was forced under court order to release the data hasn't been paying attention to the CDC's multitude of misstatements and lies over the last two years.
 data released under court order shows 1 in 3 among the earliest populations to get vaccinated reported needing medical care, missed school or work, or was unable to "perform normal daily activities," while the CDC continued to fight to keep the data from the public.
Here's more, via Just the News: 
V-Safe Part 2: Evidence that the CDC purposely did not include check-the-box selections for myocarditis, pericarditis, seizures, stroke, and other known potential serious harms in its premier Covid-19 vaccine safety reporting system – v-safe. https://t.co/YVi6lj5fX0

— Aaron Siri (@AaronSiriSG) November 28, 2022
Source: redstate.com
https://twitter.com/KevinForBOS/status/1597684967320203264?s=20
A Randomized Control Trial (RCT), the gold standard for scientific evidence in the medical community, was released on Tuesday in the Annals of Internal Medicine. The results from the RCT study deal a major blow to advocates of N95 and surgical masks as effective means to "stop Covid."
As the study details, 1009 health care workers in four countries who provided direct care to patients with suspected or confirmed COVID-19 were given either N95 respirators or medical masks and tracked over the course of 9 weeks.
The most critical and surprising finding from the study is that N95 respirators did not significantly outperform "medical masks." The results were based on PCR test for Covid-19 infection and testing for nucleocapsid antibodies (which reveals exposure to the SARS-CoV-2 virus).  In this chart of "cumulative hazard," which is based on a Cox Proportional-Hazards model that displays calculated risk over time, the masks performed similarly.
The second confounding issue is universal masking. Masks may plausibly impair the transmission of droplet-spread SARS-CoV-2 for a limited period of exposure time. But when the virus is aerosolized, masks are not designed to keep the virus from being exhaled through a mask or from penetrating a mask.
Thus, the "solution" of forcing everyone to wear N95 respirators becomes extremely problematic. N95 respirators are not designed to be worn for long hours each day by the general public. As can be seen from the supplement to the study, there were a number of Adverse Events reported for both medical mask and N95 respirator wearers.
Source: beckernews.com
Two school boards with conservative majorities parted ways with their schools' superintendents in November, both of whom oversaw the implementation of mask mandates into the fall of 2021.
On Nov. 29, Sarasota County Schools Superintendent Brennan Asplen agreed to step down after the school board criticized mask mandates which Asplen backed, while on Nov. 22 Brevard County Superintendent Mark Mullins, who faced backlash for supporting an extended mask mandate, agreed with the school board to enter into separation negotiations. Both school districts extended their mask mandates into the fall of the 2021-2022 school year.
In the 2021-2022 school year, Brevard Public Schools extended its emergency mask mandate through Nov. 28, giving parents an opt-out option, according to the school website. Sarasota County Schools implemented a mask mandate in August 2021 but it was repealed in October, according to the Herald-Tribune.
Source: dailycaller.com
---
Q
This is why it's absolutely imperative that House GOP investigate Jan 6. At least 5 FBI informants, including the VP of Oath Keepers, were embedded in the group months beforehand. Jury never heard this or witness testimony that some attempted to help police including Harry Dunn.

— Julie Kelly 🇺🇸 (@julie_kelly2) November 29, 2022
3638  
Anonymous
12/02/2019 12:50:31
 ID:
8kun/projectdcomms: 2
Image Name:
DzxUUNUWwAAqoyy.jpg
Filename:
9675449076e431b237dca67f5ed465b8d7c7a3d5dd286f84ba339cdf30a154eb.jpg