First Arrest Will Verify Direction, Marker [9], [DS] Will Fight, We Have More Than We Know – Ep. 2653
Watch The X22 Report On Video
The Biden administration has lost the narrative, the people do not believe, they can see through the economic lies. Psaki tries to convince everyone that nobody cares about the debt ceiling. The debt ceiling has been raised and the Fed just signaled that they are ready to bring down the economic system. The [DS] is preparing to fight back, they are now pushing the J6 fake investigation. Schiff changed the texts to fit the narrative, Cheney text reading was a flop. This will boomerang on them. The Durham investigation is moving forward, the path is set. The next phase will be arrests, this will verify the direction. The election fraud is being produced and the [DS] is now in the process of blocking all information. Trump and the patriots know the playbook, countermeasures are in place. We have more than we know.
---
Economy
Democrats' insistence that you are ACKSHUALLY saving several ***cents*** due to their policies is one of the more bizarre messaging strategies I've seen, but they keep doing it pic.twitter.com/gVzyjM12Xu

— Zach Parkinson (@AZachParkinson) December 14, 2021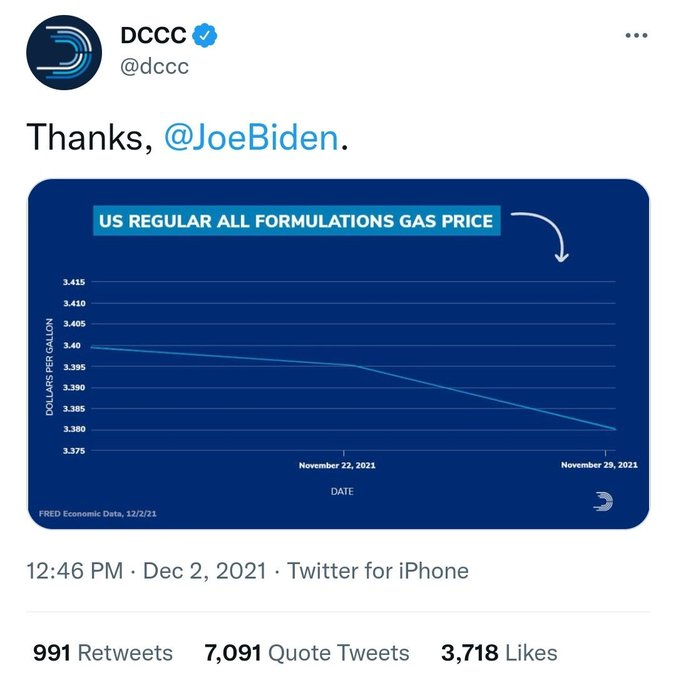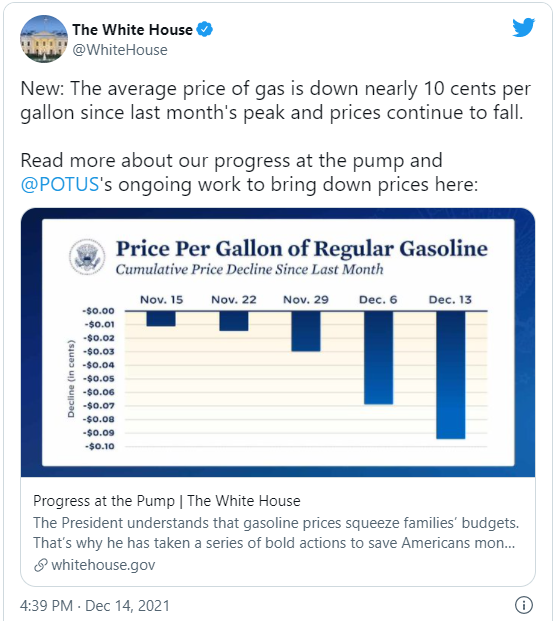 Man, that chart looks real different when you zoom out a bit https://t.co/ZzHKwI2BlL pic.twitter.com/JlpMAtq7EN

— Zach Parkinson (@AZachParkinson) December 14, 2021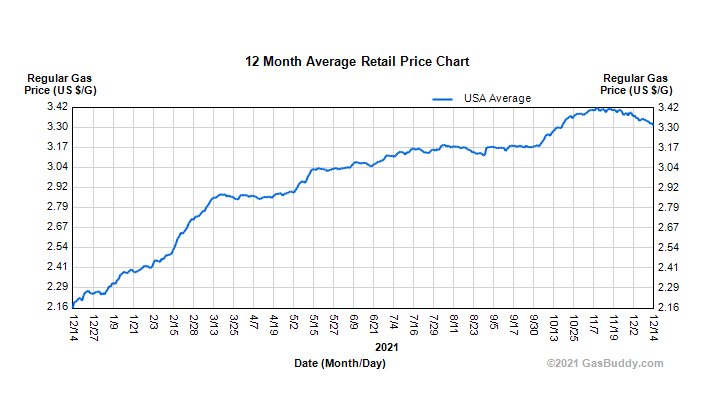 Psaki says she doesn't know anyone concerned about the debt limit
White House press secretary Jen Psaki offered a glib response when asked what President Joe Biden would say to people concerned with Congress delaying the next national debt fight until 2023.
"I'm not sure what American person is saying that or is concerned about the debt limit, but maybe there's somebody you've met on the street," Psaki told a reporter on Tuesday. "I don't know."
Source: washingtonexaminer.com
The House of Representatives is voting after midnight tonight because @LeaderMcConnell allowed Democrats to bi-pass the filibuster and ram through the debt ceiling increase to $31.5 TRILLION.

Mitch is Biden's bitch.

— Marjorie Taylor Greene 🇺🇸 (@mtgreenee) December 15, 2021
---
Political/Rights
 charitable organization asked all white donors to reflect on their racism this year.
 
After a major uproar the Salvation Army backtracked over Thanksgiving weekend and released a statement refuting the claims of their racial demands.
The Salvation Army then removed its absurd "Let's Talk About Racism" guide following the intense backlash over a text last week that told white donors to "sincerely apologize" for their racism while hinting that Christianity is institutionally racist.
The link to the page is now broken and you get this when you click on it. 
And now the big surprise…
The Salvation Army is now facing a toy and donation shortage this year.
 
Source: thegatewaypundit.com
TAKE A LISTEN
LIBERTY ACCORDING TO AMERICA'S FOUNDING FATHERS
Liberty is a core value of our country.  Unfortunately, too many Americans today have become comfortable in the way our country is run, forgetting that the many liberties we experience are a true gift. In fact, liberty was one of the primary reasons why our Founding Fathers set out to form a new nation!
Many, if not all, of our nation's Founding Fathers, were influential businessmen who, at one point, lived under British rule. However, after their journey to America, they realized they longed for true freedom and independence from the rule of King George III.
 

The colonists were protesting discriminatory policies from what they considered an authoritarian government. "A traitor is everyone who does not agree with me." These words were uttered by King George III and were incompatible with the ideas enumerated in the Declaration.
WHAT DOES LIBERTY REALLY MEAN?
The Merriam-Webster dictionary defines liberty as "the quality or state of being free; the power to do as one pleases; freedom from physical restraint; freedom from arbitrary or despotic control; the positive enjoyment of various social, political, or economic rights and privileges; the power of choice."
 

Protest is an American tradition. Franklin wrote, "It is the first responsibility of every citizen to question authority." 

Our founders warned us of the dangers to the democracy they built. Jefferson predicted, "The natural progress of things is for liberty to yield …" And Sam Adams forewarned a decline in democratic values, "A general dissolution of principles and manners will more surely overthrow the liberties of America than the whole force of the common enemy …"

President Washington warned, "Guard against the impostures of pretended patriotism." David Hume, an 18th century philosopher whose ideas greatly influenced our Declaration of Independence wrote, "The heights of popularity and patriotism are still the beaten road to power and tyranny …" There is a long list of tyrants who have used patriotism as a means of singular power.

Our founders left us with how to keep our democracy. John Jay, signer of the declaration stated, "I consider knowledge to be the soul of a republic." Benjamin Rush, another signer of the declaration, agreed with Jay, "Freedom can exist only in the society of knowledge." An educated populace is crucial to a democratic government. Thomas Jefferson was a key proponent of education as a safeguard to tyranny. "Educate and inform the whole mass of the people … they are the only sure reliance for the preservation of our liberty."

  Source: libertyjusticehq.com 
A federal judge   struck down Trump's lawsuit to block Congress from getting his tax returns.
US District Judge of the US District Court for the District of Columbia, Trevor McFadden, a Trump appointee, dismissed Trump's case to keep the Treasury from giving his tax returns to the House Committee on Ways and Means.
The judge gave Trump's lawyers 14 days to appeal.
Source: thegatewaypundit.com
3383
Q
!!mG7VJxZNCI
07/08/2019 23:36:13
 ID: 3a3d46
Archive Bread/Post Links: 6961828 / 6961951
Direct Link: 6961951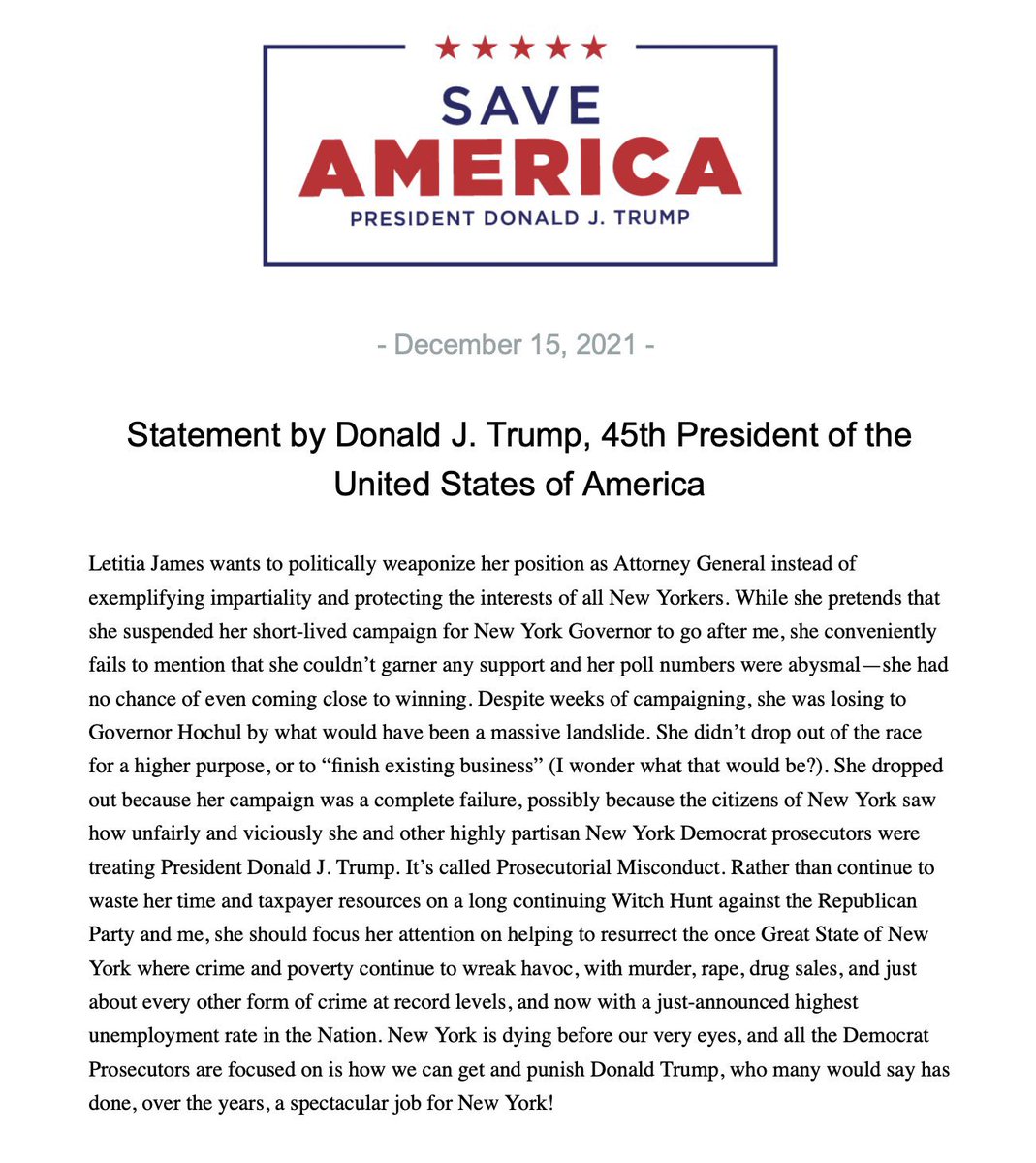 the 5th Circuit has slapped down that attempt at an appeal, and the decision is absolutely savage.
There are a lot of highlights here. At one point, the court has this to say, countering the government's claims that the case is moot and that the Biden administration can skip various review processes.
The court also scoffed at the idea that Biden can simply print out a word document and order the ending of a program that impacts the states in such a way without going through any of the legal and legislative review processes. Remember, Democrats celebrated the courts denying Donald Trump the right to end DACA based on the Administrative Procedures Act.
In laughable fashion, Biden thought he could get away with violating the precedent his own party forced into place just a few years ago. Nope, that's not how any of this works.
Source: redstate.com
Four FBI officials engaged in sexual intercourse with foreign prostitutes, according to an internal report.
The Department of Justice (DOJ) Office of the Inspector General (OIG) concluded an investigation into six FBI officials related to their involvement with foreign prostitutes, finding that four of the officials engaged in sexual intercourse, while a fifth solicited "commercial sex," according to a report issued Tuesday by the DOJ OIG. A sixth official "committed misconduct" by failing to report the incidents, according to the report.
The OIG also uncovered evidence that the individuals involved failed to inform the FBI of their contacts with the prostitutes, some of whom were foreign nationals.
"The OIG investigation further found that five officials failed to report contact or relationships with foreign nationals, including foreign nationals from whom they procured commercial sex, in violation of FBI policies," the report read.
Source: dailycaller.com
---
Geopolitical/Police State
New York Attorney General Letitia James (D) said Tuesday on ABC's "The View" that she was looking into following Gov. Gavin Newsom's (D-CA) recent proposal to allow private citizens to sue manufacturers and distributors of assault weapons.
Source: breitbart.com
The 2nd is right, and it shall not be infringed upon
Campaign to kill Justice Department's "China Initiative" intensifies despite Beijing's continuing espionage activities.
As a high-profile Harvard professor stands trial for hiding his ties to the Chinese government, the Biden administration is coming under intense pressure from a loose coalition of lawmakers, nonprofits, and academics to abandon the so-called China Initiative, a Justice Department effort to preserve America's technological edge by thwarting Chinese spies.
Launched by the Trump administration in 2018 and continued so far by its successor, the China Initiative is designed specifically to identify and prosecute those engaged in hacking, stealing trade secrets, and conducting economic espionage for the Chinese government on U.S. soil. The program has led to several arrests and convictions, including, for example:
Last month, a federal jury convicted Yanjun Xu, deputy division director of China's Sixth Bureau of the Jiangsu Province Ministry of State Security, for attempting to steal trade secrets and commit economic espionage.
In July, three officers in China's Ministry of State Security were charged with participating in a global computer intrusion campaign targeting infectious disease research.
In April, a PhD chemist and U.S. citizen from Michigan was convicted of wire fraud, economic espionage, conspiracy to commit trade secret theft, and possession of stolen trade secrets to help set up a new company in China.
Charles Lieber, a renowned nanotechnology professor who chaired Harvard's Chemistry Department, was arrested and charged nearly two years ago. Federal prosecutors allege he lied about his involvement in China's Thousand Talents Plan, a Chinese government initiative meant to recruit experts in science and technology, and about becoming a "strategic scientist" at Wuhan University of Technology.
Source: justthenews.com
Trump bans Huawei in U.S. markets, saying Chinese firm poses security threat
President Trump issued an executive order Wednesday giving his administration sweeping powers to block Chinese telecom giant Huawei Technologies Co. and other foreign communications firms from doing business in the United States —
The White House said the president was taking the action to "protect America from foreign adversaries who are actively and increasingly creating and exploiting vulnerabilities in information and communications technology infrastructure and services in the United States."
Source: latimes.com
Huawei working with the CCP to track people, track politicians, etc.
---
False Flags
President Joe Biden and first lady Jill Biden on Tuesday canceled White House Christmas parties over Omicron variant coronovirus fears,
While Joe Biden, Vice President Harris, Jill Biden, and Second Gentleman Doug Emhoff will host the Democrat National Committee's (DNC) holiday party elsewhere in Washington, DC, Tuesday evening, the Bidens have canceled many of the traditional White House Christmas celebrations that afford private citizens a glimpse into the mansion's Christmas cheer.
"
The White House typically invites many private guests for a self-guided tour of the first family's residence, where photos are taken under the presidential seal among elaborate Christmas decorations and iconic art.
But this year the guest list will reportedly be scaled down. LaRosa claimed:
Source: breitbart.com
Wuhan lab leak 'now the most likely origin of Covid', MPs told
Dr Alina Chan says there is also a risk that Covid-19 is an engineered virus
A laboratory leak is now the more likely origin of Covid, MPs have heard, because after two years of searching an animal host has never been found.
Speaking to the Science and Technology Select Committee, Dr Alina Chan, a specialist in gene therapy and cell engineering at MIT and Harvard, said there was also a risk that Covid-19 was an engineered virus.
Dr Chan, said: "I think the lab origin is more likely than not. Right now it's not safe for people who know about the origin of the pandemic to come forward. But we live in an era where there is so much information being stored that it will eventually come out.
"We have heard from many top virologists that a genetically engineered origin is reasonable and that includes virologists who made modifications to the first Sars virus.
"We know this virus has a unique feature, called the furin cleavage site, and without this feature there is no way this would be causing this pandemic.
"A proposal was leaked showing that EcoHealth and the Wuhan Institute of Virology were developing a pipeline for inserting novel furin cleavage sites. So, you find these scientists who said in early 2018 'I'm going to put horns on horses' and at the end of 2019 a unicorn turns up in Wuhan city.
Source: telegraph.co.uk
As a former Army doctor, I'm proud the NDAA passed and included my amendment to ensure servicemembers are protected from a dishonorable discharge for choosing not to get the COVID vaccine. More HERE: https://t.co/qtV9kUHFz6

— Dr. Roger Marshall (@RogerMarshallMD) December 15, 2021
WHO Database Lists 2.7M Adverse Reactions to COVID Vaccines
As of Tuesday, Dec. 14, VigiAccess—the WHO global database of reported potential drug side effects—records a total of 2,727,042 adverse drug reactions related to COVID-19 vaccines. Launched in 2015 as part of the World Health Organization (WHO) Programme for International Drug Monitoring, the database provides public access to information in VigiBase, the largest global database of its kind. 
Source:  uncoverdc.com
  Florida Gov. Ron DeSantis (R) on Wednesday announced what his office branded a "first of its kind in the nation" legislation to combat both woke corporations and Marxist ideologies such as Critical Race Theory (CRT) in schools and places of employment across the Sunshine State.
"It's also based on false history when they try to look back and denigrate the Founding Fathers, denigrate the American Revolution, doing all these different things that even very liberal historians say is not supported by the facts,"
In June, the Florida Department of Education approved a proposal effectively banning Critical Race Theory and content inspired by the divisive ideology from being taught in schools. The rule specifically prohibits educators from indoctrinating or persuading students "to a particular point of view."
However, DeSantis does not believe that the action should end there, as CRT is also embraced in "corporate boardrooms and employee trainings at some of America's most powerful corporations," which assert that the U.S. is a country dominated by white supremacy.
This is why DeSantis is proposing the Stop Wrongs to Our Kids and Employees Act (Stop W.O.K.E Act), dubbed the "first legislation of its kind in the nation, going on the offense against both corporate wokeness and critical race theory in our schools," according to the governor's office.
Additionally, the Stop WOKE Act:
Gives employees a clearer path to a private cause of action against discrimination in the workplace;
Improves a private cause of action for parents and students against indoctrinating practices K-20;
Protects teachers who are trying to do the right thing and pushing back against unlawful mandates from their elected district leadership; and
Gives the State Board of Education enforcement authority in K-12 settings.
Source: breitbart.com
President Joe Biden renewed his pledge Tuesday to pursue "police reform" and "criminal justice" reform, even as violent crime surges across the nation and Democratic leaders are trying to back away from earlier pledges to "defund the police."
Source:breitbart.com
---
Q
24 hours later and even the media has dropped the Meadows texts story once they realized it debunked the Jan 6 Committee
Dirty Schiff Does It Again! Pencil-Neck Doctors J-6 Text Messages to Build Case Against Trump #IndictLiarSchiff TelegramShareEmail
Sean Davis at The Federalist reported:
Rep. Adam Schiff, D-Calif., is now running the same con against a fellow lawmaker. During a hearing Monday night on the riot at the U.S. Capitol on Jan. 6, 2021, Adam Schiff claimed to have proof that a member of Congress texted former White House chief of staff Mark Meadows to instruct former Vice President Mike Pence to overturn the 2020 presidential election results.

Not only did Schiff misrepresent the substance of the text message and its source, he even doctored original text messages, which were obtained and reviewed by The Federalist in their entirety.

Not only did Schiff lie about the substance of the text message and its source, he even doctored the message and graphic that he displayed on screen during his statement. The full text message, which was forwarded to Meadows from Rep. Jim Jordan, R-Ohio, on the evening of Monday, Jan. 5, was significantly longer than what Schiff read and put on screen, but Schiff erased significant portions of the text and added punctuation where there was none to give the impression that Jordan himself was tersely directing Meadows to give orders to Pence on how to handle the electoral vote certification.
Source: thegatewaypundit.com
We need to see Cheney's texts. What did she know ahead of time about the inside job that was January 6?

For example, why did she arrange for her own security that day? https://t.co/B6kC0KtNMh

— Julie Kelly 🇺🇸 (@julie_kelly2) December 14, 2021
Realease everyone's texts on Jan 6. Including Pelosi's text messages and emails before and after it happened. Let's see what AOC texted too.
1. We must remove Adam Schiff from Congress.

It's not enough to take him off committees.

He has heinously abused power & LIED repeatedly to the American people to weaponize the government to attack his political enemies.

He's a Communists.

All Communists must be expelled.

— Marjorie Taylor Greene 🇺🇸 (@mtgreenee) December 15, 2021
2. Liz Cheney and Adam Kinzinger must be kicked out of the House GOP conference.

They are actively participating in a huge lying witch hunt and engaged in an effort aligned with Communists Democrats, violating the House of Representatives very institution, to attack Republicans.

— Marjorie Taylor Greene 🇺🇸 (@mtgreenee) December 15, 2021
3. Letting Cheney and Kinzinger off the hook as they slip away out of office by quitting and defeat in '22 is not enough.

They should be made as examples to all Republicans to never join the liars and communists, abusing the power of Congress and violating our Constitution.

— Marjorie Taylor Greene 🇺🇸 (@mtgreenee) December 15, 2021
Source: thegatewaypundit.com
Also in Fulton, they threw out Trump votes, while spoiled ballots were unlawfully counted for Joe Biden https://t.co/T10lv8Yxey

— Liz Harrington (@realLizUSA) December 14, 2021
The Wisconsin Election Commission "shattered" the law by ordering nursing homes to ignore election laws, leading to widespread voter fraud and ballot harvesting uncovered by the Racine, Wisconsin sheriff's officehttps://t.co/lxaXE0zqPq

— Liz Harrington (@realLizUSA) December 14, 2021
The Wisconsin Legislative Audit Bureau recently found numerous law violations in the 2020 election

Including 44,272 people who voted in November 2020 without ever showing Voter ID

This alone is more than twice the vote margin in the statehttps://t.co/jGIkEgLCZR

— Liz Harrington (@realLizUSA) December 14, 2021
In Nevada, 15 out of 17 counties had more votes than votershttps://t.co/X7fjxOwAEr

— Liz Harrington (@realLizUSA) December 14, 2021
In Pennsylvania, there are 49,141 more votes than voters

By law, Pennsylvania cannot certify any results from precincts that are out of balancehttps://t.co/Jwr9NGYozZ

— Liz Harrington (@realLizUSA) December 14, 2021
Will Move to Federalize Elections – Their Permanent Power Play
3716
Q
!!Hs1Jq13jV6
12/17/2019 17:03:45
 ID: 4e4d4a
Archive Bread/Post Links: 7537521 / 7538263
Direct Link: 7538263