Message Received, Trust The Plan, The [DS]/[D]s Will Cease To Exist Once It's All Exposed – Ep. 2654
Watch The X22 Report On Video
The Build Back better plan is doomed for 2021, Manchin will not agree to it. The [CB] is now pushing the idea that cargo ships with sails will work instead of fossil fuel. Fed hides the inflation projection. The [CB] is now pushing the narrative for the collapse, they have begun pushing against alternate currency. The [DS] is now running to problems, everything they throw at Trump comes back to hit them. The J6 unselect committee was caught changing text messages, Cheney read out of text messages had the opposite effect. This is now about a 4 year election, this is about exposing the [DS]/[D]s to the world. Once this is done they will cease to exist. Scavino sends another message, Trust the Plan, we are on track and the fireworks are going to begin .
---
Economy
 Senator Joe Manchin appears to be done with the badgering and pressure over the Build Back Better legislation.
 discussions between Senator Manchin and the White House are at a stalemate,  
With the Build Back Broke bill unlikely to have enough support prior to the Christmas recess, the communists are trying to shift the focus to the federal takeover of elections.  However, on the election bill Arizona Senator Kyrsten Sinema will not support removing the Senate filibuster.
 source: theconservativetreehouse.com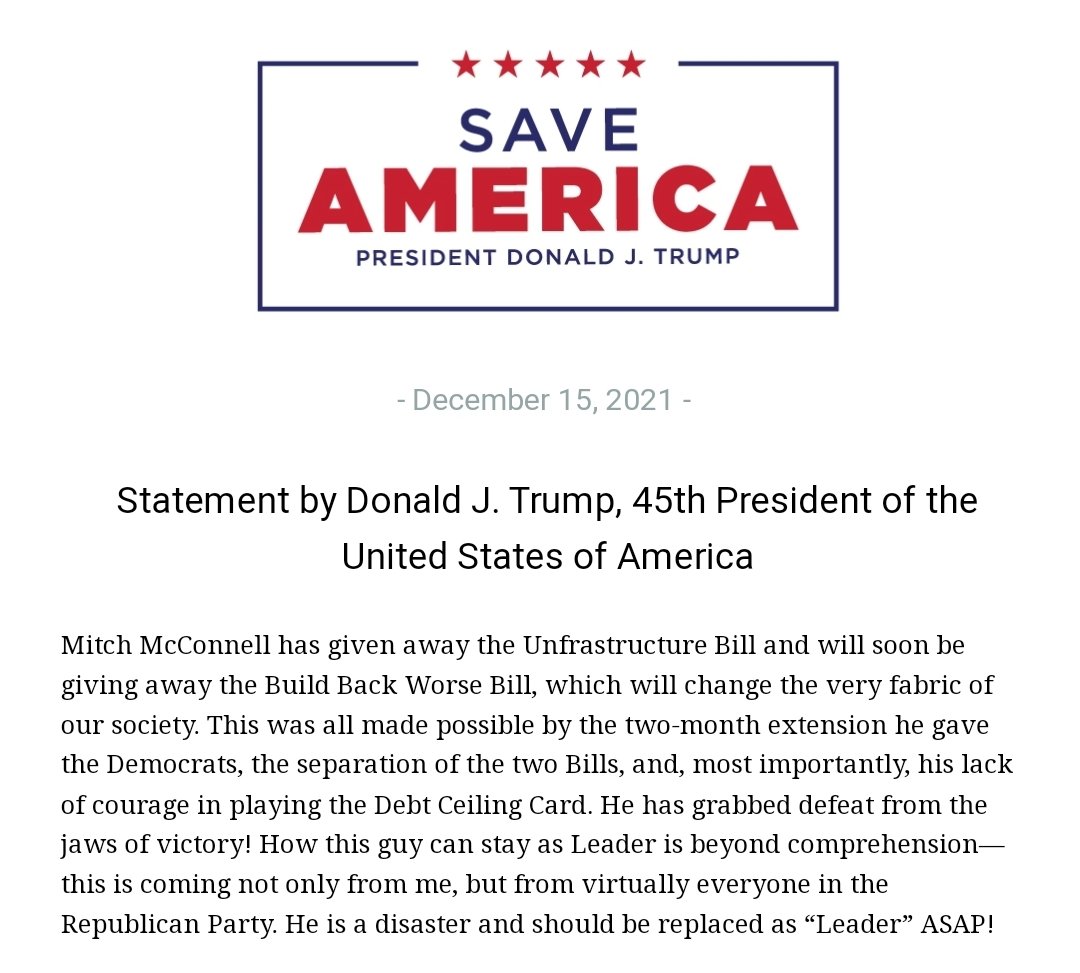 Giant kites that drag cargo ships across the ocean will be trialed next year as the industry attempts to decarbonize https://t.co/mla0JGn6iD

— Bloomberg (@business) December 16, 2021
A new Business Insider report revealed 49 members of Congress failed to correctly report their stock trades which is required under the STOCK Act.
Lawmakers from both sides of the aisle failed to disclose stock trades.
 a reporter asked House Speaker Nancy Pelosi if members of Congress should be banned from trading stocks.
"Should members of congress and their spouses be banned from trading individual stocks while serving in Congress?" a reporter asked Pelosi.Pelosi defended the herself and other lawmakers.
"No…We are a free market economy. We are a free-market economy and they should be able to participate in that," Pelosi said.
Source: thegatewaypundit.com
Q

 

!!mG7VJxZNCI

 

ID: 3a3d46

 No.6961951

DpARa2LU8AEQt_g.jpg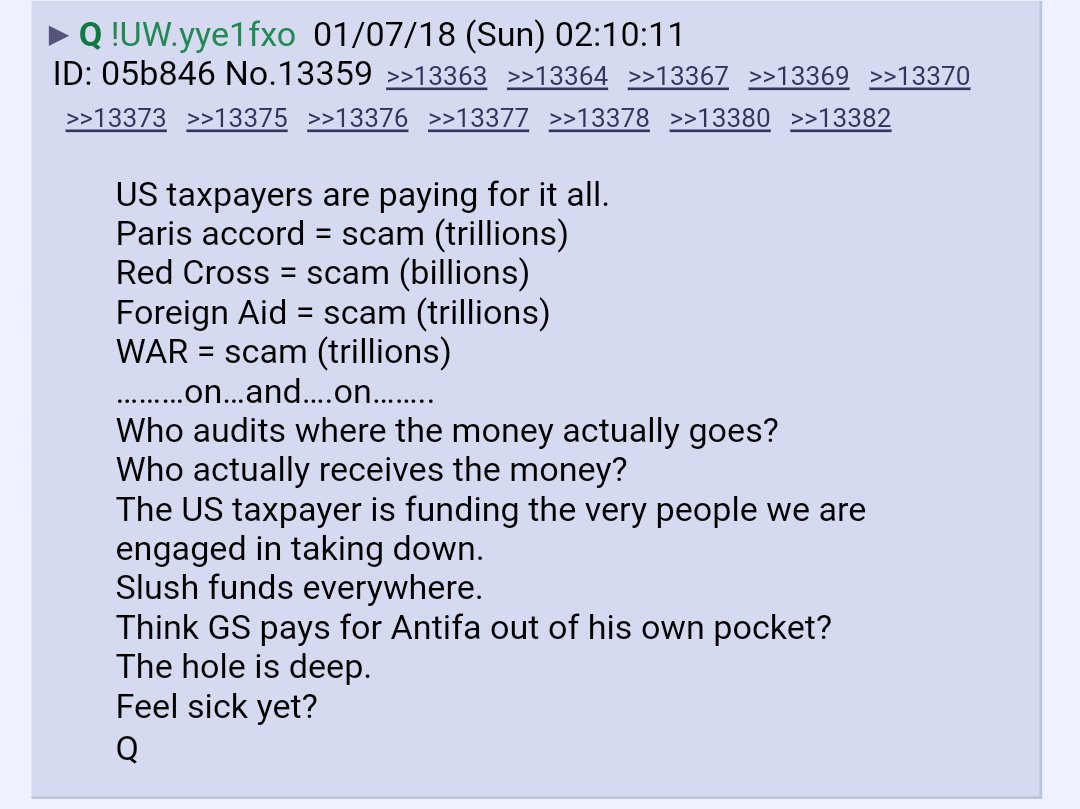 https://twitter.com/SaraCarterDC/status/1146175340433367040
Imagine what would happen, if, by law, every US Congressman/woman, US Senator, President etc. was by US law audited every 1-2 years by an independent agency.
Imagine what would happen if those audits extended to all family members of such 'elected' official?
Would D's continue to push for Foreign Aid to other C's vs. the Homeland?
What happens when the kickbacks dry up?
M. Waters $4mm House?
N. Pelosi net worth $150mm+?
J. Biden son/brother net worth tens of millions?
Clinton family $200mm+ (pre election of BC less than $1mm)?
Obama family $40mm+ (pre election less than $1mm)?
Disguised under book deals?
………….
Those who take are offered more powerful positions within the party (controlled).
DRAIN THE SWAMP.
Q
Florida is leading the nation in job growth due to eased tax laws and COVID restrictions. Florida alone added 579,000 jobs during 2021, representing a 5.8% uptick in new jobs. In contrast, the national average has been a muted 0.5%. As of October, Florida consistently attracted new labor in the private sector for 18 consecutive months. In Q3 alone, the Sunshine State accounted for over one-third of all new jobs created in the US.
Source: armstrongeconomics.com
   The Federal Reserve Chairman Jerome Powell made statements  about inflation
Do you notice anything missing in this chart?
If you look at it and say: "hey, where's the actual 2021 data he is talking about"
The guy is talking about the issue of 2021 inflation and expressing his empathy that inflation is running "far ahead" of the federal reserve projections.  Yet, the graphic Powell uses doesn't even show the 2021 rate of inflation that he is expressing his concern about.
Why wouldn't the graphic show the rate of inflation for 2021?   Well, take one look at what the graph would look like, and you realize immediately why he would not want to put it in front of people.
This is in essence what the graphic would look like if Powell included the 2021 inflation he is concerned about:
The 6.8% inflation rate is just about where the dot in the "j" of the word projection would be located.   That's where we are currently.
Source: theconservativetreehouse.com
In fact, one of the ways the Fed has been able to justify creating more inflation is because they claimed we didn't have enough of it. But the only reason we didn't have enough of it is because they were relying on their own highly rigged CPI. When they compare our inflation rates to the inflation of the 1970s, we're not using the same CPI that we used then.

If we were using the same CPI we used in 1982, the rate would be closer to 15%, which means it's the worst year in inflation in US history.
Source: thegatewaypundit.com
There is an old chart from Bank of America that shows how every Fed tightening cycle ends in a crisis.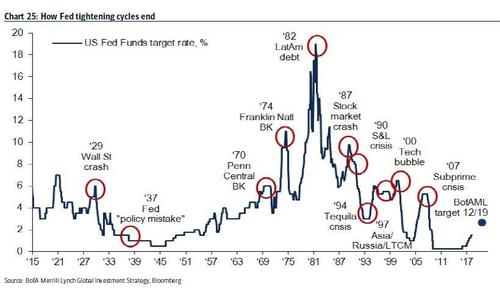 … the only question is when. 
So given that the Fed tightening eventually contributes to recessions, when should the next one occur?
Source: zerohedge.com
Bank warns Bitcoin value could drop to zero
A senior official at the Bank of England has questioned the value of Bitcoin,   citing the currency's volatility and warning that digital assets could theoretically or practically drop to zero.
---
Political/Rights
Read State's Attorney Kim Foxx's texts and emails regarding the Jussie Smollett case
Source: chicagotribune.com
Melania Trum launches a platform for Non Fungible Tokens (NFTs) today, together with "Melania's Vision," a digital artwork and audiofile and the first in a series of limited edition NFTs. Part of the proceeds will go towards Mrs. Trump's efforts to support children in the foster care system.
Mrs. Trump will release NFTs in regular intervals exclusively on MelaniaTrump.com. The first NFT, entitled "Melania's Vision" will be available to purchase for a limited period between December 16 and December 31, 2021. The project is powered by Parler, a free speech friendly social network.
Because NFTs are built on blockchain technology, they are effectively impossible to censor or control. While centralized NFT exchanges can censor their users, they cannot take away a person's ownership of an NFT or their ability to trade it.
Source: breitbart.com
  Joe Biden's National Security Advisor, Jake Sullivan, is married to Attorney General Merrick Garland's legal counsel at the DOJ?….
The same Jake Sullivan who was one of Hillary Clinton's foot soldiers, a foreign policy advisor pushing the fraudulent Trump-Russia conspiracy theory, is now Joe Biden's national security advisor.  That was always sketchy by itself.  However, to discover that Sullivan's wife, Margaret Goodlander, is the legal counsel to Attorney General Merrick Garland, opens up an entire world of conflict issues.
Source: theconservativetreehouse.com
"The Defense's primary contention is that some form of anonymity for its witnesses is justified by the same reasons that the Court permitted three alleged victims and two related government witnesses to testify under pseudonyms," U.S. District Judge Alison Nathan wrote in six-page opinion and order. "The Court disagrees with this basic premise and denies the Defense's motion."
Source: lawandcrime.com
On Wednesday Project Veritas released another shocking investigation on yet another CNN producer fantasizing about sex acts with his fiance's young daughter.
The investigative video reveals a primetime producer at CNN fantasizing about sex acts with a child in graphic detail.
According to Project Veritas, the source came to Project Veritas after she was uncertain proper action would be taken by authorites.
Project Veritas published a story today featuring graphic texts and videos provided by a source that show a producer for CNN fantasizing about molesting his fiancé's daughter.
This report comes on the heels of the arrest of another CNN employee, John Griffin.
Source: thegatewaypundit.com
Longtime CNN producer John Griffin's devices seized 17 months before child sex trafficking arrest
  authorities first became aware of Griffin's depraved proclivities 18 months ago – yet the FBI didn't arrest him until Friday in Connecticut for allegedly soliciting three mothers and their underage daughters for "training" on fetish sex.The third count in the federal indictment out of Vermont is based on the encounter with the 9-year-old in July 2020, for which Griffin paid the mom $3,500 via Venmo.After the woman's arrest in August 2020, federal investigators seized "computers storage media, devices, phones, cameras, MicroSD cards, images, and video" from Griffin on Sept. 2, 2020, according to court documents. ." Investigators seized his devices 17 months ago.
Source: foxnews.com
---
Geopolitical/Police State
Last week Democrat Rep. Ilhan Omar introduced her anti-Islamophobia bill that would create a special envoy to monitor "Islamophobia" around the world.
The Democratic bill will also crackdown on free speech.
On Tuesday the bill was passed with a vote of 219-212. All the Democrat members of the house voted for the bill while all the members of the Republican party voted against it.
Since the 9-11 attacks on America that killed 3,000 innocents there have been 40,587 deadly Islamic terrorist attacks.
It's not the phobia that's the problem.
Source: thegatewaypundit.com

On Tuesday the Democrats unanimously passed Ilhan Omar's anti-Islamophobia Act. 
Do the Democrats know how Ilhan Omar made it into this country?  In July 2019 we reported on Omar's father.  Here is what we reported:
David Steinberg published an extensive report on the alleged crimes and history of Rep. Ilhan Omar and the "Omar" family.
In his report, David found that the Omar family changed their name in order to enter the United States.
Via PowerLineBlog:
In 1995, Ilhan entered the United States as a fraudulent member of the "Omar" family.

That is not her family. The Omar family is a second, unrelated family which was being granted asylum by the United States. The Omars allowed Ilhan, her genetic sister Sahra, and her genetic father Nur Said to use false names to apply for asylum as members of the Omar family.

Ilhan's genetic family split up at this time. The above three received asylum in the United States, while Ilhan's three other siblings — using their real names — managed to get asylum in the United Kingdom.

Ilhan Abdullahi Omar's name, before applying for asylum, was Ilhan Nur Said Elmi.

Her father's name before applying for asylum was Nur Said Elmi Mohamed. Her sister Sahra Noor's name before applying for asylum was Sahra Nur Said Elmi. Her three siblings who were granted asylum by the United Kingdom are Leila Nur Said Elmi, Mohamed Nur Said Elmi, and Ahmed Nur Said Elmi.
Source: thegatewaypundit.com
#OnThisDay in 1791, the Second Amendment was ratified. Today, protecting the #2A is absolutely essential to promoting American freedom.

— Mike Pompeo (@mikepompeo) December 16, 2021
---
War
New JFK files bring more frustration than enlightenment
Anew batch of declassified documents released on Wednesday offer a few more details about the investigation into the 1963 assassination of President John F. Kennedy, including the CIA's "technical surveillance operation" that monitored Lee Harvey Oswald in the weeks before the killing.
For instance, one newly released file discloses "a crank call" made to the U.S. Navy attaché in Australia more than a year before the assassination about an alleged plot against Kennedy by the Soviet Union.
Source: msn.com
So after 58 years, they release JFK files that show Russia was involved. Remember these docs are from the three letter intelligence agencies, the same ones that looked into HRC server, seth rich murder, russian collusion, etc…
---
False Flags
The new measure will affect those who received their last vaccination over seven months ago, with those who have not been subsequently jabbed losing access to cafés, restaurants, and inter-regional travel unless they have a negative Covid-19 test taken within the last 24 hours.
According to a report by Le Monde, 400,000 people are on the threshold of losing their passes due to the new measure.
Source: breitbart.com
Alphabet Inc.'s Google told employees they would be put on leave and eventually terminated if they do not receive a COVID-19 vaccination or apply for an exemption, according to an internal memo obtained by CNBC.
The memo, reportedly circulated by leadership, requires employees to show proof of vaccination status by Dec. 3 or apply for medical or religious exemptions.
The company said that it would start to reach out to employees who haven't uploaded vaccine passes, remain unvaccinated, or have not been granted an exemption.