"Fix 2020 First", Red October, Stay Tuned And Watch, Brace For Impact – Ep. 2569
Watch The X22 Report On Video
The [CB] is now trapped in their own economic system, the people will start to turn on them, because what they are going to experience is going to be the opposite of what they have been told. The [CB] are preparing the next phase, wars failed, pandemic failed, and now they need some other event, this will fail, patriots know the playbook. The patriots are preparing to release the forensic audit report, this is going to create chaos and the fake news, [DS] and corrupt politicians are going to do everything to stop it. They are now building up to a communication blackout. Trump and the patriots know this playbook and countermeasures are in place. The pandemic is losing its grip, as they continue to push their agenda people are waking up and no longer believing what they are saying. Red October is approaching, the storm is about to hit.
---
Economy
Last week, in his Jackson Hole speech Jay Powell grudgingly admitted that prices might rise a bit more than the FOMC previously thought. But it was too early to conclude that policies should be adjusted immediately. He said:
"Over the 12 months through July, measures of headline and core personal consumption expenditures inflation have run at 4.2% and 3.6% respectively— well above our 2 per cent longer-run objective. Businesses and consumers widely report upward pressure on prices and wages. Inflation at these levels is, of course, a cause for concern. But that concern is tempered by a number of factors that suggest that these elevated readings are likely to be temporary. This assessment is a critical and ongoing one, and we are carefully monitoring incoming data."
In other words, with prices rising at over double the 2% target, there's nothing to worry about. But be reassured, the Fed is on the case.
This was followed by
"Policymakers and analysts generally believe that, as long as longer-term inflation expectations remain anchored, policy can and should look through temporary swings in inflation. Our monetary policy framework emphasises that anchoring longer-term expectations at 2 per cent is important for both maximum employment and price stability."
In other words, because inflation is always 2 per cent and Humpty-Dumpty insists it is so, markets will return to the 2 per cent target. Incidentally, when someone invokes belief, it is either the product of faith or lack of knowledge. This is why politicians cite faith a lot, and we should be wary when it is a justification for monetary policy.
There is, of course, one glaring problem with all this as Powell admits before dismissing it: "businesses and consumers widely report upward pressure on prices and wages". There is an associated problem, an enormous elephant in the room that no official seems to be aware of, which independent analysts such as John Williams at Shadowstats.com points out, and that is if you strip out all the changes in statistical method that have deliberately reduced headline price rises since 1980, you find that according to an unadjusted CPI(U), prices are now rising at over 13% annualised.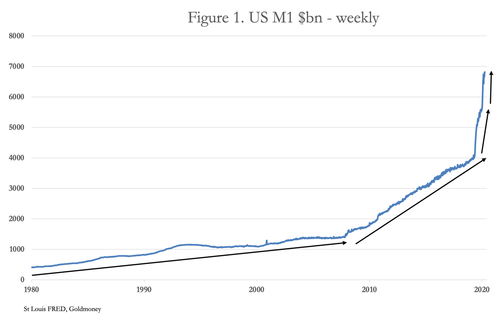 While Powell hinted in his speech that tapering QE at some point is on the cards, it will simply not be possible if a similar budget deficit to this year is to be funded in 2022. Furthermore, in real terms interest rates are now deeply negative.
Source: zerohedge.com
"Ransomware may impact businesses across the sector, from small farms to large producers, processors and manufacturers, and markets and restaurants. Cybercriminal threat actors exploit network vulnerabilities to exfiltrate data and encrypt systems in a sector that is increasingly reliant on smart technologies, industrial control systems, and internet-based automation systems," the FBI said.
\
Source: zdnet.com
---
Political/Rights
The latest round of national media pandemic messaging is targeted and intentional.  The objective is fear… and the scale of the narrative pushed by the national media toward that effort is large.    Newsom's latest commercials [SEE HERE] spotlight his advocacy for forced vaccinations and forced masking policy.
The direct message is, 'if I am recalled you will all die from COVID, but if you keep me in office I will protect you'.  The message reeks of desperation.
Source: theconservativetreehouse.com
If or when Newsom loses, the Fake news will create the idea that covid is out of control, the will try to push the state into complete lockdown
Friday night's game at Lane Stadium was the first time in two years that it was completely sold out. As players raced out of the tunnel, it was tough to find elbow space, especially in the Virginia Tech student section, where the orange-clad throng leaped in sync to Metallica's famous "Enter
Another video reveals that the crowd was also filled with many Trump-supporting patriots. This video shows a large part of the crowd chanting "F*ck Joe Biden!"
This chant seems to be appearing all across the nation at college football games. Biden's recent follies have put his approval ratings at all-time lows and it is definitely showing.
Source: thegatewaypundit.com
A handful of House Democrats on Tuesday introduced long-shot legislation to fundamentally reshape the Supreme Court, which comes amid pressure from progressives to take action over a recent Court decision that left in place a controversial Texas abortion law.
The bill, introduced by Reps. Ro Khanna (D-Calif.), Don Beyer (D-Va.), Barbara Lee (D-Calif.) and Rashida Tlaib (D-Mich.) would create 18-year term limits for Supreme Court justices, though it would not apply to justices currently serving.
The bill would also give presidents the ability to nominate a new justice every two years and require the Senate to act on each nomination within 120 days before the nominee is automatically seated.
Source: forbes.com
A federal judge ordered the feds to disclose the identities of Ghislaine Maxwell's "unnamed co-conspirators."
In a three-page ruling, Judge Nathan  ordered the government to  "disclose all co-conspirator statements it intends to offer at trial no later than" Oct. 11, Law & Crime reported.
Law & Crime reported:
Federal prosecutors must disclose the "identities of any unnamed co-conspirators" whose names they plan to refer to at trial to Ghislaine Maxwell, a 
Source: thegatewaypundit.com
4778
Q
!!Hs1Jq13jV6
09/28/2020 14:41:16
 ID: ef949f
Archive Bread/Post Links: 10822686 / 10823477
Direct Link: 10823477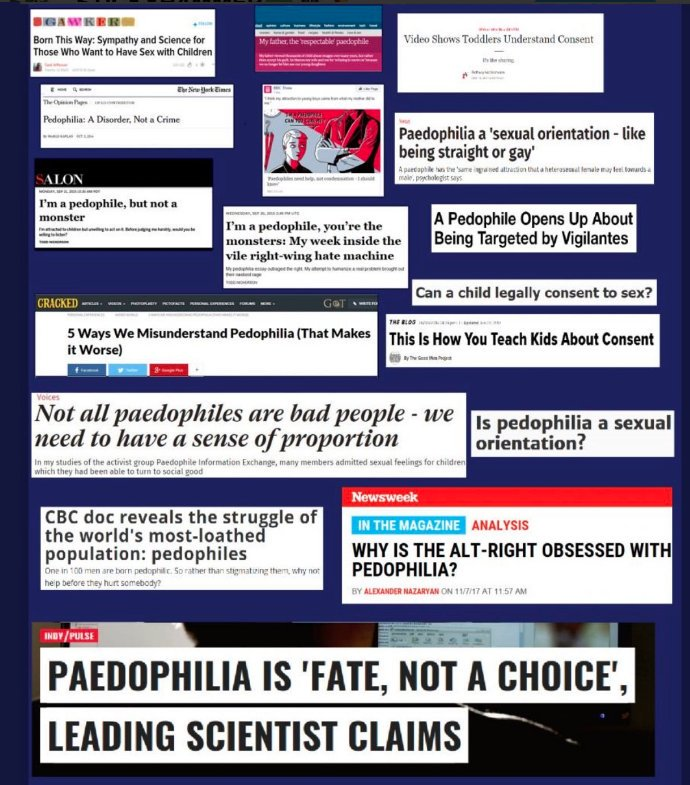 Image Name:
Normalize_Why_.png
Filename:
b529a768f2256b798bd038d74cc9dd50d0a921a0c119134567cb07d9b639a7b7.png
---
War
The Taliban's behavior raises serious concerns about their commitment to respecting human rights. https://t.co/RIa6boitcF

— George Soros (@georgesoros) September 3, 2021
September 2019:

Candidate Biden demands President Trump release transcript of Ukraine call so "the American people can judge for themselves."

President Trump releases transcript because he has nothing to hide and did nothing wrong.

— Rep. Jim Jordan (@Jim_Jordan) September 4, 2021
September 2021:

President Biden refuses to release transcript of his call with former Afghanistan President Ghani, where he demanded Ghani "change the perception" about military losses in the country.

What's he hiding?

— Rep. Jim Jordan (@Jim_Jordan) September 4, 2021
— Dan Scavino🇺🇸🦅 (@DanScavino) September 4, 2021
From
National Fraternal Order of Police (FOP)
Last night, Jefferson County (TN) Law Enforcement held a 13 car memorial caravan that traveled across Jefferson County to honor the 13 service members who were targeted and murdered in Afghanistan. We will never forget these heroes. Please pray for their families!
So the Biden Administration lied about vetting and seems to be in the process of aiding and abetting child sex trafficking?

Great work guys. Where's the rest of the media? Is there really going to only be one story about this before they get released into our country? https://t.co/l0sNYHEslO

— Donald Trump Jr. (@DonaldJTrumpJr) September 4, 2021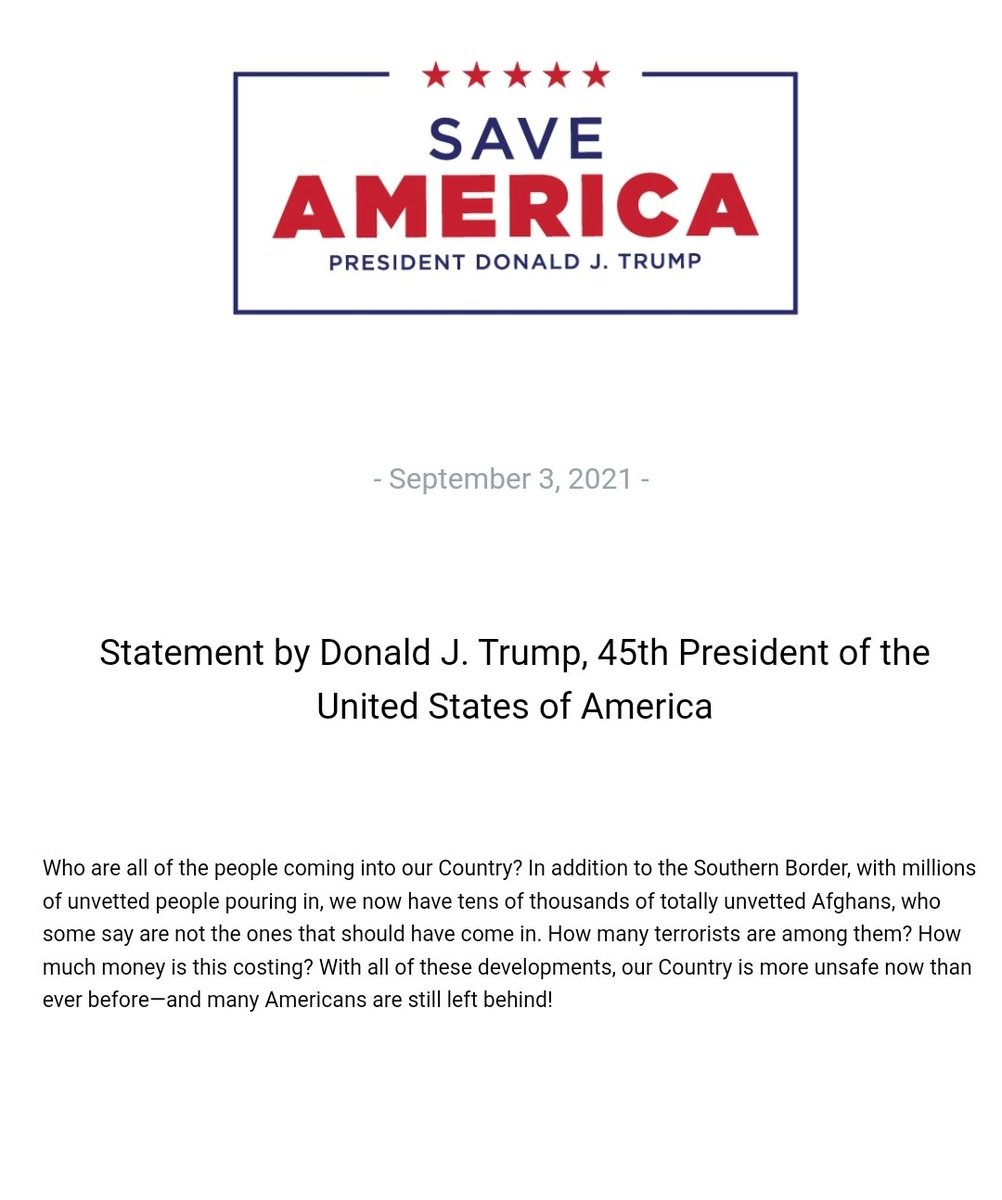 ---
False Flags
Israel is planning to administer FOURTH Covid shot which could be adjusted to fight new variants as country battles wave of infections despite hugely successful vaccine roll-out
It comes as the country deals with soaring cases despite blazing a trail on jabs 
The country's national coronavirus czar says people should expect to receive a new vaccination against the virus more frequently – 'every five to six months' 
Israel expected to give out vaccines that have been specially adapted to cope with different variants of the coronavirus by late 2021 or early 2022, he says 
Source: dailymail.co.uk
  the White House messaging team, led by Chief of Staff Ron Klain, has dropped back to the value of COVID fear and started promoting the need for multiple booster shots; or else.   There appears to be a pattern, as the same political messaging group behind California Governor Gavin Newsom are promoting the same approach. However, they have a problem.
The Democrat reliance on the COVID fear as a political tool is wearing off; perhaps the panic has an expiration date, or perhaps people are starting to realize the politics of manipulated COVID messaging is just that, 'political messaging'.  The vaccine results from Israel undercut the U.S. vaccine narrative; simultaneously, the open-society results from Sweden show how society can function without chasing endless mitigation efforts (ie masks) that provide no benefit.
Source: theconservativetreehouse.com
Fauci says Pfizer booster shot likely approved by Sept. 20, Moderna to follow
Anthony Fauci on Sunday said the Pfizer-BioNTech shot will likely be the only approved COVID-19 vaccine booster by Sept. 20, the date the Biden administration previously recommended for beginning to administer booster shots for all fully vaccinated individuals.
Source: thehill.com
The Rolling Stone story reported that the number of Ivermectin drug overdoses have so overwhelmed hospitals that gunshot victims have been unable to get medical treatment. Ivermectin is an anti-parasitic drug that has a human version but is more commonly used for deworming livestock.
 Oklahoma physician Dr. Jason McElyea spread many of the same falsehoods.
In response to that interview and the Rolling Stone piece, the Northeastern Health System (NHS) – Sequoyah released a statement claiming Dr. Jason McElyea "is not an employee of NHS Sequoyah", he also hasn't worked at that hospital in over two months nor have they treated any patients for Ivermectin overdoses.
Source: dailycaller.com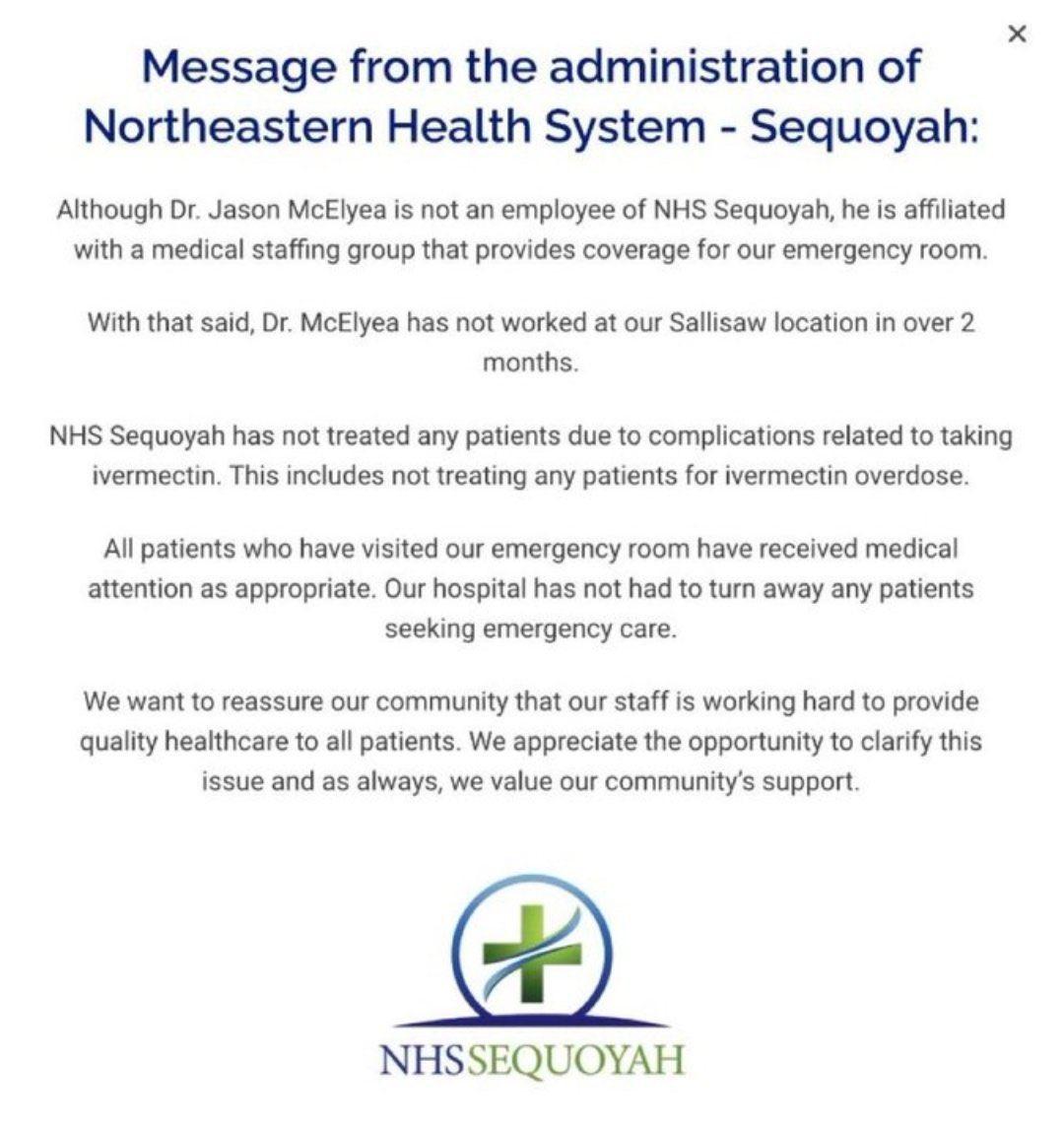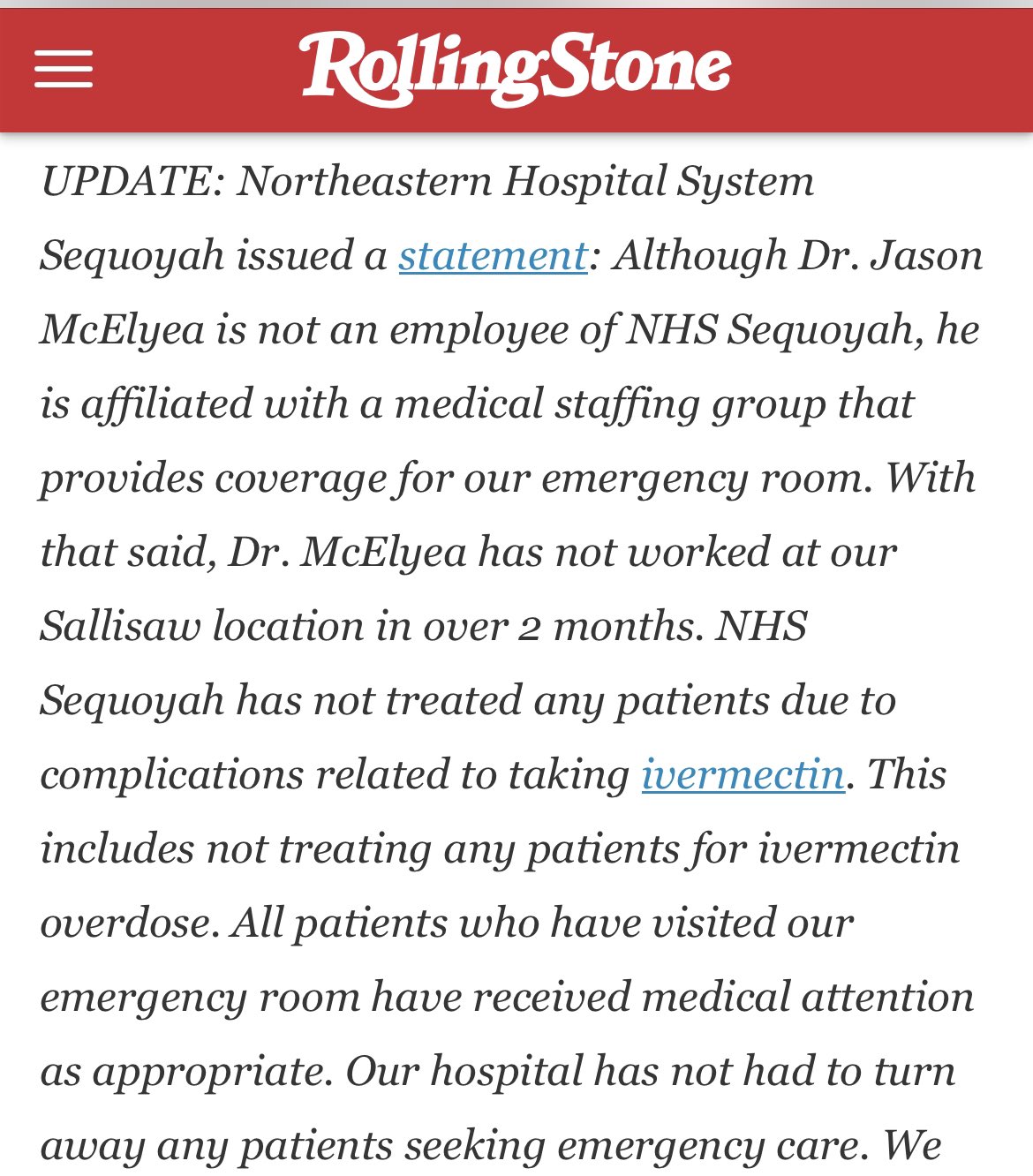 So now the government is getting involved in (read: restricting) monoclonal antibody distribution. Before I could just order as much as we needed and they shipped it next day air. Now a govt. commission will decide when, if, and how much I will be able to get for my pts.

— Jim Jackson (@Jim__Jackson) September 4, 2021
"Should you have any questions regarding this update in ordering and distribution procedures, please email the Federal COVID-19 Response Team."

Wonderful.

— Jim Jackson (@Jim__Jackson) September 4, 2021
The more I read this, the more it seems to me that they are stepping in to punish areas with low vaccination rates:

— Jim Jackson (@Jim__Jackson) September 4, 2021
"As you are likely aware, the recent increase in the prevalence of the Delta variant of COVID-19 has caused a substantial surge in the utilization of monoclonal antibody drugs, particularly in areas of the country with low vaccination rates."

— Jim Jackson (@Jim__Jackson) September 4, 2021
It is our goal to ensure continued availability of these drugs for current and future patients. As such, we are immediately implementing the following changes to help promote optimal and *equitable* use of the available supply of monoclonal antibodies

— Jim Jackson (@Jim__Jackson) September 4, 2021
I'm surprised nobody asked me for a source. My original source was an email from the manufacturer telling me that they would no longer accept direct orders. Here is a link notably missing the verbiage about the "low vaccination rate areas."https://t.co/drXk6k8t0j

— Jim Jackson (@Jim__Jackson) September 4, 2021
Never interfere with an enemy while they are in the process of destroying themselves, so the medical established has been suppressing information about HCQ and Ivermectin, but the CDC was telling Dr. to treat incoming Afghan refugees with ivermectin. Message is now confusing, people are questioning the medical establishment, especially with other countries using these drugs.
Most people with COVID-19 in the US are legally prevented from knowing which variant infected them.
That's because sequencing tests have to be federally approved for results to be disclosed to doctors or patients, and most are not yet.
Lab scientists say the process of validating the tests for approval is too costly and time-consuming.
The Centers for Medicare and Medicaid Service (CMS), which oversees the regulatory process for US labs, requires genome-sequencing tests to be federally approved before their results can be disclosed to doctors or patients. These are the tests that pick up on variants, but right now, there's little incentive for the labs to do the work to validate those tests.
Source: businessinsider.com
COVID-19 Establishment Narrative Built on Foundation of Straw. PCR Test Results are Invalid 
 
Foundational to the unreasonable Fear agenda, is the RT-PCR test, yet the test data is invalid. The test, for example, does not discern whether a person is infectious, nor does it distinguish between the flu or COVID. Cycle Threshold settings vary and invariably impact results. The test inventor, Kerry Mullis admitted that the test was not designed to be used as a diagnostic tool. (2) The WHO itself has confirmed that the test is flawed. (3)
It follows then, that since test results are invalid, so too are media reports about "cases".
Whereas "increased cases" are foundational to the FEAR campaign, the virus itself (if it even exists) has Low Infection Fatality Rates. It is not the "Killer Virus" that the Establishment pretends it is. (4)
Source: globalresearch.ca
4620
Q
!!Hs1Jq13jV6
07/31/2020 01:03:40
 ID: 076410
Archive Bread/Post Links: 10134589 / 10134839
Direct Link: 10134839
---
Q
the FBI keeps getting in hot water  
The latest example came when it was disclosed that one of the lead FBI agents in the investigation into an alleged plot to kidnap Michigan Gov. Gretchen Whitmer will be precluded from testifying at trial after he used an expletive to describe Trump.
The revelation late this week is the latest evidence to raise questions of anti-conservative bias or sentiments inside the nation's premier law-enforcement agency. Earlier, a senior FBI agent and a top lawyer of the bureau we're caught texting negative sentiments about Trump and his supporters while leading the investigation, now debunked, into Russia collusion.
Michael Hills, the attorney for one of the six defendants in the Whitmer case, Brandon Caserta, disclosed in court Thursday the prosecutors have decided not to use Special Agent Richard Trask's testimony during the upcoming October trial.
Prosecutors gave the defense access to Trask's social media posts this week, with at least one demeaning  Trump and his supporters, Hills told the court.
Specifically, the post referred to the 45th president as a "douchebag" and "piece of sh-t," The Detroit News reported.
Source: justthenews.com
By the authority vested in me as President by the Constitution and the laws of the United States of America, I hereby order as follows:
Section 1.  Policy.  Many Americans continue to seek full accountability for the horrific attacks of September 11, 2001 (9/11), including 9/11 survivors and victims' family members.  As the 20th anniversary of 9/11 approaches, the American people deserve to have a fuller picture of what their Government knows about those attacks.  Although the indiscriminate release of classified information could jeopardize the national security — including the United States Government's efforts to protect against future acts of terrorism — information should not remain classified when the public interest in disclosure outweighs any damage to the national security that might reasonably be expected from disclosure.  The significant events in question occurred two decades ago or longer, and they concern a tragic moment that continues to resonate in American history and in the lives of so many Americans.  It is therefore critical to ensure that the United States Government maximizes transparency, relying on classification only when narrowly tailored and necessary.  Thus, information collected and generated in the United States Government's investigation of the 9/11 terrorist attacks should now be disclosed, except when the strongest possible reasons counsel otherwise.
Sec. 2.  Declassification Reviews.  The Attorney General and the heads of any other executive departments and agencies (agencies) that originated relevant information shall complete declassification reviews:
(a)  not later than September 11, 2021, of the Federal Bureau of Investigation (FBI) electronic communication dated April 4, 2016, from the subfile investigation described in chapter V of the 2015 Report of the Congressionally-directed 9/11 Review Commission to the Director of the FBI (subfile investigation), which was identified but withheld in full during discovery in In re Terrorist Attacks on September 11, 2001, MDL No. 03-1570 (S.D.N.Y.);
Source: whitehouse.gov
Is there another [FF], who are the going to blame, timing is interesting
"Ransomware may impact businesses across the sector, from small farms to large producers, processors and manufacturers, and markets and restaurants. Cybercriminal threat actors exploit network vulnerabilities to exfiltrate data and encrypt systems in a sector that is increasingly reliant on smart technologies, industrial control systems, and internet-based automation systems," the FBI said.
\
Source: zdnet.com