Message Received, "Calm Before The Storm", Black Swan Event – Ep. 2570
Watch The X22 Report On Video
The [CB] is now panicking, their plan is failing, they thought they would be able to keep at home receiving a weekly check, now the unemployment insurance is coming to an end and the people are going to to wake up. The people will soon begin to feel the effects of the cost of food rising. El Salvador is now telling those people in the US to send bitcoin back to El Salvador. The patriots have the [DS] where they want them. This is the calm before the storm, message sent and received. Everything that has happened was to prepare the people, the red pill needs to be easy to swallow. The patriots have now set everything in motion and the storm is coming. In China a black swan landed in the square. The people are awake, they have reached the precipice, the patriots are ready.
---
Economy
Jobs report adds fresh concerns over Monday's unemployment cliff
More than 9 million Americans are set to lose their unemployment benefits and millions more will see their weekly incomes plummet as a host of federal pandemic jobless aid programs expire next week.
Three programs covering a combined 12.1 million people will end on Monday without action from the White House or Congress.
Twenty-six states pulled out of at least some of those programs earlier this summer
But there are still 5.4 million gig workers, contractors and others not covered by traditional unemployment insurance who will lose their weekly benefits early next week. Another 3.9 million Americans receiving extended aid will see those payments disappear on Monday as well.
Source: thehill.com
Central banks and mainstream media continue to peddle the notion that soaring food inflation is temporary and the average Joe and Jane should not worry about it. But in a new report via the Rome-based Food and Agriculture Organization (FAO), global food prices are on the rise, once again, and back to near-decade highs.
FAO released a statement Thursday that detailed after two consecutive months of declines, world food prices in August jumped due to solid gains in sugar, vegetable oils, and cereals.
FAO's food price index, which follows international prices of globally traded food commodities, averaged 127.4 points in August, up 3.9 points (3.1%) from July and 31.5 points (32.9%) from the same period last year.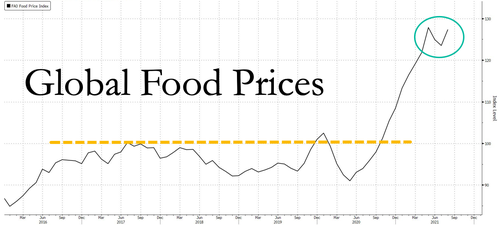 In first-world countries like the US and Europe, surging food inflation hasn't become a big deal yet, for consumers but may start to irritate the working-poor this fall when supermarket prices are expected to jump.
Source: zerohedge.com
TOMORROW – The first nation will adopt #Bitcoin as legal currency. pic.twitter.com/8cjn3lYkeD

— Bitcoin Magazine (@BitcoinMagazine) September 6, 2021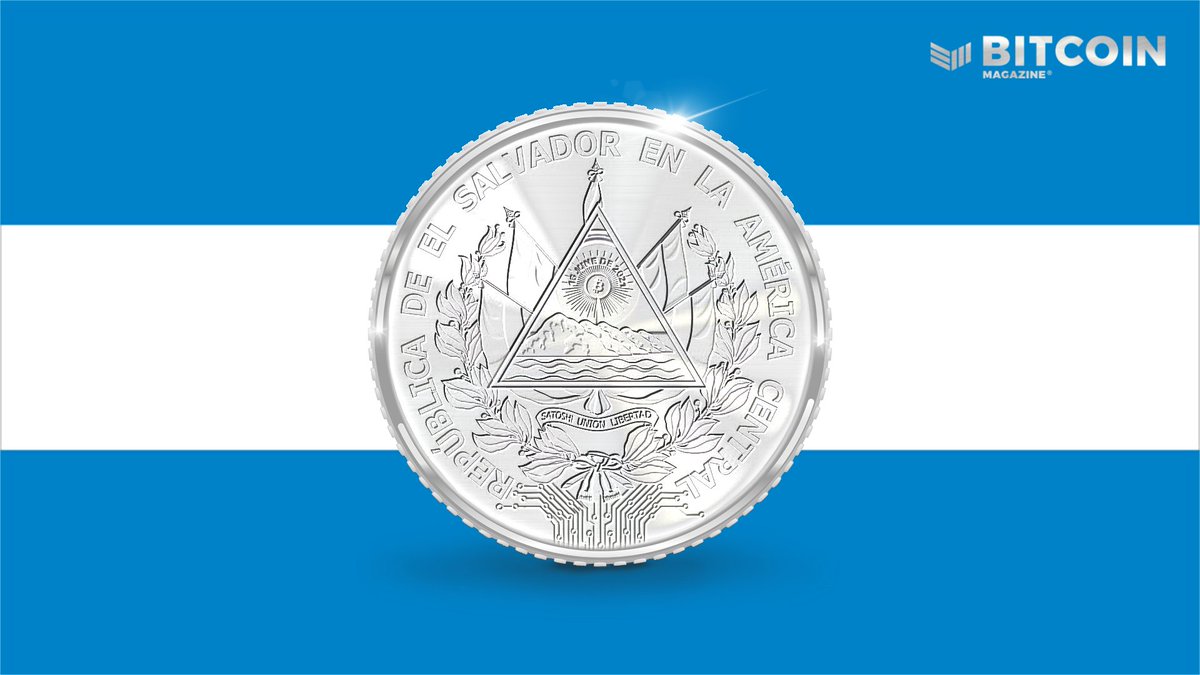 Bitcoin brings hopes, doubts for Salvadorans sending money
El Salvador is betting that this week's pioneering adoption of Bitcoin will spur its economy, especially one of its most crucial sources of revenue: money sent home by Salvadorans in the United States
A fervent proponent of the cryptocurrency, President Nayib Bukele has asked the more than 2 million Salvadorans who live overseas to send their remittances in Bitcoin, arguing it will be cheaper than transferring dollars. He also says it will stimulate foreign investment.
 The U.S. dollar, however, will remain the country's main currency and no one will be forced to pay in Bitcoin. 
Source: independent.co.uk
---
Political/Rights
EXCLUSIVE: Trudeau booed mercilessly as protestors congregate in front of Liberal Party tour bus in Newmarket. Some PPC signs seen but I'm sure this is Stephen Harper's fault. #TrudeauHeckled pic.twitter.com/HcaXVgrgZ8

— Rowan (@canmericanized) September 5, 2021
The board of Time's Up says all of its members will be replaced after the organization's then-CEO was caught advising disgraced Gov. Andrew Cuomo (D) as women accused him of sexual harassment.
Former CEO Tina Tchen (pictured, second from right) fled the board last month after taking flack for her staunch support of Cuomo.
Nearly the entire board is resigning, according to the Hollywood Reporter. Gone are Shonda Rhimes (pictured, far left), Eva Longoria (pictured, far right), Jurnee Smollett (pictured, third from left), Katie McGrath (wife to JJ Abrams — pictured, second from left), Christy Haubegger, Hilary Rosen, Michelle Kydd, and Time's Up's interim board chair Nina Shaw.
Source: breitbart.com
  When President Biden took office in January, his administration ordered an immediate halt on the construction of a 30-foot high border fence, leaving a gaping hole at one of the most vulnerable stretches of the US-Mexican border.
The 20-foot gap in the frontier wall at Border Monument Three — one of the 276 original markers erected after the Mexican-American War in 1848 — was allowing thousands of smugglers and migrants to cross into the US with relative ease, 
Along the nearly 2,000-mile southern border, thousands of tons of steel and other building materials have gathered rust since the order to halt construction, Border Patrol agents said.
Desperate to stem the migrant flow at the remote, mountainous site at the confluence of the Texas, Mexico and New Mexico border, Border Patrol agents took it upon themselves to plug the hole — with old truck tires and pieces of stray construction materials that were left behind by the federal contractors.
Source: nypost.com
How to Persuade Americans to Give Up Their Guns
The way to reduce gun violence is by convincing ordinary, "responsible" handgun owners that their weapons make them, their families, and those around them less safe.

The Biden administration is developing strategies to try to decrease gun violence—to crack down on rogue gun dealers, to "keep guns out of the wrong hands." That's a worthy project, of course, but it, too, may sound wanly familiar. Over the past decade, many states have relaxed their gun laws, making these weapons even easier to get.

This fall, the Supreme Court will hear a case, New York State Rifle & Pistol Association v. Corlett, that could expand gun rights even further. Thirteen years ago, in District of Columbia v. Heller, the Court for the first time recognized people's constitutional right to own firearms as individuals, not just as members of a "well regulated Militia." Now lawyers for the New York affiliate of the National Rifle Association will argue that the Second Amendment should be interpreted as granting a constitutional right to carry firearms in the streets, parks, playgrounds. If the NRA prevails, the nearly 400 million guns in the United States will show up in even more places than they do now.
Source: theatlantic.com
---
War
Milley: 'Possible' US will have to work with Taliban to fight ISIS
Taliban: Int'l Help to Fight Terrorism Not Needed
The American heroes reportedly have 6 chartered airplanes (four 737s and two others) on the Tarmac in northern Afghanistan with the people rescued and can't get the administration's help.
 
Source: thegatewaypundit.com
"Guys, they're not being denied exit. They just haven't been given permission to leave."

My word. https://t.co/CpaKQPHKgy

— Jesse Kelly (@JesseKellyDC) September 6, 2021
Humanitarian Rick Clay on War Room: Biden State Department Is Preventing Planes with Americans from Leaving Afghan Airport (VIDEO)
Humanitarian Rick Clay joined Steve Bannon on The War Room to discuss the recent attempts by private contractors to rescue Americans trapped in Afghanistan.
Rick Clay is an organizer for chartered flights to evacuate Americans and Afghan allies from the Mazar-i-Sharif airport​ in northern Afghanistan.
Clay says the Biden State Department is preventing US planes from leaving the Afghan airports. The planes are stranded in Afghanistan with Americans waiting to evacuate Americans from the country.
Clay says the Biden regime will not allow them to be vetted in third-party countries. His group has already helped 2,000 civilians leave the country. Clay told Steve Bannon he has an entire embassy staff from a foreign country they are helping extract from the country.
Source: thegatewaypundit.com
---
False Flags
 Daniel Andrews has warned that unvaccinated Victorians may be "locked out" of venues and events when the state reaches its targets for reopening.
"I am not going to lock the whole state down to protect people who would not protect themselves. If you are not vaccinated, and you could be, the chances of you booking a ticket at a sporting event, going to a pub … will be very limited."
Source: dailymail.co.uk
Dr. Fauci said the Mu variant is "not an immediate threat" but health officials are "keeping an eye" on it to "make sure it doesn't become more dominant."
Translation: if the current fear mongering doesn't work and people do not do what we say, get the vaccine, get the booster, we will use the Mu variant to push the fear even harder
Source: thegatewaypundit.com
Israel:
– "Nearly 60% of gravely ill patients are fully vaccinated"
– "There are so many breakthrough infections that they dominate & most of the hospitalized patients are actually vaccinated"
– "This is a very clear warning sign for the rest of world"https://t.co/vKiG4QvipW pic.twitter.com/6ZmOXnzVT6

— Dr John B. (@DrJohnB2) September 4, 2021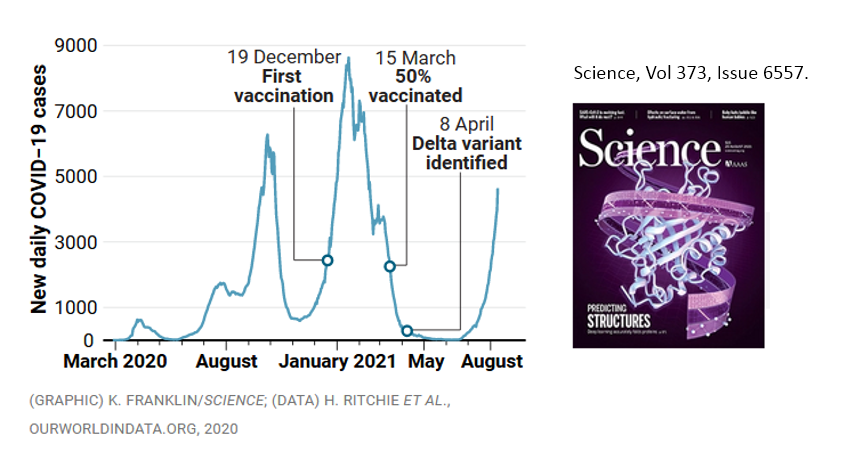 New York Health Commissioner Repeals Mask Mandate for Unvaxxed after Federal Lawsuit Filed
Children's Health Defense supported the lawsuit filed by William Ouweleen which challenged the constitutionality of the emergency mask mandate requiring unvaccinated people to wear masks while vaccinated people could go mask-free.
The New York State Department of Health (NYSDOH) on Aug. 27 repealed an emergency mask mandate after a lawsuit was filed Aug. 5 in federal court challenging the regulation.
The lawsuit was brought by William Ouweleen, vintner for the oldest dedicated sacramental winery in America. Ouweleen challenged the constitutionality of the NYSDOH regulation 10 NYCRR 66-3, which required unvaccinated people to wear masks while vaccinated people could go mask-free.
Prior to filing the lawsuit, Ouweleen was twice cited by patrons of the winery for not wearing a mask, and was informed by the local health department he could be fined or closed down, or both, if additional complaints were received.
In the complaint, Ouweleen alleged the regulation violated his constitutional rights and was not justified by science, citing confirmation by the Centers for Disease Control and Prevention that vaccination does not prevent transmission of SARS CoV-2.
In addition to challenging the mandates on equal protection grounds, the suit challenged mask mandates in general.
Attorney Sujata Gibson filed the complaint on behalf of Ouweleen. Children's Health Defense (CHD) supported the lawsuit.
"There is simply no reason to issue different requirements for vaccinated and unvaccinated New Yorkers" said CHD Chairman and Chief Legal Counsel, Robert F. Kennedy, Jr.
"Public health officials around the world acknowledge that these vaccines are for personal protection only. This mandate wasn't evidence-based. It was meant to coerce people into taking experimental vaccines and to shame and bully those that exercise their federally guaranteed right to opt-out."
New York's mask mandate laid the groundwork for other coercive measures imposed on unvaccinated people across the state. Though the repeal of NYCRR 66-3 temporarily resolves some of the issues in the case, attorneys stressed the lawsuit is not over.
"
In the complaint, Ouweleen argued:
"The science does not establish that prolonged use of masks is safe or effective. In fact, the U.S. Food and Drug Administration defines masks as experimental medical devices, and has not licensed them for use by the general public other than through Emergency Use Authorizations (EUA)."
Under the terms of the EUA, manufacturers are expressly forbidden from "misleading" the public by alleging that masks can be reused or used to stop or reduce infection.
"It is black letter law that EUA devices, including masks, cannot be mandated," said CHD President and General Counsel Mary Holland. "This prohibition arises out of the Nuremberg Code of 1947, and reflects our obligations under the subsequent binding treaties and domestic statutes which incorporate."
Source: globalresearch.ca
Why are they pushing against ivermectin, hcq so hard, well under section 564
PFIZER INITIATES PHASE 1 STUDY OF NOVEL ORAL ANTIVIRAL THERAPEUTIC AGENT AGAINST SARS-COV-2
 In-vitro studies conducted to date show that the clinical candidate PF-07321332 is a potent protease inhibitor with potent anti-viral activity against SARS-CoV-2
This is the first orally administered coronavirus-specific investigational protease inhibitor to be evaluated in clinical studies, and follows Pfizer's intravenously administered investigational protease inhibitor, which is currently being evaluated in a Phase 1b multi-dose study in hospitalized clinical trial participants with COVID-19
Source:  pfizer.com
---
Q
The audit is coming guys, I promise you. I get a lot of comments asking and people think I can speed it up but I can't speed it up. It is a process and it is coming. Also – other information is coming out I can't disclose. Just know that it is all going to happen and this (1/2)

— Wendy Rogers (@WendyRogersAZ) September 6, 2021
is real. Keep the faith. Make sure YOUR state is doing an audit because when our audit comes out the next steps are to get this done in other states. Start pushing that now. – Wendy (2/2)

— Wendy Rogers (@WendyRogersAZ) September 6, 2021
Americans hv waited 20yrs for answers/justice abt all involved in 9/11 attacks Thats why I cosponsored bipartisan Sept 11 Transparency Act to shine light on secret govt records / 2days Exec Order modeled after bill begins 2pull back curtain so public knows what govt knew for yrs

— ChuckGrassley (@ChuckGrassley) September 3, 2021
1602
Q
!CbboFOtcZs
06/27/2018 12:45:55
 ID: 079dd1
Archive Bread/Post Links: 1925092 / 1925332
Direct Link: 1925332
Filename:
a640b6e7da1d3fbedb0cfa042bf843c2cebc8fc11ac3085ee70ebb0401047b31.png
— Dan Scavino🇺🇸🦅 (@DanScavino) September 6, 2021
TAKE A LISTEN, CALM BEFORE THE STORM
The black swan theory or theory of black swan events is a metaphor that describes an event that comes as a surprise, has a major effect, and is often inappropriately rationalized after the fact with the benefit of hindsight. The term is based on an ancient saying that presumed black swans did not exist – a saying that became reinterpreted to teach a different lesson after the first European encounter with them.[1]
The theory was developed by Nassim Nicholas Taleb to explain:
The disproportionate role of high-profile, hard-to-predict, and rare events that are beyond the realm of normal expectations in history, science, finance, and technology.
The non-computability of the probability of consequential rare events using scientific methods (owing to the very nature of small probabilities).
The psychological biases that blind people, both individually and collectively, to uncertainty and a rare event's massive role in historical affairs.
Taleb's "black swan theory" refers only to unexpected events of large magnitude and consequence and their dominant role in history. Such events, considered extreme outliers, collectively play vastly larger roles than regular occurrences.[2]:xxi More technically, in the scientific monograph "Silent Risk",[3] Taleb mathematically defines the black swan problem as "stemming from the use of degenerate metaprobability".[3]
Evergrande bonds temporarily halted amid liquidation panic as contagion spreads to other Chinese junk. China's second-largest property developer is on the verge of collapse.
38
Anonymous
11/02/2017 01:48:52
 ID: pGukiFmX
4chan Thread/Post: 147547939 / 147586045
Direct Link: 147586045
While the Biden administration wants to close the Guantanamo prisons, a major construction project is underway — including an additional courthouse for the military trials + expanded classified workspace. @CBSNews told cost + 15 million NOTE: Detention camps SEPARATE Navy base. pic.twitter.com/vu0vCOA1Zw

— Catherine Herridge (@CBS_Herridge) September 6, 2021
what if everything you are going through is preparing you for what you've asked for?

— Mohamed Ibrahim (@_MoIbrahim) September 6, 2021
3125
Q
!!mG7VJxZNCI
03/20/2019 14:11:41
 ID: 0ad5ef
Archive Bread/Post Links: 5791243 / 5791828
Direct Link: 5791828