Future Proves Past, Distractions, Timing Is Everything – Episode 1947
Podcast: Download (Duration: 46:47 — 47.5MB)
Boris Johnson is preparing to meet with France and Germany to discuss the BREXIT. The establishment will try to stop this, the fear meter is going to be off the chart as we get closer to Oct. NP and CS are rejecting the no-deal BREXIT. Trump is now calling on the Fed to cut rates and start stimulus. The [CB] [DS] are pushing the recession narrative. TC tweeted out that the NYT does not report real news anymore, Trump says NYT will be out of business. LG says when the truth comes out it is going to be horrific. The push is now on for voter id, JW is exposing voter fraud and bringing it out into the public eye. Trump tweeted that G manipulated the election for HRC. Future proves past, the push is on, the patriots are using distraction, 4d chess moves to prepare for the dump, time is everything.
Check Out The X22 Report Spotlight YouTube Channel X22Report Spotlight
Please check Newzsentinel.com for the latest news on the economic collapse. The Sentinel Alerts are updated throughout the day. If you haven't already, go to "The People" and join the community of people who are helping each through the economic collapse.
---
Current News – 08.19.2019
Watch The X22 Report On Video
---
Economy
U.K. PM Boris Johnson Planning Brexit Face-to-Face With Macron and Merkel…
"Operation Fear"  will include almost all EU and British media along with U.S. political EU allies such as Nancy Pelosi, the Big Club Republicans, Wall Street multinationals and the U.S. Chamber of Commerce.
 Operation Fear is about to go into fully weaponized narrative distribution.  Predictably the deployment will likely be the largest psychological war carried out in the modern era.
  British Prime Minister Boris Johnson will deliver his message on Brexit to French President Emmanuel Macron and German Chancellor Angela Merkel during visits this week, a government spokeswoman said on Monday.
Most likely this is how it is all going to play out.
♦U.S. Speaker Nancy Pelosi , Schumer no way can the brexit happen, we are already seeing this, Schumer came out against it.
Schumer joins Pelosi in opposition to post-Brexit trade deal that risks Northern Ireland accord
Senate Minority Leader Charles Schumer (D-N.Y.) on Monday vowed to oppose any post-Brexit trade deal with the United Kingdom that would risk Northern Ireland's peaceful status quo with Ireland.
In a letter to Secretary of State Mike Pompeo, Schumer praised the Good Friday Agreement between Ireland and the U.K. as a "towering achievement of diplomacy and it planted the seeds of a society based on mutual respect and equality, rather than one based on distrust and discrimination." 
The agreement, which created a free and demilitarized border between Ireland and Northern Ireland in 1998, ended the then-decades long Northern Ireland conflict.
Source: thehill.com
♦The  media will also engage.   Twitter, Facebook, Instagram and similar media sites will begin pushing down (or eliminating) pro-Brexit content, and pushing up the anti-British pro-EU positions across all engagement.  Why is this going to happen to make it look like BREXIT has no support, the people are not supporting this
♦ Nigel Farage and/or the Brexit party most likely have an agenda to counter all of this 
♦ As we get closer to October the fear meter will be off the charts.
Source: theconservativetreehouse.com
Our Economy is very strong, despite the horrendous lack of vision by Jay Powell and the Fed, but the Democrats are trying to "will" the Economy to be bad for purposes of the 2020 Election. Very Selfish! Our dollar is so strong that it is sadly hurting other parts of the world…

— Donald J. Trump (@realDonaldTrump) August 19, 2019
…..The Fed Rate, over a fairly short period of time, should be reduced by at least 100 basis points, with perhaps some quantitative easing as well. If that happened, our Economy would be even better, and the World Economy would be greatly and quickly enhanced-good for everyone!

— Donald J. Trump (@realDonaldTrump) August 19, 2019
And for the first time, Trump also called for more QE…
"The Fed Rate, over a fairly short period of time, should be reduced by at least 100 basis points, with perhaps some quantitative easing as well. If that happened, our Economy would be even better, and the World Economy would be greatly and quickly enhanced-good for everyone!"
Business owners and hard-working Americans tell us every day how great the economy is under President Trump.

But now the Left is openly wishing for a "recession!"

It's the clearest example yet: Democrats are desperate to stop the President, even if it hurts America.

— Rep. Jim Jordan (@Jim_Jordan) August 19, 2019
---
Political/Rights
The MSM and DS are destroying themselves, as Q has always said
quote-never-interfere-with-an-enemy-in-the-process-of-destroying-himself-napoleon-bonaparte-142-52-09.jpg

These people are stupid.
Enjoy the show!
Q
The push is now on for voter id, exposing voting manipulation, who is responsible for it, we will discuss this a little later in this report. But first lets talk about the MSM, Ted Cruz tweeted out the following
If you care about journalism, or the First Amendt, READ the transcript. The Editor says (in effect) "for 2 yrs, we covered 'Russia, Russia, Russia,' facts be damned; now we'll scream 'racism, racism, racism' for 18 mos, and the rest of the media follow us." That's not journalism. https://t.co/TPkpB0DjNj

— Ted Cruz (@tedcruz) August 18, 2019
The NYT is destroying itself w/ Trump hatred. And it's ultimately bad for freedom of the press when "journalists" openly revel in being partisan propagandists. When our Nation is so tribalised that each side has their own "news" & "facts" and we don't even talk to each other. https://t.co/pH2GIcEAYg

— Ted Cruz (@tedcruz) August 18, 2019
Trump chimed in and tweeted the following
The New York Times will be out of business soon after I leave office, hopefully in 6 years. They have Zero credibility and are losing a fortune, even now, especially after their massive unfunded liability. I'm fairly certain they'll endorse me just to keep it all going!

— Donald J. Trump (@realDonaldTrump) August 18, 2019
Scaramucci called President Donald Trump "a clear and present danger to the American society."
Scaramucci said, "We recognize that the president is a clear and present danger to the American society and American culture. There are many people inside the White House and cabinet, I would ask the left to less create an off ramp  for those people because we are trying to deprogram people from a cult, one of the first things you have to do is allow them to change your mind. And you have to allow them to have the space to change her mind. So me, it was a very gradual process where they can be critical of me for that. I frankly owned that. But trust me, there's a ton of people inside the White House, inside the government, up on Capitol Hill to feel the exact same way."
Source: breitbart.com
Anthony Scaramucci is a highly unstable "nut job" who was with other candidates in the primary who got shellacked, & then unfortunately wheedled his way into my campaign. I barely knew him until his 11 days of gross incompetence-made a fool of himself, bad on TV. Abused staff,…

— Donald J. Trump (@realDonaldTrump) August 19, 2019
….got fired. Wrote a very nice book about me just recently. Now the book is a lie? Said his wife was driving him crazy, "something big" was happening with her. Getting divorced. He was a mental wreck. We didn't want him around. Now Fake News puts him on like he was my buddy!

— Donald J. Trump (@realDonaldTrump) August 19, 2019
Senate Judiciary Committee Chairman Lindsey Graham said he expects the inspector general's report into FBI surveillance of the Trump campaign will be "ugly and damning" for the agency and the Department of Justice.
"I want it all out. I want people to see how off the rails this investigation got, and I want people to be held accountable," Graham said
Graham also said he is interested in finding out more about what role the CIA played in gathering intelligence on Trump associates.
"I really am very curious about the role the CIA played here. We know that the FISA warrant application was based on a dossier prepared by Christopher Steele who was biased against Trump that was unverified," he said.
"But this whole intelligence operations — what role did the CIA play? Who knew about this in the White House?"
Source: dailycaller.com
JUDICIAL WATCH: FEDERAL JUDGE ORDERS FBI TO SEARCH FOR STEELE DOCUMENTS 
  Judicial Watch announced today that U.S. District Court Judge Christopher Cooper ordered the FBI to conduct a search within 60 days for records of communications with former British spy and dossier author Christopher Steele post-dating Steele's service as an FBI confidential source. In ordering the supplemental search for records, Judge Cooper held:
[T]he potential for illuminating the FBI's activities is not too difficult to discern. Communications post-dating Steele's time as an informant might reveal a great deal about why the FBI developed him as a CHS [confidential human source], his performance as a CHS, and why the FBI opted to terminate its relationship with him. Those records might either bolster or weaken Steele's credibility as a source. That information, in turn, could provide a basis on which to evaluate the FBI's performance of its law-enforcement duties, including its judgment in selecting and relying on confidential sources, especially in connection with such a politically sensitive subject. Of course, the records Judicial Watch speculates about might not even exist—and even if they do, they may not reveal anything significant about the FBI's operations. But that they might do so makes them a matter of potential public interest.
The court ruling came in the Judicial Watch Freedom of Information Act (FOIA) lawsuit against the U.S. Department of Justice (DOJ) for records of communications and payments between the FBI, Christopher Steele and his private firm, Orbis Business Intelligence (Judicial Watch v. U.S. Department of Justice) (No. 1:17-cv-00916)). The lawsuit seeks:
All records of communications between any official, employee, or representative of the FBI and Mr. Christopher Steele, a former British intelligence officer and the owner of the private firm Orbis Business Intelligence.
All records related to the proposed, planned, or actual payment of any funds to Mr. Steele and/or Orbis Business Intelligence.
Source: judicialwatch.com
JUDICIAL WATCH FILES COMPLAINT WITH RHODE ISLAND SUPREME COURT AGAINST U.S. SENATOR SHELDON WHITEHOUSE FOR UNAUTHORIZED PRACTICE OF LAW
Judicial Watch announced today that it filed a complaint with the Unauthorized Practice of Law Committee of the Rhode Island Supreme Court against U.S. Senator Sheldon Whitehouse (D-RI), who is a member of the Rhode Island bar, for filing an amicus curiae brief with the U.S. Supreme Court on behalf of four clients while maintaining inactive status as a lawyer. In addition, Judicial Watch argues: "the brief Senator Whitehouse filed was unbecoming of the legal profession as it is nothing more than an attack on the federal judiciary and an open threat to the U.S. Supreme Court." The complaint contains a copy of the Whitehouse brief.
At issue in the Supreme Court case in which Senator Whitehouse submitted the brief (NY State Rifle & Pistol Assoc. v. City of New York (18-280)) is whether New York City's ban on transporting a licensed, locked and unloaded handgun to a home or shooting range outside city limits is consistent with the Second Amendment, the commerce clause and the constitutional right to travel.
The Judicial Watch complaint reads as follows:
 
Judicial Watch files this unauthorized practice of law complaint against Rhode Island bar member U.S. Senator Sheldon Whitehouse for filing a brief with the U.S. Supreme Court on behalf of four clients while maintaining inactive status. In addition, the brief Senator Whitehouse filed was unbecoming of the legal profession as it is nothing more than an attack on the federal judiciary and an open threat to the U.S. Supreme Court.
According to the Rhode Island Judiciary website, Senator Whitehouse maintains inactive status. As an inactive member of the Rhode Island bar, Senator Whitehouse cannot practice law in Rhode Island. However, on August 12, 2019, Senator Whitehouse did just that. He filed an amicus curiae brief with the U.S. Supreme Court on behalf of Senators Mazie Hirono, Richard Blumenthal, Richard Durbin, and Kirsten Gillibrand. The filing of a brief – let alone all that is required to file a brief – on behalf of clients is indisputably the practice of law.
Source: judicialwatch.com
One associate, considered to be Epstein's closest pal, is modeling maven Jean-Luc Brunel – who has recently been accused of pimping underage women around the world through his Mc2 and Karin modeling agencies, while former models have accused the 72-year-old of drugging and date-raping girls, according to the Daily Beast.
How close were Brunel and Epstein?
Brunel was one of the financier's most frequent male associates. The agent appears more than 15 times on flight logs from Epstein's private plane, jetting everywhere from Paris to New York, often in the presence of young women. He visited Epstein nearly 70 times in jail, according to visitor logs, and several more times while the financier was on house arrest in Palm Beach.
Brunel's name appeared in a cache of court documents unsealed earlier this month,  "
Virginia Roberts (now Giuffre)—one of the first alleged victims to speak out against Epstein after he was granted a sweetheart plea deal—claimed in legal filings that Brunel was one of many powerful men she was forced to sleep with in her years as Epstein's "sex slave." She also accused Brunel of using his agency to find foreign girls, obtain visas for them, and "farm them out to his friends, including Epstein."    rg
Brunel has denied all of it
Source: zerohedge.com
Since the death of epstein Barr decided to appoint new leadership team at the Bureau of Prisons
Attorney General William P. Barr Appoints New Leadership Team At The Bureau Of Prisons
Attorney General William P. Barr today announced he will appoint Dr. Kathleen Hawk Sawyer as the Director of the Federal Bureau of Prisons (BOP) and Dr. Thomas R. Kane as the Deputy Director of the Federal Bureau of Prisons (BOP). Dr. Hawk Sawyer previously served as Director of BOP from 1992 – 2003.  
"I am pleased to welcome back Dr. Hawk Sawyer as the Director of the Federal Bureau of Prisons. Under Dr. Hawk Sawyer's previous tenure at the Bureau, she led the agency with excellence, innovation, and efficiency, receiving numerous awards for her outstanding leadership, " said Attorney General Barr. "I am also pleased to announce Dr. Thomas R. Kane as the Deputy Director of BOP. Dr. Kane served in the Bureau for over thirty years under four Attorneys General and is known for his expertise and proficiency in prison management and organization.
Source: justice.gov
Now we have been talking about Voter id  and the 2020 elections, now something very interesting is happening, tom fitton tweeted out
Kentucky Set to Remove Up to 250K Inactive Voters Thanks To @JudicialWatch

Follows LA County Move to Remove Up To 1.6 Million Inactives

Dirty voting rolls can mean dirty elections, so it is essential that dead/long-gone voters removed from voter rolls.https://t.co/1suGQJcfxt pic.twitter.com/pMpjt1GOlR

— Tom Fitton (@TomFitton) July 16, 2019
The anti-Trump media won't tell you but I will, @RealDonaldTrump is on to something with his complaints about mass voter fraud. My guess is Hillary Clinton got about 1.1 million illegal votes from alien voters. DOJ should investigate alien illegal voting. https://t.co/BZUfDak6Ww pic.twitter.com/Gc3VyC4SNK

— Tom Fitton (@TomFitton) August 14, 2019
President Trump says we need voter ID. Just look at what @JudicialWatch Has discovered in California. They got over 1 million voters removed from the voter rolls. We know there was voter fraud there and the only way to fix it is voter ID. pic.twitter.com/EidftaJRVM

— The "Dirty" Truth ™ (@AKA_RealDirty) August 19, 2019
Take a listen to what trump said

Lets go back to post 
>>1108897

Will election fraud be revealed soon???

>>1109176

Yes, midterms are safe.

Watch CA.

Q
>>4280189

Will voter fraud be exposed before January?

>>4280236

No.

2019 push Voter ID based on verifiable intel (fraud).

2020

+ safeguarded.

Q
Then trump comes out with the following
Wow, Report Just Out! Google manipulated from 2.6 million to 16 million votes for Hillary Clinton in 2016 Election! This was put out by a Clinton supporter, not a Trump Supporter! Google should be sued. My victory was even bigger than thought! @JudicialWatch
Source: zerohedge.com
Schumer assails Trump's 'heartbreaking' apparent reversal on background checks
Trump told reporters this weekend he will look "very strongly" at ideas from both Democrats and Republicans but said to remember that "we already have a lot of background checks." In the Senate minority leader's view, Trump's remarks amounted to backing away from burgeoning bipartisan talks on reviving and amending the background checks bill by Sens. Joe Manchin and Pat Toomey.
Chuck Schumer dinged President Donald Trump's apparent about-face on enhanced backgrounds for firearm sales, calling the move "not only disappointing but also heartbreaking."
Source: politico.com
After an event this is when the DS/Dems push their legislation, remember they want their legislation passed, they do not want a discussion they don't want to remove parts, Trump knew this and played along with all of it, and when the event fades from the headlines Trump moves away from the issue, optics are important. Now I believe that he was betting on congress do absolutely nothing, the house as their legislation, the senate was going to create theirs and they aren't going to agree on anything, alaskan patriot tweeted out the following in regards to red flag law
My take on a Red Flag law. Trump said he wants one. If Congress passes one, Trump wins. Dems will never hand Trump a win. If congress passes one that violates the 2nd Amendment, Trump wont sign it, so Trump wins. If congress does not pass one, Trump wins. 4D Chess.

— The Alaskan Patriot (@Nosafetypinneed) August 18, 2019
---
Geopolitical/Police State
Trump: Purchasing Greenland 'strategically' interesting
President Trump on Sunday said buying Greenland is "strategically" interesting amid reported interest from the administration last week.
Speaking to reporters as he left his Bedminster, N.J., golf club, Trump acknowledged that purchasing the landmass owned by Denmark has been discussed.
"Denmark essentially owns it. We're very good allies with Denmark. We protect Denmark like we protect large portions of the world," he said.
Trump added, "Strategically, it's interesting, and we'd be interested, but we'll talk to them a little bit. It's not number one on the burner."
Source: thehill.com
When It Comes To Buying Greenland, Is The Third Time A Charm? Not Likely
Greenland's government has made clear it is not for sale.
"#Greenland is rich in valuable resources such as minerals, the purest water and ice, fish stocks, seafood, renewable energy and is a new frontier for adventure tourism,"
If Trump were to make an offer to buy Greenland, it would be the third time in American history the United States has made a serious effort to acquire the land.
The first attempt to purchase the territory came in the 1800s, when President Andrew Johnson's secretary of state, William Seward, who had taken the post under Abraham Lincoln before the president's assassination, tried to buy the territory from Denmark about the time of the Alaska Purchase in 1867. Seward's plans for the United States to mount a competitive offer for the Danish islands were dropped, however, after a plan to purchase the Danish West Indies failed to pass the Senate.
The most recent attempt came in 1946, as tensions between the United States and Russia began to flare at the start of the Cold War. The Truman administration secretly offered Denmark $100 million in gold to purchase the land but received no response.
  the land holds a vast amount of natural resources and a strategic location vital to U.S. security interests in the Arctic.  
So why did Trump bring this up, I believe is was a distraction to keep the MSM buzzing about nothing, while the real work continues behind the scenes.
Source: thefederalist.com
Hong Kong Democracy Protesters Start Using Right-Wing Pepe the Frog Memes at Freedom Protests — Watch Liberal Media Lose Interest
Democracy protests continued in Hong Kong this past weekend.
Gateway Pundit's brother Joe Hoft  landed in Hong Kong on Wednesday — and has been covering the protests from Asia—-
The protests in Hong Kong continue in spite of the heavy rain and police orders not to march. Hundreds of thousands marched in the streets on Sunday!
Thousands and thousands of Hong Kong residents came out to protest the recent extradition order in spite of rain and police orders. For the most part these are the most peaceful and considerate of any protesters on earth.
The protesters waved American flags last week and over the weekend.
And now the Hong Kong protesters are using symbols of the West, Hong Kong protesters are using Pepe the Frog as a symbol of freedom.
Source: thegatewaypundit.com
U.S. President Donald Trump warned Beijing that any violent crackdown in Hong Kong on protesters would harm the ongoing trade talks between the two countries.
"I think it'd be very hard to deal if they [China] do violence, I mean, if it's another Tiananmen Square," Trump told reporters in New Jersey on Aug. 18. He added that he supported liberty and democracy in Hong Kong.
The initial call for scrapping the bill has now ballooned into other demands, such as a call for universal suffrage, as well as an independent investigation looking into police actions and violence in dealing with protesters.
Most recently on Aug. 18, more than 1.7 million Hongkongers walked the streets of Hong Kong in heavy rain, defying a police ban, to continue calling on the government to engage with their demands.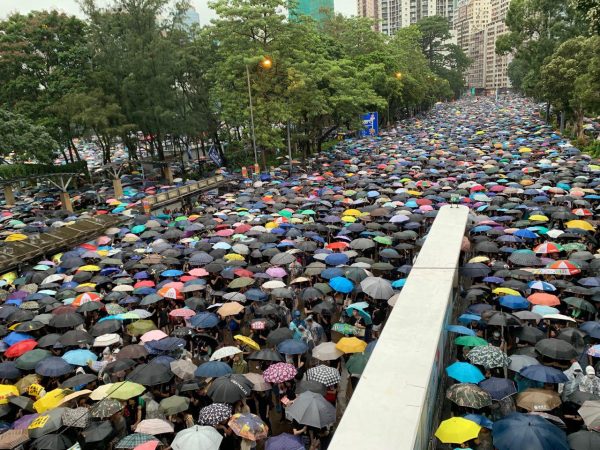 Source: theepochtimes.com
Meanwhile, SILENCE…about yellowvests protests for months and months  
---
False Flags
State senator apologizes after mock Trump assassination photos surface
P

hotos from a fundraising event for a Democratic state senator in Illinois surfaced over the weekend showing a mock assassination of President Trump, prompting apologies and condemnation.
The pictures from a fundraiser for Sen. Martin Sandoval were initially posted on Facebook by a woman who attended the event and shows a man pointing a fake gun at someone wearing a Trump mask and a Mexican costume. Donors paid a minimum of $250 to attend Sandoval's golf outing in Winfield, Illinois, located just outside of Chicago.
A political fundraiser for @SenatorSandoval simulates an assassination attempt against a mock @realDonaldTrump decked out in Mexican garb. Looks like a man pointed a fake assault weapon at the fake President to pose for a picture. pic.twitter.com/MlT9zjB1mn

— Mark Maxwell (@MarkMaxwellTV) August 17, 2019
  Kellyanne Conway took to Twitter Sunday to condemn the photos, writing, "Every Democrat should be asked if they support or disavow this."
Sandoval has served in the Illinois Senate since 2003.
Source: washingtonexaminer.com