Game Theory, Compartmentalized, Operators Dialed-In With Orders They Never Divulge – Ep. 2547
The [DS]/Biden administration needed to extend the pause on loan payments so the people would not riot against the [DS]. The [CB] is now moving forward to make sure that the Chinese controls the US. Trump puts out a statement telling everyone they are moving forward with the Great Reset, the infrastructure is just the beginning. Cruz points out that the [CB] is trying to control and then destroy crypto. Panic in DC, the [DS] knows that the people are catching on, the people no longer believe their lies, people are not following the mandate. Schiff panics wants Guantanamo prison closed now, he knows whats coming. Devolution is moving forward, military compartmentalized, operators are dialed-in, they divulge the mission. Less than 10 no the plan, only 3 are non military, reconcile. The only way forward is the military.
Watch The X22 Report On Video
---
Economy
Biden Admin to Extend 'Pause' on Student Loan Payments Until January 31
The Biden Administration announced it will be extending the 'pause' on federal student loan payments until January 31, 2022.
The previous pause on repayment was set to expire at the end of September.
Secretary of Education Miguel Cardona announced a 'final extension' of the pause on student loan repayment, interest and collections until January 31.
"
Source: thegatewaypundit.com
Biden's Electric Vehicle Plan Without Mining Expansion Is A Big Win For Beijing
President Joe Biden wants half of all cars sold in the U.S. to be electric within 10 years. Without new mines, China will maintain grip on battery supply.
That future however, may also feature swelling American reliance on one of its greatest overseas adversaries: China.
Less than five percent of all new cars on the U.S. market were purely electric vehicles and less than four percent were plug-in hybrids as of June, according to the Energy Department's Argonne National Laboratory.
According to the New York Times, China makes "70 to 80 percent of the world's battery chemicals, battery anodes and battery cells," and dominates the market for electric motor magnets.
"The Middle East has oil, and China has rare earth," 
The United States could reclaim its mineral dominance if it tapped into its own vast riches, unreachable by the cascade of burdensome regulation standing in the way of development 
Source: thefederalist.com
TRUMP STATEMENT
Joe Biden's infrastructure bill is a disgrace. If Mitch McConnell was smart, which we've seen no evidence of, he would use the debt ceiling card to negotiate a good infrastructure package. 
 
This is a 2,700 page bill that no one could have possibly read—they would have needed to take speed reading courses. It is a gift to the Democrat Party, compliments of Mitch McConnell and some RINOs, who have no idea what they are doing. There is very little on infrastructure in all of those pages. Instead, they track your driving so they can tax you. It is Joe Biden's form of a gas tax but far bigger, far higher and, mark my words, far worse. They want to track you everywhere you go and watch everything you do!
 
Joe Biden's infrastructure bill will be used against the Republican Party in the upcoming elections in 2022 and 2024. It will be very hard for me to endorse anyone foolish enough to vote in favor of this deal. 
 
The good news is that the progressive wing in the Democrat Party will lose all credibility with this approval. Additionally, Kevin McCarthy and Republican House members seem to be against the bill. If it can't be killed in the Senate, maybe it dies in the House!
 
Nancy Pelosi and the Democrats understand that this is the way to get the horrendous $3.5 trillion, actually $5 trillion, Green New Deal bill done in the House. Mitch is playing right into Nancy's hands, not to mention the fact Chuck Schumer is already going around saying this is a big victory for the Democrats. Whether it's the House or the Senate, think twice before you approve this terrible deal. Republicans should wait until after the Midterms when they will gain all the strength they'll need to make a good deal, but remember, you already have the card, it's called the debt ceiling, which the Democrats threatened us with constantly.
🚨🚨The Senate is on the verge of passing legislation that would be TERRIBLE for cryptocurrency.🚨🚨

The infrastructure deal contains DANGEROUS provisions that would devastate crypto and blockchain innovation.

Supporters of crypto need to make their voices heard. https://t.co/iXrcnne0tV

— Ted Cruz (@tedcruz) August 7, 2021
Right now, supporters of crypto & blockchain are LOSING this fight that will define crypto's future.

That's why I'm proud to cosponsor the @RonWyden, @SenLummis, @SenToomey crypto amendment.

It's a major improvement over what is in the underlying bill & a must pass amendment.

— Ted Cruz (@tedcruz) August 7, 2021
Given the major flaws in the underlying bill's unworkable and devastating crypto provision, I also filed a separate amendment to strike the whole thing, in the event a bipartisan deal can't be reached.

We have to act now to stop this.

— Ted Cruz (@tedcruz) August 7, 2021
Globalist banks and billionaires are doing everything they can to control cryptocurrency and decentralized finance.
---
Political/Rights
 " CNN's Chris Cuomo said that he would be taking a "long-planned vacation."
Chris Cuomo has announced he will be taking a weeklong 'vacation' from CNN for his birthday –

This "long-planned vacation" comes after it was exposed that Chris Cuomo was caught seemingly drafting a response to one of New York Governor Andrew Cuomo's accusers.
This was never revealed to the public.
Source: thegatewaypundit.com
Democrat State Senator Tony Navarrete is facing seven felony counts involving sexual misconduct with two young boys and 49 years behind bars at the minimum.
 He is charged with a felony described as "knowingly engaging in intercourse or oral sex with a minor." 
One of the boys is now 16, but the sexual abuse allegedly began in 2019.
Previously, Navarette sponsored a bill that would require all schools in Arizona to teach sexual education instruction starting in Kindergarten. This bill would begin sexual education instruction with students as young as four years old.

 

The bill says:
SB 1340
A.  All school districts with existing sex education curricula AND CHARTER SCHOOLS shall:1.  PROVIDE SEX EDUCATION INSTRUCTION THAT IS MEDICALLY ACCURATE AND AGE‑APPROPRIATE FOR PUPILS WHO ARE IN KINDERGARTEN PROGRAMS AND GRADES ONE THROUGH TWELVE.
 
Source: thegatewaypundit.com
Several weeks ago, Congressman Matt Gaetz and Congresswoman Marjorie Taylor Greene were in the state of California hosting several rallies across the state as part of their "America First" tour across America.
After far-left activists were able to pressure the town of Riverside from allowing one of those rallies to occur within city limits, the duo announced that they had found a place to host their rally in the City of Anaheim. Like before, far-left activists went into full panic mode on social media and urged their cohorts to conduct another online pressure campaign, this time targeting Anaheim city officials and members of the Anaheim City Council.
Public records   show the following
Close to a dozen individuals in total petitioned the City of Anaheim to take action against the America First rally, claiming that hate speech was not constitutionally protected (which it is, but we all know that being America First is now hate speech). Only a handful of those emails calling for the City of Anaheim to take action were from actual residents, including a former public official who was booted from an appointed post several years ago after appearing at an open-borders rally alongside members of the domestic terrorist organization Antifa.
These records also show Councilmember Jose Moreno emailing his fellow elected officials to consider a review of the private venues conditional use permit as a means of shutting down the event if the owners refused to cave to public pressure, claiming that the rally would have a high likelihood of violence. However, a review of livestreams of the dozens of America First rallies held by Gaetz and MTG so far do not contain evidence to support those claims. Furthermore, it is a known fact that any violence that occurs at pro-Trump gatherings comes from domestic terrorist groups like Antifa and BLM.
Source: thegatewaypundit.com
---
Geopolitical/Police State
---
False Flags
Rules are for the little people.
  photos were released of massive tents set up on the Obama compound in advance of the former president's birthday bash.
But please make sure you wear a mask in front of our unvaccinated children.
Source: thegatewaypundit.com
Breaking Barack Obama Eric holder Kamala Harris all meeting in secret Barack Obama's birthday party pic.twitter.com/65FzR3pSbo

— 0HOUR (@AnonymousZeros) August 7, 2021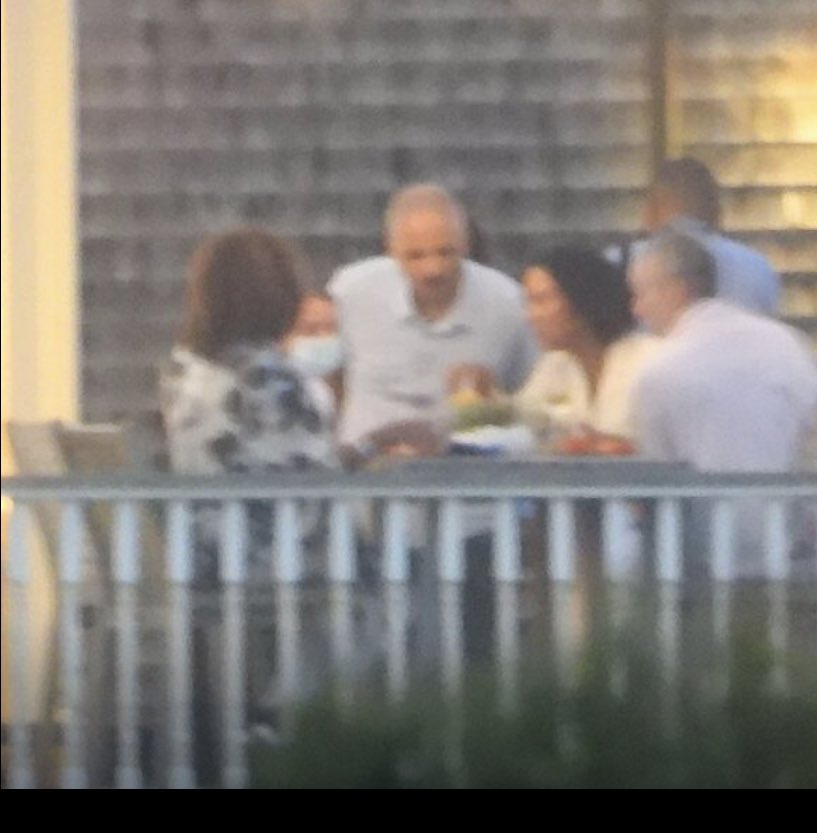 Your relatives died alone.

Your wedding was canceled.

Your business was locked down.

By the people at this party.

It's all a control sham. Never comply. Never give them an inch. https://t.co/lDYWt9H2aX

— John Cardillo (@johncardillo) August 8, 2021
TAKE A LISTEN
Somewhere near Cozumel in the Caribbean Sea, there's a cruise ship that had zero unvaccinated people aboard but that still suffered an outbreak of Covid-19. This goes against the narrative that the reason for "breakthrough cases" is due to too many unvaccinated people mingling with those who have taken the experimental injections.
Source: thelibertydaily.com
DC giving away AirPods to encourage youth vaccinations
Washington, D.C., Mayor Muriel Bowser (D) announced Saturday that the city would give away AirPods, gift cards and thousands of dollars in scholarship money as incentives to get more adolescents and teens vaccinated.
Bowser said in a tweet that those ages 12-17 who get their first COVID-19 shot at one of three sites would get either a set of AirPods or a $51 gift card, a nod to the push to make D.C. the 51st U.S. state.
Adolescents also have a chance at winning $25,000 in scholarship money or an iPad and headphones, the mayor said.
Source: thehill.com
Source: breitbart.com
Dr. Anthony Fauci: Expect 'a flood' of COVID-19 vaccine mandates after full FDA approval
Rahm Emanuel: Don't Use The Word Mandate for COVID Vaccine — Say 'Requirements for Access'
BREAKING: CDC NOT MANDATING ITS EMPLOYEES TO BE VAXED
A concerned citizen contacted the Center for Disease Control (CDC) in Atlanta, GA yesterday and spoke to multiple employees. When asked if the CDC was mandating its employees to inject themselves with the experimental gene therapy called a 'vaccine' for the CCP virus, they pushed back, got defensive, and finally said no, they are not mandating CDC employees receive the 'vaccine' for Covid-19, which has not even been tested on animals and is still experimental, under an emergency use authorization only.
Source: cdmedia.com
So the CDC is not mandating, the CEO Pfizer is not vaccinated
The Moderna and Pfizer vaccine tests were conducted, as customary, with a control group; a group within the trial who were given a placebo and not the test vaccine.  However, during the trial -and after the untested vaccines were given emergency use authorization- the vaccine companies conducting the trial decided to break protocol and notify the control group they were not vaccinated.  Almost all the control group were then given the vaccine.
Purposefully dissolving the placebo group violates the scientific purpose to test whether the vaccine has any efficacy; any actual benefit and/or safety issues.  Without a control group there is nothing to compare the vaccinated group against.  
(Via NPR) […] "Dr. Carlos Fierro, who runs the study there, says every participant was called back after the Food and Drug Administration authorized the vaccine.
"During that visit we discussed the options, which included staying in the study without the vaccine," he says, "and amazingly there were people — a couple of people — who chose that."
He suspects those individuals got spooked by rumors about the vaccine. But everybody else who had the placebo shot went ahead and got the actual vaccine. So now Fierro has essentially no comparison group left for the ongoing study.  "It's a loss from a scientific standpoint, but given the circumstances I think it's the right thing to do," he says.
People signing up for these studies were not promised special treatment, but once the FDA authorized the vaccines, their developers decided to offer the shots. (read more)

Just so we are clear, the final FDA authorization and approval for the vaccines are based on the outcome of these trials.
That NPR article is one to bookmark when people start claiming the vaccination is effective.
Source: theconservativetreehouse.com
This morning Italians started burning there VaxPassports.
This how none-compliance works.
Please support our Italian/French brothers and sisters today in there protests across the country.#NoVaccinePassports #PassSanitaire #NoGreenPass#NoVaccineMandates #Manifs7aout pic.twitter.com/y6fjt9AQQ7

— Shaun K (@skbytes) August 7, 2021
In South Dakota, the Sturgis Motorcycle Rally is underway, and it expects to attract about 700,000 people to its events over a ten-day period.
Source: theduran.com
The Florida Board of Education has unanimously voted to approve a measure that will pay for students to move to new schools if they experience "COVID-19 harassment."
Parents of students in districts that have strict COVID rules can now apply for a Hope scholarship to transfer kids to another school of their choice.
The Tampa Bay Times reports that "specifically, a parent can apply for a voucher in 'instances where a child has been subjected to COVID-19 harassment will provide parents another means to protect the health and education of their child by moving their child to another school.'"
Florida Governor Ron DeSantis also recently signed a bill banning mask mandates in schools.
Source: thegatewaypundit.com
---
Q
Texas House Democrats who fled to Washington, D.C., in July to avoid voting on an election reform bill filed a lawsuit against Gov. Greg Abbott (R-TX) and other Republican leaders on Friday, alleging the governor's threat to arrest them upon their return to the Lone Star State is causing them "anxiety," "distress," and "embarrassment."
The Texas Tribune reported:
Twenty-two Texas House Democrats sued some of the state's top Republican leaders in federal court in Austin late Friday, alleging that GOP officials'efforts to bring them home for a special legislative session infringed on their constitutional rights to free speech and to petition the government for redress of grievances.
TRUMP STATEMENT
Wisconsin has just canceled 205,000 voter registrations because they say they could not find the voters. Why did they wait until AFTER the election? Would this mean that we would have won Wisconsin? Congratulations!
Things may seem crazy right now, but that is only because the truth is coming out and the people are waking up. They are cracking down on us only because they know their time is short.

— Wendy Rogers (@WendyRogersAZ) August 6, 2021
We must close the Guantanamo Bay detention facility.

It can be done safely and it's continued operation is inconsistent with our commitment to the rule of law.

That's why I joined 72 colleagues to call on @POTUS to fulfill his promise and close its doors.

Read our letter. ⤵️ pic.twitter.com/5YIeV8BhcB

— Adam Schiff (@RepAdamSchiff) August 6, 2021
These people feel that they are the foot soldiers and executors of what the disenfranchisement that the white race is feeling and Donald Trump is giving them subliminal orders in their head. They are no different than the mobilized, self-starting, self-radicalized terrorists of ISIS here in the United States and Europe,
Source: realclearpolitics.com