Guardians Of Intelligence, Where's Durham, Are You Ready To Hold The Elite Accountable – Ep. 2548
Inflation is coming, CEOs of companies are now warning that we are going to see food prices hit all time highs most likely hitting in September. The infrastructure bill has nothing to do withe infrastructure, Trump confirms that this is the beginning of the green deal or great reset. People are watching the [CB] economy unfold, only at the precipice will people demand change. The patriots prepared the pieces of the plan during the Trumps presidency, once all the pieces were in place the plan was ready for lift off. The [DS] was being monitored from multiple agencies, they monitored big tech communication, fake new communication, the corrupt politicians, FISA works both ways. The guardians of intelligence have been monitoring it all the entire time. How do you bring down the swamp at once, you let them commit the crime, you monitor their activity and then you spring the trap. Trump mention Durham again, is something big about to drop, are you ready to hold the elite accountable.
Watch The X22 Report On Video
---
Economy
TRUMP STATEMENT
This is not an infrastructure bill, this is the beginning of the Green New Deal. The bill I proposed, which Mitch McConnell couldn't do anything with, was pure infrastructure. I want what is best for America, not what's best for the Communist Democrat Party. This will be a big victory for the Democrats and will be used against Republicans in the upcoming elections. Schumer is using the threat of "we can do it the hard way or do it the easy way" and keeping people in town. McConnell never did that on a real infrastructure bill. Hopefully the House will be much stronger than the Senate.
Congratulations to Senator Bill Hagerty in remaining true to "AMERICA FIRST!"
---
Political/Rights
California GOP votes not to endorse in coming Newsom recall election
The party voted overwhelmingly  y not to endorse a candidate in the September race over concerns that throwing their support behind one of the Republican candidates would divide the party and lead some voters to stay home, The Associated Press reported.
Roughly 90 percent of the delegates who were at the party's virtual meeting supported not endorsing one candidate, the AP noted. They were reportedly planning on choosing which candidate to endorse out of a small group of four, according to Politico.
Source: thehill.com
---
Geopolitical/Police State
---
False Flags
Literally every time. pic.twitter.com/t440MzB79y

— Caleb Hull (@CalebJHull) August 9, 2021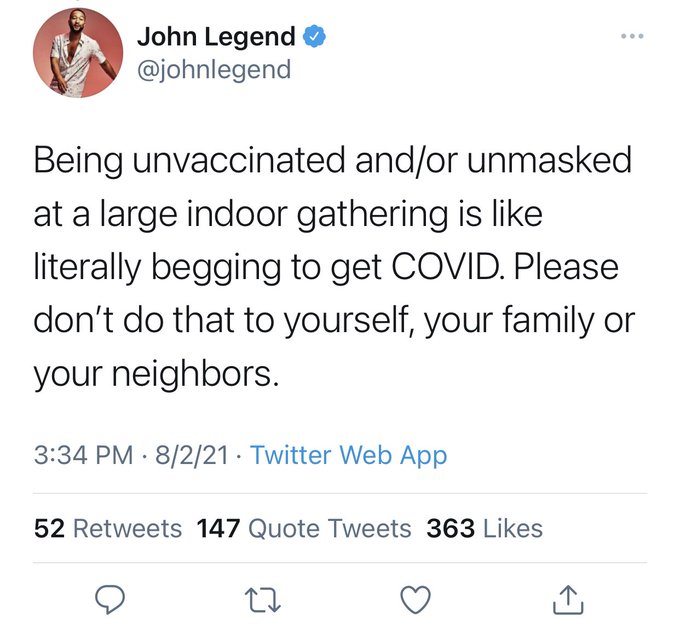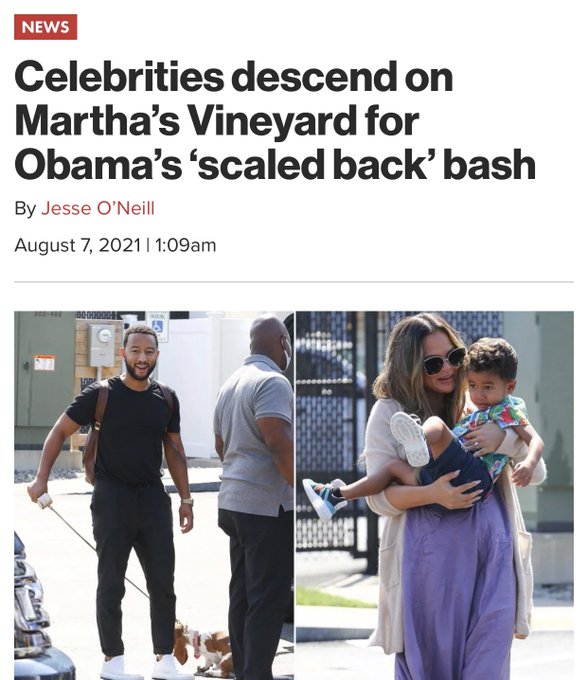 Don't you find it strange that Fauci has not said a word about Obama's party, isn't this going to be a super spreader.
The [DS]  knew the optics of Obama's massive unmasked/not socially-distanced event when people are being told to do precisely the opposite. They had the party on purpose; to remind you that you are not them. They also sent another message
 Hollywood, Athletes, Politicians just told everyone we do not have to comply
Governor Northam Announces COVID-19 Vaccine Requirement for State Workers
 Governor Ralph Northam today announced that Virginia will require its state workers to show proof that they are fully vaccinated or be tested for COVID-19 every week. This policy will impact approximately 122,000 employees and will go into effect on September 1.
Source:  governor.virginia.gov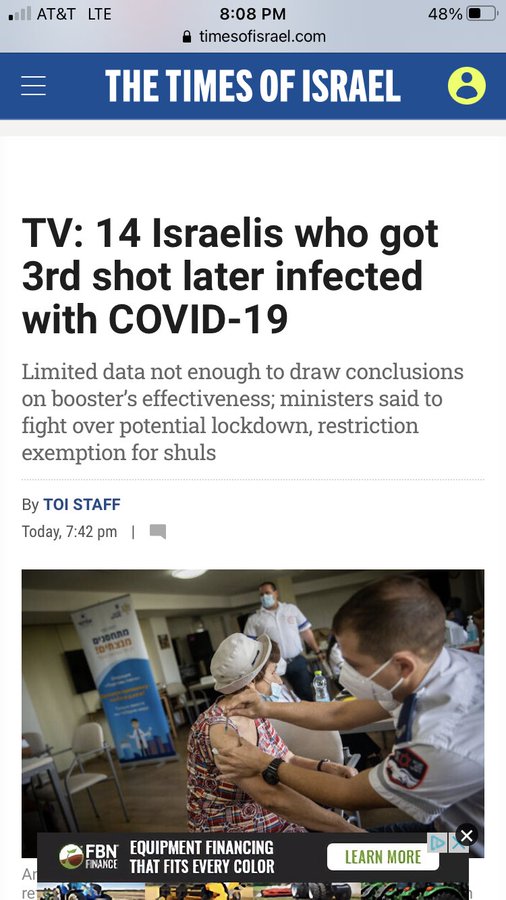 We are at a moment of truth and a crossroads. Will we allow these people to use fear and propaganda to do further harm to our society, economy, and children?

Or will we stand together and say, absolutely not. Not this time. I choose freedom. pic.twitter.com/XrI2tjdAHW

— Senator Rand Paul (@RandPaul) August 8, 2021
JUST IN – Top Biden officials are growing frustrated with the lack of internal visibility into #COVID19 data being collected by the CDC: "Where the hell are the data?," a source describes the tension to Axios behind the scene.

— Disclose.tv 🚨 (@disclosetv) August 9, 2021
---
Q
Were any of those law enforceent officers directed to do that? And if so, by whom?
I believe the county election department testified that there were over 200,000 digitally adjudicated ballots in Maricopa County…🤔 https://t.co/UG2Z59aMmB

— Dr. Kelli Ward 🇺🇸 (@kelliwardaz) August 9, 2021
TRUMP STATEMENT
Just reported that over 20% of the people coming across our Southern Border have Coronavirus (sometimes referred to as the China Virus), many of them being immediately released into our communities—and then our "Government" tells you how to mask up, use three if possible, and how to otherwise act as highly infected people pour into our Country. Finish the wall in one month, stop paying contractors billions of dollars for NOT building the wall, and stop allowing some of the worst prisoners and criminals anywhere in the world into our Country—jails of other countries are being emptied into ours. Such a thing has never happened to any nation before. This is what a Rigged and Corrupt Presidential Election gets you!
The Battlefield
I've discussed many times already that the Military would be the only ones to win this war for Trump due to the CCP infiltrating so many of our institutions including the highest levels of our government and government agencies. The war for America's soul has been raging for quite some time. A war between good and evil. Between Trump and his enemies. There are many fronts that this war is fought on and all those fronts converged on November 3rd. The election was the most important "battle". Trump's enemies knew that winning the election battle would ultimately win them the war, but Trump knew that too.
The Democrats did everything they could throughout Trump's presidency to remove him from office.  When nothing worked and Trump was clearly going to win by a landslide, Trump's enemies were forced to alter the election results using the voting machines (on top of other methods). These two facts are important because in order for the Military to take an active role in this war, they needed a legal reason for doing so. CCP involvement was their reason.
4817
Archive Bread/Post Links: 10957492 / 10957834
Direct Link: 10957834
4871
Archive Bread/Post Links: 11084671 / 11085145
Direct Link: 11085145
4821
Archive Bread/Post Links: 10967234 / 10967370
Direct Link: 10967370
When did the Military move from "planning" to "implementing" Devolution?
I believe that answer comes from a tweet that serves as a connection between Antifa and the election theft.
Daniel Scavino Jr.
Trump first met Scavino on the golf course in 1990. He is and always has been one of Trump's closest allies and confidants.
Scavino is "in the know". That certainty comes from this one picture.
This photo was taken on 10/26/2019. The caption reads "ISIS Leader, Abu Bakr Al-Baghdadi – is DEAD." To me this picture shows he was informed on national security operations as well as counter-terrorism operations. Look who else is in the picture with him.
On December 15th, 2020, Dan Scavino tweeted this picture with the caption "Historical moment in the Oval—will share what it was, one of these days, when I can…."
Why would he share a picture with that caption unless it truly was a historic moment? Nothing would be more historic than Trump being able to successfully "stop the steal".
Looking closely at his tweet, we can see that there are green trees in the background. There wouldn't be green trees outside the window in December. Clearly that picture was taken during warmer weather. So I simply dug through Scavino's Facebook page and finally I came across this picture from June 1st, 2020:
This picture is clearly from the same meeting as the tweet Scavino sent out on December 15th. Here is the caption from the June 1st tweet:
The picture in the June 1st tweet was taken while they were preparing his address to the nation regarding the riots and Antifa. The address where he "threatens" to mobilize the Military
The Military knew before June 1st that there were foreign actors involved in these riots but they didn't get involved with active surveillance (publicly anyway) until it got to the point that city and state governments failed in their duty to protect the citizens of their States.
June 1, 2020, is the date the Military became actively involved in the Antifa investigation.
4382
Archive Bread/Post Links: 9413953 / 9414112
Direct Link: 9414112
4655
Archive Bread/Post Links: 10596316 / 10596540
Direct Link: 10596540
Now back to the original Scavino tweet:
Why didn't Scavino say it was a "historic moment" when he released the first picture from this meeting on June 1st? Why was a picture of this meeting a "historic moment" when it was shared again from a different angle on December 15th? What is the significance of December 15th, 2020?
There are a lot of important things happening around this time frame. The first date to point out is December 18th, 2020; The date the Intelligence Community was to submit its assessment on foreign threats to the 2020 U.S. elections as required by Executive Order 13848 (Devolution – Part 7). Keep that in mind as I continue.
John Ratcliffe
December 12th, 2020, Director of National Intelligence John Ratcliffe posted this to twitter:
So we know DNI Ratcliffe spent some significant time with President Trump on December 12th. The very next day, on December 13th, President Trump Posts this to twitter
"Swing States that have found massive VOTER FRAUD, which is all of them, CANNOT LEGALLY CERTIFY these votes as complete & correct … In all Swing State cases, there are far more votes than are necessary to win the State, and the Election itself. Therefore, VOTES CANNOT BE CERTIFIED. THIS ELECTION IS UNDER PROTEST!"
I believe DNI Ratcliffe presented a report to Trump on December 12th showing two things.
China interfered in our election
The Intelligence Community was covering it up.
4755
Archive Bread/Post Links: 10770198 / 10770890
Direct Link: 10770890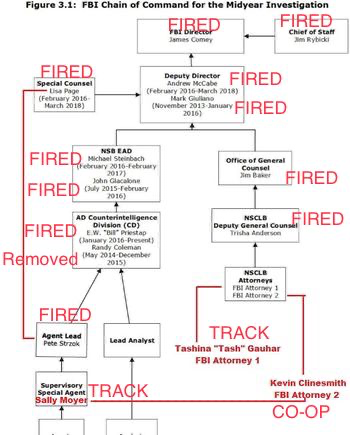 DNI Ratcliffe released his memo titled "Views on Intelligence Community Election Security Analysis". The first paragraph of that memo reads:
He states he is "the individual who consumes all of the U.S. government's most sensitive intelligence on the People's Republic of China". As the DNI, he would have known at the time of the December 12th Army-Navy football game that the Intelligence Community assessment was going to be late. He knew they were attempting a coverup. I believe he even warned them that he knew.
On December 3rd, 2020 DNI Ratcliffe wrote an op-ed in the Wall Street Journal titled "China Is National Security Threat No. 1.
We know the Military was already watching the foreign actors involved with the riots. We also know that they would be used to safe guard the election. They even call themselves the "Guardians".
There is little doubt in my mind that with the technological capabilities employed by the United States Space Force, that they saw foreign interference as it was happening. They were ready to act as needed but they were waiting for the the constitutional process to play out and gave the Intelligence Community a chance to do their job as required by Executive Order 13848. The Military waited until it was obvious the IC was going to allow the election to be stolen and they had failed in their duty to protect the citizens of their States.
2624
Archive Bread/Post Links: 4281211 / 4282020
Direct Link: 4282020
December 15th, 2020, the day the Military moved from "planning" for Devolution to "implementing" Devolution.
This one tweet from Scavino serves as the connection between pre-election and post-election foreign interference. That certainly makes this tweet "historic" to me.
I don't think that was the only instance of Scavino using his twitter account to hint at something much bigger going on. On December 19th, 2020, he tweeted a series of 3 pictures.
Each of the historical figures pictured in these tweets were "war-time" leaders. In Devolution – Part 4 I talked extensively about Abraham Lincoln and how Trump followed Lincoln's model from the Civil War to do whatever he deemed necessary to save the constitution and the country. I think the tweeted picture of Winston Churchill is just as significant.
Churchill is an honorary "American citizen" whose "ancestors were officers in Washington's army." That is truly remarkable, but looking back at something he once wrote provides us with something even more remarkable. On August 22, 1936, Winston Churchill wrote an article titled "What Good's a Constitution?".
"Written soon after Franklin Roosevelt's Democratic Convention Address of 1936, this article by British statesman Winston Churchill points to the wide gulf between Churchill's and Roosevelt's economic views, even if five years later they would forge a close wartime alliance. Beyond their differences on economics, Churchill sees the American Constitution as an enduring source of strength for the American republic, not an obstacle to be overcome."
This article from 1936 perfectly encapsulates the turmoil our country has been going through. It's almost as if he was writing this in 2020.
[Here are screenshots of a majority of Churchill's article only leaving out the parts where he discusses England.]
[Skipping parts regarding England]
[Skipping parts relating to England]
Closing
There is one more person in this story that I have yet to talk about and I think now is the time to view his actions from a different perspective. January 6th, 2020, will always be remembered as a stain on American history. For Mike Pence, January 6th had to be one of the most difficult days of his life. So many American's who once admired him as a Patriot began vilifying him as a Judas.
With those assumptions as pretext, let's go through the letter Mike Pence wrote on January 6th, 2021; The day of the electoral college vote.
Right away he tells us that he will be doing his duty as the presiding officer "Under our Constitution". He goes on to tell us that he shares concerns regarding election fraud and states "the American people choose the American President (interesting he added "American" here as it was already implied), and have every right under the law to demand free and fair elections and a full investigation of electoral misconduct." He knows it's our right to choose the President and that electoral fraud should be looked into, but he also knows its the role of elected representatives to handle these situations as they arise during the electoral college vote. It's not his job to interject.
Again, telling us the "Presidency belongs to the American people". I believe he is telling us that he knows there was foreign interference.
The second highlighted part could be viewed from two perspectives and I think both perspectives are accurate. "When disputes concerning a presidential election arise, under Federal law, it is the people's representatives who review the evidence and disputes through a democratic process."
This could be Pence referring to the election audits. "It is the people's representatives (State Legislature) who review the evidence (Forensic Audits)."
He could also be referring to members of Congress not actually being the duly elected members of Congress. "It is the peoples representatives who review the evidence." What if the peoples representatives aren't the ones who were truly elected? How big was this fraud? How many in Congress aren't legitimate?
He is again telling us that it isn't his duty in his role while presiding over the electoral college vote to interject. His "only responsibility and power … is to faithfully count the electoral college votes as they have been cast." He knows the votes were cast fraudulently but his Constitutional role prevents him from acting on it.
Here Pence brings up his oath.
This paragraph is so important. He says "I ask only that Representatives and Senators who will assemble before me approach this moment with the same sense of duty and an open mind, setting politics and personal interests aside, and do our part to faithfully discharge our duties under the Constitution".
At the opening of a new congress, Representatives beginning their 6 year term must recite what is called the Congressional Oath of Office:
In his letter, he is reminding Congress of their Oath of office and he uses some of the same exact language to do so: "faithfully discharge our duties". It's almost as if he is giving them a lifeline—an "out." He is telling them to do the right thing for their country and not go through with allowing a Presidential Election to be stolen.
He assured us that he would keep his oath to us and to Almighty God. His oath to us is to "support and defend the Constitution of the United States against all enemies, foreign and domestic." I truly believe Mike Pence was true to his word.
By not doing anything extraordinary or inconsistent with his constitutional role during the electoral college vote, Mike Pence actually did one of the most extraordinary things a Vice President has ever done. By doing his duty, he gave Congress the opportunity to choose their fate. Devolution was already in motion and his role was to allow Biden to win the electoral college vote if Congress let it get that far.
Even though he knew many people would brand him a traitor, he did exactly what the moment required of him.
Source:  patelpatriot.substack.com
60
4chan Thread/Post: 147675249 / 147679416
Direct Link: 147679416