Graham Activated, Message Received, Let The DEC[L]AS Begin – Episode 2087
Podcast: Download (Duration: 34:19 — 34.9MB)
France is now trying to place rules on the UK, where they must have a common rule on trade. The UK will now establish trade with other countries and the US. The [CB] plan in China is having the reverse effect, companies are now looking at their options and might be thinking about moving out of China. Trump sent a message to the Fed and now it seems that the message has been received. The [DS]/D's are struggling with the fake impeachment, they did not prove their case, actually the opposite happened, they introduced evidence against, JB, Crowdstrike, Ukraine and election interference and now the patriots can use this against them. Graham was activated, its time, the signal that the declas is coming just went out, it's all about to happen.
Check Out The X22 Report Spotlight YouTube Channel X22Report Spotlight
Please check Newzsentinel.com for the latest news on the economic collapse. The Sentinel Alerts are updated throughout the day.
---
Current News – 02.03.2020
Watch The X22 Report On Video
---
Economy
  Britain will need to adopt EU rules if it wants friction-free trading access to the European single market, which must be protected, French Secretary of State for European Affairs Amelie de Montchalin said on Monday.
"It's not an emotional position, it's not about revenge, it's not about punishment," she told a news conference in Brussels. "It's a position of economic rationalism."
Source: reuters.com
Coronavirus Outbreak to Hit iPhone Output if China Extends Foxconn Factory Halt
Foxconn could see a "big" production impact and shipments to customers, including Apple, if a Chinese factory halt due to the coronavirus outbreak extends into a second week, a person with direct knowledge of the matter said.
Taiwan's Foxconn, which makes smartphones for Apple and other brands, has halted "almost all" of its production in China after companies were told to shut until at least Feb. 10, the source said, adding that an extension of the stoppage could disrupt shipments to clients including Apple.
Source: theepochtimes.com
Coronavirus as a Financial Contagion – Chinese Markets Suffer Steep Losses Upon Opening…
In a very ironic way, any company that readjusted their supply chain, during the two years of uncertainty over U.S. -vs- China trade discussions and tariffs, will likely be in a much better position than those companies who remained anchored to Chinese manufacturing dependency.
  Many multinationals have adopted very thin supply chains and use 'just-in-time' delivery for replenishment.  If those companies cannot get resupplied they will be at the greatest financial risk.
Simultaneously, there's an ironic cover for China within the lack of economic activity.  Any pre-existing economic malaise or contraction can now be disguised by Beijing as the result of the current Coronavirus shut-downs.
Source: theconservativetreehouse.com
Source: bloomberg.com
---
Political/Rights
This appeared 19 minutes after President @realDonaldTrump was sworn in.

Impeachment began on Day One. pic.twitter.com/NlON3sXRqP

— The White House (@WhiteHouse) February 3, 2020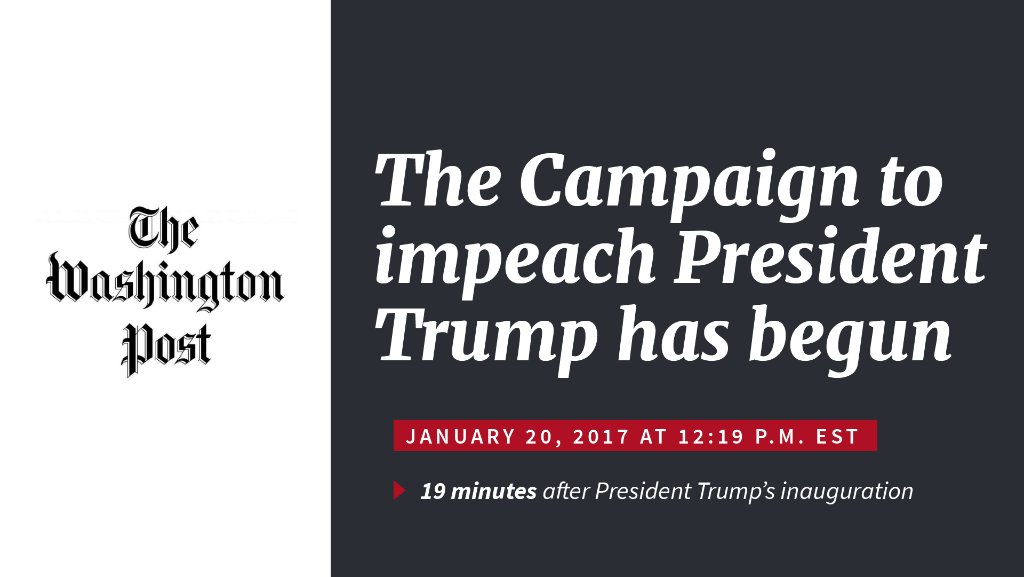 Thief Breaks Into John Solomon's Car Night Before Impeachment Trial, Steals Laptop Containing Explosive Information on Ukraine and Joe Biden
Someone broke into investigative reporter John Solomon's car parked near the White House the night before the senate impeachment trial began.
The thief stole John Solomon's laptop which contained sensitive information on former Vice President Joe Biden and Ukraine.
The break-in, which happened across from the White House's Eisenhower Executive Office Building, was described as a "professional job" and authorities believe the individual(s) used a sophisticated electronic jamming device to open the car's lock.
"It's a pretty professional job," John Solomon told RCI of the break-in, "but it's probably just a coincidence."
"It was probably just a street criminal searching for pass codes," he added. "Or it could be someone searching for my Ukraine stuff, we don't know at this point."
It appears to be a targeted political hit because Solomon said nothing else was taken from his car, including cash.
Source: thegatewaypundit.com
It's Missouri you stone cold idiot. pic.twitter.com/O1cAAOFsJ6

— Claire McCaskill (@clairecmc) February 3, 2020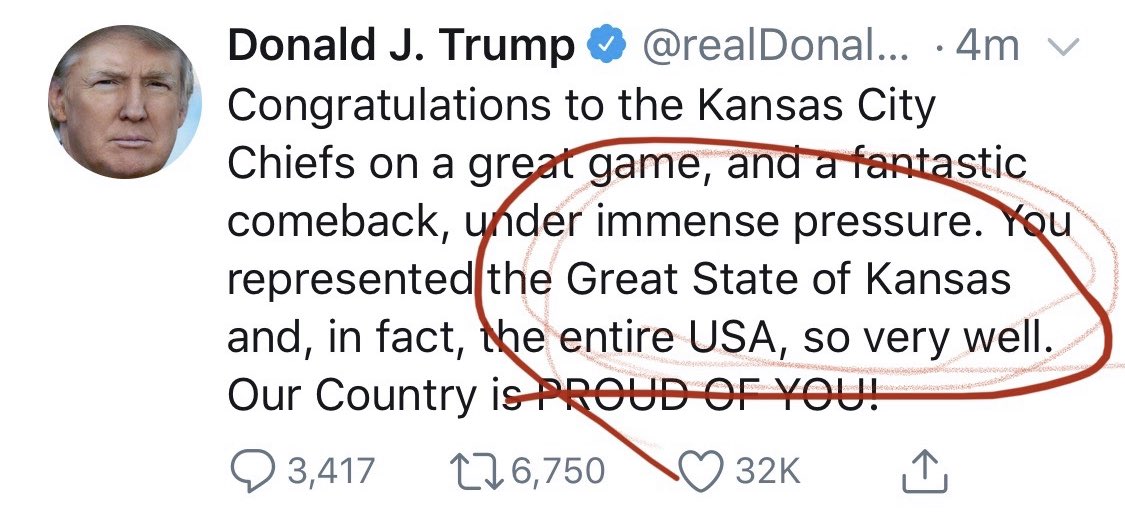 Congratulations to the Kansas City Chiefs on a great game and a fantastic comeback under immense pressure. We are proud of you and the Great State of Missouri. You are true Champions!

— Donald J. Trump (@realDonaldTrump) February 3, 2020
Pompeo tweets scripture from Jeremiah 17:7 on Superbowl Sunday.

Today was the 54th Super Bowl.

LOOK AT Q DROP 54: https://t.co/UZphKU9JOU pic.twitter.com/BBy2q8IBxS

— Julian's Rum 🥃 (@JuliansRum) February 3, 2020
#Qproof! This is why Potus tweeted about Kansas instead of Missouri when congratulating Kansas City Chiefs on their victory tonight. Mike Pompeo quotes Jeremiah like in Q drop #54. #TrustKansas (Pompeo) https://t.co/oEZpRH93xR pic.twitter.com/cA0Jx7SMun

— Joe M (@StormIsUponUs) February 3, 2020
Trump retweeted
🔥🔥🔥BANNON🔥🔥🔥
🔥🔥🔥ON FIRE🔥🔥🔥@realDonaldTrump @MariaBartiromo pic.twitter.com/iKLtLq7v16

— 🇺🇸🇺🇸 Miguelifornia 🇺🇸🇺🇸 (@michaelbeatty3) February 2, 2020
@LindseyGrahamSC https://t.co/lWUKpH1ydc

— Donald J. Trump (@realDonaldTrump) February 3, 2020
"MY VIEWERS WANT ACCOUNTABILITY!!!!"
"WE'LL BE WATCHING SENATOR"
Maria says EXACTLY what Americans are thinking.
THANK YOU @MariaBartiromo@realDonaldTrump @LindseyGrahamSC
🇺🇦#Ukraine pic.twitter.com/FwAaSvrIHS

— 🇺🇸🇺🇸 Miguelifornia 🇺🇸🇺🇸 (@michaelbeatty3) February 2, 2020
Q !!mG7VJxZNCI ID: 000000 No.7358697

Chairman Graham, it's time.Senate was the target.

Q

Where's the Whistleblower? Where's the second Whistleblower? Where's the Informer? Why did Corrupt politician Schiff MAKE UP my conversation with the Ukrainian President??? Why didn't the House do its job? And sooo much more!

— Donald J. Trump (@realDonaldTrump) February 3, 2020
 Sen. Lindsey Graham described how Republicans in the chamber are gearing up for investigations on three fronts.
"The Senate Intel Committee under Richard Burr has told us that they will call the whistleblower,"
"I want to understand how all this crap started," he added.
Source:washingtonexaminer.com
Think about what the senate impeachment trial has allowed the patriots to do, the D's brought up bidens, crowdstrike, crossfire hurricance, the patriots now have the ability to investigate it all, add in RG, Ukraine, these people are now the hunted.  
Eight Iowa Counties Have Total Registration Rates Larger Than Eligible Voter Population – More Than 18,600 Extra Names on Voter Rolls
Judicial Watch sounded the alarm on voter fraud   ahead the Iowa caucuses.
 Judicial Watch  announced that eight Iowa counties have more voter registrations than eligible voters.
There are at least 18,658 extra names on the voter rolls in Iowa, Judicial Watch reported.
The JW  also reported that Polk County has an unusually high rate of 95.9% of total eligible voters registered.
Via Judicial Watch:
The chart below details the eight Iowa counties' registration rate percentages:

| | | |
| --- | --- | --- |
| | Reg Rate | Total Population |
| Dallas County | 114.8 | 80,864 |
| Johnson County | 107.9 | 114,425 |
| Lyon County | 102.5 | 11,475 |
| Madison County | 102.5 | 15,720 |
| Poweshiek County | 102.1 | 18,428 |
| Dickinson County | 100.9 | 17,000 |
| Scott County | 100.8 | 171,493 |
| Warren County | 100.5 | 48,630 |
"Dirty voting rolls can mean dirty elections and Iowa needs to undertake a serious effort to address its voting rolls," said Judicial Watch President Tom Fitton.  
Source: thegatewaypundit.com
Chad Wolf, the acting secretary of the Department of Homeland Security, accused Speaker of the House Nancy Pelosi of "grossly inaccurate and irresponsible" rhetoric for claiming that the administration's updated travel ban affects 350 million people.
Facts are stubborn. The new travel restrictions do not apply to 350 million people – as some of our critics would lead you to believe. Such statements are grossly inaccurate and irresponsible. https://t.co/YY7YfONvnc

— Acting Secretary Chad Wolf (@DHS_Wolf) February 2, 2020
President Donald Trump signed an executive order on  that expands travel restrictions to six new countries: Burma (Myanmar), Eritrea, Kyrgyzstan, Nigeria, Sudan and Tanzania. The order, which was put in place because these governments were deemed unable to meet certain security standards, adds to the travel restrictions already placed on seven countries — bringing the total number of countries affected to 13.
However, the rules are not a blanket travel ban. Burma, Eritrea, Kyrgyzstan, and Nigeria, for example, will be restricted from visa applications. Sudan and Tanzania, on the other hand, will be limited on diversity visa applications. An official with the Department of Homeland Security on Friday said roughly 12,400 people will be impacted by the rule, and that estimation does not even include waivers.
The travel ban expansion is expected to take effect at 12:01 a.m. on Feb. 22 — 21 days after Trump signed the executive order.
Source: dailycaller.com
---
Geopolitical/Police State
YouTube clarified  hat the social media platform does not permit conspiracy theories questioning whether a political candidate or elected official is eligible to serve in office.
The company made the clarification in a blog post ahead of  the Iowa caucuses.
YouTube listed as an example of rule violations, content "that advances false claims related to the technical eligibility requirements for current political candidates and sitting elected government officials to serve in office, such as claims that a candidate is not eligible to hold office based on false information about citizenship status requirements to hold office in that country."
YouTube is also banning so-called deepfake videos, which effectively alter video images in such a way as to cause people to question their perception of a candidate or person. The company also nixed content that aims to mislead viewers about voting procedures.
Source: dailycaller.com
---
Q
Q

 

!!Hs1Jq13jV6

 

ID: 9b417c

 No.8012209


NEW

IMG_1404.JPG

WHAT IS THIS????? Joe Biden 1985 democrat congressional dinner… introducing the band singer..

More than 30 senators and 100 congressmen were there, along with what the Washington Post described at the time as "a swarm of lobbyists" among the 1,900 attendees. Biden, now 77, was appearing alongside now-House Majority Leader Steny Hoyer, now 80, of Maryland. Hoyer clapped and laughed at Biden's joke. At the time, Jackson was at the height of his fame, having just recorded We Are the World, co-written with Lionel Richie. Prince had also just shot to fame, having released his Purple Rain album in 1984.

Powell said that while Biden's comment was "a mistake on his side" because he shared no musical similarities with Jackson, he was not offended and did not feel Biden was racially insensitive. "I'm a very sensitive person, so my sensitivity would have kicked in when a statement like that was made. It didn't. I would have commented or responded to it."

During his career, Powell performed at seven inaugural balls and at the White House. A friend of Al Gore, now 71, he played at the future vice president's wedding to Tipper Gore in 1970. He met Gore at the Fairfax Hotel on Embassy Row in D.C., owned by the Gore family, in the 1960s. "We go way back," Powell said. "I used to work as a doorman, a bellhop, an elevator operator — part time, after school. And, of course, he was staying there with his parents, so that's how we met."

Hillary Clinton talking about police, superpredators, stopping drugs and gangs

Open your eyes to see the TRUTH.

Who are the REAL racists?

Q
It's going to be Biblical #QAnon pic.twitter.com/pcx3RLnZGf

— Alvin York (@AlvinYork16) February 3, 2020