Habeas Corpus Ready, Mass Pop Awakening, Silent War Continues.. – Episode 2132
Podcast: Download (Duration: 40:53 — 41.3MB)
The economic system is ready the people are ready to understand what is going to happen next. Trump will be shifting the economy, this was a wake up call for many, and now congress and business are on the same page as Trump. The old system is being run into the ground and the new system is emerging. The [DS] are desperately trying to keep their event going, Trump is already calling to open the economy. The patriots are now in position and are ready .AG Barr made a major announcement today about an indictment against Maduro.  Q dropped more bread, Q informed us about habeas corpus and when it is needed. The silent war continues.
Check Out The X22 Report Spotlight YouTube Channel X22Report Spotlight
Please check Newzsentinel.com for the latest news on the economic collapse. The Sentinel Alerts are updated throughout the day.
---
Current News – 03.26.2020
Watch The X22 Report On Video
---
Economy
Treasury Secretary Steve Mnuchin on   revealed that Americans should expect to have their coronavirus stimulus checks direct deposited or in the mail "within three weeks."
He emphasized, "The American workers and American public and American business — they need the money now."
Source: breitbart.com
---
Geopolitical/Police State
Now, in a momentous move that will mark a new low in relations between the US and Venezuela, the US is preparing to charge Maduro with serious crimes, including drug trafficking, while also criminally charging other senior figures in his government. That means if they leave Venezuela without the proper protection, they could find themselves in a federal prison with El Chapo.
Source: zerohedge.com
First indictment [unseal] will trigger mass pop awakening.
First arrest will verify action and confirm future direction.
They will fight but you are ready.
Marker [9].
Q
---
False Flags
NBCUniversal CEO Jeff Shell Says He Has Tested Positive for Coronavirus
Jeff Shell, NBCUniversal's recently appointed CEO, has tested positive for coronavirus, Variety has confirmed.
In a memo to staff, Shell said he was diagnosed with the virus despite being asymptomatic. He told employees that he will self-quarantine and work from home indefinitely while he recovers.
Source: variety.com
British scientist Neil Ferguson ignited the world's drastic response to the novel Wuhan coronavirus when he published the bombshell report predicting 2.2 million Americans and more than half a million Brits would be killed. After both the U.S. and U.K. governments effectively shut down their citizens and economies, Ferguson is walking back his doomsday scenarios.
Ferguson's report from Imperial College, which White House and other officials took seriously, said that if the U.S. and U.K. did not shut down for 18 months, and isolation measures were not taken, "we would expect a peak in mortality (daily deaths) to occur after approximately 3 months." His "models" showed overflowing hospitals and ICU beds.
Dr. Deborah Birx, the White House coronavirus response coordinator, reportedly said the administration was particularly focused on the Imperial College report's conclusion that entire households should stay in isolation for 14 days if any member suffered from COVID-19 symptoms.
But after tens of thousands of restaurants, bars, and businesses closed, Ferguson is now retracting his modeling, saying he feels "reasonably confident" our health care system can cope when the predicted peak of the epidemic arrives in a few weeks. Testifying before the U.K.'s parliamentary select committee on science and technology on Wednesday, Ferguson said he now predicts U.K. deaths from the disease will not exceed 20,000, and could be much lower. 
Source: thefederalist.com
Before sending anyone back to their jobs, @realdonaldtrump, you should try doing yours. https://t.co/mQ6BgU2uqX

— Hillary Clinton (@HillaryClinton) March 26, 2020
Here's a useful overview of the likely scenarios that the world will be facing in the coming months while managing this pandemic. So much depends on our ability to make good decisions going forward along with our ability to remain resilient. https://t.co/uYpP1KfOUs

— Barack Obama (@BarackObama) March 26, 2020
This all happened today, over the course of about 12 hrs;

✔️Oprah tweeted "the storm"

✔️Chelsea tweeted "pizzagate"

✔️Obama tweeted what is clearly a "Q"

Even if you're a skeptic, you have to admit this is odd. If you follow Qanon, you know how amazing this really is.#Qanon pic.twitter.com/2PohDUWXrI

— Rosie's LameStream Media (@DarnelSugarfoo) March 26, 2020
---
Q
'Profoundly disturbing' abuse documented at elite R.I. school
After a months-long investigation of sexual abuse at St. George's School, a report released Thursday described the elite Rhode Island prep school in the 1970s and '80s as a cauldron of sexual exploitation of students.

Sixty-one alumni gave investigators first-hand accounts of the abuse they say they suffered, with 51 saying the abusers were faculty or staff and an additional 10 reporting abuse by classmates. Two staff members abused at least one student every year they worked at St. George's.
Listen carefully👇🏻

8,000 arrested, I mean found, in just this last week!

Precursor of what could happen in the rest of the world?

Now Playing!
🤓🍿 pic.twitter.com/K74ko35Ao9

— 💔🔥dirty natasha🔥💔 (@madly_offkilter) March 25, 2020
NBC, CNN and others say they will likely stop broadcasting @realDonaldTrump virus briefings. This is truly sick in the time of national emergency and once again tells you everything you need to know about the #MSM. #JournalismIsDead

— Eric Trump (@EricTrump) March 26, 2020
Q#3825 – The Silent War Continues….. [5 periods] 5 Feb 2020 – 12:01:15 AM
Q#3837 – The Silent War Continues….. [5 periods] 6 Feb 2020 – 10:40:18 PM
Q#3843 – The Silent War Continues…. [4 periods] 8 Feb 2020 – 11:32:11 AM
Q#3856 – The Silent War continues… [3 periods] 12 Feb 2020 – 10:45:18 AM
Q#3883 – The Silent War continues.. [2 periods] 25 Feb 2020 – 3:27:43 PM
Q#3899 – The Silent War continues.. [2 periods] 26 Mar 2020 – 11:49:20 AM
90.jpg

PRESIDENT'S PROCLAMATION.; The Habeas Corpus Suspended Throughout the United States in Certain Specified Cases.

Whereas, The Constitution of the United States has ordained that "The privilege of the writ of habeas corpus shall not be suspended, unless, when in cases of rebellion or invasion, the public safety may require it; and, whereas, a rebellion was existing on the 3d day of March, 1863, which rebellion is still existing; and, whereas, by a statute which was approved on that day, it was enacted by the Senate and House of Representatives of the United States, in Congress assembled, that during the present insurrection the President of the United States, whenever, in his judgment, the public safety may require, is authorized to suspend the privilege of the writ of habeas corpus in any case throughout the United States or any part thereof; and, whereas, in the judgment of the President the public safety does require that the privilege of the said writ shall now be suspended throughout the United States in cases where, by the authority of the President of the United States, military, naval and civil officers of the United States, or any of them, hold persons under their command or in their custody, either as prisoners of war, spies or aiders or abettors of the enemy, or officers, soldiers or seamen enrolled, drafted or mustered or enlisted in or belonging to the land or naval forces of the United States, or as deserters therefrom, or otherwise amenable to military law, or to the rules and articles of war, or the rules and regulations prescribed for the military or naval services by the authority of the President of the United States, or for resisting a draft, or for any other offence against the military or naval service; now, therefore, I, ABRAHAM LINCOLN, President of the United States, do hereby proclaim and make known to all whom it may concern, that the privilege of the writ of habeas corpus is suspended throughout the United States, in the several; cases before-mentioned, and that this suspension will continue throughout the duration of the said rebellion, or until this Proclamation shall, by a subsequent one, to be issued by the President of the United States, be modified and revoked. And I do hereby require all magistrates, attornies and other civil officers within the United States, and all officers and others in the military and naval services of the United States, to take distinct notice of this suspension and give it full effect, and all citizens of the United States to conduct and govern themselves accordingly, and in conformity with the Constitution of the United States, and the laws of Congress in such cases made and provided.

2381.Treason.

2382.Misprision of treason.

2383.Rebellion or insurrection.

2384.Seditious conspiracy.

2385.Advocating overthrow of Government.

2386.Registration of certain organizations.

2387.Activities affecting armed forces generally.

2388.Activities affecting armed forces during war.

2389.Recruiting for service against United States.

2390.Enlistment to serve against United States.

https://uscode.house.gov/view.xhtml?path=/

[email protected]

/part1/chapter115&edition=prelim📁

Q
DOJ responds to uproar over request for 'emergency powers' during coronavirus
A Justice Department spokesperson issued a clarification overnight regarding a recent "emergency powers" request to Congress involving prolonged pre-trial incarceration during the coronavirus crisis that drew a backlash on social media.
The DOJ claimed that there had been "confusion" after Politico and Rolling Stone wrote that the department was seeking new "emergency powers" for itself that would "suspend" certain rights in criminal matters. In reality, the spokeswoman said, judges would be the ones to determine whether a defendant could be held in custody for longer than normally permitted. 
"Bottom line: The proposed legislative text confers powers upon judges. It does not confer new powers upon the executive branch," said a statement posted by DOJ spokeswoman Kerri Kupec early Monday morning. "These provisions are designed to empower the courts to ensure the fair and effective administration of justice."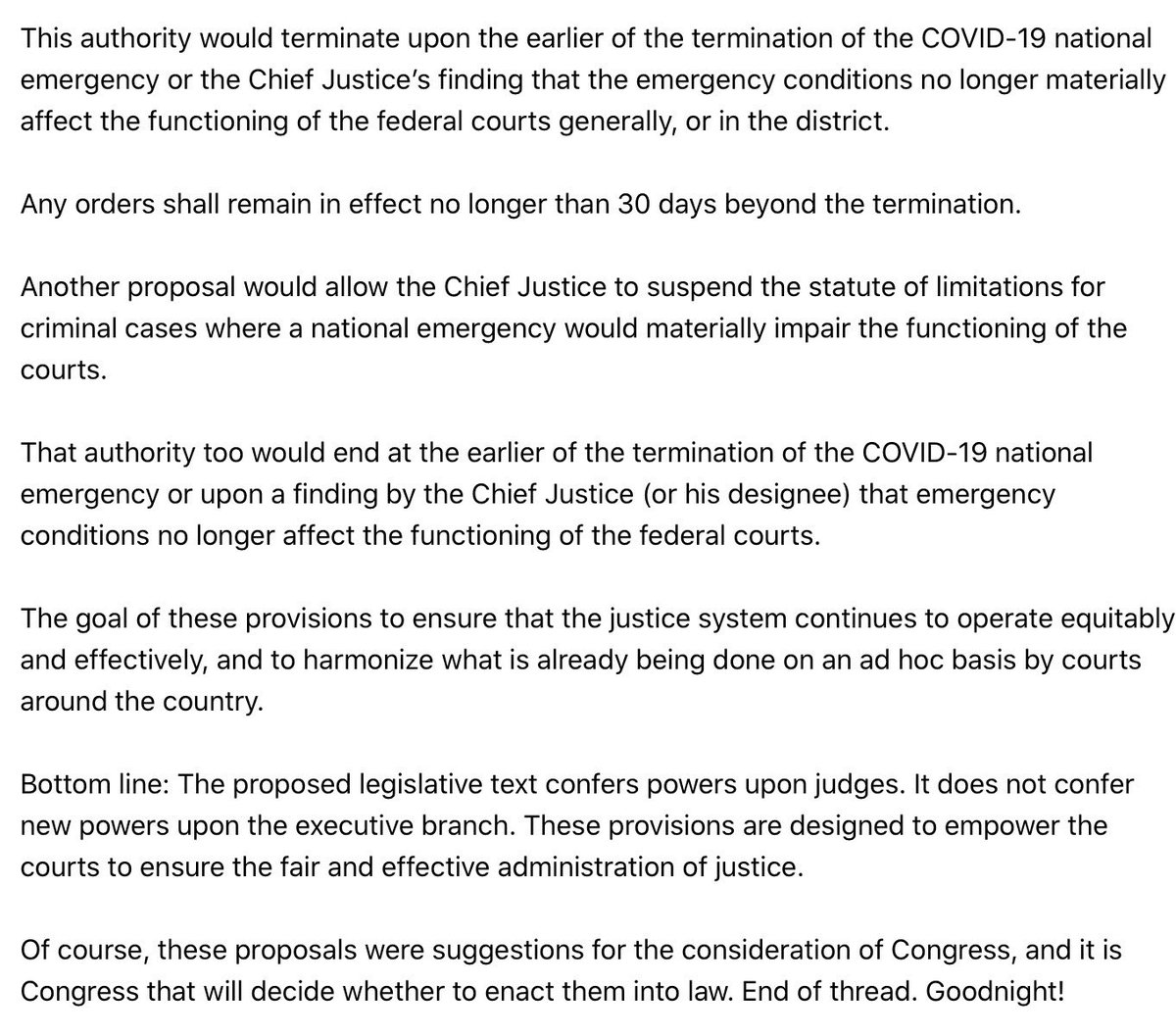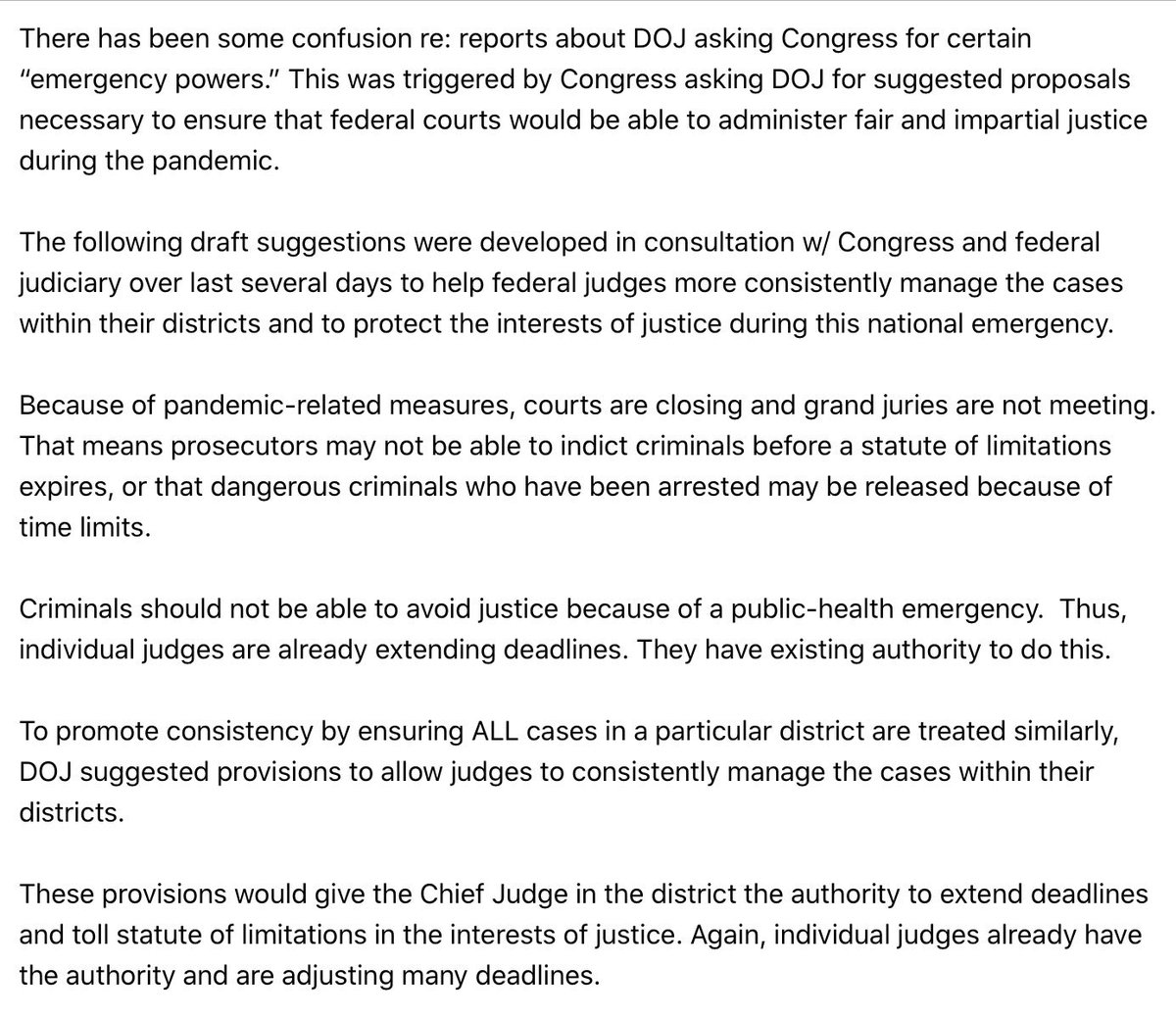 According to Kupec, this concern is unfounded. She said the proposed measures, which include suspending certain time limits in criminal cases, were the result of consulting with both the judiciary and Congress in order "to help federal judges more consistently manage the cases within their districts and to protect the interests of justice during this national emergency."
By suspending these limits, defendants would be able to be held in custody longer before trial and statutes of limitations would be put on hold, should a judge determine it is necessary and proper.
Former Republican National Committee chair Michael Steele warned that doing this "is NOT a slope we want to get on," especially with "this crew," referring to the current DOJ.
Source: foxnews.com
You are witnessing the largest mass-treason event in history. Lincoln set precedent to suspend Habeas-corpus, a procedure that keeps the government from holding detainees indefinitely without cause. Since the below crimes are IN PROGRESS, Trump will have no choice but to do same. pic.twitter.com/t81E0sCjnz

— Joe M (@StormIsUponUs) March 26, 2020
>>148029250
Ok, we just need Q to come back and confirm now.
>>148029846
Confirmed.
Classified.
((HRC))
Q
2 MS13 found murdered in a car in SC day after Seth Rich's murder

Confirmed.

Classified.

Proof of the connection is classified and unavailable to public.
4b3c892a92b9b93a9d8a44f87435998f98629c06c37a6343c873823dd630d392.jpg
 @AustinSteinbart  is posing as Q, he is a fake, no time should be spent on this, its a waste of time.
[infiltration instead of invasion]
Q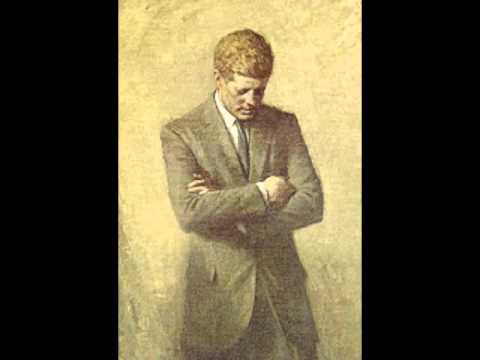 President John F. Kennedy
Waldorf-Astoria Hotel, New York City
April 27, 1961
For we are opposed around the world by a monolithic and ruthless conspiracy that relies primarily on covert means for expanding its sphere of influence–on infiltration instead of invasion, on subversion instead of elections, on intimidation instead of free choice, on guerrillas by night instead of armies by day. It is a system which has conscripted vast human and material resources into the building of a tightly knit, highly efficient machine that combines military, diplomatic, intelligence, economic, scientific and political operations.
Its preparations are concealed, not published. Its mistakes are buried, not headlined. Its dissenters are silenced, not praised. No expenditure is questioned, no rumor is printed, no secret is revealed. It conducts the Cold War, in short, with a war-time discipline no democracy would ever hope or wish to match.
Nevertheless, every democracy recognizes the necessary restraints of national security–and the question remains whether those restraints need to be more strictly observed if we are to oppose this kind of attack as well as outright invasion.
THE PRESIDENT AND THE PRESS: ADDRESS BEFORE THE AMERICAN NEWSPAPER PUBLISHERS ASSOCIATION, APRIL 27, 1961 Uncensored