Yellow Sky, Timeline Important, Panic, Suicide Watch – Episode 2131
Podcast: Download (Duration: 36:28 — 35.7MB)
The patriots knew the playbook, they knew how to prepare. The patriots staged the economy to get everything they needed to move forward, this was done at an accelerated rate. The entire world has now been shown why globalism is not good. Trump has set the stage for the economy to take off, timing is everything. The patriots are in complete control of this operation. The [DS] players are struggling to keep this event alive long enough but everything they have tried is failing. Trump, Flynn are now sending out messages letting us know that something is about to happen, is it the storm, is it something else, whatever it is, it is coming. Panic is in the air, the sky is turning yellow, the booms are coming.
Check Out The X22 Report Spotlight YouTube Channel X22Report Spotlight
Please check Newzsentinel.com for the latest news on the economic collapse. The Sentinel Alerts are updated throughout the day.
---
Current News – 03.25.2020
Watch The X22 Report On Video
---
Economy
top executives in the United States sold a total of roughly $9.2 billion worth of stock between the start of February and the end of last week,  Jeff Bezos sold three percent of his Amazon holdings, worth $3.4 billion, at the beginning of February.
Wall Street executives also sold large dollar amounts, including Laurence Fink, CEO of BlackRock Inc., who sold $25 million of his company shares on Feb. 14, pre-empting potential losses of more than $9.3 million and Lance Uggla, CEO of IHS Markit Ltd., a data and analytics firm, who sold $47 million of his shares around Feb. 19. Those shares would have dropped in value by $19.2 million if Mr. Uggla had retained them. A spokesperson said the shares were sold under a preset plan.
Source: breitbart.com
While coronavirus reigns, Trump can't jump-start the economy by himself https://t.co/iaN7I8Vet3 pic.twitter.com/3hcOSXuURI

— Yahoo News (@YahooNews) March 25, 2020
Fed's Bullard: U.S. economy might see 'boom' by autumn after 'unprecedented' weakness in second quarter
St. Louis Fed President James Bullard  said the U.S. economy could recovery strongly by the autumn.  Bullard said the U.S. economy will experience "unprecedented" weakness in the second quarter as the economy shuts down to protect lives. By July, there could be a "transition" time where some businesses reopen while others remain closed. By October, work could resume on projects delayed since the spring, leading to a possible "boom" period that lasts into 2021, he said.
Source: marketwatch.com
Trump is counting on the boom, the Fed lowered rates to 0-25bps, is pushing stimulus like there is no tomorrow, they are absorbing the toxic crap just like they did in 2008, what will happen next
The economy will struggle in the 2nd quarter, numbers will not look that good
Since the fed lowered the rates this will open the real estate market to more buyers
Autoloans will carry 0 or a very lower rate
Student loans the same
The cheaper fuel prices will allow the people to keep their money
Business can borrow at low rates to expand
The third quarter is going to look great, right before the elections, Trump is going to show the world how he can bring back an economy that was about to collapse
Trump and the patriots used this crisis to accelerate the transition
Before the event, congress, bussiness the world was thinking about changing trade deals, supply chains, the US politicians, businesses were not thinking of bringing back manufactures, changing supply chains or making the US not depenedent on another country, this has completely changed. 
President Trump is calling for Republicans and Democrats to unite behind his American independence agenda to defeat the  current event
During a Tuesday press conference, Trump detailed the "critical" need for American independence in manufacturing, the energy sector, and territorially at the nation's borders 
We should never be reliant on a foreign country for the means of our own survival. I think we've learned a lot. This crisis has underscored just how critical it is to have strong borders and a robust manufacturing sector. For three years, we've embarked on a great national project to secure our immigration system and bring back our manufacturing jobs. We've brought back many jobs, record numbers of jobs, and this really shows, this experience shows how important borders are.
Source: breitbart.com
TAKE A LISTEN TO WHAT HE SAID
---
Political/Rights
Senate Judiciary Committee Chairman Lindsey Graham provided an update to Sharyl Attkisson on Full Measure, sharing his panel's progress in interviewing a couple dozen key current and former Justice Department and FBI officials.
"[Former Deputy Attorney General] Sally Yates and [former Director of National Intelligence James] Clapper and [former FBI Deputy Director Andrew] McCabe and [former FBI Director James] Comey will all be witnesses along with [former Deputy Attorney General Rod] Rosenstein. [Former U.N. Ambassador] Samantha Power is in the State Department lane. But we'll know pretty closely, pretty quickly, if an unmasking was abused here for political purposes," the South Carolina Republican said on Sunday.
"What I'm trying to do is get to the bottom of what happened so we don't do it again," Graham said
Source: washingtonexaminer.com
---
False Flags
Breaking: 71-Year-Old Prince Charles Tests Positive for Coronavirus 
Prince Charles from Great Britain tested positive for the coronavirus.
The Prince is 71.
The Prince last saw his 93-year-old mother Queen Elizabeth on March 12th.
Prince Charles attended the WaterAID meeting with Prince Albert of Monaco last week on March 18th.
Both men came down with the coronavirus.
Source: thegatewaypundit.com
I thought the Deep State #FakeNews fabricated those stories about Chloroquine overdosing just to scare people from taking it, but it looks like they intend using these fake reports to ban the drug and prevent people from getting well! #ThesePeopleAreSick!!
Please do not take medical advice from a man who looked directly at a solar eclipse.

— Hillary Clinton (@HillaryClinton) March 24, 2020
Today, I signed an emergency regulation limiting the prescription & issuance of two drugs that have unproven results with treating COVID-19. While these drugs serve necessary medical purposes, this regulation protects the Nevadans who need them and prevents unnecessary hoarding. pic.twitter.com/dGMDJfdNAW

— Governor Sisolak (@GovSisolak) March 24, 2020
Sisolak said he signed the emergency order after receiving a request from the Pharmacy Board, which claims the effectiveness of these drugs to treat the Chinese virus has "not been established," and that "an emergency exists due to the hoarding and stockpiling" of these antimalaria drugs: chloroquine and hydroxychloroquine.
This order makes no sense, especially in a world where another Democrat governor, Andrew Cuomo of New York, has ordered trials of the malaria drug. Saying he agrees with the president, Cuomo announced last week: "We're also implementing the trial drug:"
We have secured 70,000 hydrocloroquin; 10,000 zithromax from the federal government. I want to thank the FDA for moving very expeditiously to get us this supply.

The President ordered the FDA to move and the FDA moved. We're going to get the supply and the trial will start this Tuesday. The President is optimistic about these drugs and we are all optimistic that it could work.
 If this is a prescription drug, the only way people can get it is by someone who can write a prescription
Source: breitbart.com
Dr. Zenloko's Successful Treatment of Covid

Treated 350 patients, 0 deaths, 0 hospitalizations, 0 intubations ,breathing restored in 3-4 hours
1 – Hydroxychloroquine 200 mg 1 pill 2x a day/5 days
2 – Azithromycin 500 mg 1 pill/day/5 days
3 – Zinc sulfate 220 mg 1 pill/day/5 days pic.twitter.com/dUa7MhwyGu

— MaReQ🌟🌟🌟 (@Mareq16) March 25, 2020
Just reported that the United States has done far more "testing" than any other nation, by far! In fact, over an eight day span, the United States now does more testing than what South Korea (which has been a very successful tester) does over an eight week span. Great job!

— Donald J. Trump (@realDonaldTrump) March 25, 2020
Here it is (deaths per million in population): pic.twitter.com/QEy5Z7j07Y

— Gary Wheeler (@gwheeler1) March 25, 2020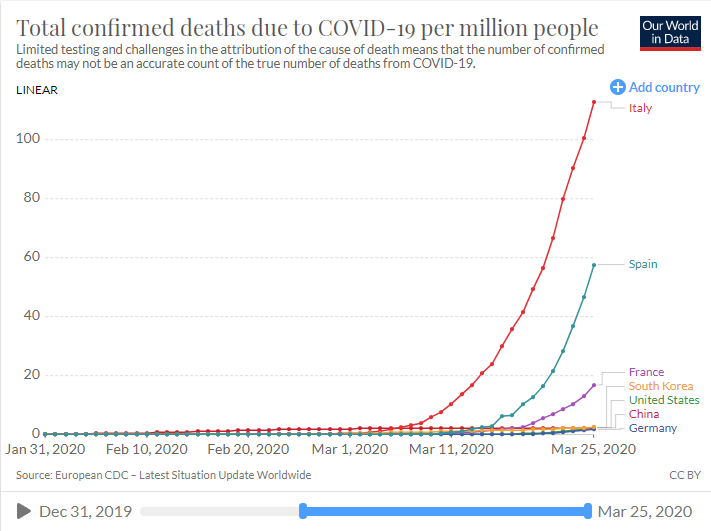 ---
Q
New York City Mayor Bill de Blasio to Release 300 Inmates From Rikers Over Coronavirus Outbreak
New York City Mayor Bill de Blasio has announced that the city will be releasing 300 inmates from Rikers Island prison due to coronavirus concerns.
Source: thegatewaypundit.com
Jails Release Prisoners, Fearing Coronavirus Outbreak
 
Local governments across the U.S. are releasing thousands of inmates in an unprecedented effort to prevent a coronavirus outbreak in crowded jails and prisons.
Jails in California, New York, Ohio, Texas and at least a dozen other states are sending low-level offenders and elderly or sickly inmates home early due to coronavirus fears. At other jails and prisons around the country, officials are banning visitors, restricting inmates' movement and screening staff.
Source: wsj.com
Trump was giving an interview and he said he would like APril 12, Sunday, which is easter, he would like the US open, its a perfect time line, then he mentions the countdown and the number 7 and 9 take a listen
1509840715226.png

Graphic is right.
Add above points to graphic.
Stay organized.
Q
If you add the numbers together you get 16, post 16 is in the 79 post
16
Get the popcorn, Friday & Saturday will deliver on the MAGA promise. POTUS knows he must clean house (gov't) in order to 'free up' and demonstrate who has authority in order to pass important legislation. This was always the priority. Remember, AG Sessions cannot look like an impartial player that is out to get all former Obama team members as we need him for other important work. All will come into focus and for anyone to think POTUS is not in control is kidding themselves. Also, he's 100% insulated with zero risk of impeachment (fact).
Wow! Great catch @meggersxo129 ! I thought it was interesting when POTUS explained yesterday why he wanted to open everything back up by Easter! Assumed it was #Storm related.https://t.co/IoyoWXr6zi

Global Day to End Child Sexual Abuse is on Sunday, April 12th, 2020. https://t.co/t7ykwj5U5N pic.twitter.com/682DGXnfri

— Lisa Mei Crowley 🐸 (@LisaMei62) March 25, 2020
Think the young lady the rescued
Think Epstein
Think Rachel Chandler
Trump: 'Suicides By The Thousands' If U.S. Coronavirus Shutdown Goes On Too Long
President Trump warns that there will be "suicides by the thousands" if the entire U.S. economy remains shut down for too long.

"We have to put the country to work," he said from the White House Rose Garden on Tuesday. "You are going to lose a number of people to the flu, but you are going to lose more people by putting the country in a massive recession or depression."
"You are going to lose people. You are going to have suicides by the thousands," he continued. "You can't just come in and say, 'Let's close up the United States of America.'"
Source: thegatewaypundit.com
---
Why Does the Sky Turn Yellow Before a Storm?
Scientists' best theory for why the sky sometimes changes to a yellow or greenish hue before a severe storm is that storm clouds of a certain thickness and water concentration act as a filter for the light that passes through them, according to The Guardian. Green and yellow clouds were long considered to be an optical illusion rather than a true color change.