Horowitz Delivers The Bad News To Comey, More Pain Coming – Episode 1973
Podcast: Download (Duration: 37:58 — 38.4MB)
Trump is rolling back regulations that hurt the economy and make it more difficult for companies to produce and create jobs. It might seem that the regulations were trying to do good, but in reality they were put there to do the opposite. Regulators expands investigation into precious metals manipulation. Trump tells China, it's time to make a decision work with me now or later its your choice, but later the deal will be worse for you. The Fed cut rates again and lets everyone know stimulus is coming, slow and steady wins the race. More and more are being arrested for child porn, Senator Folmer resigns. Horowitz testifies and tells congress that Comey did commit crimes, here referred these crimes to the DOJ and wanted Comey prosecuted. McCabe says no plea deal. SA says they have evidence that it was Iran, but Trump counters the war talk with more sanctions against Iran. A driver drives right into Trump Plaza, gets out of car, sits on sofa, innocent controlled, was his a message sent to Trump.
Check Out The X22 Report Spotlight YouTube Channel X22Report Spotlight
Please check Newzsentinel.com for the latest news on the economic collapse. The Sentinel Alerts are updated throughout the day. If you haven't already, go to "The People" and join the community of people who are helping each through the economic collapse.
---
Current News – 09.18.2019
Watch The X22 Report On Video
---
Economy
The Trump administration on Wednesday revoked an Obama-era waiver allowing California to set its own standards for automobile emissions, a move which President Trump claims will lead to "significantly more jobs" and safer, less costly vehicles.
Trump tweeted out the following
Donald J. Trump

✔@realDonaldTrump

The Trump Administration is revoking California's Federal Waiver on emissions in order to produce far less expensive cars for the consumer, while at the same time making the cars substantially SAFER. This will lead to more production because of this pricing and safety……
…. advantage, and also due to the fact that older, highly polluting cars, will be replaced by new, extremely environmentally friendly cars. There will be very little difference in emissions between the California Standard and the new U.S. Standard, but the cars will be….
….far safer and much less expensive. Many more cars will be produced under the new and uniform standard, meaning significantly more JOBS, JOBS, JOBS! Automakers should seize this opportunity because without this alternative to California, you will be out of business.
The move comes after the Department of Justice earlier this month launched an antitrust investigation into a July deal between California and four automakers — Ford, Volkswagen, Honda and BMW 
 President Trump has directly attacked the July deal with California, saying an August tweet:
….that when this Administration's alternative is no longer available, California will squeeze them to a point of business ruin. Only reason California is now talking to them is because the Feds are giving a far better alternative, which is much better for consumers!
Update: California has predictably challenged the move, and has vowed to file a lawsuit, according to Bloomberg. Governor Gavin Newsom, meanwhile, said that the White House's action was motivated by oil companies.
Source: zerohedge.com
Just two days after the DOJ took the unprecedented step of designating the JPMorgan precious metals trading desk as a "criminal enterprise" using unusually aggressive language which reminded legal experts of indictments utilizing the RICO Act, and which hopefully ended years of precious metal manipulation by the group formerly headed by Blythe Masters,   now  the probe is set to spread significantly as Federal prosecutors and regulators "are expanding their already aggressive investigations of fraudulent precious metals trades at J.P. Morgan Chase to other U.S. markets and financial firms."
  what we for many years said was blatant manipulation of precious metals was precisely that, and now the participants in said manipulating cabal are being treated as a mafia syndicate by the DOJ.
Source: zerohedge.com
President Donald Trump said Tuesday that China faced a much tougher deal if they failed to reach an agreement on trade before the 2020 election.
"China thinks I'm going to win so easily and they're concerned because I told them, if it's after the election it's going to be far worse than what it is right now," Trump said. "I told them that."
"If it's after the election, it'll be the toughest deal anybody's ever had to make from the standpoint of China, and they know that," Trump said.
 "
Source: breitbart.com
Fed cuts rates, facing global risks and amid pressure from Trump
The Federal Reserve lowered its interest rate target by a quarter percentage point Wednesday, its second consecutive rate cut, 
The Fed will now target short-term interest rates in a range between 1.75% and 2%, where they were from June to September of last year.  
Source: washingtonexaminer.com
Jay Powell and the Federal Reserve Fail Again. No "guts," no sense, no vision! A terrible communicator!

— Donald J. Trump (@realDonaldTrump) September 18, 2019
 Powell confirmed that QE4 is indeed on the way,  
---
Political/Rights
The show yesterday with the fake impeachment hearing did not go well for the DS players, they looked like fools and Lewindowski played them, trapped in this ridiculous hearing, nobody will take them seriously after that, they had nothing new to offer they just rehashed the same information. The DS is going down very slow, they are feeling the pain, you should expect alot more to speak out, we have heard from the MSM about Deep fakes, adam schiff, and now HRC, the DS just got another blow from IG horowotiz, the pain is here and more is on the way.  We will be talking about what horowotiz said the hearing, but first something strange
SECOND Kevin Spacey Accuser Dies in Midst of Assault Lawsuit Against Actor
The first acccuser of Kevin Spacey was mowed down by a Toyota as she stepped into a busy intersection in February.
The first whistleblower to go public with allegations branding shameless Kevin SpaceyOpens a New Window. a sexual predator is dead — and her grieving family is demanding answers!

investigators have launched a murder probe into Linda Culkin's mysterious death,
Now  
The second Kevin Spacey accuser died recently in the midst of his sexual assault lawsuit.
Via The Hollywood Reporter:
The massage therapist was allowed to proceed anonymously in the case. No details yet on the circumstances of death.
An anonymous massage therapist who claims to have been sexually assaulted by Kevin Spacey has died, according to a notice filed in court by the actor's attorneys.
Source: thegatewaypundit.com
The justice department is now indicting more sexual predators.
Bronx Associate Principal Charged With Child Enticement And Production, Receipt, And Possession Of Child Pornography
  announced the arrest of JONATHAN SKOLNICK on charges of child enticement; production, receipt, and possession of child pornography; and sending extortionate communications. 
U.S. Attorney Geoffrey S. Berman said:  "As an associate principal of a Bronx private school, one of Jonathan Skolnick's primary responsibilities was the well-being and education of students.  Instead, Skolnick allegedly preyed on his underage victims in a heinous plot to fool them into sending him nude photos of themselves.  Skolnick allegedly falsely identified himself as several different teenage girls – and when his victims refused to continue to send more photos, he unconscionably threatened to publicly release the ones they had already sent.
Source: justice.gov
An we have another government employee arrested for child porn, remember we are going to see D and R caught up in this. 
Pennsylvania state Sen. Mike Folmer arrested on child porn charges
Republican Sen. Mike Folmer, 63, was charged with sexual abuse of children, possession of child pornography, and criminal use of a communication facility after law enforcement found images of child pornography on Folmer's cellphone when they executed a search warrant at his Lebanon home.
Officials said an investigation into the matter began after authorities received a tip that a user of the microblogging site Tumblr uploaded an image of child pornography to the site.
The investigation led officials to Folmer's home.
Source: nypost.com
The DS players are panicking we now have al gore calling for impeachment
Al Gore: Impeachment Is the Only Remedy for Trump's 'Obscene Behavior
  he believes the only "remedy" for President Donald Trump's "obscene behavior" is impeachment.
Source: breitbart.com
Then we have top democratic donor Ed Buck, he was arrested
Update: Top Democrat Donor Ed Buck Charged with Maintaining Drug House – Police Find HUNDREDS OF PHOTOS of Men in Compromising Positions in His Home
The man who overdosed in Ed Buck's Los Angeles apartment last week survived, however the other two victims previously died.
Source: thegatewaypundit.com
Democratic donor Ed Buck accused of human trafficking and revenge porn after man dies in his home

The HUNTERS become the HUNTED.
Q
DOJ Inspector General Michael Horowitz Reveals He Referred James Comey For Criminal Prosecution
DOJ Inspector General Michael Horowitz testified before the House Committee on Oversight and Reform 
Horowitz revealed to lawmakers that he criminally referred former FBI Director James Comey for prosecution.
The Justice Department ultimately declined prosecution and despite Comey bragging about this, the IG indeed concluded he criminally acted.
"We are required by the [Inspector General] Act to send information that we've identified that could plausibly be criminal to the Department of Justice," said Mr. Horowitz, confirming what amounted to a criminal referral.

The Justice Department ultimately decided not to prosecute Mr. Comey  
 because it was not a slam dunk, they wanted his signature and the documention on the FISA warrants,  the Inspector General is releasing another report on FISA abuse any day now.
Source: thegatewaypundit.com
 Jordan asked Nadler whether he has reached out to Horowitz about testifying.
"Have you had any contact with Mr. Horowitz about when he might be in front of this committee to answer questions about the very subject we are learning about today?" the Republican asked.
Nadler dodged the questions, saying, "We will review any such letter."
Andrew McCabe Says He Won't Take A Plea Deal 'Under Any Circumstances' If Indicted
A defiant Andrew McCabe said  he will not "under any circumstances" accept a plea deal if indicted for lying about leaks to the press. He didn't say he would take a plea deal if it was some other charge. 
Federal prosecutors in Virginia are pushing for charges against McCabe, a former FBI deputy director, for allegedly making false statements to the FBI and Justice Department's office of the inspector general (OIG) regarding his authorization of a leak to the media in October 2016.
Source: dailycaller.com
BREAKING: It'll soon become abundantly clear that the claim–stated under oath–by Comey, Lisa Page, Strzok & McCabe–that they didn't receive any Steele dossier information at FBI HQ until mid-September is a monumental lie, or as they say in Washington-speak: "lacking in candor"

— Paul Sperry (@paulsperry_) September 18, 2019
O'Brien, the current special presidential envoy for hostage affairs at the State Department, will be replacing John Bolton.
Before his current position working with families of American hostages, O'Brien served as the co-chairman of the U.S. Department of State Public-Private Partnership for Justice Reform in Afghanistan under Secretaries Condoleezza Rice and Hillary Clinton, according to his State Department biography.
I am pleased to announce that I will name Robert C. O'Brien, currently serving as the very successful Special Presidential Envoy for Hostage Affairs at the State Department, as our new National Security Advisor. I have worked long & hard with Robert. He will do a great job!

— Donald J. Trump (@realDonaldTrump) September 18, 2019
Trump considered O'Brien for Navy secretary in 2017, but instead appointed him to the State Department position.
 
Source: washingtonexaminer.com
---
Geopolitical/Police State
---
War
, Saudi Arabia has unveiled the long awaited "evidence" of Iran's alleged involvement in the Aramco attacks.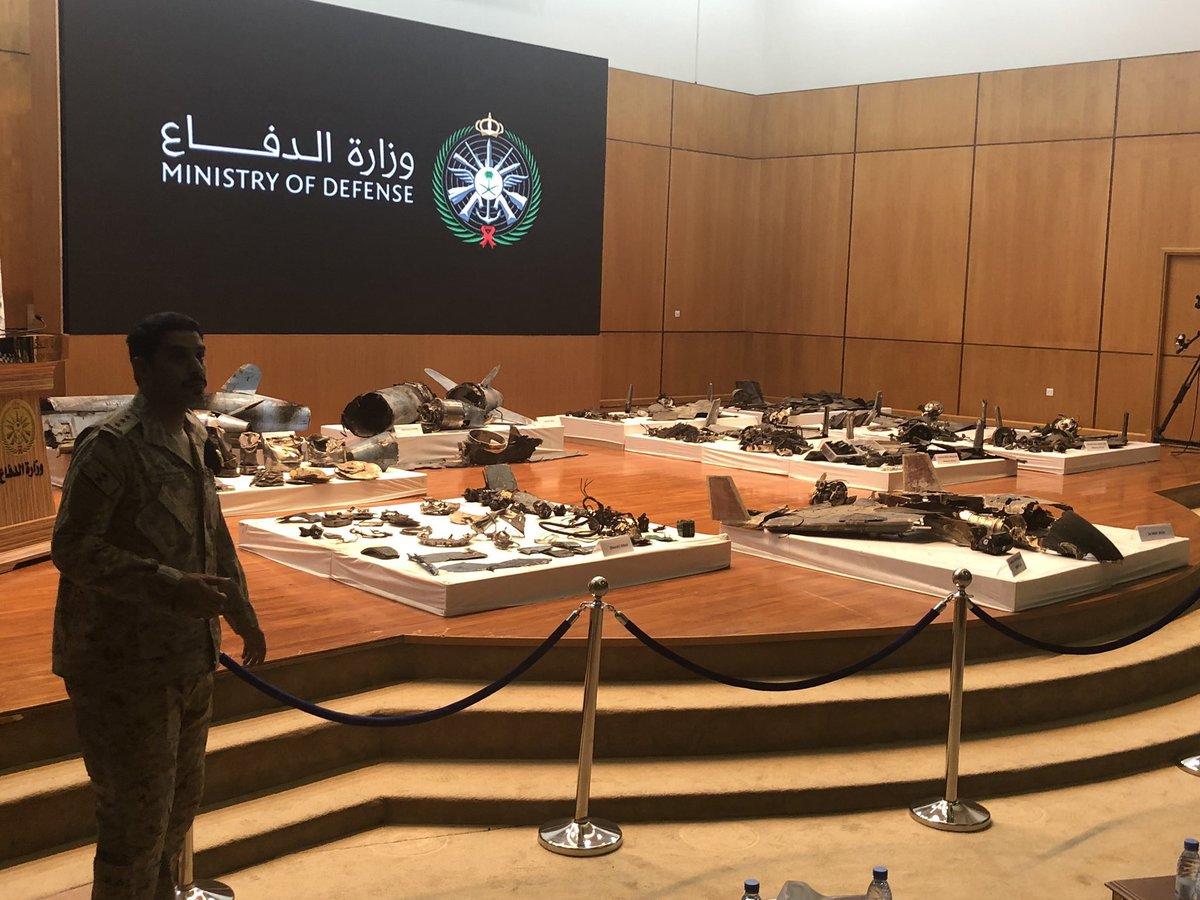 On Wednesday the Saudi Defense Ministry held a press conference showing the debris gathered from the weapons used in the twin attacks on the Aramco facilities early Saturday, which Riyadh has indicated involved a mix of missiles and drones.
18 delta winged UAV + 7 cruise missiles fired 
direction of flight + range indicate attacks did not originate from Yemen, but from the north;
sophistication of weapons included GPS guidance giving high accuracy.
 Saudi spokesman stopped short of any direct statements alleging the attacks originated from within Iran or that the IRGC Quds force was behind it.
The problem with all of this, if this was an attack and there were missles why didn't SA use the advanced US-supplied anti air defenses  
Source: zerohedge.com
War Averted? Trump Announces New Iran Sanctions Instead
I have just instructed the Secretary of the Treasury to substantially increase Sanctions on the country of Iran!
This comes even after Tuesday night into early Wednesday both Tehran and Washington were still trading threats, with Iran warning it will "respond" against any steps against it.
Source: zerohedge.com
---
False Flags
BREAKING: Several Injured After Driver Plows Through Lobby of Trump Plaza in New York – Driver Takes a Seat on Sofa, Says Nothing 
A male driver crashed into the lobby of Trump Plaza in New Rochelle, New York on Tuesday night.
The driver reportedly got out of the car after he crashed into the lobby and sat on a sofa without saying a word.
WATCH:
Source: thegatewaypundit.com