We Are (Closer) Than You Think, Messages Received, On The Ready – Episode 1972
Podcast: Download (Duration: 41:24 — 40.1MB)
Boris Johnson is going to do everything possible to make the BREXIT happen, he might have to bring the house down to get it done. Trump admin say that they have reached a trade deal with Japan. Saudi Minister says they are back up to full capacity. Judy Shelton makes the first move, instead of the Fed being independent it should work with the government. Restructure hint. It seems that Rep Omar might have been caught in a lie, then she deletes the tweet. The Kavanaugh case is falling apart, the MSM is going down in flames and the key witness is now saying that it never happened. A secret group was formed to go after Trump's judicial nominees. The House Judiciary started their impeachment hearings which was never voted on to be an impeachment hearing, they decided to read from the Mueller report, big fail. Snowden is now asking Macron for asylum. The Justice Department is now suing Snowden. SA will take care of their own business, Iran says talks will not happen, Trump says talks will happen, which means talks have already happened. Trump relays messages, we are closer than we think, HRC says beware of deep fakes.
Check Out The X22 Report Spotlight YouTube Channel X22Report Spotlight
Please check Newzsentinel.com for the latest news on the economic collapse. The Sentinel Alerts are updated throughout the day. If you haven't already, go to "The People" and join the community of people who are helping each through the economic collapse.
---
Current News – 09.17.2019
Watch The X22 Report On Video
---
Economy
Boris Johnson's lawyer tells Supreme Court judges that PM will ask Queen to recall Parliament if he loses Brexit case but cannot rule out a new move to prorogue AGAIN
Boris Johnson will go the Queen and ask her to recall MPs if the Supreme Court rules he illegally shut down Parliament – but the Prime Minister could still ask Her Majesty to prorogue again before Brexit, it was revealed today.
Source: dailymail.co.uk
Boris is throwing himself in front of the train. He's preparing to do a Thatcheresque maneuver that will provoke immense fury from a sizeable segment of the country, making it unlikely he'll survive as PM. It's the only way to free UK from the 4th Reich. https://t.co/uFnJ7zwBgh

— Joe M (@StormIsUponUs) September 17, 2019
Trump says US has reached 'initial' trade deal with Japan
President Trump on Monday notified Congress that he had struck an "initial" trade deal with Japan and would be signing it in the coming weeks.
"My Administration looks forward to continued collaboration with the Congress on further negotiations with Japan to achieve a comprehensive trade agreement that results in more fair and reciprocal trade between the United States and Japan," the White House said
Trump also told Congress that he would be entering an executive agreement with Japan on digital trade.
Source: dailycaller.com
Trump's Fed pick, Shelton, calls for Fed coordination with White House
 Judy Shelton, U.S. President Donald Trump's pick to fill a vacant seat at the Federal Reserve, downplayed the independence of the central bank on Tuesday and called on the Fed to work more closely with the White House, an approach that would upend how it currently conducts monetary policy.v
The Fed, she wrote in an opinion piece published in the Wall Street Journal, should "pursue a more coordinated relationship with both Congress and the president," to attain goals, including a smaller trade deficit.
Congress, she wrote, "historically hasn't sought to treat the Federal Reserve as a detached lever of economic power (but rather) intended to incorporate monetary policy into an overarching effort to achieve 'important national requirements' that improve U.S. economic prospects."
The framework she hints at, of close coordination between the Fed, the White House, and Congress, would break down the separation that Fed policymakers try to maintain between their judgments about the economy and the political priorities of a given administration. 
Source: reuters.com
>>1108897

Federal Reserve ending?
28235DA5-7729-497B-9231-B3B1CEC56262.jpeg
---
Political/Rights
The DS is using what ever they have to stop what is coming,Mueller report fail, racism fail, recession push fail,  impeachment, they have nothing, kavanaugh they have nothing, big fail, the candidates to remove trump are joke, the hit on the SA oil processing center didn't work, the war that they are pushing is not working either, its all falling apart, how do we know this, Trump sent multiple messages to let us know, we will be talking about this a little later in this report. But first Rep Omar, she is desperatly trying to hide her marraige to her brother
ILHAN PANICS! MN Democrat Deletes 2013 Tweet Overnight After She Is Caught Exposing Marriage to Her Brother

Ilhan and her father Nur Said.
New evidence has emerged that Rep. Ilhan Omar did indeed marry her brother, and that her real name may actually be Ilhan Nur Said.
A resurfaced tweet from 2013 links to a now-deleted Instagram post in which she refers to her father by the name Nur Said.
The tweet was later deleted this morning after the news broke!
But it was saved before it was deleted…
In 2009, Rep. Omar married Ahmed Nur Said Elmi, who was the son of Nur Said.
This confirms that Ilhan Omar has lied under oath numerous times.
It is past time charges are brought against this criminal.
Source: thegatewaypundit.com
Did Ilhan Omar delete MORE evidence she married her brother? https://t.co/T9kKQGKVk2 https://t.co/JmXuSeuvjC

— Tom Fitton (@TomFitton) September 17, 2019

Now we know the DS is trying everything and anything, yes they will create fake news stories, hide facts and make it seem like they are telling the truth, but the public is catching on and this tactic is not working anymore, take or example Kanaugh, this entire story fell apart and the NYT is in the center of it all, it shows they were peddling fake news, Run to the Race lets us know that 1 years ago Q posted the following 
!!NEW Q!! 19:33 CDT PANIC IN DC
D's offering to [KILL] sexual assault allegation v Judge K in exchange for immediate pullback of DECLAS.
POTUS: Judge K will be confirmed regardless…
Q ❤️!!!!!!! #QAnon #PanicInDC #Pain #Justice @realDonaldTrump @GenFlynn pic.twitter.com/u274NYRTC6

— RunningTheRace ⭐️⭐️⭐️ (@2runtherace) September 18, 2018
Grassley: Kavanaugh classmate didn't contact Senate panel
Sen. Chuck Grassley (R-Iowa), who oversaw Brett Kavanaugh's Supreme Court hearing, said on Monday that a former classmate accusing the justice of sexual misconduct didn't contact the Senate Judiciary Committee last year.
"That person, Mr. Stier, didn't reach out or provide information to the committee majority. … My office never received anything from Mr. Stier or his unnamed friends," Grassley said during a Senate floor speech.
Grassley argued on Monday that if his staff had received an allegation like the one detailed by The New York Times over the weekend, it would have been investigated
Source: thehill.com
Trump tweeted out something very interesting after the story broke and it turned out to be fake.
I call for the Resignation of everybody at The New York Times involved in the Kavanaugh SMEAR story, and while you're at it, the Russian Witch Hunt Hoax, which is just as phony! They've taken the Old Grey Lady and broken her down, destroyed her virtue and ruined her reputation…

— Donald J. Trump (@realDonaldTrump) September 16, 2019
…She can never recover, and will never return to Greatness, under current Management. The Times is DEAD, long live The New York Times!

— Donald J. Trump (@realDonaldTrump) September 16, 2019
The question I have is the Old Grey Lady he is talking about is this RBG
He continued with his tweet
The New York Times is at its lowest point in its long and storied history. Not only is it losing a lot of money, but it is a journalistic disaster, being laughed at even in the most liberal of enclaves. It has become a very sad joke all all over the World. Witch Hunt hurt them…

— Donald J. Trump (@realDonaldTrump) September 17, 2019
…."That story (Kavanaugh) is nowhere near the standard that should be met in publishing a story." @brithume @FoxNews

— Donald J. Trump (@realDonaldTrump) September 17, 2019
 Christine Blasey Ford's "lifelong friend" and alleged witness now doubts her story.
Leland Keyser, who Ford claimed was one of five people at a party in the 1980s where she says Kavanaugh sexually assaulted her,  says "I don't have any confidence in the story."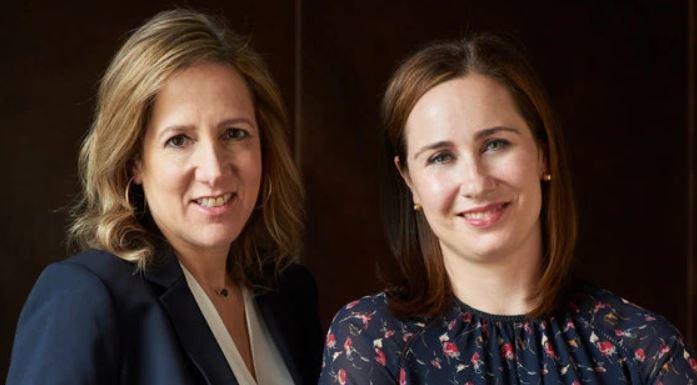 Keyser – who said she was pressured by Ford's ex-FBI buddy to lie and say that she didn't remember the party instead of saying that it never happened – originally said through her attorney that she "does not refute Dr. Ford's account," however "the simple and unchangeable truth is that she is unable to corroborate it because she has no recollection of the incident in question."
"I was told behind the scenes that certain things could spread about me if I didn't comply," Keyser 
Now, Keyser says she doesn't believe Ford's story at all.
"
CBS News: Christine Blasey Ford's close HS friend (who Ford says was at the party when Kavanaugh allegedly assaulted her) said Ford's story isn't believable and told the FBI Ford's allies pressured her, threatened her with a smear campaign to say otherwise
Source: zerohedge.com
Then we come to find out that there is a secret organization behind the movement opposing Trumps Judicial Nominees
Unmasked: Secretive Arabella Advisors Really Behind 'Grassroots' Protest Movement Opposing Trump's Judicial Nominees
An organization that leads the protest movement against President Trump's judicial nominees and presents itself as grassroots is really the project of Arabella Advisors, a largely unknown, massively funded strategy company pushing the interests of wealthy leftist donors.
These and other revelations were documented in an extensive exposé by conservative watchdog Capital Research Center, which traced Arabella's vast network and unmasked a shadowy system of pop-up groups designed to look like grassroots activist organizations developed by, housed in, and staffed by the for-profit, privately held Arabella Advisors.
  Arabella firm manages four nonprofits: the New Venture Fund, Sixteen Thirty Fund, Windward Fund, and Hopewell Fund. These nonprofit entities play host to hundreds of groups and projects that promote interests and political movements strategically deployed in a long-term campaign to nudge the country to the left.
A central component of Arabella's activism is opposition to Trump's conservative judicial nominees. One Arabella-tied organization calling itself Demand Justice quickly thrust itself into the center of opposition to Trump's Supreme Court pick Brett Kavanaugh.
Even before Trump announced Kavanaugh as his nominee, Demand Justice, founded by former members of Hillary Clinton's 2016 presidential campaign, committed to spending about $5 million to oppose the eventual pick.
Source: breitbart.com
Groundhog Day: Lewandowski's Expected Testimony Proves Democrats Have Nothing But A 'Circus Act'
House Judiciary Committee Committee Chairman Jerrold Nadler is setting up for another  'Groundhog' day of questioning hoping to find something, anything to impeach President Donald Trump. They won't.
It's exhausting and Tuesday they are publicly questioning Trump supporter Corey Lewandowski. If it's anything like the last time Lewandowski was questioned it's going to be worth watching because he won't play their game.Lewandowski said on Twitter Tuesday he's "excited about the opportunity to remind the American people today there was no collusion no obstruction. There were lots of angry Democrats who tried to take down a duly elected President. Tune in. #Senate2020."
Excited about the opportunity to remind the American people today there was no collusion no obstruction. There were lots of angry Democrats who tried to take down a duly elected President. Tune in. #Senate2020.
So the Democrats are drudging up the special counsel's report and will attempt to disparage Lewandowski in the hearing. Remember, former Special Counsel Robert Mueller's investigative report, which scattered Lewandowski's name throughout its 400 pages.
According to Mueller's report, Corey Lewandowski was told by President Trump to direct then-Attorney General Jeff Sessions to limit Mueller's investigation and if Session refused, he would be fired.Mueller's report then stated that Lewandowski never delivered Trump's message to Jeff Sessions but asked Rick Dearborn to do it, but the Trump aide refused as well.The  Democrats considered this to be an 'obstruction of justice episode.'
White House counsel Pat Cipollone said in a letter to the House Judiciary Committee that Lewandowski will not disclose his private conversations with President Trump and will only discuss what is already publicly available in Mueller's report.
Source: saracarter.com
US whistleblower Edward Snowden has called on French President and former Rothschild banker Emmanuel Macron to grant him political asylum from the United States.
Source: zerohedge.com
United States Files Civil Lawsuit against Edward Snowden for Publishing a Book in Violation of CIA and NSA Non-Disclosure Agreements
The United States today filed a lawsuit against Edward Snowden, a former employee of the Central Intelligence Agency (CIA) and contractor for the National Security Agency (NSA), who published a book entitled Permanent Record in violation of the non-disclosure agreements he signed with both CIA and NSA.
The lawsuit alleges that Snowden published his book without submitting it to the agencies for pre-publication review, in violation of his express obligations under the agreements he signed. Additionally, the lawsuit alleges that Snowden has given public speeches on intelligence-related matters, also in violation of his non-disclosure agreements.
The United States' lawsuit does not seek to stop or restrict the publication or distribution of Permanent Record. Rather, under well-established Supreme Court precedent, Snepp v. United States, the government seeks to recover all proceeds earned by Snowden because of his failure to submit his publication for pre-publication review in violation of his alleged contractual and fiduciary obligations. 
Source: justice.gov
---
Geopolitical/Police State
Report: Trump Will Not Support Universal Background Check Bill
President Donald Trump is reportedly not planning to include House Democrats' universal background check bill as part of legislation he supports in response to mass shootings.
The Democrat gun control bill is H.R. 8.Source: breitbart.com
---
War
The US has figured out how the Saudi production facility was hit, 
The US has reportedly traced the cruise missiles used during a weekend attack that crippled half of Saudi Aramco's oil production back to their point of origin: Iran. Or at least that's what one US official is telling CBS News.
Senior US officials have told CBS they've identified the locations in Iran from which a combination of more than 20 drones and cruise missiles were launched against the Saudi oil facilities. They say the locations are in southern Iran at the northern end of the Persian Gulf.
According to US sources, 17 missiles or drones were fired, not the 10 the Houthis claim. Cruise missiles may have been used, and some targets were hit on the west-northwest facing sides, which suggests the projectiles were fired from the north, from Iran or Iraq.
Investigators have reportedly identified the exact location, purportedly in southern Iran, where a combination of more than 20 drones and cruise missiles were launched against the Saudi oil facilities.
Source: zerohedge.com
Sounds like someone is trying to push us into a war with Iran,who are these senior us officials, or sources. 
Now the MSM/DS want trump to respond, Trump will but not the way they want
Saudi King Salman said Tuesday that Riyadh was capable of dealing with the consequences of attacks on its installations.
Source: dailystar.com.lb
Then we have Iran's supreme leader, he said the following
IRAN'S SUPREME LEADER: "THERE WILL BE NO TALKS WITH THE US AT ANY LEVEL"
 "there will be no talks with the US at any level" unless Washington agreed to return to the Iran deal,
  this is the position of the country's leadership and that "all officials in the Islamic Republic unanimously believe" this.
However, the leader reiterated Iran's stance that if the US returns to the nuclear deal, then Tehran would consider negotiations. 
Source: southfront.org
Trump says he'd 'prefer' not to meet with Iran's leader
"I never rule anything out, but I prefer not meeting him," Trump said aboard Air Force One.
Didn't we see the samething with NK right before a peace deal was announced, hmmm we must be getting close to an announcement. 
Now right after the attack on SA trump tweeted the following
Saudi Arabia oil supply was attacked. There is reason to believe that we know the culprit, are locked and loaded depending on verification, but are waiting to hear from the Kingdom as to who they believe was the cause of this attack, and under what terms we would proceed!

— Donald J. Trump (@realDonaldTrump) September 15, 2019
Many people believed that this meant the US was ready to go to war. But thats not it at all, think about it
The middle eastern deal made with SA was to protect the oil as long as they sell it using the dollar, this is a CB/DS deal, do you really think Trump is going to go war to protect the CB/DS deal, no
Then why did he say locked and loaded, lets go back to post 2504
A picture is worth many sentences.
Has POTUS ever made a statement that hasn't been proven to be correct (future)?
Think timing.
Think Senate lock.
Think SC lock.
Locked & (who is) Loaded.
Q
Barr just received the IG FISA report and they are reviewing it, Barr is locked and loaded.

---
Q
In a short while I will be presenting the New York @Yankees @MarianoRivera, the greatest relief pitcher (Closer!) of all time, with the Presidential Medal of Freedom in the East Room of the @WhiteHouse!

— Donald J. Trump (@realDonaldTrump) September 16, 2019
Q

 

!!mG7VJxZNCI

 

ID: 87be02

 No.7260840


Hunting for chupacabras (circa 2001)

Targets may be closer than they appear. Hunters become the HUNTED.

Q
>>3337502

Are you ready to see arrests? Are you ready to see PAIN? Are you ready to be part of history?

Q
How do we know it is coming,look who is warning about Deep fakes
Nothing to see here…

Just HRC talking about the need for the MSM/etc to "be able quickly to discredit what is being presented", such as "Pizzagate" and "deepfakes"… pic.twitter.com/jfU9EUD7fW

— M3thods (@M2Madness) September 17, 2019