How Do You Defuse A Bomb, Dark Clouds Are Forming, History Is Being Made – Ep. 2657
Watch The X22 Report On Video
The lumber prices are now spiking again. Gov Newsom is worsens the supply chain crisis. The [DS]/[CB] are pushing the crisis hard. Trump says that China will have to pay 60 trillion even though they do not have 60 trillion, so what else will they do. They do have gold. The [DS] is now pushing everything they have, they want the people to suffer during the holiday season, they want shutdowns so people beg. They are desperate and their plan has failed and they know it. All the pieces are in place, the major offensive will begin soon. This is about taking about the country, but to do this you need to prep and set everything in place to make the moves you need. Leverage and control are the name of the game. First the bomb must be defused, then the patriots can proceed forward, history is being made.
---
Economy
Lumber prices have nearly doubled over the past five weeks, staying above $1,000 per thousand board feet. 
Lumber prices have nearly doubled over the past month, holding above the $1,000 mark as recent floods in Canada limited shipments while demand remains strong with US homebuilders staying busy. 
Lumber futures on a continuous contract basis have soared 95% since November 15 when prices started steadily climbing. On Monday, they reached $1,044 per thousand board feet compared with nearly $540 in mid-November. Lumber prices are still off their highs from May, when a surge sent prices above $1,700. 
Source: businessinsider.com
California Governor Gavin Newsom is deliberately worsening the supply chain crisis by implementing additional power-grab COVID restrictions. Workers in California now must stay home and quarantine for two weeks if they are exposed to COVID. It does not matter if they are vaccinated. It does not matter if they are vaccinated AND test negative. Some workplaces will allow "exposed" employees to return to work earlier, but they must wear a mask and remain six feet away from their coworkers and customers to let the public know they are potentially one of the diseased.
Around 40% of the nation's imports arrive at California ports. If one worker is exposed to someone who contracted coronavirus, entire businesses could shut down. 
Source: armstrongeconomics.com
During an appearance on this week's "Sunday Morning Futures," President Donald Trump argued China should be held accountable for its role in the spread of the COVID-19 pandemic.
The former president said China should pay reparations.
"I think the origins are so obvious," he said. "They came out of the Wuhan lab. And I think if anybody thinks anything differently, they're just kidding themselves. So, you can ask — China has to pay. They have to do something. They have to pay reparations. And China doesn't have the money to pay those reparations. I believe that worldwide — I'm not just talking United States — worldwide, $60 trillion of damage, $60 trillion."
"China doesn't have $60 trillion," Trump continued. "But they have to do something to make up for what they've done. What they've done to the world is so horrible. It's been horrible, all over the world. And it doesn't stop."
Source: breitbart.com
---
Political/Rights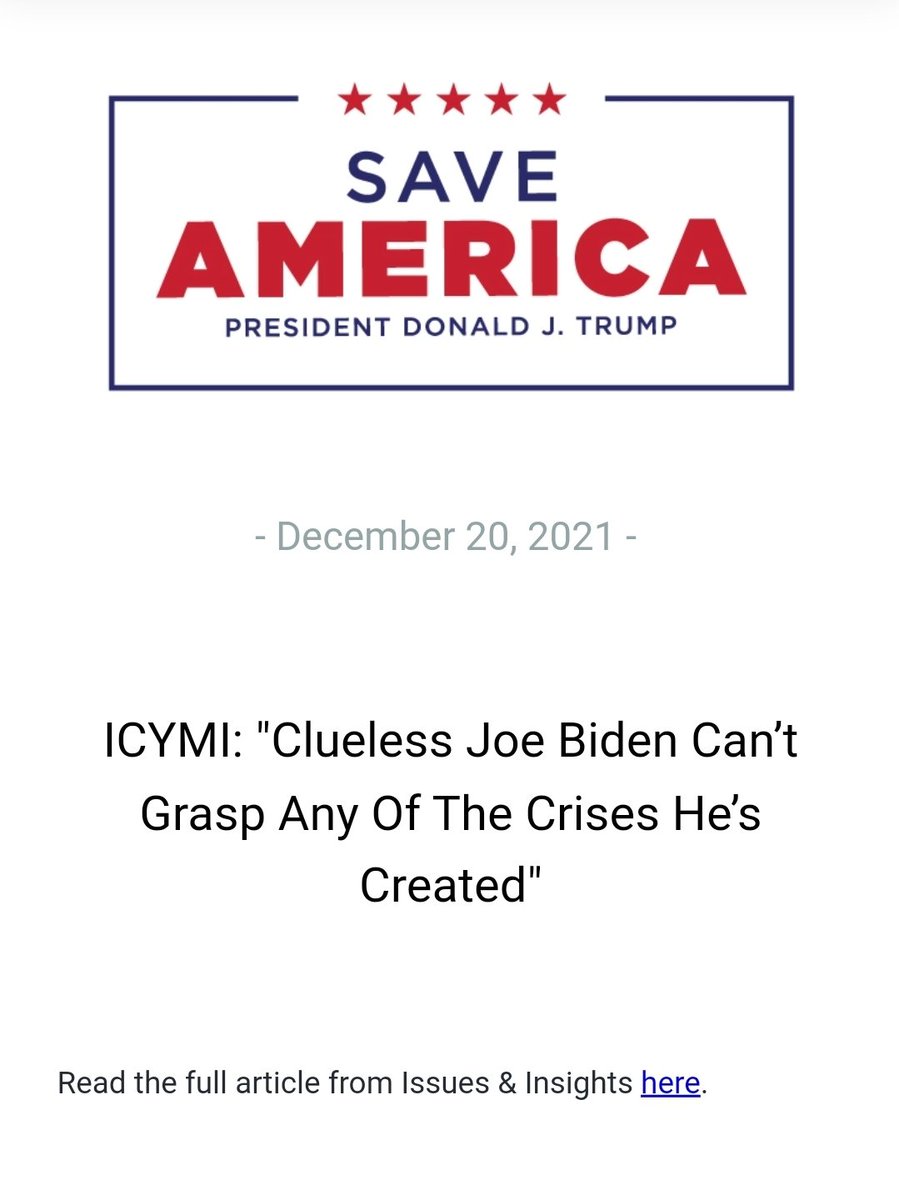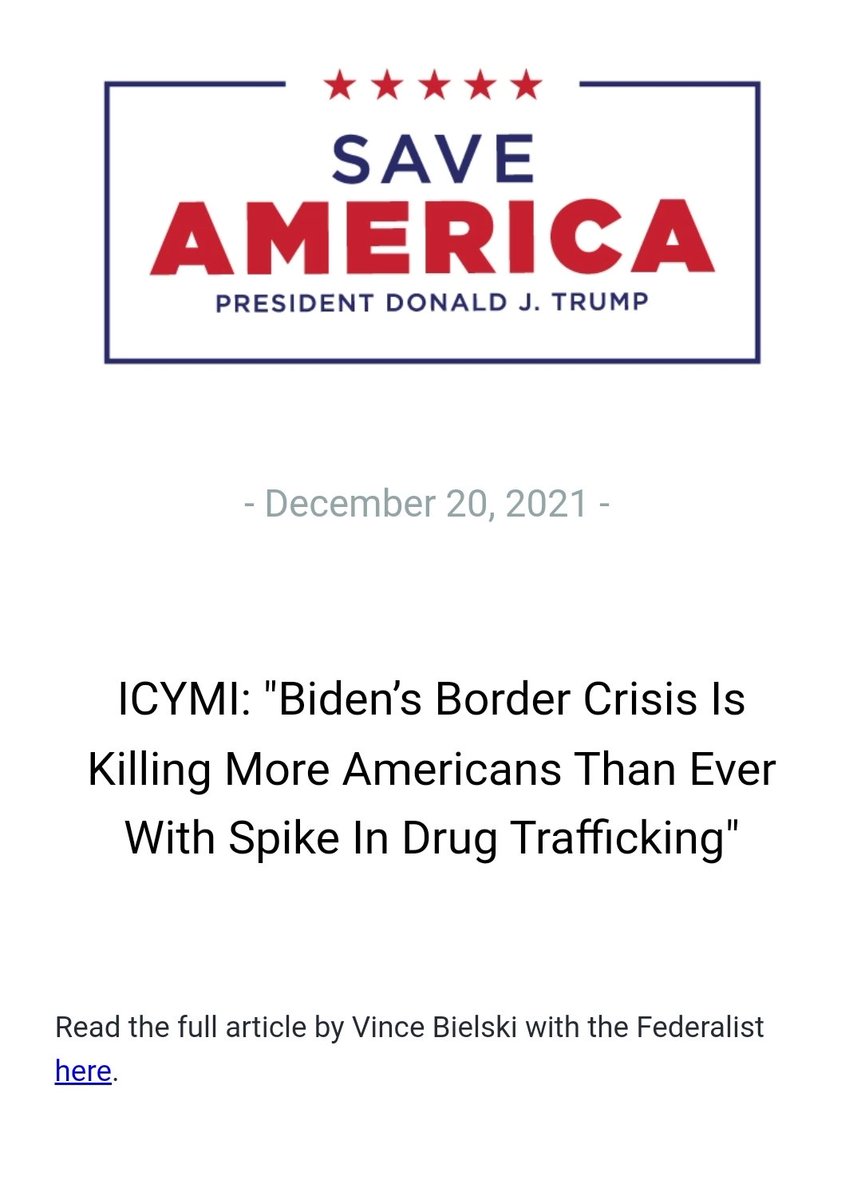 Trump SUES New York's Democratic AG Letitia James to stop her two-year investigation into his real estate business: Claims she's used probe to 'harass, intimidate, and retaliate against a political opponent'
The lawsuit was filed in an upstate New York court this morning, it was reported
'No one is above the law, not even someone with the name Trump,' James replied
For more than two years James has been investigating Trump and his family business over potentially fraudulent real estate valuations 
James said she wants a deposition from the ex-president earlier this month 
Trump has frequently dismissed both James' and Manhattan DA Cyrus Vance's parallel criminal probe into similar allegations as 'witch hunts'
Source: dailymail.co.uk
Steele source Igor Danchenko is now represented by lawyers who worked for the Hillary Campaign.

Special Counsel John Durham is asking the court if that's an improper conflict.

Notable: trial inquiry may include whether the Clinton Campaign directed Danchenko's activities. pic.twitter.com/vczgWX5ih0

— Techno Fog (@Techno_Fog) December 20, 2021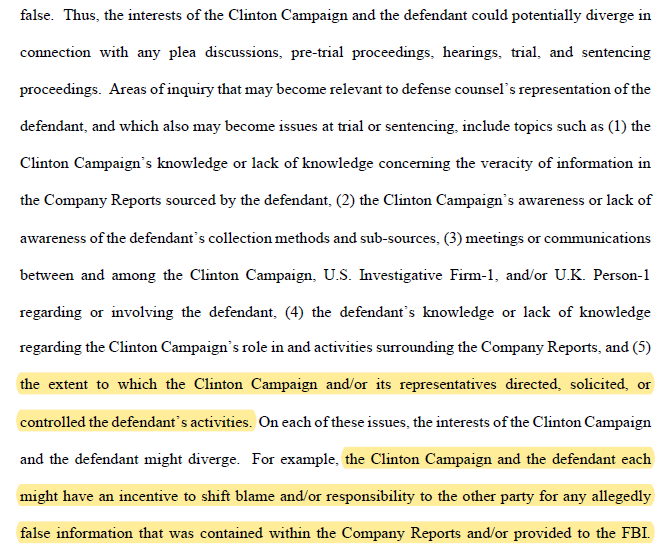 Special Counsel Durham:

The Clinton Campaign and Danchenko might have an incentive to shift blame to each other for the false info provided to the FBI. pic.twitter.com/CVeTUgbWCV

— Techno Fog (@Techno_Fog) December 20, 2021

Also at issue might be whether the Clinton Campaign knew the dossiers sourced by Danchenko were fraudulent.

What makes all this curious?

The Clinton Campaign lawyers just replaced Danchenko's old attorneys….

Full doc:https://t.co/mG2RCaXgGI pic.twitter.com/dDMOM32nGd

— Techno Fog (@Techno_Fog) December 20, 2021

This is significant.

Special Counsel John Durham:

The 2016 Hillary Clinton Presidential Campaign and its employees are currently subject to "matters" before the Special Counsel.

— Techno Fog (@Techno_Fog) December 20, 2021
A new Texas law is attracting armed groups with body armor, long guns and high tech drones to the border.
Some local officials are welcoming them, according to The Wall Street Journal.
The new law allows migrants to be arrested for trespassing. The armed groups intend to find the illegals and deliver them to law enforcement officials for arrest.
The Kinney County sheriff has been working with these groups for months. Former Border Patrol Agent Brad Coe has been on the lookout for help in deterring illegal immigration. "The whole premise is if [migrants] know they'll be arrested, they'll go somewhere else," Coe said.
Source: westernjournal.com
---
Geopolitical/Police State
A report by the South Florida Sun Sentinel suggests Florida is on track to become the 22nd constitutional carry state.
Rep. Anthony Sabatini (R) has already introduced legislation to do away with the concealed carry permit requirement for Floridians. Open carry without a permit would also be legalized by Sabatini's bill.
Moreover, Gov. Ron DeSantis (R) has already made it clear he will sign constitutional carry legislation, should it reach his desk.
There are currently 21 constitutional carry states in the U.S. Those states are Alaska, Arizona, Arkansas, Idaho, Iowa, Kansas, Kentucky, Maine, Mississippi, Missouri, Montana, New Hampshire, North Dakota, Oklahoma, South Dakota, Tennessee, Texas, Utah, Vermont, West Virginia, and Wyoming.
Source:breitbart.com
---
War
---
False Flags
NEW: Boston bans unvaccinated people from indoor dining, indoor fitness, and indoor entertainment

— BNO Newsroom (@BNODesk) December 20, 2021
DC in state of Emergency because of Omicron
JUST IN – Mayor Sadiq cancels London's New Year's Eve celebration event in Trafalgar Square because of #Omic
Breaking: Elizabeth Warren Tests Positive for COVID-19
An ICAN-funded lawsuit has struck down the Covid-19 vaccine mandate to attend school in San Diego, California!  This is the first COVID-19 vaccine requirement in the country to be struck down in a final ruling.
ICAN-Funded Lawsuit Strikes Down COVID-19 Vaccine Mandate for San Diego Schools!
Source: theconservativetreehouse.com
Thread summarizing what we've learned so far of the Fauci/Collins email dump on the Great Barrington Declaration:

It starts on 10/14/20 when Collins instructs Fauci and his staff to "take down" the GBD and the "fringe" scientists behind it. pic.twitter.com/XyTWINMOnG

— Phil Magness (@PhilWMagness) December 18, 2021
Fauci responds immediately by circulating an article against the GBD from that austere scientific authority, @WiredUK. pic.twitter.com/GSnvJGLwOi

— Phil Magness (@PhilWMagness) December 18, 2021
The Fauci-endorsed Wired article is noteworthy for having one of the single worst hot-takes of the entire pandemic. It declared in October 2020 that the GBD should be ignored, because lockdowns were a thing of the past and would not be returning! https://t.co/o1nTEuO4tr pic.twitter.com/U3LtPK97zc

— Phil Magness (@PhilWMagness) December 18, 2021
The next day, Fauci sends Collins an angry rant against the GBD in the @TheNation by @gregggonsalves.

Collins approves. pic.twitter.com/jstxmUb4Ay

— Phil Magness (@PhilWMagness) December 18, 2021
Far from a scientific study refuting the GBD, Gonsalves's article is a political op-ed attacking @Jacobin magazine for breaking "solidarity" with other far-left media outlets on lockdowns. Why? Because Jacobin ran an interview with @MartinKulldorff on how lockdowns hurt the poor. pic.twitter.com/0j85WlKiwY

— Phil Magness (@PhilWMagness) December 18, 2021
Over the weekend, Collins launches the smear campaign against the GBD in the Washington Post.https://t.co/WwrcdJUoC4 pic.twitter.com/xw42r2WGqR

— Phil Magness (@PhilWMagness) December 18, 2021
Collins and Fauci email each other about the WaPo hit, with Fauci quipping that the White House was "too busy with other things to worry about this" – perhaps an election reference? – and therefore would not push back on the anti-GBD campaign. pic.twitter.com/CVxqSbPSS3

— Phil Magness (@PhilWMagness) December 18, 2021
TAKE A LISTEN
3728
Q
!!Hs1Jq13jV6
12/19/2019 01:09:05
 ID: e021ac
Archive Bread/Post Links: 7556505 / 7557137
Direct Link: 7557137
Anonymous
12/19/2019 01:04:53
ID:c6b6d6
Archive Bread/Post Links: 7556505 / 7557088
Direct Link: 7557088
>>7557024
>>7557088
Stunning data about vaccine failure from Ontario, Canada
 :
The vaccines have now failed completely.
Omicron preferentially infects vaccinated people.
Hey, why not both?
SOURCE: https://covid-19.ontario.ca/data
This statement  is from last week and the comments are from White House COVID-⁠19 Response Coordinator Jeff Zients.
No more PCR tests to detect Covid ?????
As of December 31, 2021?Help me process this…. so…
1) will Negative testing for travel be useless?
2) no more athletes tested prior to games?
3) no more politicians announcing they have Covid?
4) will the "test and stay" procedures proposed for unvaxxed American public school students HAVE NO TEST to use?Or? Are the powers that be FINALLY admitting the PCR tests are basically useless?
---
Q
1. The PRETRIAL Jan 6th defendants are back on lockdown in the jail in DC.

Some are charged with non-violent misdemeanors and are veterans with no previous criminal record.

Did you ever think this could happen here?

Where are the cries of human rights abuse & the loving left? pic.twitter.com/UppaOHE6ya

— Marjorie Taylor Greene 🇺🇸 (@mtgreenee) December 19, 2021
2. The pretrial J6 defendants awaiting trial are sharing only 1 tablet between over 40 men.

Held again in 23 hr/day solitary confinement.

Screaming in mental and emotional torture.

Why?@ACLU do you care? pic.twitter.com/kJsxIrXCAZ

— Marjorie Taylor Greene 🇺🇸 (@mtgreenee) December 19, 2021
3. No showers for an entire week, 23-1 solitary confinement, and harassed by guards under Deputy Warden Kathleen Landerkin who openly hates Trump and his supporters.

PRETRIAL.

Is this how pretrial defendants are treated in your jail @MayorBowser? pic.twitter.com/kumYH0cTDr

— Marjorie Taylor Greene 🇺🇸 (@mtgreenee) December 19, 2021
4. J6 Committee Members of Congress swore an oath to our Constitution.@SpeakerPelosi @RepLizCheney @AdamSchiff @BennieGThompson @RepRaskin @AdamKinzinger @RepZoeLofgren @PeteAguilar & others.

Why don't you care about due process & human rights abuse of pretrial defendants? pic.twitter.com/EjIUljchN0

— Marjorie Taylor Greene 🇺🇸 (@mtgreenee) December 19, 2021
5. @HouseGOP @freedomcaucus @GOPLeader

All of us are against the riot at the Capitol on J6 and had nothing to do with it.

Let us stand up against this political torture that violates due process rights of pretrial defendants!

Our base demands it!

Why am I practically alone?

— Marjorie Taylor Greene 🇺🇸 (@mtgreenee) December 19, 2021
More from DC Gulag today.

Everyone in power—from Joe Biden to Merrick Garland and his sadistic line prosecutors to partisan DC judges to Mitch McConnell to national/local media—own this.

Dehumanized these people for nearly a year so they're treated like animals.

Pray for them: pic.twitter.com/UicvfC9oGS

— Julie Kelly 🇺🇸 (@julie_kelly2) December 19, 2021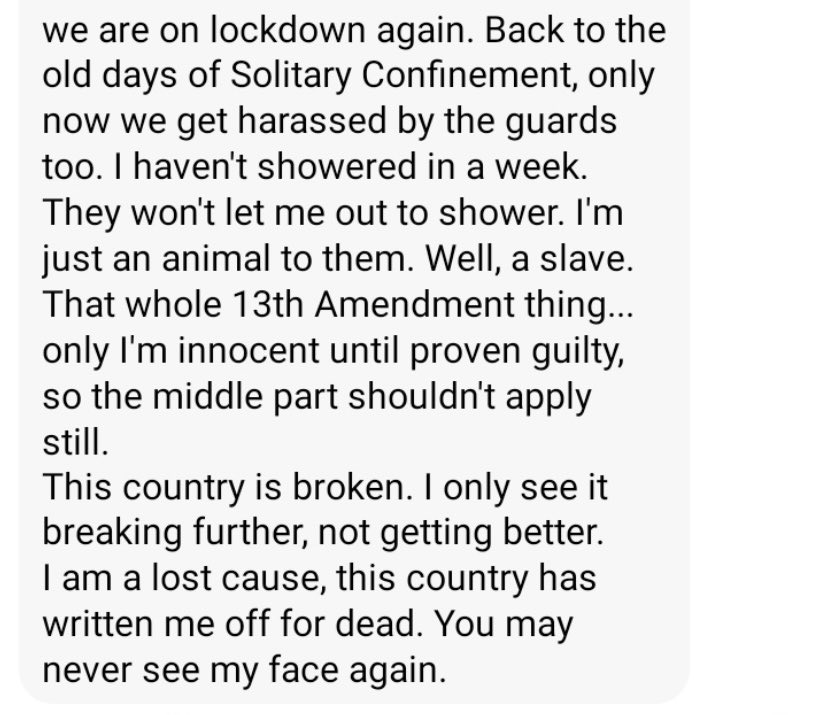 The panic continues as the Democrats in Pennsylvania turn to lawfare to prevent the PA Senate's forensic audit of the 2020 Election results in the state. 
The Democrats are now using lawfare in their attempt to prevent an audit of the 2020 Election results in the state.  Spotlightpa reports:
An appellate court leveled sharp questions Wednesday in the opening round of a closely watched court case over whether Republicans in the state Senate have the power to subpoena sensitive voter information as part of a partisan inquiry into the 2020 election.

A coalition of Democrats is seeking an order quashing the subpoena and argues it goes too far by requesting information — including the names, addresses, and partial Social Security numbers — for nearly 9 million registered voters in the state.

Republicans who control the state Senate say they believe the sweeping review is necessary to ensure there were no irregularities in the 2020 election, citing the state's evolving guidance last year about how counties should handle mail-in and other ballots.
Why would the Democrats protest so much? 
Source: thegatewaypundit.com
House Minority Leader Kevin McCarthy (R-CA) plans to launch at least seven investigations into Democrat President Joe Biden's administration if Republicans win back control of the House of Representatives in 2022, which is expected.
"McCarthy plans to beef up staff, counsel and other resources to be ready to extract information beginning Day 1 if the GOP gets the gavel," Axios reported on Sunday, noting that McCarthy's office already has several investigations planned.
The investigations at the top of McCarthy's list, according to Axios, include:
IRS: Leak of a "vast cache of IRS information" about billionaires to ProPublica.
National Security Agency: Tucker Carlson last summer accused the spy agency of targeting his show's communications. The NSA said he was never an "intelligence target."
Parents: Attorney General Merrick Garland's vow to mobilize the FBI against "threats of violence against school board members," after the National School Boards Association used the phrase "domestic terrorism." The association apologized for its letter.
Border: Record levels of illegal immigration.
COVID: Origins of the virus, and CDC communications about school closures and mask mandates.
Afghanistan: Decisions behind the withdrawal, and an accounting of Americans who remain stranded.
JEDI: A disputed cloud-computing contract.
Source: thedailywire.com
So lets think about the plan
Clearing the way so the people can think and see clearly without
take the bull horn away from the fake news and big tech, control the flow of information
Have the pandemic burn out, the [DS] cannot push lockdowns
Trump continues to endorse people building the offensive. Once these people are in place in the House, Senate, Governors, Mayors, reps across the country the fun begins
McCarthy and others will start the real investigations, all those fake investigations that pursued against Trump is now going to boomerang on them
Investigation into the Nov 3 insurrection, this will be driven by the Forensic audits happening in many states.
Investigation on how certain politicians and fake news outlets knowingly pushed propaganda on the American people
Investigation into the origins of Covid
The [DS] will push chaos during this time, most likely try to use antifa/blm to push riots, this will allow the investigations into these organizations
Durham will be unsealing indictments during 2022 and they will intensify, pointing towards clinton, biden, obama etc.
[DS] will do everything in the power to stop all of this, red lines will be crossed
Will the legislators move to decertify??
— Dan Scavino Jr.🇺🇸🦅 (@DanScavino) December 20, 2021
Deer
Military Intelligence ref above is the absolute biggest inside drop this board will ever receive.
Now think about why Antifa plays right into the plan? Always ahead. Good guys are winning.
— Dan Scavino Jr.🇺🇸🦅 (@DanScavino) February 3, 2021
Space Force
Q

 

!ITPb.qbhqo

 

ID: fbc52d

 No.17359

SA controlled US puppets.
Strings cut.
D's dropping all around over sexual misconduct (1st stage).
Coincidence directly after SA?
Don't you realize the war has gone public?
List who will not be running for re_election.
Coincidence?
Phase I.
Easy to swallow.
Loss of power/influence.
Good time to prosecute.
Just wait until next week.
You are all Patriots.
Q
— Dan Scavino Jr.🇺🇸🦅 (@DanScavino) December 20, 2021
Savior
114
Anonymous
11/05/2017 23:56:55
 ID: FAkr+Yka
4chan Thread/Post: 148181225 / 148186256
Direct Link: 148186256
24
Any person making statements they will not be seeking re-election was put in submission. For the betterment of the country not all will be prosecuted and all will do as told. You will see more of this occur (not normal yet disregarded) and even on the D side.
Q 

!UW.yye1fxo

 

ID: 9400a1

 No.175503

Note the last drops on the other board.
Think logically.
Refer to past crumbs.
YOU HAVE MORE THAN YOU KNOW.
Do you expect HRC, GS, Hussein, etc to stand in a PUBLIC courtroom w/ potential crooked judges and tainted 'liberal' juries?
How do you defuse a bomb?
Knowledge of which wires/strings to cut?
Q