The Insurrection Occurred On 11.3, Jan 6 Details Emerge Exposing The [DS] Operation – Ep. 2658
Watch The X22 Report On Video
Gas prices in Europe are now surging, the economy is imploding and they are feeling the pain first. The Biden administration is in their own world, the people are not fooled. Polls continue to show that the Biden Admin and soon the [CB] will be held accountable. The [CB] thinks they are in control , they are not. The [DS] is now pushing everything they have, they know it is game over if the people are not fully vaccinated. The tests are about to change and the truth will be revealed. They will continue to push pressure but this will fail, the more they push the people will not comply. The fear tactics do not work anymore. Trump continues to remind everyone that the insurrection occurred on 11.3. The Jan 6 [FF] is now being exposed. The people are now seeing how the FBI and others orchestrated the entire operation, the [DS] narrative is falling apart. Trump is going to hold a press conference on Jan 6, interesting timing.
---
Economy
The majority of Republican and independent voters say Democrat Transportation Secretary Pete Buttigieg has failed to fix the ongoing supply chain crisis that has left container ships stranded offshore and shelves empty at retailers across the country, according to poll released Monday.
The poll, commissioned by the Convention of States Action and conducted by the Trafalgar Group, found 55 percent of GOP and independent voters believe Buttigieg is doing a poor job as transportation secretary.
 "
"Mayor Pete wanted us to elect him as president, yet his first test of leadership at the national level has been an embarrassing failure," Meckler said.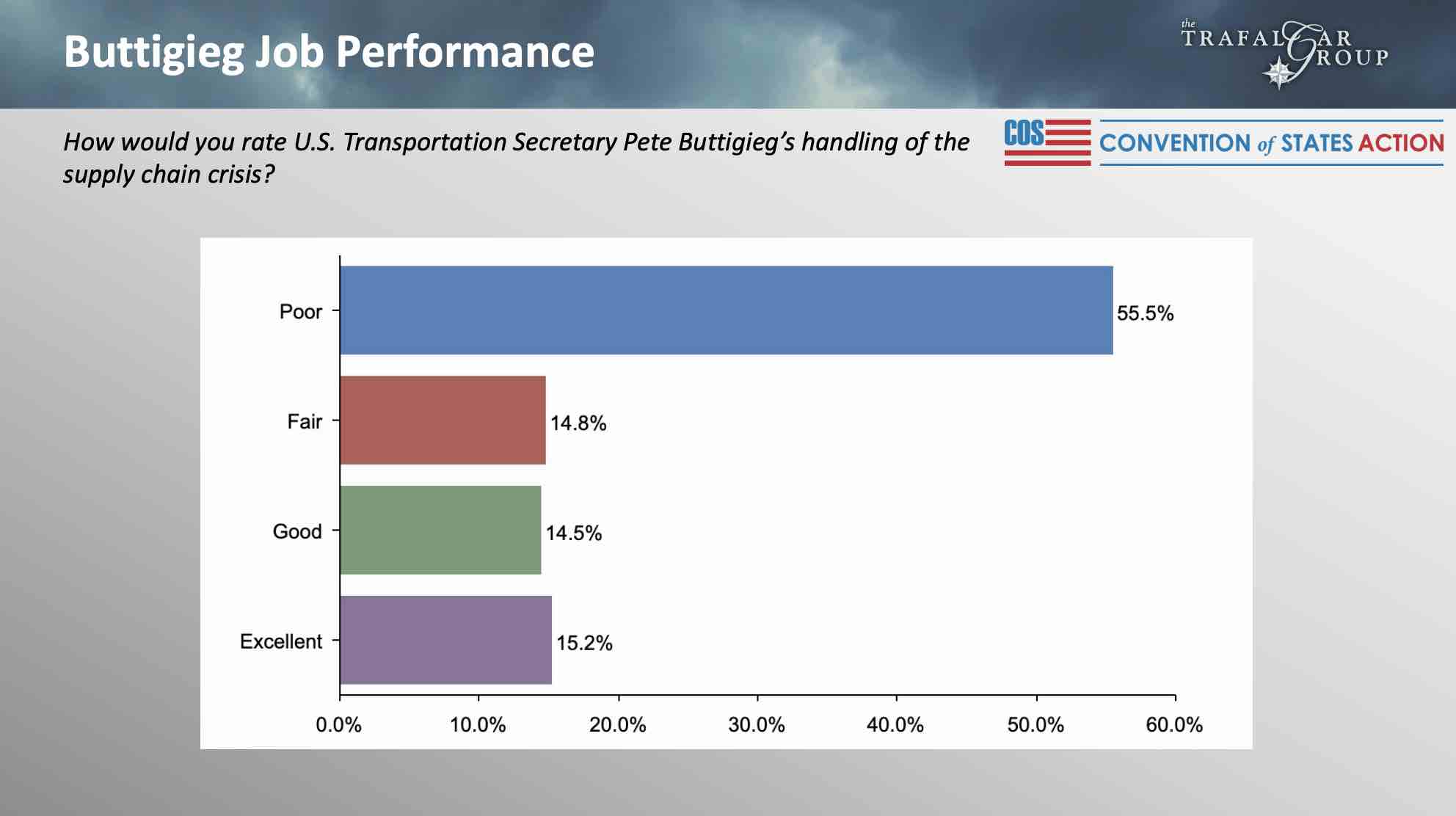 Other findings of the poll, which surveyed more than 1,000  2022 election voters conducted December 4 to December 7 included:
53.3 percent of independent voters say Buttigieg is doing a poor job of handling the supply chain crisis.
Source: breitbart.com
Any person making statements they will not be seeking re-election was put in submission. For the betterment of the country not all will be prosecuted and all will do as told. You will see more of this occur (not normal yet disregarded) and even on the D side.
---
Political/Rights
Another House Democrat will not be seeking reelection in 2022.
Rep. Lucille Roybal-Allard (D-CA) will not seek reelection next year.
source: thegatewaypundit.com
  House Speaker Nancy Pelosi (D, CA) had her press conference in deep-blue San Francisco interrupted by a protester shouting, "Let's Go, Brandon!"
The incident went down Monday as Pelosi held a press conference touting the recently passed $1.2 trillion bipartisan infrastructure spending deal. Also in attendance at the conference were San Francisco Mayor London Breed (D) and Rep. Mark DeSaulnier (D, CA). As Pelosi began making introductions, a man could be heard shouting, "Let's Go, Brandon! Wooooooo! USA! USA! USA!"
Source: breitbart.com
Special Counsel John Durham is investigating multiple former members of Hillary Clinton's 2016 campaign.
We know that Hillary Clinton's 2016 campaign and the DNC paid for Steele's junk dossier and paid for work provided by Fusion GPS.
Hillary Clinton's camp hid the payments to Steele and Fusion GPS through payments to her lawyers at Perkins Coie – Marc Elias and Michael Sussmann – (FEC complaint was filed against Hillary for not disclosing dossier payments).
The latest developments in Durham's case against Danchenko suggest Sussmann isn't the only Clinton lawyer in the special counsel's crosshairs.
Other Clinton campaign lawyers and former members of Hillary Clinton's 2016 campaign are also under investigation according to Durham's latest filing.
The Hillary Clinton Campaign and its employees are subject to "matters before the Special Counsel."

Durham notices the potential conflict of interest, informing the court that Danchenko's trial might raise the following issues:

the Clinton Campaign's knowledge or lack of knowledge concerning the veracity of information in the Fusion GPS reports sourced by Danchenko,
the Clinton Campaign's awareness or lack of awareness of Dancehnko's collection methods and sub-sources,
meetings or communications between and among the Clinton Campaign, Fusion GPS, and/or Steele regarding or involving Danchenko
Danchenko knowledge or lack of knowledge regarding the Clinton Campaign's role in and activities surrounding the Fusion GPS reports, and
the extent to which the Clinton Campaign and/or its representatives directed, solicited, or controlled Danchenko's activities.

Durham even raises the potential that members of the Clinton Campaign may be called to testify at Danchenko's trial.
Source: thegatewaypundit.com
---
Geopolitical/Police State
---
War

---
Cyber Attacks
---
False Flags
Just unveiled: Boston "Be Together" initiative

It requires full vaccination for entry to restaurants, gyms, and sports arenas for anyone aged 12+

In March 2022, vaccination mandates will phase-in for younger children as well

An ironic name for a program that divides society. pic.twitter.com/GO2BWzYR2W

— Mythinformed MKE (@MythinformedMKE) December 20, 2021

Their name for this unambiguous segregation: "Be Together."This move reinforces what we've been saying for while. The architects of The Great Reset know they need complete control over the propaganda and extreme levels of gaslighting in order to make the masses ignore the science altogether. To do this, they will have their minions such Michelle Wu claim to follow the science as they call on people to disregard it. These "vaccines" are not effective. They are not safe. The mandates that continue to roll out are attacks on humanity, not to mention science and common sense.
Boston's COVID vaccine mandate for indoor venues, set to go into effect on Jan. 15 2022, will not include professional athletes.
The wording of the vaccine mandate allows for "a professional athlete/sports team who enters a covered premises as part of their regular employment for purposes of competing" to not be vaccinated. It will apply to both resident and visiting athletes.
.Source: thepostmillenial.com
De Blasio Bribes New Yorkers: A Vaccination Team Can Come to Your House, Give Everyone in Your Family a Jab – And $100! (VIDEO)
Dr. Anthony Fauci: "You have a highly effective vaccine that is very safe, and you have 50 million people in the country who refuse to get vaccinated, many of which are motivated purely by differences in political ideology, which is really unacceptable."https://t.co/9FRAgVBQor pic.twitter.com/EPMuJK61Gr

— CSPAN (@cspan) December 20, 2021
Remember what Fauci has said just last week
"I would prefer, and we all would prefer that people would be voluntarily getting vaccinated, but if they're not gonna do that, sometimes you've got to do things that are unpopular, but that clearly supersede individual choices for the communal good," said Fauci.
🚨 BREAKING: We just beat the Biden Administration in court again. This afternoon, we obtained a preliminary injunction against the vaccine mandate on federal contractors, halting enforcement of that mandate in Missouri and the other states in our coalition.

— Attorney General Eric Schmitt (@AGEricSchmitt) December 20, 2021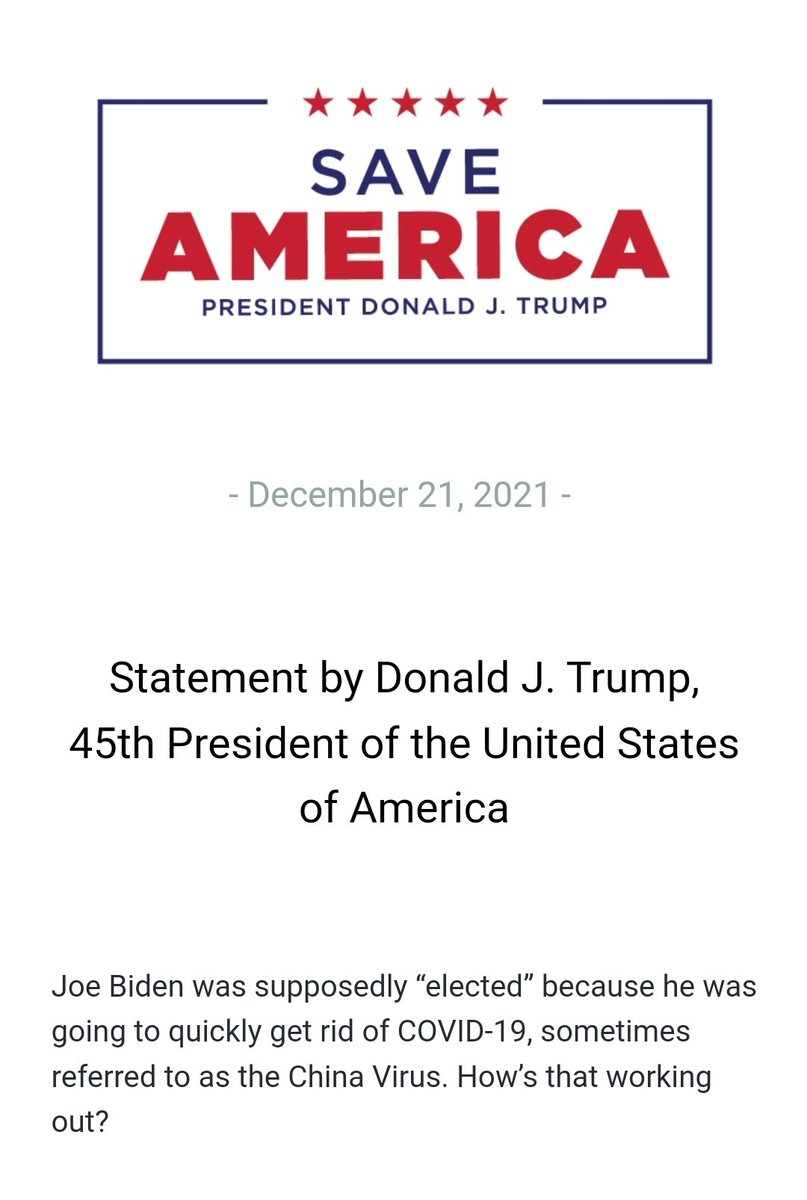 ---
Q
 Judge Hogan ordered the release of 3 hours of Capitol surveillance video from inside the west terrace tunnel on January 6. This was the scene of fierce battles between the police and Trump supporters. The police beat the hell out of Trump supporters that day killing two female Trump supporters.
This is a big development. The Biden DOJ, Liz Cheney, and the Jan. 6 Committee have been using cherry-picked video clips to define what happened on January 6th. They fear the truth getting out to the American public.
Source: thegatewaypundit.com
BREAKING: Lt. General Michael Flynn Files Restraining Order Against Speaker Nancy Pelosi and Injunctive Relief Against Liz Cheney's Jan. 6 Committee
General Flynn did not organize, speak at or participate in any of the rallies in Washington DC on January 6th. Despite this Pelosi and Liz Cheney's Jan. 6 Committee have been targeting and harassing General Flynn in order to bankrupt him and destroy him for his association with President Trump.
Source: thegatewaypundit.com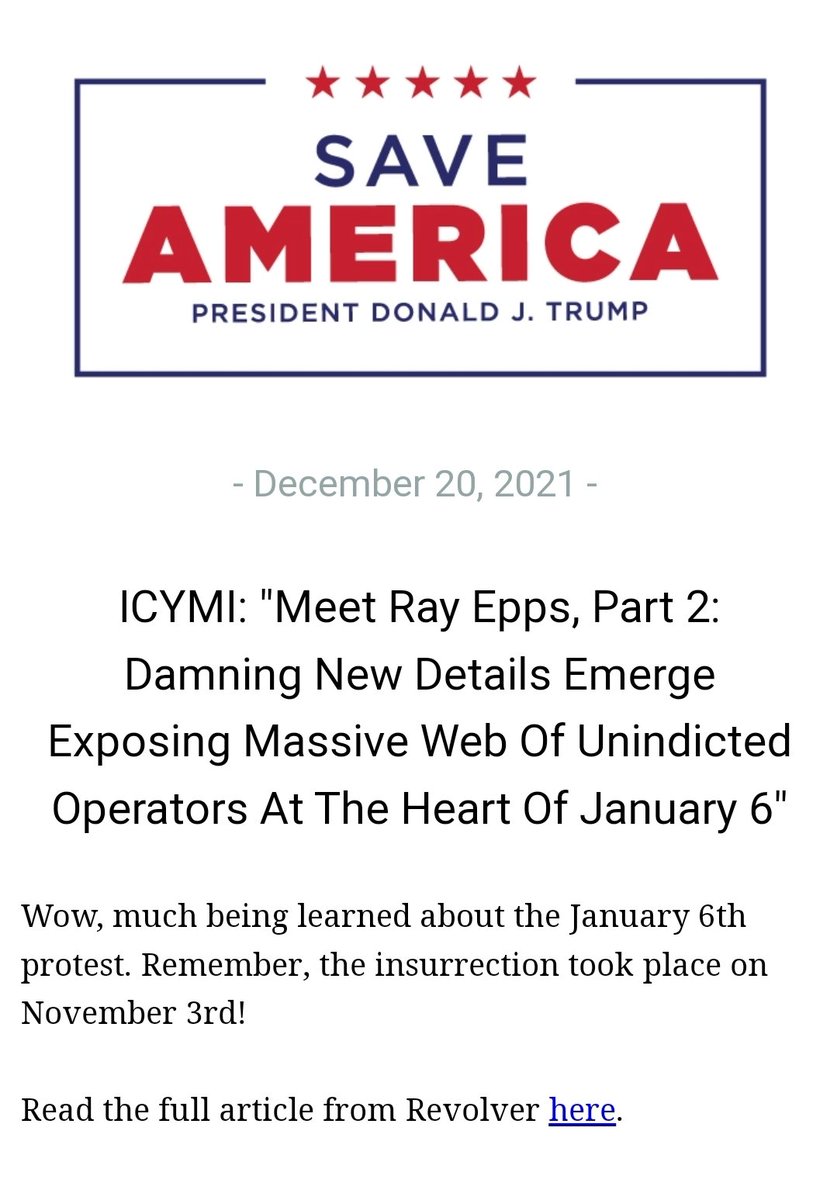 Meet Ray Epps, Part 2: Damning New Details Emerge Exposing Massive Web Of Unindicted Operators At The Heart Of January
If Epps turns out to have been some kind of government operative, which at present is the only clean and simple explanation for his immunity, it is game over for the official "MAGA insurrection" narrative of 1/6. Epps was the day's loudest riot recruiter, and its apparent leader of the very first breach of Capitol grounds. If Ray Epps is a Fed, the "Insurrection" becomes the "Fedsurrection" in one fell swoop.
But it is imperative to note that if Epps was just a cog in a much larger federal operation, he would not have been deployed alone. Historically speaking, when Feds have orchestrated fake mobs of fake protesters, or contrived fake conspiratorial plots, the Feds' own assets have commonly comprised between 16% to 25% of the plot's participants, at least in its key respects. Indeed, the FBI once flew in 1,600 rowdy spooks to infiltrate a single convention with just 10,000 protesters.
So if Ray Epps was instructed by the government to play his part in various recruiting, breaching and crowd control efforts that day, we would expect many other informants to be set up around him.
To test this hypothesis, Revolver spent the past six weeks comprehensively mapping Ray Epps's network of interactions on January 6, and profiling the key people around him who complemented his efforts. We did a deep dive into other key figures involved in the initial breach of the Capitol grounds, as well as figures who played an instrumental role in fence removal and crowd control. In short, we investigated key players whose early actions on 1/6 turned the rally into a riot.
The bad news for Fedsurrection Deniers is the results are in, and they look even worse for the FBI than Revolver's already low expectations. For brevity, we profile five of the most egregious cases in this report, and tell the story of how they crossed paths and interacted with, and in some cases coordinated with Ray Epps to make 1/6 possible. Some of these cases are so wild as to constitute Epps-sized scandals unto themselves.
Revolver makes no facial allegation about any of the individuals below. However, some very serious, shocking and time-sensitive questions are raised by this report. To that extent, our accusations and demands are aimed squarely at the US Justice Department.
FBI Director Chris Wray and Attorney General Merrick Garland have an awful lot of explaining to do.
The Booby Trap that Turned a Rally into a Riot
This same breach team then proceeded to haul the metal police barricades off to the side, tear down "Restricted Area" signage, and systematically remove protective fencing from the Capitol lawn. Ordinarily, with no barriers in place, this entire area is open to the public.
The tactical importance of this breached location is that it was the very first walkway entrance into the Capitol grounds that every Trump supporter would arrive at first as they walked from the Trump rally to the Capitol.
The Ray Epps Breach Team had the amazing foresight to pry open the one walkway entrance that no one could avoid.
 .
The Ray Epps breach team thus set up a booby trap by pushing back the police, then hauling away the "restricted area" signage, the chain fencing, and the metal barricades—all while tens of thousands were still at the Trump rally. Without police present or "do not enter" signs prominently visible, people leaving Trump's speech and arriving at the Capitol entrance would have no idea it was illegal to walk through the gate, or onto the lawn, or up to the Capitol steps. After all, this entire area is ordinarily open to the public.
Instead, they heard friendly music and saw the main walkway to the Capitol grounds wide open. These unwitting Trump supporters had no idea they had just crossed an invisible tripwire that would later subject them to federal prosecution for trespassing.
Source: revolver.com
2632
Q
!!mG7VJxZNCI
12/20/2018 12:41:48
 ID: 1631ff
Archive Bread/Post Links: 4392237 / 4392356
Direct Link: 4392356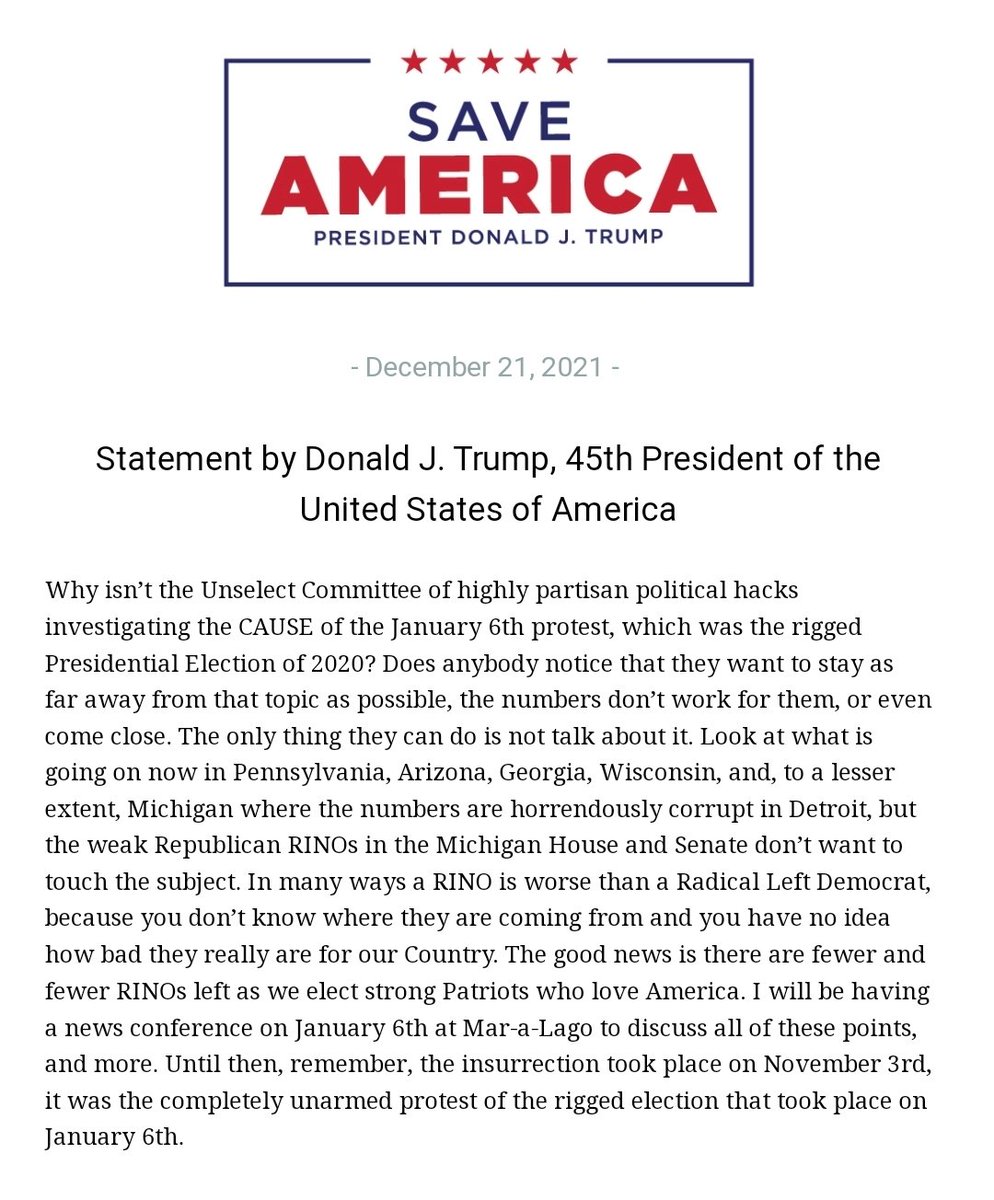 Breaking: President Trump to Hold News Conference on January 6 at Mar-a-Lago
4524
Q
!!Hs1Jq13jV6
06/25/2020 22:21:59
 ID: 2e1312
Archive Bread/Post Links: 9748876 / 9749096
Direct Link: 9749096