[HRC]/[DS] Players Took The Bait, Trap Set, All The Walls Are Falling Down – Ep. 2760
Watch The X22 Report On Video
The [DS]/[CB] have showed the people their true intentions, they don't care about inflation, fuel prices, they are doing everything to bring us into the Great Reset, the people see it and reject it. The people are realizing that the fiat currency is crashing and they need to protect what they have. The [DS]/[HRC] took the bait and fell right into the trap. There is no escape from this, all the walls are falling down. The [DS] is panicking after EM purchased twitter, the patriots have information weaponry which will be used to take down the [DS]. The [DS] censorship days are over, there is no place to hide.
---
Economy
Gas prices have doubled since Joe Biden was "elected" president in November 2020.
Gas on Tuesday reached $4.13 per gallon which is still over the previous record all-time high before Joe Biden became president.
Despite the record pain at the pump, Joe Biden blocked oil drilling on millions of acres of US land on Monday. 
The Daily Caller reported:
The Biden administration reversed a Trump-era policy Monday that massively expanded the area available for fossil fuel leasing even as gasoline prices remained near an all-time high.
Source: thegatewaypundit.com
Senate confirms liberal favorite Lael Brainard as Fed's new vice chairwoman
NEW: A Bitcoiner now owns Twitter pic.twitter.com/0nLuuR0KL1

— Bitcoin Magazine (@BitcoinMagazine) April 25, 2022
JUST IN: Fort Worth, Texas has become the first city government in the U.S. to mine #Bitcoin 🇺🇸 pic.twitter.com/kMrvQWWBxZ

— Bitcoin Magazine (@BitcoinMagazine) April 26, 2022
---
Political/Rights
Cedric Richmond, a senior advisor to Joe Biden is leaving the White House to go work for the DNC.
Biden's approval rating is down to the lowest of his presidency.
According to a new I&I/Tipp poll, only 19% of voters want Joe Biden to run again and only 7% want Kamala Harris to run again.
Fox News reported:
Source: thegatewaypundit.com
The public face of President Joe Biden's Russia sanctions strategy, Daleep Singh, is taking an extended leave of absence from the White House.
Details concerning the timing and length of Singh's leave are scant, but a source told the Washington Post that the Biden deputy national security adviser and National Economic Council deputy is temporarily stepping away from his posts for family reasons starting next month.
Source: washingtonexaminer.com
EXCLUSIVE: Joe's missing millions! Financial records reveal Biden had $5.2million in unexplained income – as emails show he paid Hunter's legal bills for one megabucks Chinese deal and was tapped as 'big guy' to get a 10% cut in another
Emails from Hunter's laptop reveal Joe Biden agreed to pay his son's legal fees for his deal with a Chinese government-controlled company
Joe was able to pay the bills after earning millions of dollars through his and his wife's companies after he left office as vice president
But an analysis   of the president's financial records shows $5.2million is unexplained 
The 'missing millions' and emails on Hunter's abandoned laptop suggest Joe would have a 10% share in Hunter's blockbuster deal with the Chinese
The revelation ties the president even closer to Hunter's overseas business dealings, despite the White House's denials 
But the president's financial filings reveal that he declared almost $7million more income on his tax returns than he did on his government transparency reports .
Some of that difference can be accounted for with salaries earned by First Lady Jill Biden and other sums not required on his reports – but still leaves $5.2million earned by Joe's company and not listed on his transparency reports.
The 'missing millions' – combined with emails on Hunter's abandoned laptop suggesting Joe would have a 10% share in Hunter's blockbuster deal with the Chinese – raise a troubling question: did Joe Biden receive money from the foreign venture?
+12
Source: dailymail.co.uk
White House Press Secretary Jen Psaki  dodged a question about a New York Post report revealing Hunter Biden's closest business partner visited the White House while Joe Biden was Vice President.
Hunter Biden's business partner, Eric Schwerin, visited the Obama White House 19 times, according to visitor logs reviewed by The New York Post:
Hunter Biden's closest business partner made at least 19 visits to the White House and other official locations between 2009 and 2015, including a sitdown with then-Vice President Joe Biden in the West Wing.

Visitor logs from the White House of former President Barack Obama reviewed by The Post cast further doubt over Joe Biden's claims that he knew nothing of his son's dealings.
"I don't have any information on that," Psaki said.
Source: thegatewaypundit.com
A majority of voters believe President Joe Biden has been involved in the corrupt Biden family business that has raked in millions of dollars, a Monday Harris poll revealed.
Fifty-eight percent believe Joe Biden has played a role in his family's business. Sixty percent say Hunter Biden, a key member of the family enterprise, was "selling influence and access" to Joe Biden.
The poll also found that 67 percent believe Joe Biden should be impeached if he "secretly participated and facilitated" in the family's business.
A majority of voters (58 percent) additionally said Hunter's "laptop from hell" is genuine, while 61 percent said he did not properly pay taxes. Hunter is currently under investigation by the FBI for tax fraud, money laundering, and violating lobbying laws.
Source: breitbart.com
Special Counsel John Durham just filed this motion in response to the efforts of Hillary for America, Fusion GPS, et al. to keep secret (by use of the attorney-client and work product privileges) communications involving Fusion GPS. You can read it here.
Durham states the "purported privilege holders who have intervened do so in a case in which the defendant has denied representing any client when he brought the Russian Bank-1 allegations to the FBI." The privilege controversy thus entrapped Sussmann to a certain extent. Brilliant.

  Additionally, Durham casts doubt on the declaration of Marc Elias that Fusion GPS was retained to provide "legal advice." Here he makes a key point:

"if rendering such advice was truly the intended purpose of Fusion GPS's retention, one would also expect the investigative firm to seek permission and/or guidance from [Hillary for America] or its counsel before sharing such derogatory materials with the media or otherwise placing them into the public domain."
In support of that point, Durham states he is in possession of "hundreds of emails in which Fusion GPS employees shared raw, unverified, and uncorroborated information – including their own draft research and work product – with reporters." (He even filed them under seal with the court.) These include:
Emails with Slate's Franklin Foer from May 14, 2016 in which Fusion GPS conveys information on a Trump advisor and Alfa Bank.
July 26, 2016 e-mails from Fusion GPS to the Wall Street Journal communicating allegations from Christopher Steele stating "a Trump advisor meeting with a former KGB official close to Putin … would be huge news."
July 29 and July 31, 2016 emails with a reporter (Washington Post's Tom Hamburger) concerning Carter Page's investments and meetings with Russians – of which the reporter said "Its bullshit."
July 27, 2016 e-mails between an ABC News reporter (Matthew Mosk) and Fusion GPS concerning Sergei Millian. Fusion GPS responded with a "comprehensive report" regarding Millian.
Fusion GPS communications with NY Times reporters pushing more dirt on Millian.
This e-mail from a Fusion GPS co-founder to the New York Times – dated October 31, 2016 – pushing the Alfa Bank allegations and stating the US Government is investigating.
Here are e-mails between Franklin Foer and Fusion GPS, in which they discuss going after Carter Page in May 2016.
Fusion GPS and Franklin Foer e-mails – in which Fusion GPS alleges Millian is "clearly KGB."
Fusion GPS telling a WSJ reporter to call Adam Schiff or Diane Feinstein about Carter Page.
As Durham makes clear, no lawyers are copied in these e-mails and this doesn't have anything to do with legal advice. And even if there were some type of privilege or work product, it was waived when Fusion GPS distributed the info to the press.
There are a number of other important observations. The Fusion GPS witness who will testify is the "tech maven" referenced in their e-mails with the New York Times. This appears to be confirmation that Laura Seago will be the Fusion GPS employee to testify.
Durham also destroys the declarations of John Podesta and Robby Mook on behalf of Hillary for America, stating Mook has stated Perkins Coie was to handle and oversee "international" opposition research. Mook also received "general updates concerning" these findings though he says he was unaware who had been specifically retained.
As to Joffe's privilege arguments? They fail because "Perkins Coie hired Fusion GPS to assist HFA and the DNC, not [Joffe]."
  the Special Counsel has issued trial subpoenas to the Clinton Campaign and the Democratic National Committee.
One would rightly assume, then, that those trial subpoenas were issued to Robby Mook and John Podesta.
One final observation: DARPA and confidential data.
The Sussmann indictment mentions "non-public Internet data" that was exploited by Joffe, et al, for the purposes of their political hit-job. This information was provided to Georgia Tech as part of a prospective contract with DARPA to "identify the perpetrators of malicious cyber-attacks and protect U.S. national security." (More details here.) After the indictment, it was revealed that Durham's team has interviewed former DARPA employees.
Based on this information, we hinted that "there might be charges relating to the misuse of classified government data from DARPA."
We now have confirmation that this contract included classified information.
Source:  technofog.substack.com
#Durham On privileged information, in new motion, Durham takes on Fusion GPS + files under seal their communications with at least 5 large media outlets + their reporters. Durham says these records will be filed into the public record, with redactions, at the court's request. pic.twitter.com/Pp4qQZim2C

— Catherine Herridge (@CBS_Herridge) April 26, 2022
raw, unverified, + uncorroborated information – including their own draft research and work product – with reporters. And they appear to have done so as part of a (largely successful) effort to trigger negative news stories…" Read in FULL: https://t.co/gEShUFw5su

— Catherine Herridge (@CBS_Herridge) April 26, 2022
Adam Schiff was knee-deep in the Trump Russia collusion sham 
There is much in this latest release but one item, in particular, is that Adam Schiff was involved in this lie from the beginning.  Redstate reports:
Durham also derides the claim that Fusion was hired for legal work — calling that a "novel" way to cover up opposition research and the derogatory information that they then spread against President Donald Trump and his team. He says that despite efforts, the parties have failed to provide "meaningful, substantive explanations to support these continuing broad assertions of privilege and/or work product protections."
A number of emails have been released in Durham's latest.  One email showed that pencil-neck Adam Schiff was involved in the Russia collusion lie as early as July 2016.
Schiff later released a report on Russia collusion that was all lies.  
Source: thegatewaypundit.com
3326
Q
!!mG7VJxZNCI
04/27/2019 14:19:55
 ID: ffa98c
8chan/qresearch: 6334889
Body Of Missing Texas National Guard Soldier Found
The missing Texas Army National Guard Soldier, Specialist Bishop E. Evans, assigned to Operation Lone Star, has been found deceased following an exhaustive interagency search.
SPC Evans went missing while trying to selflessly help migrants who appeared to be drowning as they tried to cross the river from Mexico into the U.S, on Friday April 22, 2022.
Source: breaking911.com
When asked if the White House feels any responsibility for the death of National Guardsman Bishop Evans, who drowned while attempting to rescue two drug smugglers, a callous, cold and dismissive Jen Psaki says:
..."I would note that the National Guard worked for the states, and so he is an employee of the Tex- — Texas National Guard, and his efforts and his operation were directed by there, not by the federal government, in this — in this effort, in this apparatus."
.
Source: theconservativetreehouse.com
U.S. District Judge Robert Summerhays has agreed to issue a temporary restraining order [pdf ruling link] blocking the administration's planned May 23 lifting of the CDC immigration rule known as Title 42.
(MSM) – […] The judge said he agreed to issue the restraining order after holding an online status conference on Monday between lawyers for the states and the Centers for Disease Control and Prevention.
The details of the order, however, remained unclear — the notice said attorneys for the two sides "will confer regarding the specific terms to be contained" in the order "and attempt to reach agreement." (more)
Source: theconservativetreehouse.com
---
Geopolitical/Police State
A left-wing government watchdog group with a dubious history is demanding Apple engage in mass preemptive censorship with the removal of a free-speech-branded alternative to Twitter from its app store.
Citizens for Responsibility and Ethics in Washington (CREW) sent a four-page letter to Apple CEO Tim Cook on Wednesday urging the American tech executive to nuke former President Donald Trump's new platform, Truth Social, from its digital marketplace despite no violations of company guidelines.
With not a single post from the entire platform cited or a single company policy violated to justify the app's removal, Bookbinder argued Truth Social's association with Trump was enough reason alone to ban the product from the Apple marketplace.
Source: thefederalist.com
The left is freaking out as the bots bail on Twitter.  Better to get out now before the bot purge occurs.  The left never had the followers they thought they did.  It was another far-left lie. 
 
Source: thegatewaypundit.com
The conservative satire site Babylon Bee was also reinstated. The regime previously banned them for mocking the regime.
Source: thegatewaypundit.com
Donald Trump, however, was asked what he would do if Twitter restored his account. The former president told Fox News' Brooke Singman that he will be using TRUTH Social instead.
"I am not going on Twitter, I am going to stay on TRUTH," Trump told Fox News. "I hope Elon buys Twitter because he'll make improvements to it and he is a good man, but I am going to be staying on TRUTH."
Source: beckernews.com
The twitter code was locked down, no once can access it, change it or delete parts of it. EM owns the code, he owns it all. EM can now access all the DM and fake accounts, interesting
4001
Q
!!Hs1Jq13jV6
04/28/2020 21:26:16
 ID: 7e0c54
8kun/qresearch: 8954206
---
War
Sweden and Finland 'agree to both apply for NATO membership in May' in defiance of Russian threats
Russia's invasion of Ukraine sparked desire to join NATO in the Nordic territories
The two countries have remained neutral for decades, but co-operate with NATO
Sweden's application was previously expected to be submitted in late June 
Finland's PM said earlier this month an application 'would happen in weeks'
But Swedish and Finnish newspapers today reported their respective governments have agreed to apply for NATO membership next month 
Source: dailymail.co.uk
---
Cyber Attacks
---
False Flags
---
Q
Another day, another leak from the January 6 Committee.
The sham January 6 Committee leaked 2,319 text messages Trump's former Chief of Staff Mark Meadows sent and received from Election Day and Inauguration Day to CNN.
Mark Meadows provided the text messages to the January 6 Committee and they leaked the trove of messages to CNN.
Once again, there is no "bombshell" information in the text exchanges but the Democrat-media complex is frothing over Mark Meadows' texts.
CNN reported:
Source: thegatewaypundit.com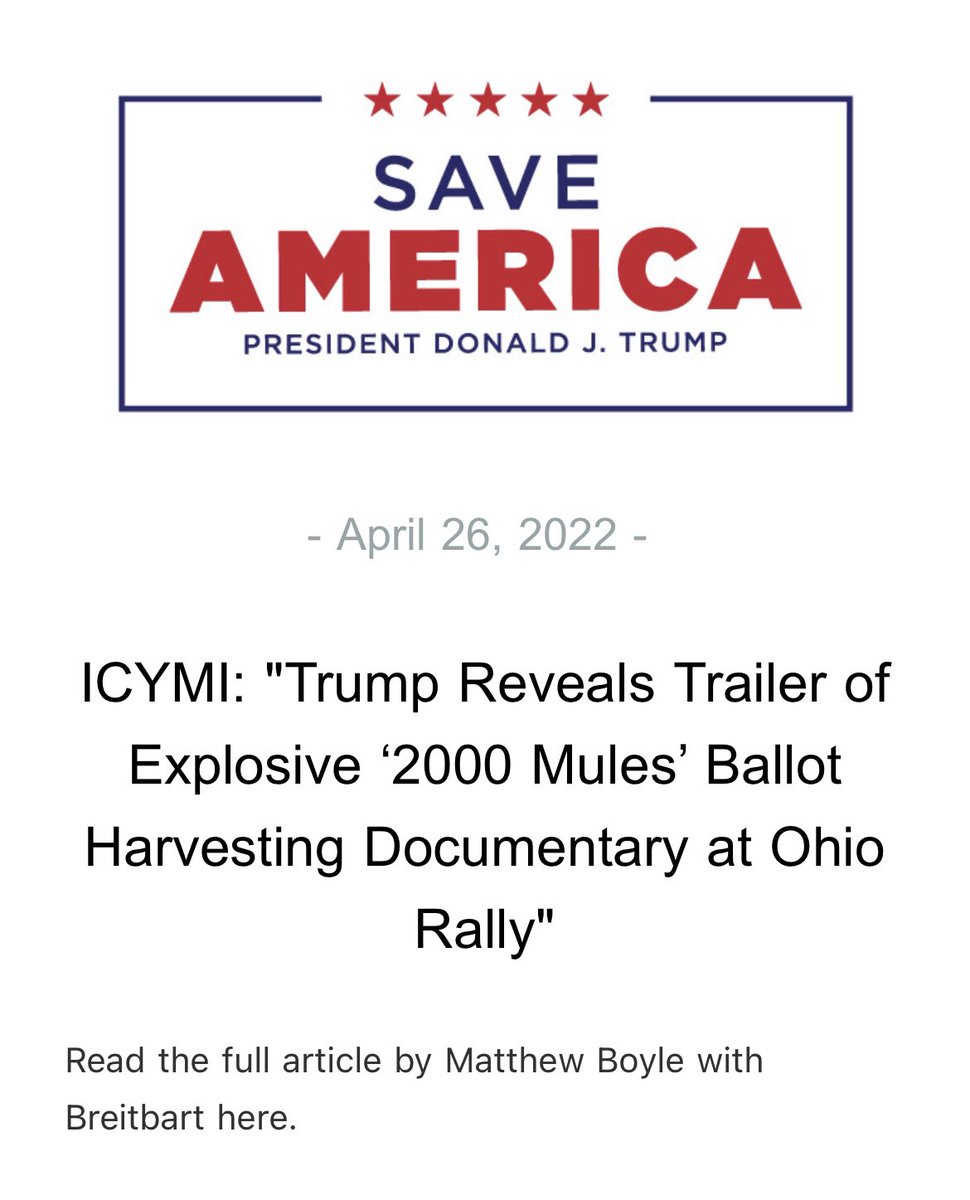 Former President Donald Trump on Saturday evening played the trailer of the forthcoming explosive documentary "2000 Mules" which reveals a wide scale ballot trafficking network of ballot harvesters across several swing states. Trump played the trailer at the rally where he is campaigning with J.D. Vance, the candidate he endorsed for U.S. Senate in this year's Ohio GOP Senate primary.
Then the film cuts to True The Vote's Catherine Engelbrecht who tells D'Souza, "We have been working on something big."
"I've been working with Gregg Phillips," Engelbrecht says. "He has a deep background in election intelligence."
Source: breitbart.com
In a major escalation, Georgia election regulators have issued four subpoenas demanding the identity of a John Doe whistleblower and other evidence concerning an alleged ballot trafficking operation in the 2020 election, Just the News has learned.
Delivered late last week to the election integrity watchdog True the Vote, its founder Catherine Engelbrecht and its researchers, the subpoenas seek evidence that backs up the group's complaint last November alleging that as many as 242 people illegally gathered third-party ballots during the battleground state's November 2020 election and subsequent U.S. Senate races, according to documents obtained by Just the News under a state open records request.
The evidence being sought by the State Elections Board and the Secretary of State's office includes the names, identities and phone records of people True the Vote believes were involved in trafficking ballots. That includes the identity of a man the group said admitted he participated in the ballot trafficking scheme and was paid $10 for each ballot he collected and delivered to ballot drop boxes.
The subpoenas seek "the identity and contact information of the several individuals regarding personal knowledge, methods, and organizations involved in ballot trafficking in Georgia referenced in the Complaint and any recordings, transcripts, summaries, testimony, statements, witness interviews, notes or other documents describing what those individuals said."
That includes the identity of the whistleblower Engelbrecht's group interviewed and "all statements John Doe made regarding his alleged participation in ballot harvesting in Georgia." The subpoena also sought contact information for John Doe's mother and any evidence of whether True the Vote paid any of his medical bills.
Source: justthenews.com
— Dan Scavino Jr.🇺🇸🦅 (@DanScavino) April 26, 2022