Hunter Indicted, [DS] Preparing To Hit The Election Infrastructure, Right On Schedule – Ep. 3163
Podcast: Download (Duration: 1:36:22 — 41.4MB)
Watch The X22 Report On Video
Rothschild admits that ESG has failed, they are losing their power over the people. Their agenda is going down the tubes. The people see [WEF] true intentions, destroy the economy and try to bring us into the great reset, but the people are seeing who is actually pushing the collapse of the economy. This will not end well for the [CB]/[WEF]. The [DS] is trying to show that they are not attacking Trump, they went ahead and indicted Hunter, this is a distraction, this has nothing to do with [JB]. They are trying to convince the people that the DOJ is not biased, it already failed. The [DS] knows they can't win the election so they are building the narrative for a cyber attack. They are already laying out their plan where they are going to hit the election infrastructure. Right on schedule, the patriots are in control.
---
Economy
ESG was intended to be the tool that globalists and governments would use to force companies into the stakeholder capitalism model. It is much like the Chinese communist social credit system, but for businesses rather than individuals. The higher a company's ESG score, the more access lending and government funding they would have (easy money). It started out in 2005 focused on climate controls (influencing corporations to accept carbon credits and taxation). But, by 2016 it became something else; ESG widely adopted woke politics including Critical Race Theory, feminism, trans ideology, various elements of Marxism, etc.
The exposure of ESG is perhaps one of the greatest triumphs of the alternative media. It was proof that the "wokification" of our economy and society was not the result of some grassroots activist movement or the natural evolution of civilization. No, everything woke was a rigged agenda, an astroturf movement forced into existence by corporations and globalists using ESG as the vehicle.
It is with some disappointment I'm sure that Lynn Forester de Rothschild recently admitted the defeat of ESG at the B20 Summit in India. Though, Rothschild also suggests that the goal will be to replace the term "ESG" with something else that the public is not as privy to.   In other words, the globalists have been forced to abandon ESG but will continue to look for other methods to trap companies into the far-left hive.
Source: zerohedge.com
🚨BREAKING: European Central Bank Hikes Interest Rates AGAIN.

10th consecutive time.

Rates now at highest since 1999.

— Genevieve Roch-Decter, CFA (@GRDecter) September 14, 2023
NEW – Argentina's monthly inflation surges to 12.4% in August, worst since 1991 when the country was exiting hyperinflation — Bloomberg

— Disclose.tv (@disclosetv) September 13, 2023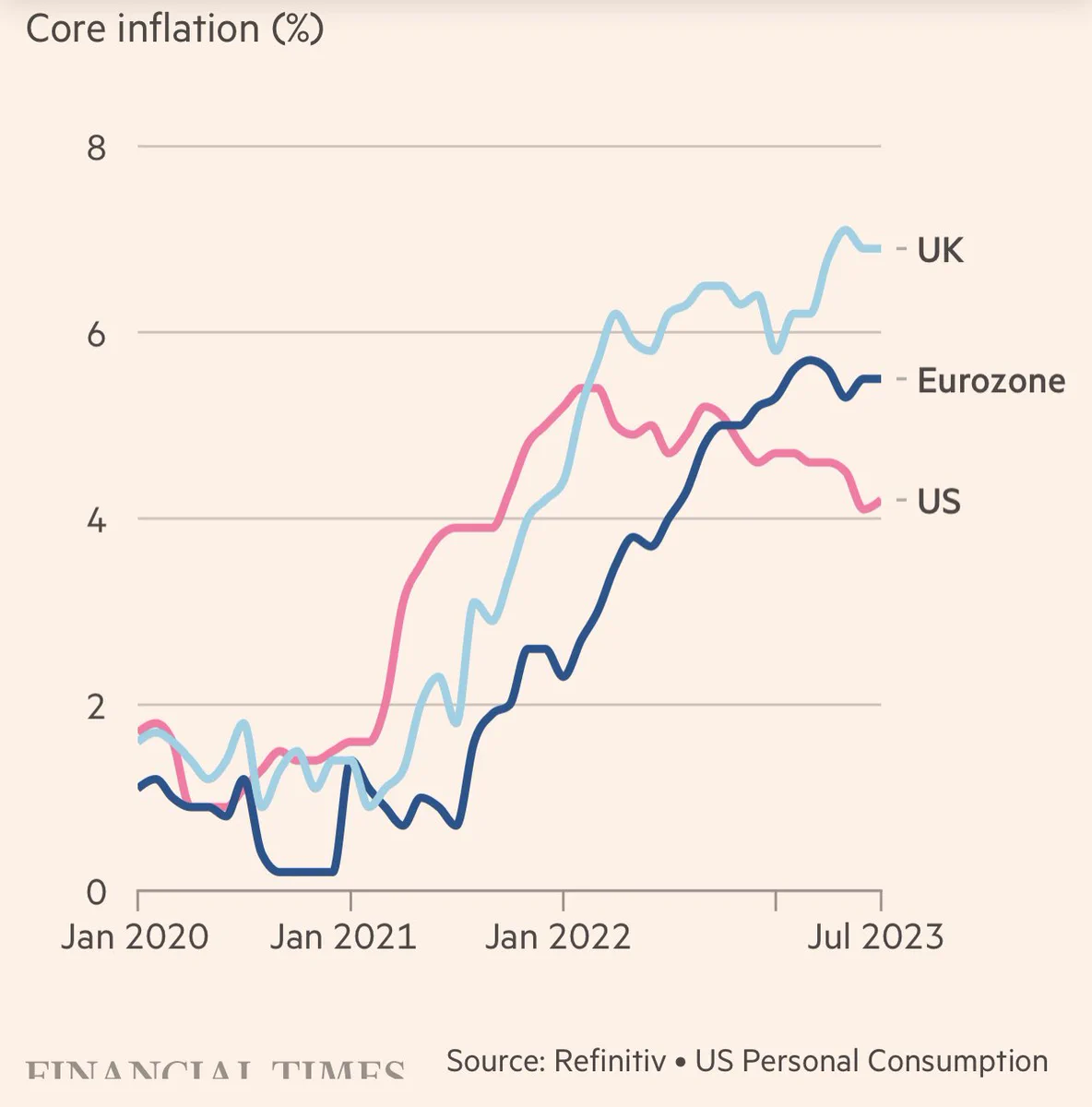 Sadly, fast food is a luxury in this economy. https://t.co/XW7r83r1dC

— Clown World ™ 🤡 (@ClownWorld_) September 13, 2023
Americans spent far more at gas stations in August as fuel prices skyrocketed, pushing retail sales far above expectations.
Sales at gas stations climbed 5.3 percent from July after a small rise of 0.1 percent in the prior month, Commerce Department data showed Thursday.
A separate report released on Wednesday showed that gasoline prices rose 10.6 percent for the month. So the increase in sales looks like it is entirely due to higher prices.
The value of total retail purchases increased 0.6 percent in August, much higher than the 0.2 percent expected by analysts.
But the upside surprise was not all due to gas sales. Excluding gasoline, sales climbed 0.2 percent, beating expectations for a 0.1 percent increase.
Source: breitbart.com
91.8% of US homeowners had a mortgage with an interest rate below 6% in June, per Redfin.

— unusual_whales (@unusual_whales) September 14, 2023
Majority of small businesses believe US is in recession
 More than half of U.S. small business owners believe the economy is already in a recession, marking a slight decrease between July and April, despite most firms reporting their own financial condition was strong, a survey released on Monday showed.
The survey conducted in July from the National Federation of Independent Business focused mainly on small businesses' views on the state of banking and their credit needs, and also showed small businesses are much less worried about the health of their bank than they were in the immediate aftermath of this spring's bank failures, including that of Silicon Valley Bank.
Source: reuters.com
The Group of 20 leaders have agreed to a plan to eventually impose digital currencies and digital IDs on their respective populations, despite fears that governments will use them to monitor their peoples' spending and crush dissent.
Many critics are concerned that governments and central banks will eventually regulate cryptocurrencies and then immediately replace them with central bank digital currencies (CBDCs), which lack similar privacy and security.
 
Source: zerohedge.com
BREAKING: $800 billion asset manager Deutsche Bank partners to offer #Bitcoin custody for institutions

The bank can now hold crypto directly for clients 👏 pic.twitter.com/MsCLyhMX6l

— Bitcoin Magazine (@BitcoinMagazine) September 14, 2023
---
Political/Rights
The Native American activist group that successfully eliminated the name of the Washington Redskins receives some of its funding from both anti-American billionaire George Soros and the U.S. government, a report says.
This far-left group, though, has recently faced an uprising by another Native American group that fights to undo the cultural erasing of Native American names undertaken by NCAI. Last month, the Native American Guardians Association (NAGA) officially launched its campaign to convince the Washington Commanders to go back to being named the Redskins.
The group, led by founder Eunice Davidson, sent a letter to the owners and executives of the Washington Commanders "Formally requesting the team revitalize its relationship with the American Indian community and rightfully change their name back to 'The Redskins.'"
 
Source: breitbart.com 
However, during cross examination today, Drew Wicker admitted the kitchen remodel never took place, and the actual details of the home remodel being done by Paxton was taking place *after* the office "whistleblowers" went to the FBI with their ungrounded claims.   Paxton's attorney Tony Buzbee showed Drew Wicker pictures of the kitchen taken three years ago and also taken last month.  There was never any remodel work completed.  This is the central point of the alleged bribery. WATCH:
The prosecutors tried to deny the pictures were correctly dated or real, and then Tony Buzbee says let's drive over there and look at the kitchen your honor. 😂🤣😂
The baseline of this entire impeachment has become a joke.  A bunch of Bush aligned prosecutors, and staff from Texas, manufactured a case of rumor and innuendo against Attorney General Ken Paxton simply because Paxton defeated George P. Bush, their preferred candidate.
Source: theconservativetreehouse.com
The Ken Paxton sham impeachment verdict is expected to come back between today and Saturday. The Texas AG needs 10 state senators to vote to acquit. I've been told by insiders the following senators' votes are unknown at this time. If you're a Texas resident, kindly, respectfully…

— Charlie Kirk (@charliekirk11) September 14, 2023
contact these elected representatives offices and tell them you support the attorney general, a man who was overwhelmingly re-elected by double digits by over 4 million Texans, even after every allegation against him was made public:
1. Bryan Hughes (512) 463-0101
2. Mayes Middleton (512) 463-0111
3. Drew Springer (512) 463-0130
4. Phil King (512) 463-0110
5. Charles Perry (512) 463-0128
6. Brian Birdwell (512) 463-0122
7. Pete Flores (512) 463-0124
8. Kevin Sparks (512) 463-0131
9. Charles Schwertner (512) 463-0105
10. Kelly Hancock (512) 463-0109 Repeat, be respectful.
These are potentially the AG's greatest allies for acquittal.
During a meeting with his Cancer Cabinet in the White House, Joe Biden refused to answer questions about the inquiry, appearing to blankly stare, lick his lips, and rub his hands before leaning over to first lady Jill Biden.
The video showed Jill Biden point to her left, causing Joe Biden to scan the room while questions rang out from reporters for over 30 seconds about the newly launched inquiry.
After refusing to answer questions, White House staffers ushered reporters from the room:
Source: breitbart.com
"Well, I tell you what, I don't know quite why, but they just knew they wanted to impeach me," Biden told donors Wednesday during a fundraiser at McLean, Virginia. "And now, the best I can tell, they want to impeach me because they want to shut down the government."
Source: washingtonexaminer.com
If D's shutdown the gov't – what happens to the US MILITARY?
What specifically occurs?
Think budget.Q
This is just China.

We also have evidence from Romania, Ukraine, Kazakhstan, and Russia. pic.twitter.com/hSPscKzohn

— Rep Andy Biggs (@RepAndyBiggsAZ) September 14, 2023
CNN's "fact-checking" McCarthy's claims while launching Biden impeachment inquiry acknowledges:

✅The Bidens received $20 million through shell companies
✅ An FBI informant claims they received a $10 million bribe
✅Joe Biden participated in calls with Hunter's business… https://t.co/Z5nftbYgHZ

— KanekoaTheGreat (@KanekoaTheGreat) September 13, 2023
  partners

Six banks submitted 150+ suspicious activity reports But this "doesn't prove wrongdoing." Why even write the fact-check?
🚨STATEMENT ON WH MEDIA INTIMIDATION🚨

The White House refuses to answer questions about President Biden's involvement in his family's influence-peddling schemes and what the Bidens sold to make millions. That's because witness testimony reveals Joe Biden was 'The Brand,' and he…

— Oversight Committee (@GOPoversight) September 13, 2023
 was used to send signals of access, influence, and power that enriched the Biden family. When faced with defending the indefensible, the White House is now threatening the media to stop reporting on it. What are they trying to hide? Our Committee will continue to follow the evidence and deliver the transparency that the American people demand and deserve about President Biden's abuse of public office.
Noreika: Does the government have any concern about not bringing the false statement charge in light of our discussion of 922(g)(3) + the constitutionality of that charge.
MR. WISE: No, Your Honor." 18 USC 922(g) Possession firearm prohibited person 18 USC 1001 False statement.

— Catherine Herridge (@CBS_Herridge) September 14, 2023
BREAKING: Hunter Biden has been indicted by a federal grand jury in Delaware on three counts of lying on a firearm background check form and illegally possessing a firearm while under the influence of illegal drugs. pic.twitter.com/iYXgh76DIJ

— Sean Davis (@seanmdav) September 14, 2023
🚨STATEMENT🚨

Today's charges against Hunter Biden are a very small start, but unless U.S. Attorney Weiss investigates everyone involved in the fraud schemes and influence peddling, it will be clear President Biden's DOJ is protecting Hunter Biden and the big guy.

Read👇 pic.twitter.com/XA7IbQFtyy

— Rep. James Comer (@RepJamesComer) September 14, 2023
BREAKING: Hunter Biden indicted on federal firearms charges.

This is a strategic diversion tactic to draw attention away from the hundreds of crimes found in Hunter Biden's laptop, including unregistered foreign lobbying, money laundering, and bribery involving the President. pic.twitter.com/wHRgTUz6Mk

— KanekoaTheGreat (@KanekoaTheGreat) September 14, 2023
So lets see they are pushing the narrative that Biden shouldn't run for the presidency, then the indictment comes out, agenda 1. The other agenda is They need to show that what their doing to Trump is not political driven, see we indicted Hunter, So the next indictment is right around the corner or some other charge
Minnesota is set to give about 81,000 illegal aliens driver's licenses. Applicants are now allowed to start the process but won't be able to officially apply until the new law goes into effect on October 1st.
The new law dubbed "Driver's License For All," opens up the door for voter fraud since all a person needs to register to vote online is a Minnesota driver's license.
Source: thegatewaypundit.com
21,000 migrant children without immunization records are now attending New York City's public schools.

Remember when American children weren't allowed in class without the COVID jab and a mask? pic.twitter.com/4WYEY9xi1k

— Andrew Pollack (@AndrewPollackFL) September 13, 2023
A ruling from a federal court has concluded that Barack Obama's program to protect illegal aliens, the Deferred Action for Childhood Arrivals, is illegal.
The decision from U.S. District Judge Andrew Hanen, however, failed to order it halted.
According to a report at Just the News, Hanen specifically found the Biden administration's scheme to codify the program through the writing of new regulations illegal.
The program protects those who came to the United States illegally from deportation, if certain conditions are met.
The report said an estimated 580,000 people have enrolled in the program.
The same judge ruled in 2021 that the program could continue, but at that time be banned new applicants joining.
The fight is expected to advance now to the 5th U.S. Circuit Court of Appeals, and possibly even the Supreme Court.
As the fight has been in the courts for years already, it was the 5th Circuit that last year ruled the DACA scheme was illegal.
 Source: wnd.com
---
Geopolitical/Police State
The Army IG has now started an investigation of @USSOCOM General Fenton for the deployment of the Argus AI systems against US citizens, in violation of posse comitatus.

cc @EmeraldRobinson pic.twitter.com/IeKEwDovcx

— Adam Gaertner 🇺🇸 (@veryvirology) September 13, 2023
 
The U.S. Supreme Court is "extremist" for not allowing various government officials to simply overturn the U.S. Constitution's Second Amendment and ban guns, or carrying guns, whenever they want.
That is the verdict from Sen. Elizabeth Warren, D-Mass., who is most popularly known for falsely claiming for years to be Native American, when she isn't. 
Source: thegatewaypundit.com
U.S. District Judge David Herrera Urias, a Joe Biden appointee, issued a temporary restraining order against New Mexico Gov. Michelle Lujan Grisham's (D) concealed carry ban Wednesday afternoon.
Urias issued the temporary restraining order against the ban in a suit brought by Gun Owners of America and other plaintiffs including the National Association for Gun Rights, the New Mexico Shooting Sports Foundation, and the Gun Owners Foundation, among others.
Source: breitbart.com
---
War
On Sept. 8, North Korean state media reported that Kim Jong-Un noted the submarine had the "capability to execute preemptive and retaliatory strikes against hostile countries from any underwater location, while carrying a substantial arsenal of nuclear delivery vehicles, each with varying yields."
Clear images released by North Korean state media show it is at least armed with ten missiles, with four larger tubes likely containing 600-kilometer range KN-23 short range submarine launched ballistic missile (SLBM), first launched from the smaller Sinpo-class North Korean missile submarine in October 2021.
Capable of flying a "depressed trajectory" to better evade radar and missile defenses, the KN-23 can be armed with North Korea's new Hwasal-31 tactical nuclear warhead.
The new submarine sail also has six tubes that likely are for North Korea's new Hwasal-1/2, a new 1,500-2,000 km-range land attack cruise missile (LACM) that on March 13 were launched from the smaller Sinpo-class submarine.
This cruise missile can also be armed with the Hwasal-31 tactical nuclear warhead.
Analysts have long speculated that the new "Sinpo-C" SSB is an extensively modified version of the Chinese-designed and built Type-033 conventionally powered submarine, 20 of which were acquired directly from China, and also assembled in North Korea.
It is almost certain that China contributed design and construction assistance, even manufactured parts for the new North Korean nuclear missile submarine.
Source: worldtribune.com

---
False Flags
According to the announcement, all employees are now required to receive the latest COVID-19 vaccine, which was recently granted Emergency Use Authorization (EUA) by the Food & Drug Administration (FDA). The updated mRNA vaccines were approved on Tuesday, September 12 and are expected to be available soon.
The Providence family of organizations is a network of not-for-profit healthcare organizations in the United States. It is the largest Catholic health care system in the country, with over 50 hospitals, 1,000 clinics, and 120,000 employees. The Providence family of organizations operates in seven states: Alaska, California, Montana, Oregon, Texas, Washington, and Wyoming. Employees, or "caregivers," are required to provide proof of vaccination by November 30th. Those who choose not to get vaccinated can submit a "declination form." Those who will not comply "will be removed from the schedule, placed on unpaid leave and may be subject to termination."
Source: thegatewaypundit.com
Most Americans are "not concerned" about variants of the coronavirus, well over three years after the start of the pandemic, a recent CBS News poll found.
The survey asked respondents to reveal their concern about new variants of the virus and found most, 52 percent, revealing that they are "not concerned." That reflects a flip flop from the results in 2021 with the omicron variant of the virus. At the time, 58 percent of individuals expressed concern.
Source: breitbart.com
CDC & FDA continue to push COVID vaccines that are not backed by clinical evidence, but blind faith alone with ZERO regard for widespread immunity. The American people deserve the truth, but the Biden admin only wants to control your behavior. pic.twitter.com/u7cZvDIEMa

— Joseph A. Ladapo, MD, PhD (@FLSurgeonGen) September 13, 2023
Due to extreme amounts of LGBT propaganda we are now seeing a 15,000% rise in castration, sterilization, and mutilation clinics for children. pic.twitter.com/vU02S7JiSd

— Dr. Anastasia Maria Loupis (@DrLoupis) September 14, 2023
---
Q
RFK Jr. brings attention to the DNC becoming the pro-war party.

He is waking up the centrists/leftists that Trump could not. The remaining normies are getting heavy doses of red pills, but from a source they are more inclined to trust.

It's working 😈pic.twitter.com/GRIBvjb114

— Clandestine (@WarClandestine) September 14, 2023
Are prominent Democrats starting to send a signal that the Joe Biden-Kamala Harris ticket might be dead on arrival?
Former House Speaker Nancy Pelosi was interviewed  by CNN's Anderson Cooper  , Pelosi was asked pointed questions regarding whether Biden and Harris were really the best candidates for Democrats in 2024, noting widespread concern even among loyal members of the party.

 Pelosi was evasive during the interview when Cooper asked if there was any chance he "does not continue" running for President.
"I hope not, I hope not," she said.
Cooper twice asked the former Speaker if Harris was the best running mate for Biden. She first responded by saying Biden "thinks so" before making insincere remarks about Harris:
 
  She's the vice president of the United States. People say to me, well, why isn't she doing this or that? I say, because she's the vice president. That's the job description. You don't do that much.
Translation: Harris is just an empty weight on the ticket and easily replaceable. Can you envision anyone saying that about Dick Cheney or Bush Sr. when they served as Vice-President?
Source: thegatewaypundit.com
Lawyers Sidney Powell and Kenneth Chesebro had filed demands for a speedy trial, and Fulton County Superior Court Judge Scott McAfee set their trial to begin Oct. 23. Trump and other defendants had asked to be tried separately from Powell and Chesebro, with some saying they could not be ready by the late October trial date.
Source: redstate.com
SEPT —-17—– [week of]
DECLAS coming?
MORE INCRIMINATING [TEXT] RELEASES COMING?
DARK TO LIGHT.
ARPET BOMBS >>> MOAB
Q
Executive Order 13526 Sec 1.7 "Classification Prohibitions and Limitations. (a) In no case shall information be classified, continue to be maintained as classified, or fail to be declassified in order to:
(1) conceal violations of law, inefficiency, or administrative error;
(2) prevent embarrassment to a person, organization, or agency;
(3) restrain competition; or
(4) prevent or delay the release of information that does not require protection in the interest of the national security."
Q
New US Cyber Strategy reflects growing recognition of importance of secure communications since Ukraine war, expert saysNorth Korea continues to increase cyber attacks on U.S. government departments, critical infrastructure and private businesses, according to a report from the U.S. Department of Defense (DOD), an assessment that one expert said reflects increasing recognition of the importance of cyberspace since Russia's invasion of Ukraine.

The DPRK is behind "a range of espionage and criminal objectives in cyberspace," a summary of the DOD's 2023 Cyber Strategy released Tuesday states.

The summary is based on a classified report released to Congress in May.
Source:  nknews.org 
The Department of Homeland Security's Homeland Threat Assessment is warning of bad actors potentially using artificial intelligence to disrupt critical infrastructure either through election influence campaigns or by targeting industrial systems.
The annual report — which outlines the key concerns for the next year — points to adversaries increasingly focusing and learning how to target critical infrastructure, like energy, the upcoming 2024 election, transportation, pipelines, and other vital services, with emerging technologies like AI.
State-backed hackers like China are also adapting AI to engage in influence campaigns or to better develop malware for large-scale attacks, DHS says.
"
While industrial-specific malware is rare, the report warns that hackers are seeking to develop or are developing malicious code that seeks to disrupt the industrial control systems found in the energy, transportation, health care, and election sectors. The malware dubbed "pipedream" by security researchers is one such example of malware made specifically to target industrial devices.
A
Source: cyberscoop.com 
While cyber attacks seeking to compromise networks or disrupt services for geopolitical or financial purposes continue apace, we noted an uptick over the last year of physical attacks on critical infrastructure. We expect the 2024 election cycle will be a key event for possible violence and foreign influence targeting our election infrastructure, processes, and personnel.
Our electoral processes remain an attractive target for many adversaries, and we expect many of them will seek to influence or interfere with the 2024 election. Some DVEs may attempt to disrupt civic and democratic processes, mobilized by their perceptions of the upcoming election cycle. Nation-state threat actors likely will seek to use novel technologies and cyber tools to enhance their capabilities and malign influence campaigns, ultimately to undermine our confidence in a free and fair election. Cyber actors likely will seek to exploit election-related networks and data, including state, local, and political parties' networks and election officials' personal devices and e-mail accounts.
Jul 17, 2020 5:47:13 PM EDT
C19 narrative kill date:
Election Day +1
Prepare for zero-day
[massive

CYBER

-power]
attacks
[attempts]
on 11.4.
Q
Shall we play a game?
[N]
othing
[C]
an
[S]
top
[W]
hat
[I]
s
[C]
oming
NCSWIC
https://www.cisa.gov/safecom/NCSWIC
Who stepped down today
[forced]
?
https://www.cisa.gov/bryan-s-ware
More coming?
Why is this relevant?
How do you 'show' the public the truth?
How do you 'safeguard' US elections post-POTUS?
How do you 'remove' foreign interference and corruption and install US-owned voter ID law(s) and other safeguards?
It had to be this way.
Sometimes you must walk through the darkness before you see the light.
Q
Not everything can be publicly disclosed because so much ties back to foreign heads of state. Much will be revealed, we want transparency but not at a cost we can't recover from.