Information Warfare,No Sleep In DC,Transparency Brings Accountability,The Perfect Storm – Ep. 3053
Podcast: Download (Duration: 1:12:33 — 32.7MB)
Watch The X22 Report On Video
Germany's green push is falling apart, the people are not going along with the [WEF]/[CB] plan. The Biden admin is now pushing the green agenda by getting rid of fossil fuel, but the country is not ready for this, big fail. The people are rejecting the [CBDC]. The information war is now heating up, the fake news outlets are preparing and restructuring and getting ready to try to control the narrative, this will not work. Transparency brings accountability and the people are now seeing more and more evidence that the country was overthrown by people who installed themselves in the White House. The perfect storm is not forming and the flood of evidence is coming. No sleep in DC. The hammer is coming down on the [DS].
---
Economy
With the closure of Germany's last three nuclear power plants, the country's 60-year era of nuclear power generation has come to an end. 
The huge expansion of solar and wind capacity in Germany is no guarantee of security of supply. The country is increasingly using coal instead of Russian gas. In fact, mines that had previously been closed down have had to be reopened, and a German energy company has even started to dismantle a wind farm to allow for the expansion of a neighboring coal mine.
On average, 30,000 tons of coal are transported daily by trains from North Sea ports to large power stations across Germany. Last year, the war caused the country to increase its coal imports by 8 percent to 44.4 million tons. These are the hard facts.
The Greens went after gas boilers, too. They will now be banned in German homes from 2024.
Greens say they cannot meet their climate commitments otherwise.
Source: zerohedge.com
Biden's EPA Plans Drastic New Regulations on Power Plants, Consumers Will Pay
In his continuing war on fossil fuels, President Biden and the Environmental Protection Agency are planning to announce a severe new proposal forcing the nation's power plants to dramatically cut their emissions by 2040. Similar efforts by Biden and President Obama before him were struck down by the Supreme Court.
If implemented, the Environmental Protection Agency would set limits so stringent that fossil-fuel-burning power plants probably would have to use technology to capture their carbon dioxide emissions from their smokestacks or switch to other fuels to comply, according to the three people, who spoke on the condition of anonymity to discuss a plan that is not yet public. The proposal is still under final analysis at the White House and could change before the EPA completes and announces it.
There are 3,393 fossil fuel-fired power plants across the country, most of which are natural gas plants. Those plants generate more than 60 percent of the nation's electricity, compared to around 14 percent produced by wind and solar. The plants account for around 25 percent of the nation's emissions, according to the EPA.
If approved, the policy would force many power plants to adopt expensive carbon-capture technology:
The power industry is—not surprisingly—pointing out that the nation isn't ready to transition that quickly:
"The expected EPA regulation is just the latest in President Biden's anti-fossil fuels agenda, coercing the retirement of electricity sources that are needed during the grid transition," Michelle Bloodworth, the president and CEO of America's Power, a coal power trade group, told Fox News Digital.
  Source: redstate.com
The International Monetary Fund (IMF) in Washington has published a Working Paper on "de-cashing". It gives advice to governments who want to abolish cash against the will of their citizenry. Move slowly, starting with seemingly harmless measures, is part of that advice.
"As de-cashing gives incentives to economies' agents to convert their currency in bank deposits, the deposit base of the banking system will increase, which can help reduce the lending rates and expand credit."
heterodox.economicblogs.org/real-world-economics/2017/imf-governments-subvert-resistance-elimination
Source: investmentwatchblog.com
Fed Asks Americans for Feedback on a Central Bank Digital Currency—Here Are Some Responses
A student from Texas pointed to the breach of privacy, government overreach, and hacking as risks posed by CBDC. "With this digital currency, the government would be able to usurp freedoms without the knowledge/consent of the public.
"The best e-hackers and cybersecurity personnel don't work for the government. They work in the private sector. It is naive to think, given the government's track record, that it could ever be trusted to secure such an asset." A CBDC might also trigger a "run on financial institutions," the individual warned.
Andrew W. from Virginia warned that centralization of monetary policies can "easily be abused and cause unintended disruption." CBDCs can further centralize monetary policies and "only increases the risk potential."
Hollie Bishop from Indiana cited public mistrust as her number one concern about central bank digital currencies. "People are afraid of being constantly monitored. Also, our aging and elderly population pay bills in cash and may not know how to use this system, leaving them susceptible to hunger, bills not being paid, etc."
Should the US Follow Other Nations?
The Fed asked, "How should decisions by other large economy nations to issue CBDCs influence the decision whether the United States should do so?"
An unnamed individual answered (pdf): "It should send warning signs to our country creating a CBDC. There's a reason China implemented a CBDC, and it's not for efficiency."
Aaron Olszewski from New Hampshire also said, "A shift to a CBDC is a shift to push people away from using that nation's currency."
Brian Marshall from Idaho replied, "The United States should first worry about following the Constitution and preserving liberty, not trying to follow other countries in their descent into tyranny. Free markets will always provide the means to exchange one currency for another."
JC Denton from California said that other nations adopting a CBDC does not mean the United States ought to do the same.
"Our financial purpose should be to focus on our own issues. If other nations wish to perform such actions, it is their choice. We don't need to follow a bad idea just because other groups are doing it," said Chad Rytting from Utah.
 
The US Constitution
Many responses (pdf) to the Fed survey mentioned how the idea of a CBDC was antithetical to the U.S. Constitution.
When the Fed asked, "Should a CBDC be designed to maximize ease of use and acceptance at the point of sale?" Lawrence Raymond from Maryland replied, "No, because all transactions would become public, which goes against the freedoms outlined in the Constitution."
When the Fed asked, "Could some or all of the potential benefits of a CBDC be better achieved in a different way?" Richard Hay from Texas said, "Yes, return to the constitutional definition of money, which is gold and silver.
Rodger Reed from California said: "Our economy must remain a function of the constitutional mandate created by the founders. By design, a CBDC does not serve the American people the way sound money does."
When the Fed asked, "What additional potential benefits, policy considerations, or risks of a CBDC may exist that have not been raised in this paper?" Charles Dowling from Colorado said: "The people who are aware of reality do not respect the government whatsoever. And would probably not use your CBDC. And no one wants an illegal, unconstitutional government poking into their business."
Privacy Concerns
An analysis by the Cato Institute warned that CBDCs pose a foundational threat to America's economic systems. A U.S. CBDC will eventually "usurp" the private sector and endanger the core freedoms of American citizens, it said.
As such, CBDCs should have "no place" in the American economy, the institute stated. It called on Congress to "explicitly prohibit" the Department of Treasury and the Federal Reserve from issuing CBDCs in any form.
Source: americafirstreport.com
---
Political/Rights
Anheuser-Busch InBev has changed its marketing leadership after a disastrous marketing decision and has placed two executives on leave.
Alissa Heinerscheid and her boss Daniel Blake were placed on leave following backlash.
Source: thegatewaypundit.com
NBCUniversal CEO Jeff Shell has resigned from his position after confessing to "an inappropriate relationship" with a woman at the media giant, according to parent company Comcast.
The revelation came to light during an investigation by an external counsel in response to a complaint against Shell.
source: beckernews.com
Susan Rice to step down as Biden's domestic policy chief
President Joe Biden's domestic policy adviser, Susan Rice, is stepping down from her post next month, multiple current and former senior administration officials told NBC News.
T
Source: nbc.com
NBC has failed to cover the secret hand of Susan Rice for the last few years.

She's plotted at State and the intel agencies without scrutiny.

She leaves the White House with world chaos in her wake. https://t.co/Olhygm0KIp

— Richard Grenell (@RichardGrenell) April 24, 2023
— Don Lemon (@donlemon) April 24, 2023
why is the lettering purple
Good News: "The dumbest man on television," Don Lemon, has finally been fired from Fake News CNN. My only question is, WHAT TOOK THEM SO LONG?
NEW YORK — April 24, 2023 — FOX News Media and Tucker Carlson have agreed to part ways. We thank him for his service to the network as a host and prior to that as a contributor.
Mr. Carlson's last program was Friday April 21st. Fox News Tonight will air live at 8 PM/ET starting this evening as an interim show helmed by rotating FOX News personalities until a new host is named.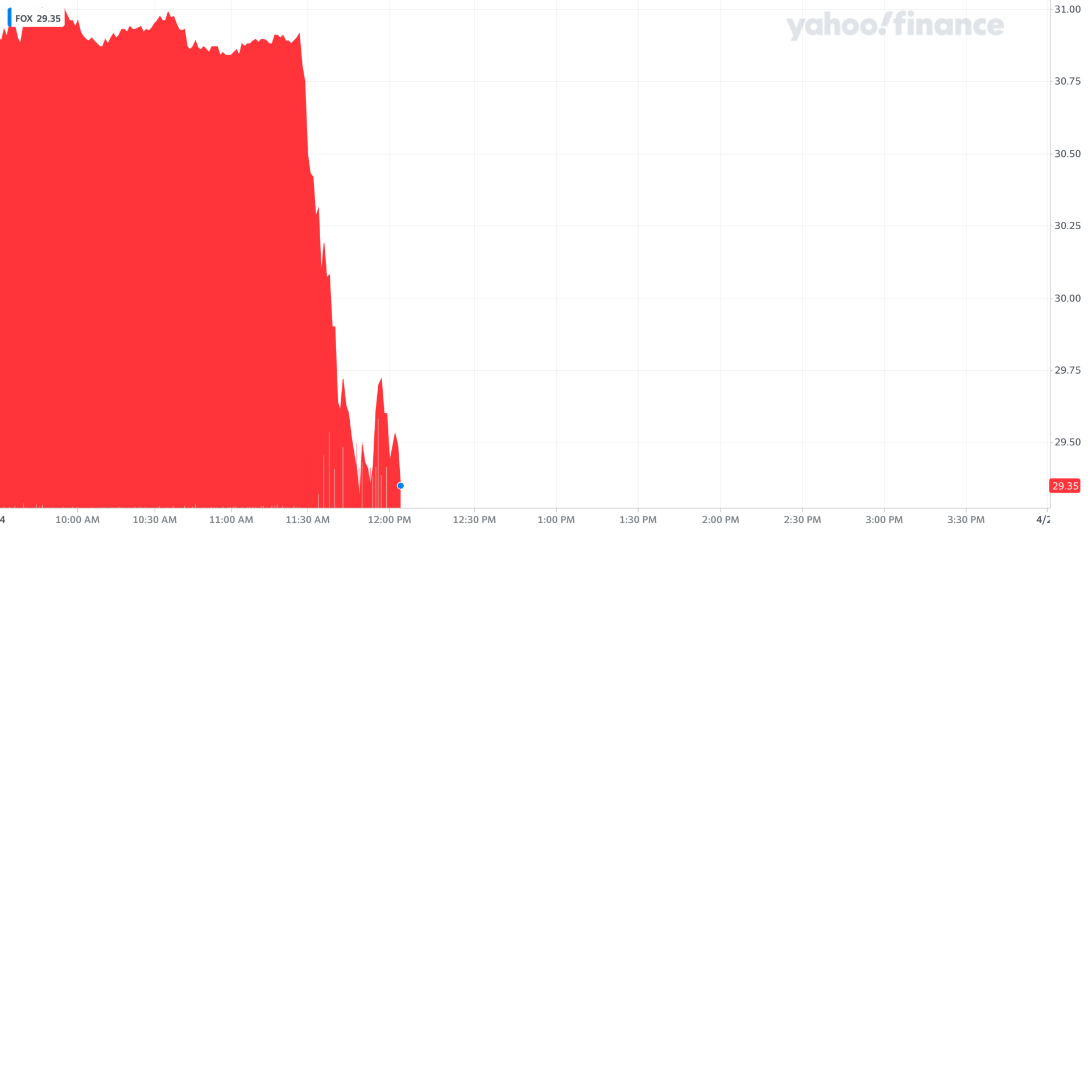 Source: breitbart.com

Fox Corporation's stock lost $1 billion in market capitalization just minutes after news broke that Tucker Carlson departed Fox News.
Chuck Schumer Gets His Way: Tucker Carlson OUT at Fox 2 Months After Schumer Demands Rupert Murdoch Silence Host
Last month Chuck Schumer called for Rupert Murdoch to silence Tucker Carlson.
Senate Majority Leader Chuck Schumer (NY) last month demanded Rupert Murdoch silence Tucker Carlson and other Fox News hosts.
"Order Tucker Carlson and other hosts on Fox News to stop spreading the Big Lie." Schumer said.
Schumer and House Minority Leader Hakeem Jeffries sent Rupert Murdoch a letter demanding he censor Fox News hosts.
Source: thegatewaypundit.com
Tucker Carlson departs Fox News, pushed out by Rupert Murdoch
Tucker Carlson is leaving Fox News.
The network announced the departure of its top-rated and most provocative conservative prime-time host Monday with no explanation. His last show was Friday.
"Fox News Media and Tucker Carlson have agreed to part ways," the network said in a statement. "We thank him for his service to the network as a host and prior to that as a contributor."
A Fox News representative had no other details on Carlson's exit. People familiar with the situation who were not authorized to comment publicly said the decision to fire Carlson came straight from Fox Corp. Chairman Rupert Murdoch.
Carlson's exit is related to the discrimination lawsuit filed by Abby Grossberg, the producer fired by the network last month, the people said.
Murdoch is also said to be concerned over Carlson's coverage of the Jan. 6, 2021, insurrection at the U.S. Capitol, in which the host has promoted the conspiracy theory that it was provoked by government agents.
Carlson has called Ray Epps — a Texas man who participated in the storming of the Capitol but did not enter the building — an FBI plant, without presenting any evidence.
Epps was interviewed Sunday on "60 Minutes" and said he has been subjected to death threats as a result of Carlson's statements about him. The FBI told "60 Minutes" that Epps has never worked for the agency.
Source: latimes.com
Buzz Feed dead.
Susan RIce gone.
CEO MSNBC resigned.
Don Lemon/CNN gone.
Bongino/Fox gone.
Carlson/ Fox gone.
Petition for @elonmusk to give all the celebrities who visited Epstein's Island a red check.

— BLAIRE WHITE (@MsBlaireWhite) April 23, 2023
---
Geopolitical/Police State
---
War
What happened to the spring counteroffensive? Just a short time ago, we were being assured that victory is guaranteed. Now the administration is worried about failure? 🤔https://t.co/jjHnEA4g3Z

— David Sacks (@DavidSacks) April 24, 2023
The Biden administration is quietly preparing for the possibility that if Ukraine's spring counteroffensive falls short of expectations, critics at home and allies abroad will argue that America has come up short, too.
Ukraine's ever-imminent counteroffensive will attempt to retake Russian-seized territory most likely in the east and south, though for operational reasons no senior officials from Kyiv have detailed specifics.
"If the counteroffensive does not go well, the administration has only itself to blame for withholding certain types of arms and aid at the time when it was most needed," said Kurt Volker, the special envoy for Ukraine during the Trump administration.
A counteroffensive that doesn't meet expectations will also cause allies in foreign capitals to question how much more they can spare if Kyiv's victory looks farther and farther away.
Source: politico.com
---
False Flags
The intense propaganda to coerce you to wear a face mask is not based on science. It is a pure political power play designed to force you and your children into submission.
'Explosive' new research reveals that using a face mask during pregnancy may increase the chance of stillbirth, testicular dysfunction, and cognitive decline in children, Daily Mail reported.
When worn for extended periods of time, facial coverings may increase the risk of mild carbon dioxide (CO2) poisoning, according to a review of 43 previously published studies on exposure to CO2, mask-wearing, and pregnancy by German researchers.
Researchers in Germany found that elevated levels of carbon dioxide in pregnant women were associated with an increased risk of birth defects.
They also stated that CO2 is a contributor to oxidative stress, which can have negative effects on brain function and lead to testicular problems in men.
The German researchers reviewed a study that found that even short-term exposure to concentrations of CO2 as low as 0.3% caused brain damage, increased anxiety, and impaired memory in both pregnant rats and young mice. Testicular cells and sperm were destroyed in another study when male mice were exposed to 2.5 percent CO2 for four hours, the human equivalent of which is 0.5 percent. A third study found that stillbirth and birth defects occurred in pregnant rats exposed to 3 percent CO2 (equal to 0.8 percent for humans).
(The primary limitation of the research is that it is limited to studies on animals due to the unethical nature of doing such trials on human subjects due to the potential toxicity of carbon dioxide.)
More from Daily Mail:

Alluding to the surge in stillbirths during the pandemic, the German researchers said: 'Circumstantial evidence exists that popular mask use may be related to current observations of a significant rise of 28 percent to 33 percent in stillbirths worldwide.'

 The data suggest that both medical and non-medical facemasks are ineffective to block human-to-human transmission of viral and infectious disease such SARS-CoV-2 and COVID-19, supporting against the usage of facemasks. Wearing facemasks has been demonstrated to have substantial adverse physiological and psychological effects. These include hypoxia, hypercapnia, shortness of breath, increased acidity and toxicity, activation of fear and stress response, rise in stress hormones, immunosuppression, fatigue, headaches, decline in cognitive performance, predisposition for viral and infectious illnesses, chronic stress, anxiety and depression. 
Source: thegatewaypundit.com
Barbara Cooper, Secretary of the Alabama Department of Early Childhood Education (ABCDE), was forced to resign after Alabama Governor Kay Ivey discovered the department was handing out a woke pre-k book to Alabama teachers according to Al.com.
Ivey's office said in a press release that the content was "not in line" with her administration nor the people of Alabama. She also ripped the book's contents as "divisive to the core."
Source: thegatewaypundit.com
New Zealand's strongest man has registered to compete as a woman in the Global Powerlifting New Zealand Day of the Deadlifts competition to protest gender self-identification rules.
Dale Shepherd, 52, holds nearly two dozen national records in competitive weightlifting — which he has been doing for roughly four decades.
Shepherd applied to participate as a woman for the event in June.
  the Global Powerlifting Committee of New Zealand (GPCNZ) appears to be scrambling to keep Shepherd out of the competition — even going so far as to change their rule book to say that he is ineligible.
The report points out that in their 2023 Rulebook, the Global Powerlifting Committee of New Zealand (GPCNZ) recognizes self-declared gender identity. In a section of the guidelines titled "Transgender Athletes," GPCNZ states that "gender is presented on a spectrum" and that the organization "respects the autonomy of the individual and how they identify."
"An archived version of the official website dated March 30 does not display the GPCNZ rules for trans-identifying competitors, instead leaning heavily on self-identification," the report explains. "But, after submitting his application and declaring himself a 'woman' for the purposes of the competition, Shepherd was hastily sent an email and told he was not allowed to self-identify as transgender and must have been on estrogen for at least one year to compete."
Shepherd is challenging their decision to exclude him.
Source: thegatewaypundit.com
---
Q
Ray Epps is the only person I've seen on video January 5th and January 6th urging and directing people to go into the Capitol. In a text message on January 6th he bragged that he orchestrated it. Why do democrats and the media portray him as the victim? So bizarre. https://t.co/zEY27XGdgi

— Thomas Massie (@RepThomasMassie) April 23, 2023
Why is the media working so hard to defend a man who excitedly encouraged people to "go into the Capitol?" I thought that was a bad thing that required a nationwide dragnet to defend "our sacred democracy?" https://t.co/tr0LuIKwDr

— Steve Friend (@RealStevefriend) April 24, 2023
I mean, who wants to tell the FBI? pic.twitter.com/FNTjzHChIV

— Julie Kelly 🇺🇸 (@julie_kelly2) April 24, 2023
Republicans Say Pelosi Needs To Testify About Jan. 6 Security Failures
A pair of House Republicans are calling on Democrat Rep. Nancy Pelosi to testify about security failures that occurred at the U.S. Capitol Building on Jan. 6, 2021.
Source: conservativebrief.com
Hunter Biden demands ethics probe into Marjorie Taylor Greene
A lawyer for Hunter Biden, the son of President Biden, on Monday called for the Office of Congressional Ethics to review Rep. Marjorie Taylor Greene (R-Ga.) for "unhinged rhetoric," possible violations of House ethics rules and official conduct standards following a number of statements and accusations made by the Georgia lawmaker.
"Representative Greene's unethical conduct arises from her continuous verbal attacks, defamatory statements, publication of personal photos and data, and promotion of conspiracy theories about and against Robert Hunter Biden," attorney Abbe David Lowell wrote in a letter to Ethics chairmen, obtained by Politico.
Source: thehill.com
EXCLUSIVE: Lock him up! Hunter Biden's baby mama Lunden Roberts demands the president's son be thrown in Arkansas jail for refusing to hand over his financial records in child support dispute
Lunden Roberts has asked a judge to jail Hunter Biden until he hands over his financial records, accusing president's son of 'playing games'
The bombshell comes six months after Hunter tried to lower the monthly amount he pays Roberts, 32, the mother of four-year-old Navy Joan Roberts – the little girl he barely acknowledges is his 
'This court should incarcerate the defendant in the Cleburne County Detention Center until he complies with this court's orders,' says the filing
Source: dailymail.co.uk
FLASHBACK: "This is a Russian disinformation operation," Biden campaign adviser Michael Carpenter said of Hunter laptop story. "I'm very comfortable saying that." He told this to Politico in Oct 2020. Carpenter was VP Biden's top Ukraine aide who worked closely w Eric Ciaramella

— Paul Sperry (@paulsperry_) April 23, 2023
Rep. Harriet Hageman Calls for Anthony Blinken to Appear Before Weaponization Committee Over Intel Letter About Hunter Biden Laptop
Republican Rep. Harriet Hageman of Wyoming is calling for Anthony Blinken to appear before the House Weaponization Committee to answer questions about the letter signed by 51 intel officials, claiming that the Hunter Biden laptop was Russian disinformation.
Breitbart News reports: Exclusive: Rep. Harriet Hageman Calls for Antony Blinken to Appear Before the Weaponization Committee
Rep. Harriet Hageman (R-WY) on Saturday called for Secretary of State Antony Blinken to appear before Congress to answer questions about his role in the crafting of a letter by 51 former intelligence officials that discredited the Hunter Biden laptop story weeks before the 2020 presidential election.
Start with Blinken and then call all of the intel officials who signed the letter.
Source; thegatewaypundit.com
Trump's Triumphs, From A to Z, vs. Biden's Botches
 
From A to Z, here are 26 things that Trump got right:
Abraham Accords: Trump brokered four peace agreements among Israel and other countries—Bahrain, the United Arab Emirates, Morocco, and Sudan.
Border wall: Trump's 458 miles of concrete and steel fortified the border and curbed illegal immigration before Biden obliterated America's southern frontier.
Consular offices in Jerusalem were upgraded to a U.S. Embassy, thus enforcing the relevant statute that Presidents Bill Clinton through Barack Obama circumvented.
Deregulation: Trump promised to kill two old regulations for every new one imposed. American Action Forum counts 4.7 existing rules junked per new one implemented.
Energy Independence: Trump achieved the impossible dream of U.S. self-reliance and then made America globally dominant as a net exporter of energy for the first time since 1952.
Freedom-of-speech protection, per Trump's executive order, became a prerequisite for colleges to receive federal funds.
Gorsuch, Kavanaugh, and Barrett joined the Supreme Court. Meanwhile, 223 other constitutionalists whom Trump nominated reached the federal bench.
Historically Black Colleges and Universities scored an advocacy office in the White House, a permanent stream of federal funds, and year-round Pell Grants, to aid their summer school students. HBCU presidents begged Obama in vain for these things. Trump invited them to the Oval Office in his fifth week in Washington, listened, and approved their requests.
Iran nuclear deal: Killed.
Javelin anti-tank missiles that Trump provided have helped Ukraine stymie Russian invaders.
Keystone XL pipeline: Approved.
"Little Rocket Man," Kim Jong Un, met thrice with Trump. While North Korea did not scrap its nuclear weapons program, it conducted zero atomic tests after this odd couple first huddled in Singapore on June 12, 2018. Kim detonated four nukes under Obama-Biden.
Mexico, Canada, and the U.S. signed a new trade deal that replaced the North American Free Trade Agreement.
NATO's finances soared, as Trump prodded U.S. allies to boost Western collective defense by $400 billion through 2024.
Opportunity Zones incentivized $78 billion in private capital to 8,768 largely low-income, minority communities.
Poverty fell to a rate of 10.5%, the lowest since 1959, when federal figures were first collected. Before COVID-19 unleashed hell on Earth, the strongest economy in 60 years drove black poverty to 18.8%, a record low.
Qassem Soleimani, Iranian Revolutionary Guard Corps chief, was droned to smithereens on Trump's order. Tehran's ayatollahs promptly learned some manners.
Right to Try legislation freed terminally ill patients to use promising treatments that awaited Food and Drug Administration approval.
Space Force: Trump's out-of-this world promise became reality as the Pentagon's newest armed service.
Tax Cuts and Jobs Act: This $1.9 trillion tax reduction unleashed massive economic growth that most benefited lower-income Americans.
Unemployment hit all-time lows for blacks and Hispanics and triggered the lowest female unemployment rate since September 1953.
Veterans secured broader medical freedoms through VA Choice and swift punishment for abusive VA employees.
Washington, D.C.'s school-voucher program was reauthorized with a $45 million appropriation.
Xi Jinping and other Chinese Communist Party members restrained themselves when Trump deployed his peace through strength strategy. Under Biden, Red China does whatever it wants, from an unprecedented mock blockade of Taiwan to spy balloons vacuuming up intelligence over America to U.S.-based CCP "police stations" that terrorize dissidents.
Yes votes for the First Step Act totaled 358 in the House (including 176 Democrats) and 87 in the Senate (among them, 47 Democrats). This overwhelmingly bipartisan criminal justice reform measure let nonviolent prisoners, many of them black, return to their communities.
Zero American wars began under Trump. The dovish consequences of his hawkish command were exactly the opposite of the "Push the nuclear button NOW!" belligerence that his deranged critics forecast.
Wouldn't four more years of Trump be better than four years of Biden?
Source: dailysignal.com
New NBC Poll: 76% of Democrat Voters Under 35 Think Joe Biden Shouldn't Run Again Because He is Too Old
A new NBC poll spells trouble for Joe Biden as he prepares to announce his 2024 reelection campaign.
Biden will reportedly announce his reelection this week even though virtually no one wants him in the White House.
According to a new NBC poll, 53% of 2020 Biden voters say he shouldn't run again.
64% of Democrats who voted for Sanders or Warren in the 2020 primaries think he shouldn't run in 2024.
And a whopping 76% of voters under the age of 35 think Joe Biden should not run for president in 2024.
WATCH:
Source: thegatewaypundit.com
For all of those media fools who say everything was on the up and up with the 2020 Presidential Election, and then go on to report about the 51 Intelligence Agents that wrote a letter spreading Disinformation about Hunter Biden's famous laptop computer, knowing it was FAKE & TREASONOUS, just days before the Election, you have committed an unpardonable SIN. That election fraud is no different than Stuffing the Ballot Boxes, or any other of the many crimes committed in the 2020 Election. So Sad!
Orwell was right -> schools & media
Huxley -> public *is* heavily medicated
Rand was also right, as you say.

We now have the perfect storm.

Did you know that Soma is a real drug? Takes away pain, but dulls your mind.

— Elon Musk (@elonmusk) April 23, 2023
Apr 30, 2020 3:57:10 PM EDT
CROSSFIRE HURRICANE
CROSSFIRE TYPHOON
CROSS WIND
[CLAS 1-99 UNRELEASED/REDACTED]
You didn't think the statement by POTUS re: 'CALM BEFORE THE
STORM
' was just random did you?
Transparency brings accountability.
Q