Justice Will Prevail, It's Time For The Truth To Come Out, [CF] On Deck – Episode 2288
Manufacturing activity is now improving in many states and across the country. Trump economics does it again, keeps the automobile manufacturing in Ohio and now the first truck is produced. The [CB] admit they have now wait out of this problem. The [DS]/MSM are preparing to throw everything they have at Trump and the people before the election and after the election, but the playbook is known. Flynn ready to go free in 30. Boom, justice prevails, it's time for the truth. The events are now quickly falling apart, Trump is producing an enormous amount of tests, he is  doing exactly what he did with ventilators, this is part of the trap. The [CF] is now on deck, everything is coming into focus.
Check Out The X22 Report Spotlight YouTube Channel X22Report Spotlight
Please check Newzsentinel.com for the latest news on the economic collapse. The Sentinel Alerts are updated throughout the day.
---
Current News – 09.28.2020
Watch The X22 Report On Video
---
Economy
The production index of the Texas Manufacturing Outlook Survey, a key measure of state manufacturing conditions, came in at 22.3 in September, up from 13.1 in August and indicative of a solid expansion of output.
The new orders index advanced roughly five points to 14.7, while the growth rate of orders index increased slightly to 13.2.
The capacity utilization index rose from to 17.5 from 10.9 the prior month, and the shipments index decreased to 21.5 from August's 23.3.
Source:  .morningstar.com 
Saving American Jobs – President Trump Introduces Lordstown Motors 2021 Endurance Pickup Truck – Video and Transcript…
When GM announced they were closing their Lordstown, Ohio, plant in 2018 President Trump jumped into action to negotiate a deal between GM and a new company intent on building an electric pickup truck.  GM sold the plant in 2019 to Lordstown Motors and took a partial equity stake in the new company… a win/win deal that saved the jobs for the auto workers and ancillary businesses in Ohio.
Today   Trump introduces the outcome of that new venture, the 2021 Endurance pickup truck; the worlds first true four wheel drive electric motor commercial vehicle.
.
 . So this is a vehicle where the — essentially, the engines — the motor's engines are in the wheels. They're in the wheels — in all four wheels.
Source: theconservativetreehouse.com
Moments ago, ECB president Christine Lagarde confirmed again that the European Central Bank remains generally helpless to boost growth in a world in which it unleashed negative rates,
"Businesses are facing difficulties, people are losing their jobs, and prospects about the future remain uncertain," European Central Bank President Christine Lagarde says in European Parliament, adding that the ECB "will carefully assess all incoming information, including developments in the exchange rate, with regard to its implications for the medium-term inflation outlook"
Source: zerohedge.com
---
Political/Rights
Joe Biden just announced that he will not agree to a Drug Test. Gee, I wonder why?

— Donald J. Trump (@realDonaldTrump) September 28, 2020
#Flynn: CONTEXT: The 9/24 filing @SidneyPowell1 shows how Strzok, Page text messages are "unfiltered" road map for Durham investigators as well as FBI's messaging system called LYNC. On Jan 5, 2017 FBI employee asks "What's the word on how O's briefing went?" to which another pic.twitter.com/Pq50T8oV0v

— Catherine Herridge (@CBS_Herridge) September 28, 2020
#Flynn: CONTEXT: The 9/24 filing @SidneyPowell1 shows how Strzok, Page text messages are "unfiltered" road map for Durham investigators as well as FBI's messaging system called LYNC. On Jan 5, 2017 FBI employee asks "What's the word on how O's briefing went?" to which another pic.twitter.com/Pq50T8oV0v

— Catherine Herridge (@CBS_Herridge) September 28, 2020
General Flynn will be free
The NYT released Trump tax returns, 
The Fake News Media, just like Election time 2016, is bringing up my Taxes & all sorts of other nonsense with illegally obtained information & only bad intent. I paid many millions of dollars in taxes but was entitled, like everyone else, to depreciation & tax credits…..

— Donald J. Trump (@realDonaldTrump) September 28, 2020
…..Also, if you look at the extraordinary assets owned by me, which the Fake News hasn't, I am extremely under leveraged – I have very little debt compared to the value of assets. Much of this information is already on file, but I have long said that I may release….

— Donald J. Trump (@realDonaldTrump) September 28, 2020
…..Financial Statements, from the time I announced I was going to run for President, showing all properties, assets and debts. It is a very IMPRESSIVE Statement, and also shows that I am the only President on record to give up my yearly $400,000 plus Presidential Salary!

— Donald J. Trump (@realDonaldTrump) September 28, 2020
BREAKING: President Trump on NYT report on his tax returns:

"It's totally fake news. Made up. Fake." pic.twitter.com/HkU5YoGeAq

— Breaking911 (@Breaking911) September 27, 2020
TAKE A LISTEN
The media promised that President Trump's tax returns would reveal deep ties to Russia.

Didn't happen!

Know whose finances would reveal deep ties to Russia?

Hunter Biden.

— Rep. Jim Jordan (@Jim_Jordan) September 28, 2020
What have we learnded today
There are no Russian secrets in Trump's financial records (as previously reported)
Trump is not using the Presidency to enrich himself (as previously reported)
So. I finally read the NYT Trump tax story because I wanted to see what line was being reported for taxes owed and I came across this about the $750 in 2016 and 2017. Per the NYT own story, Trump actually paid to the US Treasury $1 million in 2016 and $4.2 million in 2017. pic.twitter.com/ltnlMG0mKW

— alexandriabrown (@alexthechick) September 28, 2020
Read that closely. Trump PAID, as in transferred to the US Treasury, $1 million in 2016 and $4.2 million in 2017. Note also that most of the overpayment was rolled forward, not refunded. The $750 figure is an ADDITIONAL $750. Thus every single story saying he paid $750 is a lie.

— alexandriabrown (@alexthechick) September 28, 2020
It is not simply a lie, it proves that the person making the statement either did not read the story itself (BY THE INSANITY OF CTHULHU READ THE SOURCES) or lack the mental ability to comprehend that the NYT itself claims that Trump paid $1,000,000 in 2016 and $4,200,00 in 2017.

— alexandriabrown (@alexthechick) September 28, 2020
The claim that Trump paid only $750 in Federal taxes in 2016 and 2017 is thus a complete and total lie which is easily disproven by the Times own story. I mind when people lie. I mind more when people lie to me about something I can disprove in minutes.

— alexandriabrown (@alexthechick) September 28, 2020
Also there's something even more worrisome than that the NYT appears not to have seen the actual returns. Read this closely and you'll see something very disturbing indeed. pic.twitter.com/m5B6IVSkMo

— alexandriabrown (@alexthechick) September 28, 2020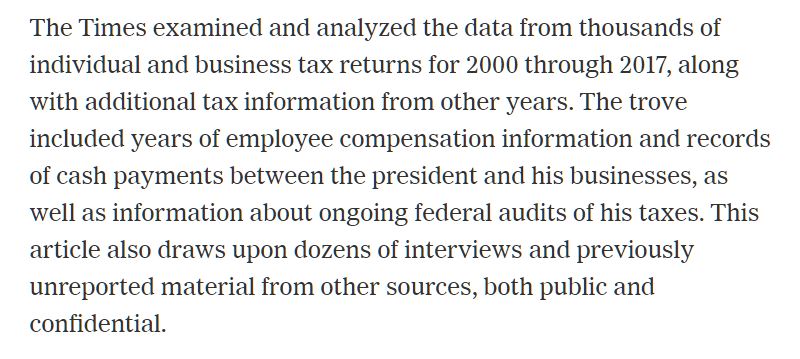 Did you see it? The years of employee compensation? So the NYT was given compensation information for people who are not Donald Trump. Yeah, that right there should make everyone spit fire from their eyes. What the hell right does the NYT have to employee compensation?

— alexandriabrown (@alexthechick) September 28, 2020
So lets get this straight, Trump was wealthy before becoming the PRESIDENT and is losing his wealth during his presidency, plus he is not taking a salary, he is donating it, The Ds who became PRESIDENT made their wealth during and after the presidency.  That reminds of post 3383 
Q

 

!!mG7VJxZNCI

 

ID: 3a3d46

 No.6961951

DpARa2LU8AEQt_g.jpg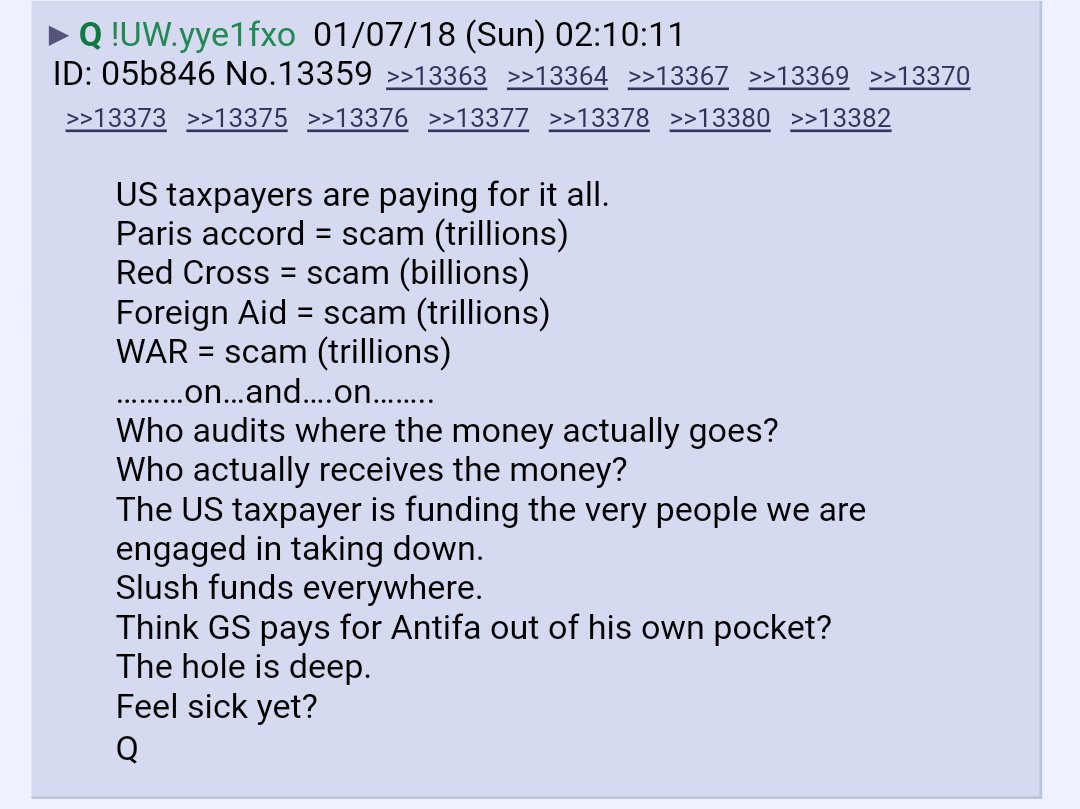 https://twitter.com/SaraCarterDC/status/1146175340433367040
Imagine what would happen, if, by law, every US Congressman/woman, US Senator, President etc. was by US law audited every 1-2 years by an independent agency.
Imagine what would happen if those audits extended to all family members of such 'elected' official?
Would D's continue to push for Foreign Aid to other C's vs. the Homeland?
What happens when the kickbacks dry up?
M. Waters $4mm House?
N. Pelosi net worth $150mm+?
J. Biden son/brother net worth tens of millions?
Clinton family $200mm+ (pre election of BC less than $1mm)?
Obama family $40mm+ (pre election less than $1mm)?
Disguised under book deals?
………….
Those who take are offered more powerful positions within the party (controlled).
DRAIN THE SWAMP.
Q
So the questions is did the NYT release this to try to sway the elections, did a government official investigating Trump returns leak this info, to the NYT to sway the election.  . 
The Ballots being returned to States cannot be accurately counted. Many things are already going very wrong!

— Donald J. Trump (@realDonaldTrump) September 28, 2020
Appellate court halts Wisconsin ballot-counting extension
A federal appeals court temporarily halted a six-day extension for counting absentee ballots in Wisconsin's presidential election, a  victory for Republicans and President Donald Trump in the key presidential battleground state.
As it stands, ballots will now be due by 8 p.m. on Election Day.
Source: apnews.com
Canvassers demand answers after 72% of Detroit's absentee ballot counts were off 
Recorded ballot counts in 72% of Detroit's absentee voting precincts didn't match the number of ballots cast, spurring officials in Michigan's largest county to ask the state to investigate ahead of a pivotal presidential election.
Without an explanation from Detroit election workers for the mismatches, the Wayne County Board of Canvassers requested this week for Secretary of State Jocelyn Benson's office to examine the "training and processes" used in Detroit's Aug. 4 primary, which one official described as a "perfect storm" of challenges.  
 
Source:  detroitnews.com
   a federal judge overturned the Democrat plan to eliminate signature-matching in Ohio.
Cleveland.com reported:
A federal judge has ruled Ohio's system of verifying signatures on absentee ballot applications is not burdensome enough to be struck down as illegal, rejecting arguments made by a coalition of voting-rights groups that sued the state.

U.S. District Judge Michael Watson wrote that while Ohio's signature-matching requirements impose a "moderate" burden on voters, they have other options to cast a ballot if their vote is improperly rejected, including casting a provisional ballot on Election Day. He agreed with Ohio Secretary of State Frank LaRose that the state has a legitimate interest in promoting an orderly and secure election, justifying that burden.

"Additionally, the Court believes that changing the rules regarding verification of signatures on ballots at this time would be particularly damaging," 
Source: thegatewaypundit.com
Republicans Officially Ask Supreme Court to Halt Mail-In Voting Extension in Pennsylvania #StopTheSteal
Trump Campaign, GOP, Sue to Block North Carolina's New Mail-in Ballot Rules #StopTheSteal
BREAKING: @IlhanOmar connected cash-for-ballots harvesting scheme EXPOSED

"Money is the king in everything"; harvester boasts harvesting HUNDREDS of 2020 absentee ballots ILLEGALLY! "Numbers do not lie…these here are all absentee ballots…my car is full…"#BallotHarvesting pic.twitter.com/cB2Bz31mSY

— James O'Keefe (@JamesOKeefeIII) September 28, 2020
---
False Flags
The executive board of New York City's school principals union  unanimously voted that they had "no confidence" in mayor Bill de Blasio and chancellor Richard Carranza, calling on the pair to relinquish control of the school system to the state just two days before the scheduled start of in-classroom learning for K-8 students.
The vote came after months of uncertainty for many students and staff as the system has repeatedly changed its approach to teaching in an attempt to mitigate the spread of the coronavirus.
The Council of School Supervisors and Administrators said it was calling on the state to intervene in part because there are more than 200 elementary school principals who still need a total of 1,200 teachers before K-8 site instruction begins Tuesday, while district higher-ups have encouraged principals to lie and cover up the staffing shortfalls,
District superintendents have "verbally pressured [principals] to falsely report that their staffing needs are already met after they requested additional staff due to safety concerns,'' the CSA said in its resolution, which its executive board unanimously passed on Sunday, as students return to the classroom this week.
The CSA has "declared a unanimous vote of 'No Confidence' in Mayor de Blasio and Chancellor Carranza due to their failure to lead New York City through the safe and successful reopening of schools," the union wrote.
Source: nationalreview.com
Elevated 'cycle thresholds' may be detecting virus long after it is past the point of infection.
Agrowing body of research suggests that a significant number of confirmed COVID-19 infections in the U.S. — perhaps as many as 9 out of every 10 — may not be infectious at all, with much of the country's testing equipment possibly picking up mere fragments of the disease rather than full-blown infections.
'Cycle threshold' set very high for many tests
The "cycle threshold" is the number of amplification cycles a PCR test goes through before a target pathogen is detected. A lower cycle threshold means that a higher amount of the virus was present in the sample; a higher threshold means the machine had to work harder to detect the virus in the sample, indicating a lower viral load and more likely a non-infectious patient.
According to a rundown of PCR tests compiled by the Foundation for Innovative New Diagnostics, many manufacturers of PCR tests set the cycle threshold cutoff for a positive sample at up to around 40 cycles, a level numerous public health officials believe is guaranteed to return what are effectively false positive results that have detected fragments of the virus.
Source: justthenews.com
Trump discusses that the US has completed 100 million tests, 
The founder of a Black Lives Matter group in Atlanta has been charged with misappropriating donations solicited through Facebook on behalf of the social justice cause.
32 year old Sir Maejor Page has been arrested by the FBI on fraud and money laundering charges after he used $200,000 in BLM donations on "food, dining, entertainment, clothing, furniture, a home security system, tailored suits and accessories," according to Fox News.
He was arrested in Toledo after the Toledo FBI office opened an investigation last year on a tip they received from a cooperating witness. Page founded Black Lives Matter of Greater Atlanta in 2016 and had taken in more than $466,000 in total donations in June, July and August alone.
Q

 

!!Hs1Jq13jV6

 

ID: ef949f

 No.10823243
 

NEW
Who is Peter Comey and Why it Matters
James Comey's Brother

Now it so happens that James Comey has a brother, Peter Comey, who had an executive position with the Washington law firm that did the audit of the Clinton foundation in 2015. Peter Comey was officially DLA Piper "Senior Director of Real Estate Operations for the Americas," in 2015 when the Clinton Foundation scandals first broke and Hillary was preparing her Presidential campaign. Not only was DLA Piper, the firm where Comey's brother worked, involved in the audit of the Clinton Foundation. According to the foundation's donor records, DLA Piper has given between $50,000 and $100,000 to the foundation.
Source: journal-neo.org
Peter Comey [brother _James Comey]
Clinton Foundation
Dla Piper
Conflict of interest?
Follow the family.
Think McCabe's wife.
Focus here [East Africa Operations]:
https://www.clintonfoundation.org/clinton-global-initiative/commitments/firm-commitment-legal-education-east-africa
A Firm Commitment to Legal Education in East Africa
In 2012, New Perimeter, a non-profit organization established by global law firm DLA Piper, committed to deliver innovative, practical, skills-based legal training to 800 students and government officials in East Africa. Recognizing that skilled legal and judicial sectors play a central role in the promotion of adherence to the rule of law and the development of a country's social, economic, and political structures, New Perimeter supports legal education around the world. In support of its commitment to East Africa, New Perimeter will recruit teams of lawyers from across DLA Piper's global offices to help train and mentor practicing lawyers and law students in Zambia, Tanzania, and Kenya over a three-year period. Maximizing the available resources, New Perimeter will help increase the local capacity of lawyers in the target countries.
The money never flows directly.
Q
In 2010, 2011 and 2012, for example, the Clinton Foundation did not list any government grants.
The amended tax form from 2010 included $8.8 million in government grants that was not previously listed.
Overall, the refiled tax returns revealed $20.1 million in government grants that were kept off the original versions of the forms.
The Clinton Foundation audit was performed by DLA Piper, a major donor to the same charity whose tax forms it examined.
According to the foundation's donor records, DLA Piper has given between $50,000 and $100,000 to the charity.
Other aspects of the tax returns were quietly updated to reflect additional, undisclosed contributions.
For example, the new 2011 return revealed $10 million in additional revenue that the Clinton Foundation did not originally report.
Contributions to the Clinton Foundation spiked last year as Hillary Clinton prepared to launch her campaign for president. The charity raked in $20 million more in donations last year than in 2013.
Source: washingtonexaminer.com
Q

 

!!Hs1Jq13jV6

 

ID: ef949f

 No.10823477


NEW
Normalize_Why_.png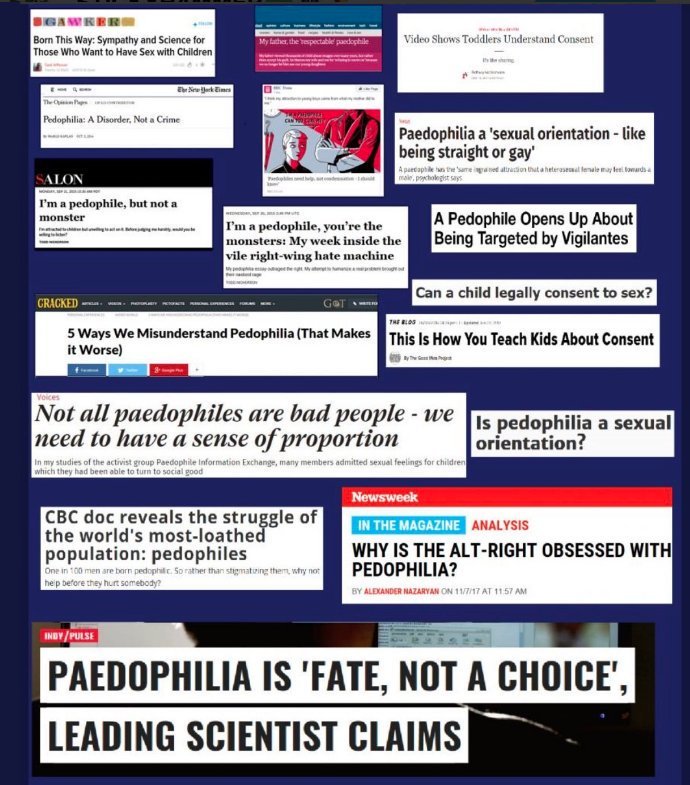 4779
Q

 

!!Hs1Jq13jV6

 

ID: 097857

 No.10823727


NEW
EXR7GgMWAAIFVox.jpg
Breaking: Next declassification could flip Russia collusion script, point to effort to hurt Trump 
Q
Q

 

!!Hs1Jq13jV6

 

ID: 097857

 No.10823755


NEW
Condemning QAnon and rejecting the conspiracy theories it promotes.

Whereas, throughout history, conspiracy theories that falsely blame secret cabals or marginalized groups for society's ills have fueled prejudice, genocide, and acts of terrorism;

Whereas QAnon is a movement promoting a collection of unfounded conspiracy theories that have spread widely on the internet since 2017;

Whereas QAnon initially alleged that prominent Americans are engaged in a secret plot to control the world, while using their power to exploit children, and has expanded to embrace virtually every popular conspiracy theory of the last several decades, from questioning the truth about the September 11th terrorist attacks, to believing in alien landings, to denying the safety of vaccines;

Whereas many QAnon followers express anti-Semitic views, and the Anti-Defamation League has said that the movement's central conspiracy theory includes anti-Semitic elements;
e45eabc656ee89896619552f156ac012e32f72820cc4ede7a8529cca0f4e63bf.jpg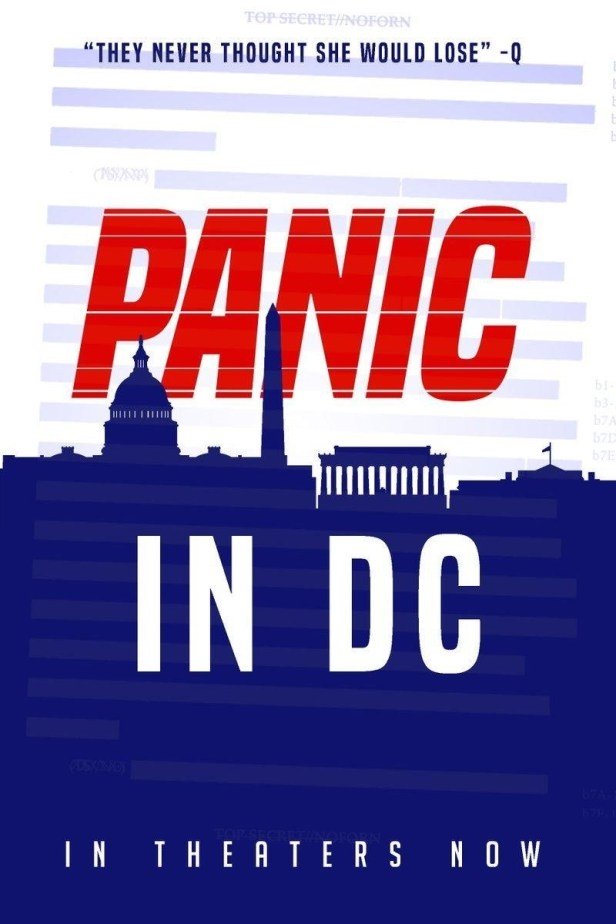 >>10823685
Q

 

!!Hs1Jq13jV6

 

ID: f0bd8f

 No.10824174


NEW
Emhoff, Kamala Harris' Spouse, Taking Leave From DLA
A DLA Piper spokesman confirmed that Douglas Emhoff, a litigator in the firm's Los Angeles office, is in the process of transitioning his clients to different attorneys in the firm.
Source: law.com
Q
Q

 

!!Hs1Jq13jV6

 

ID: 92d064

 No.10824624


NEW
  In 2018, the Clinton Foundation continued this tradition of impact and innovation, operating programs that are helping people around the world and expanding with new projects and approaches to some of the most pressing challenges of our time. For example:  The Clinton Global
Follow the expenses.
Follow salaries & benefits.
Follow professional & consulting.
Follow cost of sales.
Follow other.
FUNDS: EXPENSES V. PAYOUTS
[for 'causes']
_analyze %
[how much of the actual donated money actually goes to help select 'causes']
?
Less than 10%
[TTM _5 year historical]
?
Gifts & Grants:
2014: $172,579,474
2015: $108,915,463
2016: $62,901,979
[loss of power _POTUS win _start of PAY-TO-PLAY collapse]
2017: $26,566,825
2018: $24,167,053
[total revenue 2018: $30,703,366][total expenses 2018: $47,510,175]
CLINTON FOUNDATION AT THE CENTER.
Q