Maximum Transparency, Indictments Coming, Who Has Full Control? – Ep. 2735
Watch The X22 Report On Video
The [CB] is pushing their plan, the patriots know the playbook, this is leading up to a crisis. The crisis will allow the patriots to take the economy in a completely different direction. The [CB] is now making a move into CBDC, bait taken, trap set. The [DS] is now being brought to where the patriots want them. With each lie, with each censorship, the narrative will be impossible to maintain. The people are now seeing the truth, Trump and the patriots are in control. Soon there will be maximum transparency, the people will see all the crimes. The [DS] is now being eradicated, soon the [DS] and the D's will cease to exist.
---
Economy
Orders at U.S. factories for long-lasting products fell by more than expected in February, with a proxy for business investment unexpectedly plunging.
Durable goods orders declined by 2.2 percent in February. Orders for so-called "core capital goods"—a category that  
The sharp decline in the headline number was driven by a drop-off in orders for passenger planes and autos.
But orders were weak overall. Every major category except computers and defense saw falling demand.
Source: breitbart.com
Food banks are feeling strains from inflated prices and increased demand, while President Joe Biden says a food shortage that is "going to be real" looms.
Food insecurity numbers have been on the rise since at least late Summer 2021, the Washington Post reported, citing the U.S. Census Bureau Household Pulse Survey, which compiles and releases data "on how the coronavirus pandemic has impacted people's lives." In early August, the survey showed that about eight percent of Americans who responded said they either "sometimes" or "often" did not have enough to eat.
The number climbed to ten percent by early February, with thirteen percent of households with children reporting they either "sometimes" or "often" did not have enough to eat.
Source: breitbart.com
In 2018, Chuck Schumer stood in front of a gas station selling $3.89 gas and demanded Trump lower prices.

Today, the national average gas price is $4.23 and Schumer has demanded nothing from Biden. pic.twitter.com/8L7CZrAO6L

— Daniel Turner (@DanielTurnerPTF) March 24, 2022
Biden warns food shortages are 'going to be real' across the globe because of Putin invading the world's 'breadbasket' Ukraine
President Joe Biden  said there will be food shortages around the globe because of Vladimir Putin's invasion of Ukraine
'It's going to be real,' he said. 'Because both Russia and Ukraine have been the breadbasket of Europe in terms of wheat, for example' 
The United States, through the Feed the Future initiative, will provide over $11 billion over the next five years to address food security threat 
Russia and Ukraine jointly account for around 25% of world wheat exports and 16% of world corn exports, leading to surging prices for the grains  
About seven in ten Americans say President Joe Biden's economy "is in bad shape,"
The poll also revealed nearly two-thirds of Americans disapprove of how he is handling the economy. Moreover, a majority of Americans say Biden's own policies have hurt the economy instead of helped it.
Overall, 65 percent of Americans disapprove of Biden's management of the economy, which includes 36 percent of Democrats and 96 percent of Republicans. The disapproval of Biden's management of the economy has grown throughout his first year in office. In December, 57 percent disapproved of Biden's economy, up to ten percentage points (47 percent) since July, a full 19 point swing in seven months.
Source:breitbart.com
Biden is planning a new digital currency. Here's why you should be very worried
On March 9, the Biden administration released an executive order (EO) instructing a long list of federal agencies to study digital assets and to propose numerous reports about their use and proposals to regulate them. Much of the executive order is focused on cryptocurrencies such as bitcoin and ethereum, which run on blockchain technology and have become increasingly popular among many investors and consumers in recent years.
But there is an even more important part of the EO: President Biden has instructed the federal government and Federal Reserve to lay the groundwork for a potential new U.S. currency, a digital dollar.
If the United States were to adopt a digital currency like the one discussed in Biden's executive order, it would be one of the most dramatic expansions of federal power ever made, one that could put individuals and businesses in grave danger of losing their social and economic freedoms.
The order further directs the Treasury Department, Office of the Attorney General and Federal Reserve to work together to produce a "legislative proposal" to create a digital currency within 210 days, about seven months.
A digital dollar would not merely be a digital version of the existing U.S. dollar, but rather an entirely new currency that would, at least at first, exist alongside today's currency. Similar to cash, the CBDC would be used to pay for goods and services and would likely be managed by the Federal Reserve, the central bank of the United States. 
Source: thehill.com
---
Political/Rights
One Disney employee was found protesting outside Walt Disney World Resort in Florida, while approximately 70 protested outside Walt Disney Studios in California.
An all-day walkout was planned for Tuesday by Disney's "LGBTQIA+ community and their allies," but only one Disney employee could be found protesting outside of Walt Disney World Resort in Orlando, Fla., according to WESH 2, a local NBC affiliate.
The employee, Nicholas Moldonado, was not scheduled to work on Tuesday and didn't know how many other employees planned on participating, the news outlet reported. The organizers noted on their website that the full-day walkout was  
According to The New York Times, however, only about 60-70 Disney employees walked around Walt Disney Studios in Burbank, and "a smattering of Disney employees gathered in protest" down the street at the Bette Davis Picnic Area, but they appeared to be outnumbered by press members at one point.
Source: justthenews.com
.@Sen_JoeManchin set to vote confirm a leftist judicial activist to the Supreme Court almost certain to support abortion on demand and the evisceration of gun rights, who refuses to define "woman", and has been an activist for reduced criminal sentences for certain pedophiles. https://t.co/pz9XBRDz0H

— Tom Fitton (@TomFitton) March 25, 2022
🧵 After sitting in on some of Judge Jackson's hearing & conducting a thorough & thoughtful review of her qualifications & judicial record, I cannot support her confirmation. As the son of a police chief, I am very troubled by her record of being soft on crime. 1/4

— Dr. Roger Marshall (@RogerMarshallMD) March 25, 2022
21 arrested in Utah human trafficking sting, some victims trafficked through social media
Utah authorities have arrested 21 individuals involved in a large-scale human trafficking sting.
The Utah County Sheriff's Office (UCSO), in collaboration with seven other Utah police departments, Federal Homeland Security Investigations (HSI) and the Utah Attorney General's Office, rescued three trafficking victims during their operation conducted between Feb. 14-17.
Some victims were trafficked through social media, though UCSO told Fox News Digital it could not disclose which platforms due to ongoing investigations. The sheriff's office noted that some are "less-known or less-used" social platforms.
Some of the male suspects involved in the case traveled to meet children for sex. One suspect had ropes, sex toys and lingerie in his possession when he was arrested, FOX 13 first reported.
Source: foxnews.com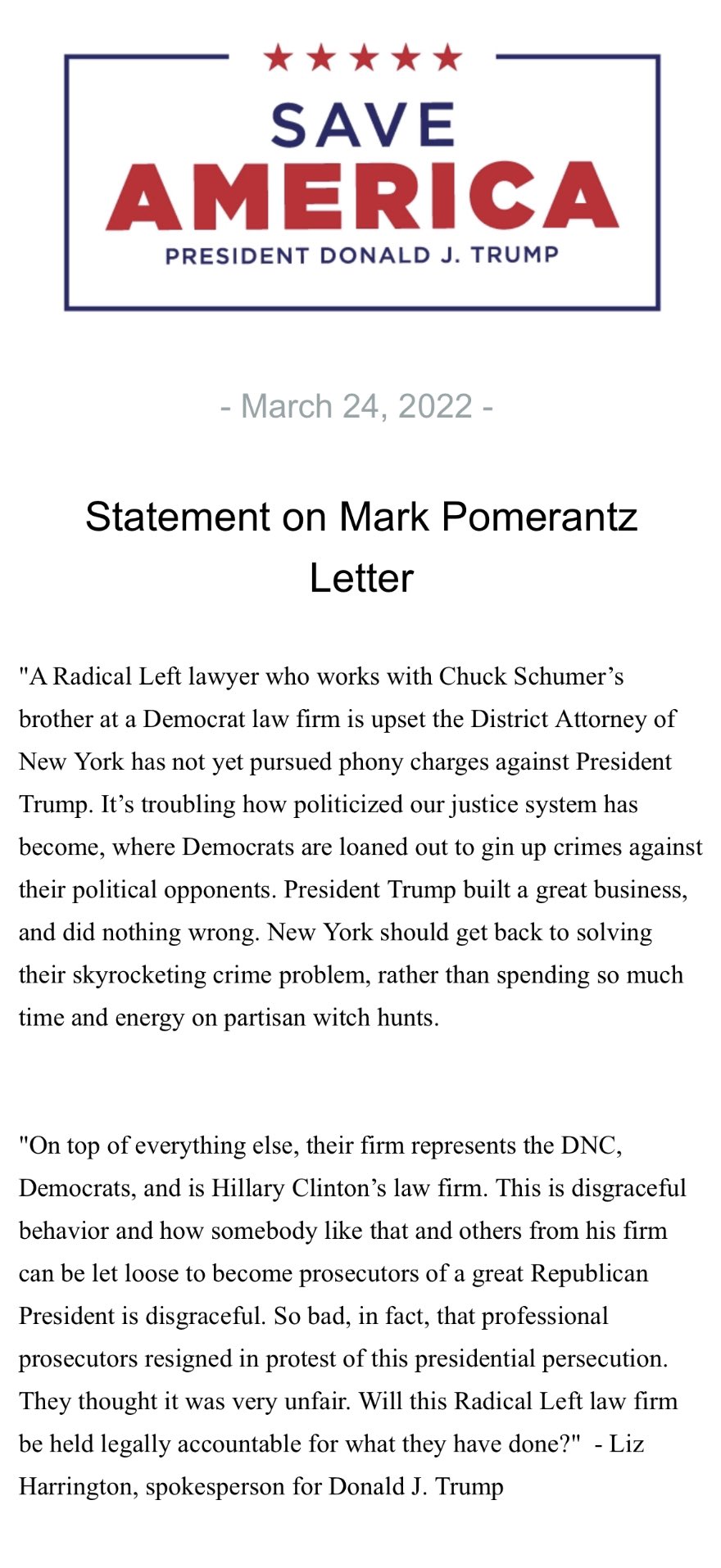 ---
Geopolitical/Police State
Free speech is essential to a functioning democracy.

Do you believe Twitter rigorously adheres to this principle?

— Elon Musk (@elonmusk) March 25, 2022
---
War
President Joe Biden admitted   that more sanctions would not deter Russian President Vladimir Putin from proceeding in his war in Ukraine.
"I did not say that in fact the sanctions would deter him," Biden told a reporter during a press conference in Brussels. "Sanctions never deter."
He explained the strategy of sanctions was more about punishment, just hours after announcing more economic sanctions on Russia.
"The maintenance of sanctions, the increasing the pain, and the demonstration why I asked for this NATO meeting today is to be sure that after a month we will sustain what we are doing," he said.
When asked by a reporter if he thought the additional sanctions would force Putin to change course in Ukraine, Biden grew frustrated.
"That's not what I said, you're playing a game with me … the answer is no," he replied.
"
Source: breitbart.com
Biden Tells 82nd Airborne They're Going to Ukraine: 'You're Going to See When You're There'
President Biden addressed soldiers in the Army's 82nd Airborne while in Poland and made a concerning statement implying they would be going to Ukraine. Watch:
"You're going to see when you're there, you're going to see women, young people standing in the middle, in the front of a damn tank saying 'I'm not leaving,' I'm holding my ground. They're incredible."
The Department of Defense has not announced ground operations for U.S. troops in Ukraine, which would be a major escalation that could risk a regional war with Russia, if not threaten the potential for World War III.
Source: beckernews.com
The White House clarified: "UPDATE: A @WhiteHouse spokesperson tells me: "The President has been clear we are not sending U.S. troops to Ukraine and there is no change in that position."
Source: thegatewaypundit.com
They aren't even standing. They know. https://t.co/kfmyMkhH2B

— Richard Grenell (@RichardGrenell) March 25, 2022
Ukraine's president has accused invading Russian forces of using white phosphorus, a controversial chemical substance that can cause severe and indiscriminate harm to civilians.
"This morning, by the way, there were phosphorus bombs. Phosphorus Russian bombs. Adults were killed again and children were killed again," President Volodymyr Zelensky said during a virtual address to NATO leaders on Thursday, as the military alliance held an emergency summit on Russia's war in Ukraine.
Source: wapo.com
 FLASHBACK
Russia hits Syria with banned white phosphorus
Russian warplanes have dropped banned white phosphorus munitions on civilians in northwest Syria, witnesses claimed yesterday as the Kremlin increased the number of its airstrikes on rebel-held areas.
The incendiary weapon is used by armies to illuminate targets during the night or as a smokescreen during daylight hours. It is illegal under international law if fired over areas where there is a high number of civilians because the chemical is highly flammable and can burn through flesh and bone.
Source: thetimes.co.uk
BREAKING (TASS) — Russian Defense Ministry says the main targets of phase one of the Russian invasion of Ukraine are complete.

— Election Wizard 🇺🇸 (@ElectionWiz) March 25, 2022
A trove of e-mails on Hunter Biden's infamous laptop — the existence of which was exclusively reported by The Post in October 2020 — found that he played a role in helping a California defense contractor analyze killer diseases and bioweapons in Ukraine.
Moscow has claimed that secret American biological-warfare labs in Ukraine were a justification for its unprovoked invasion of the neighboring country last month. It doubled down on the accusations Thursday, claiming the labs produced biochemical weapons at the Biden family's behest.
"US President Joe Biden himself is involved in the creation of biolaboratories in Ukraine," Russia's State Duma speaker, Vyacheslav Volodin said, according to state media.
"An investment fund run by his sun [sic] Hunter Biden funded research and the implementation of the United States' military biological program. It is obvious that Joe Biden, as his father and the head of state, was aware of that activity," Volodin continued, demanding a US Congressional investigation and a White House explanation.
Source: nypost.com
EXCLUSIVE: Hunter Biden Bio Firm Partnered With Ukrainian Researchers 'Isolating Deadly Pathogens' Using Funds From Obama's Defense Department.
Rosemont Seneca Technology Partners (RSTP) – a subsidiary of the Hunter Biden and Christopher Heinz-founded Rosemont Capital – counted both Biden and Heinz as managing directors. Heinz is the stepson of former U.S. Secretary of State and current Climate czar John Kerry.
Amongst the companies listed on archived versions of the RSTP's portfolio is Metabiota – an ostensibly San Francisco-based company that purports to detect, track, and analyze emerging infectious diseases.
Financial reports reveal that RSTP led the company's first round of funding in 2015, which amounted to $30 million. Former managing director and co-founder of RSTP Neil Callahan – a name that also appears many times on Hunter Biden's hard drive – sits on Metabiota's Board of Advisors alongside former Clinton official Rob Walker who discussed, in another unearthed Hunter Biden hard drive e-mail, reaching out to the Obama Department of Defense with regard to Metabiota.


EXCLUSIVE: NEW E-MAILS CONFIRM THE METABIOTA/DOD/UKRAINE LINKS.

Today, we can exclusively reveal an official connection between the Biden-linked pandemic firm and biological laboratories based in Ukraine. In early March we revealed how these labs were handling "especially dangerous pathogens" through programs funded by the U.S. government. The potential for such entities to fall into the hands of invading Russian forces has come under hotly disputed scrutiny in recent weeks.
'Zoonotic Diseases'
A feature in the Science and Technology Center in Ukraine's (STCU) 2016 Annual Report recounts a "Trilateral Meeting with Ukraine, Poland, and the United States Regional Collaboration on Biological Security, Safety, and Surveillance."
The article describes in particular an October 2016 meeting involving U.S. military officials and their Ukrainian counterparts discussing "cooperation in surveillance and prevention of especially dangerous infectious diseases, including zoonotic diseases in Ukraine and neighboring countries."
In attendance were representatives from the Biden-linked Metabiota, roughly one year after Hunter's investment funds put cash into the company. Attendees also included:
US Department of Defense [Defense Threat Reduction Agency] (DTRA) (K. Garrett, G. Braunstein, W. Sosnowski, and J. Wintrol);
Black & Veatch and Metabiota corporations (D. Mustra, Dr. M. Guttieri, S. Anderson, T. Borth and others);
Curtis "BJ" Bjelajac, Executive Director, and Vlada Pashynska, Senior Specialist represented the STCU.
"The meeting focused on existing frameworks, regulatory coordination, and ongoing cooperative projects in research, surveillance and diagnostics of a number of dangerous zoonotic diseases, such as avian influenza, leptospirosis, Crimea Congo hemorrhagic fever, and brucellosis," explains the summary:

STUDYING ANTHRAX IN DOGS.

Skrypnyk, the Metabiota-affiliated researcher, worked as VTechnical Officer for Laboratories for the World Health Organization (WHO).
Additionally, two researchers – Nataliya Mykhaylovska and Bradford Raymond Brooks – are listed as Ukraine-based Metabiota researchers in a paper titled "Implementation of a Regional Training Program on African Swine Fever As Part of the Cooperative Biological Engagement Program across the Caucasus Region."
The aforementioned paper even references a Metabiota office in Ukraine's capital city of Kiev, whose existence appears to be corroborated by a summary of the company's operational structure.
 .
Source: thenationalpulse.com
---
Cyber Attacks
---
False Flags
Wisconsin Sen. Ron Johnson is blasting federal health agencies for their continued coverup of data relating to adverse side effects experienced by people who have received the Covid-19 jab.
In a Wednesday letter exclusively obtained by The Federalist, Johnson criticized the federal government for its lack of transparency over the Covid-19 pandemic, saying he has "written 35 letters to the Executive Branch asking questions related to the COVID-19 pandemic and the federal government's response to it" and that the "grossly inadequate response to [his] legitimate oversight demonstrates a level of arrogance toward the American public that is unacceptable."
"
In his criticism of the agencies and their respective leadership, Johnson cited data from the Vaccine Adverse Event Reporting System (VAERS), which shows that as of March 18, 2022, the database "has received 1,183,495 worldwide reports of adverse events and 25,641 death reports."
"Of those deaths, 7,382 (28.8%) occurred on day 0, 1, or 2 following vaccination. It is difficult to understand how this growing number of adverse event reports has not resulted in health agencies conducting significant investigation, taking action, and providing detailed explanations to the American people," Johnson wrote. "Instead, we have gotten the Mad Magazine Alfred E. Neuman response, 'What, me worry?'"
Source: thefederalist.com
---
Q
 What a difference a year made for Joseph Alcoff.
On Monday, the 37-year-old has a court date in connection with charges he's facing in Philadelphia that include aggravated assault and ethnic intimidation for allegedly being part of an Antifa mob in November that attacked two Marines, Alejandro Godinez and Luis Torres, both Hispanic. Alcoff and two others charged in the attack have pleaded not guilty.
 
 Democratic officials are distancing themselves from Alcoff now, until recently he was a well-connected, aspiring political player in Washington who may have even had a hand in key policy proposals.
His endorsement apparently mattered when several congressional Democrats in February 2018 issued press releases with his quote backing their bill on regulating payday lenders.
He was also pictured with now-House Financial Services Committee Chairwoman Maxine Waters, D-Calif., and ranking Democrat on the Senate Banking, Housing and Urban Affairs Committee Sen. Sherrod Brown of Ohio. Both committees oversee financial regulatory policies Alcoff was advocating.
Alcoff met with then CFPB Director Richard Cordray and other senior CFPB officials on April 2016, again in March 2017 and a third time in May 2017, as first reported by the Washington Free Beacon.
During this time, he reportedly was an Antifa leader in Washington.
Source: foxnews.com
Documents exclusively obtained by The Federalist through an open records request show National Vote at Home Institute CEO Amber McReynolds working with Benson to change Michigan elections policy. NVAHI shares leadership ties with the Center for Tech and Civic Life, a group that shuttled money from Zuckerberg to government election agencies ahead of the 2020 election, as The Federalist previously reported. In several instances, NVAHI and CTCL worked together to influence the 2020 election.
The documents also show that the private organization funded by Facebook tycoon Zuckerberg exists to push states to adopt mass mail-in balloting of the kind that made chaos of the 2020 election.
Private Groups Telling Public Employees What To Do
In Michigan, this highly partisan organization directly affected voting rules, the new documents show. In the emails, McReynolds suggested that Benson use administrative rulemaking to implement a permanent absentee voting option in the state. Administrative rulemaking means making regulations based on an interpretation of the law, often yielding regulations that differ from the law's original intent and sometimes its explicit text.
"I was thinking that you may have rule-making authority," McReynolds wrote in an email on Feb. 5, 2019. "The language below indicates that voters have a right to vote without giving a reason, which to me has left open the possibility of permanent or election specific absentee requests. To me, this means you do not likely need a legislative change."
Source: thefederalist.com
3227
Q
!!mG7VJxZNCI
03/27/2019 19:44:35
 ID: 968323
Archive Bread/Post Links: 5929343 / 5929534
Direct Link: 5929534
TAKE A LISTEN
3224
Q
!!mG7VJxZNCI
03/27/2019 18:20:56
 ID: a764d8
Archive Bread/Post Links: 5927808 / 5927994
Direct Link: 5927994