Message Received, Behold The Precipice, The Hunters Have Become The Hunted – Ep. 2599
Watch The X22 Report On Video
The [CB] plan is not working the way they thought, the people are now awake and they can see how the vaccine mandates are effecting the job market. 36 countries see double digit food inflation. The IMF give grim outlook for the world and the US, the [CB] is pushing their agenda, and the people are watching the destruction. Ted Cruz objects to CBDC, this would give the [CB] total control. Trump and the patriots are now pushing the [DS] in the direction they want, they used the color revolution against them and now people realize that [JB] entire presidency is fake, just like the election. The hunters and truly become the hunted and the patriots are now on the hunt. Scavino sends another message about the precipice, this time it shows some reaching the precipice, it looks like it is time, everything is about to change. Enjoy the show.
---
Economy
36 countries have food inflation above 10%
13 above 20%
9 above 30%
7 above 50%

Most concerning is perhaps Turkey – bad monetary policy and a big energy importer – will keep pressure on FX pic.twitter.com/G0hn1xG0Bb

— 𝐏𝐢𝐧𝐞𝐜𝐨𝐧𝐞 𝐌𝐚𝐜𝐫𝐨 (@pineconemacro) October 11, 2021
The electric vehicle tax credit scheme Governor Kemp opposes is just a small part of this monstrosity pushed by the Democrats.

Not only does Biden's budget have specific provisions that will directly damage businesses in GA, the entire bill would plunge our state into socialism pic.twitter.com/ocddDlIXmV

— Rep. Marjorie Taylor Greene (@RepMTG) October 12, 2021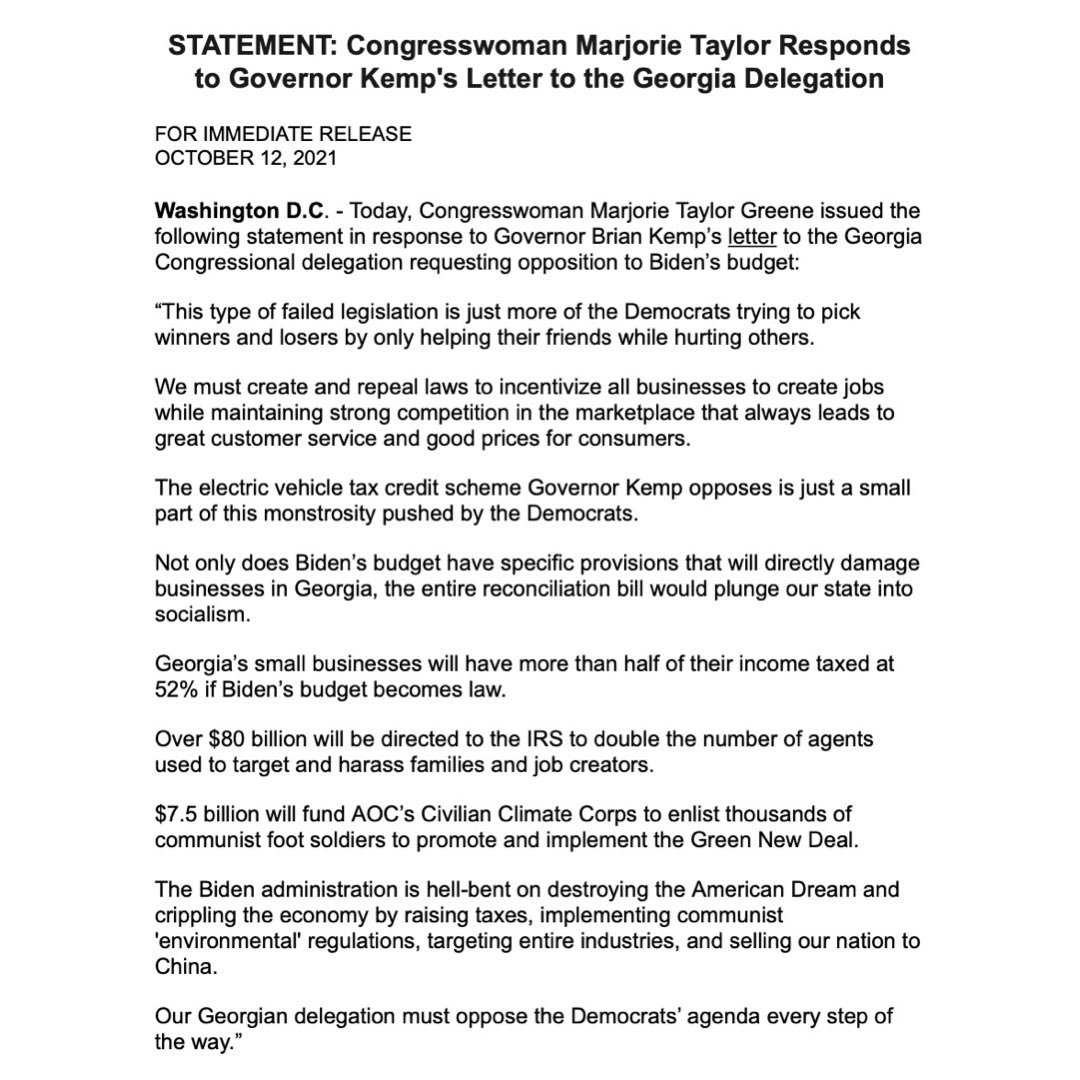 The Fund said it expects global gross domestic product to grow by 5.9% this year — 0.1 percentage point lower than its July estimate.
Source: cnbc.com
Central banks such as the Fed should be preparing to tighten policy in case inflation gets out of control, the IMF warned  .
Source: cnbc.com
The optimism of U.S. small-business owners took a bigger than expected hit in September amid ongoing labor shortages and supply chain disruptions.
Over 35 percent of owners report supply chain disruptions have had a significant impact on their businesses. Another 32 percent say supply chain disruptions have had a moderate impact, and 21 percent report a mild impact. Only 10 percent of owners report no impact.
Owners are particularly pessimistic about business conditions over the next six months. The index component measuring this fell five points to a net negative 33 percent.
Source: breitbart.com
Turns out it's going to be a "dark winter" for many Americans. The cost of heating their homes this year will be double last year.
 The Democratic-controlled U.S. House of Representatives is expected   to give final approval to a Senate-passed bill temporarily raising the government's borrowing limit to $28.9 trillion, putting off the risk of default until early December.
Source: reuters.com
Google is pushing the climate change agenda by introducing an online tool to allow people to estimate their "carbon footprint" — or how much they are personally adding to global warming — when booking flights.
Globalist Google announced it makes the carbon footprint estimate using a combination of data from the European Environmental Agency and information from airlines and other sources.
Source: breitbart.com
"CBDC" may be an obscure acronym to most—it stands for "central bank digital currency"—but it is the single biggest threat to Americans' personal and economic freedom being seriously considered by the U.S. government. My latest in @NRO: https://t.co/BCLwaqxxvg

— Avik Roy (@Avik) October 8, 2021
CBDCs work by marrying the technology underlying Bitcoin with the monetary policies of traditional fiat currencies like the U.S. dollar or the renminbi. But unlike Bitcoin, whose transactions run on a decentralized network and are impossible to censor, CBDCs are wholly controlled and tracked by the government. Despite official denials, China's digital yuan project — called e-CNY — will enable the government to achieve total financial surveillance of its population. Every time a Chinese citizen buys so much as a soft drink, the People's Bank of China (PBOC) will know about it.
In combination with China's "social credit" system, the e-CNY will also enable China to directly send money to, and take money from, favored and disfavored individuals. People and businesses who speak out against the government can have their bank accounts instantly wiped out and find themselves de-platformed from economic life. Note that while China had repeatedly harassed Hong Kong's pro-democracy Apple Daily by jailing its executives, the government succeeded at censoring the newspaper only by freezing its bank accounts.
Saule Omarova, President Biden's nominee to lead the Office of the Comptroller of the Currency, is a champion of bringing a Chinese-style CBDC to America. In a 2020 Cornell Law School paper, Omarova wrote that adopting a full-fledged CBDC in the U.S. would enable the Fed to "fully replace — rather than compete with — private bank deposits" and to establish Fed control over "the very process of generation and allocation of financial resources, . . . directly crediting and debiting the accounts of all participants in economic activity." That would amount to transferring Congress's constitutional power of the purse to the unelected Federal Reserve Board.
Once the Fed has control of all Americans' savings and checking accounts, she writes, it will be able to "function as a hybrid of a sovereign wealth fund and a private equity firm," printing money to spend on infrastructure projects like high-speed rail. 
Source: nationalreview.com
Responded
Really important article by @Avik

A central bank digital currency would be radical & profoundly dangerous. It would eliminate privacy & give govt total, unchecked control over your personal finances.

It's obvious why communist China wants one. But why does Joe Biden?#Bitcoin https://t.co/NRIvngYfLP

— Ted Cruz (@tedcruz) October 12, 2021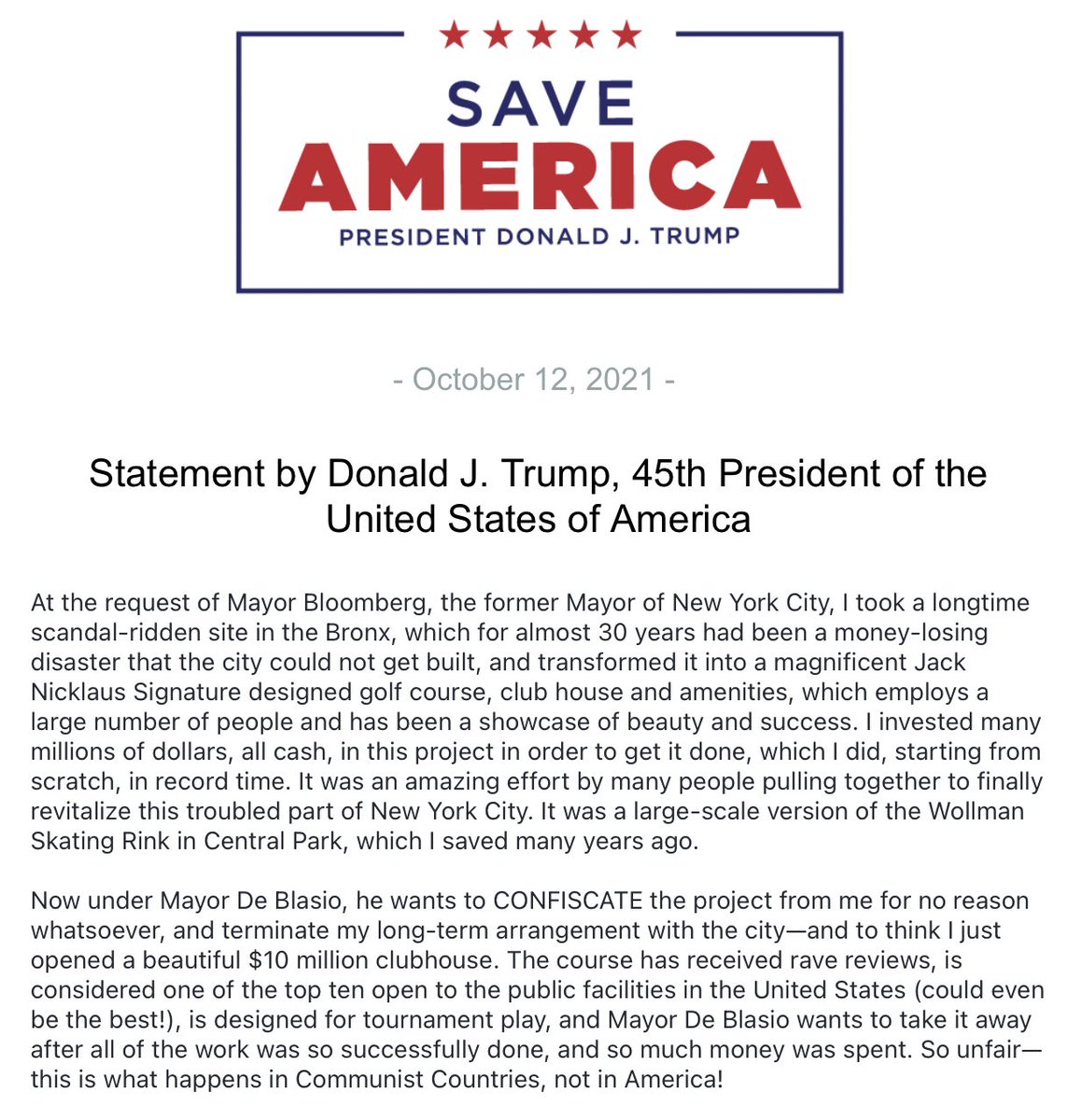 ---
Political/Rights
There are serious questions surrounding Jon Gruden's resignation that need to be answered.
However, as people are noticing, it seems like only Gruden's emails are leaking. Why is that important? It's important because the emails that cost Gruden his job were sent to former Washington executive Bruce Allen and are part of 650,000 emails reviewed by the league.
Here's specifically what The New York Times wrote that is fascinating and demands an answer:
How is it possible that of 650,000 emails including multiple other high profile individuals, only Gruden's emails found their way to the public?
How is it possible that not a single other person has been body bagged like Gruden when there are 650,000 emails the league searched through, and he wasn't sitting there talking to himself. 
Source: dailycaller.com
It was all a production. Like everything they do.
As reported earlier all five children who appeared with Kamala Harris in her first YouTube space series that was released last week were child actors.
They all auditioned and were selected over several other child actors.
And one little girl starred in a video with Michelle Obama earlier this year. She's a circuit regular.
Zhoriel Tapo, a child actor and aspiring journalist interviewed former first lady Michelle Obama earlier this year
Source: thegatewaypundit.com
Source: theconservativetreehouse.com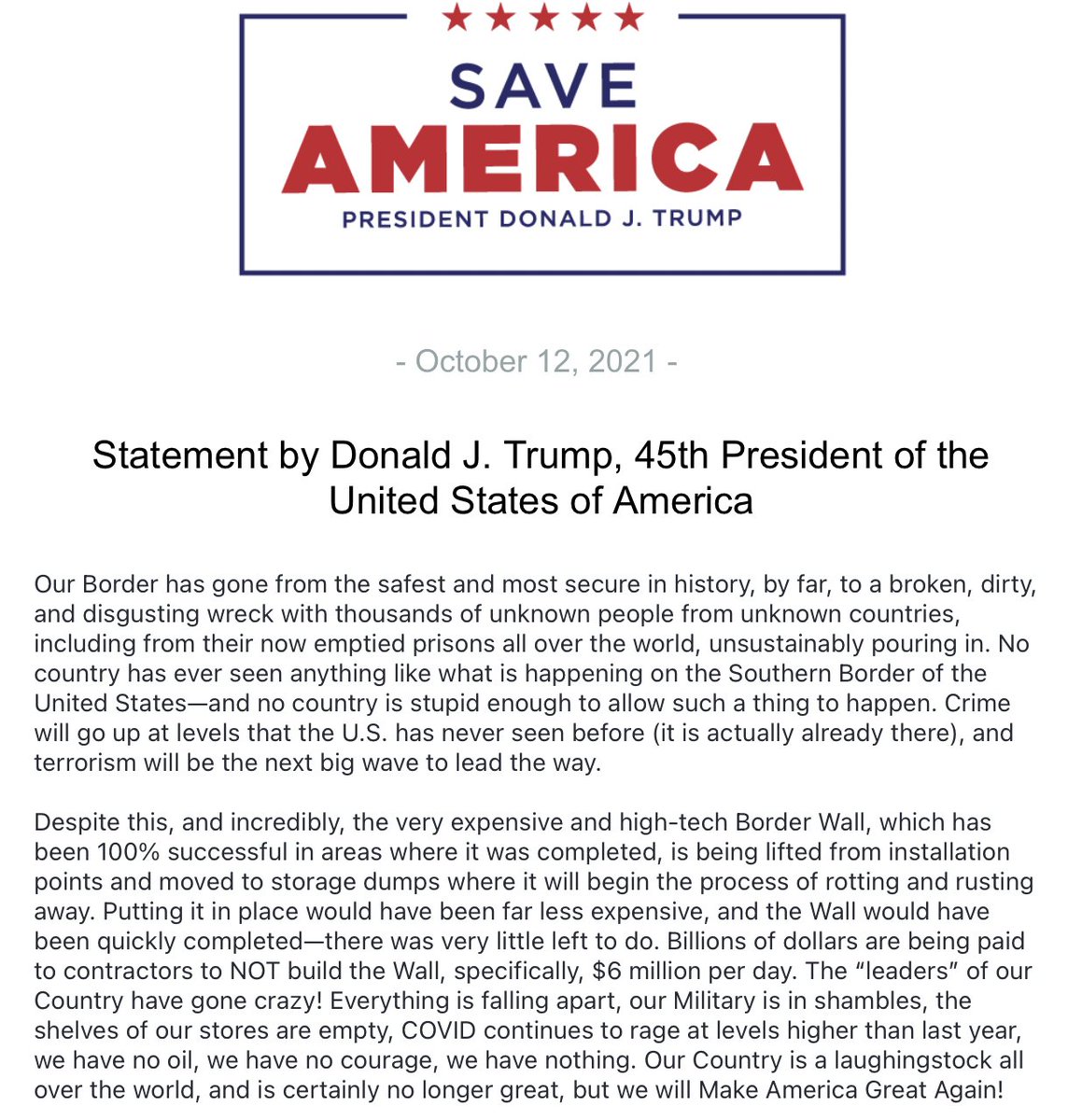 ---
Geopolitical/Police State
Twitter rolled out the "soft block" for all web user 
The feature lets you quietly remove your Twitter followers without resorting to blocking them.
Here's how to do it, in four steps.
This is colloquially known as a "soft block." Anyone you remove as a follower will no longer see when you post or retweet things, and Twitter says it won't notify them that you've removed them.
Source: businessinsider.com
---
False Flags
Most Americans Agree Dr. Fauci Has 'Lost Credibility' 
More than 18 months into the COVID-19 pandemic, the U.S. government's leading expect on the virus has lost credibility and a plurality of Americans now have a negative opinion of Dr. Anthony Fauci.
The latest Rasmussen Reports national telephone and online survey finds that only 41% of American Adults now have a favorable impression of Dr. Fauci, down from 44% in August. Forty-five percent (45%) now have an unfavorable impression of Fauci, up from 42% who had a negative view of him in August. Thirteen percent (13%) are not sure. (To see survey question wording, click here.)
Source: rasumssenreport.com
271 health care workers received 0.2mg/kg of Ivermectin once weekly for 28 days, while 271 health were assigned to a control group (no Ivermectin).

At the end of the study, the authors concluded that Ivermectin reduced the risk of COVID infection by 74%.https://t.co/TEq4MH27aK

— Mike Hart, M.D (@drmikehart) October 11, 2021
---
Q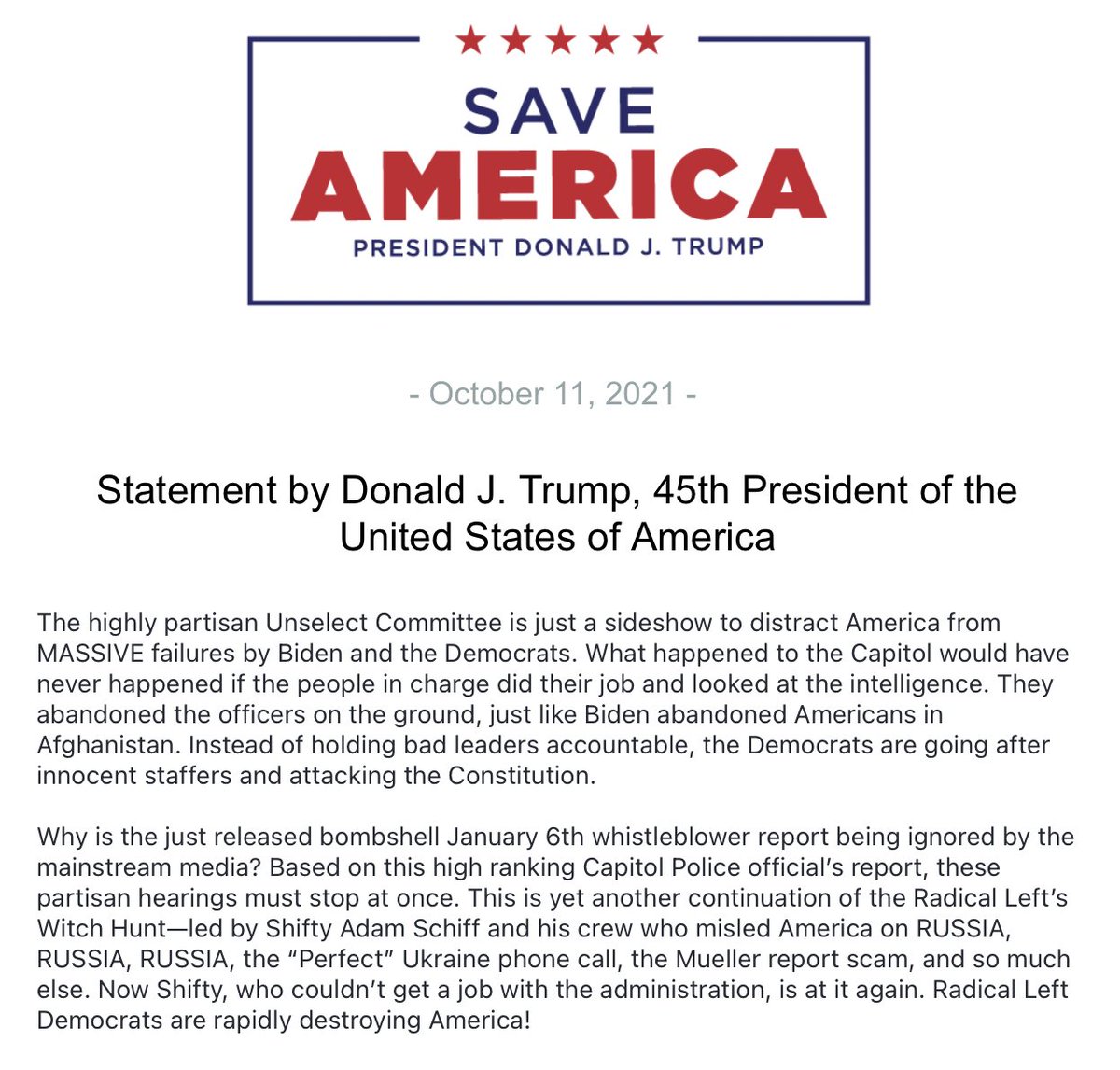 A former high-ranking Capitol Police official with knowledge of the department's response to the Jan. 6 attack has sent congressional leaders a scathing letter accusing two of its senior leaders of mishandling intelligence and failing to respond properly during the riot.
The whistleblower, sent the 16-page letter late last month to the top members of both parties in the House and Senate. His missive makes scorching allegations against Sean Gallagher, the Capitol Police's acting chief of uniformed operations, and   Pittman, its assistant chief of police for protective and intelligence operations — who also served as its former acting chief.
The whistleblower accuses Gallagher and Pittman of deliberately choosing not to help officers under attack on Jan. 6 and alleges that Pittman lied to Congress about an intelligence report Capitol Police received before that day's riot. After a lengthy career in the department, the whistleblower was a senior official on duty on Jan. 6.
The whistleblower's criticism went beyond Capitol Police leaders to Congress. Without naming specific lawmakers, his letter accuses congressional leaders of having "purposefully failed" to tell the truth about the department's failures.
 Pittman told congressional investigators in April that a cohort of senior officials in the department were also aware of that intelligence before the attack. The whistleblower claimed in his letter, however, that other officials did not receive the intelligence report, and that Pittman lied when she said they did.
"The single most important piece of intelligence information … was never shared with any members of USCP leadership," the whistleblower added, asking: "Why did they approve the operational plan for the 6th if they knew the intelligence?"
 
The FBI finally admitted they infiltrated the Jan. 6 rallies with informants.  In fact, one of the first "protesters" inside the US Capitol was an FBI informant.
Now there is also proof that the US Capitol Police were also running informants and operatives inside the Trump crowd including members who entered the US Capitol with the protesters.
Via Julie Kelly.
Source: thegatewaypundit.com
Fulton County's elections chief fired two workers who were seen shredding the voter applications  and then disclosed the problem to Secretary of State Brad Raffensperger's office  , state officials said.
Georgia's top election official  demanded that the U.S. Justice Department open an investigation into election management in the state's largest county after officials in Fulton County disclosed they had shredded at least 300 voter applications for its upcoming municipal elections in apparent violation of the law.
Source: justthenews.com
A new video from Jovan Pulitzer shows that the original ballot image for over 284,000 Maricopa County ballots is missing.  This is one out of every 10th ballot.
The end result is comical but outrageous.  This country was awarded to Joe Biden based on Hunter Biden's logic. 
Source: thegatewaypundit.com
The Attorney General is starting his investigation.
Here is the letter.
page 2

AG Brnovich Requests Information Related to Voter Registration Maintenance from SOS Hobbs
"This request should be construed liberally to provide any and all communications, documents, data files, reports, and records that pertain to the SOS's statutory duty to provide information to counties and coordinate issues related to maintaining voter registration records."
Source: thegatewaypundit.com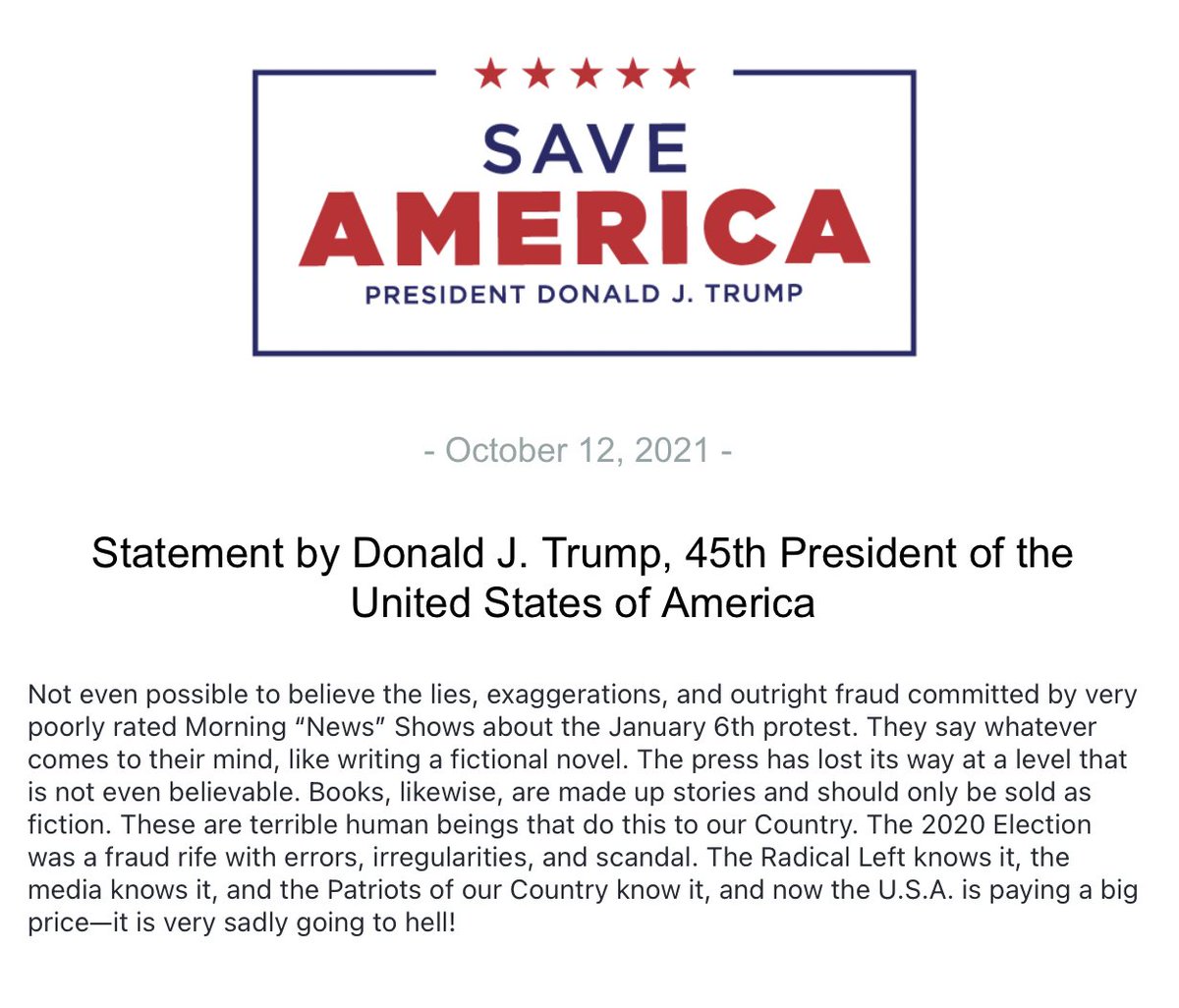 Ratcliffe said former Justice official Michael Sussmann just "the first of what I would hope would be a number" of others charged in Russia probe
Former Director of National Intelligence John Ratcliffe says he's given John Durham, investigating the Justice Department actions in its Russia collusion probe, a trove of documents that he thinks support charges beyond those recently filed against cybersecurity lawyer Michael Sussman.
Ratcliffe made the argument on what he said was "1,000 intelligence community documents" that he thinks support additional charges that he would "expect" Durham to bring, in addition to the declassified documents he's provided.
Source: justthenews.com
4848
Q
!!Hs1Jq13jV6
10/11/2020 19:28:18
 ID: 956dbb
Archive Bread/Post Links: 11029226 / 11030009
Direct Link: 11030009