Good Guys Are Winning, The System Is Scared Of You, What If He Never Left? – Ep. 2598
Watch The X22 Report On Video
The American people see the truth, everything the [DS]/[CB] tries to do is backfiring on them, optics are important, it had to be this way, the people needed to be shown not told. The patriots know the playbook, ports are important. The [CB] has now come out and said the quiet part out loud, they have been revealed. The [DS] is ramping up their agenda. They are now preparing the narrative, the system is scared of you. Optics are important, the destruction of the [DS]/[CB] needed to be done while Trump was not in the picture, it had to be done while the [DS] thought they were in control. The people needed to see it playout in real time. The good guys are winning. What if Trump is serving his term in the shadows destroying the system.?
---
Economy
For once the US payrolls report *was* worth talking about, as jobs only increased 194K vs. the moderate 500K expected,
Japan just created a new 'minister of economic security' role, tasked with shoring up supply chains, securing critical infrastructure, protecting tech advantages, and countering economic espionage.
Source: zerohedge.com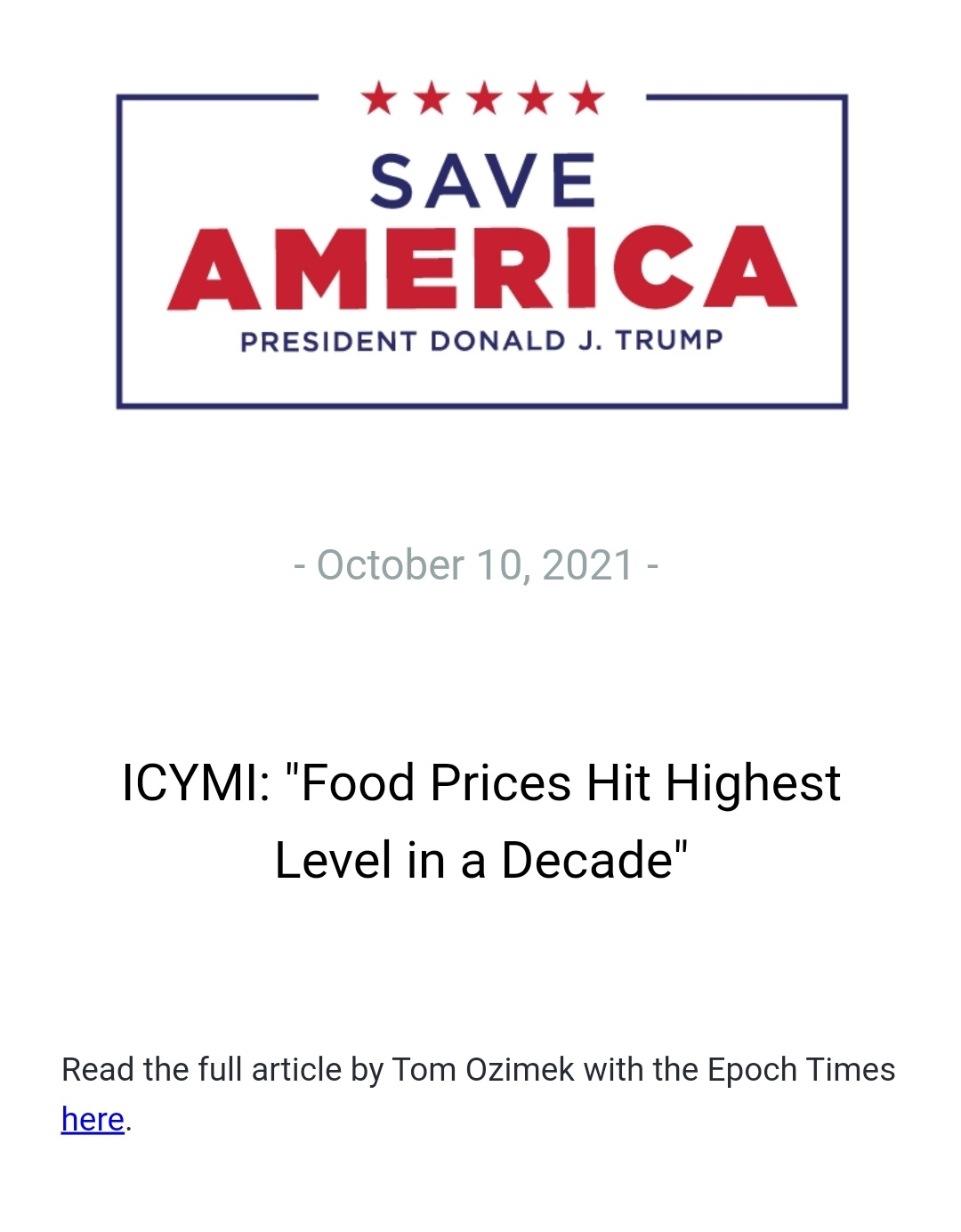 Food prices across the world have risen to their highest levels in a decade on the back of tightening supply conditions coupled with robust demand, according to the Food and Agriculture Organization of the United Nations (FAO).
The FAO's food price index, which measures world food commodity prices, has surged by 32.8 percent in the 12 months through September, coming in at a reading of 130 points, a level not seen since 2011. On a month-over-month basis, the index rose 1.2 percent.
Food-makers General Mills, Campbell Soup, and J.M. Smucker also have raised wholesale prices in response to rising ingredient and freight costs.
Pork and beef prices have surged in the past few months, while the Labor Department's August inflation report showed that meat, poultry, fish, and eggs were up 8 percent over the past year and 15.7 percent from prices in August 2019, before the pandemic. Beef prices jumped 12.2 percent over the past year, and bacon was up 17 percent during the same period.
Source: theepochtimes.com
Grocery store shelves aren't going back to normal this year
 If you hoped grocery stores this fall and winter would look like they did in the Before Times, with limitless options stretching out before you in the snack, drink, candy and frozen foods aisles, get ready for some disappointing news.
Many of the country's biggest food makers are telling grocers that they will have limited quantities of a number of their products, including items such as Rice Krispies Treats, Sour Patch Kids, some Ben & Jerry's ice cream flavors, McCormick gourmet spices and Marie Callender's pot pies because of labor, commodity and transportation constraints throttling supply chains, according to emails viewed by CNN and interviews with grocers. Some suppliers are also telling grocers to cancel their promotions of these items and more over the holidays so products won't disappear from store shelves as quickly.
These latest limits mean that stores won't have all things for all customers heading into the holidays, and shoppers may not be able to find some of their favorite products, flavors or niche items.
Source: cnn.com
China has purchased major shipping ports around the world in a bid to control the world's supply chains.

The Great Reset = global supply chain disruptions manufactured by blaming "COVID." https://t.co/CDOWAtMh6n

— Emerald Robinson ✝️ (@EmeraldRobinson) October 9, 2021
Translation, we will do the same thing we did to gold and silver, we will regulate it into the ground so nobody wants it and the [CB] currency will be the only currency.
---
Political/Rights
Hasbro's longtime chief executive Brian Goldner is taking a medical leave of absence starting immediately, the company said Sunday.
Goldner, 58, has been battling prostate cancer since 2014, he disclosed last year.
Source: nypost.com
President Joe Biden took off Columbus Day on Monday, remaining in Delaware an extra day to celebrate the holiday despite his conflicted proclamation statement about the federal holiday.
The president proclaimed the day as an important day for Italian-Americans but also voiced concerns about the treatment of the American Indians.
"Today, we also acknowledge the painful history of wrongs and atrocities that many European explorers inflicted on Tribal Nations and Indigenous communities," he wrote in his proclamation.
He said Americans should not try to "bury" the "shameful" history of their ancestors but face it "honestly."
Source: breitbart.com
More than 500 years ago, after securing the support of Queen Isabella I and King Ferdinand II, Christopher Columbus launched the Niña, the Pinta, and the Santa Maria from the coast of Spain in 1492.  While he intended to end his quest in Asia, his 10-week journey instead landed him on the shores of the Bahamas, making Columbus the first of many Italian explorers to arrive in what would later become known as the Americas.
Many Italians would follow his path in the centuries to come, risking poverty, starvation, and death in pursuit of a better life.  Today, millions of Italian Americans continue to enrich our country's traditions and culture and make lasting contributions to our Nation — they are educators, health care workers, scientists, first responders, military service members, and public servants, among so many other vital roles.
Today, we also acknowledge the painful history of wrongs and atrocities that many European explorers inflicted on Tribal Nations and Indigenous communities.  It is a measure of our greatness as a Nation that we do not seek to bury these shameful episodes of our past — that we face them honestly, we bring them to the light, and we do all we can to address them.  For Native Americans, western exploration ushered in a wave of devastation:  violence perpetrated against Native communities, displacement and theft of Tribal homelands, the introduction and spread of disease, and more.  On this day, we recognize this painful past and recommit ourselves to investing in Native communities, upholding our solemn and sacred commitments to Tribal sovereignty, and pursuing a brighter future centered on dignity, respect, justice, and opportunity for all people.
In commemoration of Christopher Columbus's historic voyage 529 years ago, the Congress, by joint resolution of April 30, 1934, and modified in 1968 (36 U.S.C. 107), as amended, has requested the President proclaim the second Monday of October of each year as "Columbus Day."  Today, let this day be one of reflection — on America's spirit of exploration, on the courage and contributions of Italian Americans throughout the generations, on the dignity and resilience of Tribal Nations and Indigenous communities, and on the work that remains ahead of us to fulfill the promise of our Nation for all.
NOW, THEREFORE, I, JOSEPH R. BIDEN JR., President of the United States of America, do hereby proclaim October 11, 2021, as Columbus Day.  I direct that the flag of the United States be displayed on all public buildings on the appointed day in honor of our diverse history and all who have contributed to shaping this Nation.
IN WITNESS WHEREOF, I have hereunto set my hand this
eighth day of October, in the year of our Lord two thousand twenty-one, and of the Independence of the United States of America the two hundred and forty-sixth.
Proclamation on Columbus Day, 2020 -Trump
More than 500 years ago, Christopher Columbus's intrepid voyage to the New World ushered in a new era of exploration and discovery.  His travels led to European contact with the Americas and, a century later, the first settlements on the shores of the modern day United States.  Today, we celebrate Columbus Day to commemorate the great Italian who opened a new chapter in world history and to appreciate his enduring significance to the Western Hemisphere.
When Christopher Columbus and his crew sailed across the Atlantic Ocean on the Niña, Pinta, and Santa María it marked the beginning of a new era in human history.  For Italian Americans, Christopher Columbus represents one of the first of many immeasurable contributions of Italy to American history.  As a native of Genoa, Columbus inspired early immigrants to carry forth their rich Italian heritage to the New World.  Today, the United States benefits from the warmth and generosity of nearly 17 million Italian Americans, whose love of family and country strengthen the fabric of our Nation.  For our beautiful Italian American communities — and Americans of every background –Columbus remains a legendary figure.
Sadly, in recent years, radical activists have sought to undermine Christopher Columbus's legacy.  These extremists seek to replace discussion of his vast contributions with talk of failings, his discoveries with atrocities, and his achievements with transgressions.  Rather than learn from our history, this radical ideology and its adherents seek to revise it, deprive it of any splendor, and mark it as inherently sinister.  They seek to squash any dissent from their orthodoxy.  We must not give in to these tactics or consent to such a bleak view of our history.  We must teach future generations about our storied heritage, starting with the protection of monuments to our intrepid heroes like Columbus.  This June, I signed an Executive Order to ensure that any person or group destroying or vandalizing a Federal monument, memorial, or statue is prosecuted to the fullest extent of the law.
I have also taken steps to ensure that we preserve our Nation's history and promote patriotic education.  In July, I signed another Executive Order to build and rebuild monuments to iconic American figures in a National Garden of American Heroes.  In September, I announced the creation of the 1776 Commission, which will encourage our educators to teach our children about the miracle of American history and honor our founding.  In addition, last month I signed an Executive Order to root out the teaching of racially divisive concepts from the Federal workplace, many of which are grounded in the same type of revisionist history that is trying to erase Christopher Columbus from our national heritage.  Together, we must safeguard our history and stop this new wave of iconoclasm by standing against those who spread hate and division.
On this Columbus Day, we embrace the same optimism that led Christopher Columbus to discover the New World.  We inherit that optimism, along with the legacy of American heroes who blazed the trails, settled a continent, tamed the wilderness, and built the single-greatest nation the world has ever seen.
In commemoration of Christopher Columbus's historic voyage, the Congress, by joint resolution of April 30, 1934, modified in 1968 (36 U.S.C. 107), has requested the President proclaim the second Monday of October of each year as "Columbus Day."
NOW, THEREFORE, I, DONALD J. TRUMP, President of the United States of America, by virtue of the authority vested in me by the Constitution and the laws of the United States, do hereby proclaim October 12, 2020, as Columbus Day.  I call upon the people of the United States to observe this day with appropriate ceremonies and activities.  I also direct that the flag of the United States be displayed on all public buildings on the appointed day in honor of our diverse history and all who have contributed to shaping this Nation.
IN WITNESS WHEREOF, I have hereunto set my hand this ninth day of October, in the year of our Lord two thousand twenty, and of the Independence of the United States of America the two hundred and forty-fifth.
NEW: Our drone is now over a second location in RGV where massive piles of steel meant for the border wall have been sitting since Biden halted construction in January. I'm told there are over 20,000 panels between both spots worth roughly $120 million. Already paid for. @FoxNews pic.twitter.com/ZfFAqsexru

— Bill Melugin (@BillFOXLA) October 11, 2021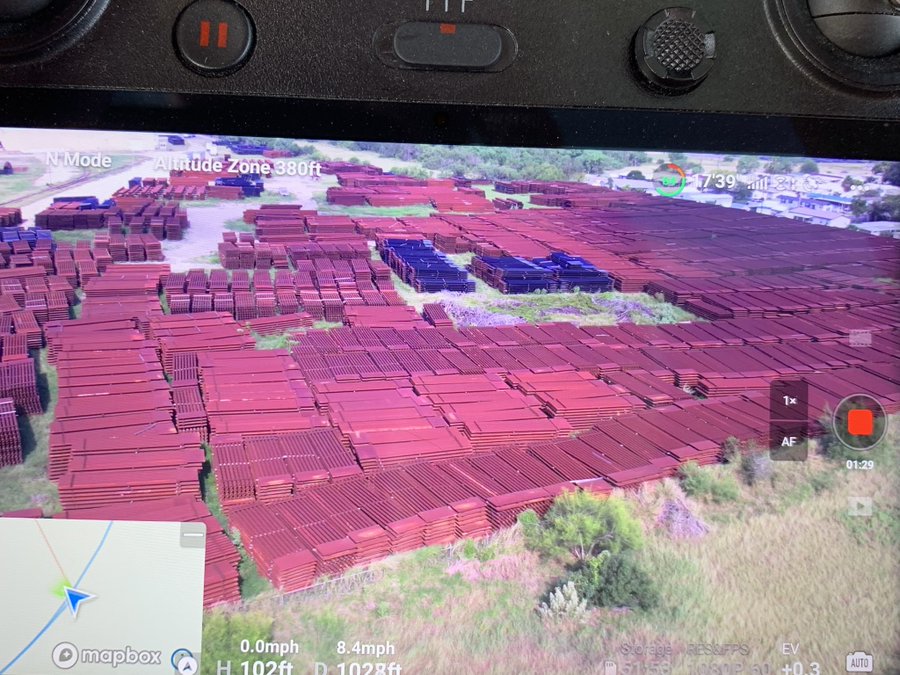 Responded
It would be easy to end the humanitarian crisis going on at our southern border but obviously that would ruin the Democrats plans to bring in hundreds of thousands of people who will always be dependent on Democrat handouts and will happily vote for them to tax you into oblivion. https://t.co/YMbTVejX36

— Donald Trump Jr. (@DonaldJTrumpJr) October 11, 2021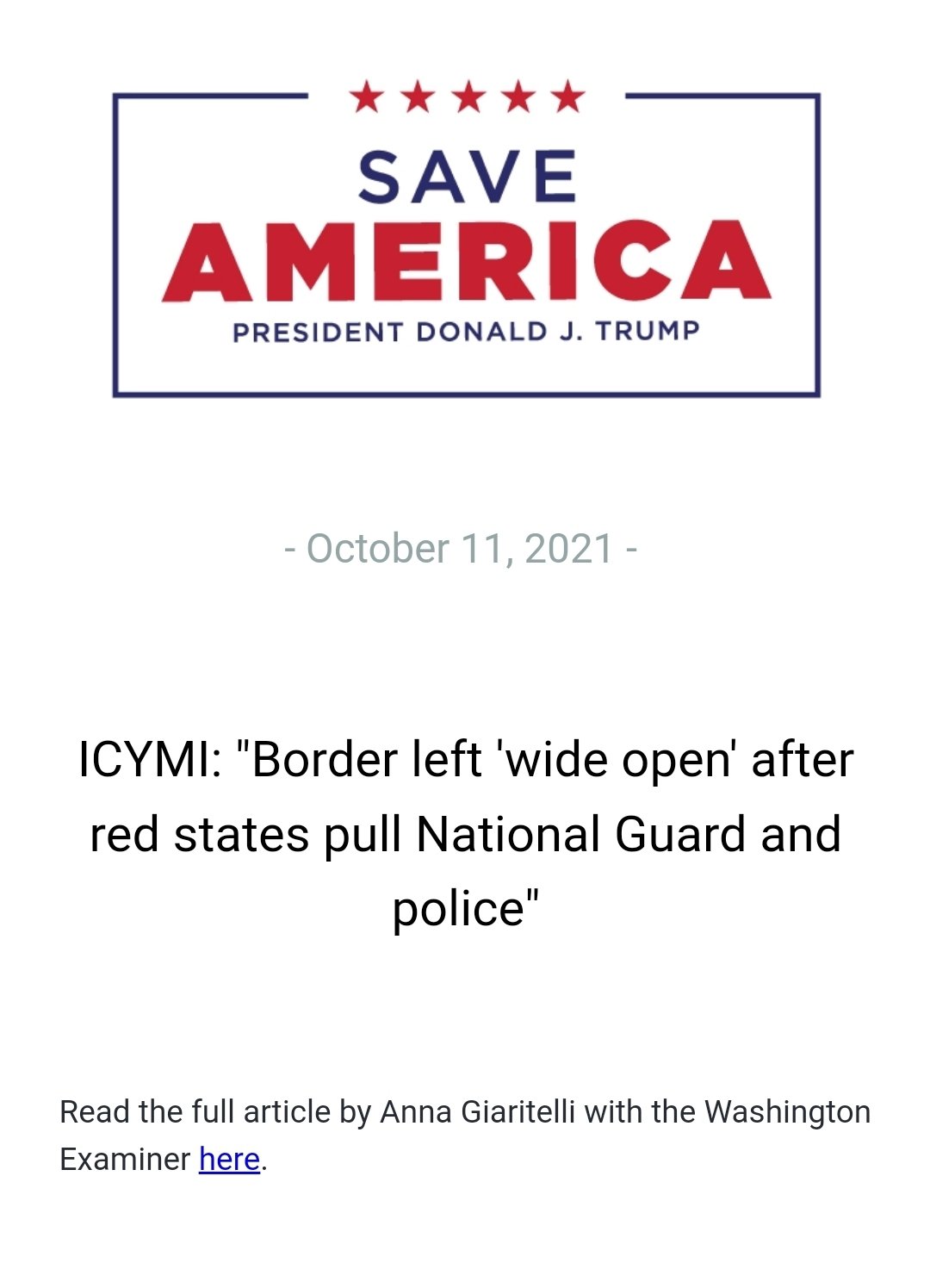 The swarm of National Guard soldiers and state police that governors sent to guard the Texas-Mexico border earlier this summer is gone, leaving the border effectively unmanned with just 6% of the reinforcements left behind.
"We used to have a National Guard posted there," Border Patrol agent Chris Cabrera told the Washington Examiner while driving along a dirt road that runs parallel with the border near the Hidalgo port of entry late one evening recently. "There was another one right over here, but they took that guy, too."
Source: washingtonexaminer.com
Federal prosecutors must disclose the "identities of any unnamed co-conspirators" whose names they plan to refer to at trial to Ghislaine Maxwell 
In a three-page ruling, U.S. District Judge Alison Nathan also ordered the government to "disclose all co-conspirator statements it intends to offer at trial no later than" Oct. 11.
Source: lawandcrime.com
---
Geopolitical/Police State
Antarctica temperatures this year were the coldest on record.
Newsmax reported:
Antarctica has reached record low temperatures in the past six months, data shows.

The National Snow and Ice Data Center (NSIDC) noted, CNN reported, "for the polar darkness period, from April through September, the average temperature was -60.9 degrees Celsius (-77.6 degrees Fahrenheit), a record for those months."

The time distinction from April through September refers to the period of polar darkness. In the case of the South Pole, this polar night occurs when the sun sets and darkness envelops the land, lasting from the spring equinox to the autumn equinox until the sun rises again.

In the winter of 2021, the continent of Antarctica experienced its second coldest winter and recorded temperatures in the months of "June, July, and August, [at] 3.4 degrees Celsius (6.1 degrees Fahrenheit) lower than the 1981 to 2010 average at -62.9 degrees Celsius (-81.2 degrees Fahrenheit)," according to the new NSIDC report.

"This is the second-coldest winter (June-July-August months) on record, behind only 2004 in the 60-year weather record at Amundsen-Scott South Pole Station," according to the NSIDC.

Source: thegatewaypundit.com
LISTEN – TRUMP WAS RIGHT AGAIN, IT'S GOING TO GET COLDER
Hillary Clinton called for more social media censorship during an appearance on ABC's "The View" on Monday.
"I will never be out of the game of politics – I'm not going to be running for anything," Hillary said claiming Trump supporters are 'putting our democracy at stake.' 
Source: thegatewaypundit.com
---
War
Breaking News: A nuclear engineer for the U.S. Navy and his wife have been charged with trying to share some of the United States' most closely held secrets on submarine technology with another country, according to court documents unsealed on Sunday. https://t.co/fIbHvm8zPk

— The New York Times (@nytimes) October 10, 2021
The couple arrested for espionage charges related to selling submarine secrets to a foreign power had a BLM sign in their front yard. 
The Daily Mail reported on the couple as well this morning.
A U.S. Navy nuclear engineer and his wife have been charged with selling secret information about nuclear submarines to an undercover FBI agent who posed as an operative for a foreign country, the Justice Department said on Sunday.

In a criminal complaint detailing espionage-related charges against Jonathan Toebbe, 42, and his wife Diana, 45, the government said he sold information for nearly the past year to a foreign power representative.

The FBI says in April 2020 Toebbe sent a package of Navy documents to a foreign government and wrote that he was interested in selling information on Virginia-class nuclear submarine reactors.
Source: thegatewaypundit.com
---
False Flags
First 500,000+ cargo containers are stuck off ports of Los Angeles & Long Beach; then more than 1,000 Southwest Airlines flights were cancelled. Now, Amtrak.

What the hell is happening? Where is @SecretaryPete @PeteButtigieg? Still on maternity leave? https://t.co/J42bNd51OW

— Just Me (@Malindo45) October 10, 2021
There's only one problem. It's all a mirage. Biden's so-called vaccine mandate doesn't exist — 
That's why nearly two dozen Republican attorneys general who have publicly voiced their opposition to the clearly unconstitutional and illegal mandate haven't yet filed suit against it, the Office of the Indiana Attorney General confirmed for me. There is no mandate to haul into court. And that may be part of the plan.
According to several sources, so far it appears no such mandate has been sent to the White House's Office of Information and Regulatory Affairs yet for approval. The White House, the Occupational Safety and Health Administration (OSHA), and the Department of Labor haven't released any official guidance for the alleged mandate. There is no executive order. There's nothing but press statements.
Despite what you may have been falsely led to believe by the media fantasy projection machine, press statements have exactly zero legal authority.
"There is nothing there yet that gives employers any mandate,"
The mandate's nonexistence shields the Biden administration from legal challenges that may ultimately restrict the Occupational Safety and Health Administration's authority. 

The Biden White House has been well-served by presenting a nonexistent mandate as a done deal.
Now, let me see, what presidential administration does all this remind you of? Why, that of Mr. "Pen and Phone" himself, Barack Obama.
Source: thefederalist.com
More than 100 members of Congress and their staff members have been treated for Covid-19 with Ivermectin, a physician reported.
Dr. Pierre Kory, President and Chief Medical Officer of the Front-Line Covid-19 Critical Care Alliance, tweeted on Oct. 7:
After several responses calling for Kory to name his sources, he tweeted:
Meanwhile, in Australia, Parliament tried to shut down MP Craig Kelly for saying the word "Ivermectin".
Source: worldtribune.com
The Centers for Disease Control, after nearly two years of panic-inducing reporting on Covid-19, is finally being called out by lawmakers who are pressing for a grand jury investigation into alleged statistical manipulation by the public health body.
Oregon state Senators Kim Thatcher and Dennis Linthicum, who preside in a state known for some of the most heavy handed Covid policies in the nation, filed a grand jury petition to look into the CDC's unlawful 'hyperinflation of death certificate reporting.' Just the News' John Solomon recently reported on the development.
Kim Thatcher, one of the Oregon state senators behind the grand jury petition, argued the justifications for the formal investigation.
"Federal agencies like the CDC have committed atrocities in the name of 'public health,' resulting in extensive collateral damage that transformed society in ways that we are still grappling to understand," Thatcher said in an official statement. "The CDC's unlawful and questionable changes to death certificates related to COVID, the use of false-positive PCR tests and their callous indifference to individual rights—or science, for that matter—led to fraudulent data that was used to justify sweeping policy changes, not only in Oregon, but across the country."

SHF raises one of the most important points about the Covid-19 pandemic: If the CDC is reporting that 94% of Covid-related deaths had serious co-morbidities, and the average age of death is 78 years old (roughly the age of life expectancy), how much of this human toll should be attributed to Covid and how much should be attributed to old age or serious underlying health risks?
Source: beckernews.com
The reason the Biden Administration is unleashing the DOJ, FBI, and Federal Reserve against our movement is simple: we have been extraordinarily successful.

In just one year, we have exposed the regime's ideological corruption and inspired a national revolt. pic.twitter.com/chO8uTETyp

— Christopher F. Rufo ⚔️ (@realchrisrufo) October 11, 2021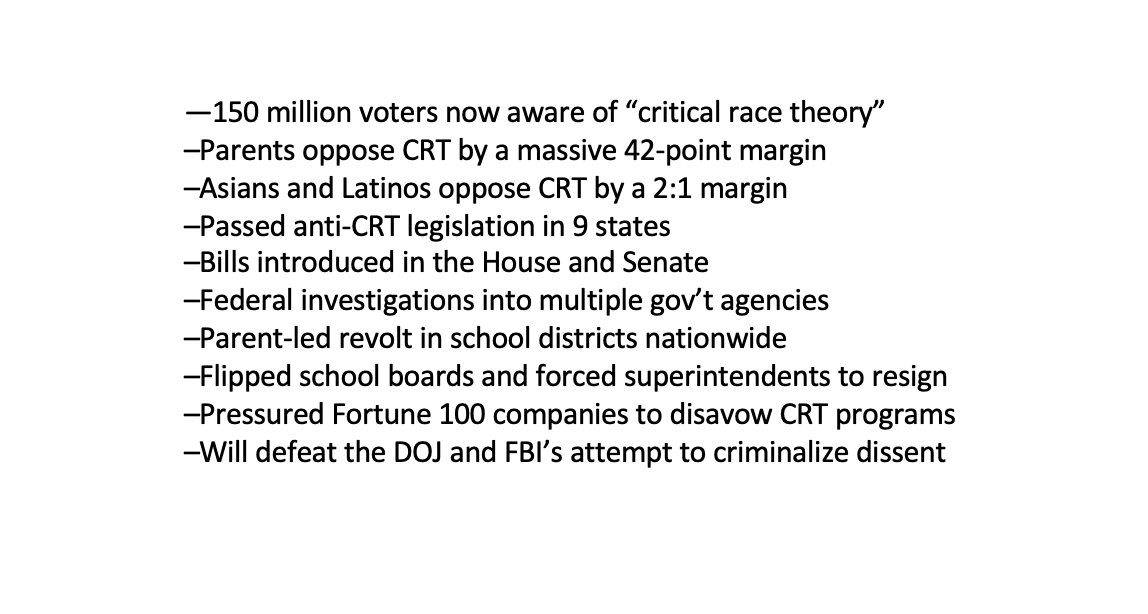 ---
Q
FACT: The dangerous and false narrative of me trying to avoid or evade a subpoena is a disgrace. I can only wonder where it came from, and what their goal was🤔Not ONE attempt was made to contact/serve me when I was at Mar a Lago for 6 days, or home in NY for 8 days thereafter!

— Dan Scavino🇺🇸🦅 (@DanScavino) October 11, 2021
Former President Donald Trump wished Ashli Babbitt a happy birthday and called for the Department of Justice to re-open the investigation into her death during a Texas rally in her honor.
In a video message played at the rally, Trump also said that he offers his "unwavering support" to her family and said that there was "no reason" she should have lost her life.
"I offer my unwavering support to Ashli's family— And call on the DOJ to re-open the investigation into her death on January 6th."
During a rally in July, Trump noted that the death would have been treated far differently if she had protesting on the other side.
"If that were on the other side, the person that did the shooting would be strung up and hung," Trump said.
Source: thegatewaypundit.com
 Sen. Rogers posted the 21 new names to her Telegram account, bringing the total number of signers to 113 legislators from 38 states.
Source:  thefreedomtimes.com
Biden 2020 win 'tainted,' 56% say it was a cheater's paradise
A growing number of likely voters believe that cheating tainted President Joe Biden's 2020 win over former President Donald Trump, and even more feel that a key Democratic election reform scheme will increase fraud.
In the latest Rasmussen Reports survey, 56% of respondents said, "It's likely that cheating affected the outcome of the 2020 presidential election, including 41% who say it's 'very likely.'"
Source: washingtonexaminer.com
Cybersecurity experts who held lucrative Pentagon and homeland security contracts and high-level security clearances are under investigation for potentially abusing their government privileges to aid a 2016 Clinton campaign plot to falsely link Donald Trump to Russia and trigger an FBI investigation of him and his campaign, according to several sources familiar with the work of Special Counsel John Durham.
Durham is investigating whether they were involved in a scheme to misuse sensitive, nonpublic Internet data, which they had access to through their government contracts, to dredge up derogatory information on Trump on behalf of the Clinton campaign in 2016 and again in 2017, sources say — political dirt that sent FBI investigators on a wild goose chase. Prosecutors are also investigating whether some of the data presented to the FBI was faked or forged.
The Sussmann grand jury indictment states that the federal contractors, who mined private Internet records to help "conduct opposition research" in coordination with the Clinton campaign, were driven not by data but by "bias against Trump."
Joffe's lawyer has described his client as "apolitical." He said Joffe brought Sussmann information about Trump he believed to be true out of concern for the nation.
Steven Tyrrell, a white-collar criminal defense attorney specializing in fraud cases, has confirmed that his client Joffe is the person referred to as "Tech Executive-1" throughout the Sussmann indictment. "Tech Executive-1 exploited his access to nonpublic data at multiple Internet companies to conduct opposition research concerning Trump," Durham's grand jury stated. "In furtherance of these efforts, [Joffe] had enlisted, and was continuing to enlist, the assistance of researchers at a U.S.-based university [Georgia Tech] who were receiving and analyzing Internet data in connection with a pending federal government cybersecurity research contract."
The indictment also alleges that the computer scientists knew the Internet data they compiled was innocuous but sent it to the FBI anyway, sending agents down a dead end: "Sussmann, [Joffe] and [Perkins Coie] had coordinated, and were continuing to coordinate, with representatives and agents of the Clinton campaign with regard to the data and written materials that Sussmann gave to the FBI and the media."
One of the campaign representatives with whom Joffe coordinated was Jake Sullivan, who was acting as Clinton's foreign policy adviser,
Faked Evidence?
The sources familiar with the investigation note that Durham is also using the grand jury to probe whether some of the Internet data files the Clinton campaign shopped to the FBI were forged or fabricated to create the appearance of suspicious Internet communications between the Russian bank and Trump.
Providing the FBI false evidence is a crime. Former assistant FBI director Chris Swecker told RCI that statutes enforcing mail and wire fraud may be invoked as part of the "criminal conspiracy case" Durham is building.
Source: thegatewaypundit.com
You may never have heard the term "synthetic media"— more commonly known as "deepfakes"— but our military, law enforcement and intelligence agencies certainly have. They are hyper-realistic video and audio recordings that use artificial intelligence and "deep" learning to create "fake" content or "deepfakes." The U.S. government has grown increasingly concerned about their potential to be used to spread disinformation and commit crimes. That's because the creators of deepfakes have the power to make people say or do anything, at least on our screens. Most Americans have no idea how far the technology has come in just the last four years or the danger, disruption and opportunities that come with it.
Deepfake Tom Cruise: You know I do all my own stunts, obviously. I also do my own music.
Source:cbs.com
Q

 

!UW.yye1fxo

 

ID: a566f3

 No.570744

8B01A899-533A-4231-8BAF-6….jpe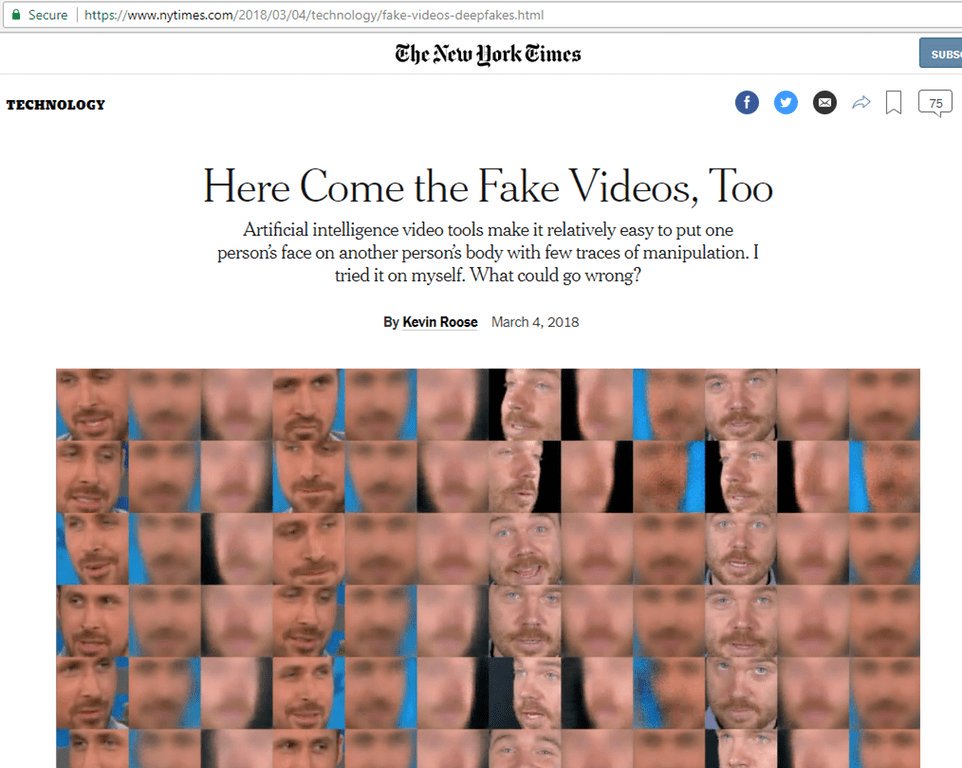 Try, try, try, as they might.
Fail, they will.
No free passes [MSM].
Q
A massive solar flare is due to hit Earth today, authorities are warning – potentially disrupting power grids and bringing the Northern Lights as far south as New York.
NOAA added that satellites may be impacted too and could exhibit "orientation irregularities" meaning ground control would have to redirect them, as well as anything in low-Earth orbit experiencing increased drag.
The geomagnetic storm could reach category G2, which is moderately strong according to the agency.
"Event analysis and model output suggest CME arrival around midday on 11 Oct, with lingering effects persisting into 12 Oct," it added, with midday in the US meaning late afternoon and early evening in the UK.
Source: skynews.com
— Dan Scavino🇺🇸🦅 (@DanScavino) October 11, 2021
Ronald Reagaon, freedom 
TAKE A LISTEN
— Dan Scavino🇺🇸🦅 (@DanScavino) October 11, 2021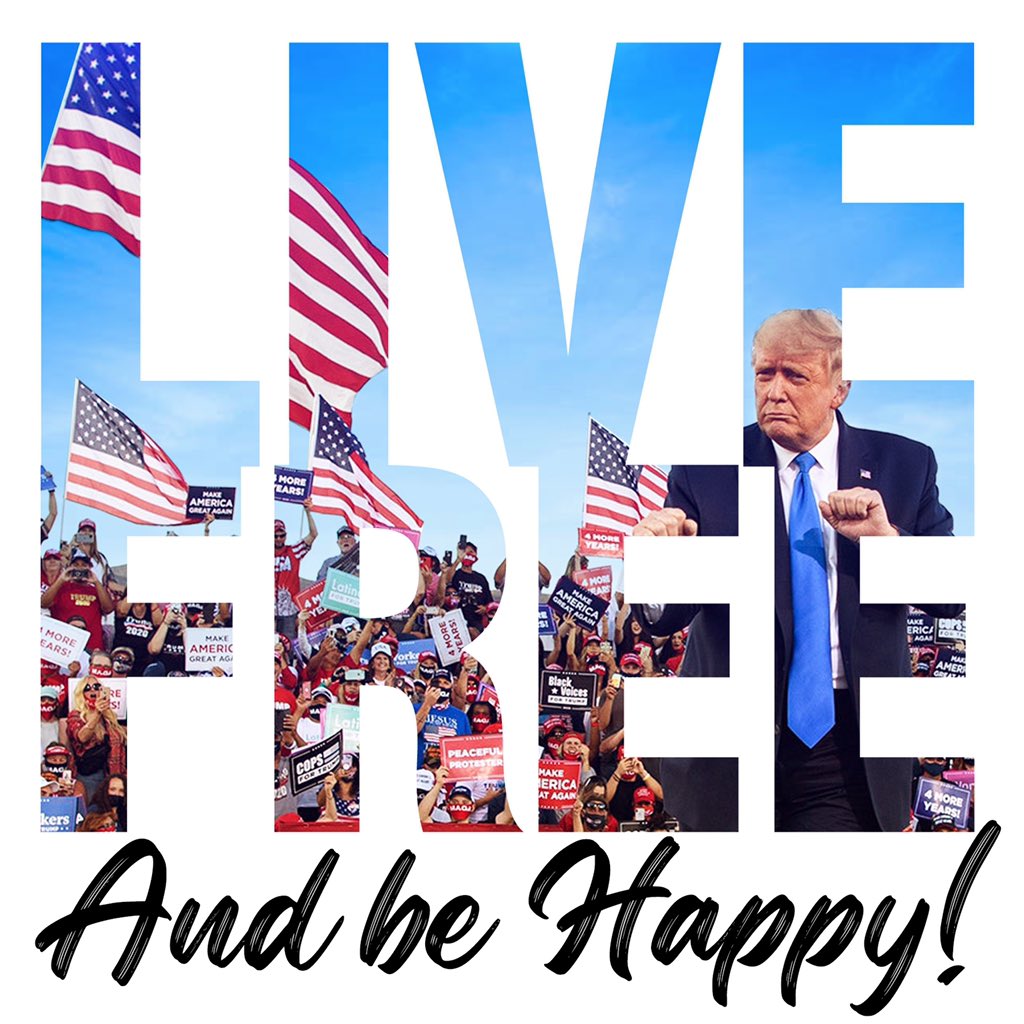 The System is scared of you. Always remember that. They abuse you and lord things over you because deep down, they're scared of you. You have the power to destroy them and their entire existence revolves around making sure you don't realize it.

Rebel. Walk out. Bring them down.

— Jesse Kelly (@JesseKellyDC) October 11, 2021
— Dan Scavino🇺🇸🦅 (@DanScavino) October 11, 2021
Military Intelligence ref above is the absolute biggest inside drop this board will ever receive.
Now think about why Antifa plays right into the plan? Always ahead. Good guys are winning.
The calm before the storm. Day 1 of Operational Sea Training. pic.twitter.com/URf2VCTFrI

— HMSPortland (@HMSPortland) October 11, 2021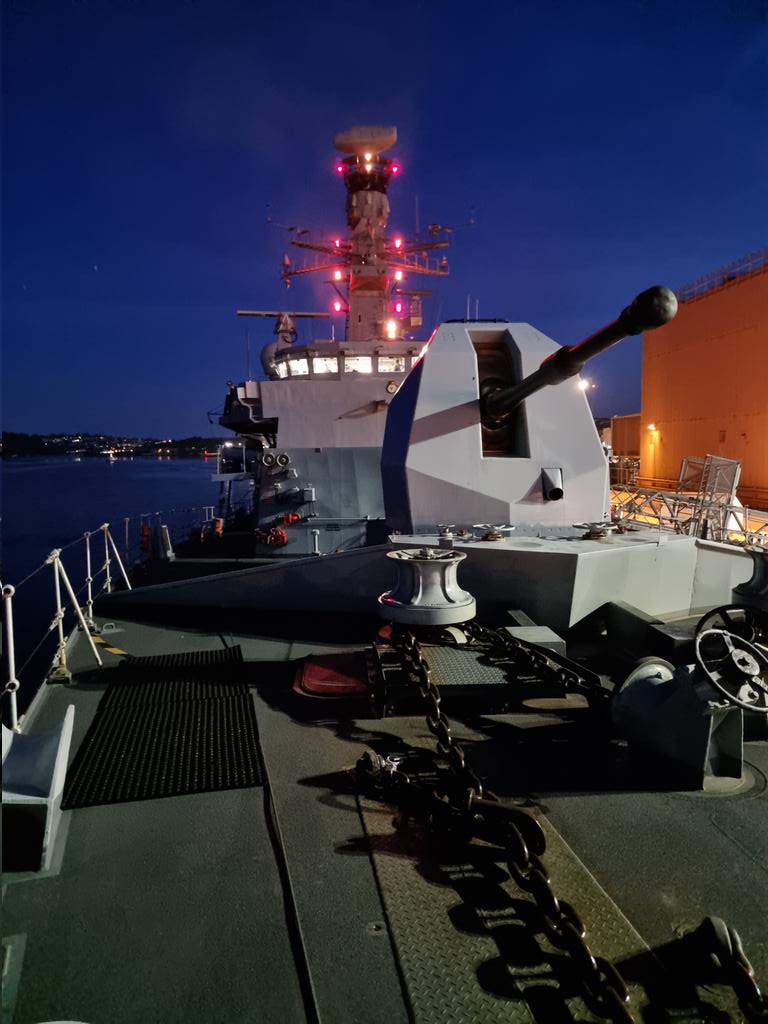 38
Anonymous
11/02/2017 01:48:52
 ID: pGukiFmX
4chan Thread/Post: 147547939 / 147586045
Direct Link: 147586045
Four carriers & escorts in the pacific?
Why is that relevant?
To prevent other state actors from attempting to harm us during this transition? Russia / China?
Or conversely all for NK? Or all three.
Think logically about the timing of everything happening.
Note increased military movement.
Note NG deployments starting tomorrow.
Note false flags.
Follow Huma.
Prepare messages of reassurance based on what was dropped here to spread on different platforms.The
calm before the storm
.
2546
Q
!!mG7VJxZNCI
12/03/2018 17:41:45
 ID: a0ae86
Archive Bread/Post Links: 4134426 / 4134923
Direct Link: 4134923Anonymous 12/03/2018 17:37:53 ID:fde811
Archive Bread/Post Links: 4134426 / 4134817
Direct Link: 4134817
>>4134775
Okay. Is the plot moving forward? I think we all understand the characters and conflict at this point. Time for the plot twist? Declas, FINALLY?
>>4134817
The President of the United States initiated and confirmed the order when he stated "The

Calm Before the Storm

."
When was the statement made?
When did "Q" go active?
Watch the News.
Watch the FBI.
Watch the DOJ.
Q