Much Will Be Revealed, Renegade Panicking, The Deal Kept Iran Quiet, Control Lost – Ep. 2767
Watch The X22 Report On Video
Bidenflation is now hitting hard, the trade deficit soars over 100 billion for the first time ever. The colleges need to be reigned in, the student loan program bloated them. Wheat conditions are poor, the [CB] is trying to push the people into the GR, this is failing. People transition into BC and HODL. The [DS] is fighting for their lives, they are running out of ammunition, the push to get people on their side is failing. They will now push everything they have because they know if they lose the midterms it's game over, control will be lost. Iran is next, the deal was kept Iran quiet, Trump took control, will they reveal certain information, tick tock. Renegade is panicking. Scavino sends message, much will be revealed, but not at a cost we can't recover from.
---
Economy
The U.S. trade deficit rose an astonishing 22 percent in March to $109.8 billion as prices of oil and imported products rose due to soaring inflation, according to data released Friday by the Census Bureau and the Bureau of Economic Analysis.
The trade gap for February was revised up to $89.8 billion, making it the previous record high. January's figure was $89.23, which was then a record high.
Source: breitbart.com
The Biden administration has misdiagnosed the fundamental problem here. To wit: Colleges and universities have become fat, flabby and inefficient money burners with no accountability. No oversight. No getting rid of bad teachers and professors. No looking under the hood to see where extraneous costs could be axed.
No demand on tenured professors to teach one or two classes a year.
If student-loan debt has to be retired, why should taxpayers pick up the tab? Why not force universities with massive endowments, in many cases in the tens of billions of dollars, to use that money to pay off the debts students incurred while they received virtually worthless, useless sociology, gender studies and psychology degrees?
This would incentivize schools to cut their tuitions and their costs, something the academic elites are desperately trying to avoid.
Source: wnd.com
The report explains how bitcoin is separating itself from standard risk-assets and becoming a risk-off asset.
Bloomberg Intelligence also discusses historical patterns of Federal Reserve policy as it relates to bitcoin and bear-markets, offering possible outlooks.
The latest Bloomberg Intelligence report for May discusses the adoption of bitcoin and other cryptocurrencies, markets, and the unprecedented advances of monetary technology.  
While the report does state another expected leg-down as the Federal Reserve has only just begun the tightening process, Bloomberg Intelligence points to "HODL behavior," which shows more addresses and new addresses alike are holding their bitcoin. This HODL mentality gives rise to the expectation of a much milder down-turn than has previously been observed in the face of negative economic impacts from the Federal Reserve.
Source: bitcoinmagazine.com
---
Political/Rights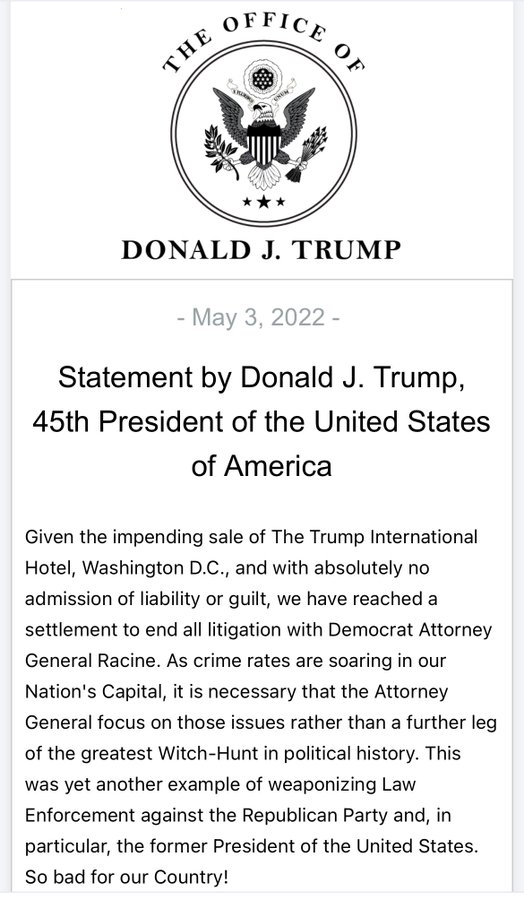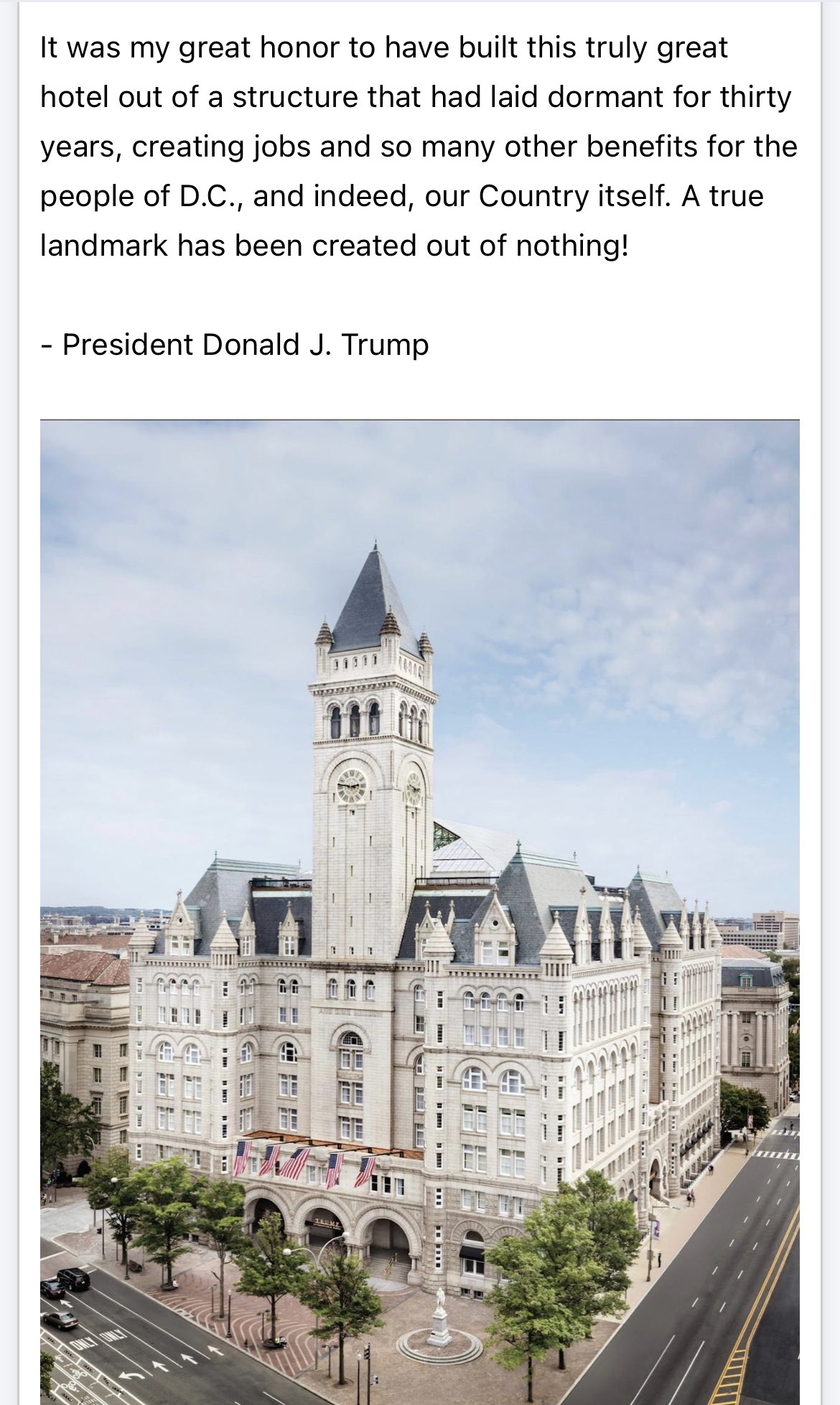 The Delaware computer repairman who blew the whistle on Hunter Biden's laptop filed a multimillion-dollar defamation suit  against Democratic Rep. Adam Schiff, CNN, the Daily Beast and Politico, saying they falsely accused him of peddling Russian disinformation.
The former shop owner, John Paul Mac Isaac, decided to fight back after losing his business and being harassed for 18 months by Big Tech, the media and Delaware locals in President Biden's home state.
"After fighting to reveal the truth, all I want now is for the rest of the country to know that there was a collective and orchestrated effort by social and mainstream media to block a real story with real consequences for the nation," the 45-year-old Mac Isaac told The Post.
"This was collusion led by 51 former pillars in the intelligence community and backed by words and actions of a politically motivated DOJ and FBI," he continued. "I want this lawsuit to reveal that collusion and more importantly, who gave the marching orders."
Source: nypost.com
UPDATE – Durham won the first part of the fight.

Durham's motion to compel has been granted.

"Privileged" Fusion GPS e-mails/docs will be provided to the court for in camera review.

The court will then determine whether the "privileges" apply. (Durham will get the docs.) https://t.co/sPmR8Qackg pic.twitter.com/PZTXlpVEqx

— Techno Fog (@Techno_Fog) May 4, 2022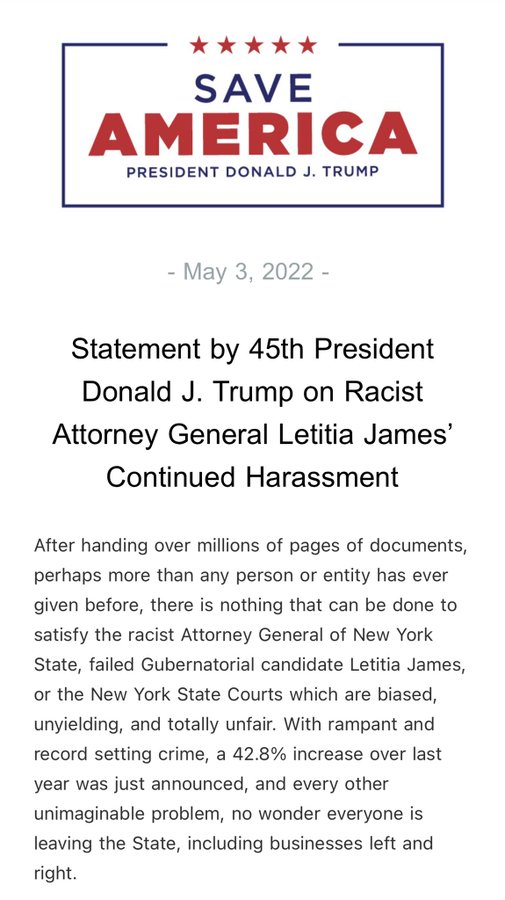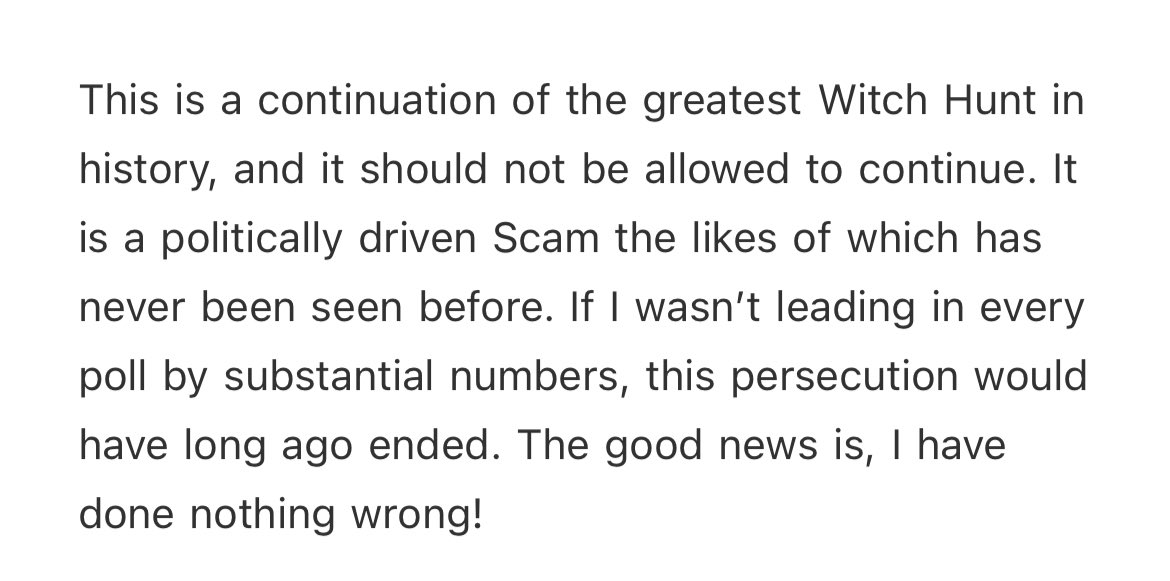 ---
Geopolitical/Police State
The Department of Homeland Security (DHS) told congressional staffers that the agency's Disinformation Governance Board lacks a charter and has yet to hold its first meeting.
 
One congressional staffer described the board as "half-baked," adding that DHS seemed to have gotten "ahead of themselves when they mentioned this in the secretary's testimony."
Former President Barack Obama and First Lady Michelle Obama called for protests Tuesday, a day after a controversial leak from inside the Supreme Court appeared to show it is poised to overturn Roe v. Wade.
The Obamas issued a joint statement Tuesday afternoon in which they decried such a move.
Source mediaite.com
Violent demonstrators attacked police, vandalized a sidewalk, and smashed a local business on Tuesday evening during a protest against the Supreme Court's impending decision to overturn Roe v. Wade, the landmark 1973 abortion decision.
  the event turned violent, as demonstrators tried to take over an intersection, and some threw rocks and bottles at police.
Source: breitbart.com
According to the Guttmacher Institute, those states are Arkansas, Idaho, Kentucky, Louisiana, Mississippi, Missouri, North Dakota, Oklahoma, South Dakota, Tennessee, Texas, Utah and Wyoming.
Five additional states – Alabama, Arizona, Michigan, West Virginia and Wisconsin – have an abortion ban still on the books from before Roe v. Wade that could be reinstated if the law is overturned, according to Guttmacher's research.
Georgia, Iowa, Ohio and South Carolina all have laws banning abortions after the six-week mark which have been ruled unconstitutional but would likely be revisited if Roe is overturned, Guttmacher reported.
Florida, Indiana, Montana and Nebraska appear likely to ban or severely restrict abortion if Roe is overturned, based on current legislative efforts, Guttmacher reported.
Source: wnd.com
79% percent of planned parenthood clinics are in minority neighborhoods.
That is not by accident. That is by its founder, Margaret Sanger's, eugenicist design.

Go back and read her quotations.

The Left sees racism everywhere except for where it actually is.

— Candace Owens (@RealCandaceO) May 4, 2022
Meet Elizabeth Deutsch. She's currently a law clerk for Justice Breyer.

And, in my humble opinion, she's the most likely person to have leaked the draft Supreme Court opinion in Dobbs, purporting to overturn Roe v. Wade.

— Will Chamberlain (@willchamberlain) May 4, 2022
Her academic background isn't that uncommon for Supreme Court clerks. Yale undergrad, Yale law, and 2 British Master's degrees, from LSE and Cambridge.

Do note the Master's degree in Gender. pic.twitter.com/GsrYZgtMzC

— Will Chamberlain (@willchamberlain) May 4, 2022
Specifically, she argued that Obamacare's non-discrimination provision should be interpreted to *force* Catholic hospitals to perform "emergency abortions."

Aggressive argument – and hey, law students make aggressive arguments. pic.twitter.com/pW9GqWsKJ1

— Will Chamberlain (@willchamberlain) May 4, 2022
Her career page on LinkedIn doesn't reveal that much…until we start digging a little further. pic.twitter.com/IFC5C1qVj1

— Will Chamberlain (@willchamberlain) May 4, 2022
Pillard was one of the DC Circuit judges appointed by Obama and forced through by Harry Reid blowing up the filibuster.

She's stridently pro-choice. Perhaps not shocking. pic.twitter.com/obuFEfebPn

— Will Chamberlain (@willchamberlain) May 4, 2022
After her clerkships, she got a Gruber fellowship at the ACLU for a full year.

What was she working on?

You guessed it. Abortion and reproductive rights. pic.twitter.com/eCRNH6sf30

— Will Chamberlain (@willchamberlain) May 4, 2022
Let's go back to that NYT wedding announcement.

"The bride and groom met at Yale. She is a lawyer. He is a journalist.https://t.co/vvhBWL94D5

— Will Chamberlain (@willchamberlain) May 4, 2022
But where has he written in the past?

Oh, look. He wrote for POLITICO.

SHARING A BYLINE WITH JOSH GERSTEIN. pic.twitter.com/kJthHQWKeR

— Will Chamberlain (@willchamberlain) May 4, 2022
So, to conclude:

We have a currently-serving Supreme Court law clerk whose career has been almost solely focused on abortion.

She wrote her law school note on abortion.
She wrote op-eds about reproductive rights.
She spent a year working on abortion for the ACLU.

— Will Chamberlain (@willchamberlain) May 4, 2022
I don't know that Elizabeth Deutsch leaked the draft opinion.

But I certainly think someone who has spent much of their academic and professional life fighting to expand the right to get an abortion could be desperate enough to do so.

FIN

— Will Chamberlain (@willchamberlain) May 4, 2022
https://twitter.com/RealSaavedra/status/1521591438558986240?s=20
---
War
Mariupol Mayor Vadym Boichenko has announced Wednesday that Ukrainian officials no longer have communications contact with the estimated couple thousand Azov fighters still holed up beneath the cavernous Azovstal steel plant in Mariupol.
  Russian forces attacked the plant as Azov fighters briefly emerged and reportedly set up firing positions.
Source: zerohedge.com
Pope Francis offered to meet with Putin but for some Putin has not replied.  Now the Pope has suddenly gone from a warmonger to suggesting Putin responded to NATO's aggressive moves in Ukraine. 
HotAir reports:
This does answer one point — why Pope Francis hasn't visited the capitals of either country in the latest European war.  Pope Francis says that he's offered to travel to Moscow to meet with Russian President Vladimir Putin in an effort to help bring an end to the fighting in Ukraine, but he hasn't gotten any response from the Kremlin. …

 
Why the sudden change from Pope Francis?  This Pope goes from backing Ukraine in the war with Russia to seeing Russia's side in the matter.
You would think the Pope would call for peace.
Source: thegatewaypundit.com
 The Leahy Law bans U.S. aid from going to groups when the Secretary of State has credible information that such a unit has committed gross violations of human rights. However, people who have been proponents of the ban, specifically on Azov, say that the Leahy law did not preclude it from getting aid. They say that the Secretary of State has never made such a determination about this group in particular. This is why they felt that it was necessary to include a special exception to the Azov battalion in the 2018 omnibus spending bill. Section 8129 specifically precludes Azov from assistance. It reads, "none of the funds made available by this act may be used to provide arms, training, or other assistance to the Azov Battalion."
 According to reports published in USA TODAY in 2015 only 20% of the Azov battalion is associated with neo-Nazism. According to authorities familiar with this subject it is not the official ideology of Azov. Trump attempted to keep us out of this civil war between Putin separatists and Azov by signing the 2018 omnibus spending bill.
Source:  trendingpolitics.com
💣🚨 This is stunning.

Congress immediately needs to get to the bottom of this and release this assessment.

The Biden administration's Iran policy is a total failure. Time for major policy and personnel changes. https://t.co/XgjOtu8I7A

— Mark Dubowitz (@mdubowitz) May 4, 2022
1307
Q
!xowAT4Z3VQ
04/30/2018 13:38:11
 ID: 53e65c
8chan/qresearch: 1249365
---
False Flags
Rep. Guy Reschenthaler (R-PA) said that House Speaker Nancy Pelosi would rather investigate President Donald Trump again than focus on the actual origins of the Chinese coronavirus and U.S. tax dollars that went to the Wuhan Institute of Virology from which intelligence officials increasingly believe the virus leaked.
Source: breitbart.com
VICE magazine published an article instructing readers how to make "do it yourself"abortion pills from horse medication after a draft Supreme Court opinion overruling Roe v. Wade was leaked to the press.
Source: thegatewaypundit.com
The screeching sound of tires you are hearing is the Democrat party throwing the forced government vaccination bus into a u-turn and rapidly accelerating back down the total bodily autonomy road.

— Margot Cleveland (@ProfMJCleveland) May 4, 2022
Pfizer data released today. 80,000 pages. Pfizer knew vaccine harmed the fetus in pregnant women, and that the vaccine was not 95% effective, Pfizer data shows it having a 12% efficacy rate.

— Stephen Harris (@joehonda7) May 3, 2022
---
Q
What if Ohio residents had sat on the sidelines and NOT voted, as some on "our side" have encouraged? Do you think Trump-endorsed candidates could have gone 22-0 yesterday?
Don't listen to anyone telling you not to vote.
YOUR VOICE MATTERS.
YOUR VOTE MATTERS.
Arizona Attorney General Mark Brnovich is sinking in the Arizona primary polls for U.S. Senate after President Trump released a statement condemning his election integrity failures.
Mark Brnovich was presented with massive evidence of election fraud both before and after the 2020 Presidential Election.
President Trump later said, "Because of the amount of time that it took him to do the report, which was endless, his poll numbers have been rapidly sinking."
"What a shame for the Great State of Arizona," President Trump said in his statement last month. "The good news is Arizona has some very good people running for election to the U.S. Senate. I will be making an Endorsement in the not too distant future!"
Source: thegatewaypundit.com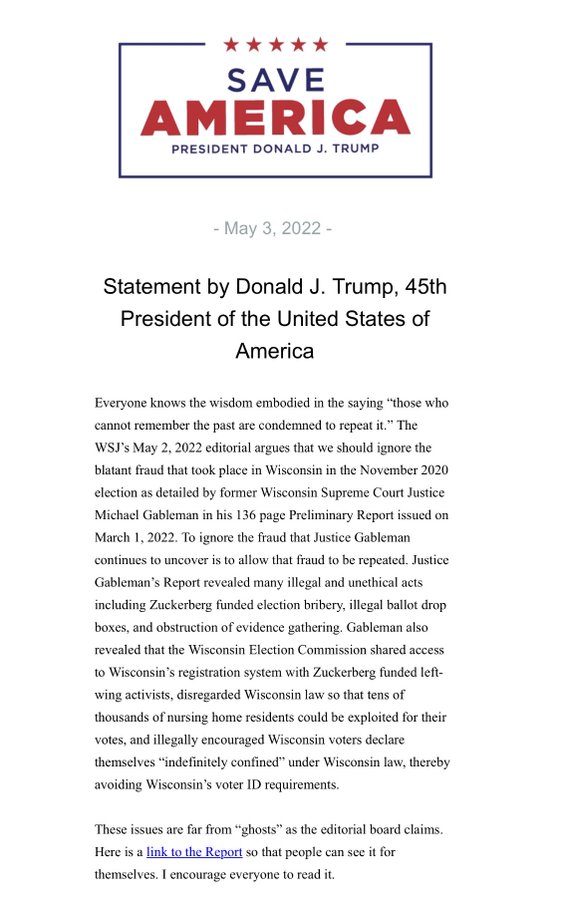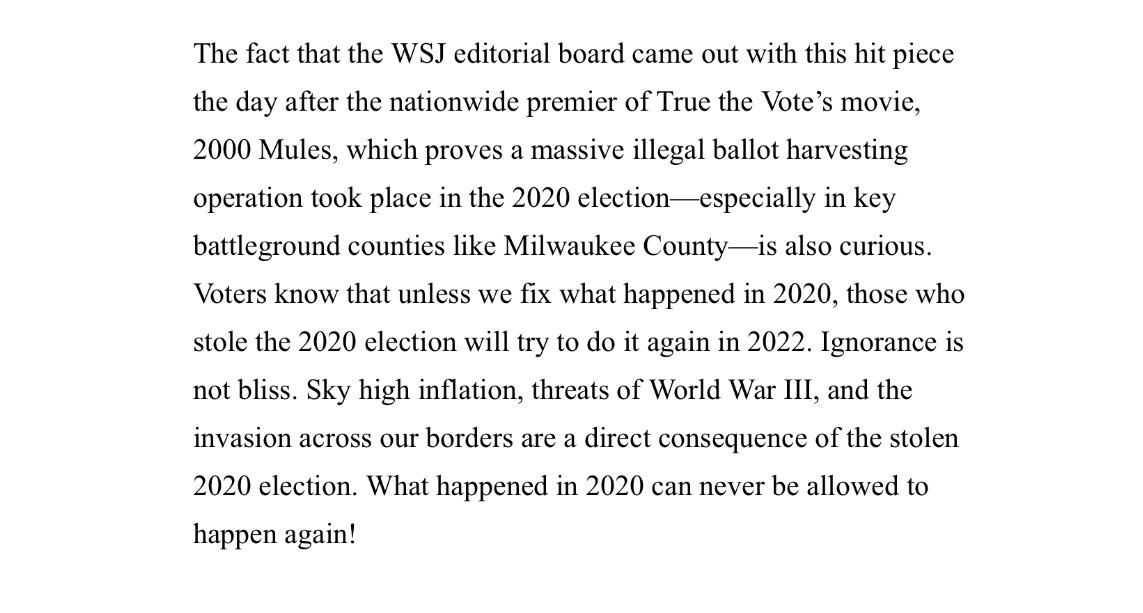 Election Patterns:
Sept/Oct 2012 FBI = Benghazi coverup
Sept/Oct 2014 FBI = HRC email coverup
Sept/Oct 2016 FBI = Trump-Russia operation
Sept/Oct 2018 FBI = Cesar Sayoc operation
Sept/Oct 2020 FBI = Whitmer kidnap operation
Sept/Oct 2022 FBI = _______??? https://t.co/P7uy9lul8G

— TheLastRefuge (@TheLastRefuge2) May 3, 2022
— Dan Scavino Jr.🇺🇸🦅 (@DanScavino) May 4, 2022
Not everything can be publicly disclosed because so much ties back to foreign heads of state. Much will be revealed, we want transparency but not at a cost we can't recover from.