Nothing Can Stop The Storm, The People Have A Front Row Seat To The Truth – Ep. 2480
The [CB] is pushing the great reset as hard as they possibly can, but it failing, it was completely countered by the patriots and now they will try again. But once the people are awake this will be very difficult. [CB] push their agenda to push people away from alternative currency. The [DS]/MSM is now losing, the public is now seeing the truth, the people have a front row seat to it all. The patriots countered the pandemic, the great reset, war, and now the patriots will be going after the [DS] system. Nothing will be able to stop this storm. The election audits are heating up and as each day passes more and more evidence is produced that raises more and more questions. This election was rigged, the [DS] cheated to like they always have been and now the people can see their system very clearly. The clock is ticking down and the [DS] is panicking. The truth will break through the propaganda.
Watch The X22 Report On Video
Melt Body Fat Today With Keto Elevate:
-> http://ketowithx22.com <-
---
🔦 Defend Yourself With The Best Tactical Flashlight On The Market 🔦
Get it Here: http://www.fighterflare.com
Use Promo Code X20 for 20% OFF
---
Economy
The White House  reminded Americans that families would start receiving direct cash payments in their bank accounts starting in July, as President Joe Biden continues to implement his coronavirus rescue package.
 90 percent of families with children will get this new tax relief automatically, starting in July," Biden said in a statement released to reporters on Monday morning, noting that the payments send Americans the message that "help is here" during the coronavirus pandemic.
The federal government will give a monthly payment of $300 per child under six and $250 per child older than six to families that qualify. The monthly benefits are reduced for couples earning more than $150,000 or individuals earning more than $75,000.
The money will be released to families whether they are employed or not, continuing a trend that analysts fear will slow some workers from returning to work as the coronavirus pandemic diminishes.
Source: breitbart.com
Michigan Governor Gretchen Whitmer (D) is working to shut down a 65-year-old pipeline that pumps oil from Canada into the United States. The 645-mile pipeline runs through the Great Lakes, where Lake Michigan and Lake Huron connect, something Whitmer believes can have a devastating environmental impact. The area of concern, for Whitmer, is the small stretch that runs through the waterways, known as Line 5.
The Canadian company that owns Line 5, Enbridge, however, believes the pipeline is safe.
"Enbridge officials admit that the idea of constructing a pipeline in the open waters of the Straits would not fly today. But company officials also insist that the current pipeline is safe: constructed of material thicker than most pipelines and watched closely for any sign of malfunction," Bridge Michigan reported.
Source: dailywire.com
  Elon Musk denied the company had sold its sizable bitcoin assets,
 A hint from Musk that Tesla may sell its $1.5 billion bitcoin holding Sunday sent prices plummeting to around $42,000 a coin, the lowest since February.
Source: forbes.com
 those darn 'facts' and 'science' keep getting in the way of the 'bitcoin = bad guy destroying the earth' narrative and new research by crypto firm Galaxy Digital (founded by former hedge fund manager Michael Novogratz) has shown that both the traditional banking system and the gold industry consume much more energy than the bitcoin network.
According to the report, compiled by Galaxy's mining arm, bitcoin's annual electricity consumption stands at 113.89 TWh (terawatt-hours). That includes energy for miner demand, miner power consumption, pool power consumption, and node power consumption. The amount is at least two times lower than the total energy consumed by the banking system, which is estimated to reach 263.72 TWh per year globally.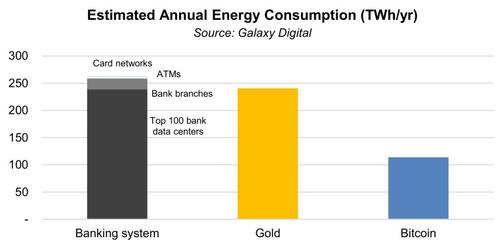 Source: zerohedge.com
Say it's 2014 and you've had this idea for a technocratic Great Reset of the world economy for some time now, but it only works if the entire planet is rocked by a pandemic. How do you go about selling your idea?
"The pandemic represents a rare but narrow window of opportunity to reflect, reimagine, and reset our world to create a healthier, more equitable, and more prosperous future" — Klaus Schwab, WEF
If you are World Economic Forum (WEF) Founder Klaus Schwab, you attempt to sell your vision of a global Utopia via a Great Reset of the world order in three simple steps:
Announce your intention to revamp every aspect of society with global governance, and keep repeating that message
When your message isn't getting through, simulate fake pandemic scenarios that show why the world needs a great reset
If the fake pandemic scenarios aren't persuasive enough, wait a couple months for a real global crisis to occur, and repeat step one
 
So, in May, 2018, the WEF partnered with Johns Hopkins to simulate a fictitious pandemic — dubbed "Clade X" —  to see how prepared the world be if ever faced with such a crisis.
A little over a year later, the WEF once again teamed-up with Johns Hopkins, along with the Bill and Melinda Gates Foundation, to stage another pandemic exercise called Event 201 in October, 2019.
Both simulations concluded that the world wasn't prepared for a global pandemic.
And a few short months following the conclusion of Event 201, which specifically simulated a coronavirus outbreak, the World Health Organization (WHO) officially declared that the coronavirus had reached pandemic status on March 11, 2020.
Since then, just about every scenario covered in the Clade X and Event 201 simulations has come into play, including:
Governments implementing lockdowns worldwide
The collapse of many industries
Growing mistrust between governments and citizens
A greater adoption of biometric surveillance technologies
Social media censorship in the name of combating misinformation
The desire to flood communication channels with "authoritative" sources
A global lack of personal protective equipment
The breakdown of international supply chains
Mass unemployment
Rioting in the streets
And a whole lot more!
Source: zerohedge.com
---
Political/Rights
CNN Fires Reporter 9 Years After He Tweeted Hitler "Did Good With Those Jews."
If you get fired from your government job for opposing Marxism, doesn't it mean your government supports Marxism?

— Rising serpent 🇺🇸 (@rising_serpent) May 16, 2021
A U.S. tax court judge has ordered the Internal Revenue Service to disclose if it criminally investigated the Clinton Foundation.
This ruling was part of an ongoing case involving whistleblowers who have long alleged wrongdoing on the part of the charity that bears the name of former President Bill Clinton and his wife, former Secretary of State Hillary Clinton.
Judge David Gustafson pointed to a "gap" in IRS records and said that the agency's claim to have never criminally investigated the Clintons' charity "was not supported by the administrative record and thus constituted an abuse of discretion." 
the ruling serves to perpetuate long-standing allegations that the Clintons were using their foundation to launder money for political favors from foreign entities.
Source: westernjournal.com
 Chief Inspector Floriano Whitwell, who heads the U.S. Marshals' sex offender investigations, said: "Last year, we recovered 387 missing children, and that was the most we've ever recovered, almost 100 more than the previous year.
"But I would also emphasize that, in my opinion, we're barely scratching the surface."
According to the FBI, the number of reported missing children was 421,394 in 2019 and 365,348 in 2020, with the majority of cases being considered "endangered runaways."
Source: theepochtimes.com
---
War
The Biden Administration has distanced itself from Israel by attempting to revive the failed Iran deal, siding with the Ayatollahs over our ally. America must be strong and defend its allies without hesitation.

— Mike Pompeo (@mikepompeo) May 17, 2021
Q

 

!UW.yye1fxo

 

ID: 85cc02

 No.544060

Stay TOGETHER.
Be STRONG.
Get ORGANIZED.
Be HEARD.
FIGHT the censorship.
You, the PEOPLE, have ALL the POWER.
You simply forgot how to PLAY.
TOGETHER you are INVINCIBLE.
They want you divided.
They want you silenced.
MAKE NOISE.
We are WITH you.
MAKE IT RAIN.
Q
---
Cyber Attacks
---
False Flags
AOC says she's going to continue wearing a mask despite CDC guidance Is this what "following the science" looks like?
remember when Twitter and Facebook used to ban people when you questioned the narrative of the CDC etc..
Effective at midnight Saturday, Virginia's universal mask mandate was repealed, but some mask requirements will remain in place – all social distancing and capacity restrictions will end in two weeks.
Virginians will no longer need to wear a face covering when going to restaurants, bars, stores or most public and private locations. The repeal applies to Virginians who are vaccinated and those who are not.
Source: washingtonexaminer.com
CDC directory Walensky said she's just following the evolving science.
"We now have science that has really just evolved even in the last two weeks that demonstrates that these vaccines are safe, they are effective," Walensky told Martha Raddatz.
Source: thegatewaypundit.com
Of course, the WHO and pharmaceutical companies are having fits.
This is despite the fact that lives are being saved.
The COVID Blog reported:
There are 292 studies (219 are peer-reviewed) proving the effectiveness of hydroxychloroquine as both a treatment and prophylaxis against COVID-19. Ivermectin has 93 studies (54 peer-reviewed) showing its effectiveness as treatment and prophylaxis against COVID-19.
And now the COVID cases are plummeting.
Via Worldometers.
And the active cases in India are also plummeting.
Of course, this will not make any headlines.
Source: thegatewaypundit.com
In August 2020 , The CDC website admitted that only around 6% of COVID recorded deaths were due entirely to the Coronavirus-
From the CDC website.

For all the other deaths reported by the CDC linked to COVID-19, the individuals who passed away had 2-3 other serious illnesses or co-morbidities.
This came from actual data from the CDC and was tweeted by Mel Q on Twitter.
Twitter user Mel Q shared a calculation which showed that 6% of all COVID-19 deaths as reported by the CDC turned out to be 9,201 deaths at the time. 
Only 9,201 people died in the US according to August numbers where COVID-19 was the only cause of death.
We used Mel Q's tweet in our report and the President of the United States retweeted Mel Q's tweet as well.
But  Twitter took down the tweet claiming fake news.  They notified Mel Q that the tweet that used actual CDC data "violated their policy on misleading information about COVID-19."  Her account was suspended from posting for 12 hours.

  CDC Director Rochelle Walensky finally admitted that "many, many hospitals" were counting COVID deaths to include cases that were not COVID deaths.

Trump was right.
The tech giants and CNN were wrong again pushing fake news.
Source: thegatewaypundit.com
Translation, if people stay unvaccinated it will prove that people never needed the vaccine and this entire pandemic was a hoax, just like those states that opened up and dropped the mask mandate, no super spreader, no flare ups, cases didn't rise, death count didn't rise, they are panicking
Science once told us that flying was safe but restaurants were locked down because "airplanes have better air circulation."

Now science says you don't need a mask at restaurants and stores, but you still have to wear a mask on airplanes. 

Trust the science.
---
Q
 GOP Chair Elise Stefanik: "US Justice Department is trying to block Maricopa County Audit."
'Online and vulnerable': Experts find nearly three dozen U.S. voting systems connected to internet
A team of election security experts used a "Google for servers" to challenge claims that voting machines do not connect to the internet and found some did.

But that is an overstatement, according to a team of 10 independent cybersecurity experts who specialize in voting systems and elections. While the voting machines themselves are not designed to be online, the larger voting systems in many states end up there, putting the voting process at risk.

That team of election security experts say that last summer, they discovered some systems are, in fact, online.

"We found over 35 [voting systems] had been left online and we're still continuing to find more," Kevin Skoglund, a senior technical advisor at the election security advocacy group National Election Defense Coalition, told NBC News.
Source: nbcnews.com
Good Morning !

NBC News apparently found an expert answer to what happens if a 4G modem is discovered in voting equipment.

"Once you add that modem, you are de-certifying it … It (the election) is no longer federally certified."

Good to know, right? – https://t.co/0NFp1DdS9O https://t.co/CC9NEqJ0c1

— Rasmussen Reports (@Rasmussen_Poll) May 17, 2021
Attorney Matt DePerno is holding a press conference in Antrim County  
Plaintiff Bill Bailey joined Matt DePerno today up front for the press conference.
Matt DePerno just dropped a BOMB at his Antrim County Michigan press conference.
DePerno and his team say the tabulator machines can be reopened after the election. The machines can then run more ballots through the tabulator, print off a new tabulator tape with new ballots, and then backdate that tape to November 3rd.
This is shocking news!
If this can be replicated in other jurisdictions it should invalidate the voting machines from every election moving forward.
Matt DePerno: And I'll tell you something we discovered this weekend. We can now show that after the election is done, someone, anyone really who has access to those tabulators, can reopen the election, run more ballots through the tabulator, print off new tabulator tape with a new balance and backdate that tape to November 3rd.
Source: thegatewaypundit.com
Breaking News! New polling by CBS News on the state of the Republican Party (which is very strong!). "President Trump has a strong hold on the GOP." 80% of Republicans agree with the removal of Liz Cheney from GOP Leadership and only 20% disagree. The poll also showed that 67% of Republicans said that they do not consider Sleepy Joe Biden to be the legitimate winner of the 2020 Presidential Election. I agree with them 100%, just look at the facts and the data—there is no way he won the 2020 Presidential Election!