It Had To Be This Way,The People Must Be Shown The Truth & The [DS] Must Feel The Pain – Ep. 2481
The [CB] economic system is rearing its ugly head, people are feeling the crunch and it's going to get worse as time goes on. The [CB] is not improving the economy they want it destroyed to move us into the great reset that already failed. The plan to keep everyone on UBI is failing, 18 states have canceled the [CB] plan. The Gold Standard will destroy the [CB]. The audits are now posing a problem for the [DS]. They are worried that once the truth comes out it will expose the crime, and it will. They want it stopped at all costs but every time they push back it make their case weaker and weaker. People must see the truth, it had to be this way. Each time the truth is revealed the [DS] feels the pain. The [DS] will not be able to explain the lies and the pain will become unbearable.
Watch The X22 Report On Video
---
Economy
This is fine. Everything is fine. pic.twitter.com/9XPaK3UqnR

— BLUEPRINT 🇺🇸 (@BLUEPRINT_Q) May 18, 2021
Democrats only pretend to care about jobs. Our Administration protected the environment, but we didn't do it on the backs of the American worker. There were more job openings than people looking for work for much of these past four years.

The Liberal Elites don't get it.

— Mike Pompeo (@mikepompeo) May 18, 2021
Texas Governor Announces End To Federal Pandemic-Related Unemployment Benefits
Governor Greg Abbott today informed the U.S. Department of Labor that Texas will opt out of further federal unemployment compensation related to the COVID-19 pandemic, effective June 26, 2021. This includes the $300 weekly unemployment supplement from the Federal Pandemic Unemployment Compensation program.
"The Texas economy is booming and employers are hiring in communities throughout the state," said Governor Abbott.
Source: breaking911.com
18 states to end federal unemployment benefits
China bans financial, payment institutions from cryptocurrency business
China has banned financial institutions and payment companies from providing services related to cryptocurrency transactions, and warned investors against speculative crypto trading.
Under the ban, such institutions, including banks and online payments channels, must not offer clients any service involving cryptocurrency, such as registration, trading, clearing and settlement, three industry bodies said in a joint statement on Tuesday.
"
Source: reuters.com
Its those speculators, reminds when Nixon said we were coming off the gold standard because of speculators
The total value of the cryptocurrency market is now above $2 trillion, putting it nearly on par with the amount of gold held as an investment, according to Bernstein.
Crypto supporters often cite the potential for bitcoin to rival gold as a long-term store of value.
"Investors need to find return streams that can hedge debasement risk and be a diversifier of equity risk at higher levels of inflation," Bernstein said, noting that cryptocurrencies can fit the bill.
When the value of gold for other purposes is also considered, the precious metal's market is still significantly larger.
The total value of the cryptocurrency market now stands above $2 trillion, putting it on nearly equal footing with the amount of gold held for private investment purposes, according to a new report from Bernstein.
Source: cnbc.com
---
Political/Rights
Consumers' Research has launched a major campaign targeting corporations that it accuses of putting politics ahead of customers.
Several corporations courted controversy when they became involved with opposing Georgia's new voting law, which was passed by Republicans in the fallout of the 2020 presidential election. The legislation quickly became a lightning rod of activism, with Major League Baseball even pulling its All-Star Game from Atlanta in protest.
Last month hundreds of corporations and individuals signed a brief statement that vowed a "responsibility" more broadly to oppose any laws that restrict voting rights. The activist push has attracted conservative opposition, with Republicans warning companies not to wade further into the political realm.
Another one of the ads released by Consumers' Research on Tuesday begins with a picture of former NFL quarterback Colin Kaepernick and describes Nike as "constantly political."
"Why? Cover," the ad reads. "Congressional reports suspect Nike used forced labor in China. Religious minorities were ripped from their families, sterilized, sold to factories. Nike made shoes in those same areas."
Hild said that the more-than-seven-figure ad buy is just Consumers' Research's opening salvo in its battle against corporate activism.
"This is phase one. We're putting these three companies on notice that consumers have had it, and they need to focus on serving their consumers and not woke politicians," 
Source: washingtonexaminer.com
President Joe Biden and Vice President Kamala Harris took a swipe at former President Donald Trump when releasing their 2020 tax returns on Monday.
The White House's press release noted Biden and Harris were continuing an "almost uninterrupted" tradition, an apparent nod to Trump's refusal to release his tax returns throughout his four years in office.
Source: washingtonexaminer.com
Q

 

!!mG7VJxZNCI

 

ID: 3a3d46

 No.6961951

DpARa2LU8AEQt_g.jpg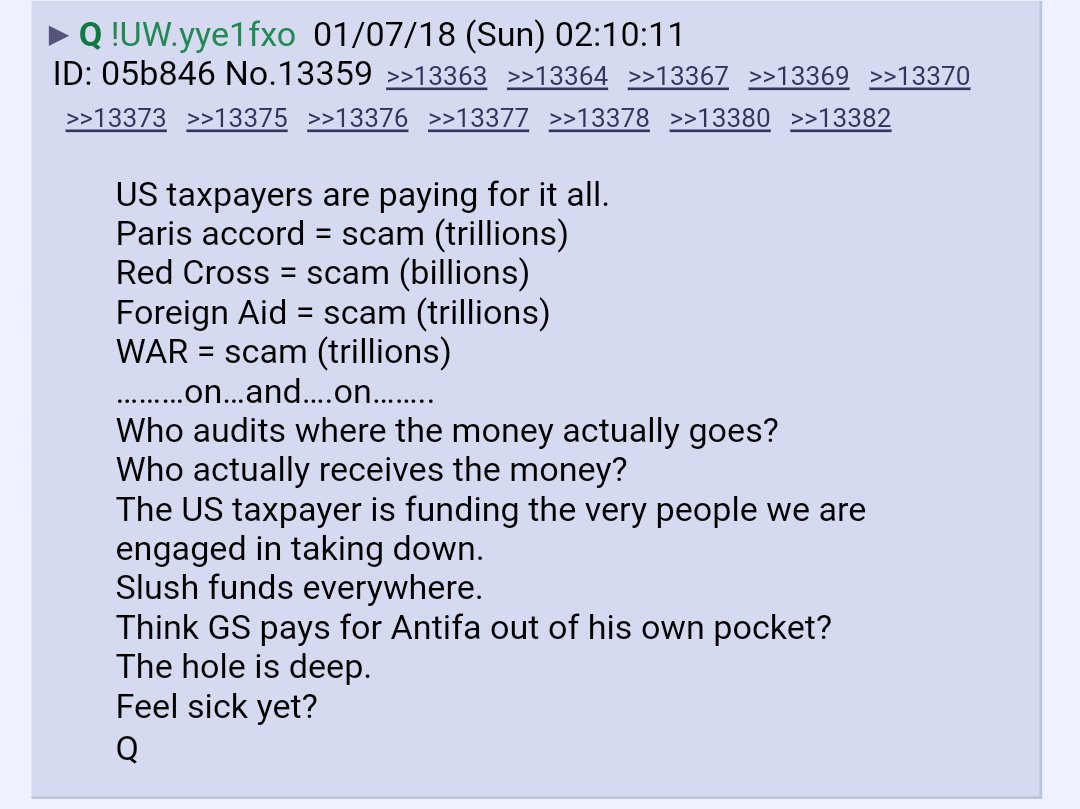 https://twitter.com/SaraCarterDC/status/1146175340433367040
Imagine what would happen, if, by law, every US Congressman/woman, US Senator, President etc. was by US law audited every 1-2 years by an independent agency.
Imagine what would happen if those audits extended to all family members of such 'elected' official?
Would D's continue to push for Foreign Aid to other C's vs. the Homeland?
What happens when the kickbacks dry up?
M. Waters $4mm House?
N. Pelosi net worth $150mm+?
J. Biden son/brother net worth tens of millions?
Clinton family $200mm+ (pre election of BC less than $1mm)?
Obama family $40mm+ (pre election less than $1mm)?
Disguised under book deals?
………….
Those who take are offered more powerful positions within the party (controlled).
DRAIN THE SWAMP.
Q
---
Geopolitical/Police State
The last time  @ZeroHedge was suspended it was because they posted an article suggesting COVID19 may have leaked out of the Wuhan lab's gain-of-function experiments
The Supreme Court unanimously rejected Biden administration arguments in a case from Rhode Island that police should be allowed to enter homes without a warrant to seize handguns.
The ruling in the case, Caniglia v. Strom, court file 20-157, came May 17.
"The Supreme Court today smacked down the hopes of gun-grabbers across the nation," he said.
 the Supreme Court unanimously ruled that the Fourth Amendment protections in the Bill of Rights protect gun owners from such invasions into their homes."
 Did we really need the SC to rule on this, it says it right in the bill of rights
Source: theepochtimes.com
---
War
 

President Trump signed the historic Abraham Accords peace agreements between Israel, Bahrain, and the UAE in September 2020 at a White House ceremony.
Then, back in October 2020, President Trump announced that Israel and Sudan had agreed to a normalization of relations.
Sudan was the third Muslim country in 3 months to announce a peace agreement with Israel, thanks to the work of the Trump administration!
 Biden spokeswoman blatantly and willfully lied to the entire nation saying President Trump, "Did not do 'anything constructive really' to bring an end to the long term conflict in the Middle East."
Here is the audio of Jen Psaki lying through her teeth and the mainstream media acting as willing co-accomplices to the lies.
Source: thegatewaypundit.com
The only reason Hamas wants a ceasefire right now for week or so is to rearm, regroup and retrench before starting back up again.
---
False Flags
The Federal Aviation Administration launched an investigation after determining the company used to fly Democrat Governor Gretchen Whitmer from Michigan to Florida during spring break was not authorized to operate charter flights.
The Detroit News on Friday revealed Whitmer's private flight was paid for by a dark money non-profit and the cost was $27,521.
The non-profit was formed in 2018 to pay for Whitmer's inauguration so it appears that she ILLEGALLY used the funds for personal expenses.
Whitmer paid $855 for her seat but the dark money paid for the remaining $27,000-ish.
The FAA says the company 'hired' to fly Whitmer to Florida didn't have the proper certification to charter flights.
The Detroit Free Press reported:
The possible violation of FAA rules by Air Eagle LLC, the Detroit company that owns the plane Whitmer flew on to visit her father in March, adds a new level of controversy to concerns about the flight.
Source: thegatewaypundit.com
The Michigan Senate just issued a subpoena which requires that all documents related to #nursinghomes—during the pandemic—must be handed over.
Gov. Cuomo got $5.1M for COVID book despite nursing home deaths
Gov. Cuomo got $5.1M for COVID book despite nursing home deaths
Gov. Andrew Cuomo —   sold the rights to his best-selling pandemic memoir for $5.12 million, according to tax returns he made public on  
As of Monday   it had only sold around 48,000 print copies in the US, according to NPD BookScan.
Based on that figure, Crown Publishing paid Cuomo around $107 per copy sold of the hardcover book, which has a suggested retail price of $29.99.
New copies were available on the Amazon website at a cut-rate price of $13.54 each and an auction for a new copy on eBay had just one bid, for a measly $1.99, plus shipping.
Source: nypost.com
Rudy Giuliani Son Andrew Announces 2022 Bid To Challenge Cuomo As NY Gov
"I know we can defeat Andrew Cuomo in 2022. I am going to be the 57th governor of New York."
Andrew Giuliani, the 35-year-old son of former New York City Mayor Rudy Giuliani, is making a run at toppling scandal-ridden Democratic New York Governor Andrew Cuomo, he announced Tuesday.
Source: dailywire.com
 Fauci   admitted his mask wearing indoors despite being vaccinated was all for show and not based on any science whatsoever.
"I didn't want to look like I was giving mixed signals but being a fully vaccinated person, the chances of my getting infected in an indoor setting is extremely low," Fauci said on ABC's Good Morning America.
VIDEO:
Senator Rand Paul was right.
In March, Rand Paul told Fauci that Americans do not need to wear two masks after receiving the Covid vaccine because there is "virtually zero chance" they will get Covid.
"Isn't it just theater?" Rand Paul, a physician, asked Fauci.
"You've been vaccinated and you parade around in two masks for show. You can't get it again." Rand Paul said to Fauci. "There's virtually 0% chance you're going to get it and you're telling people that have had the vaccine who have immunity — You're defying everything we know about immunity by telling people to wear masks who have been vaccinated."
Fauci denied it was all for theater while he was under oath testifying before a senate committee.
 So he lied to congress
Source: thegatewaypundit.com
---
Q
Source: thegatewaypundit.com
The Maricopa County Board of Supervisors (MCBOS) are doing everything possible to disparage the auditors hired by the Arizona Senate and to try and stop the audit. If they believed in the results of the Election in their County they would be welcoming the audit.
Now the MCBOS is going to Twitter and is having a press conference to besmirch the Senate's audit with some more bogus messages and outright lies.  They sound pathetic and frightened.  
Let's compare the MCBOS audits with the Senate's audit and to get at the truth.
Source: cuzzblue.com
Here's today's lesson on why YOU CAN NEVER trust fake news CNN.
CNN put out a pathetic hit piece trying to discredit the Arizona Audit and the Cyber Ninjas auditing team.

The so-called "expert" that they interviewed for the piece, Ryan Macias, was hired by corrupt Secretary of State Katie Hobbs, whose job it is to stall and eventually shut down the process. CNN labels Ryan Macias as an "independent" which is a complete joke.
And then CNN they bring on Maricopa County Sheriff Paul Penzone and present him as if he is a non-partisan law enforcement officer – after he was funded millions in his campaign by George Soros.
 
Source: thegatewaypundit.com
The Maricopa Supervisors announced yesterday they decided they will ignore the legislative inquiries and subpoenas and not show up on Tuesday.
Dr. Kelli Ward: Chairman Jack Sellers said he and the rest of them are going to ignore legislative inquiries and subpoenas. In other words, they will all be willingly and willfully in contempt of the Arizona Senate's authority…
Source: thegatewaypundit.com
The Maricopa Board of Supervisors and Maricopa's Soros-backed Sheriff are begging the Arizona Senate to end their audit "for the sake of the country". 
After holding their presser where the MCBOS attempted to discredit the current audit going on, the MCBOS leaked a 14-page report that they allegedly sent to the Arizona Senate. However, per the Head of the Senate, Karen Fann, it was never delivered to the Senate.
Source: thegatewaypundit.com
MAY 18, 2020Statement by Donald J. Trump, 45th President of the United States of America.
Good news for Georgia and the Republican Party. Lieutenant Governor Geoff Duncan won't be running again for office. He was the one who, along with Governor Brian Kemp, stopped the Georgia State Senate from doing the job they wanted to do on the 2020 Presidential Election Fraud. Duncan's fight against Election Fraud made him unelectable. His former top aide, Chip Lake, said that the Lieutenant Governor would not win another term in office. Lake said, "I think he was an accident, and this is what happens when accidents happen in politics. They become one and done." Now maybe the Georgia State Senate and House will build up the courage to expose the large-scale Presidential Election Fraud, which took place in their otherwise wonderful State. Let them just look at the State Senate in Arizona to find out what Leadership and Patriotism is all about!
###