Operation Green Light,POTUS Insulated & Protected,Time To Take The Country Back – Episode 2244
The nations largest public pension fund CIO resigned because of ties to Chinese sovereign massive wealth fund. The D's have now pushed their stimulus demands to 3.7 Trillion dollars. The unemployment rates has come down, jobs were added to the economy. They thought the country would blame Trump for the economy crashing, they were wrong, watch what he does next. The [DS]/MSM have been setup from the beginning. They fell right into the patriots trap and they didn't even know it. Now it's to late. The people are awake, they know and it is almost show time. Trump sent a message, the will be insulated and protected, it's time to take the country back .
Check Out The X22 Report Spotlight YouTube Channel X22Report Spotlight
Please check Newzsentinel.com for the latest news on the economic collapse. The Sentinel Alerts are updated throughout the day.
---
Current News – 08.07.2020
Watch The X22 Report On Video
---
Economy
The chief investment officer of the nation's largest public pension fund resigned amid controversy over his ties to a Chinese sovereign massive wealth fund.
The California Public Employees' Retirement System—better known as CalPERS—manages about $360 billion and has been described as one of the most influential pension fund investors in the U.S.   
Source: breitbart.com
Democrats increase coronavirus spending demand to $3.7 trillion
House and Senate Democrats said  hat the cost of their coronavirus aid package has increased to $3.7 trillion but added that they are willing to shave off $1 trillion to cut a compromise deal with the White House.
Source: washingtonexaminer.com
The Trump economy is working its way back to the greatest economy in history.  The US economy grew by nearly 1.8 million new jobs
 President Trump added 1.8 million jobs to the economy in July. 
the unemployment rate dropped to 10.2%, a point lower than June's 11%!
 The markets are at a record pace and now jobs are coming back!  
Based on today's numbers, the US has lost a net of 12 million jobs in 2020 due to the China coronavirus – many millions less than the 40 million job losses bellowed in the MSM:
Source: thegatewaypundit.com
July jobs report exceeds expectations!
1.8 MILLION jobs created
9 MILLION + created over 3 months
The better than expected jobs gains in July boosted black employment in the United States by more than it boosted white employment. As well, the black-white gap in unemployment is at a historic low.
The number of black Americans holding jobs in the United States rose 1.4 percent in July, according to data released by the Department of Labor Friday. That bested the 0.6 percent gain for white Americans and 0.7 percent gain for Hispanic Americans. The biggest jobs gains went to Asian Americans, who saw total employment rise by 5.1 percent.
Black Americans also saw a gain in the labor force participation rate, which rose two-tenths of a percentage point to 60.2 percent. The participation rate for black men rose four-tenths of a percentage point, to 65.6 percent. Black women experience a two-tenths gain the participation rate to 60.2 percent.
The gap in unemployment between black and white Americans is now at its narrowest point in historical records going back to the 1970s.
Source: breitbart.com
, this move will do more to revitalize the American economy than any trillion-dollar stimulus package. A payroll tax suspension would greatly benefit our country's frontline workers, resulting in an immediate raise for millions of American employees.
Opponents insist that this measure would do nothing for the unemployed, but this could not be further from the truth. President Trump's executive order would put cash back in the hands of businesses that would otherwise be confiscated by the federal government, thereby enabling companies to hire additional workers.
Suspending the payroll tax would also add less to the national debt than any proposed stimulus bill, all while eliminating the need for trillions of dollars in unnecessary spending.
---
Political/Rights
Democratic Michigan Rep. Rashida Tlaib violated the Federal Election Campaign Act of 1971 by paying herself a salary from her campaign after securing victory in the 2018 general election, the House Ethics Committee unanimously ruled on Friday.
The Ethics committee found that Tlaib violated FECA's personal use restrictions by paying herself $10,800 from her campaign when she was no longer a congressional candidate in late 2018 and ordered her to repay that amount back to her campaign within one year, the committee said in a report.
Source: dailycaller.com
Every Democrat friend of mine says:
-Biden is imploding.
-Democrats have gone too far left.
-Defunding the police is scary.
-The cancel culture must be stopped.
-the media bias is out of control. https://t.co/iwXPQJbBUo

— Richard Grenell (@RichardGrenell) August 7, 2020
NEW: Kanye West indicates, in a Forbes interview via text, that he is in fact running to siphon votes from the presumptive Democratic nominee, Joe Biden.https://t.co/qVfrH8GtTl

— Brian Tyler Cohen (@briantylercohen) August 6, 2020
BREAKING: Rumored Biden vice presidential pick Susan Rice used a private unsecured email server to conduct US government business as Obama's National Security Adviser

— Paul Sperry (@paulsperry_) August 7, 2020
@RichardGrenell 
! Susan Rice sent herself the email about "by the book" from the White House at 12:15 pm on January 20, 2017. Trump had just been sworn in. She sent it in the Trump presidency.
Remember during the hearing with AG Barr,
When asked directly by Rep. Debbie Murcasel-Powell (D-Fla.) whether he would commit to not releasing a report from Durham between now and November, the attorney general flatly declined.
"No," Barr replied.
  then she referred to the DOJ policy and asked Barr if he knows the policy, and he said yes he knows it. 
Let's Clear up a Misconception — There Is NO DOJ Policy Preventing Indictments Prior to an Election
  there is no policy at DOJ which prevents the taking of enforcement action
None.  No policy.  Not written down anywhere.  Never cited.  Never quoted.  Never enforced.
There is a policy that prohibits the taking of any overt enforcement action for the purpose of affecting an election.  That is prohibited.  But that policy doesn't prohibit taking the same enforcement action when there is no such nefarious intention.
 
Attorney General Barr has said on multiple occasions that the Durham investigation is not examining possible criminal charges for anyone running for office.  That satisfies the "unwritten guidance".  The investigation does not involve election process crimes.  That satisfies the DOJ's explicit policy restrictions.  So what else might there be?
There isn't anything. 
So whenever you see the swamp  officials or the MSM claim that Durham and Barr would be violating DOJ policy by bringing any indictments between now and November, ask them to show you the policy, not interrupt show the written policy, most likely they will have trouble doing this because THERE. IS. NO. SUCH. POLICY.
Source: redstate.com
POTUS will be well insulated/protected on AF1 and abroad (specific locations classified) while these operations are conducted due to the nature of the entrenchment. It is time to take back our country and make America great again. Let us salute and pray for the brave men and women in uniform who will undertake this assignment to bring forth peace, unity, and return power to the people.
It is our hope that this message reaches enough people to make a meaningful impact. We cannot yet telegraph this message through normal methods for reasons I'm sure everyone here can understand. Follow the questions from the previous thread(s) and remain calm, the primary targets are within DC and remain at the top (on both sides). The spill over in the streets will be quickly shut down. Look for more false flags – stay alert, be vigilant, and above all, please pray.
"For God so loved the world that he gave his one and only Son, that whoever believes in him shall not perish but have eternal life. Love is patient, love is kind."
God bless my fellow Americans.
4,10,20
This is the biggest political crime and scandal in American history. Hopefully, for the good of our Country, it is coming soon! https://t.co/sgblnB0EgL

— Donald J. Trump (@realDonaldTrump) August 7, 2020
MIAMI HERALD: Appeals court to reconsider whether Jeffrey Epstein's plea deal was legal
Election
Incredible. California PLANS to count the millions of mailed ballots for at least 17 DAYS AFTER ELECTION DAY! https://t.co/RLxrb5IJ0R

— Tom Fitton (@TomFitton) August 7, 2020
Great news!

Another legal win for the RNC & @TeamTrump – this time in North Carolina. A federal court just upheld state law, rejecting Democrats' attacks on voting safeguards and their attempt to legalize ballot harvesting.

We will not stop fighting to https://t.co/tidEkbV9KS!

— Ronna McDaniel (@GOPChairwoman) August 7, 2020
Trump is serious about Human Trafficking,
---
Geopolitical/Police State
BREAKING: Trump has signed executive order that prohibits transactions with TikTok and WeChat parent companies Bytedance and Tencent (!!), effective in 45 days
Good news. Tencent owns Reddit (and a ton of other things) and have allegedly been running massive anti-American propaganda efforts while under disguise as American corporations. https://t.co/PPSV55cJ0X

— Ron (@CodeMonkeyZ) August 7, 2020
President Donald Trump issued executive orders to ban transactions with popular video sharing app TikTok and social media app WeChat in 45 days. The executive orders also ban transactions with the two social media applications' parent companies, Chinese-owned ByteDance and Tencent Holdings.
The executive order for TikTok said that "any transaction by any person, or with respect to any property, subject to the jurisdiction of the United States" would be prohibited "with ByteDance Ltd. (a.k.a. Zìjié Tiàodòng), Beijing, China, or its subsidiaries," in 45 days after the order, which is after Sept. 20.
Trump issued the orders under the International Emergency Economic Powers Act and the National Emergencies Act 
 Both orders also noted that the applications automatically capture "vast swaths of information from its users," amounting to actions that threaten "to allow the Chinese Communist Party access to Americans' personal and proprietary information."
Such information captured from users include Internet and other network activity information, such as location data and browsing and search histories, the executive order for TikTok stated. The data collection potentially allows China to "track the locations of Federal employees and contractors, build dossiers of personal information for blackmail, and conduct corporate espionage," according to the order.
Source: theepochtimes.com
Twitter has begun labeling the Chinese Communist Party's propaganda outlets as "Chinese state-affiliated media." pic.twitter.com/OSEmiTjjge

— JERRY DUNLEAVY (@JerryDunleavy) August 6, 2020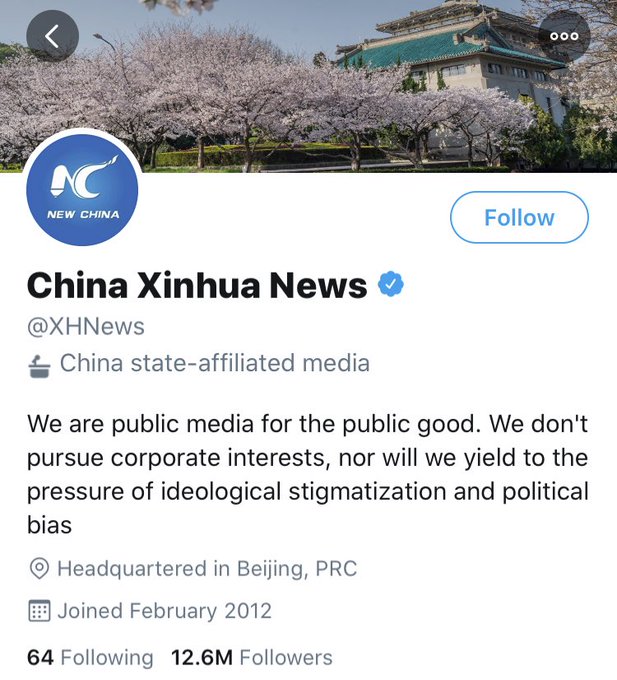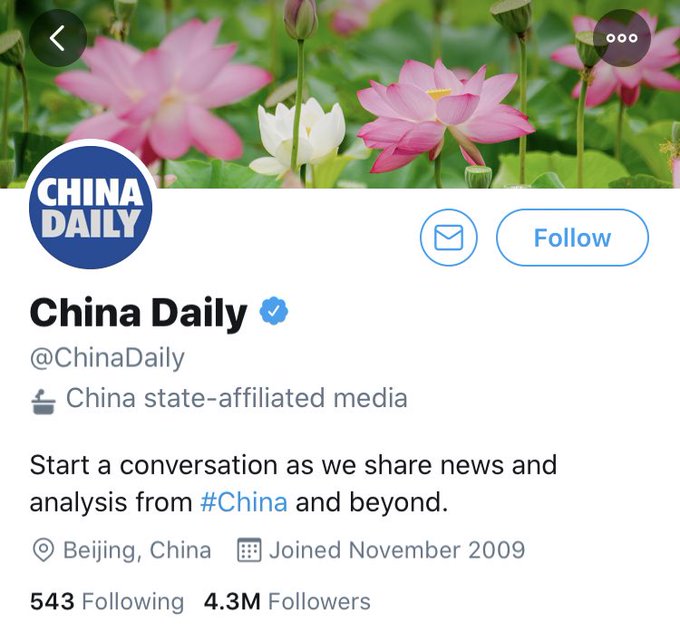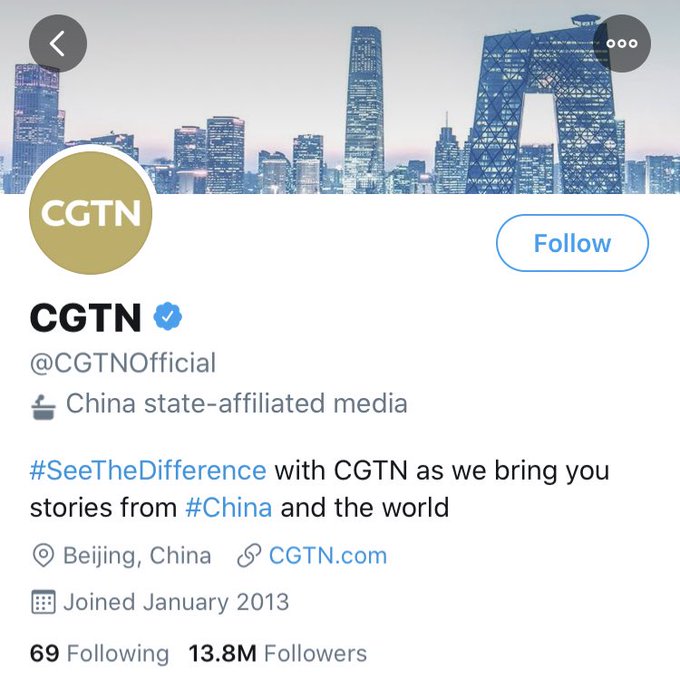 ---
False Flags
The sudden U-turn from Cuomo and Schumer on school openings suggests the months-long Democrat position of banning children from going to school was a political disaster for them.
"Children have a greater chance of being hit by lightning than dying from coronavirus with the death rate for five to 14-year-olds in England & Wales currently just one in 3.5 million. For under-fives, it is one in 1.17 million." https://t.co/tebqLg1p0a pic.twitter.com/A5Q9nsbmIx

— Andrew Bostom (@andrewbostom) August 7, 2020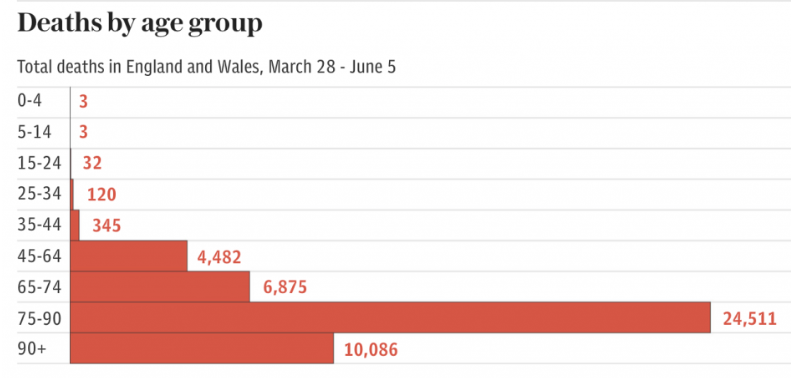 Tom Fitton responded
Shutting down the schools isn't about the children. It is about hurting @realDonaldTrump and taking care of the teachers unions. #OpenSchools https://t.co/3Uw0Q5Lp09

— Tom Fitton (@TomFitton) August 7, 2020
The CDC now reports that 4,127 death certificates in the COVID count also list "intentional and unintentional injury, poisoning and other adverse events."https://t.co/yfP2BiBNvD https://t.co/yz8B8a6Imr

— Phil Kerpen (@kerpen) August 6, 2020
CDC: "For 6% of the deaths, COVID-19 was the only cause mentioned. For deaths with conditions or causes in addition to COVID-19, on average, there were 2.6 additional conditions or causes per death."

— Phil Kerpen (@kerpen) August 6, 2020
The study conducted on Chloroquine in Brazil is now under federal investigation.

Not only did they give their patients toxic dosages which resulted in deaths, the researchers used the results to claim that "Chloroquine is ineffective and dangerous." pic.twitter.com/IVAW46mPRm

— Dr. Simone Gold (@drsimonegold) August 7, 2020
Censorship is typically preceded by a disinformation campaign. It is now underway.

Fifteen years ago when Dr. Fauci was the Director of the NIH, their official Journal published chloroquine worked against SARS-CoV.

That is now a very embarrassing fact for the anti-HCQ cabal.

— Dr. Simone Gold (@drsimonegold) August 7, 2020
So watch for disinformation about that 2005 study. Fortunately there are now 50 additional studies showing HCQ/CQ works.

— Dr. Simone Gold (@drsimonegold) August 7, 2020
BREAKING: Ohio Governor Mike DeWine has tested negative for COVID-19 after testing positive earlier today

— Breaking911 (@Breaking911) August 7, 2020
🚨🚨BREAKING: Idaho Governor Brad Little seeking immunity from civil liability https://t.co/s9A7Mzw1ak via @NewBookofDaniel

— Tracy Beanz (@tracybeanz) August 6, 2020
Idaho's Governor Brad Little restricted pharmacists from dispensing hydroxychloroquine for off label use. Since that time, 217 Idahoans have died from Covid-related deaths, many of them without the choice to be treated with zinc and hydroxychloroquine
ATTN: VERY IMPORTANT INFO

Outbreak expected: https://t.co/NWPVefxOOa

Liability removed https://t.co/axn7YYmGKM

They are already set up and prepped the narrative.

Read the red graphic
RECONCILE pic.twitter.com/vqmKSLSJsu

— I E T ∞ (@MrBOTUS_520) August 6, 2020
Operation Legend Expanded to Memphis and St. Louis
  Operation Legend was announced in Memphis and St. Louis. Operation Legend is a sustained, systematic and coordinated law enforcement initiative in which federal law enforcement agencies work in conjunction with state and local law enforcement officials to fight violent crime. The Operation was first launched on July 8 in Kansas City, MO., and expanded on July 22, 2020, to Chicago and Albuquerque, and to Cleveland, Detroit, and Milwaukee on July 29, 2020.
Source: justice.gov
Imagine believing that…

Ghislaine Maxwell is a victim.

Jeffrey Epstein killed himself.

George Floyd was a saint.

Dr. Fauci is a hero.

Bill Gates is a doctor.

Greta Thunberg is a scientist.

And masks will solve COVID.

I feel so sorry for those people!

Take the #RedPill!

— DeAnna Lorraine 🇺🇸 (@DeAnna4Congress) August 4, 2020
---
Q
That time you're driving in Virginia and the Attorney General spots a group of people in front of a police precinct showing their support for the police.

AG to FBI Detail: "Can we make a quick U-Turn? I want to jump out and thank those people."

Watch! #SoundOn 🇺🇸🇺🇸🇺🇸 pic.twitter.com/3atSicAgdC

— Kerri Kupec DOJ (@KerriKupecDOJ) August 7, 2020
---
We are witnessing a vicious assault by enemies of all that is good, and our president is having to act in ways unprecedented in decades, maybe centuries.
The biblical nature of good versus evil cannot be discounted as we examine what is happening on the streets of America.
It's Marxism in the form of antifa and the Black Lives Matter movement versus our very capable and very underappreciated law enforcement professionals, the vast majority of whom are fighting to provide us safe and secure homes, streets and communities.
When the destiny of the United States is at stake, and it is, the very future of the entire world is threatened.
As Christians, shouldn't we act? We recognize that divine Providence is the ultimate judge of our destiny. Achieving our destiny as a freedom-loving nation, Providence compels us to do our part in our communities.
It encourages us in this battle against the forces of evil to face our fears head-on. No enemy on earth is stronger than the united forces of God-fearing, freedom-loving people.
We can no longer pretend that these dark forces are going to go away by mere prayer alone. Prayers matter, but action is required.
This action is needed at the local, state and federal levels. Action is also required in the economic, media, clerical and ecclesiastical realms.
Decide how you can act within your abilities. Stand up and state your beliefs. Be proud of who you are and what you stand for. And face, head-on, those community "leaders" who are willing to allow dark forces to go beyond peaceful protests and destroy and violate your safety and security.
Churches and houses of worship must return to normal. We invite everyone of goodwill to not shirk their responsibilities and instead act in a fraternal fashion. If for no other reason or with no other ability, act in a spirit of charity.
We cannot disrespect or disregard natural law along with our own religious liberties and freedoms.
I am witnessing elderly people lose their connection to all that is good in their lives: connections to their faith, their families and their individual freedoms, especially the simple act of attending church, something they've been doing for decades.
Let us not be intimidated or fear those who cry out that we are in the minority; we are not.
Good is always more powerful and will prevail over evil.
However, evil will succeed for a time when good people are divided from each other and their personal lives — children away from their teachers, preachers from their congregations, customers from their local businesses.
America will never give in to evil. Americans work together to solve problems.We do not and should not ever allow anarchy and the evil forces behind it to operate on any street in our nation.
No one should have to fear for their very life because some dark, disturbed force is challenged by the very essence of what America stands for.
We are "one nation under God" and it is our individual liberties that make us strong, not liberties given to our government. Our government has no liberty unless and until "we the people" say so.
God bless America and let's stand by everything that was and is good in our lives, in our communities and in our country.
Otherwise, America as the true North Star for humanity will cease to exist as we know it.
Source: zerohedge.com