Optics Are Very Important, People Cannot Be Told, They Must See It To Believe It – Episode 2236
The real estate market is bouncing back, pending home sales soared in June to highest since 2006. All around the country real estate is making a come back. A payroll tax cut holiday would benefit and businesses. Trump activates the DPA, manufacturing is coming back to the US, funds have been distributed to states to start rebuilding the infrastructure. The [DS]/MSM panic level is now off the charts, they are trying to control the narrative but it is not working, people are being shown their true agenda. The trap has been set and optics are very important, nothing can stop this nothing.
Check Out The X22 Report Spotlight YouTube Channel X22Report Spotlight
Please check Newzsentinel.com for the latest news on the economic collapse. The Sentinel Alerts are updated throughout the day.
---
Current News – 07.29.2020
Watch The X22 Report On Video
---
Economy
After rebounds in new- and existing-home sales, pending home sales in June were expected to continue to surge (after screaming 44% higher MoM in May) and they did, rising 16.6% MoM (beating the 15.0% expectations) and sending the YoY sales number UP 12.7%…
Source: Bloomberg
This is the biggest annual rise in pending home sales in over 5 years as mortgage rates hit record lows.
And the pending home sales index is back at its highest since 2006…
 Pending home sales rose in all U.S. regions, including an 11.9% gain in the South that boosted the region's index to the highest in records back to 2001. Purchases also increased 12.2% in the Midwest to the strongest since February 2017 and climbed 11.7% in the West. Contract signings jumped 54.4% in the Northeast to a four-month high.
Source: zerohedge.com
  As the economy reopens, businesses should see demand rise, increasing the need to bring back workers. We need policies to encourage workers to rejoin the labor force, while assisting those who are working and experiencing reduced wages, hours or both.
A voluntary payroll tax holiday could play a pivotal role in boosting disposable income and incentives to work.   The payroll tax withholding rate, currently 6.2 percent for the employee component, could be cut to zero for the first two years, delivering a much-needed income boost for workers who opt in. 
This would increase disposable income for existing workers, which would spur consumption and ignite a virtuous cycle that would encourage even more hiring. Under such a program, an average worker aged 40 earning an average wage ($53,756 in 2019) would receive $15,767 in increased disposable income over the next six years.
As a supply-side incentive to increase hiring, the employer could receive the same kind of tax holiday. Under the CARES Act, employers are allowed to defer 2020 payroll taxes. Outright elimination would deliver an even bigger economic boost. By driving down the after-tax cost of labor, businesses would receive an immediate incentive to hire and retain workers. The result would be more record-setting job gains and a relatively rapid reduction in unemployment. Employer payroll tax relief would also relieve pressure on small businesses and limit failures and bankruptcies that threaten the economy's structural potential.
A payroll tax holiday is a useful incentive to stimulate employment while creating an opportunity for entitlement reform that will shore up Social Security for future generations.  .
Source: zerohedge.com
We must never be reliant on a foreign nation for America's needs.

"Restoring American manufacturing is a core matter of national security." pic.twitter.com/lRm2NP0nLV

— The White House (@WhiteHouse) July 28, 2020
TAKE A LISTEN
#BREAKING: President Trump: "My administration is using the defense production act to provide a $765 million loan to support the launch of Kodak Pharmaceuticals."

POTUS calls it a "breakthrough in bringing pharmaceutical manufacturing back to the United States." pic.twitter.com/JV1NbH8AvP

— Breaking911 (@Breaking911) July 28, 2020
Texarkana Regional Airport has a major grant coming its way from @USDOT. I'm designating $3.6 million to reconstruct its terminal building, in addition to 5 more airport grants around the State. Glad to help the people of Arkansas!

— Donald J. Trump (@realDonaldTrump) July 29, 2020
I am designating $18.9 million from @USDOT to MANY airports in Ohio, including @goingplacescle, @CAKairport, and several others, for improvements, updates, and safety. Great for the economy and the people of Ohio!

— Donald J. Trump (@realDonaldTrump) July 29, 2020
Great news for Florida! $3.3 million will be sent to @flyKissimmee from @USDOT for airport improvements and safety enhancements. This is so important for Central Florida and will bring a much-needed boost to the State's economy!

— Donald J. Trump (@realDonaldTrump) July 29, 2020
I am designating $18.77M from @USDOT for 7 airports across Pennsylvania. @PITairport, Northeast Philadelphia Airport, Erie International Airport, and others around the State. GREAT news for a GREAT State!

— Donald J. Trump (@realDonaldTrump) July 29, 2020
The Federal Reserve Works Best When It Sticks With Gold
President James Madison summed up why a mandate to use gold-based money appears in Article I Section 10 of the U.S. Constitution:
"The only adequate guarantee for the uniform and stable value of a paper currency is its convertibility into specie [gold] — the least fluctuating and the only universal currency."

 The United States spent two centuries proving that it works. Sticking to gold-based money, the U.S. became the most successful country in the world.  
Source: forbes.com
---
Political/Rights
Politico published an article claiming Joe Biden picked Kamala Harris as his running mate, and announced it August 1. It's since been changed, and scrubbed from the piece.

Original on the left. Current version on the right.

LINK: https://t.co/aI9PEtEjhW pic.twitter.com/gMwUqCfMTt

— David Hookstead (@dhookstead) July 28, 2020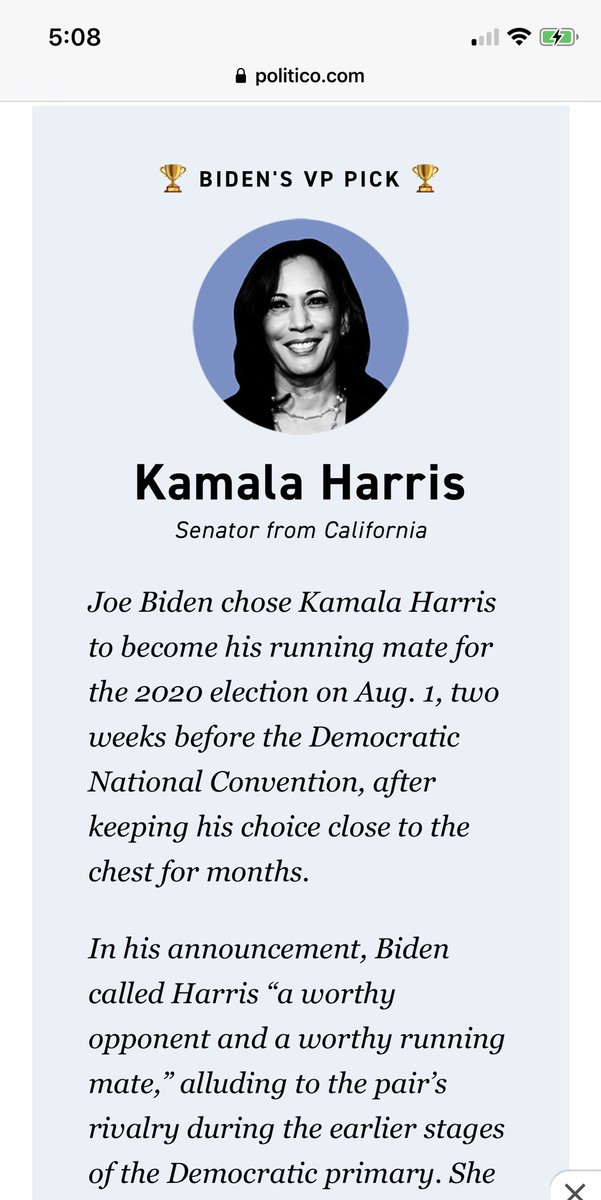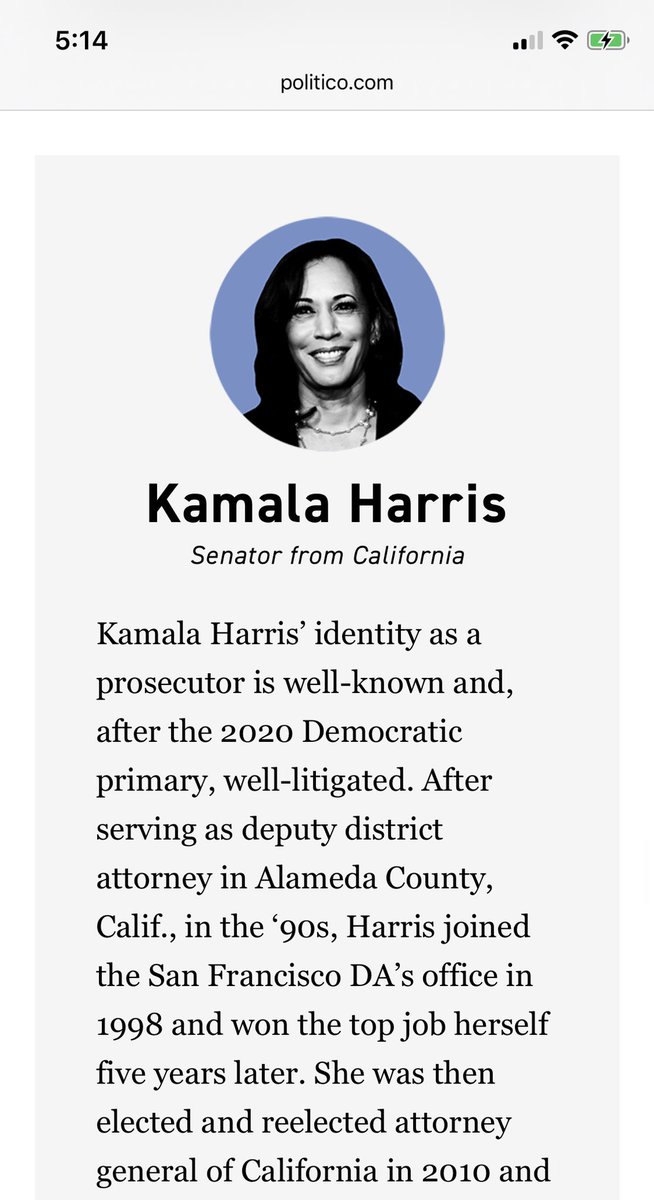 Sleepy Joe Biden is just a Trojan Horse for the Radical Left Agenda. He will do whatever they want!

— Donald J. Trump (@realDonaldTrump) July 29, 2020
More than 100 law enforcement agencies have reportedly pulled out of security agreements to send personnel to help with security at the Democratic National Convention next month in part because they are concerned about recent efforts to limit law enforcement's use of tear gas and pepper spray in responding to violent riots. 
Source: dailywire.com
Yesterday during AG Barr hearing he mentioned Bash was other prosecutor looking into the unmasking,
— Julian's Rum 🥃 (@JuliansRum) July 28, 2020
Yesterday's House hearing with AG Bill Barr was atrocious.  The Democrats didn't want any answers, they just wanted to slander Barr and call him names.  It wasn't until after five hours of abuse that the Democrats finally asked a question that they wanted an answer to.  
Finally, after five hours of abuse the Democrats asked Barr what they wanted to ask him all day, whether he was going to release the Durham report between now and the election. 
Rep. Mucarsei-Powell: Under oath, under oath, do you commit not to releasing any report by Mr. Durham before the Novermber election?
It took the Democrats 5 hours before they asked the question they wanted to ask.  They attempted to beat down AG Barr so much that he would agree to not releasing the Durham report related to the criminal actions taken by Obama's justice and Intel communities before the election to removed the President of the United States.  The Democrats don't want America to know the truth.
 
Source: thegatewaypundit.com
Federal judge orders secret Ghislaine Maxwell documents to begin being unsealed
A federal judge   ordered the unsealing of previously unseen documents in a civil case against Ghislaine Maxwell, according to court papers.JudgeLoretta Preska ordered the release of five collections of documents that relate to a seven-hour, 418-page deposition Maxwell gave as part of a now-settleddefamation lawsuit filed against her in 2015 by Virginia Giuffre.The papers are among a trove of secret filings that were ordered unsealed by Preska in a court hearing last week. They'll be posted to a public docket by Thursday, according to Tuesday's court filing.
Source: nypost.com
---
False Flags
A viral video claiming without evidence that the coronavirus could be cured was quietly backed by dark money political organizations. https://t.co/IvmQgGmw52

— NBC News (@NBCNews) July 29, 2020
Website hosting provider Squarespace has shut down the website of the group America's Frontline Doctors following a press conference they held in Washington D.C., according to Dr. Simone Gold. According to a screenshot posted by Gold, the web hosting service shut down the group's website for "activity that's false, fraudulent, inaccurate or deceiving."
Footage of the livestream on Periscope, Twitter's livestreaming platform, had generated 1 million views before being removed by the site. Footage on Facebook had accumulated over 17 million views within 8 hours and had 185,000 concurrent viewers at the time it was streamed. On YouTube, a clip from the event received 80,000 views before being removed by the platform for "violating YouTube's Community Guidelines."
The email further notes that the provider reserves the right to suspend the organization's account at any time for any reason. Since the site has been taken down, multiple Twitter users have offered to re-host the group's website.
Breitbart News will continue to report on this issue as more information becomes available.
Source: breitbart.com
#BREAKING: President Trump: "My administration is using the defense production act to provide a $765 million loan to support the launch of Kodak Pharmaceuticals."

POTUS calls it a "breakthrough in bringing pharmaceutical manufacturing back to the United States." pic.twitter.com/JV1NbH8AvP

— Breaking911 (@Breaking911) July 28, 2020
President Donald Trump said at Tuesday's coronavirus press briefing that the United States military is already "mobilized" across the country to distribute coronavirus vaccine doses as soon as a candidate is approved for public use.
"We've dramatically ramped up production of materials needed for a vaccine and are on track to rapidly produce 100 million doses as soon as a vaccine is approved which could be very, very soon," Trump stated on Tuesday. "Logistically we're using our military."
"Our great military, a group of people, their whole life is based around logistics and bringing things to and from locations," he continued. "They'll be able to care of this locationally and bringing it where it has to go very quickly."
"They're all mobilized. It's been fully set up. A very, very talented general is in charge, and when we have that vaccine it will be discharged and taken care of."
Source: dailycaller.com
1. How do you remove fear
2. How do you cure/protect the people from the virus
3. What is he really ready to distribute
4. Why was HCQ mentioned
5. Why are Doctors telling their stories
6. Why is the [DS] Panicking
7. Tick Tock….
1. Trump mentions HCQ in March
2. MSM/Social Media Platforms censor and tell you it will kill you
3. HCQ is approved and distributed to anyone who wants to take it
4. Death rate and cases drop dramatically
5. Why were people lives destroyed 
 6. Why the lockdowns
7. All of this could have been stopped in March
8. Class action lawsuits can be very effective
9. Optics are very important
Make sure the list of resignations remains updated.
Important.
When does big pharma make money?
Curing or containing?
Cancer/AIDS/etc.
Mind will be blown by chain of command.
Q
>>342895
Q, how long will we have to wait for the cures of cancer and other sicknesses?
>>342919
Chatter amongst those in control has begun.
They know we know which means the public will know.
Release prior to cover up.
Public informed and collapse.
Which option?
Q
NYC is taking after Portland – a trans femme protestor was pulled into an unmarked van at the Abolition Park protest – this was at 2nd Ave and 25th Street pic.twitter.com/1PDhSYuK9h

— michelle lh࿊࿊q (@MichelleLhooq) July 28, 2020
Nope, It's an arrest. https://t.co/9Txgp4Gtio

— Sara A. Carter (@SaraCarterDC) July 29, 2020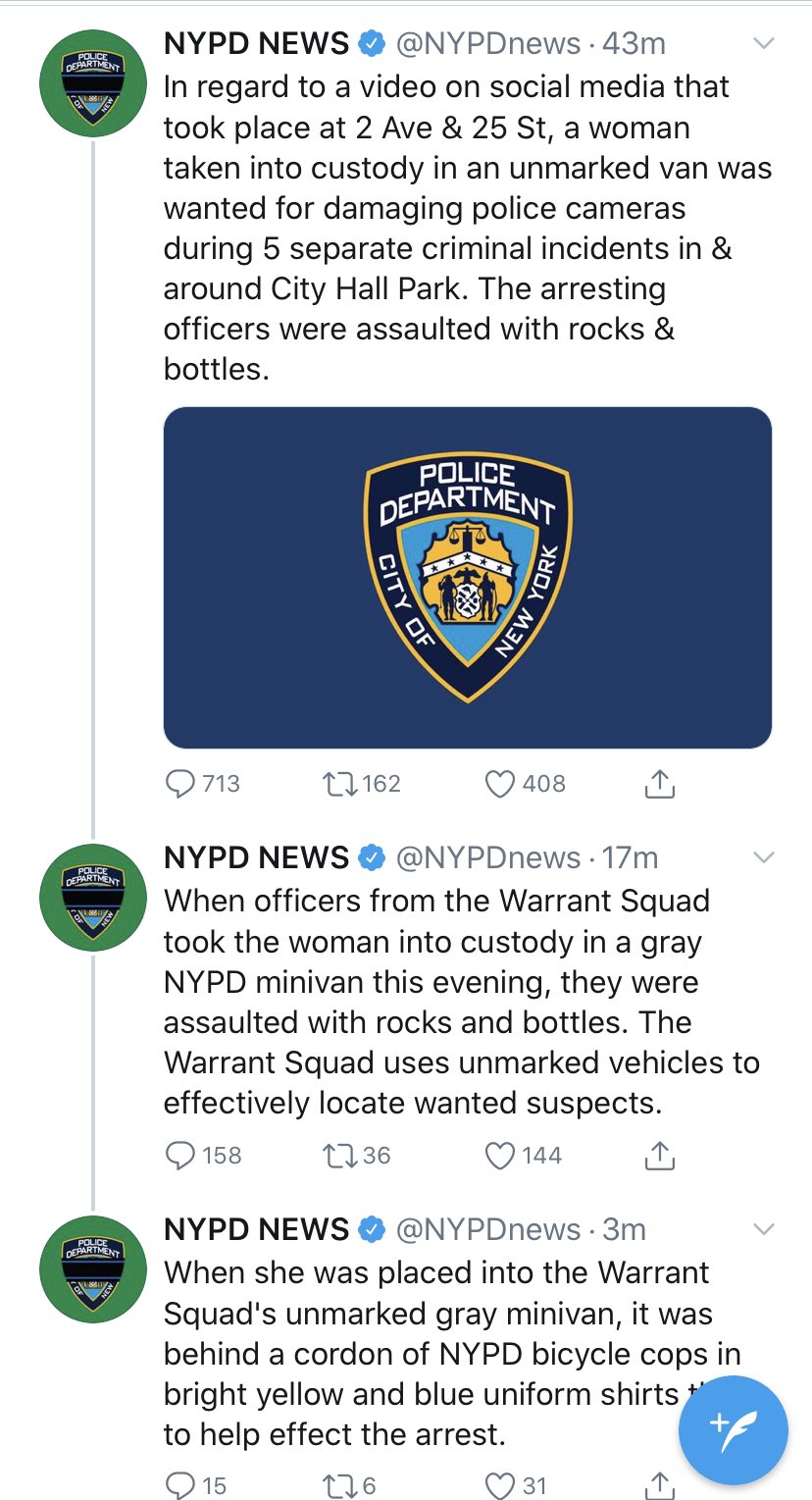 The New York City Police Department said 303 law enforcement vehicles were damaged since George Floyd's death on May 25, costing nearly $1 million.
A total of 14 cruisers were set ablaze and totaled with another seven still being repaired, according to the Associated Press.
source: dailycaller.com
A Portland man has been charged with arson after rioters broke into and set fire to the Justice Center on May 29, 2020. Read more: https://t.co/SZO7CdnVUM pic.twitter.com/3ZRkBHvSku

— U.S. Attorney Oregon (@USAO_OR) July 28, 2020
The [DS] wants chaos, conflicts, more wacos,   That's why there are PROFESSIONAL TERRORISTS involved. The [DS] is trying to set a trap for the Trump administration, this is why they are continue to push their agenda 
---
Q
We really, really have to flip the Senate. https://t.co/zzdgs1DCzJ https://t.co/ce47bJ1KUG

— Hillary Clinton (@HillaryClinton) July 29, 2020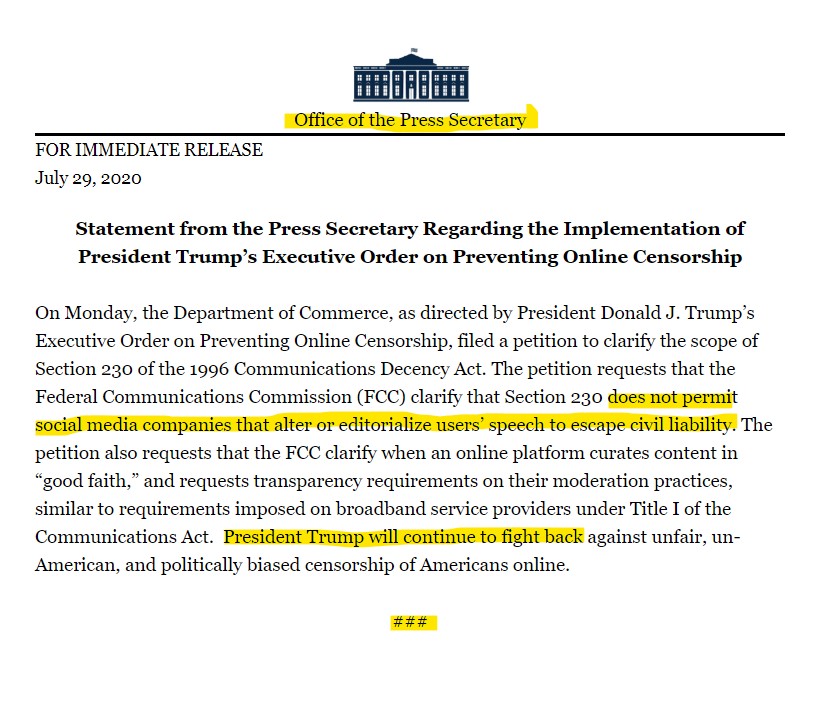 If Congress doesn't bring fairness to Big Tech, which they should have done years ago, I will do it myself with Executive Orders. In Washington, it has been ALL TALK and NO ACTION for years, and the people of our Country are sick and tired of it!

— Donald J. Trump (@realDonaldTrump) July 29, 2020
NOTHING CAN STOP WHAT IS COMING.
NOTHING.
WWG1WGA!!!
Q