Panic Accelerates, Exposure,The [DS]/MSM Are In The Process Of Destroying Themselves-Episode 2135
Podcast: Download (Duration: 41:31 — 42.5MB)
The patriots control the economic narrative, the [CB] is now trying to force the narrative using the event to explain why the global economy is crashing. The patriots are slowly destroying the [CB] system from the inside out. Soon, we will be able to say goodbye to IRS, taxes etc.  Trump and the patriots are moving quickly with their silent operation. Panic is everywhere and the [DS] and the MSM are caught in their lies, they are completely exposed and there is now way out for them. The clock is ticking down and these [DS] players will need to make a decision. When do you play the Trump card?
Check Out The X22 Report Spotlight YouTube Channel X22Report Spotlight
Please check Newzsentinel.com for the latest news on the economic collapse. The Sentinel Alerts are updated throughout the day.
---
Current News – 03.30.2020
Watch The X22 Report On Video
---
Economy
The International Monetary Fund (IMF)  officially declared that the global economy has entered recession as a result of the spread of the new coronavirus, which has shut down economic activities across the world.
IMF's Managing Director,  said they have reassessed the prospect for growth for 2020 and 2021.
"It is now clear that we have entered a recession – as bad as or worse than in 2009," she said  
Source: blacklistednews.com
Putin, Trump discussed pandemic, oil prices
The two agreed to continue personal contacts
 Presidents of Russia and the United States Vladimir Putin and Donald Trump discussed the pandemic combating and the situation on the global oil market in a telephone conversation,  "They discussed options for closer cooperation between the two countries in this sphere," the press service added.
Source: tass.com
Two economics experts have predicted that this latest event could lead to the end of the euro currency — and the potential end of the European Union itself.
Source: breitbart.com
Italian politician Fabio Rampelli removes the EU flag from his chambers and replaces it with the national one.

If the Coronavirus did one good thing, that was expose the European union for the inept bureaucrats they are. pic.twitter.com/uatMvpUzRS

— Dogz Bollox🏴󠁧󠁢󠁥󠁮󠁧󠁿Right Wing News (@Bollocks_Dogz) March 30, 2020
  U.S. President Donald Trump called on Congress Sunday to restore the full tax deduction for meals and entertainment in response to the latest event
Source: reuters.com
Yes, "Special Purpose Vehicle" will siphon ALL the debt from the American people to the FED over 6 months (ish). The FED will die in bankruptcy court. May be the initial meaning of "Drain the Swamp"? Goodbye income tax. Goodbye IRS. pic.twitter.com/uTVouktOTS

— RealEyes (@RealEye67473465) March 29, 2020
---
Political/Rights
💥💥💥Hello!💥💥💥

EXCLUSIVE: Attorney Requests All Documents Related to Seth Rich from FBI After New Testimony from former DOJ Asst. US Attorney Discloses the FBI DID Examine Seth Rich's Computer https://t.co/94nFFRLrAO via @gatewaypundit

— Major Patriot (@MajorPatriot) March 30, 2020
>>1108897

When will we find out about Seth Rich and Las Vegas??

>>1108927

SR connect to DNC.

MS_13.

JA.

Why did the D's push legal rep on family?

June ETA.

Q
 , President Trump's newly-updated DHS guidance echoes what the NRA is arguing in court: that firearms and ammunition retailers are "critical infrastructure."
On March 28, DHS's Cybersecurity and Infrastructure Security Agency​("CISA") updated its guidance on the critical infrastructure that the agency determined should remain open during state shutdown orders due to Covid-19.
The new guidance identifies the following firearms and ammunition industry workers as critical infrastructure:
"Workers supporting the operation of firearm or ammunition product manufacturers, retailers, importers, distributors, and shooting ranges."
Several states relied on CISA's failure to include firearms retailers in prior guidance as a reason to order those businesses to shut down.
---
False Flags
Plácido Domingo, once opera's biggest star, has been hospitalized in Mexico with coronavirus
Plácido Domingo has been hospitalized in Mexico with complications related to COVID-19,
On March 10, Los Angeles Opera said its investigation of Domingo, their former general director and once opera's biggest star, found sexual harassment allegations against him to be credible. Previously, the American Guild of Musical Artists, which represents opera performers, released findings of its own sexual harassment investigation, concluding that Domingo engaged in ​"inappropriate activity, ranging from flirtation to sexual advances, in and outside of the workplace."
Source: news.yahoo.com
CBS News Caught Using Footage from an Italian Hospital to Describe Conditions in New York City (VIDEO)
Emergency Room Footage on CBS Matches Footage from Italian Hospital!
This is footage from SKY News on March 22 from Italy.
And here is footage from CBS News during their New York City report on March 25.
CBS News painted a dire picture from New York City this week in their coronavirus coverage.
On Wednesday morning CBS aired this footage from a New York hospital.
The footage matches SKY News video from inside an Italian hospital from Sunday March 22.
Source: thegatewaypundit.com
🚨HAPPENING NOW🚨
President @realDonaldTrump will be extending National Social Distancing Guidelines through April 30, 2020. More information and details will be rolled out on Tuesday, March 31st. #CoronaVirusUpdates #Covid_19pic.twitter.com/dWPk0zUlXd

— Dan Scavino Jr.🇺🇸 (@Scavino45) March 29, 2020
So proud of the @USACEHQ, @FEMA, and the Federal Government for the 2,900 bed hospital they built in 4 days (way ahead of schedule) in the Javits Center for NY. We are now moving the teams to join others so they can continue to build more hospitals/beds. Keep up the GREAT WORK!

— Donald J. Trump (@realDonaldTrump) March 29, 2020
How do you start to shutdown the panic, fear that the [DS] is pushing, you produce the cure,
he Food and Drug Administration  gave doctors emergency permission to use the anti-malarial drugs hydroxychloroquine and chloroquine to treat the coronavirus.
The agency's action allows the medicines "to be distributed and prescribed by doctors to hospitalized teen and adult patients with COVID-19, as appropriate, when a clinical trial is not available or feasible," according to a Department of Health and Human Services statement.
Source: justthenews.com
The MSM is doing everything they can to keep people from the cure, 
FDA authorizes the widespread use of unproven drugs to treat coronavirus, saying the possible benefit outweighs risks https://t.co/hYfka9ajMs

— The Washington Post (@washingtonpost) March 30, 2020
Dr. Vladimir Zelenko has now treated 699 coronavirus patients with 100% success using Hydroxychloroquine Sulfate, Zinc and Z-Pak [UPDATES]
 Dr. Zelenko provides updates on the treatment after he successfully treated 699 COVID-19 patients in New York. In an exclusive interview with former New York Mayor, Rudy Giuliani, Dr. Vladmir Zelenko shares the results of his latest study, which showed that out of his 699 patients treated, zero patients died, zero patients intubated, and four hospitalizations.
Dr. Zelenko said the whole treatment costs only $20 over a period of 5 days with 100% success.
Source: techstartups.com
During a crisis how do you expose the [DS] plan? How do you show [DS] was hoarding to create panic, fear and chaos? How do you show the [MSM] is pushing fear and reporting fake news? "Never Interfere With an Enemy While He's in the Process of Destroying Himself."
Trump is painting the picture. Highlighting the media's dishonesty moves public opinion. A necessary preparation before criminal trials.

— Praying Medic (@prayingmedic) March 30, 2020
The [DS]/Ds/MSM are being exposed, who is removing rights in states, Not the patriots, Not Trump, the governors are locking down the cities, removing rights
I will be filing suits for clients across America against the lawless politicians violating First, Second, Fourth & Fifth Amendment rights of ordinary Americans. Our founders knew viruses & plagues; they didn't let it infect/exempt our #BillOfRights. #ConstitutionOverCoronavirus

— Robert Barnes (@Barnes_Law) March 30, 2020
CLASS ACTION LAWSUITS ARE VERY EFFECTIVE.
2 BILLION PEOPLE.
GLOBAL.
SCALE.
REGULATION OR KILL?
PEOPLE HAVE THE POWER TO DECIDE.
Q
Good day for a walk (with household member) pic.twitter.com/yNhaFPWRf9

— James Comey (@Comey) March 29, 2020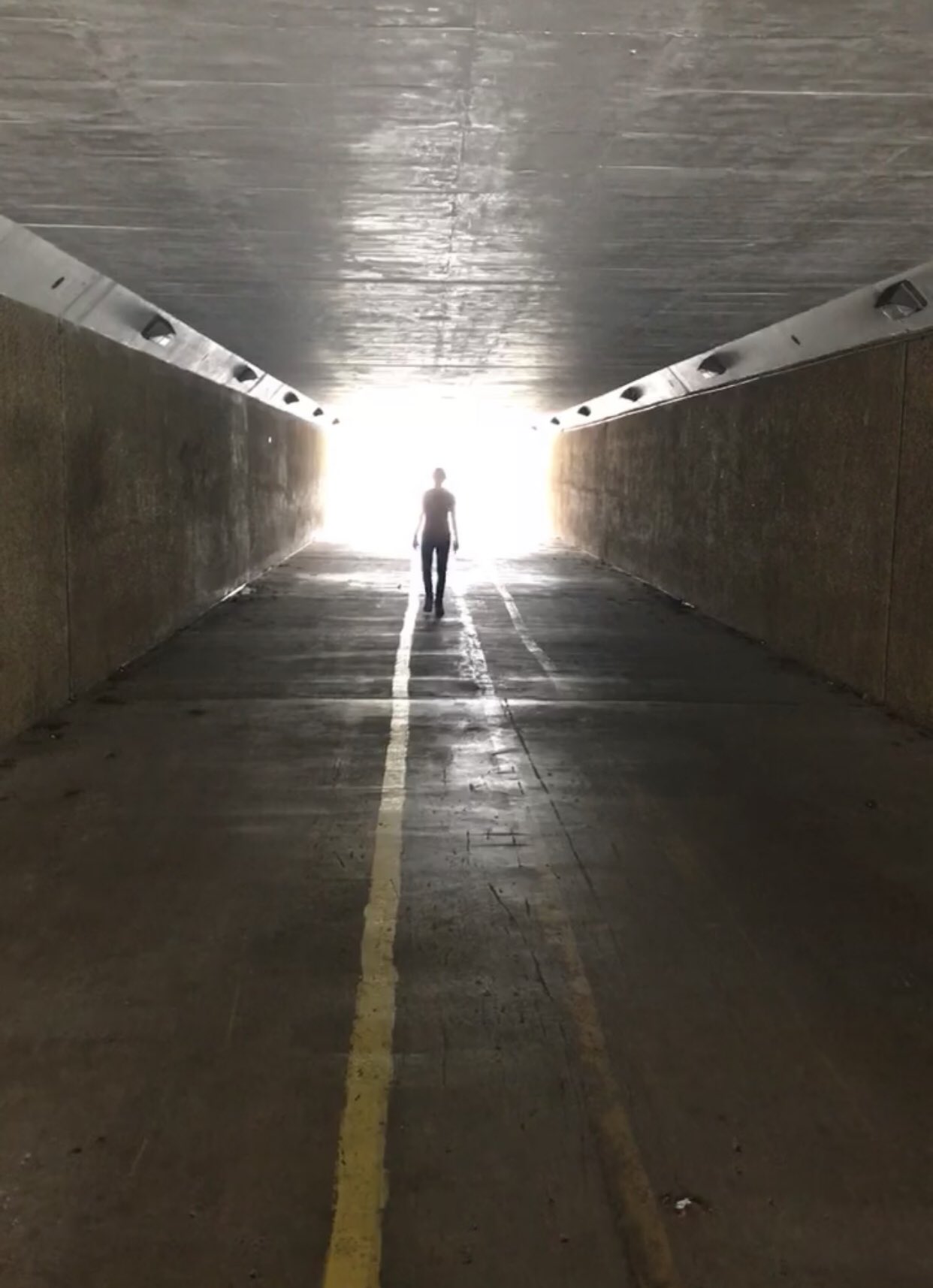 v
Light at the end of the tunnel? The Oxford Dictionary for Euphemisms mentions "Taking a walk" as a term spies use when they defect. Say, @Comey, just where are you walking to exactly? https://t.co/tKXgjS9v8e pic.twitter.com/tmtDXIPlpa

— Joe M (@StormIsUponUs) March 30, 2020
Or is he walking towards the light –"go toward the light" has been associated loosely to mean die
The next several weeks may be some of the hardest we've faced as a country.

From those on the front lines to those saving lives by staying at home, let's remember to be kind to each other, be patient, and remember the power of our collective humanity, even when we're apart.

— Hillary Clinton (@HillaryClinton) March 30, 2020
Comms: "They're coming for us.
Wisconsin – today is the deadline to register to vote in the state Supreme Court election that happens on April 7th. Judge Jill Karofsky will make an excellent justice. Go to https://t.co/dn4thIoIJ0 to get registered and request an absentee ballot so you can vote at home. VOTE!!

— Eric Holder (@EricHolder) March 30, 2020
Hillary tweets at 12:07, then Holder tweets 4 mins later about Wisconsin SC elections on April 7.

Seems like they're worried about something on 4/7. https://t.co/ZW5h9x5N0k pic.twitter.com/EnJoJdaFap

— Julian's Rum 🥃 (@JuliansRum) March 30, 2020
Q

 

!xowAT4Z3VQ

 

ID: 383caa

 No.936517

Q

 

!xowAT4Z3VQ

 

ID: 383caa

 No.936472


>>936346
Talking to you, anon.
We always see "It's Happening" here.
The 'Tone'.
WAR.
April showers.
Q
>>936472
EH CA.
Relevant soon.
Q
Q

 

!xowAT4Z3VQ

 

ID: 383caa

 No.936660

Q

 

!xowAT4Z3VQ

 

ID: 383caa

 No.936517


>>936472
EH CA.
Relevant soon.
Q
>>936517
Border states are VERY key.
Bigger than you can imagine.
The pipeline.
Not R vs D.
CA is special.
Public will learn.
Q
Another Congressmember Has Presumed COVID-19 Infection, Was Near Pelosi, Other Lawmakers Last Week
 At least five congressmembers have now tested positive for the coronavirus.
Rep. Nydia M. Velázquez (D-NY) announced Monday she has a "presumed coronavirus infection."
Velázquez released the following statement:
"In the wee hours of Sunday morning, I began to feel under the weather. I developed the abrupt onset of muscle aches, fevers, nasal congestion and stomach upset. I noticed that I could no longer smell my perfume or taste my food. After speaking with The Attending Physician by phone, I was diagnosed with presumed coronavirus infection. My symptoms are mild at the present time and I am taking Tylenol for fever, and isolating myself at my home. At the advice of The Attending Physician, neither COVID 19 laboratory testing nor a doctor's office visit was recommended. I am carefully monitoring my symptoms, working remotely and in constant contact with my staff. I'll continue my work on behalf of New Yorkers as together we overcome this virus. In that regard, I encourage everyone to stay at home and continue practicing social distancing."
Velázquez was on the House floor Friday — very close to Speaker Nancy Pelosi following the signing of the $2 trillion coronavirus relief bill.
Source: breaking911.com
Feds Investigating Lawmakers' Stock Transactions Prior To Market Crash, Report Says
Federal law enforcement officials are reportedly investigating a series of stock market transactions that were made by U.S. lawmakers prior to the stock market tanking as a result of the coronavirus rapidly spreading throughout the U.S.

"The inquiry, which is still in its early stages and being done in coordination with the Securities and Exchange Commission, has so far included outreach from the FBI to at least one lawmaker, Sen. Richard Burr, seeking information about the trades,
Other senators who have come under scrutiny include Sens. Kelly Loeffler (R-GA), Dianne Feinstein (D-CA), and Jim Inhofe (R-OK).
"Congress passed the Stock Act in 2012, which made it illegal for lawmakers to use inside information for financial benefit," CNN added. "Under insider trading laws, prosecutors would need to prove the lawmakers traded based on material non-public information they received in violation of a duty to keep it confidential."
Source: dailywire.com
Senator Richard Burr – under inquiry by the Feds for his stock sales – has retained counsel.

His lawyer is former DOJ Asst AG Alice Fisher.

As AAG, Alice Fisher stopped "victim notification letters" from going to the young girls Jeffrey Epstein abused. pic.twitter.com/8fUs9hCYLh

— Techno Fog (@Techno_Fog) March 30, 2020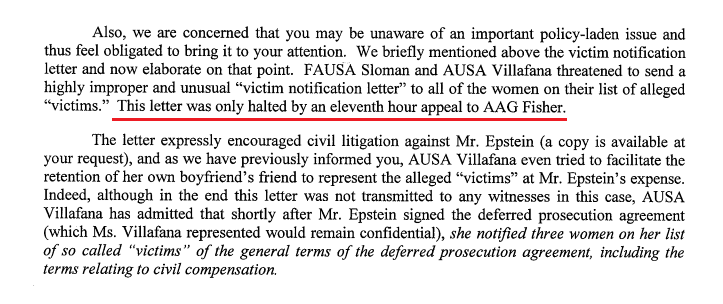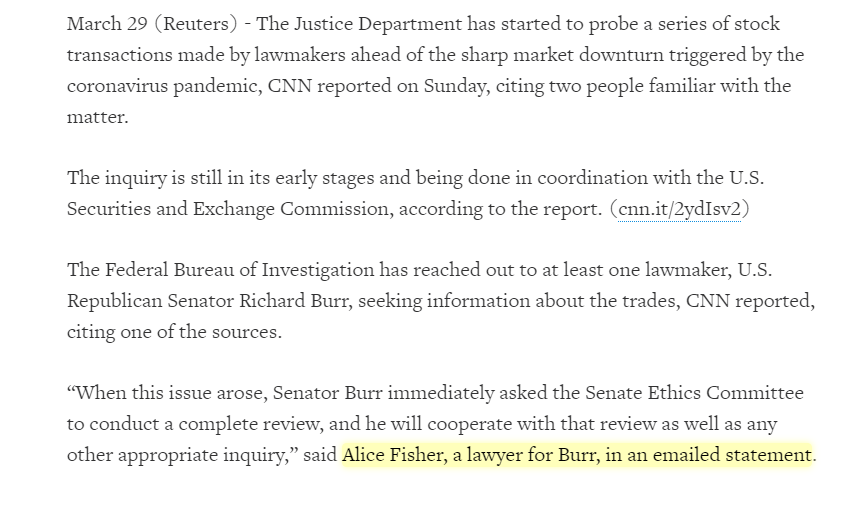 Q
How do you show the 16 year plan and expose those who want to take away our rights and destroy our country? How do you show the world? You SHUT IT DOWN , The noise is gone, Now people can SEE CLEARLY, Welcome To THE GREAT AWAKENING