Part 2 Of The Movie Coming This Fall, [Zero-Day] Countermeasures In Place – Episode 2273
The DOJ has been tracking those who have been using the PPP for their own gain, now they have charged 50  individuals in scams. The gov employees need to help the people, the economy was artificially shutdown, the only item in the bill would be to help people and business, they couldn't do either. The patriots are burying the Fed, planned for the transition. The [DS]/MSM have failed on all fronts. More evidence has now come out and it shows phones were wiped under Mueller's investigation. Barr says indictments might becoming before the election. The events are now failing, the smear campaign is now working, next up is the elections. The [DS]/MSM are now prepared are ready for zero day, countermeasures are in place. The 2nd part of the movie is coming this fall.
Check Out The X22 Report Spotlight YouTube Channel X22Report Spotlight
Please check Newzsentinel.com for the latest news on the economic collapse. The Sentinel Alerts are updated throughout the day.
---
Current News – 09.10.2020
Watch The X22 Report On Video
---
Economy
"The PPP hasn't even been in existence for six months, yet we are here today announcing that more than 50 defendants have been charged."—Acting Assistant Attorney General Brian Rabbitt pic.twitter.com/EPtMHePkCe

— Justice Department (@TheJusticeDept) September 10, 2020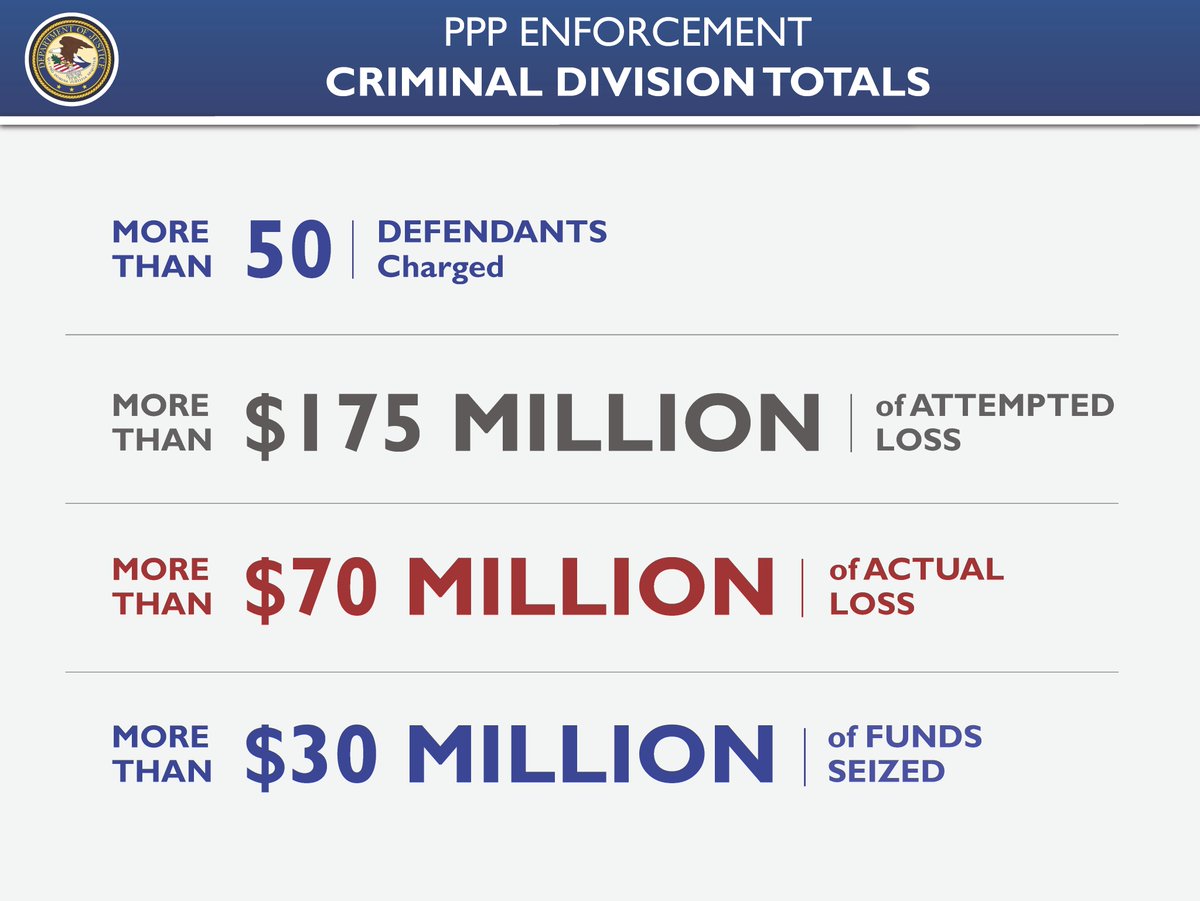 Senate Democrats block GOP relief bill
Senate Democrats blocked a GOP coronavirus bill amid a deep stalemate over the next relief package.
Senators voted 52-47 on the roughly $500 billion Republican bill, which marked the first coronavirus-related legislation the chamber has voted on since it passed a $484 billion package in April.
source: thehill.com
While Congress debates additional $300 bil in COVID relief, the IRS is sitting on mountain of tax refunds b/c of delays in processing mail-in returns due to office closures during lockdown. Millions of taxpayers still have not rec'd 2019 tax refunds. Better: expedite the refunds
U.S. Fed buys $29.7 billion of mortgage bonds, sells $8 billion
 The Federal Reserve bought $29.69 billion of agency mortgage-backed securities in the week from Sep. 3 to Sep. 9, compared with $24.768 billion purchased the previous week, the New York Federal Reserve Bank said on Thursday.
---
Political/Rights
  Kevin Spacey faces more legal trouble, this time from Star Trek actor Anthony Rapp and an anonymous accuser who filed a lawsuit claiming Spacey sexually assaulted them when they were teens.
In a lawsuit, the two accusers say that Spacey assaulted them when they were 14-year-old boys looking to get into the acting business.
Rapp, who appeared in the previous season of Star Trek: Discovery, had previously accused Spacey of "trying to seduce" him when he was young. Now he has revealed more details of what he claims the House of Cards star did to him in 1986, according to The Wrap. 
Source: breitbart.com
Recap of the week @CNN has had:

– Audio of Jeff Zucker praising President Trump

– Audio of Chris Cuomo coaching Michael Cohen before an appearance on his network

– Jake Tapper encouraging a Republican candidate for Congress to not run against a vulnerable Democratic incumbent pic.twitter.com/XQIH2EbFZS

— Daily Caller (@DailyCaller) September 10, 2020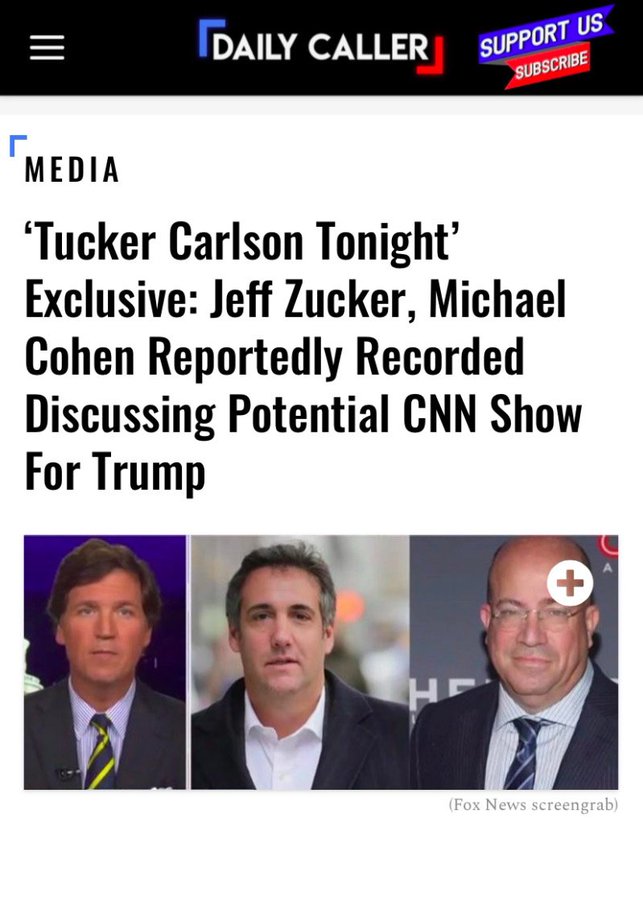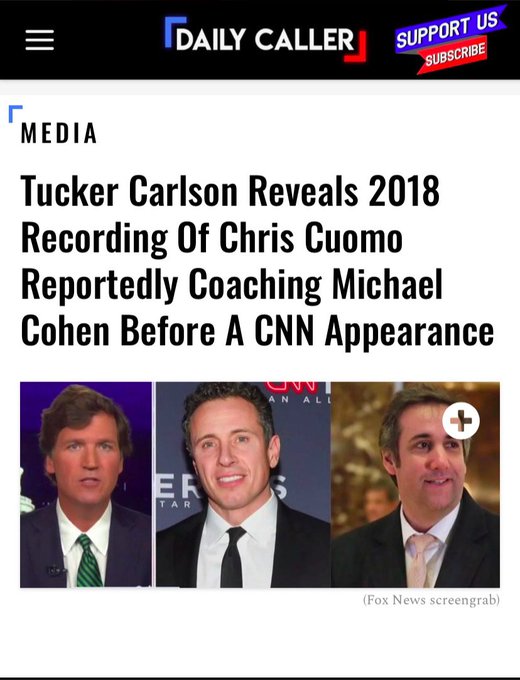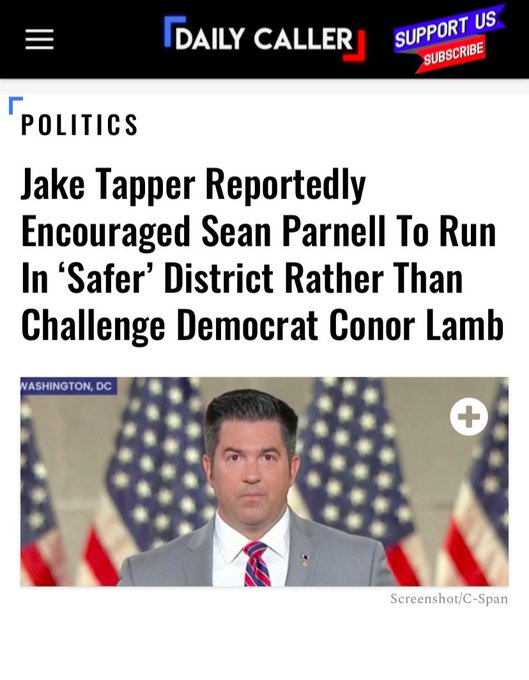 Newly released DOJ records show "pitbull" Andrew Weissmann and multiple Mueller henchmen claiming to have "accidentally wiped" at least 31 phones used in the anti-Trump Russia probe.
The documents were uncovered thanks to a Judicial Watch FOIA lawsuit.
The phones were all conveniently wiped after the DOJ IG asked for the devices to be handed over — some phones wiped themselves, according to the DOJ!
The records show virtually all of Mueller's lawyers used the same tactic: Put their phones in airplane mode, lock them and then nuke the phones by repeatedly entering the wrong password.
The wrong password must be entered 10 times in a row in order to nuke the phone.
"Employee tried to incorrectly enter password too many times, and the phone was wiped of all data" – one entry shows in the OIG records.
"During out processing conversation… [redacted] indicated she had to wipe her phone because she forgot the password. Her phone had to be wiped to be reset because the passcode provided was inaccurate and the phone was left in airplane mode." – another entry stated.
Mueller's "pitbull" Andrew Weissmann wiped two out of three of his Special Counsel phones — he wiped one by 'accident' and nuked the other by entering the wrong password too many times.
One phone assigned to James Quarles "wiped itself without intervention from him."
Attorney Harmeet Dhillon weighed in.
"This is shocking. In private practice, if you had a dozen clients who did this at the same time in response to an internal investigation, you would be preparing for sanctions and hiding under your desk. But these arrogant people think they are above the law. So far, they are," said Harmeet Dhillon.
source: thegatewaypundit.com
AG Barr also said there could be more indictments to come in the Durham probe.
Source: thegatewaypundit.com
TAKE A LISTEN TO BARR
 He left the door open for indictments before the election.
"Comey is a disgraced lier & leaker. Two years wasted on the Russia Witch Hunt was in large part because of his failings as Director of the FBI. They refused to support the results of the 2016 Election. Part of the biggest political scandal we have ever seen." @SarahHuckabee

— Donald J. Trump (@realDonaldTrump) September 10, 2020
If you encounter the word lier somewhere, it's likely to be a misspelling of the word liar. It's apparently quite common for people ask themselves "is it spelled lier or liar?" and choose the wrong answer. But lier is a real word—it's just rarely used. It's also an agent noun, just like liar, but it comes from the other meaning of the verb lie—to rest in a horizontal position. Remember, that's lie, not lay. A lier is something or someone that is lying prostrate.
DECLAS
LP "Viva Le Resistance."
Viv[a] vs Viv[e]
[J C]
Why classified by intel comm @ highest level?
Define title.
Define role w/ Mueller.
Exchange shelters VERY senior member.
Q
'Cancel Netflix' Trends on Twitter After Preteen Twerking Film 'Cuties' Debuts
The backlash against streaming giant Netflix continues to escalate around the world over the release of the preteen dance competition film Cuties, with the hashtag #CancelNetflix becoming a top trend on Twitter as critics accuse the California company of sexualizing children.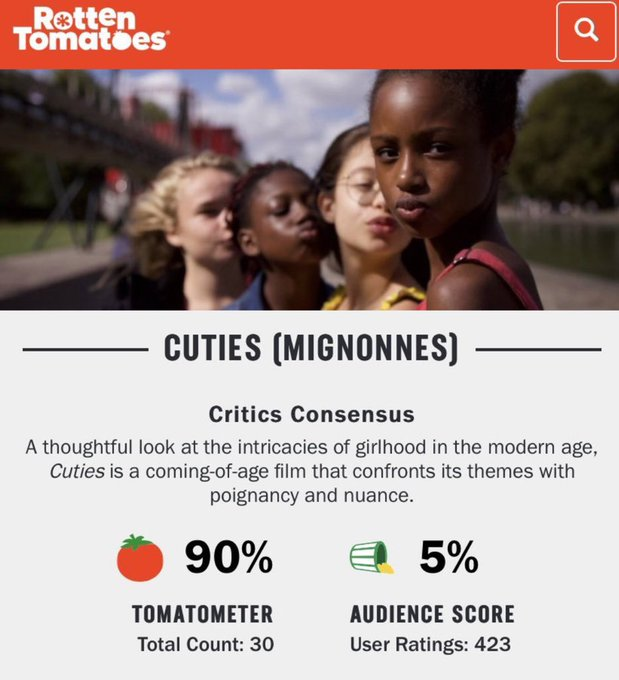 Eight missing children have been found as part of "Operation Homecoming," an emergency operation in the Indianapolis area, the U.S. Marshals Service announced.
The federal law enforcement officers located the children between Aug. 31 and Sept. 4, the service said. An adult also was arrested during the operation on charges that include parental kidnapping, possession of weapons, and intimidation.
Source: theepochtimes.com
Screenshots confirmed Tapper's overreach.
"By attempting to bully a star Republican recruit out of his race, which would in effect help Democrat Conor Lamb and bolster Pelosi's chances of keeping the House, Jake has officially given up on journalism in exchange for Democrat activism. 
According to former Director of National Intelligence Ric Grenell, Tapper denied the claims. Grenell, who campaigned for Parnell, indicated earlier on Sunday that he would be asking for clarification on the issue.

"If true, CNN must deal with Jake Tapper very firmly. Political activism from the media is unacceptable!," Grenell wrote.

When news broke on Thursday, Grenell posted screenshots of Tapper lying to him about the incident.
Source: thefederalist.com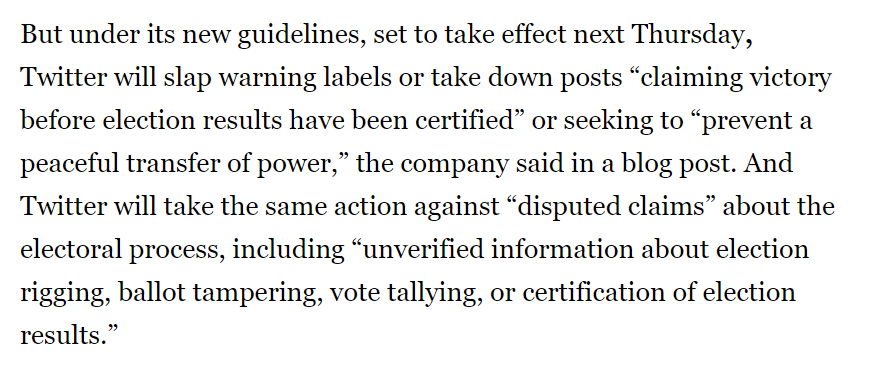 political activists covering all their bases.
If POTUS wins on November 3rd and he says he won, what is the plan of the [DS]
Censor everyone that is agrees with him that the won
Why because the mail in ballots are still out there and they haven't counted them yet. 
But if Trump reaches the 270 electoral votes it won't matter, I wonder if Twitter is going to censor all those who say he didn't win if the 270 electoral votes are reached.
---
Geopolitical/Police State
---
War
DS players are panicking, the MSM is panicking, corrupt politians are panicking and the Generals are panicking
Experts say President Trump's repeated, direct attacks on the leaders of the U.S. military are without precedent in history and are leading to the political polarization of a nonpartisan institution. https://t.co/XvowDwSLsc

— NPR Politics (@nprpolitics) September 10, 2020
The deep state says President Trump's attempts to drain the swamp threaten what was once a thriving, albeit a corrupt military-industrial complex.
Kim Jong Un is in good health. Never underestimate him!

— Donald J. Trump (@realDonaldTrump) September 10, 2020
---
Cyber Attacks
---
False Flags
Trump and Republicans downplayed the deadly threat of the #coronavirus. Moscow Mitch decided to take a 'pause' rather than help the American people with a strategic plan.

Don't be misled. Their failure and denial are costing lives. pic.twitter.com/cC3qyP9QhW

— Nancy Pelosi (@TeamPelosi) September 9, 2020
You told people to congregate in Chinatown when all this began going down and just violated lockdown to get a blow dry.
Bob Woodward had my quotes for many months. If he thought they were so bad or dangerous, why didn't he immediately report them in an effort to save lives? Didn't he have an obligation to do so? No, because he knew they were good and proper answers. Calm, no panic!

— Donald J. Trump (@realDonaldTrump) September 10, 2020
For argument sake lets say Trump was given this information that the virus could have been airborne in Feb, without facts why would you create a panic, secondly the WHO announced it was airborne in July  
It seems certain govs, mayors health dir etc think that everything will be ok after the election, LA County Public Health Director  Dr. Ferrer: "When we just look at the timing of everything…the more realistic approach to this…we're gonna be where we are now until we are done with the elections"
Democrats, OPEN THE SCHOOLS ( SAFELY), NOW! When schools are closed, let the money follow the child (FAMILY). Why should schools be paid when they are closed? They shouldn't!

— Donald J. Trump (@realDonaldTrump) September 10, 2020
SECRET🤫. HCQ LIKELY WORKS AGAINST ANY AIRBORNE RNA VIRUS!!! Shh🤫 don't tell anyone pic.twitter.com/uOLD58phsV

— Dr. Urso (@richardursomd) September 10, 2020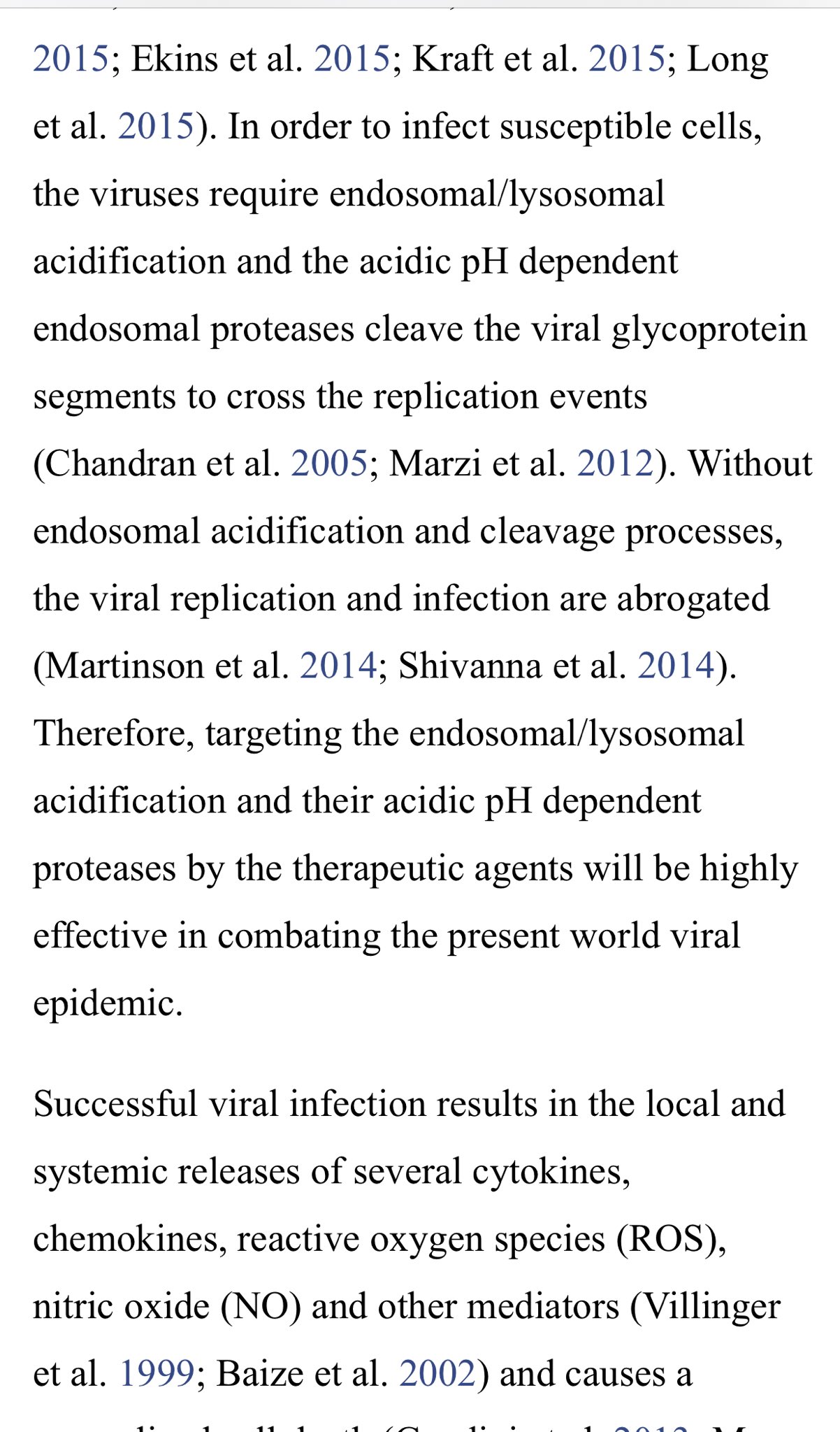 ---
Q
EK9URc8XsAArFex.jpg
What happens when CA is in serious debt and lost priority aid from the FED gov due to sanctuary status (illegal)?
What happens when CA is in serious debt and all attempts to obtain a bailout from
[Pelosi inserted and pushed]
C19 aid package(s) have failed?
What happens when CA is in serious debt and decides to implement resident overreach by extending statewide shutdowns [incurring massive economic
[further] pitfall]
?
Average number of fires in CA per year
[last 20][June – Dec]
?
Average number of fires 2018, 2019, 2020
[June – Dec]
?
Outside of standard deviation?
Stated cause(s) of fires?
Heat?
Average temperature(s) of CA per year
[last 20][June – Dec]
?
Outside of standard deviation?
Power line(s)
[source]
?
What changed?
What CA programs re: fire prevention
[forest – brush]
have been severely cut?
What other cuts have impacted fire prevention & safety?
http://www.cpf.org/go/cpf/news-and-events/news/budget-cuts-sacrifice-firefighter-and-public-safety/
📁
Budget Cuts Sacrifice Firefighter and Public Safety
At a time of increased fire danger and already depleted fire services, budget cuts are causing longer response times and putting both citizen and firefighter lives in danger.
In Los Angeles, examples abound of lives and property lost due to insufficient staffing. Last July, the LAFD permanently lost four ambulances, nine paramedic units and eighteen fire companies. But rather than addressing unsafe staffing levels, LAFD Chief Brian Cummings is unilaterally imposing a dangerous plan to remove firefighters from twenty-two truck companies. His plan is vehemently opposed by the United Firefighters of Los Angeles County (UFLAC) and the Chief Officers Association (COA) because of the increased risk to firefighters and to public safety.
Yesterday UFLAC and COA held a joint press conference to address the proposed staffing cuts at the scene of a fire in North Hollywood that resulted in one fatality and three injuries. Task Force 60 was first on the scene, and happens to be one of those slated to lose a firefighter in Cummings' plan. Seconds mattered in this fire and having a fully staffed truck certainly saved lives. According to Frank Lima, UFLAC President, with Cummings' plan in effect, "there would have been more fatalities at this fire."
Another resident remembers almost losing her father when her San Fernando Valley home caught fire. The nearest fire station is not even two miles from her home, but the station was empty because one of its two engine companies was already cut and the other was on another emergency call. 53-year-old Jack Mocaer had 63% of his body burned while waiting for help to arrive.
This issue is not exclusive to Los Angeles, as unsafe cuts to fire services are happening throughout California. Last year, Contra Costa County closed four stations and is now planning to close two more. Vince Wells, president of the United Professional Firefighters explains that staffing has gone from 91 firefighters to 72 and that the proposed cuts would bring it down to only 66, providing another pertinent example of how local politics and budget cuts are putting firefighters and communities at risk.
How do you obtain FED money?
Declare a State of Emergency and request billions in assistance?
Welcome to CA.
Q
West coast fires are being set by domestic terrorists. Federal agents are monitoring these activities through surveillance authorities. The media isn't reporting on the cause of the fires because they're designed to sway election results in Democrat-controlled states.
Is California intentionally using practices that increase the risk of fire so they can demand a federal bailout to offset irresponsible spending?
Raging wildfires close California's 18 national forests
https://twitter.com/thehill/status/1303828553398710273
If it hits the famous people area, think of all that evidence getting burned up
EZz06dzUwAI1f4r.jpg
Interesting change of events.
Weekly [false] attacks + whistleblower(s) [false].
[1st [Vindman] coord [AS] [whistleblower] false narrative insert Ukraine [Biden deflect] returning to the news [legal]]?
[AS] backroom prep [2nd whistleblower]?
[AS] backroom prep [3rd whistleblower] _NATSEC?
Pentagon [SR 1-4] backroom prep _dry run campaign [refusal]?
USD(I)_JCS [2]
Refusal to concede narr?
Challenge legally battleground [4].
Ballot harvest [4] [illegally] [CA -1].
Everything at stake.
Win by any means necessary.
Plan accordingly [November].
Q
They're grasping at straws. All assets deployed.
f768deaef22da979abcfb73c9175b54d71fcf891666c5449c1969c07c3cc8920.png
THE SWAMP RUNS DEEP.
Sometimes you cannot tell people the truth.
You must show them.
Only then, at the precipice, will people find the will to change [to participate].
We, the People, have been betrayed for a very long time.
WILL YOU STAND?
FOR GOD AND COUNTRY.
FOR FREEDOM.
FOR HUMANITY.
WHERE WE GO ONE
WE GO ALL !!!
Q
EhCxUanXgAUaZdI.jpg
Hello Karli.
Thank you and God bless.
Keep charging, Midnight Rider!
Q
Q gave a should out to
@

KarluskaP
, but did not post a link to her tweet. She said she was on Periscope live when Q began posting today. She and people in the chat said "Hi" to Q on the broadcast, which is why Q responded to her.
Oregon is on fire! Pallet Company in Oregon City confirmed Antifa arsonist on camera. Douglas County Sheriff has 6 ANTIFA arsonists in custody. Many fires in Oregon. Obviously there are more to track down and arrest. Governor Kate Brown built this
.
https://twitter.com/wspd1pio/status/1303828683480653824
📁
Joint team effort!! WSP, Fife Pd and Puyallup PD just arrested a 36yr old Puyallup resident. He was caught in the median on [email protected] Meridian setting a fire! He is currently on his way to jail! Great job everybody!
#playstupidgames
Highly coordinated
[funded]
_domestic terrorism.
FEDs involved [US rights
[c]_surveillance]
[D]
controlled areas.
Media blackout.
Election gaming.
BREAKING: Our new project is here! We're making the #ObamagateMovie to shine a light on the corruption at the DOJ and the FBI and the government agents who used their position to try and take down president Trump.

Go to https://t.co/5iHGdzSabu now and help us make the film! pic.twitter.com/zfrdHeAF7p

— The Ann and Phelim Scoop 🎙 (@AP_Scoop) September 10, 2020
Russian, Chinese and Iranian hackers have mounted cyberattacks against hundreds of organizations and people involved in the 2020 presidential race and U.S.-European policy debates, with targets including the campaigns of both Donald Trump and Joe Biden, Microsoft said Thursday.
The report is the most expansive public warning to date about the rapid spread of foreign governments' efforts to wield hackers to undermine U.S. democracy.
The perpetrators include the same Kremlin-aligned Russian hacking group whose thefts and leaks of confidential Democratic Party documents helped torpedo Hillary Clinton's presidential hopes in 2016, said Microsoft, which offers products designed to detect such attacks.
Targets this time include the Trump and Biden campaigns, administration officials and an array of national and state parties, political consultants and think tanks, as well as groups such as the German Marshall Fund and Stimson Center that promote international cooperation.
Q

 

!!mG7VJxZNCI

 

ID: f40549

 No.5247821

Chatter uptick re: how to effectively prevent cross-talk re: anti-narrative across all social media/online platforms.
Ability to prevent cross-talk narrows comms only to FAKE NEWS which provides for more control over what is released to inform the public.
A series of scenarios is currently being conducted ['game the sys'] to test response, risk, and calc results.
'Censorship' [added] layers of inserted code 'through keyword targeting' in bio, history, and comments + indiv platform mods has failed to curtail the problem.
'China-Russia-Iran' 'fake' take-down hacks of select platforms (for maintenance) is one scenario being game-played.
[Zero-Day]
Countermeasures in place.
[Example]
Think Emergency Alert System.
Think WH controlled *new* RT 'news' website
Think WH controlled *new* video stream platform
Think Here.
Should this occur, immediate steps will be taken to classify each as 'Public Utility' (essential public services) to gain appropriate gov regulation (control).
Why do we make things public?
Q