[DS] Is Repeating Everything They Tried In The Past, Which Failed, Panic Is Off The Charts – Episode 2272
Jobs are coming back, each month there are fewer people temporarily laid off. Job opening have surged which means that more jobs are going to come online. Mortgage demand is also surging, the economy is in an incredible recovery and the MSM/[DS] are trying to stop it, since they cannot say its BO economy they have now turned towards the Fed. The MSM/[DS] panic is off the charts, they are throwing everything they have and even repeating the same stories. This has failed before it started, the disinformation campaign does not work on the people, because once woken up you can see clearly. The patriots are closing in on the [DS] and something big is about to drop.
Check Out The X22 Report Spotlight YouTube Channel X22Report Spotlight
Please check Newzsentinel.com for the latest news on the economic collapse. The Sentinel Alerts are updated throughout the day.
---
Current News – 09.09.2020
Watch The X22 Report On Video
---
Economy
48% Of Jobs From Recession Recovered
The August BLS labor report bested the ADP report by a lot just like it has since the recovery started. As you can see from the chart below, there were 1.371 million jobs added which was less than last month which added 1.734 million and slightly missed the consensus of 1.4 million.
Each month, there are fewer people temporarily laid off which means there will likely be fewer jobs added.
If you add up the job creation in the past 4 months, 48% of the jobs lost in the recession have been recovered. Sure, the labor market isn't in an ideal situation, but this recovery is much better than most people expected in April.
Unemployment Rate Falls  
Source: investmentwatchblog.com
Job openings in the United States, which are a measure of labor demand, rose by 10 percent to 6.6 million in July, while the number of people quitting their jobs rose by 2.1 percent between June and July, suggesting an uptick in confidence in being able to find work.
Source: theepochtimes.com
Mortgage demand from homebuyers surges 40% from a year ago amid sales spree
The end of August usually marks the beginning of the slow season for housing, but as with everything else, this year's trends are like no other.
Mortgage applications to purchase a home rose 3% last week from the previous week and were a stunning 40% higher from a year ago, according to the Mortgage Bankers Association's seasonally adjusted index. 
Source: cnbc.com
President Trump has taken credit for the lowest unemployment rate in 50 years, but the Federal Reserve's patient policies laid the groundwork.   He is also seeking to convince voters that he is rapidly returning America to that prosperous place following waves of pandemic-wrought job loss — fostering what he labeled a "Super V" rebound on Sunday — and that Joseph R. Biden Jr. would "destroy" the economy if he wins in November.
But Mr. Trump's story line about his economic track record, particularly what he showcased during his Republican National Convention speech last month, leaves out a crucial detail. Lucky timing and a patient Federal Reserve were pivotal in driving the strong labor market of the late 2010s, economists said. The Trump administration's tax cuts and higher government spending temporarily nudged the economy, but the trade wars cooled it off, so the administration's track record was mixed.
Source: nytimes.com
---
Political/Rights
We've received a whistleblower complaint alleging DHS suppressed intel reports on Russian election interference, altered intel to match false Trump claims and made false statements to Congress.

This puts our national security at risk. We will investigate:https://t.co/Z7npo3P6zv

— Adam Schiff (@RepAdamSchiff) September 9, 2020
Another hit-job book due for release Sept. 22. By H.R. McMaster, Trump's 2nd National Security Adviser. Will dish more dirt on POTUS. Death by 1,000 cuts
Judicial Watch and Daily Caller News Foundation Ask Court for Access to Joe Biden's Senate Records at the University of Delaware
 Judicial Watch announced today that it has filed its opening brief in its lawsuit for access to former Vice President Joe Biden's Senate records at the University of Delaware. The new court filing comes in Judicial Watch and the Daily Caller News Foundation's lawsuit filed after a Delaware Attorney General's opinion denied them access to former Vice President Joe Biden's Senate records, which are housed at the University of Delaware's library (Daily Caller News Foundation v. University of Delaware (No. N20A-07-001)). The Delaware Freedom of Information Act (FOIA) lawsuit was filed in the Superior Court of the State of Delaware on July 2, 2020.
The lawsuit is challenging a state attorney general opinion that the Biden records are not "public records" because, the opinion concludes without evidence, no public funds are used to support the Biden records project at the University of Delaware.
Judicial Watch responded in court that it is impossible for the Biden Senate documents, which are housed in the University of Delaware's Library to not be supported by public funds. Judicial Watch notes that the University admitted that "[t]he State of Delaware provides the University with approximately $120 million each year through an appropriation in the state budget," but never shows how public funds are not used to support the papers.
Judicial Watch further points out that "archival storage space and professional staff members' time are things of value that it can be inferred are paid for with public funds," and notes that the requests even listed the, "University personnel who maintain the Senatorial Papers whose salaries, it can be inferred, are paid with State funds."
Source: judicialwatch.com
Bill Barr giving a press conference today and not one journalist asked about the Durham probe
And journalist Adam Housley backed this up later tonight.
Source: thegatewaypundit.com
Murders in Chicago have dropped 50 percent thanks to President Trump's anti-crime initiative Operation Legend, Attorney General William Barr announced today
The operation has since expanded to several U.S. cities, including Chicago, Albuquerque, Cleveland, Detroit, Milwaukee, St. Louis, Memphis, and most recently Indianapolis. Through these joint efforts, authorities have arrested over 2,000 suspects, 592 of whom have been charged with federal crimes.
Per the Department of Justice:
Source: breitbart.com
NEW ADDITIONS TO PRESIDENT TRUMP'S SCOTUS SHORTLIST: CRUZ COTTON HAWLEY WOW 
Volunteer to be a Trump Election Poll Watcher. Sign up today!#MakeAmericaGreatAgainhttps://t.co/aYYsyWFDIw

— Donald J. Trump (@realDonaldTrump) September 9, 2020
This is why Americans don't trust the fake news media.
The Hill on Wednesday trashed President Trump and his supporters for not wearing masks at his massive campaign rally on Tuesday. 
This is why no one trusts the far left mainstream media anymore.
Source: thegatewaypundit.com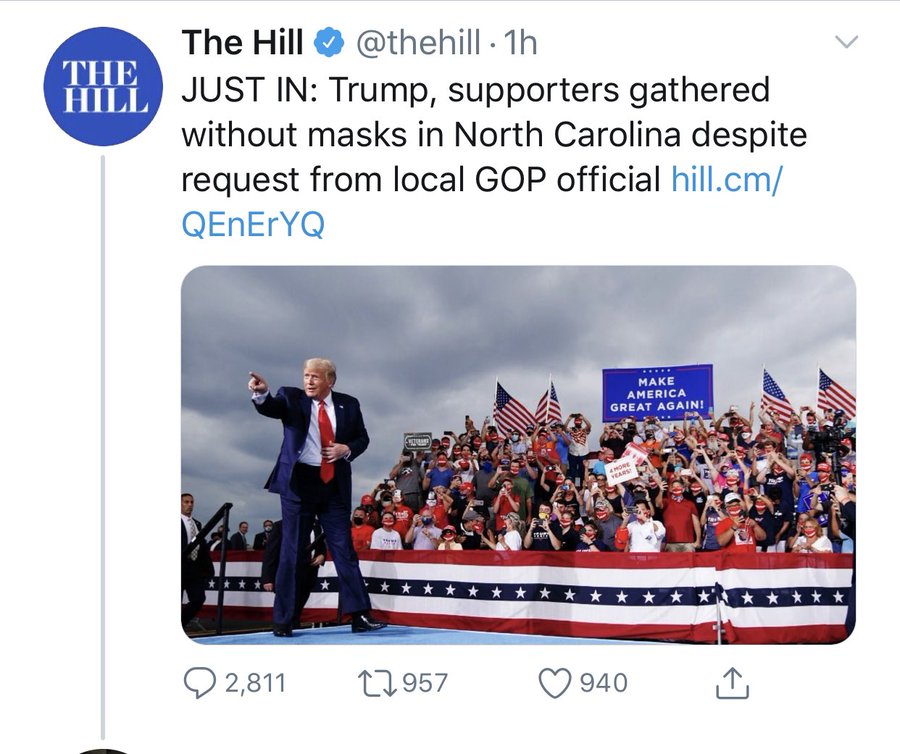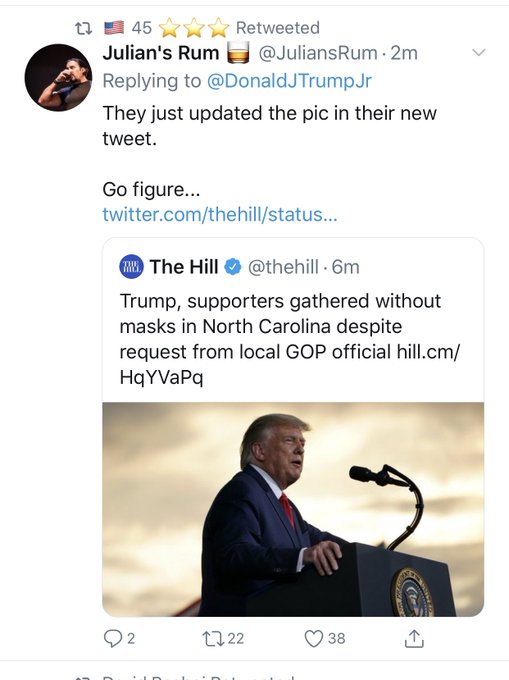 Remember the Q Post 3383,
Donald Trump dropped 77 spots in the Forbes 400 this yearhttps://t.co/5MIbfCHaHU

— Chris Cillizza (@CillizzaCNN) September 9, 2020
Q

 

!!mG7VJxZNCI

 

ID: 3a3d46

 No.6961951

DpARa2LU8AEQt_g.jpg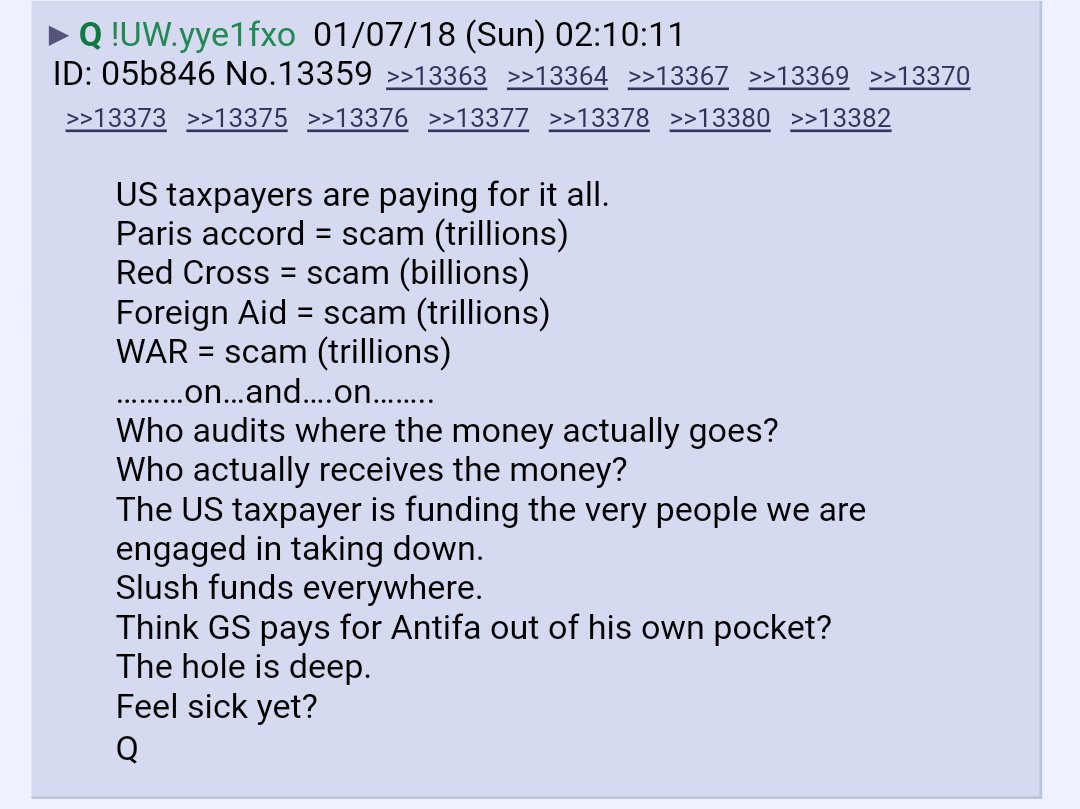 https://twitter.com/SaraCarterDC/status/1146175340433367040
Imagine what would happen, if, by law, every US Congressman/woman, US Senator, President etc. was by US law audited every 1-2 years by an independent agency.
Imagine what would happen if those audits extended to all family members of such 'elected' official?
Would D's continue to push for Foreign Aid to other C's vs. the Homeland?
What happens when the kickbacks dry up?
M. Waters $4mm House?
N. Pelosi net worth $150mm+?
J. Biden son/brother net worth tens of millions?
Clinton family $200mm+ (pre election of BC less than $1mm)?
Obama family $40mm+ (pre election less than $1mm)?
Disguised under book deals?
………….
Those who take are offered more powerful positions within the party (controlled).
DRAIN THE SWAMP.
Q
But I thought that he was enriching his business by using the office of the President?
---
Geopolitical/Police State
Make it 21 statements refuting The Atlantic's false reporting & demonstrating @realDonaldTrump's respect for our nation's heroes.

This from retired Maj. Gen. William Matz, who was present in France during the time in question: pic.twitter.com/XF1oVtcqbR

— Brian Morgenstern (@BMorgenstern45) September 8, 2020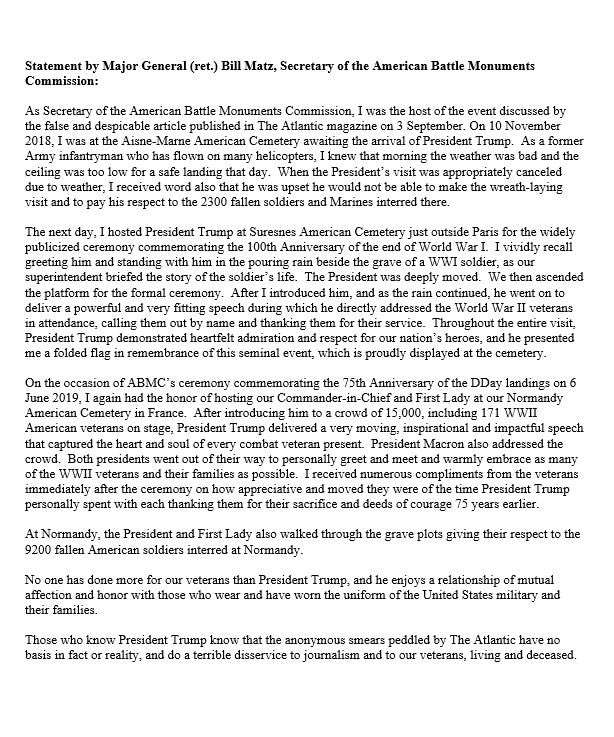 Atlantic editor-in-chief Jeffrey Goldberg has begun walking back his fake news story about President Trump denigrating fallen service members.
 he's been forced to publicly walk back the meat of his story while pretending the meat isn't really the meat.
During a Wednesday appearance on CNNLOL, Goldberg was forced to say, "This is about a sub-issue, about whether or not Trump wanted to go to the cemetery [Aisne-Marne] that day or didn't want to go to the cemetery that day. I think this is not the main issue."
A "sub-issue," Goldberg says.
"Not the main issue," Goldberg says. 
  this is the opener…
When President Donald Trump canceled a visit to the Aisne-Marne American Cemetery near Paris in 2018, he blamed rain for the last-minute decision, saying that "the helicopter couldn't fly" and that the Secret Service wouldn't drive him there. Neither claim was true.
If you remove the motive for the cancellation, if you concede Trump had nothing to do with the cancellation, if you are forced to walk that back, you have nothing left, because there's no "Why should I go to that cemetery? It's filled with losers."
Which means there's no story.
Source: breitbart.com
Trump Nominated For The Nobel Peace Prize
"I'm not a big Trump supporter," said the Norwegian parliamentarian who nominated Trump for the Nobel Prize. But facts are facts, he says. "The people who have received the Peace Prize in recent years have done much less than Donald Trump. For example, Barack Obama did nothing." https://t.co/fpILiXs4q9

— Fiery but peaceful Mike (@Doranimated) September 9, 2020
Saudi Arabia and Bahrain have agreed to open airspace to all flights east. (meaning, Israeli companies wand others ill be able to fly from Israel to Asia and significantly shorten the time)
---
War
Trump has sent another 20,000 U.S. troops to the Middle East, escalated US support for the war in Yemen, cut a crummy deal with the Taliban, and left us on the brink of war with Iran. Don't fall for pre-election theatrics. https://t.co/IvSk0dwv4t

— Ben Rhodes (@brhodes) September 9, 2020

US to cut troops in Iraq to 3,000 this month
The United States will withdraw almost half of its troops from Iraq this month, reducing its force to about 3,000 service members, the top U.S. general overseeing operations in the Middle East
Source: stripes.com
---
Cyber Attacks
---
False Flags
In New York, Andrew Cuomo asked for a tremendous amount of help and got every single thing he asked for.
Trump built a field hospital, sent a hospital ship and more. Instead of using these resources, Cuomo sent Coronavirus patients into nursing homes, a decision that ended up killing thousands of people.
Now Cuomo is trying to rewrite history by blaming Trump. It's amazing how easily he lies.
FOX News reports:
Cuomo says Trump 'caused' New York coronavirus outbreak
Source: thegatewaypundit.com
Source: breitbart.com
In his comments to Bob Woodward, Donald Trump reveals what an absolute abomination he is.

If he had a conscience or a soul, he would resign.

Tragically for us, he has neither.

— John O. Brennan (@JohnBrennan) September 9, 2020
If Woodward was so concerned Trump was keeping the American people in the dark about how "deadly" the coronavirus was, why didn't HE inform the public by breaking that story on Page 1 of WaPo back in February? Why'd Woodward sit on it for 7 mos? B/c he was saving it for his book!
AstraZeneca Covid-19 vaccine study put on hold due to suspected adverse reaction in participant in the U.K.
Scientists can't explain puzzling lack of coronavirus outbreaks in Africa
The hypothesis that poverty should have a significant impact on the spread of the virus doesn't stand when it comes to the entire African continent. Developing countries like Brazil and India showed that the virus couldn't be contained once it reached densely populated, but poor, neighborhoods.
Source: nypost.com
South Dakota took a balanced approach to fighting #COVID19. Many in the media disagree with our respect for freedom. They'll continue to attack us for the path that we've taken, but South Dakota is proof that freedom works, even in the face of a global pandemic. pic.twitter.com/1vKU3R6Rmk

— Governor Kristi Noem (@govkristinoem) September 9, 2020
We will be substantially LOWERING Medicare Premiums and Prescription Drug Prices, bringing them down to levels that were not thought possible!

— Donald J. Trump (@realDonaldTrump) September 9, 2020
---
Q
The rollout of Bob Woodward's anti-Trump book
HR McMaster's anti-Trump book starts next week.
John Brennan's deranged anti-Trump book will be out.
Q

 

!!mG7VJxZNCI

 

ID: fd0a4a

 No.2950995

>>2950820
Q KNOWLEDGE IS POWER.
Thanks & Godspeed.
>>2950906
How do you know when something VERY BIG is about to drop?
ATTACKS INCREASE FROM ALL DIRECTIONS.
READY THE MEMES.
[FISA CORRUPTION]
You have more than you know.
KEEP UP THE GOOD FIGHT.
WE STAND TOGETHER.
Q
---
Uncensored